JOGO CFL CARD SETS
EXTREME CFL CARD SETS
& OPC CFL CARD SETS
We sell 2012 Jogo CFL card sets, 2012 Extreme CFL Grey Cup Historical card sets
and older CFL card sets going from 2011 Jogo & 2011 Extreme CFL back to 1971 OPC CFL.

We also carry All World CFL, Extreme Sports CFL and Pacific CFL cards.
Some of the players in the CFL are now playing or have played in the NFL.
The Jogo CFL sets have a very limited print run making them extremely collectible.
Postage & Handling is extra. Canadian residents add applicable GST/HST.
Prices are listed in Canadian funds - please inquire as to the current exchange for prices in US funds.
---
2012 Jogo CFL Sets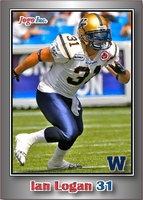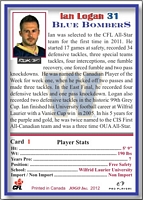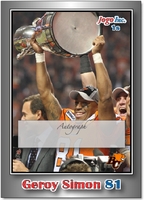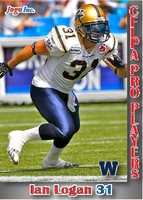 2012 Jogo Signature Pre-Production Sample Card
actual Signature card will have a real autograph on it
2012 JOGO CFL "REGULAR" SET $130.00 Cdn
2012 JOGO CFL "ROOKIE" SET $40.00 Cdn
2012 JOGO CFL "SHORT PRINT" SET $40.00 Cdn
2012 JOGO CFL "SIGNATURE" SET $80.00 Cdn

2012 JOGO CFL "PRO PLAYER" SET** $250.00 Cdn
Click here for 2012 Jogo CFL Card Sets Information & Checklist
---
---
2012 Extreme CFL Sets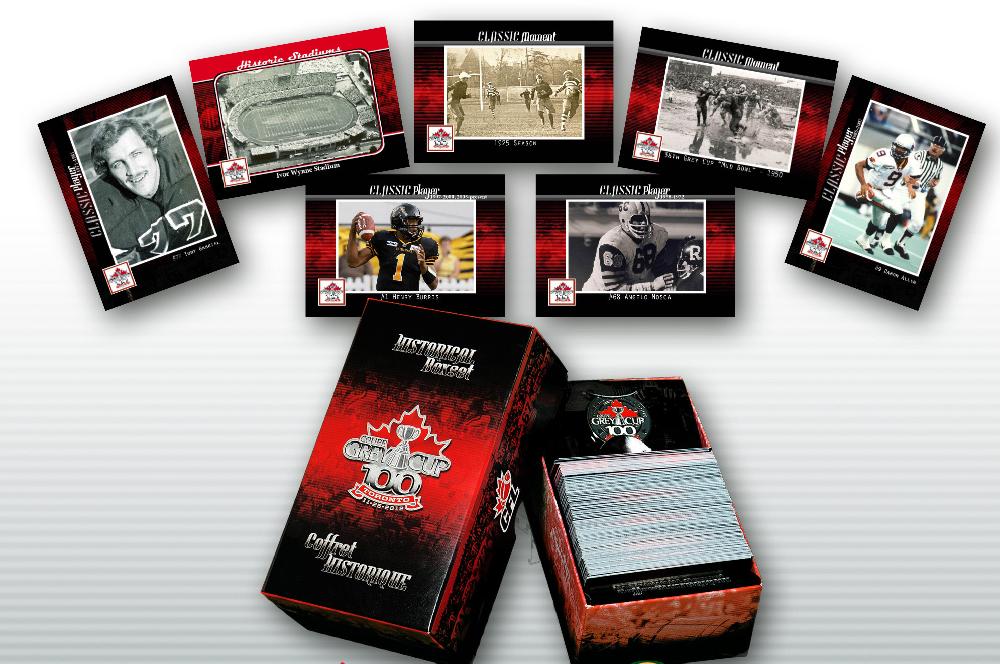 Click for Press Release
2012 EXTREME CFL GREY CUP HISTORICAL SET $69.95 Cdn
Click here for 2012 Extreme CFL Grey Cup Card Sets Information & Checklist
---
2011 Jogo CFL Sets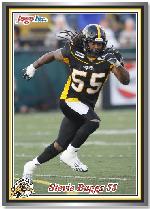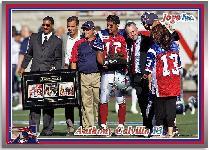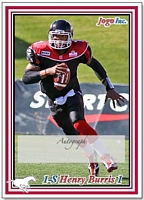 2010 Jogo Signature Pre-Production Sample Card
actual Signature card will have a real autograph on it
2011 JOGO CFL "REGULAR" SET $125.00 Cdn
2011 JOGO CFL "ALL-TIME PRO RECORD" CALVILLO CARD $12.00 Cdn
2011 JOGO CFL "ROOKIE" SET $35.00 Cdn
2011 JOGO CFL "SHORT PRINT" SET $35.00 Cdn
2011 JOGO CFL "SIGNATURE" SET $70.00 Cdn

2011 JOGO CFL "PLAYER" SET** $200.00 Cdn
** The limited Player set is only sold along with the purchase of the other 5 sets above
Click here for 2011 Jogo CFL Card Sets Information & Checklist
---
2011 Extreme CFL Set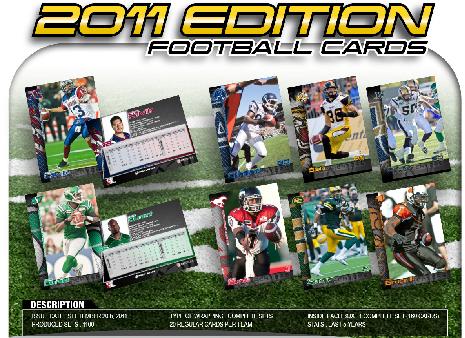 2011 EXTREME SPORTS CFL BOX SET $55.00 Cdn box
(factory sealed box)
Each box contains 1 guaranteed full set of 160 cards.
(20 players from each of the 8 CFL teams)



Click here for 2011 Extreme CFL Card Checklist

---

2010 Jogo CFL Sets - 30th Anniversary


2010 Jogo Signature Pre-Production Sample Card
actual Signature card will have a real autograph on it

2010 JOGO CFL "REGULAR" SET $125.00 Cdn
2010 JOGO CFL "EXTENDED" SET $35.00 Cdn
2010 JOGO CFL "ROOKIE" SET $35.00 Cdn
2010 JOGO CFL "SHORT PRINT" SET $35.00 Cdn
2010 JOGO CFL "SIGNATURE" SET $100.00 Cdn

2010 JOGO CFL "PLAYER" SET** $225.00 Cdn
** The limited Player set is only sold along with the purchase of the other 5 sets above

Click here for 2010 Jogo CFL Card Sets Information & Checklist

---

2010 Extreme CFL Set

2010 EXTREME SPORTS CFL BOX SET $55.00 Cdn box
(factory sealed box)

Each box contains 1 guaranteed full set of 160 cards.
(20 players from each of the 8 CFL teams)



Click here for 2010 Extreme CFL Card Checklist

---

2009 Jogo CFL Card Sets

2009 Jogo CFL Regular Set 2009 Jogo CFL Players Set
2009 Jogo CFL Rookie Set 2009 Jogo CFL Short Print Set
2009 Jogo CFL Signature Set


2009 Jogo Signature Pre-Production Sample Card
actual Signature card will have a real autograph on it

2009 JOGO CFL "REGULAR" SET* $115.00 Cdn set
(180 cards - white borders, with team colors, UV coated - see link for player list below)
(Limited - only 300 sets made!)

One random BONUS Signature card will be added to each
of the 300 numbered 2009 Jogo CFL regular sets produced.

The featured BONUS Signature card could be ONE of the following cards.

| | |
| --- | --- |
| Dante Marsh #31 | BC Lions |
| Nik Lewis #82 | Calgary Stampeders |
| Avon Colbourne #6 | Montreal Alouettes |
| Eddie Davis #29 | Saskatchewan Roughriders |
| Fred Reid #32 | Winnipeg Blue Bombers |
| Kevin Glenn #5 | Hamilton Tiger Cats |
| Jesse Lumsden #28 | Edmonton Eskimos |
| John Comiskey #62 | Edmonton Eskimos |
| Andy Fantuz #83 | Saskatchewan Roughriders |
| Jim Popp GM | Montreal Alouettes |

---

2009 JOGO CFL "ROOKIE" SET $35.00 Cdn set
(15 cards - see link for player list below)
(Limited - only 150 sets made!)

---

2009 JOGO CFL "SHORT PRINT" SET $35.00 Cdn set
(15 cards - see link for player list below)
(Limited - only 150 sets made!)

---

2009 JOGO CFL "SIGNATURE" SET $125.00 Cdn set
(10 cards - border color to be determined) These cards have real autographs from the players on the cards. These will go fast.
(Extremely Limited)

---

2009 JOGO CFL "PLAYERS" SET $200.00 Cdn set
(180 cards - border color to be determined, varnish coating - see link for player list below)
(Extremely Limited - only 65 complete sets made last year - this year 50-60?)

---

Click Here for more Player information on the 2009 Jogo CFL Sets

---

2008 Extreme CFL Set


2008 Extreme CFL Outstanding Player Card

2008 EXTREME SPORTS CFL BOX SET $30.00 Cdn box
(factory sealed box)

Each box contains 1 guaranteed full set of 100 cards.
96 Regular cards (12 from each team)
4 Outstanding Players cards.

The 4 Outstanding Players are Anthony Calvillo, Michael O`Shea, Milt Stegall & Tom Pate.

Possible Inserts - One out of every Five boxes will contain 1 Autographed Player card as a bonus. There are 8 different autographed Player Cards.

Possible Inserts - One in 50 boxes will include a VIP Pass to the 2008 Pro Players VIP Party.




2008 Extreme CFL Cards Player Checklist

2008 EXTREME CFL CARDS CHECKLIST
Year & Brand
Card #
Player
Team
2008 Extreme CFL
1
Anthony Calvillo - Outstanding Player
Montreal Alouettes
2008 Extreme CFL
2
Ben Cahoon
Montreal Alouettes
2008 Extreme CFL
3
Bryan Chiu
Montreal Alouettes
2008 Extreme CFL
4
Avon Cobourne
Montreal Alouettes
2008 Extreme CFL
5
Chip Cox
Montreal Alouettes
2008 Extreme CFL
6
Damon Duval
Montreal Alouettes
2008 Extreme CFL
7
Diamond Ferri
Montreal Alouettes
2008 Extreme CFL
8
Scott Flory
Montreal Alouettes
2008 Extreme CFL
9
Reggie Hunt
Montreal Alouettes
2008 Extreme CFL
10
Jamel Richardson
Montreal Alouettes
2008 Extreme CFL
11
Davis Sanchez
Montreal Alouettes
2008 Extreme CFL
12
Anwar Stewart
Montreal Alouettes
2008 Extreme CFL
13
Kerry Watkins
Montreal Alouettes
2008 Extreme CFL
14
Korey Banks
BC Lions
2008 Extreme CFL
15
Kelly Bates
BC Lions
2008 Extreme CFL
16
Jason Clermont
BC Lions
2008 Extreme CFL
17
Javier Glatt
BC Lions
2008 Extreme CFL
18
Paris Jackson
BC Lions
2008 Extreme CFL
19
Jarious Jackson
BC Lions
2008 Extreme CFL
20
Brent Johnson
BC Lions
2008 Extreme CFL
21
Paul McCallum
BC Lions
2008 Extreme CFL
22
Barron Miles
BC Lions
2008 Extreme CFL
23
Rob Murphy
BC Lions
2008 Extreme CFL
24
Geroy Simon
BC Lions
2008 Extreme CFL
25
Cameron Wake
BC Lions
2008 Extreme CFL
26
Mike O`Shea - Outstanding Player
Toronto Argonauts
2008 Extreme CFL
27
Adriano Belli
Toronto Argonauts
2008 Extreme CFL
28
Jonathan Brown
Toronto Argonauts
2008 Extreme CFL
29
Dominique Dorsey
Toronto Argonauts
2008 Extreme CFL
30
Kevin Eiben
Toronto Argonauts
2008 Extreme CFL
31
Michael Fletcher
Toronto Argonauts
2008 Extreme CFL
32
Chad Folk
Toronto Argonauts
2008 Extreme CFL
33
Riall Johnson
Toronto Argonauts
2008 Extreme CFL
34
Kerry Joseph
Toronto Argonauts
2008 Extreme CFL
35
Bryon Parker
Toronto Argonauts
2008 Extreme CFL
36
Jude St John
Toronto Argonauts
2008 Extreme CFL
37
Andre Talbot
Toronto Argonauts
2008 Extreme CFL
38
Mike Vanderjagt
Toronto Argonauts
2008 Extreme CFL
39
Chris Bauman
Hamilton Tiger-Cats
2008 Extreme CFL
40
Terry Caulley
Hamilton Tiger-Cats
2008 Extreme CFL
41
Ryan Glasper
Hamilton Tiger-Cats
2008 Extreme CFL
42
Marwan Hage
Hamilton Tiger-Cats
2008 Extreme CFL
43
George Hudson
Hamilton Tiger-Cats
2008 Extreme CFL
44
Markeith Knowlton
Hamilton Tiger-Cats
2008 Extreme CFL
45
Jesse Lumsden
Hamilton Tiger-Cats
2008 Extreme CFL
46
Ray Mariuz
Hamilton Tiger-Cats
2008 Extreme CFL
47
Tony Miles
Hamilton Tiger-Cats
2008 Extreme CFL
48
Casey Printers
Hamilton Tiger-Cats
2008 Extreme CFL
49
Nicholas Setta
Hamilton Tiger-Cats
2008 Extreme CFL
50
Richie Williams
Hamilton Tiger-Cats
2008 Extreme CFL
51
Milt Stegall - Outstanding Player
Winnipeg Blue Bombers
2008 Extreme CFL
52
Derick Armstrong
Winnipeg Blue Bombers
2008 Extreme CFL
53
Doug Brown
Winnipeg Blue Bombers
2008 Extreme CFL
54
Romby Bryant
Winnipeg Blue Bombers
2008 Extreme CFL
55
Tom Canada
Winnipeg Blue Bombers
2008 Extreme CFL
56
Terrence Edwards
Winnipeg Blue Bombers
2008 Extreme CFL
57
Arjei Franklin
Winnipeg Blue Bombers
2008 Extreme CFL
58
Kevin Glenn
Winnipeg Blue Bombers
2008 Extreme CFL
59
Dan Goodspeed
Winnipeg Blue Bombers
2008 Extreme CFL
60
Cam Hall
Winnipeg Blue Bombers
2008 Extreme CFL
61
Anthony Malbrough
Winnipeg Blue Bombers
2008 Extreme CFL
62
Kelly Malveaux
Winnipeg Blue Bombers
2008 Extreme CFL
63
Gavin Walls
Winnipeg Blue Bombers
2008 Extreme CFL
64
Wes Cates
Saskatchewan Roughriders
2008 Extreme CFL
65
John Chick
Saskatchewan Roughriders
2008 Extreme CFL
66
Eddie Davis
Saskatchewan Roughriders
2008 Extreme CFL
67
Darian Durant
Saskatchewan Roughriders
2008 Extreme CFL
68
Andy Fantuz
Saskatchewan Roughriders
2008 Extreme CFL
69
D.J. Flick
Saskatchewan Roughriders
2008 Extreme CFL
70
Neal Hughes
Saskatchewan Roughriders
2008 Extreme CFL
71
James Johnson
Saskatchewan Roughriders
2008 Extreme CFL
72
Maurice Lloyd
Saskatchewan Roughriders
2008 Extreme CFL
73
Gene Makowsky
Saskatchewan Roughriders
2008 Extreme CFL
74
Jeremy O`Day
Saskatchewan Roughriders
2008 Extreme CFL
75
Scott Schultz
Saskatchewan Roughriders
2008 Extreme CFL
76
Tom Pate - Outstanding Player
Hamilton Tiger-Cats
2008 Extreme CFL
77
Augustin Barrenechea
Edmonton Eskimos
2008 Extreme CFL
78
Mathieu Bertrand
Edmonton Eskimos
2008 Extreme CFL
79
Shannon Garrett
Edmonton Eskimos
2008 Extreme CFL
80
Jason Goss
Edmonton Eskimos
2008 Extreme CFL
81
Tristan Jackson
Edmonton Eskimos
2008 Extreme CFL
82
Fred Perry
Edmonton Eskimos
2008 Extreme CFL
83
Kamau Peterson
Edmonton Eskimos
2008 Extreme CFL
84
Noel Prefontaine
Edmonton Eskimos
2008 Extreme CFL
85
Ricky Ray
Edmonton Eskimos
2008 Extreme CFL
86
Dario Romero
Edmonton Eskimos
2008 Extreme CFL
87
Jason Tucker
Edmonton Eskimos
2008 Extreme CFL
88
Jordan Younger
Edmonton Eskimos
2008 Extreme CFL
89
Henry Burris
Calgary Stampeders
2008 Extreme CFL
90
Jeremaine Copeland
Calgary Stampeders
2008 Extreme CFL
91
Sandro DeAngelis
Calgary Stampeders
2008 Extreme CFL
92
Markus Howell
Calgary Stampeders
2008 Extreme CFL
93
Rob Lazeo
Calgary Stampeders
2008 Extreme CFL
94
Nik Lewis
Calgary Stampeders
2008 Extreme CFL
95
Wes Lysack
Calgary Stampeders
2008 Extreme CFL
96
Jeff Pilon
Calgary Stampeders
2008 Extreme CFL
97
Brett Ralph
Calgary Stampeders
2008 Extreme CFL
98
Ken-Yon Rambo
Calgary Stampeders
2008 Extreme CFL
99
Joffrey Reynolds
Calgary Stampeders
2008 Extreme CFL
100
Ryan Thelwell
Calgary Stampeders
2008 EXTREME CFL SIGNATURE CARDS
Year & Brand
Card #
Player
Team
2008 Extreme CFL
Sig 1
Henry Burris
Calgary Stampeders
2008 Extreme CFL
Sig 2
Anthony Calvillo
Montreal Alouettes
2008 Extreme CFL
Sig 3
Jason Clermont
BC Lions
2008 Extreme CFL
Sig 4
Jesse Lumsden
Hamilton Tiger-Cats
2008 Extreme CFL
Sig 5
Gene Makowsky
Saskatchewan Roughriders
2008 Extreme CFL
Sig 6
Michael O`Shea
Toronto Argonauts
2008 Extreme CFL
Sig 7
Kamau Peterson
Edmonton Eskimos
2008 Extreme CFL
Sig 8
Milt Stegall
Winnipeg Blue Bombers




---




2008 Jogo CFL Card Sets

2008 Jogo CFL Regular Set 2008 Jogo CFL Players Set
2008 Jogo CFL Rookie Set 2008 Jogo CFL Short Print Set
2008 Jogo CFL Signature Set

2008 JOGO CFL "REGULAR" SET* $115.00 Cdn set
(180 cards - white borders, with team colors, UV coated - see player list below)
(Limited - only 360 sets made!)

One random BONUS Signature card will be added to each
of the 360 numbered 2008 Jogo CFL regular sets produced.

The featured BONUS Signature card could be ONE of the following cards.

| | |
| --- | --- |
| Angus Reid #64 | BC Lions |
| Buck Pierce #16 | BC Lions |
| Sandro DeAngelis #12 | Calgary Stampeders |
| George Hudson #52 | Hamilton Tiger Cats |
| Shannon Garrett #23 | Edmonton Eskimos |
| Ricky Ray #15 | Edmonton Eskimos |
| Wes Cates #25 | Saskatchewan Roughriders |
| Kerry Joseph #4 | Toronto Argonauts |
| Ben Cahoon #86 | Montreal Alouettes |
| Jesse Lumsden #28 | Hamilton Tiger Cats |

---

2008 JOGO CFL "ROOKIE" SET $35.00 Cdn set
(15 cards - see player list below)
(Limited - only 200 sets made!)

---

2008 JOGO CFL "SHORT PRINT" SET $35.00 Cdn set
(15 cards - see player list below)
(Limited - only 200 sets made!)

---

2008 JOGO CFL "SIGNATURE" SET $125.00 Cdn set
(10 cards - black borders - see player list below) These cards have real autographs from the players on the cards. These will go fast.
(Extremely Limited)

---

2008 JOGO CFL "ROOKIE of the YEAR" CARD Email for price & availability
Priority given to Our 2008 Jogo Regular CFL Set customers & 2008 Jogo CFL Players Set customers
(Limited - only 200 white bordered cards made!)

---

2008 JOGO CFL "PLAYERS" SET $200.00 Cdn set
(180 cards - black borders with team colors, varnish coating - see player list below)
(Extremely Limited - only 65 complete sets made)

---

Click Here for more Player information on the 2008 Jogo CFL Sets

---

2007 EXTREME SPORTS CFL BOX SET (factory sealed box of 20 packs, 5 cards per pack) $25.00 Cdn box

Each box contains 1 guaranteed full set.

80 Regular cards (10 from each team)
16 Outstanding Player cards (2 from each team)
4 Future Hall of Fame Inductee cards

Production - 5000 boxes made.

---

2007 JOGO CFL "REGULAR" SET $115.00 Cdn set
(175 cards - white borders, with team colors, UV coated)
(Limited - only 400 sets made!)

See list in scroll box below

One random BONUS card will be added to each of the 400 numbered 2007 Jogo CFL regular sets produced.

The featured BONUS card could be ONE of the following cards.

200 Sets will contain one limited edition Autographed card.



BRYAN CHIU Montreal Alouettes
JEREMY O`DAY Saskatchewan Roughriders
JAY McNEIL Calgary Stampeders
JARRETT W. PAYTON Montreal Alouettes
BRENT JOHNSON B.C. Lions
GEROY SIMON B.C. Lions
KERRY JOSEPH Saskatchewan Roughriders

200 sets will contain one random card from one of the Special Limited Edition sets

WHERE ARE THEY NOW

or
SHORT PRINT

or
ROOKIE CARD

---

2007 JOGO CFL "ROOKIE" SET $30.00 Cdn set
(14 cards)
(Limited - only 200 sets made!)

See list in scroll box below

---

2007 JOGO CFL "SHORT-PRINT" SET $30.00 Cdn set
(14 cards)
(Limited - only 200 sets made!)

See list in scroll box below

---

2007 JOGO CFL "WHERE ARE THEY NOW" SET $16.00 Cdn set
(9 cards)
(Limited - only 200 sets made!)

See list in scroll box below

---

2007 JOGO CFL "PLAYERS" SET $200.00 Cdn set
(175 cards - gray borders, varnish coating)
(Limited - only 63 complete players sets made!)

Normally, the "player" cards are only available from the players.

As some of you know, a lot of the players purchase their own cards from Jogo
so they can pass them out or do with what they want with them.

However, not all players buy their own cards, so it is impossible for the collector,
to obtain all the "player" cards (with gray & team color borders this year),
directly from the players to complete a full set.

There is a small overrun of the players cards & we have the opportunity
to get some of the COMPLETE 2007 Jogo Player's CFL sets (175 cards with different borders).

There is no UV coating on the player's cards, making it easier to have autographed.

Production - Extremely Limited players "complete sets" available. 25% Less than last year.

See list in scroll box below

2007 JOGO REGULAR CFL SET (Limited 400 Numbered sets)
(175 cards) (White Border with Team Colors, UV Coated)
Year
Card #
Player & Jersey #
Team
07 Jogo CFL
1
Bryan Chiu #68
Montreal Alouettes
07 Jogo CFL
2
Luke Fritz #61
Montreal Alouettes
07 Jogo CFL
3
Scott Flory #57
Montreal Alouettes
07 Jogo CFL
4
Matthieu Proulx #20
Montreal Alouettes
07 Jogo CFL
5
Mike Vilimek #35
Montreal Alouettes
07 Jogo CFL
6
Dave Mudge #67
Montreal Alouettes
07 Jogo CFL
7
Paul Lambert #65
Montreal Alouettes
07 Jogo CFL
8
Etienne Boulay #22
Montreal Alouettes
07 Jogo CFL
9
Shawn Gallant #0
Montreal Alouettes
07 Jogo CFL
10
Jeff Perrett #54
Montreal Alouettes
07 Jogo CFL
11
T.J. Hill #12
Montreal Alouettes
07 Jogo CFL
12
Danny Desriveaux #82
Montreal Alouettes
07 Jogo CFL
13
Brian Bratton #85
Montreal Alouettes
07 Jogo CFL
14
Skip Seagraves #55
Montreal Alouettes
07 Jogo CFL
15
Cory Huclack #51
Montreal Alouettes
07 Jogo CFL
16
Marcus Brady #8
Montreal Alouettes
07 Jogo CFL
17
Ashlan Davis #1
Montreal Alouettes
07 Jogo CFL
18
Devone Claybrooks #95
Montreal Alouettes
07 Jogo CFL
19
Jarrett W. Payton #33
Montreal Alouettes
07 Jogo CFL
20
John N. Bowman #48
Montreal Alouettes
07 Jogo CFL
21
Chris Vrantsis #52
Montreal Alouettes
07 Jogo CFL
22
Jesse Hendrix #17
Montreal Alouettes
07 Jogo CFL
23
Rob Murphy #56
BC Lions
07 Jogo CFL
24
Angus Reid #64
BC Lions
07 Jogo CFL
25
Jason Clermont #82
BC Lions
07 Jogo CFL
26
Barron Miles #9
BC Lions
07 Jogo CFL
27
Geroy Simon #81
BC Lions
07 Jogo CFL
28
Tyson Craiggs #51
BC Lions
07 Jogo CFL
29
Buck Pierce #16
BC Lions
07 Jogo CFL
30
Javier Glatt #6
BC Lions
07 Jogo CFL
31
Sebastian Clovis #17
BC Lions
07 Jogo CFL
32
Ryan Phillips #21
BC Lions
07 Jogo CFL
33
Tad Crawford #3
BC Lions
07 Jogo CFL
34
Jason Pottinger #11
BC Lions
07 Jogo CFL
35
Sherko Rasouli #55
BC Lions
07 Jogo CFL
36
Brent Johnson #97
BC Lions
07 Jogo CFL
37
Kelly Bates #59
BC Lions
07 Jogo CFL
38
Chad Folk #56
Toronto Argonauts
07 Jogo CFL
39
Jude St. John #66
Toronto Argonauts
07 Jogo CFL
40
Orlondo Steinauer #21
Toronto Argonauts
07 Jogo CFL
41
David Costa #68
Toronto Argonauts
07 Jogo CFL
42
Bryan Crawford #40
Toronto Argonauts
07 Jogo CFL
43
Tony Miles #15
Toronto Argonauts
07 Jogo CFL
44
Taylor Robertson #65
Toronto Argonauts
07 Jogo CFL
45
Glenn January #64
Toronto Argonauts
07 Jogo CFL
46
Brian Ramsay #57
Toronto Argonauts
07 Jogo CFL
47
Jay McNeil #50
Calgary Stampeders
07 Jogo CFL
48
Burke Dales #16
Calgary Stampeders
07 Jogo CFL
49
Pat McDonald #49
Calgary Stampeders
07 Jogo CFL
50
J.R. Ruffin #28
Calgary Stampeders
07 Jogo CFL
51
Ken-Yon Rambo #85
Calgary Stampeders
07 Jogo CFL
52
Henry Burris #1
Calgary Stampeders
07 Jogo CFL
53
Bobby S. Singh #62
Calgary Stampeders
07 Jogo CFL
54
Wes Lysack #31
Calgary Stampeders
07 Jogo CFL
55
Sandro DeAngelis #12
Calgary Stampeders
07 Jogo CFL
56
Brian Clark #48
Calgary Stampeders
07 Jogo CFL
57
Scott Coe #56
Calgary Stampeders
07 Jogo CFL
58
Jeff Pilon #64
Calgary Stampeders
07 Jogo CFL
59
Pascal Masson #5
Montreal Alouettes
07 Jogo CFL
60
Justin Phillips #44
Calgary Stampeders
07 Jogo CFL
61
Sadrick Williams #30
Calgary Stampeders
07 Jogo CFL
62
Rob Lazeo #68
Calgary Stampeders
07 Jogo CFL
63
Rob Cote #26
Calgary Stampeders
07 Jogo CFL
64
Terrence Patrick #93
Calgary Stampeders
07 Jogo CFL
65
Crance Clemons #32
Calgary Stampeders
07 Jogo CFL
66
Trey Young #33
Calgary Stampeders
07 Jogo CFL
67
John Comiskey #62
Calgary Stampeders
07 Jogo CFL
68
Marwan Hage #62
Hamilton Tiger Cats
07 Jogo CFL
69
Tay Cody #4
Hamilton Tiger Cats
07 Jogo CFL
70
George Hudson #52
Hamilton Tiger Cats
07 Jogo CFL
71
Jermaine Reid #99
Hamilton Tiger Cats
07 Jogo CFL
72
Chris Bauman #87
Hamilton Tiger Cats
07 Jogo CFL
73
Julian Radlein #33
Hamilton Tiger Cats
07 Jogo CFL
74
Jason French #15
Hamilton Tiger Cats
07 Jogo CFL
75
Nate Curry #84
Hamilton Tiger Cats
07 Jogo CFL
76
Joseph Walker #77
Hamilton Tiger Cats
07 Jogo CFL
77
Brock Ralph #80
Hamilton Tiger Cats
07 Jogo CFL
78
Jason Armstead #1
Hamilton Tiger Cats
07 Jogo CFL
79
Jesse Lumsden #28
Hamilton Tiger Cats
07 Jogo CFL
80
Peter Dyakowski #67
Hamilton Tiger Cats
07 Jogo CFL
81
Pascal Cheron #66
Hamilton Tiger Cats
07 Jogo CFL
82
Ryan Donnelly #64
Hamilton Tiger Cats
07 Jogo CFL
83
Kori Dickerson #0
Hamilton Tiger Cats
07 Jogo CFL
84
Sandy Beveridge #19
Hamilton Tiger Cats
07 Jogo CFL
85
JoJuan Armour #32
Hamilton Tiger Cats
07 Jogo CFL
86
Dwight Andertson #20
Hamilton Tiger Cats
07 Jogo CFL
87
Shannon Garrett #23
Edmonton Eskimos
07 Jogo CFL
88
Stefan Lefors #17
Edmonton Eskimos
07 Jogo CFL
89
Scott Gordon #26
Saskatchewan Roughriders
07 Jogo CFL
90
Tyler Ebell #27
Edmonton Eskimos
07 Jogo CFL
91
Jean-Francois Romeo #4
Edmonton Eskimos
07 Jogo CFL
92
Raleigh Roundtree #58
Edmonton Eskimos
07 Jogo CFL
93
Matt Dominguez #88
Saskatchewan Roughriders
07 Jogo CFL
94
Jason Goss #12
Edmonton Eskimos
07 Jogo CFL
95
Kenny Onatolu #44
Edmonton Eskimos
07 Jogo CFL
96
Siddeeq Shabazz #29
Edmonton Eskimos
07 Jogo CFL
97
David McKoy #85
Saskatchewan Roughriders
07 Jogo CFL
98
Sean Fleming #11
Edmonton Eskimos
07 Jogo CFL
99
Steven Jyles #7
Edmonton Eskimos
07 Jogo CFL
100
Marcus Adams #51
Saskatchewan Roughriders
07 Jogo CFL
101
Jeremy O`Day #54
Saskatchewan Roughriders
07 Jogo CFL
102
D.J. Flick #3
Saskatchewan Roughriders
07 Jogo CFL
103
Kerry Joseph #4
Saskatchewan Roughriders
07 Jogo CFL
104
Marcus Crandell #8
Saskatchewan Roughriders
07 Jogo CFL
105
Reggie Hunt #9
Saskatchewan Roughriders
07 Jogo CFL
106
Luca Congi #10
Saskatchewan Roughriders
07 Jogo CFL
107
Chris Szarka #33
Saskatchewan Roughriders
07 Jogo CFL
108
Fred Perry #41
Saskatchewan Roughriders
07 Jogo CFL
109
Gene Makowsky #60
Saskatchewan Roughriders
07 Jogo CFL
110
Milt Stegall #85
Winnipeg Blue Bombers
07 Jogo CFL
111
Adrian Baird #90
Winnipeg Blue Bombers
07 Jogo CFL
112
Chris Brazzell #84
Winnipeg Blue Bombers
07 Jogo CFL
113
Davin Bush #2
Winnipeg Blue Bombers
07 Jogo CFL
114
Tom Canada #44
Winnipeg Blue Bombers
07 Jogo CFL
115
Ryan Dinwiddlie #4
Winnipeg Blue Bombers
07 Jogo CFL
116
Terrence Edwards #82
Winnipeg Blue Bombers
07 Jogo CFL
117
Arjei Franklin #86
Winnipeg Blue Bombers
07 Jogo CFL
118
Kevin Glenn #5
Winnipeg Blue Bombers
07 Jogo CFL
119
Dan Goodspeed #64
Winnipeg Blue Bombers
07 Jogo CFL
120
Andrew Greene #68
Winnipeg Blue Bombers
07 Jogo CFL
121
Brian Guebert #92
Winnipeg Blue Bombers
07 Jogo CFL
122
Cam Hall #40
Winnipeg Blue Bombers
07 Jogo CFL
123
Jeromy Haywood #99
Winnipeg Blue Bombers
07 Jogo CFL
124
Corey Jenkins #45
Winnipeg Blue Bombers
07 Jogo CFL
125
Gilles Lezi #20
Winnipeg Blue Bombers
07 Jogo CFL
126
Ian Logan #31
Winnipeg Blue Bombers
07 Jogo CFL
127
Patrick Kabongo #56
Edmonton Eskimos
07 Jogo CFL
128
Anthony Malbrough #3
Winnipeg Blue Bombers
07 Jogo CFL
129
Kelly Malveaux #27
Winnipeg Blue Bombers
07 Jogo CFL
130
Neil McKinlay #42
Winnipeg Blue Bombers
07 Jogo CFL
131
Greg Moss #22
Winnipeg Blue Bombers
07 Jogo CFL
132
Jason Nugent #21
Winnipeg Blue Bombers
07 Jogo CFL
133
Chijioke Onyenegecha #24
Winnipeg Blue Bombers
07 Jogo CFL
134
Jon Oosterhuis #77
Winnipeg Blue Bombers
07 Jogo CFL
135
Dominic Picard #53
Winnipeg Blue Bombers
07 Jogo CFL
136
Rob Pikuka #14
Winnipeg Blue Bombers
07 Jogo CFL
137
Fred Reid #32
Winnipeg Blue Bombers
07 Jogo CFL
138
Matt Sheridan #54
Winnipeg Blue Bombers
07 Jogo CFL
139
Jamie Stoddard #88
Winnipeg Blue Bombers
07 Jogo CFL
140
Gavin Walls #98
Winnipeg Blue Bombers
07 Jogo CFL
141
Troy Westwood #7
Winnipeg Blue Bombers
07 Jogo CFL
142
O`Neil Wilson #0
Winnipeg Blue Bombers
07 Jogo CFL
143
Corey Grant #2
Saskatchewan Roughriders.
07 Jogo CFL
144
James Johnson #19
Saskatchewan Roughriders
07 Jogo CFL
145
Dustin Cherniawski #22
Saskatchewan Roughriders.
07 Jogo CFL
146
Rontarius Robinson #21
Saskatchewan Roughriders
07 Jogo CFL
147
Aaron Fiacconi #51
Edmonton Eskimos
07 Jogo CFL
148
Randy Chevrier #76
Calgary Stampeders
07 Jogo CFL
149
Eddie Davis #29
Saskatchewan Roughriders
07 Jogo CFL
150
Jamie Boreham #30
Saskatchewan Roughriders
07 Jogo CFL
151
Neal Hughes #32
Saskatchewan Roughriders
07 Jogo CFL
152
Michael Roberts #27
Hamilton Tiger Cats
07 Jogo CFL
153
Tim Fleiszer #43
Saskatchewan Roughriders
07 Jogo CFL
154
Kitwana Jones #46
Saskatchewan Roughriders
07 Jogo CFL
155
Maurice Lloyd #47
Saskatchewan Roughriders
07 Jogo CFL
156
Wayne Smith #52
Saskatchewan Roughriders
07 Jogo CFL
157
Jermese Jones #53
Saskatchewan Roughriders
07 Jogo CFL
158
Mark Parenteau #57
Saskatchewan Roughriders
07 Jogo CFL
159
Jocelyn Frenette #59
Saskatchewan Roughriders
07 Jogo CFL
160
Ibrahim "Obby" Khan #60
Winnipeg Blue Bombers
07 Jogo CFL
161
Mike Abou-Mechrek #67
Saskatchewan Roughriders
07 Jogo CFL
162
Michael Washington #82
Saskatchewan Roughriders
07 Jogo CFL
163
Andy Fantuz #83
Saskatchewan Roughriders
07 Jogo CFL
164
Kamau Peterson #8
Edmonton Eskimos
07 Jogo CFL
165
Nathan Hoffart #86
Saskatchewan Roughriders
07 Jogo CFL
166
Khalil Carter #3
Toronto Argonauts
07 Jogo CFL
167
Scott Schultz #96
Saskatchewan Roughriders
07 Jogo CFL
168
Randy Spencer #96
Montreal Alouettes
07 Jogo CFL
169
Chris Jones
Montreal Alouettes
07 Jogo CFL
170
Jim Popp
Montreal Alouettes
07 Jogo CFL
171
Elijah Thurmon #84
Montreal Alouettes
07 Jogo CFL
172
Chip Cox #11
Montreal Alouettes
07 Jogo CFL
173
Aaron Wagner #52
Toronto Argonauts
07 Jogo CFL
174
Richie Williams 17
Hamilton Tiger Cats
07 Jogo CFL
175
Mark Estelle #31
Montreal Alouettes
2007 JOGO CFL SHORT-PRINT SET (15 cards) (Limited 200 Numbered sets)
Year
Card #
Player & Jersey #
Team
07 Jogo CFL
1-SP
Jarious Jackson #7
BC Lions
07 Jogo CFL
2-SP
Ricky Ray #15
Edmonton Eskimos
07 Jogo CFL
3-SP
Nikolas Lewis #82
Calgary Stampeders
07 Jogo CFL
4-SP
Ben Cahoon #86
Montreal Alouettes
07 Jogo CFL
5-SP
Joe Smith #33
BC Lions
07 Jogo CFL
6-SP
Barrin Simpson #51
Winnipeg Blue Bombers
07 Jogo CFL
7-SP
Derick Armstrong #83
Winnipeg Blue Bombers
07 Jogo CFL
8-SP
Anthony Calvillo #13
Montreal Alouettes
07 Jogo CFL
9-SP
Wes Cates #25
Saskatchewan Roughriders
07 Jogo CFL
10-SP
Casey Printers #1
Hamilton Tiger Cats
07 Jogo CFL
11-SP
Corey Holmes #1
Saskatchewan Roughriders
07 Jogo CFL
12-SP
Charles Roberts #1
Winnipeg Blue Bombers
07 Jogo CFL
13-SP
Joffrey Reynolds #21
Calgary Stampeders
07 Jogo CFL
14-SP
Michael Bishop #17
Toronto Argonauts
07 Jogo CFL
15-SP
T.J. Acree #84
Edmonton Eskimos
2007 JOGO CFL ROOKIE SET (14 cards) (Limited 200 Numbered sets)
Year
Card #
Player & Jersey #
Team
07 Jogo CFL
1-R
Jarrett W. Payton #33
Montreal Alouettes
07 Jogo CFL
2-R
Barrick Nealy #15
Calgary Stampeders
07 Jogo CFL
3-R
Patrick Johnson #84
Toronto Argonauts
07 Jogo CFL
4-R
Terry Caulley #30
Hamilton Tiger Cats
07 Jogo CFL
5-R
Ian Smart #2
BC Lions
07 Jogo CFL
6-R
Frank Murphy #88
Toronto Argonauts
07 Jogo CFL
7-R
Obed Cetoute #16
Toronto Argonauts
07 Jogo CFL
8-R
Cameron Wake #91
BC Lions
07 Jogo CFL
9-R
Zeke Moreno #16
Hamilton Tiger Cats
07 Jogo CFL
10-R
Chris Thompson #24
Edmonton Eskimos
07 Jogo CFL
11-R
Josh Boden #1
BC Lions
07 Jogo CFL
12-R
Willie Pile #10
Toronto Argonauts
07 Jogo CFL
13-R
David Lofton #26
Hamilton Tiger Cats
07 Jogo CFL
14-R
Timmy Chang #7
Hamilton Tiger Cats
2007 JOGO CFL "WHERE ARE THEY NOW" SET (9 cards) (Limited 200 Numbered sets)
Year
Card #
Player
07 Jogo CFL
1-W
Khari Jones
07 Jogo CFL
2-W
Gord Weber
07 Jogo CFL
3-W
Trevor Kennard
07 Jogo CFL
4-W
Michel Bourgeau
07 Jogo CFL
5-W
Bob Young
07 Jogo CFL
6-W
Greg Battle
07 Jogo CFL
7-W
Darren Flutie
07 Jogo CFL
8-W
Rocco Romano
07 Jogo CFL
9-W
Pierre Vercheval
2007 JOGO CFL "SIGNATURE" CARDS (7 cards)
(Bonus 1 random autographed card inserted into 200 of the 400 regular 2007 Jogo sets)
Year
Card #
Player & Jersey #
Team
07 Jogo CFL
1-S
Bryan Chiu #68
Montreal Alouettes
07 Jogo CFL
2-S
Jeremy O`Day #52
Saskatchewan Roughriders
07 Jogo CFL
3-S
Jay McNeil #50
Calgary Stampeders
07 Jogo CFL
4-S
Jarrett W. Payton #33
Montreal Alouettes
07 Jogo CFL
5-S
Brent Johnson #97
BC Lions
07 Jogo CFL
6-S
Geroy Simon #81
BC Lions
07 Jogo CFL
7-S
Kerry Joseph #4
Saskatchewan Roughriders
2007 JOGO PLAYERS CFL SET (Complete Players Sets are Extremely Limited)
(175 parallel cards - see regular list) (Gray Border, Varnish Finish)

(These are the cards that the players purchased from Jogo)




---

2006 JOGO CFL "REGULAR" SET (165 cards - BLACK borders, UV coated) $110.00 Cdn set

There will be 1 series this year (165 cards)
Production - only 380 numbered sets made.
Includes 1 random insert card from either Variation /Short Print set or Rookie set.

Black borders with red dots
See list in scroll box below

---

2006 JOGO CFL "ROOKIE" SET (14 cards) $42.00 Cdn set
(Limited - only 150 sets made!)

Blue border with orange dots
See list in scroll box below

---

2006 JOGO CFL "VARIATION / SHORT-PRINT" SET (15 cards) $45.00 Cdn set
(Limited - only 150 sets made!)

Blue border with orange dots, orange back
See list in scroll box below

---

2006 JOGO CFL LIMITED "DAMON ALLEN SPECIAL" CARD $20.00 Cdn card
(Limited - only 100 cards made!)

Blue border with orange dots, orange back
Featuring - Damon Allen, Marcus Allen & Warren Moon

---

2006 JOGO CFL "PLAYERS" SET (165 cards - White borders) $200.00 Cdn set

As some of you know, the players pay to get into the Jogo set - in exchange for a
certain number of their cards they can give out or do with what they want.

Not all players buy their own cards, so it is impossible for the collector,
who obtain their cards from the players to get a complete set.

Normally, the players cards are only available from the players.
There is a small overrun of the players cards & we have the opportunity
to get some of the COMPLETE 2006 Jogo Player's CFL sets (165 cards with WHITE borders).

*** The players cards this year have a WHITE border.
white border around black border with red dots
There is no UV coating on the player's cards, making it easier to have autographed.

Production - 85 players "complete sets" available.

See list in scroll box below

2006 JOGO CFL SET (165 cards)
Year
Card #
Player & Jersey #
Team
06 Jogo CFL
1
Milton Stegall #85
Winnipeg Blue Bombers
06 Jogo CFL
2
Kevin Glenn #5
Winnipeg Blue Bombers
06 Jogo CFL
3
Gavin Walls #98
Winnipeg Blue Bombers
06 Jogo CFL
4
Matt Sheridan #54
Winnipeg Blue Bombers
06 Jogo CFL
5
Ron Warner #94
Winnipeg Blue Bombers
06 Jogo CFL
6
Donnavan Carter #20
Winnipeg Blue Bombers
06 Jogo CFL
7
Charles Roberts #1
Winnipeg Blue Bombers
06 Jogo CFL
8
Val St.Germain #65/59
Winnipeg Blue Bombers
06 Jogo CFL
9
Adrian Baird #90
Winnipeg Blue Bombers
06 Jogo CFL
10
Kyries Hebert #23
Winnipeg Blue Bombers
06 Jogo CFL
11
Barrin Simpson #51
Winnipeg Blue Bombers
06 Jogo CFL
12
Omar Evans #4
Winnipeg Blue Bombers
06 Jogo CFL
13
Tom Canada #44
Winnipeg Blue Bombers
06 Jogo CFL
14
Albert Johnson III #87
Winnipeg Blue Bombers
06 Jogo CFL
15
Ron Ockimey #15
Winnipeg Blue Bombers
06 Jogo CFL
16
Shawn Gallant #22
Winnipeg Blue Bombers
06 Jogo CFL
17
Stanford Samuels #16
Winnipeg Blue Bombers
06 Jogo CFL
18
Chris Brazzell #84
Winnipeg Blue Bombers
06 Jogo CFL
19
Chris Cvetkovic #50
Winnipeg Blue Bombers
06 Jogo CFL
20
Graeme Bell # 26
Winnipeg Blue Bombers
06 Jogo CFL
21
Mike Quinn #12
Winnipeg Blue Bombers
06 Jogo CFL
22
Arjei Franklin #86
Winnipeg Blue Bombers
06 Jogo CFL
23
Terrence Edwards #80
Montreal Alouettes
06 Jogo CFL
24
Sylvain Girard #3
Montreal Alouettes
06 Jogo CFL
25
Jeff Piercy #34
Montreal Alouettes
06 Jogo CFL
26
Dave Mudge #67
Montreal Alouettes
06 Jogo CFL
27
Eric Lapointe #5
Montreal Alouettes
06 Jogo CFL
28
Dario Romero #94
Montreal Alouettes
06 Jogo CFL
29
Ed Philion #75
Montreal Alouettes
06 Jogo CFL
30
Paul Lambert #65
Montreal Alouettes
06 Jogo CFL
31
Anthony Calvillo #13
Montreal Alouettes
06 Jogo CFL
32
Luke Fritz #61
Montreal Alouettes
06 Jogo CFL
33
Scott Flory #57
Montreal Alouettes
06 Jogo CFL
34
Kai Ellis #93
Montreal Alouettes
06 Jogo CFL
35
Dave Stala #88
Montreal Alouettes
06 Jogo CFL
36
Matthieu Proulx #20
Montreal Alouettes
06 Jogo CFL
37
Jerome Haywood #99
Montreal Alouettes
06 Jogo CFL
38
Uzo Okeke #53
Montreal Alouettes
06 Jogo CFL
39
Mike Vilimek #35
Montreal Alouettes
06 Jogo CFL
40
Bryan Chiu #68
Montreal Alouettes.
06 Jogo CFL
41
Kenton Keith #28
Saskatchewan Roughriders
06 Jogo CFL
42
Ryan Phillips #21
BC Lions
06 Jogo CFL
43
Donnie Ruiz #17
Saskatchewan Roughriders
06 Jogo CFL
44
Ibraham Tounkara #82
Saskatchewan Roughriders
06 Jogo CFL
45
Scott Schultz #96
Saskatchewan Roughriders
06 Jogo CFL
46
Luca Congi #10
Saskatchewan Roughriders
06 Jogo CFL
47
Marcus Crandell #8
Saskatchewan Roughriders
06 Jogo CFL
48
Rob Lazeo #66
Saskatchewan Roughriders
06 Jogo CFL
49
Jason Armstead #1
Saskatchewan Roughriders
06 Jogo CFL
50
Corey Grant #2
Saskatchewan Roughriders.
06 Jogo CFL
51
Kerry Joseph #4
Saskatchewan Roughriders
06 Jogo CFL
52
Jeremy O`Day #54
Saskatchewan Roughriders
06 Jogo CFL
53
Jason French #6
Saskatchewan Roughriders
06 Jogo CFL
54
Dustin Cherniawski #22
Saskatchewan Roughriders.
06 Jogo CFL
55
Gene Makowsky #60
Saskatchewan Roughriders
06 Jogo CFL
56
Jackie Mitchell #24
Saskatchewan Roughriders
06 Jogo CFL
57
Andrew Greene #68
Saskatchewan Roughriders
06 Jogo CFL
58
Chris Szarka #33
Saskatchewan Roughriders
06 Jogo CFL
59
Jamal Richardson #89
Saskatchewan Roughriders
06 Jogo CFL
60
Reggie Hunt #9
Saskatchewan Roughriders
06 Jogo CFL
61
Jocelyn Frenette #59
Saskatchewan Roughriders
06 Jogo CFL
62
Neal Hughes #32
Saskatchewan Roughriders
06 Jogo CFL
63
Eddie Davis #29
Saskatchewan Roughriders
06 Jogo CFL
64
Matt Dominguez #88
Saskatchewan Roughriders
06 Jogo CFL
65
Tristan Clovis #37
Saskatchewan Roughriders
06 Jogo CFL
66
Kitwana Jones #46
Saskatchewan Roughriders
06 Jogo CFL
67
Luc Mullinder #95
Saskatchewan Roughriders
06 Jogo CFL
68
Fred Perry #41
Saskatchewan Roughriders
06 Jogo CFL
69
Mike Mahoney #49
Saskatchewan Roughriders
06 Jogo CFL
70
Dominique Dorsey #27
Saskatchewan Roughriders
06 Jogo CFL
71
Freddie Childress #69
Saskatchewan Roughriders
06 Jogo CFL
72
Andy Fantuz #83
Saskatchewan Roughriders
06 Jogo CFL
73
Joffrey Reynolds #21
Calgary Stampeders
06 Jogo CFL
74
Jeff Pilon #64
Calgary Stampeders
06 Jogo CFL
75
Pascal Masson #9
Calgary Stampeders
06 Jogo CFL
76
Jay McNeil #50
Calgary Stampeders
06 Jogo CFL
77
Elijah Thurmon #84
Calgary Stampeders
06 Jogo CFL
78
Tony Tiller #24
Calgary Stampeders
06 Jogo CFL
79
Brian Clark #48
Calgary Stampeders
06 Jogo CFL
80
John Comiskey #62
Calgary Stampeders
06 Jogo CFL
81
Sandro DeAngelis #12
Calgary Stampeders
06 Jogo CFL
82
Trey Young #33
Calgary Stampeders
06 Jogo CFL
83
Nik Lewis #82
Calgary Stampeders
06 Jogo CFL
84
Danny McManus #14
Calgary Stampeders
06 Jogo CFL
85
Taylor Robertson #65
Calgary Stampeders
06 Jogo CFL
86
Marc Mitchell #39
Calgary Stampeders
06 Jogo CFL
87
Wes Lysack #31
Calgary Stampeders
06 Jogo CFL
88
Henry Burris #1
Calgary Stampeders
06 Jogo CFL
89
Wes Cates #25
Calgary Stampeders
06 Jogo CFL
90
J.R. Ruffin #28
Calgary Stampeders
06 Jogo CFL
91
John Grace #7
Calgary Stampeders
06 Jogo CFL
92
Khalid Abdullah #42
Calgary Stampeders
06 Jogo CFL
93
Jermaine Chatman #41
Calgary Stampeders
06 Jogo CFL
94
Angus Reid #64
BC Lions
06 Jogo CFL
95
Paul McCallum #4
BC Lions
06 Jogo CFL
96
Tim Bakker #64
Edmonton Eskimos
06 Jogo CFL
97
Malcolm Frank #10
Edmonton Eskimos
06 Jogo CFL
98
Mike Maurer #19
Edmonton Eskimos
06 Jogo CFL
99
Kelly Wiltshire #31
Edmonton Eskimos
06 Jogo CFL
100
Shannon Garrett #23
Edmonton Eskimos
06 Jogo CFL
101
Pat Woodcock #6
Edmonton Eskimos
06 Jogo CFL
102
Ricky Ray #15
Edmonton Eskimos
06 Jogo CFL
103
Marcus Winn #40
Edmonton Eskimos
06 Jogo CFL
104
Rob Brown #94
Edmonton Eskimos
06 Jogo CFL
105
Adam Braidwood #91
Edmonton Eskimos
06 Jogo CFL
106
Jonte` L. Buhl #25
Edmonton Eskimos
06 Jogo CFL
107
Anthony Malbrough #3
Winnipeg Blue Bombers
06 Jogo CFL
108
Rob LeBlanc #3
Edmonton Eskimos
06 Jogo CFL
109
Ibrahim "Obby"khan #60
Winnipeg Blue Bombers
06 Jogo CFL
110
John Jenkins Head Coach
Ottawa Renegades
06 Jogo CFL
111
John Sullivan #39
Winnipeg Blue Bombers
06 Jogo CFL
112
Ian Logan #31
Winnipeg Blue Bombers
06 Jogo CFL
113
Shockmain Davis #84
Toronto Argonauts
06 Jogo CFL
114
Mark Parenteau #68
Winnipeg Blue Bombers
06 Jogo CFL
115
Jean-Philippe Abraham #55
Edmonton Eskimos
06 Jogo CFL
116
Damon Allen #9
Toronto Argonauts
06 Jogo CFL
117
David Azzi #86
Toronto Argonauts
06 Jogo CFL
118
Chad Folk #56
Toronto Argonauts
06 Jogo CFL
119
David Costa #68
Toronto Argonauts
06 Jogo CFL
120
Orlondo Steinauer #21
Toronto Argonauts
06 Jogo CFL
121
Jude St.John #66
Toronto Argonauts
06 Jogo CFL
122
Byron Parker #28
Toronto Argonauts
06 Jogo CFL
123
Mike O`Shea #50
Toronto Argonauts
06 Jogo CFL
124
J.D. Davis #65
Toronto Argonauts
06 Jogo CFL
125
Matthew Kudu #93
Toronto Argonauts
06 Jogo CFL
126
Ricky Williams #27
Toronto Argonauts
06 Jogo CFL
127
Clifford Ivory #13
Toronto Argonauts
06 Jogo CFL
128
Agustin Barrenechea #39
Hamilton Tiger Cats
06 Jogo CFL
129
Ryan Folk #43
Montreal Alouettes
06 Jogo CFL
130
Etienne Boulay #22
Montreal Alouettes
06 Jogo CFL
131
Davis Sanchez #2
Montreal Alouettes
06 Jogo CFL
132
R-Kal Truluck #91
Montreal Alouettes
06 Jogo CFL
133
Jim Popp GM
Montreal Alouettes
06 Jogo CFL
134
Roger Bunbrack #70
Hamilton Tiger Cats
06 Jogo CFL
135
Richard Karikari #1
Montreal Alouettes
06 Jogo CFL
136
Bobby Singh #62
BC Lions
06 Jogo CFL
137
Geroy Simon #81
BC Lions
06 Jogo CFL
138
Aaron Lockett #84
BC Lions
06 Jogo CFL
139
Mark Washington #23
BC Lions
06 Jogo CFL
140
Miguel Robede #96
Calgary Stampeders
06 Jogo CFL
141
Walter Spencer/Robinson #45
Calgary Stampeders
06 Jogo CFL
142
Kelly Bates #59
BC Lions
06 Jogo CFL
143
Brent Johnson #97
BC Lions
06 Jogo CFL
144
Korey Banks #24
BC Lions
06 Jogo CFL
145
Carl Kidd #26
BC Lions
06 Jogo CFL
146
Rob Murphy #53
BC Lions
06 Jogo CFL
147
Aaron Hunt #90
BC Lions
06 Jogo CFL
148
Tony Simmons #88
BC Lions
06 Jogo CFL
149
Jason Jimenez #60
BC Lions
06 Jogo CFL
150
Ricky Foley #95
BC Lions
06 Jogo CFL
151
Dave Dickenson #12
BC Lions
06 Jogo CFL
152
Rob Pikula #14
BC Lions
06 Jogo CFL
153
William Loftus #18
Edmonton Eskimos
06 Jogo CFL
154
Richard Dwight Alston #86
Edmonton Eskimos
06 Jogo CFL
155
James Cotton #99
Hamilton Tiger Cats
06 Jogo CFL
156
Cornelius Anthony #8
Calgary Stampeders
06 Jogo CFL
157
Jason Maas #11
Hamilton Tiger Cats
06 Jogo CFL
158
Ray Mariuz #44
Hamilton Tiger Cats
06 Jogo CFL
159
Devonte Peterson #94
Hamilton Tiger Cats
06 Jogo CFL
160
Steven Jyles #7
Edmonton Eskimos
06 Jogo CFL
161
Jason Tucker #83
Edmonton Eskimos
06 Jogo CFL
162
Corey Holmes #3
Hamilton Tiger Cats
06 Jogo CFL
163
Jarious Jackson #7
BC Lions
06 Jogo CFL
164
George Hudson #52
Hamilton Tiger Cats
06 Jogo CFL
165
Marwan Hage #62
Hamilton Tiger Cats
SPECIAL 2006 JOGO VARIATION / SHORT PRINT SET 15 cards
Year
Card #
Player & Jersey #
Team
06 Jogo CFL
# 1v
Milton Stegall #85
Winnipeg Blue Bombers
06 Jogo CFL
# 2v
Ricky Williams #27
Toronto Argonauts
06 Jogo CFL
# 3sp
Arland Bruce III #5
Toronto Argonauts
06 Jogo CFL
# 4sp
Ben Cahoon #86
Montreal Alouettes
06 Jogo CFL
# 5sp
Keyuo Craver #28
Edmonton Eskimos
06 Jogo CFL
# 6v
Brent Johnson #97
BC Lions
06 Jogo CFL
# 7sp
Ken-Yon Rambo #85
Calgary Stampeders
06 Jogo CFL
# 8sp
Barron Miles #9
BC Lions
06 Jogo CFL
# 9sp
Buck Pierce #16
BC Lions
06 Jogo CFL
#10v
Ricky Ray #15
Edmonton Eskimos
06 Jogo CFL
#11sp
Rocky Butler #12
Saskatchewan Roughriders
06 Jogo CFL
#12sp
Jesse Lumsden #28
Hamilton Tiger Cats
06 Jogo CFL
#13sp
Jeremaine Copeland #80
Calgary Stampeders
06 Jogo CFL
#14sp
Terry Vaughn #2
Hamilton Tiger Cats
06 Jogo CFL
#15sp
Geroy Simon #81
BC Lions
SPECIAL 2006 JOGO CFL ROOKIE SET 14 cards
Year
Card #
Player & Jersey #
Team
06 Jogo CFL
# 1R
Joe Smith #33
BC Lions
06 Jogo CFL
# 2R
Chip Cox #11
Montreal Alouettes
06 Jogo CFL
# 3R
Kendrick Jones # 85
BC Lions
06 Jogo CFL
# 4R
Eric Crouch # 7
Toronto Argonauts
06 Jogo CFL
# 5R
Kahlil Carter #3
Toronto Argonauts
06 Jogo CFL
# 6R
Coby Rhinehart #3
Calgary Stampeders
06 Jogo CFL
# 7R
Dahrran Diedrick #8
Montreal Alouettes
06 Jogo CFL
# 8R
Jordan Younger #26
Toronto Argonauts
06 Jogo CFL
# 9R
Rontarius Robinson #21
Saskatchewan Roughriders
06 Jogo CFL
#10R
Shermar Bracey #25
Saskatchewan Roughriders
06 Jogo CFL
#11R
Robert Bean # 25
Winnipeg Blue Bombers
06 Jogo CFL
#12R
Avon Cobourne #6
Montreal Alouettes.
06 Jogo CFL
#13R
Cedrick Williams #30
Calgary Stampeders
06 Jogo CFL
#14R
Davon Fowlkes #87
Hamilton Tiger Cats




---

2005 JOGO CFL "REGULAR" SET (200 cards - white borders) $110.00 Cdn

There will be 1 series this year (200 cards)
Production is going to down to only 400 sets being made. (last year was 500 sets made)

Includes:
Damon Allen, Anthony Calvillo, Jason Clermont, Sandro DeAngelis RC, Dave Dickenson, Robert Edwards, Nealon Greene, Khari Jones, Kenton Keith, Jesse Lumsden RC, Danny McManus, Casey Printers, Ricky Ray, Charles Roberts, Milt Stegall, Tony Tompkins RC, Gavin Walls RC, Kerry Watkins RC and a lot more RCs

---

2005 JOGO CFL "REGULAR VARIATION" SET (10 cards) $20.00 Cdn set

Includes:
#1 - Ezra Landry, #13 - Robert Edwards, #52 - Kevin Glenn, #74 - Corey Holmes, #75 - Kenton Keith, #109 - Dave Dickenson, #109 - Casey Printers, #110 - Milt Stegall, #173 - Buck Pierce, #190 - Ricky Ray

---

2005 JOGO CFL "REGULAR ATHLETES IN ACTION" SET (7 cards) $7.00 Cdn set of 7

Includes:
Anthony Calvillo, Anwar Stewart, Kerry Joseph, Kelly Malveaux, Rob Brown, Steve Kearns & Ryan Dawson

8th card - ADDED in January
Mark Washington $2.00 Cdn

---

2005 JOGO CFL "GOLD" SET (200 cards) $225.00 Cdn

Same set - featuring gold foil on black borders & UV coating. (200 cards - black borders with gold trim)
Production is extremely limited to only 125 sets # being made.

Added BONUS - there will be 3 random original 1983 Jogo CFL cards
being inserted into each 2005 Jogo CFL GOLD set and factory sealed.
You could be 1 of 3 lucky people to get a Warren Moon rookie card.

Includes:
Damon Allen, Anthony Calvillo, Jason Clermont, Sandro DeAngelis RC, Dave Dickenson, Robert Edwards, Nealon Greene, Khari Jones, Kenton Keith, Jesse Lumsden RC, Danny McManus, Casey Printers, Ricky Ray, Charles Roberts, Milt Stegall, Tony Tompkins RC, Gavin Walls RC, Kerry Watkins RC and a lot more RCs

---

2005 JOGO CFL "GOLD VARIATION" SET (10 cards) $60.00 Cdn set

Includes:
#1 - Ezra Landry, #13 - Robert Edwards, #52 - Kevin Glenn, #74 - Corey Holmes, #75 - Kenton Keith, #109 - Dave Dickenson, #109 - Casey Printers, #110 - Milt Stegall, #173 - Buck Pierce, #190 - Ricky Ray

---

2005 JOGO CFL "GOLD ATHLETES IN ACTION " SET (7 cards) $15.00 Cdn

Includes:
Anthony Calvillo, Anwar Stewart, Kerry Joseph, Kelly Malveaux, Rob Brown, Steve Kearns & Ryan Dawson

---

2005 JOGO CFL "MONTREAL ALOUETTES - TEAM OF THE DECADE" SET (27 cards) $30.00 Cdn

Includes:
Chris Armstrong, Terry Baker, Ben Cahoon, Anthony Calvillo, Bryan Chiu, Jock Climie, Jeremaine Copeland, Scott Flory, Neal Fort, Tracy Gravely, Thomas HEmailins, Bruno Heppell, Kevin Johnson, William Loftus, Barron Miles, Uzooma Okeke, Elfrid Payton, Doug Petersen, Ed Philion, Mike Pringle, Davis Sanchez, Irv Smith, Anwar Stewart, Timothy Strickland, Reggie Durden, Pierre Vercheval & Mark Washington

---

2004 JOGO CFL SET - YELLOW BACKS (270 cards) $130.00 Cdn
(500 # sets made)

Includes:
Damon Allen, Jason Armstead RC, Henry Burris, Ben Cahoon, Anthony Calvillo, Jason Clermont, Marcus Crandell, Frank Cutolo, Dave Dickenson, Carl Gourgues RC, Nealon Greene, Khari Jones, Kenton Keith, Ezra Landry RC, Jason Maas, Danny McManus, Mike Pringle, Casey Printers, Josh Ranek, Jon Ryan RC, Charles Roberts, Wayne Smith RC, Milt Stegall

3rd series WHITE BACKS variation (production 350 sets) $40.00 Cdn

2004 JOGO CFL SET - series 1-3 yellow backs & series 3 white backs (320 cards) $150.00 Cdn

---

2004 PACIFIC CFL SET (110 cards) $50.00 Cdn

Includes:
Damon Allen, Anthony Calvillo, Jason Clermont, Marcus Crandell, Dave Dickenson, Nealon Greene, Jason Maas, Danny McManus, Elfrid Payton, Mike Pringle, Ricky Ray, Milt Stegall, Spergon Wynn

---

2003 JOGO CFL SET (269 + 2 unnumbered cards) $135.00 Cdn

Includes:
Damon Allen, Terry Baker, Demetris Bendross RC, Anthony Calvillo, Bill Chamberlain RC, Tim Cheatwood RC, Frank Cutolo RC, Dave Dickenson, DJ Flirk RC, Nealon Greene, Brent Johnson RC, Khari Jones, Kerry Joseph, Danny McManus, Tony Miles RC, Daniel Pugh RC, Julian Radlein RC, Josh Ranek RC, Ricky Ray, Ricky Ray with Grey Cup, Charles Roberts, Dave Stala RC, Milt Stegall, Anwar Stewart RC, Kevin Stokes

---

2003 JOGO CFL "MONTREAL ALOUETTES NATREL" SET (10 cards) $15.00 Cdn

Includes:
Ben Cahoon, Bryan Chiu, Stephane Fortin, Sylvain Girard, Bruno Heppell, Eric Lapointe, Marc Megna, Barron Miles, Mat Petz, Ed Philion

---

2003 PACIFIC CFL SET (110 cards) $50.00 Cdn

Includes:
Damon Allen, Anthony Calvillo, Jason Clermont, Marcus Crandell, Dan Crowley, Dave Dickenson, Kevin Feterik, Khari Jones, Jason Maas, Danny McManus, Tony Miles RC, Joe Montford, Nealon Greene, Elfrid Payton, Mike Pringle, Josh Ranek RC, Ricky Ray, Milt Stegall, Spergon Wynn

---

2002 JOGO CFL SET (220 cards) $115.00 Cdn

Includes:
Damon Allen, John Avery, Mike Bradley RC, Anthony Calvillo, Paul Cheng RC, Mike Clemons, Jason Clermont RC, Marcus Crandell, Dan Crowley, Geoffrey Drover RC, Kevin Feterik RC, Darren Flutie, Nealon Greene, W Hurst RC, Khari Jones, Jason Maas, Danny McManus, Joe Montford, Travis Moore, Elfrid Payton, Lawrence Phillips, Darryl Ray RC, Ricky Ray RC, Sean Spender RC, Brian Stallworth RC, Milt Stegall, Keith Stokes RC, Mike Vilimek RC, John Williams RC, Pat Woodcock

---

2001 JOGO CFL SET (238 cards) $115.00 Cdn
(@ 500 # sets made)

Includes:
Danny Barrett, Kerwin Bell, Daved Benefield, Eric Blount, Leroy Blugh, Anthony Calvillo, Tony Corbin, James Cotton, Marcus Crandell, Aubrey Cummings, Moe Elewonibi, Tommy Europe, Joe Fleming, Darren Flutie, Thomas HEmailins, Alfred Jackson, Stanley Jackson, Khari Jones, Darren Joseph, Jimmy Kemp, Eric Lapointe, Jason Maas, Danny McManus, Derrell Mitchell, Mike Morreale, Uzooma Okeke, Elfrid Payton, Jeff Pilon RC, Marc Pilon RC, Keith Smith, Sean Woodson, Ibrahim Tounkara

---

2000 JOGO CFL SET (240 cards) $130.00 Cdn
(@ 500 # sets made)

Includes:
Damon Allen - 2 different, Kelvin Anderson, Jay Barker, Jamie Barnette, Daved Benefield, Marc Boerigter, Alfonzo Browning, Henry Burris, Anthony Calvillo, Mike Clemons - 2 different, Aaron Collins RC, Vince Danielsen, Dave Dickensen - 2 different, Darren Flutie, Nealon Greene, Mercury Hayes RC, Greg Hill QB, Stanley Jackson RC, Michael Jenkins, Jimmy Kemp, Eric Lapointe RC, Curtis Marsh, Central McClellion RC, Danny McManus, Barron Miles, Derrell Mitchell, Joe Montford, Lui Passaglia, Milt Stegall, Ibrahim Tounkara RC, Ryan Terry, Terry Vaughn, The Guess Who

---

1999 JOGO CFL SET (220 cards) $100.00 Cdn
(@ 500 # sets made)

Includes:
Damon Allen, Kelvin Anderson, Jay Barker, Kerwin Bell, Don Blair, Alfonzo Browning, Ben Cahoon RC, Anthony Calvillo, Frantz Clarkson RC, Mike Clemons, Aubrey Cummings RC, Vince Danielsen, Tyree Davis, Dave Dickensen, Robert Drummond, Darren Flutie, Dan Giancola RC, Nealon Greene RC, Tracy Ham, Khari Jones, Andre Kirwan, Jason Kralt RC, Paul Masotti, Curtis Mayfield, Danny McManus, Joe Montford, Travis Moore, Steve Asad Muhammad RC, Winston October RC, Lui Passaglia, Allen Pitts, Willi Pless, Mike Pringle, Steve Sarkisian, Mike Saunders, Reggie Slack, Milt Stegall, R.T. Swinton RC, Mark Tate RC, Gizmo Williams, Ronald Williams

---

1999 JOGO CFL "BOSTON PIZZA" SET (65 cards) $30.00 Cdn

Includes:
Damon Allen, Jay Barker, Mike Clemons, Darren Flutie, Tracy Ham, Danny McManus, Donald Narcisse, Allen Pitts, Mike Pringle, Mike Saunders, Gizmo Williams, 5 blue error checklists, C card (originally pulled from set)

---

1998 JOGO CFL SET (220 cards) $100.00 Cdn
(@ 500 # sets made)

Includes:
Kelvin Anderson, Jay Barker RC, Kerwin Bell, Eric Blount RB, Henry Burris RC, Anthony Calvillo, Mike Clemons, Jock Climie, Vince Danielsen, Dave Dickenson RC, Dave Donaldson, Andrew English RC, Darren Flutie, Jeff Garcia, Tracy Ham, Tarek Jayoussi RC, Khari Jones RC, Jimmy Kemp, Willis Marshall RC, Paul Masotti, Deland McCullough, Danny McManus, Troy Mills, Derrell Mitchell, Travis Moore, Mike Morreale, Mike Pringle, Mike Saunders, Reggie Slack, Terry Vaughn, C.J. Williams RC, Gizmo Williams

---

1997 JOGO CFL SET (220 cards)

Email for current price


(@ 500 # sets made)

Includes:
Damon Allen, Archie Amerson RC, Don Blair RC, Eric Blount RB, Fred Childress, Mike Clemons - 2 different - 1 with Grey Cup, Vince Danielsen, Robert Drummond, Ray Elgaard, Darren Flutie, Doug Flutie, Jeff Garcia, Andrew Grigg, Tracy Ham, Alondra Johnson, Andre Kirwan RC, Paul Masotti, Danny McManus, Sean Millington, Robert Mimbs, Derrell Mitchell, Joe Montford RC, Travis Moore, Mike Morreale, Donald Narcisse, Michael Soles, Ronald Williams

---

1996 JOGO CFL SET (220 cards)

Email for current price


(@ 500 # sets made)

Includes:
Kelvin Anderson RC, David Archer, Eric Blount RB, Fred Childress, Mike Clemons, Jock Climie, Mac Cody RC, Jimmy Cunningham, Vince Danielsen, Robert Drummond, Matt Dunigan, Ray Elgaard, Doug Flutie, Tommie Frasier RC, Jeff Garcia, Robert Gordon, Andrew Grigg, Cody Ledbetter RC, Paul Masotti, Curtis Mayfield, Sean Millington, Robert Mimbs, Travis Moore RC, Mike Morreale, Cory Philpot, David Sapunjis, Mike Saunders, Reggie Slack, Michael Soles, Mike Trevathan, Mike Vanderjagt RC, Terry Vaughn RC, Ronald Williams RC

---

1995 JOGO CFL SET (399 cards)

Email for current price


(@ 1000 # sets made)

Includes:
Damon Allen, David Archer, Kent Austin, Reggie Barnes, Kerwin Bell, Eric Blount RB, O.J. Brignance, Tony Burse, Anthony Calvillo, Mike Clemons, Jock Climie, Tim Cofield, Jimmy Cunningham RC, Vince Danielsen, Matt Dunigan, Ray Elgaard, Danny Farthing, Darren Flutie, Doug Flutie - 2 different, Jeff Garcia RC, Robert Gordon, Marvin Graves RC, Andrew Grigg RC, Tracy Ham, Joe Horn RC, Alondra Johnson, Jackie Kellogg RC, Jim Kemp RC, Mike Kerrigan, Mike Kiselak, Paul Masotti, Curtis Mayfield, Danny McManus, Troy Mills RC, Mike Morreale RC, Donald Narcisse, Cory Philpot, Allen Pitts, Mike Pringle, David Sapunjis, Mike Saunders, Mike Schad, Reggie Slack, Milt Stegall RC, Bill Joe Tolliver, Mike Trevathan, Andre Ware, Kenny Willhite, Gizmo Williams, Earl Winfield

---

1995 JOGO CFL "ATHLETES IN ACTION" SET (21 cards) $12.00 Cdn

Includes:
Kerwin Bell, O.J.Brignance, Tracy Ham, Jim Sandusky & more

---

1995 JOGO CFL "MISSING YEARS - D" SET (20 cards) $15.00 Cdn

Includes:
Grady Cauness, Eugene Goodlow, John Harvey, Jimmy Jones, Erik Kramer UER, Mike Strickland, Bob Toogood, Tyrone Walls, Joey Walters & more

---

1994 JOGO CFL SET (310 cards) $150.00 Cdn
(@ 1000 # series 1 & 2 sets and @ 400 # series 3 sets made)

Includes:
Damon Allen, David Archer, Kent Austin, Danny Barrett, Daved Benefield, O.J. Brignance, Eddie Brown RC, Swift Burch III RC, Tom Burgess, Anthony Calvillo RC, Eric Carter, Mike Clemons, Marvin Coleman RC, Tim Cofield, John Congemi, Vince Danielsen RC, Duane Dmytryshyn RC, Matt Dunigan, Ray Elgaard, Darren Flutie, Doug Flutie - 2 different, Ricky Foggie, Tracy Ham, Donald Igwebuike, Alfred Jackson, Glenn Kulka, Paul Masotti, Curtis Mayfield RC, Danny McManus, Chris Morris, Donald Narcisse, Mike O`Shea, Cory Philpot RC, Allen Pitts, Shar Pourdanesh, Mike Pringle RC, David Sapunjis, Mike Saunders, Reggie Slack RC, Tony Stewart RC, Jon Volpe, Kenny Willhite RC, Gizmo Williams

---

1994 JOGO CFL "HOF - C" SET (25 cards) $20.00 Cdn

Includes:
Terry Evanshen, Dave Fennell, Tony Gabriel, Leo Lewis, Don Luzzi, Angelo Mosca, Virgil Wagner, Jim Young & more

---

1994 JOGO CFL "HOF - D" SET (25 cards) $20.00 Cdn

Includes:
Harold Ballard, Herm Harrison, Ellison Kelly, Peter Dalla Riva, Don Sutherin, Dave Thelen, Whit Tucker, Tom Wilkinson & more

---

1994 JOGO CFL "MISSING YEARS - C" SET (20 cards) $16.00 Cdn

Includes:
Ezzret Anderson, Eugene Clark, Tom Pate, Vernon Perry, Steve Terrughellie UER & more

---

1993 JOGO CFL SET (220 cards) $110.00 Cdn
(@ 400 # sets made)

Includes:
David Archer, Reggie Barnes, Danny Barrett, Freeman Baysinger RC, Kerwin Bell RC, Daved Benefield, Vaughn Booker, O.J. Brignance, Tom Burgess, Bob Cameron, Mike Clemons, Matt Dunigan, Ray Elgaard, Darren Flutie, Doug Flutie - 2 different, Tracy Ham, Harald Hasselback, Manny Hazard RC, Will Johnson, Darren Joseph RC, Glenn Kulka, Paul Masotti, Mike McLoughlin, Danny McManus, Sean Millington RC, Will Moore, Mike Oliphant RC, Mike O`Shea RC, Allen Pitts, Willie Pless, Michael Richardson, David Sapunjis, Mike Saunders RC, Rob Smith, Jon Volpe, Gizmo Williams, Earl Winfield

---

1993 JOGO CFL "MISSING YEARS - B" SET (22 cards) $20.00 Cdn

Includes:
Eric Allen, Fred Biletnikoff, Jimmy Edwards, David Green, George Mira, James Sykes & more

---

1992 JOGO CFL SET (220 cards) $30.00 Cdn

Includes:
Damon Allen, Chris Armstrong, Kent Austin, O.J. Brignance, Scott Campbell RC, Mike Clemons, Jock Climie RC, Tim Cofield RC, Matt Dunigan, Darren Flutie RC, Tracy Ham, Glenn Kulka, Paul Masotti, Mark McLoughlin, Danny McManus, Robert Mimbs, John Motton RC, Donald Narcisse, Lui Passaglia, Elfrid Payton RC, Allen Pitts, David Sapunjis, Angelo Snipes RC, Jon Volpe, Troy Westwood RC, Gizmo Williams, Earl Winfield

---

1992 JOGO CFL "MISSING YEARS - A" SET (22 cards) $25.00 Cdn

Includes:
Leon Bright UER, Willie Burden, Anthony Davis, Chuck Ealey, Terry Metcalf UER, Johnny Rodgers, Jerry Tagge & more

---

1992 JOGO CFL STAMPS SET (5 cards) $40.00 Cdn

Includes:
CFL Hall Of Fame Museum and Statue, Toronto Argonauts 1991 Grey Cup Champs, Tom Pate Memorial Trophy, Russ Jackson Bust, Montreal Football Challenge Cup

---

1991 ALL WORLD CFL SET (110 cards) $7.50 Cdn

Includes:
Damon Allen, Mike Clemons - 2 different, Matt Dunigan, Doug Flutie, Raghib Ismail RC - 8 different, Tracy Ham, Ron Lancaster, Robert Mimbs, Donald Narcisse, Lui Passaglia, Allen Pitts RC, Jon Volpe RC, Gizmo Williams

Legends: Dieter Brock, Tom Clements, Warren Moon, Rocky DiPietro, Joe Thiesmann

---

1991 JOGO CFL SET (220 cards) $10.00 Cdn

Includes:
Damon Allen, O.J. Brignance RC, Mike Clemons, Matt Dunigan, Doug Flutie, Ricky Foggie, Tracy Ham, Danny McManus, Robert Mimbs, Donald Narcisse, Allen Pitts RC, David Sapunjis, Jon Volpe RC, Gizmo Williams

---

1990 JOGO CFL SET (220 cards) $100.00 Cdn
(@ 1000 sets made)

Includes:
Damon Allen, Kent Austin, Reggie Barnes, Danny Barrett, Greg Battle, Mike Clemons RC, Matt Dunigan, Ray Elgaard, Jeff Fairholm, Doug Flutie RC - 2 different, Ricky Foggie, Mark Gastineau, Miles Gurrell RC, Tracy Ham, Major Harris RC, Alondra Johnson RC, Mike Kerrigan, Glenn Kulka, Paul Masotti RC, Mike McLean RC, Danny McManus RC, Robert Mimbs RC, Donald Narcisse RC, Paul Osbaldiston, Joe PaoPao, Lui Passaglia, Willie Pless, Tony Rice RC, David Sapunjis RC, Gizmo Williams, Earl Winfield

---

1989 JOGO CFL SET (160 cards) $115.00 Cdn
(@ 700 # series 1 sets and @ 450 # series 2 sets made)

Includes:
Damon Allen, Gerald Alphin, Kent Austin, Danny Barrett, Danny Bass, Greg Battle, Danny Barrett, Leroy Blugh RC, Tom Burgess, Tony Champion, Tom Cherry RC, John Congemi, Todd Dillon, Matt Dunigan, Ken Evraire, Jeff Fairholm RC, Gil Fenerty, Tracy Ham, Wil Johnson RC, Terrence Jones RC, Michael Kerrigan RC, Doug (Tank) Landry, Loyd Lewis RC, Brent Matitch RC, Derrick McAdoo RC, Bobby McAllister, Mark McLoughlin RC, James Mills RC, James Murphy, Anthony Parker, Dave Ridgway, Sean Salisbury, Michael Soles RC, Eric Streater, Gregg Stumon RC, Steve Taylor RC, Tyrone Thurman RC, Pierre Vercheval, Gerald Wilcox RC, David Williams, Larry Wruck RC, Mark Zeno RC

---

1989 JOGO CFL "Purple PROMOTIONAL" SET (110 cards) $250.00 Cdn
(@ 200 sets made)

Includes:
Damon Allen, Gerald Alphin, Greg Battle, Tom Burgess, Tony Champion, John Congemi, Matt Dunigan, Ken Evraire, Jeff Fairholm RC, Gil Fenerty, Tracy Ham, Terrence Jones RC, Michael Kerrigan RC, Derrick McAdoo RC, Bobby McAllister, James Murphy, Anthony Parker, Dave Ridgway, Sean Salisbury, Michael Soles RC, Gregg Stumon RC, Steve Taylor RC, Tyrone Thurman RC, Pierre Vercheval, Gerald Wilcox RC, David Williams, Larry Wruck RC

---

1988 JOGO CFL SET (110 cards) $100.00 Cdn
(@ 600 # sets made)

Includes:
Damon Allen, Kent Austin RC, Terry Baker, Greg Battle RC, Jearld Baylis RC, Les Browne, Tony Champion, Jay Christensen RC, John Congemi, Grover Covington, James Curry, Blake Dermott RC, Roy DeWalt, Matt Dunigan, Ken Evraire RC, Willie Fears RC, Gil Fenerty, Ricky Foggie RC, Tracy Ham UER RC, Rod Hill RC, Tim Jessie RC, Orville Lee RC, Blake Marshall RC, Tom Muecke, Paul Osbaldiston, Anthony Parker RC, Reggie Pleasant RC, Jim Reid, Gilbert Renfroe, Dave Ridgway, Steve Rodehutskor RC, Sean Salisbury RC, Jim Sandusky, Darrell Smith RC, Tony Visco RC, Mike Walker, David Williams RC, Don Wilson RC, Gizmo Williams, Earl Winfield, Wally Zatylny RC

---

1988 JOGO CFL "Black LEAGUE" SET (106 cards) $200.00 Cdn

Includes:
Damon Allen, Nick Arakgi SP, Kent Austin, Danny Bass, Tom Burgess, Tom Clements SP, Ray Elgaard, Gil Fenerty, Tracy Ham UER, James Jefferson, Bobby Jurasin, James Parker, Willard Reeves, Jim Sandusky, Gizmo Williams

---

1987 JOGO CFL SET (110 cards) $110.00 Cdn
(@ 600 # sets made)

Includes:
Gerald Alphin RC, Terry Baker RC, Danny Barrett RC, Tom Burgess, Tom Clements, John Congemi RC, Roy DeWalt, Matt Dunigan, Gill Fenerty RC UER, Rick Johnson, Bobby Jurasin RC,Glenn Kulka RC, Stu Laird, Mike McGruder, Tom Muecke RC, James Murphy, Willard Reaves, Gilbert Renfroe RC, Dave Ridgway, Bernie Ruoff RC, James West, Larry Willis, Earl Winfield RC, Ben Zambiasi UER

---

1986 JOGO CFL SET (169 cards) $150.00 Cdn
(@ 700 # sets made)

Includes:
Ray Alexander RC, Damon Allen RC, Danny Bass, Roy Bennett RC, Carl Brazley RC, Les Browne RC, Tom Burgess RC, Tony Champion RC, Lance Chomyc RC, Tom Clements, Grover Covington RC, Todd Dillon RC, Matt Dunigan, Ray Elgaard RC, Mervyn Fernandez, Harold Hallman, Condredge Holloway, James Jefferson RC, Rick Johnson RC, Stu Laird RC, Paul Osbaldiston RC, James Parker, Brian Pillman, Willie Pless RC, Tom Porras RC, Perry Tuttle RC, James West RC, Jim Zorn RC

---

1985 JOGO CFL SET (110 cards) $125.00 Cdn
(@ 1100 # sets made)

Includes:
Joe Barnes, Tom Clements, Matt Dunigan, Craig Ellis, Mervyn Fernandez, Turner Gill, Terry Greer, Stewart Hill, Ken Hobart RC, Condredge Holloway, Keyvan Jenkins RC, Stephen Jones RC, Brian Kelly, Trevor Kennerd, Tim McCray RC, James Parker, Willard Reaves, Dave Ridgway, Jim Sandusky, Rob Smith RC, J.C. Watts, Chris Woods

---

1984 JOGO CFL SET (160 cards) $325.00 Cdn
(@1200 # series 1 sets and @1050 # series 2 sets made)

Includes:
Joe Barnes, Danny Bass, Dieter Brock, Bob Cameron, Tom Clements, Rufus Crawford RC, Dave Cutler, Dean Dorsey RC, Matt Dunigan RC, Craig Ellis RC, Mervyn Fernandez, Turner Gill RC, Vince Goldsmith RC, Terry Greer, Condredge Holloway, Tyrone Jones RC, Brian Kelly RC, Trevor Kennerd RC, Dan Kepley, James Murphy, Willard Reaves, Dave Ridgway RC, Jim Sandusky RC, Harry Skipper, Glen Suitor RC, Chris Walby RC, J.C. Watts, Felix Wright RC

---

1983 JOGO CFL "HOF A+B" SET (50 cards) $80.00 Cdn

Includes:
Ron Atchison, John Barrow, Johnny Bright, Dr. Tom Casey, Tommy Joe Coffey, Lionel Conacher, George Dixon, Sam Etcheverry, Bernie Faloney, Norm Fieldgate, Willie Fleming, Bud Grant, Herb Gray, Wayne Harris, Garney Henley, Russ Jackson, Gerry James, Normie Kwong, Ron Lancaster, Leo Lewis, Jackie Parker, Hal Patterson, Kenny Ploen, George Reed, Martin Ruby, Dick Shatto, Ron Stewart

---

1983 SASKATCHEWAN ROUGHRIDERS POLICE CFL SET uncut sheet (16 cards) $25.00 Cdn

Includes:
Ken Clark, Ray Elgaard, John Hufnagel, Dave Ridgway, Mike Washington.

---

1982 JOGO CFL "OTTAWA ROUGH RIDERS" SET - 3 1/2" x 5", color (24 cards) $15.00 Cdn

Includes:
Jordan Case, John Holland, Greg Marshall, Gerry Organ, Kevin Powell, Jim Reid & more

---

1981 EDMONTON ESKIMOS "RED ROOSTER" CFL SET (40 cards) $70.00 Cdn

Includes:
Hugh Campbell CO, Marco Cyncar, Dave Fennell, Jim Germany, Larry Highbaugh, Hank Ilesic, Brian Kelly, Dan Kepley, Neill Lumsden, Warren Moon - NM, James Parker, Tom Scott, Waddell Smith, Bill Stevenson, Tom Wilkinson

---

1972 OPC CFL PARTIAL SET (126 cards) $130.00 Cdn
Overall VG-EX, 7 PR, some off center, checklist marked.

Includes:
Eric Allen, Bill Baker, Greg Barton, Don Bunce, Tommy Joe Coffey, Jim Corrigal, Dave Cutler, Peter Dalla Riva, Terry Evanshen, Tony Gabriel, Wayne Harris, Herman Harrison, John Helton, Garney Henley, Jerry Keeling, Ron Lancaster, Bruce Lemmerman, Marv Luster, Leon McQuay, Angelo Mosca, Johnny Musso, George Reed, Jim Stillwagon, Doug Strong, Joe Theismann - 2 different, Jim Young

Missing #s: 1 Krouse, 60 Bark, 62 Furlong, 89 Dushinski, 93 LaGrone, 115 Liebrock.

---

1972 OPC CFL PARTIAL SET (123 cards) $130.00 Cdn
Overall VG+, 11 PR, some off center, checklist marked.

Includes:
Eric Allen, Bill Baker, Greg Barton, Don Bunce, Tommy Joe Coffey, Jim Corrigal, Dave Cutler, Peter Dalla Riva, Terry Evanshen, Tony Gabriel, Wayne Harris, Herman Harrison, John Helton, Garney Henley, Jerry Keeling, Ron Lancaster, Bruce Lemmerman, Marv Luster, Leon McQuay, Angelo Mosca, Johnny Musso, George Reed - PR, Jim Stillwagon, Doug Strong, Joe Theismann - 2 different, Jim Young

Missing #s: 1 Krouse, 11 Mitchell, 60 Forzani, 62 Furlong, 89 Dushinski, 93 LaGrone, 115 Liebrock, 120 pro action, 128 Jonas pro action.

---

1971 OPC CFL "POSTERS" SET (16 posters) $75.00 Cdn
EX, 5 VG

Includes:
Tommy Joe Coffey, Wayne Harris, Herman Harrison, Garney Henley, Ron Lancaster, Angelo Mosca

---




Last Updated: Aug. 14, 2012

---