2013 JOGO CFL
SASKATCHEWAN ROUGHRIDERS ALUMNI CARDS
Order your 2013 Jogo CFL Saskatchewan Roughriders Alumni card set now!
Now Available!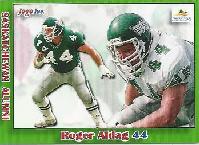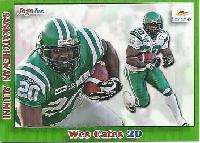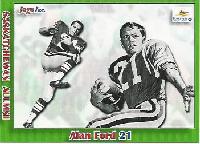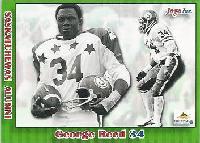 Any Roughrider player in the main Alumni series that appear in this set will have different pictures.
These Jogo CFL sets have a very limited print run making them extremely collectible.
Some of the CFL Alumni players may have never had a card before.
The JOGO run with the CFLPA is over.
After 32 years the CFLPA has not renewed the JOGO contract for producing CFL cards. The CFLPA has given The Upper Deck Company the exclusive rights to produce CFL cards for the next 5 years. We just learned that Upper Deck is not making CFL cards for 2013.
To John Bradley's surprise, he received a lot of emails from people shocked and disappointed that the JOGO run was ending. A lot of the collectors told him they looked forward to receiving the JOGO set each year. This made all the hard work worth while and he appreciates his loyal supporters.
The buzz of John Bradley from Jogo making Alumni card sets made it round the CFL Alumni Associations and the Alumni players are ecstatic. They are looking forward to the release of these cards. More and more Alumni players have contacted Jogo about being included in future Alumni card series.
The Saskatchewan Roughriders CFL Alumni Association along with a Sponsor and Jogo are putting out a 25 card Alumni set of just Saskatchewan Roughriders plus a checklist. The Player checklist below is still subject to change without notice.
This 25 card series retails for $40.00 CDN.
Postage & Handling is extra. Canadian residents add applicable GST/HST. Manitoba residents also add PST.
Prices are listed in Canadian funds - please inquire as to the current exchange for prices in US funds.

---
2013 JOGO CFL ALUMNI CARDS

2013 JOGO CFL SASKATCHEWAN ROUGHRIDERS ALUMNI SET

Year & Brand
Card #
Alumni Player & Jersey #
Team
School
2013 Jogo CFL Sask. Alumni
1
Roger Aldag #44
Saskatchewan Roughriders
Regina Rams (Junior)
2013 Jogo CFL Sask. Alumni
2
Gene Makowsky #60
Saskatchewan Roughriders
University of Saskatchewan
2013 Jogo CFL Sask. Alumni
3
Alan Ford #21
Saskatchewan Roughriders
University of Pacific
(Stockton, California)
2013 Jogo CFL Sask. Alumni
4
Matt Dominguez #88
Saskatchewan Roughriders
Sam Houston State University
2013 Jogo CFL Sask. Alumni
5
Scott Schultz #96
Saskatchewan Roughriders
University of North Dakota
2013 Jogo CFL Sask. Alumni
6
Mike Anderson #66
Saskatchewan Roughriders
San Diego University
2013 Jogo CFL Sask. Alumni
7
Brooks Finlay #97
Saskatchewan Roughriders
Portland State University
2013 Jogo CFL Sask. Alumni
8
Dan Farthing #10
Saskatchewan Roughriders
University of Saskatchewan
2013 Jogo CFL Sask. Alumni
9
Wes Cates #20
Saskatchewan Roughriders
California University of Pennsylvania
2013 Jogo CFL Sask. Alumni
10
Vic Stevenson #62
Saskatchewan Roughriders
University of Calgary
2013 Jogo CFL Sask. Alumni
11
Bob Poley #57
Saskatchewan Roughriders
Regina Rams (Junior)
2013 Jogo CFL Sask. Alumni
12
Dale West #12
Saskatchewan Roughriders
University of Arizona
2013 Jogo CFL Sask. Alumni
13
Dave Van Belleghem #17
Saskatchewan Roughriders
University of Calgary
2013 Jogo CFL Sask. Alumni
14
Dan Rashovich #74
Saskatchewan Roughriders
Simon Fraser University
2013 Jogo CFL Sask. Alumni
15
Belton Johnson #58
Saskatchewan Roughriders
Ole Miss
2013 Jogo CFL Sask. Alumni
16
Eddie Davis #29
Saskatchewan Roughriders
Northern Illinois University
2013 Jogo CFL Sask. Alumni
17
Don Narcisse #80
Saskatchewan Roughriders
Texas Southern University
2013 Jogo CFL Sask. Alumni
18
Andrew Greene #68
Saskatchewan Roughriders
Indiana University
2013 Jogo CFL Sask. Alumni
19
Steve Mazurak #70
Saskatchewan Roughriders
University of North Dakota
Regina Rams (Junior)
2013 Jogo CFL Sask. Alumni
20
Jeremy O`Day #54
Saskatchewan Roughriders
Edinboro University
2013 Jogo CFL Sask. Alumni
21
George Reed #34
Saskatchewan Roughriders
Washington State University
2013 Jogo CFL Sask. Alumni
22
Chris Szarka #33
Saskatchewan Roughriders
Eastern Illinois University
2013 Jogo CFL Sask. Alumni
23
Ray Bernard #95
Saskatchewan Roughriders
Bishop`s University
2013 Jogo CFL Sask. Alumni
24
Ventson Donelson #24
Saskatchewan Roughriders
Michigan State University
2013 Jogo CFL Sask. Alumni
25
Terry Bulych #32
Saskatchewan Roughriders
Weber State University
2013 Jogo CFL Sask. Alumni
Checklist Card
Porcupine Credit Union (Sponsor)
Saskatchewan Roughriders
Last Updated: Nov. 7, 2013