2019 JOGO CFL ALUMNI CARDS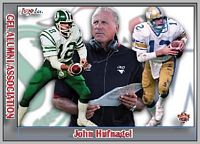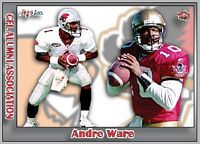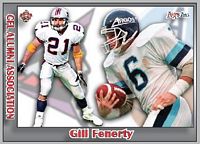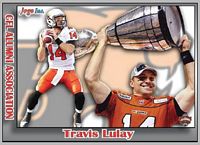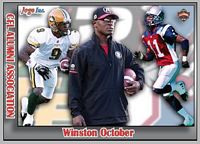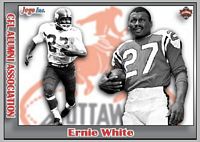 These Jogo CFL Alumni card sets have a very limited print run (120-165 numbered sets) making them extremely collectible.

Some of the CFL Alumni players may have never had a card before.
The Jogo CFLAA Alumni sets continues in 2019
JOGO produced one 21 card series and three 20 card series of CFL alumni players for 2019.
These CFL alumni sets will be limited to @ 120 - 125 numbered sets for each series.
The numbering for the sets will continue on from the 2018 sets.

Series 23* will be #452-471 (21 cards, 2 different #452s),
Series 24 will be #472-491,
Series 25 will be #492-511
Series 26 will be #512-531.
Each 20 card series will retail for $40.00 Cdn
except Series 23 has 21 cards for $42.00 Cdn.
Postage & Handling is extra. Canadian residents add applicable GST/HST. Manitoba residents also add PST.
Prices are listed in Canadian funds - please inquire as to the current exchange for prices in US funds.
2019 JOGO CFL ALUMNI CARDS PLAYERS CHECKLIST

Numbering will continue on from where the 2018 series 22 ended.

2019 JOGO CFL ALUMNI SET - series 23
(#452 to #471, includes 1 variant)
$42.00 Cdn this series (120 sets made)

Year & Brand

Card #

Player & Jersey #

Team

School

Condition

Price per Card

2019 Jogo CFL Alumni Series 23
452 A
Jack Kemp - QB #15, #16
Calgary Stampeders
Occidental College
NM-MT
$3.00 Cdn
2019 Jogo CFL Alumni Series 23
452 B
Jack Kemp - QB #15, #16
Calgary Stampeders
Occidental College
NM-MT
$3.00 Cdn
2019 Jogo CFL Alumni Series 23
453
Uzooma Okeke #53
Ottawa Rough Riders
Montreal Alouettes
Southern Methodist University
NM-MT
$3.00 Cdn
2019 Jogo CFL Alumni Series 23
454
Ryan Donnelly #64, #55
Hamilton Tiger Cats
Winnipeg Blue Bombers
McMaster University
NM-MT
$3.00 Cdn
2019 Jogo CFL Alumni Series 23
455
Willie Gillus - QB #12, #15
Ottawa Rough Riders
Toronto Argonauts
Norfolk State University
NM-MT
$3.00 Cdn
2019 Jogo CFL Alumni Series 23
456
Billy Roy #66, #64
Montreal Alouettes
Edmonton Eskimos
Citrus Jr College
NM-MT
$3.00 Cdn
2019 Jogo CFL Alumni Series 23
457
Kenton Keith #28
Saskatchewan Roughriders
New Mexico State University
NM-MT
$3.00 Cdn
2019 Jogo CFL Alumni Series 23
458
Noah Cantor #92
Toronto Argonauts
BC Lions
St Marys University
NM-MT
$3.00 Cdn
2019 Jogo CFL Alumni Series 23
459
Trey Young #33, #3
Calgary Stampeders
Edmonton Eskimos
University of Montana
NM-MT
$3.00 Cdn
2019 Jogo CFL Alumni Series 23
460
Tyrone Rodgers #91
BC Lions
Winnipeg Blue Bombers
Toronto Argonauts
Calgary Stampeders
University of Oklahoma
University of Washington
NM-MT
$3.00 Cdn
2019 Jogo CFL Alumni Series 23
461
Markus Howell #88, #12, #82
Winnipeg Blue Bombers
Ottawa Renegades
Calgary Stampeders
Texas Southern University
NM-MT
$3.00 Cdn
2019 Jogo CFL Alumni Series 23
462
The Kemp Boys
Jimmy - Jeff - Jack - QB's
Sacramento Gold Miners
Seattle Seahawks
Buffalo Bills
Wake Forest University / Dartmouth College / Occidental College
NM-MT
$3.00 Cdn
2019 Jogo CFL Alumni Series 23
463
Ryan Dinwiddie - QB #4, #8
Winnipeg Blue Bombers
Saskatchewan Roughriders
Boise State University
NM-MT
$3.00 Cdn
2019 Jogo CFL Alumni Series 23
464
Dave Dickenson - QB #12, #15
Calgary Stampeders
BC Lions
University of Montana
NM-MT
$3.00 Cdn
2019 Jogo CFL Alumni Series 23
465
Keon Raymond #25
Calgary Stampeders
Toronto Argonauts
Hamilton Tiger Cats
Middle Tennessee State University
NM-MT
$3.00 Cdn
2019 Jogo CFL Alumni Series 23
466
Ken Evraire #17
Ottawa Rough Riders
Hamilton Tiger Cats
Wilfrid Laurier University
NM-MT
$3.00 Cdn
2019 Jogo CFL Alumni Series 23
467
Barry Randall #55
Montreal Alouettes
Mount Royal University
Eastern Washington University
NM-MT
$3.00 Cdn
2019 Jogo CFL Alumni Series 23
468
Ron Perowne #29
Montreal Alouettes
Bishop`s University
NM-MT
$3.00 Cdn
2019 Jogo CFL Alumni Series 23
469
Peter Dyakowski #67
Hamilton Tiger Cats
Saskatchewan Roughriders
Louisiana State University
NM-MT
$3.00 Cdn
2019 Jogo CFL Alumni Series 23
470
Larry Smith #36
Montreal Alouettes
Bishop`s University
NM-MT
$3.00 Cdn
2019 Jogo CFL Alumni Series 23
471
Ken Downing #19
Ottawa Rough Riders
University of Missouri
NM-MT
$3.00 Cdn

2019 JOGO CFL ALUMNI SET - series 24 (#472 to #491)
$40.00 Cdn per series (125 sets made)

Year & Brand

Card #

Player & Jersey #

Team

School

Condition

Price per Card

2019 Jogo CFL Alumni Series 24
472
John Hufnagel - QB #12
Winnipeg Blue Bombers
Calgary Stampeders
Saskatchewan Roughriders
Penn State University
NM-MT
$3.00 Cdn
2019 Jogo CFL Alumni Series 24
473
Rob Cote #26
Calgary Stampeders
Victoria Rebels
NM-MT
$3.00 Cdn
2019 Jogo CFL Alumni Series 24
474
Clarence Verdin #00
BC Lions
University of Louisiana (Lafayette)
NM-MT
$3.00 Cdn
2019 Jogo CFL Alumni Series 24
475
Don Pinhey #89 ?
Ottawa Rough Riders
Muskingum University
NM-MT
$3.00 Cdn
2019 Jogo CFL Alumni Series 24
476
Rudy Linterman #17
Calgary Stampeders
University of Idaho
NM-MT
$3.00 Cdn
2019 Jogo CFL Alumni Series 24
477
Randy Mattingly #16, #18
Saskatchewan Roughriders
University of Evansville
NM-MT
$3.00 Cdn
2019 Jogo CFL Alumni Series 24
478
Walter Stanley #80
Ottawa Rough Riders
University of Colorado
Mesa State College
NM-MT
$3.00 Cdn
2019 Jogo CFL Alumni Series 24
479
Andre Ware - QB #1, #10
Ottawa Rough Riders
BC Lions
University of Houston
NM-MT
$3.00 Cdn
2019 Jogo CFL Alumni Series 24
480
Steve Raquet #99
Montreal Alouettes
Montreal Concordes
College of the Holy Cross
NM-MT
$3.00 Cdn
2019 Jogo CFL Alumni Series 24
481
Al Brenner #13, #25
Hamilton Tiger Cats
Ottawa Rough Riders
Winnipeg Blue Bombers
Michigan State University
NM-MT
$3.00 Cdn
2019 Jogo CFL Alumni Series 24
482
Tony Adams - QB #11
Toronto Argonauts
Utah State University
NM-MT
$3.00 Cdn
2019 Jogo CFL Alumni Series 24
483
Gill Fenerty #6, #21
Toronto Argonauts
Shreveport Pirates
College of the Holy Cross
NM-MT
$3.00 Cdn
2019 Jogo CFL Alumni Series 24
484
Ken Pettway #8
BC Lions
Winnipeg Blue Bombers
University of California (Berkeley)
NM-MT
$3.00 Cdn
2019 Jogo CFL Alumni Series 24
485
Larry Key #11
BC Lions
Florida State University
NM-MT
$3.00 Cdn
2019 Jogo CFL Alumni Series 24
486
James Sykes #11
Calgary Stampeders
Rice University
NM-MT
$3.00 Cdn
2019 Jogo CFL Alumni Series 24
487
Homer Jordan - QB #8
Saskatchewan Roughriders
Winnipeg Blue Bombers
Clemson University
NM-MT
$3.00 Cdn
2019 Jogo CFL Alumni Series 24
488
Joey Walters #17
Saskatchewan Roughriders
Clemson University
NM-MT
$3.00 Cdn
2019 Jogo CFL Alumni Series 24
489
David Green #26
Montreal Alouettes
Edinboro University
NM-MT
$3.00 Cdn
2019 Jogo CFL Alumni Series 24
490
Phil Jones #1, #6, #12
Toronto Argonauts
Montreal Concordes
Edmonton Eskimos
Ottawa Rough Riders
Simon Fraser University
NM-MT
$3.00 Cdn
2019 Jogo CFL Alumni Series 24
491
Dave Buchanan #20
Hamilton Tiger Cats
Arizona State University
NM-MT
$3.00 Cdn

2019 JOGO CFL ALUMNI SET - series 25 (#492 to #511)
$40.00 Cdn per series (125 sets made)

Year & Brand

Card #

Player & Jersey #

Team

School

Condition

Price per Card

2019 Jogo CFL Alumni Series 25
492
Travis Lulay - QB #14
BC Lions
Montana State University
NM-MT
$3.00 Cdn
2019 Jogo CFL Alumni Series 25
493
Reggie Hunt #9
Saskatchewan Roughriders
Montreal Alouettes
Texas Christian
NM-MT
$3.00 Cdn
2019 Jogo CFL Alumni Series 25
494
Don Loucks #64
Edmonton Eskimos
University of Toronto
NM-MT
$3.00 Cdn
2019 Jogo CFL Alumni Series 25
495
Timm Rosenbach - QB #2
Hamilton Tiger Cats
Washington State University
NM-MT
$3.00 Cdn
2019 Jogo CFL Alumni Series 25
496
Tristan Jackson #38
Edmonton Eskimos
Saskatchewan Roughriders
Ottawa RedBlacks
University of Central Arkansas
NM-MT
$3.00 Cdn
2019 Jogo CFL Alumni Series 25
497
Winston October #9, #11
Edmonton Eskimos
Montreal Alouettes
University of Richmond
NM-MT
$3.00 Cdn
2019 Jogo CFL Alumni Series 25
498
Kerwin Bell - QB #12
Edmonton Eskimos
Toronto Argonauts
Sacramento Gold Miners
University of Florida
NM-MT
$3.00 Cdn
2019 Jogo CFL Alumni Series 25
499
Kenny Walker #81, #99
Calgary Stampeders
Winnipeg Blue Bombers
University of Nebraska
NM-MT
$3.00 Cdn
2019 Jogo CFL Alumni Series 25
500
Larry Wruck #47
Edmonton Eskimos
Saskatoon Hilltops Jr
NM-MT
$3.00 Cdn
2019 Jogo CFL Alumni Series 25
501
Ray Odums #32
Calgary Stampeders
University of Alabama
NM-MT
$3.00 Cdn
2019 Jogo CFL Alumni Series 25
502
Leon Bright #26
BC Lions
Florida State University
NM-MT
$3.00 Cdn
2019 Jogo CFL Alumni Series 25
503
George Wells #6_, #70, #54
Saskatchewan Roughriders
Hamilton Tiger Cats
New Mexico State University
NM-MT
$3.00 Cdn
2019 Jogo CFL Alumni Series 25
504
Bill Manchuk #75
Saskatchewan Roughriders
University of Alberta
NM-MT
$3.00 Cdn
2019 Jogo CFL Alumni Series 25
505
Malcolm Frank #10
Edmonton Eskimos
Baylor University
NM-MT
$3.00 Cdn
2019 Jogo CFL Alumni Series 25
506
Ernie White #27
Ottawa Rough Riders
Montreal Alouettes
University of Dayton
NM-MT
$3.00 Cdn
2019 Jogo CFL Alumni Series 25
507
Mike Holmes #70
Winnipeg Blue Bombers
Texas Southern University
NM-MT
$3.00 Cdn
2019 Jogo CFL Alumni Series 25
508
Pete Van Valkenburg #33
Saskatchewan Roughriders
Brigham Young University
NM-MT
$3.00 Cdn
2019 Jogo CFL Alumni Series 25
509
Marv Luster #27
Toronto Argonauts
Montreal Alouettes
University of California (Los Angeles)
NM-MT
$3.00 Cdn
2019 Jogo CFL Alumni Series 25
510
Bill Siekierski #61
Ottawa Rough Riders
University of Missouri
NM-MT
$3.00 Cdn
2019 Jogo CFL Alumni Series 25
511
Bill Smith #70
Edmonton Eskimos
Edmonton Wildcats Jrs
NM-MT
$3.00 Cdn

2019 JOGO CFL ALUMNI SET - series 26 (#512 to #531)
$40.00 Cdn per series (125 sets made)

Year & Brand

Card #

Player & Jersey #

Team

School

Condition

Price per Card

2019 Jogo CFL Alumni Series 26
512
Jim Zorn - QB #15
Winnipeg Blue Bombers
California State Polytechnic University (Pomona)
NM-MT
$3.00 Cdn
2019 Jogo CFL Alumni Series 26
513
Luc Tousignant - QB #16
Montreal Concordes
Fairmont State University
NM-MT
$3.00 Cdn
2019 Jogo CFL Alumni Series 26
514
Paul Skansi #82
Ottawa Rough Riders
University of Washington
NM-MT
$3.00 Cdn
2019 Jogo CFL Alumni Series 26
515
D`Wayne Taylor #84, #48
Montreal Alouettes
Ottawa Renegades
New Mexico State University
NM-MT
$3.00 Cdn
2019 Jogo CFL Alumni Series 26
516
Pat Dye #71
Edmonton Eskimos
University of Georgia
NM-MT
$3.00 Cdn
2019 Jogo CFL Alumni Series 26
517
Karl Douglas - QB #16
Calgary Stampeders
BC Lions
Texas A&M University (Kingsville)
NM-MT
$3.00 Cdn
2019 Jogo CFL Alumni Series 26
518
Joe Moss #68
Ottawa Rough Riders
University of Maryland
NM-MT
$3.00 Cdn
2019 Jogo CFL Alumni Series 26
519
Bob Swift #35, #53, #44
BC Lions
Toronto Argonauts
Winnipeg Blue Bombers
Clemson University
NM-MT
$3.00 Cdn
2019 Jogo CFL Alumni Series 26
520
David Diaz-Infante
Sacramento Gold Miners
San Jose State University
NM-MT
$3.00 Cdn
2019 Jogo CFL Alumni Series 26
521
Dick Desmarais #24
Ottawa Rough Riders
Boston University
NM-MT
$3.00 Cdn
2019 Jogo CFL Alumni Series 26
522
Rhett Dawson #25
Saskatchewan Roughriders
Florida State University
NM-MT
$3.00 Cdn
2019 Jogo CFL Alumni Series 26
523
Jimmy Jones - QB #10, #8
Montreal Alouettes
Ottawa Rough Riders
Hamilton Tiger Cats
University of Southern California
NM-MT
$3.00 Cdn
2019 Jogo CFL Alumni Series 26
524
Al Benecick #66
Saskatchewan Roughriders
Syracuse University
NM-MT
$3.00 Cdn
2019 Jogo CFL Alumni Series 26
525
Bob Brown #60
Ottawa Rough Riders
BC Lions
University of Miami
NM-MT
$3.00 Cdn
2019 Jogo CFL Alumni Series 26
526
Pat Cantner #33
Winnipeg Blue Bombers
University of British Columbia
NM-MT
$3.00 Cdn
2019 Jogo CFL Alumni Series 26
527
John Helton #77, #99
Calgary Stampeders
Winnipeg Blue Bombers
Arizona State University
NM-MT
$3.00 Cdn
2019 Jogo CFL Alumni Series 26
528
Johnny Evans - QB #8, #10
Montreal Alouettes
Montreal Concordes
Edmonton Eskimos
North Carolina State University
NM-MT
$3.00 Cdn
2019 Jogo CFL Alumni Series 26
529
Scott Flagel #14
Winnipeg Blue Bombers
Ottawa Rough Riders
Calgary Stampeders
Hamilton Tiger Cats
Arizona Western College
NM-MT
$3.00 Cdn
2019 Jogo CFL Alumni Series 26
530
Khari Jones - QB #17
BC Lions
Winnipeg Blue Bombers
Calgary Stampeders
Hamilton Tiger Cats
University of California (Davis)
NM-MT
$3.00 Cdn
2019 Jogo CFL Alumni Series 26
531
Mike Fanucci #68
Ottawa Rough Riders
Calgary Stampeders
Montreal Alouettes
Arizona State University
NM-MT
$3.00 Cdn

2019 JOGO CFL ALUMNI SHORT PRINT CARDS
(only 60-70 cards made)
cost $5.00 Cdn each, not included in above sets

Year & Brand

Card #

Player & Jersey #

Team

School

Condition

Price per Card

2019 Jogo CFL Alumni
SP
Frankie Albert - QB #13
Calgary Stampeders
Stanford University
NM-MT
$5.00 Cdn
2019 Jogo CFL Alumni
SP
Tom Brown #69
BC Lions
University of Minnesota
NM-MT
$5.00 Cdn
2019 Jogo CFL Alumni
SP
Ed Buchanan #25
Calgary Stampeders
Saskatchewan Roughriders
Hamilton Tiger Cats
San Diego Junior College
NM-MT
$5.00 Cdn
2019 Jogo CFL Alumni
SP
Hugh Campbell #21
Saskatchewan Roughriders
Washington State University
NM-MT
$5.00 Cdn
2019 Jogo CFL Alumni
SC
Pat Cantner #33
Winnipeg Blue Bombers
University of British Columbia
NM-MT
$5.00 Cdn
2019 Jogo CFL Alumni
SP
Don Clark #21
Ottawa Rough Riders
Montreal Alouettes
Ohio State University
NM-MT
$5.00 Cdn
2019 Jogo CFL Alumni
SP
Eagle Day - QB #12
Calgary Stampeders
University of Mississippi
NM-MT
$5.00 Cdn
2019 Jogo CFL Alumni
SP
Glenn Dobbs - QB #45, #95
Saskatchewan Roughriders
University of Tulsa
NM-MT
$5.00 Cdn
2019 Jogo CFL Alumni
SP
Al Dorow - QB
BC Lions
Saskatchewan Roughriders
Toronto Argonauts
Michigan State University
NM-MT
$5.00 Cdn
2019 Jogo CFL Alumni
SP
Tom Dublinski - QB #10, #14
Toronto Argonauts
Hamilton Tiger Cats
University of Utah
NM-MT
$5.00 Cdn
2019 Jogo CFL Alumni
SP
Randy Duncan - QB #25
BC Lions
University of Iowa
NM-MT
$5.00 Cdn
2019 Jogo CFL Alumni
SP
Bernie Faloney - QB #10, #92, #96
Edmonton Eskimos
Montreal Alouettes
Hamilton Tiger Cats
University of Maryland
NM-MT
$5.00 Cdn
2019 Jogo CFL Alumni
SP
Mack Herron #26
Winnipeg Blue Bombers
Kansas State University
NM-MT
$5.00 Cdn
2019 Jogo CFL Alumni
SP
Tom Hugo #48
Montreal Alouettes
University of Denver
NM-MT
$5.00 Cdn
2019 Jogo CFL Alumni
SP
Chuck Hunsinger #84
Montreal Alouettes
University of Florida
NM-MT
$5.00 Cdn
2019 Jogo CFL Alumni
SP
Billy "White Shoes" Johnson #24
Montreal Alouettes
Widener University
NM-MT
$5.00 Cdn
2019 Jogo CFL Alumni
SP
Don Klosterman - QB #10
Calgary Stampeders
Loyola University of Los Angeles
NM-MT
$5.00 Cdn
2019 Jogo CFL Alumni
SP
Normie Kwong #95
Calgary Stampeders
Edmonton Eskimos
North Hill Blizzard Jr
NM-MT
$5.00 Cdn
2019 Jogo CFL Alumni
SP
Eddie LeBaron - QB #14
Calgary Stampeders
College of the Pacific
NM-MT
$5.00 Cdn
2019 Jogo CFL Alumni
SP
Dave Mann #16
Toronto Argonauts
Oregon State University
NM-MT
$5.00 Cdn
2019 Jogo CFL Alumni
SP
Johnny Mazur - QB #91, #1
BC Lions
Notre Dame University
NM-MT
$5.00 Cdn
2019 Jogo CFL Alumni
SP
Rollie Miles #18
Edmonton Eskimos
St Augustine`s College
NM-MT
$5.00 Cdn
2019 Jogo CFL Alumni
SP
Bronko Nagurski Jr. #60
Hamilton Tiger Cats
Notre Dame University
NM-MT
$5.00 Cdn
2019 Jogo CFL Alumni
SP
Mike Nelms #22
Hamilton Tiger Cats
Ottawa Rough Riders
Baylor University
NM-MT
$5.00 Cdn
2019 Jogo CFL Alumni
SP
Red O`Quinn #36, #_3
Montreal Alouettes
Wake Forest University
NM-MT
$5.00 Cdn
2019 Jogo CFL Alumni
SP
Vito "Babe" Parilli - QB #10, #15
Ottawa Rough Riders
University of Kentucky
NM-MT
$5.00 Cdn
2019 Jogo CFL Alumni
SP
Ernie Pitts #77
Winnipeg Blue Bombers
BC Lions
University of Denver
NM-MT
$5.00 Cdn
2019 Jogo CFL Alumni
SP
Ken Ploen - QB #11
Winnipeg Blue Bombers
University of Iowa
NM-MT
$5.00 Cdn
2019 Jogo CFL Alumni
SP
Martin Ruby #36
Saskatchewan Roughriders
Texas A&M University
NM-MT
$5.00 Cdn
2019 Jogo CFL Alumni
SP
Dick Shatto #22
Toronto Argonauts
University of Kentucky
NM-MT
$5.00 Cdn
2019 Jogo CFL Alumni
SP
Jim Thorpe #20 ?
Toronto Argonauts
Winnipeg Blue Bombers
Hofstra University
NM-MT
$5.00 Cdn
2019 Jogo CFL Alumni
SP
Billy Vessels
Edmonton Eskimos
University of Oklahoma
NM-MT
$5.00 Cdn
2019 Jogo CFL Alumni
SP
Carl Weathers #55
BC Lions
San Diego State University
NM-MT
$5.00 Cdn
Last Updated: Jan. 18, 2021