2018 JOGO CFL ALUMNI CARDS
Order your Limited 2018 Jogo CFL Alumni card sets!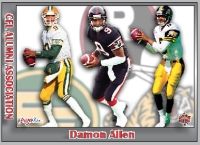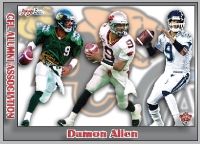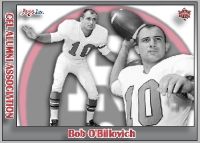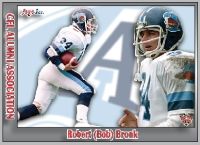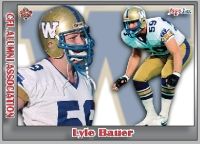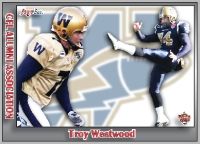 These Jogo CFL sets have a very limited print run (165 numbered sets) making them extremely collectible.

Some of the CFL Alumni players may have never had a card before.
The Jogo CFLAA Alumni sets continues in 2018
JOGO will be producing one 22 card series and two 20 card series of CFL alumni players for 2018.
There are @ 165 numbered sets per series printed in 2018.
The numbering for the sets will continue on from the 2017 sets.

Series 20* will be #392-411,
Series 21 will be #412-431,
Series 22 will be #432-451.
Each 20 card series will retail for $40.00 Cdn
except Series 20 has 22 cards for $44.00 Cdn.
Postage & Handling is extra. Canadian residents add applicable GST/HST. Manitoba residents also add PST.
Prices are listed in Canadian funds - please inquire as to the current exchange for prices in US funds.
2018 JOGO CFL ALUMNI CARDS PLAYERS CHECKLIST

Numbering will continue on from where the 2017 series 19 ended.

2018 JOGO CFL ALUMNI SET - series 20
(#392 to #411, includes 2 variants) - $44.00 Cdn this series


in stock now

Year & Brand

Card #

Player & Jersey #

Team

School

2018 Jogo CFL Alumni
392 A
Damon Allen - QB #9
Edmonton Eskimos
Ottawa Rough Riders
Hamilton Tiger Cats
California State - Fullerton
2018 Jogo CFL Alumni
392 B
Damon Allen - QB #9
Memphis Mad Dogs
BC Lions
Toronto Argonauts
California State - Fullerton
2018 Jogo CFL Alumni
393
Jason Wallace #7, 24
San Antonio Texans
Sacramento Gold Miners
Ottawa Rough Riders
Virginia
2018 Jogo CFL Alumni
394
Robert (Bob) Bronk #34
Toronto Argonauts
Queen`s
2018 Jogo CFL Alumni
395
Steve Morley #62, #63
Calgary Stampeders
Toronto Argonauts
Saskatchewan Roughriders
Winnipeg Blue Bombers
St. Mary`s
2018 Jogo CFL Alumni
396 A
Bob O`Billovich #10
Ottawa Rough Riders
Hamilton Tiger Cats
BC Lions
Toronto Argonauts
Montana
2018 Jogo CFL Alumni
396 B
Bob O`Billovich Coach, General Manager
Ottawa Rough Riders
Hamilton Tiger Cats
BC Lions
Toronto Argonauts
Montana
2018 Jogo CFL Alumni
397
Marwan Hage #62
Hamilton Tiger Cats
Colorado
2018 Jogo CFL Alumni
398
Chuck Levy #23
BC Lions
Toronto Argonauts
Arizona
2018 Jogo CFL Alumni
399
Marco Iannuzzi #87
BC Lions
Harvard
2018 Jogo CFL Alumni
400
Josh Bourke #59
Montreal Alouettes
Grand Valley State
2018 Jogo CFL Alumni
401
Peter Barnabe #30
Ottawa Rough Riders
University of Ottawa
2018 Jogo CFL Alumni
402
Ross Perrier
CFL Official
2018 Jogo CFL Alumni
403
Lyle Bauer #59
Winnipeg Blue Bombers
Weber State
2018 Jogo CFL Alumni
404
Darren Joseph #20
Ottawa Rough Riders
Saskatchewan Roughriders
Toronto Argonauts
Ottawa University
2018 Jogo CFL Alumni
405
Winston Venable #31
Montreal Alouettes
Boise State
2018 Jogo CFL Alumni
406
Paul Hickie #14
Edmonton Eskimos
Saskatchewan Roughriders
Saskatchewan
2018 Jogo CFL Alumni
407
Michael P McCarthy
Toronto Argonauts
Hamilton Tiger Cats
Ottawa Rough Riders
Southwestern College
2018 Jogo CFL Alumni
408
Justin Phillips #44
Calgary Stampeders
Ottawa Redblacks
Wilfrid Laurier
2018 Jogo CFL Alumni
409
Orlando Bowen #37
Toronto Argonauts
Hamilton Tiger Cats
Northern Illinois
2018 Jogo CFL Alumni
410
Troy Westwood #74
Winnipeg Blue Bombers
Augustana College
2018 Jogo CFL Alumni
411
Tony Gabriel #77
Hamilton Tiger Cats
Ottawa Rough Riders
Syracuse

2018 JOGO CFL ALUMNI SET - series 21 (#412 to #431) - $40.00 Cdn per series

Year & Brand

Card #

Player & Jersey #

Team

School

2018 Jogo CFL Alumni
412
Bernie Custis #99
Hamilton Tiger Cats
Syracuse
2018 Jogo CFL Alumni
413
John Williams #23
Hamilton Tiger Cats
New Mexico
2018 Jogo CFL Alumni
414
John Williams Jr. #23, #24, #11
Hamilton Tiger Cats
BC Lions
Toronto Argonauts
Edinboro
2018 Jogo CFL Alumni
415
Jim Conroy #25
Ottawa Rough Riders
Southern California
2018 Jogo CFL Alumni
416
Scott Flory #57
Montreal Alouettes
Saskatchewan
2018 Jogo CFL Alumni
417
Agustin Barrenechea #35, #39
Hamilton Tiger Cats
Edmonton Eskimos
Calgary
2018 Jogo CFL Alumni
418
David Hinds #20
Ottawa RedBlacks
Florida Atlantic
2018 Jogo CFL Alumni
419
Chuck Winters #2
Toronto Argonauts
Michigan
2018 Jogo CFL Alumni
420
Ken Preston
Saskatchewan Roughriders
Queen`s
2018 Jogo CFL Alumni
421
Moton Hopkins #95
Winnipeg Blue Bombers
Ottawa RedBlacks
Montreal Alouettes
Tulsa
2018 Jogo CFL Alumni
422
Martin Cox #2
Ottawa Rough Riders
Vanderbilt
2018 Jogo CFL Alumni
423
Billy Shipp #66
Toronto Argonauts
Alabama
2018 Jogo CFL Alumni
424
Chris Getzlaf #89
Saskatchewan Roughriders
2018 Jogo CFL Alumni
425
Glen Kulka #68
Toronto Argonauts
Ottawa Rough Riders
Saskatchewan Roughriders
Bakersfield
2018 Jogo CFL Alumni
426
Rashad Jeanty #37
Edmonton Eskimos
Central Florida
2018 Jogo CFL Alumni
427
Jack Blair #41
Hamilton Tiger Cats
Hamilton Hurricanes Jr
2018 Jogo CFL Alumni
428
Jordan Younger #26
Toronto Argonauts
Edmonton Eskimos
Connecticut
2018 Jogo CFL Alumni
429
Sandy Beveridge #19
Hamilton Tiger Cats
UBC Lions
2018 Jogo CFL Alumni
430
Anthony Malbrough #31, #3, #28
Ottawa Rough RidersRen
Winnipeg Blue Bombers
Calgary Stampeders
Texas Tech
2018 Jogo CFL Alumni
431
Gridiron Underground
documentary film

2018 JOGO CFL ALUMNI SET - series 22 (#432 to #451) - $40.00 Cdn per series

Year & Brand

Card #

Player & Jersey #

Team

School

2018 JOGO CFL ALUMNI SHORT PRINT CARDS
(only 60-70 cards made) cost extra, not included in sets

Year & Brand

Card #

Player & Jersey #

Team

School

2018 Jogo CFL Alumni
SP
Jack Abendschan #53 (short print)
Saskatchewan Roughriders
New Mexico
2018 Jogo CFL Alumni
SP
Bruce Bennett #30 (short print)
Saskatchewan Roughriders
Florida
2018 Jogo CFL Alumni
SP
Johnny Bright #24 (short print)
Edmonton Eskimos
Drake
2018 Jogo CFL Alumni
SP
Frank Budd #20 (short print)
Calgary Stampeders
Villanova
2018 Jogo CFL Alumni
SP
Ulysses "Crazy legs" Curtis #81, #70 (short print)
Toronto Argonauts
Florida A&M
2018 Jogo CFL Alumni
SP
Sam Etcheverry #92 (short print)
Montreal Alouettes
Denver
2018 Jogo CFL Alumni
SP
Jack Gotta #74 (short print)
Calgary Stampeders
Saskatchewan Roughriders
Montreal Alouettes
Oregon State
2018 Jogo CFL Alumni
SP
Joe Kapp #22 (short print)
BC Lions
California
2018 Jogo CFL Alumni
SP
Jack Jacobs #27, #79 (short print)
Winnipeg Blue Bombers
Oklahoma
2018 Jogo CFL Alumni
SP
Bob Ptacek #14 (short print)
Saskatchewan Roughriders
Michigan
2018 Jogo CFL Alumni
SP
Ray Purdin #31 (short print)
Saskatchewan Roughriders
Northwestern
2018 Jogo CFL Alumni
SP
Woody Strode #00 (short print)
Calgary Stampeders
UCLA
2018 Jogo CFL Alumni
SP
Alex Webster #86 (short print)
Montreal Alouettes
North Carolina State

2018 JOGO CFL LIFETIME SUPPORTER cards
cost extra, not included in sets

Year & Brand

Card #

Supporter

Favorite Team

2018 Jogo CFL Supporter
LS 12
Paul Woods
Toronto Argonauts
2018 Jogo CFL Supporter
LS 13
Rachel Woods
Toronto Argonauts
2018 Jogo CFL Supporter
LS 14
Dean Krawec
Edmonton Eskimos
2018 Jogo CFL Supporter
LS 15
Ken Aubrey
CFL
Last Updated: Aug. 28, 2018