2021 JOGO CFL ALUMNI CARDS
Order your Limited 2021 Jogo CFL Alumni card sets!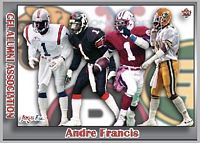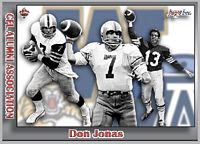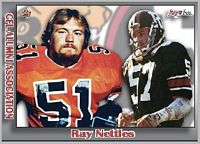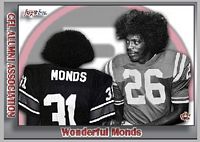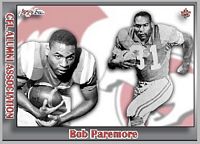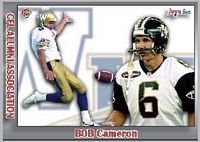 These Jogo CFL Alumni card sets have a very limited print run (120-165 numbered sets) making them extremely collectible.

Some of the CFL Alumni players may have never had a card before.
The Jogo CFLAA Alumni sets continues in 2021
JOGO will be producing four 22 card series of CFL alumni players for 2021.

These CFL alumni sets will be limited to 125 numbered sets for each series.

All 2021 Jogo CFLAA cards are available now.
The numbering for the sets will continue on from the 2020 sets.

Series 31 will be #616-637 (22 cards),
Series 32 will be #638-659 (22 cards),
Series 33 will be #660-681 (22 cards),
Series 34 will be #682-704 (23 cards).
Series 31, 32 and 33 are $44.00 Cdn each (22 cards)
and series 34 (23 cards) is $46.00 Cdn.
Postage & Handling is extra. Canadian residents add applicable GST/HST. Manitoba residents also add PST.
Prices are listed in Canadian funds - please inquire as to the current exchange for prices in US funds.
2021 JOGO CFL ALUMNI CARDS PLAYERS CHECKLIST

Numbering will continue on from where the 2020 series 30 ended.

2021 JOGO CFL ALUMNI SET - series 31
(#616 to #637)- $44.00 Cdn this series
(125 sets made)

in stock now

Year & Brand

Card #

Player & Jersey #

Team

School

2021 Jogo CFL Alumni Series 31
616
Wally Gabler - QB
Toronto Argonauts
Winnipeg Blue Bombers
Hamilton Tiger Cats
Michigan
2021 Jogo CFL Alumni Series 31
617
Dave West
Toronto Argonauts
Calgary Stampeders
Winnipeg Blue Bombers
Edmonton Eskimos
Hamilton Tiger Cats
Ottawa Rough Riders
Tulsa
2021 Jogo CFL Alumni Series 31
618
Bernie Flowers
Ottawa Rough Riders
Purdue
2021 Jogo CFL Alumni Series 31
619
Pernell Moore
Toronto Argonauts
Central State (Ohio)
2021 Jogo CFL Alumni Series 31
620
Charlie Turner
Edmonton Eskimos
Hamilton Tiger Cats
Ohio
2021 Jogo CFL Alumni Series 31
621
Kurt Chapman
Edmonton Eskimos
Simon Fraser
2021 Jogo CFL Alumni Series 31
622
Ed Ulmer
Ottawa Rough Riders
Winnipeg Blue Bombers
Ohio State
2021 Jogo CFL Alumni Series 31
623
Ed McAleney
Calgary Stampeders
Massachusetts
2021 Jogo CFL Alumni Series 31
624
Andre Francis
Montreal Concordes
Ottawa Rough Riders
Edmonton Eskimos<
BC Lions
New Mexico State
2021 Jogo CFL Alumni Series 31
625
Don Jonas - QB
Toronto Argonauts
Winnipeg Blue Bombers
Hamilton Tiger Cats
Penn State
2021 Jogo CFL Alumni Series 31
626
James Scott
Montreal Alouettes
Trinity Valley CC (TX)
2021 Jogo CFL Alumni Series 31
627*
Roy Henry - QB


(uncorrected error - front picture is Tom Shuman

Hamilton Tiger Cats
Louisiana-Lafayette
2021 Jogo CFL Alumni Series 31
628
Mike Strickland
Saskatchewan Roughriders
BC Lions
Eastern Michigan
2021 Jogo CFL Alumni Series 31
629
Dave Lewis - QB
Montreal Alouettes
Stanford
2021 Jogo CFL Alumni Series 31
630
Paul Desjardins
Winnipeg Blue Bombers
Toronto Argonauts
Ottawa University
2021 Jogo CFL Alumni Series 31
631
Henry Dorsch
Saskatchewan Roughriders
Tulsa
2021 Jogo CFL Alumni Series 31
632
Brian Pillman
Calgary Stampeders
Miami (Ohio)
2021 Jogo CFL Alumni Series 31
633
Joe Adams - QB
Saskatchewan Roughriders
Ottawa Rough Riders
Tennessee State
2021 Jogo CFL Alumni Series 31
634
Roger Kramer
Calgary Stampeders
Ottawa Rough Riders
Kalamazoo College (MI)
2021 Jogo CFL Alumni Series 31
635
Cliff Pantalone
Ottawa Rough Riders
Ottawa Sooners
2021 Jogo CFL Alumni Series 31
636
Curtis Wester
BC Lions
Saskatchewan Roughriders
East Texas State
2021 Jogo CFL Alumni Series 31
637
Rene "Rip" Riopelle
Hamilton Tiger Cats
Montreal Alouettes
South Dakota State

2021 JOGO CFL ALUMNI SET - series 32
(#638 to #659)- $44.00 Cdn this series
(125 sets made)

in stock now

Year & Brand

Card #

Player & Jersey #

Team

School

2021 Jogo CFL Alumni Series 32
638
Sandy Stephens - QB
Montreal Alouettes
Toronto Argonauts
Minnesota
2021 Jogo CFL Alumni Series 32
639
Willie Jones
Saskatchewan Roughriders
Florida State
2021 Jogo CFL Alumni Series 32
640
Jerry Bradley
BC Lions
Toronto Argonauts
California
2021 Jogo CFL Alumni Series 32
641
John Kissell
Ottawa Rough Riders
Boston College
2021 Jogo CFL Alumni Series 32
642
Charlie Shepard
Winnipeg Blue Bombers
North Texas
2021 Jogo CFL Alumni Series 32
643
Harald Hasselbach
Calgary Stampeders
Washington
2021 Jogo CFL Alumni Series 32
644
Art Perkins
Winnipeg Blue Bombers
Edmonton Eskimos
North Texas
2021 Jogo CFL Alumni Series 32
645
Phil Minnick
Winnipeg Blue Bombers
Northern Iowa
2021 Jogo CFL Alumni Series 32
646
Ray Nettles
BC Lions
Toronto Argonauts
Hamilton Tiger Cats
Ottawa Rough Riders
Calgary Stampeders
Tennessee
2021 Jogo CFL Alumni Series 32
647
Bill Etter - QB
Hamilton Tiger Cats
Notre Dame
2021 Jogo CFL Alumni Series 32
648
Harold Woods
Hamilton Tiger Cats
Saskatchewan Roughriders
Montreal Concordes
Toronto Argonauts
West Virginia
2021 Jogo CFL Alumni Series 32
649
Ron Stover
Toronto Argonauts
Oregon
2021 Jogo CFL Alumni Series 32
650
Jim Walden - QB
BC Lions
Calgary Stampeders
Edmonton Eskimos
Wyoming
2021 Jogo CFL Alumni Series 32
651
Ron Calcagni - QB
Montreal Alouettes
Ottawa Rough Riders
Arkansas
2021 Jogo CFL Alumni Series 32
652
Art Johnson
Toronto Argonauts
Calgary Stampeders
Edmonton Eskimos
Michigan State
2021 Jogo CFL Alumni Series 32
653
Rusty Clark - QB
Edmonton Eskimos
Houston
2021 Jogo CFL Alumni Series 32
654
Justin Palardy
Hamilton Tiger Cats
Winnipeg Blue Bombers
Toronto Argonauts
Saint Mary`s University
2021 Jogo CFL Alumni Series 32
655
Chuck Klingbeil
Saskatchewan Roughriders
Northern Michigan
2021 Jogo CFL Alumni Series 32
656
Ed Henke
Calgary Stampeders
Winnipeg Blue Bombers
USC
2021 Jogo CFL Alumni Series 32
657
Don Wilson
Edmonton Eskimos
BC Lions
Toronto Argonauts
North Carolina State
2021 Jogo CFL Alumni Series 32
658
Bill Glosson
Montreal Alouettes
Texas Southern
2021 Jogo CFL Alumni Series 32
659
Irvin Smith
Baltimore Stallions
Montreal Alouettes
Maryland

2021 JOGO CFL ALUMNI SET - series 33
(#660 to #681)- $44.00 Cdn this series
(125 sets made)

in stock now

Year & Brand

Card #

Player & Jersey #

Team

School

2021 Jogo CFL Alumni Series 33
660
Kevin Glenn - QB
Saskatchewan Roughriders
Winnipeg Blue Bombers
Hamilton Tiger Cats
Calgary Stampeders
BC Lions
Montreal Alouettes
Edmonton Eskimos
Illinois State
2021 Jogo CFL Alumni Series 33
661
Merl Code
Montreal Alouettes
Ottawa Rough Riders
North Carolina A&T
2021 Jogo CFL Alumni Series 33
662
Donnie Little - QB
Ottawa Rough Riders
Texas
2021 Jogo CFL Alumni Series 33
663
John Terry
Saskatchewan Roughriders
Toronto Argonauts
Livingstone State
2021 Jogo CFL Alumni Series 33
664
Jim Thibert
Edmonton Eskimos
Toledo
2021 Jogo CFL Alumni Series 33
665
Jeff Knapple - QB
Calgary Stampeders
UCLA
Colorado
Northern Colorado
2021 Jogo CFL Alumni Series 33
666
Ruben Vaughn
BC Lions
Colorado
2021 Jogo CFL Alumni Series 33
667
Buddy Brown
Winnipeg Blue Bombers
Alabama
2021 Jogo CFL Alumni Series 33
668
Rhome Nixon
Ottawa Rough Riders
BC Lions
Southern
2021 Jogo CFL Alumni Series 33
669
Art Baker
Hamilton Tiger Cats
Syracuse
2021 Jogo CFL Alumni Series 33
670
Dave Grosz - QB
Saskatchewan Roughriders
Montreal Alouettes
Oregon
2021 Jogo CFL Alumni Series 33
671
Charlie Peterson - QB
Toronto Argonauts
Brigham Young
2021 Jogo CFL Alumni Series 33
672
Dickie Harris
Montreal Alouettes
Montreal Concordes
Hamilton Tiger Cats
South Carolina
2021 Jogo CFL Alumni Series 33
673
Lee Saltz - QB
Winnipeg Blue Bombers
Temple
2021 Jogo CFL Alumni Series 33
674
Howard Starks
Calgary Stampeders
Wichita State
2021 Jogo CFL Alumni Series 33
675
Gary Hayes
Edmonton Eskimos
Fresno State
2021 Jogo CFL Alumni Series 33
676
A.D. Whitfield
BC Lions
North Texas
2021 Jogo CFL Alumni Series 33
677
George Belu
Ottawa Rough Riders
Ohio
2021 Jogo CFL Alumni Series 33
678
Mike McLeod
Edmonton Eskimos
Montana State
2021 Jogo CFL Alumni Series 33
679
Lewis Porter
Hamilton Tiger Cats
Southern
2021 Jogo CFL Alumni Series 33
680
Sam Holden
Saskatchewan Roughriders
Southern Illinois
Grambling State
2021 Jogo CFL Alumni Series 33
681
Veryl Switzer
Montreal Alouettes
Calgary Stampeders
Kansas State

2021 JOGO CFL ALUMNI SET - series 34
(#682 to #704)- $46.00 Cdn this series
(125 sets made)

in stock now

Year & Brand

Card #

Player & Jersey #

Team

School

2021 Jogo CFL Alumni Series 34
682
Mike Kerrigan - QB
Hamilton Tiger Cats
Toronto Argonauts
Northwestern
2021 Jogo CFL Alumni Series 34
683
Roger Scales
Edmonton Eskimos
Toronto Argonauts
Brigham Young
2021 Jogo CFL Alumni Series 34
684
Al Charuk
BC Lions
Toronto Argonauts
Acadia
2021 Jogo CFL Alumni Series 34
685
Wonderful Monds
Ottawa Rough Riders
Nebraska
2021 Jogo CFL Alumni Series 34
686
Obie Graves
Hamilton Tiger Cats
California State (Fullerton)
2021 Jogo CFL Alumni Series 34
687
Tom Kudaba
Edmonton Eskimos
Calgary Stampeders
Hamilton Tiger Cats
BC Lions
Montreal Alouettes
Simon Fraser
2021 Jogo CFL Alumni Series 34
688
Gregg Butler
Edmonton Eskimos
Montreal Alouettes
Winnipeg Blue Bombers
Howard
2021 Jogo CFL Alumni Series 34
689
Bob Paremore
Calgary Stampeders
Montreal Alouettes
Florida A&M
2021 Jogo CFL Alumni Series 34
690
Reggie Collier - QB
Ottawa Rough Riders
Southern Miss
2021 Jogo CFL Alumni Series 34
691
Tim Anderson
Toronto Argonauts
Ohio State
2021 Jogo CFL Alumni Series 34
692
Dave Knechtel
Toronto Argonauts
Edmonton Eskimos
Winnipeg Blue Bombers
Waterloo Lutheran
2021 Jogo CFL Alumni Series 34
693
Mike Washington
Saskatchewan Roughriders
Washington State
2021 Jogo CFL Alumni Series 34
694
John Palazeti
Calgary Stampeders`
Richmond
2021 Jogo CFL Alumni Series 34
695
Rob Carpenter
Winnipeg Blue Bombers
Notre Dame
Syracuse
2021 Jogo CFL Alumni Series 34
696
Bob Houmard
Winnipeg Blue Bombers
Ottawa Rough Riders
Edmonton Eskimos
Ohio
2021 Jogo CFL Alumni Series 34
697
Dennis Duncan
Montreal Alouettes
Ottawa Rough Riders
Northwestern State
2021 Jogo CFL Alumni Series 34
698
Ron Murphy
Montreal Alouettes
Hamilton Tiger Cats
McGill
2021 Jogo CFL Alumni Series 34
699
Bob Renn
Saskatchewan Roughriders
Florida State
2021 Jogo CFL Alumni Series 34
700
Tom Bland
Toronto Argonauts
West Liberty College
2021 Jogo CFL Alumni Series 34
701
Joe Fourqurean
BC Lions
Bluefield State
2021 Jogo CFL Alumni Series 34
702
Ed Jones
Edmonton Eskimos
Acadia
2021 Jogo CFL Alumni Series 34
703
Nolan Bailey
Saskatchewan Roughriders
Prairie View A&M
2021 Jogo CFL Alumni Series 34
704
Frank Machinsky
Toronto Argonauts
Central State (OK)

2020 JOGO CFL ALUMNI SPECIAL CARDS
(only 60-70 cards made), not included in above sets
cost $5.00 Cdn each

Year & Brand

Card #

Player & Jersey #

Team

School

2021 Jogo CFL Alumni
SP
Willie Armstead
Calgary Stampeders
Utah
2021 Jogo CFL Alumni
SP
Kent Austin - QB
Saskatchewan Roughriders
BC Lions
Winnipeg Blue Bombers
Toronto Argonauts
Mississippi
2021 Jogo CFL Alumni
SP
Joe Barnes - QB
Montreal Concordes
Montreal Alouettes
Toronto Argonauts Calgary Stampeders
Saskatchewan Roughriders
Texas Tech
2021 Jogo CFL Alumni
SP
Tom Casey
Winnipeg Blue Bombers
Hampton
2021 Jogo CFL Alumni
SP
Carl Crennel
Montreal Alouettes
West Virginia
2021 Jogo CFL Alumni
SP
Matt Dunigan - QB
Edmonton Eskimos
Winnipeg Blue Bombers
BC Lions
Toronto Argonauts
Hamilton Tiger Cats
Birmingham Barracudas
Louisiana Tech
2021 Jogo CFL Alumni
SP
Darian Durant - QB
Saskatchewan Roughriders
Montreal Alouettes
North Carolina
2021 Jogo CFL Alumni
SP
George Fleming
Winnipeg Blue Bombers
Washington
2021 Jogo CFL Alumni
SP
Don Getty - QB
Edmonton Eskimos
Western Ontario
2021 Jogo CFL Alumni
SP
Dean Griffing
Saskatchewan Roughriders
Calgary Stampeders
Kansas State
2021 Jogo CFL Alumni
SP
Friz Hanson
Winnipeg Blue Bombers
North Dakota State
2021 Jogo CFL Alumni
SP
Chad Johnson - QB
Montreal Alouettes
Oregon State
2021 Jogo CFL Alumni
SP
Erik Kramer - QB
Calgary Stampeders
North Carolina State
2021 Jogo CFL Alumni
SP
Joe Krol
Toronto Argonauts
Western Ontario
2021 Jogo CFL Alumni
SP
Eddie Macon
Calgary Stampeders
Hamilton Tiger Cats
Pacific
2021 Jogo CFL Alumni
SP
Jim Marshall
Saskatchewan Roughriders
Long Beach State
2021 Jogo CFL Alumni
SP
Hugh McKinnis
Calgary Stampeders
Ottawa Rough Riders
BC Lions
Arizona State
2021 Jogo CFL Alumni
SP
Terry Metcalf
Toronto Argonauts
Ohio State
2021 Jogo CFL Alumni
SP
Sam Mills
Toronto Argonauts
Montclair State
2021 Jogo CFL Alumni
SP
George Mira - QB
Montreal Alouettes
Toronto Argonauts
Miami
2021 Jogo CFL Alumni
SP
Don Moorhead - QB
BC Lions
Michigan
2021 Jogo CFL Alumni
SP
Mike Pringle
Baltimore Stallions
Sacramento Goldminers
Montreal Alouettes
Edmonton Eskimos
Washington State
Cal State (Fullerton)
2021 Jogo CFL Alumni
SP
Ricky Ray - QB
Edmonton Eskimos
Sacramento State
2021 Jogo CFL Alumni
SP
Bill Redell - QB/DB
Edmonton Eskimos
Calgary Stampeders
Hamilton Tiger Cats
Occidental
2021 Jogo CFL Alumni
SP
Frank Rigney
Winnipeg Blue Bombers
Iowa
2021 Jogo CFL Alumni
SP
Ralph Sazio
Hamilton Tiger Cats
William and Mary
2021 Jogo CFL Alumni
SP
Mike Shad
Ottawa Rough Riders
Queens
2021 Jogo CFL Alumni
SP
Ron Simmons
Ottawa Rough Riders
Florida State
2021 Jogo CFL Alumni
SP
Ed Songin
Hamilton Tiger Cats
Boston College
2021 Jogo CFL Alumni
SP
Stewart Stover
Hamilton Tiger Cats
Murray State
Northeast Louisiana State
2021 Jogo CFL Alumni
SP
Annis Stukus - QB/RB/E/K
Toronto Argonauts
Edmonton Eskimos
BC Lions
Toronto Argonauts Jr
2021 Jogo CFL Alumni
SP
Bruce Taylor
Montreal Alouettes
Boston University
2021 Jogo CFL Alumni
SP
Hugh "Bones" Taylor
Ottawa Rough Riders
Tulane
Oklahoma City
2021 Jogo CFL Alumni
SP
Jeff Tedford - QB
Hamilton Tiger Cats
Calgary Stampeders
Saskatchewan Roughriders
Winnipeg Blue Bombers
Fresno State
2021 Jogo CFL Alumni
SP
Howie Turner
Ottawa Rough Riders
North Carolina State
2021 Jogo CFL Alumni
SP
Nobby Wirkowski - QB
Toronto Argonauts
Hamilton Tiger Cats
Calgary Stampeders
Miami (Ohio)
Last Updated: Nov. 15, 2021