CFL BOOKS
CANADIAN FOOTBALL LEAGUE BOOKS
Bought a large collection of CFL Grey Cup Programs & other CFL books.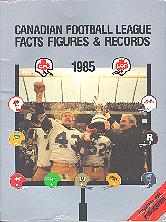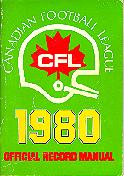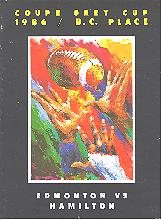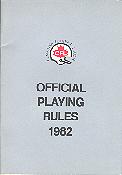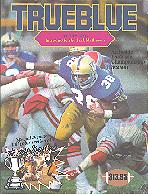 We have an assortment of CFL - Canadian Football League books, CFL Grey Cup Programs,
CFL Record books & Winnipeg Blue Bomber books for sale.
Click on the blue links to see the book cover and then hit the back button to return to the list.
Prices subject to change without notice according to market conditions.
Postage & Handling is extra. Canadian residents add applicable GST/HST.
Prices are listed in Canadian funds - please inquire as to the current exchange for prices in US funds.
CFL BOOKS

CFL GREY CUP PROGRAMS

Scan Code
Title
Cover
Details
Condition
Price per book
Pub 3432
1979 Grey Cup Program
Montreal
Drawing Of Grey Cup trophy
Edmonton Eskimos vs Montreal Alouettes
Publisher: CFL Illustrated 1979
120 pages
GD
$12.00 Cdn
Pub 3150
1981 Grey Cup Program
Montreal
Champagne bottle in Grey Cup trophy
Edmonton Eskimos vs Ottawa Rough Riders
Publisher: CFL Illustrated 1981
soft cover, 120 pages
FR
$10.00 Cdn
Pub 3780
1983 Grey Cup Fanfare Festival Souvenir Edition
Various Drawings
1983 (22 pages)
GD-VG
$4.00 Cdn
Pub 3148
Coupe Grey Cup 84 Edmonton Media Guide
Grey Cup Trophy
VG+
$10.00 Cdn
Pub 3151
1984 Grey Cup Program
Edmonton
drawing of Grey Cup & parade
Winnipeg Blue Bombers vs Hamilton Tiger Cats
Publisher: CFL Illustrated 1984
soft cover, 152 pages
VG, name stamped inside
$15.00 Cdn
Pub 3152
1984 Grey Cup Program
Edmonton
drawing of Grey Cup & parade
Winnipeg Blue Bombers vs Hamilton Tiger Cats
Publisher: CFL Illustrated 1984
soft cover, 152 pages
VG, name stamped inside, water spot on cover
$15.00 Cdn
Pub 3153
1985 Grey Cup Program
Montreal
City skyline behind Grey Cup trophy
BC Lions vs Hamilton Tiger Cats
Publisher: CFL Illustrated 1985
soft cover, 144 pages
VG
$15.00 Cdn
Pub 3154
1986 Grey Cup Program
BC Place
painting of hands reaching for football
Edmonton Eskimos vs Hamilton Tiger Cats
Publisher: CFL Illustrated 1985
soft cover, 144 pages
VG, 2" crease
$10.00 Cdn
Pub 3155
1986 Grey Cup Program
BC Place
painting of hands reaching for football
Edmonton Eskimos vs Hamilton Tiger Cats
Publisher: CFL Illustrated 1986
soft cover, 144 pages
FR, folded vertically
$6.00 Cdn
Pub 3156
1987 Grey Cup Program
BC Place
Grey Cup trophy & leather football helmet
Edmonton Eskimos vs Toronto Argonauts
Publisher: CFL Illustrated 1987
soft cover, 128 pages
GD, 4" back crease
$7.50 Cdn
Pub 1249
1988 Grey Cup Program
Drawings
B.C. Lions vs Winnipeg Blue Bombers
Publisher: Canadian Football League 1988
soft cover, 96 pages
GD-VG
$10.00 Cdn
Pub 1250
1991 Grey Cup Program
Grey Cup Silhouette / Grey Cup Logo
Calgary Stampeders vs Toronto Maple Leafs

with Game Ticket Stub


Publisher: Canadian Football League 1991
soft cover, 80 pages
EX
$20.00 Cdn
Pub 1251
1991 Grey Cup Program
Grey Cup Silhouette / Grey Cup Logo
Calgary Stampeders vs Toronto Maple Leafs
Publisher: Canadian Football League 1991
soft cover, 80 pages
VG
$10.00 Cdn
Pub 3157
1994 Grey Cup Program
BC Place
Grey Cup trophy & 2 players
BC Lions vs Baltimore Stallions
Publisher: CFL Illustrated 1994
soft cover, 80 pages
VG-EX
$10.00 Cdn
Pub 3158
1997 Grey Cup Program

Edmonton City Champions stone arch, Grey Cup in skyline
Saskatchewan Roughriders vs Toronto Argonauts
Publisher: Canadian Football League 1997
soft cover, 72 pages
VG-EX
$7.50 Cdn
Pub 1252
1998 Grey Cup Program
Winnipeg Stadium / Team Logos
Calgary Stampeders vs Hamilton Tiger Cats
Publisher: Canadian Football League 1998
soft cover, 68 pages
NM-MT
$10.00 Cdn

CFL - CANADIAN FOOTBALL LEAGUE FACTS FIGURES & RECORDS BOOKS

Scan Code
Title
Cover
Details
Condition
Price per book
Pub 1235
1985 Canadian Football League Facts Figures & Records (o/s)
Winnpeg Blue Bombers with Grey Cup / Team Logos
Publisher: Canadian Football League 1985
soft cover, 190 pages
VG
$10.00 Cdn
Pub 1979
1985 Canadian Football League Facts Figures & Records (o/s)
Winnpeg Blue Bombers with Grey Cup / Team Logos
Publisher: Canadian Football League 1985
soft cover, 190 pages
PR, cracked spine
Pub 1236
1986 Canadian Football League Facts Figures & Records (o/s)
Team Logos / Various Shots
Publisher: Canadian Football League 1986
soft cover, 240 pages
VG+
$10.00 Cdn
Pub 1980
1986 Canadian Football League Facts Figures & Records (o/s)
Team Logos / Various Shots
Publisher: Canadian Football League 1986
soft cover, 240 pages
GD
$5.00 Cdn
Pub 1237
1987 Canadian Football League Facts Figures & Records (o/s)
Various Shots
Publisher: Canadian Football League 1987
soft cover, 240 pages
VG+
$10.00 Cdn
Pub 4473
1987 Canadian Football League Facts Figures & Records (o/s)
Various Shots
Publisher: Canadian Football League 1987
soft cover, 240 pages
VG+
$10.00 Cdn
Pub 1981
1987 Canadian Football League Facts Figures & Records (o/s)
Various Shots
Publisher: Canadian Football League 1987
soft cover, 240 pages
GD-VG
$6.00 Cdn
Pub 1238
1988 Canadian Football League Facts Figures & Records (o/s)
Edmonton Eskimos with Grey Cup / Action Shots
Publisher: Canadian Football League 1988
soft cover, 200 pages
VG+
$10.00 Cdn
Pub 1982
1988 Canadian Football League Facts Figures & Records (o/s)
Edmonton Eskimos with Grey Cup / Action Shots
Publisher: Canadian Football League 1988
soft cover, 200 pages
GD-VG
$6.00 Cdn
Pub 1239
1989 Canadian Football League Facts Figures & Records (o/s)
Winnpeg Blue Bombers with Grey Cup
Publisher: Canadian Football League 1989
soft cover, 200 pages
VG-EX
$10.00 Cdn
Pub 1983
1989 Canadian Football League Facts Figures & Records (o/s)
Winnpeg Blue Bombers with Grey Cup
Publisher: Canadian Football League 1989
soft cover, 200 pages
VG
$8.00 Cdn
Pub 1240
1991 Canadian Football League Facts Figures & Records (o/s)
Reggie Barnes / Greg Battle / Mike Clemons / Ray Elgaard / Jim Mills
Publisher: Canadian Football League 1991
soft cover, 224 pages
VG-EX
$10.00 Cdn
Pub 1984
1991 Canadian Football League Facts Figures & Records (o/s)
Reggie Barnes / Greg Battle / Mike Clemons / Ray Elgaard / Jim Mills
Publisher: Canadian Football League 1991
soft cover, 224 pages
VG
$8.00 Cdn

CFL - CANADIAN FOOTBALL LEAGUE OFFICIAL PLAYING RULES

Scan Code
Title
Cover
Details
Condition
Price per book
Pub 3518
1980 Canadian Football League Official Playing Rules
CFL Logo
VG
$3.00 Cdn
Pub 3141
1981 Canadian Football League Official Playing Rules
CFL Logo
VG++
$6.00 Cdn
Pub 3519
1981 Canadian Football League Official Playing Rules
CFL Logo
VG
$3.00 Cdn
Pub 3520
1982 Canadian Football League Official Playing Rules
CFL Logo
VG
$3.00 Cdn
Pub 3521
1982 Canadian Football League Official Playing Rules
CFL Logo
VG
$3.00 Cdn
Pub 3522
1983 Canadian Football League Official Playing Rules
CFL Logo
VG
$3.00 Cdn
Pub 3523
1983 Canadian Football League Official Playing Rules
CFL Logo
VG
$3.00 Cdn
Pub 3524
1984 Canadian Football League Official Playing Rules
CFL Logo
VG
$3.00 Cdn
Pub 3525
1984 Canadian Football League Official Playing Rules
CFL Logo
VG
$3.00 Cdn

LCF - CANADIAN FOOTBALL LEAGUE OFFICIAL PLAYING RULES - En Francais

Scan Code
Title
Cover
Details
Condition
Price per book
Pub 3147
1984 Ligue Canadienne De Football Reglement Officiel De Jeu
LCF Logo
GD
$4.00 Cdn

CFL - CANADIAN FOOTBALL LEAGUE OFFICIAL RECORD MANUAL

Scan Code
Title
Cover
Details
Condition
Price per book
Pub 1669
1980 Canadian Football League Official Record Manual
CFL Logo
soft cover, 120 pages
FR-GD
$6.00 Cdn
Pub 3142
1981 Canadian Football League Official Record Manual
CFL Logo
soft cover, 120 pages
VG
$8.00 Cdn
Pub 3526
1981 Canadian Football League Official Record Manual
CFL Logo
soft cover, 120 pages
VG
$8.00 Cdn
Pub 3527
1981 Canadian Football League Official Record Manual
CFL Logo
soft cover, 120 pages
VG
$8.00 Cdn
Pub 3143
1982 Canadian Football League Official Record Manual
CFL Logo
Publisher: Canadian Football League 1982
soft cover, 120 pages
VG-EX
$10.00 Cdn
Pub 3528
1982 Canadian Football League Official Record Manual
CFL Logo
Publisher: Canadian Football League 1982
soft cover, 120 pages
GD-VG, ink inside
$7.00 Cdn
Pub 1234
1983 Canadian Football League Official Record Manual
CFL Logo
Publisher: Canadian Football League 1983
soft cover, 180 pages
VG+
$10.00 Cdn
Pub 3144
1983 Canadian Football League Official Record Manual
CFL Logo
Publisher: Canadian Football League 1983
soft cover, 180 pages
VG
$7.00 Cdn
Pub 3145
1984 Canadian Football League Official Record Manual
CFL Logo
Publisher: Canadian Football League 1984
soft cover, 180 pages
VG
$7.00 Cdn
Pub 3529
1984 Canadian Football League Official Record Manual
CFL Logo
Publisher: Canadian Football League 1984
soft cover, 180 pages
VG
$7.00 Cdn
Pub 3146
1984 Livre Officiel Des Records
LCF Logo
Publisher: Canadian Football League 1984
soft cover, 180 pages
VG
$7.00 Cdn

MISCELLANEOUS CFL BOOKS

Scan Code
Title
Cover
Details
Condition
Price per book
Pub 3149
27th Annual Molson Coach Of The Year Program
CFL Team Helmet Logos - Jan. 28, 1988
(8 pages)
VG
$4.00 Cdn
Pub 3517
CFL Professional Football From Canada
CFL logo & football
(12 pages)
FR
$3.00 Cdn
Pub 3140
30 Years Of The Schenley Awards
Schenley Cup Trophy
1982 (60 pages)
VG-EX
$10.00 Cdn
Last Updated: Aug. 8, 2012

---