There is a new CFL Card Reference Price Guide available.
"Collecting Canadian Football"  
Volume 2 – 1st Edition 2013
Sports Cards & Photographs – Team Specific Issues
Softcover – B&W Edition by Andy Malycky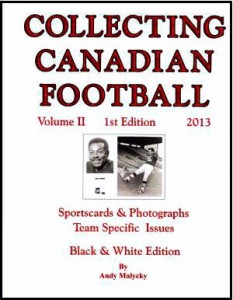 The most comprehensive catalogue & price guides ever published for CFL collectibles
Laminated softcover edition with 680 (8.5″ X 11″) black & white pages, perfect bound
Thousands of rare and never before catalogued CFL team specific items
Over 2,700 high resolution Black & White images, most of items that are exceedingly rare
Includes photographs, printed pictures, posters, program inserts, trading cards, game tickets, postcards, pinbacks, calendars, christmas cards, plastic cups, lithographs, prints, cereal boxes, etc.
Separate 60 page player & college index booklet
————————————————————————————————-
          There are a limited amount of the books printed.
————————————————————————————————-
Catalogue & Price Guide
Volume II contains
 Absolutely hundreds of sets of never before catalogued listings
   Some pre  and post world war II photo sets for every team
   Items ranging from 1888-2012
   Over 10,000 items listed
   Over 1,750 variants listed
   Over 2,700 B&W images
   Pricing in up to three condition grades
   Rookies, quarterbacks, short prints & extra prints identified
   Novelty player themed items for every team

   Team game day handouts and giveaways catalogued

   Hard to find info on American team issues

   Extensive listings for the elusive BC, EDM & MON program inserts

   Up to date information on hard to acquire regional trading card sets
 Complete index of items by player
 Complete index of players by college
 Full table of contents in alphabetical/chronological order
 Extensive introduction explaining the listings in detail
 Each set has a dedicated writeup
 Ultra rare packaging items included with pictures and pricing
 All items ranked by availability
 Item variations and format differences noted, listed and priced
 Thousands of sharp clear images, most of them of extremely rare items
————————————————————————————————-
NOTE!!!
Volume 2 is almost 2.5 times as large as Volume 1
(for comparison's sake Volume 1 was 278 pages in length)
This has resulted in a book that is 2 times as expensive as the original.
Be aware that there is NO OVERLAP between V1 & V2,
the content is completely different,
V2 is NOT an updated version of V1
————————————————————————————————-
"Collecting Canadian Football"   Volume 2 – 1st Edition 2013
Sports Cards & Photographs – Team Specific Issues
Softcover – B&W Edition by Andy Malycky
Cost is $55.00 Cdn plus P+H (& tax if applicable)    Weight @ 2.5 kg (5 lb)
————————————————————————————————-
Sample Page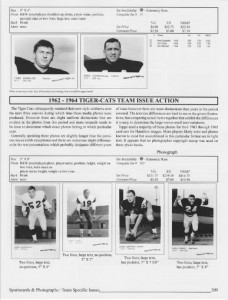 Click to see more Volume 2 samples    PDF 1      PDF 2
Collecting Canadian Football Volume 1
Judy
info [at]  abdcards  [dot]  com
Tags: 2013 cfl card price guide, 2013 cfl card reference book, andy malycky, cfl card price guide, cfl cards price guide, collecting canadian football, collecting canadian football volume 2, team issued cfl card checklists, team issued cfl cards guide