2018 JOGO CFL OTTAWA ROUGH RIDER ALUMNI CARD SET
1968-69 OTTAWA ROUGH RIDERS GREY CUP REUNION CARD SET
Order your 2018 Jogo CFL Ottawa Rough Riders Alumni card set now!



The Reunion is Aug. 10-11, 2018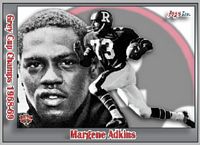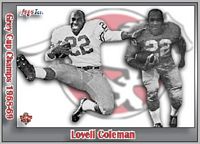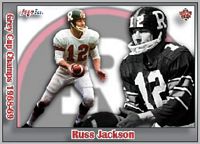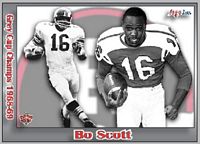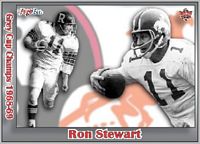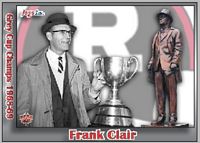 These Jogo CFL sets have a very limited print run making them extremely collectible.
Some of the CFL Alumni players may have never had a card before.
1968-69 Ottawa Rough Riders Grey Cup Reunion card set
The Ottawa Rough Riders CFL Alumni Association along with Jogo have produced a 38 card Alumni set honouring the 50th anniversry of the Ottawa Rough Riders Grey Cup Champions from 1968 and 1969. This is the only Rough Rider team to repeat as Grey Cup Champions.
The players have a limited number of their cards, thirteen players are now deceased. The 1968-69 Ottawa Rough Riders Grey Cup Reunion being held August 10-11, 2018. There will be no sets sold at the game.
There are only 100 complete numbered sets produced and are available now to purchase from Ab D Cards. The cards feature a matte finish and are great for getting autographs from the players.
The cards are in the same style as the other CFL Alumni card series by Jogo, except they say "Grey Cup Champs 1968-69" on the left side instead of "CFL ALUMNI ASSOCIATION".
This 38 card series retails for $60.00 Cdn.
Postage & Handling is extra. Canadian residents add applicable GST/HST. Manitoba residents also add PST.
Prices are listed in Canadian funds - please inquire as to the current exchange for prices in US funds.

---
2018 JOGO CFL ALUMNI CARDS

1968-69 OTTAWA ROUGH RIDERS ALUMNI GREY CUP REUNION CARD SET
(38 cards, limited to 100 numbered sets)

Year & Brand
Card #
Alumni Player & Jersey #
Team
School
2018 Jogo Ottawa CFL Alumni
1
Margene Adkins #73
Ottawa Rough Riders
Henderson JC
2018 Jogo Ottawa CFL Alumni
2
Barry Ardern #9, #10
Ottawa Rough Riders
Ottawa Sooners Jr
2018 Jogo Ottawa CFL Alumni
3
Tom Beynon #61, #66
Ottawa Rough Riders
Queen`s / Saskatchewan
2018 Jogo Ottawa CFL Alumni
4
Billy Joe Booth #65
Ottawa Rough Riders
LSU
2018 Jogo Ottawa CFL Alumni
5
Dave Braggins #55
Ottawa Rough Riders
Florida State
2018 Jogo Ottawa CFL Alumni
6
Jim Cain #52
Ottawa Rough Riders
University of Detroit
2018 Jogo Ottawa CFL Alumni
7
Soupy Campbell #54
Ottawa Rough Riders
Idaho
2018 Jogo Ottawa CFL Alumni
8
Lovell Coleman #22
Ottawa Rough Riders
Western Michigan
2018 Jogo Ottawa CFL Alumni
9
Doug Collins #66
Ottawa Rough Riders
Detroit / Cincinnati
2018 Jogo Ottawa CFL Alumni
10
Billy Cooper #23
Ottawa Rough Riders
Winnipeg Rods Jr
2018 Jogo Ottawa CFL Alumni
11
Dan Dever #30
Ottawa Rough Riders
Wake Forest University
2018 Jogo Ottawa CFL Alumni
12
Gene Gaines #22
Ottawa Rough Riders
UCLA
2018 Jogo Ottawa CFL Alumni
13
Wayne Giardino #21
Ottawa Rough Riders
2018 Jogo Ottawa CFL Alumni
14
Russ Jackson #12
Ottawa Rough Riders
McMaster
2018 Jogo Ottawa CFL Alumni
15
Ed Joyner #63
Ottawa Rough Riders
Lenoir-Rhyne
2018 Jogo Ottawa CFL Alumni
16
Ken Lehmann #41
Ottawa Rough Riders
Xavier University
2018 Jogo Ottawa CFL Alumni
17
Jim Mankins #16
Ottawa Rough Riders
Oklahoma / Florida State
2018 Jogo Ottawa CFL Alumni
18
Roger Perdrix #51
Ottawa Rough Riders
Cincinnati
2018 Jogo Ottawa CFL Alumni
19
Joe Poirier #17
Ottawa Rough Riders
Loyola
2018 Jogo Ottawa CFL Alumni
20
Tom Pullen #75, #77
Ottawa Rough Riders
Michigan
2018 Jogo Ottawa CFL Alumni
21
Moe Racine #62
Ottawa Rough Riders
St Lawrence High School in Cornwall
2018 Jogo Ottawa CFL Alumni
22
Terry Black #25
Ottawa Rough Riders
Ottawa University / Algonquin College
2018 Jogo Ottawa CFL Alumni
23
Jay Roberts #76
Ottawa Rough Riders
Kansas
2018 Jogo Ottawa CFL Alumni
24
Tom Schuette #56
Ottawa Rough Riders
Indiana
2018 Jogo Ottawa CFL Alumni
25
Bo Scott #16
Ottawa Rough Riders
Ohio State
2018 Jogo Ottawa CFL Alumni
26
Jerry Selinger #42
Ottawa Rough Riders
St Joseph`s College (Indiana)
2018 Jogo Ottawa CFL Alumni
27
Marshall Shirk #53
Ottawa Rough Riders
UCLA
2018 Jogo Ottawa CFL Alumni
28
Doug Specht #43, #40
Ottawa Rough Riders
Brigham Young
2018 Jogo Ottawa CFL Alumni
29
Ron Stewart #11
Ottawa Rough Riders
Queen`s
2018 Jogo Ottawa CFL Alumni
30
Don Sutherin #14, #22
Ottawa Rough Riders
Ohio State
2018 Jogo Ottawa CFL Alumni
31
Whit Tucker #26
Ottawa Rough Riders
Western Ontario
2018 Jogo Ottawa CFL Alumni
32
Bill Van Burkleo #10, #15
Ottawa Rough Riders
Oklahoma / Tuls
2018 Jogo Ottawa CFL Alumni
33
Vic Washington #27
Ottawa Rough Riders
Wyoming
2018 Jogo Ottawa CFL Alumni
34
Greg Thompson #24
Ottawa Rough Riders
Ottawa Sooners Jr
2018 Jogo Ottawa CFL Alumni
35
Ken Shaw #50
Ottawa Rough Riders
Laurentian / Carleton
2018 Jogo Ottawa CFL Alumni
36
Wayne Smith #75
Ottawa Rough Riders
Halifax Buccaneers Srs
2018 Jogo Ottawa CFL Alumni
37
Frank Clair Head Coach / Gen. Mgr.
Ottawa Rough Riders
2018 Jogo Ottawa CFL Alumni
38
David Loeb Owner
Ottawa Rough Riders
Last Updated: Nov. 19, 2020