2017 JOGO CFL ALUMNI CARDS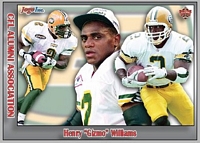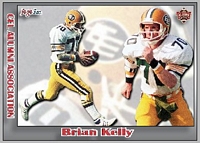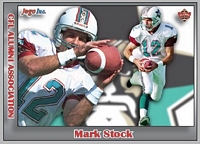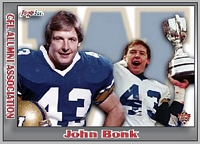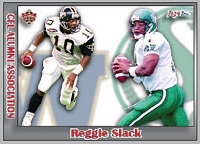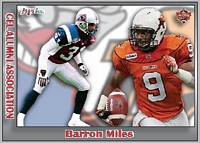 These Jogo CFL sets have a very limited print run
(165 numbered sets) making them extremely collectible.

Some of the CFL Alumni players may have never had a card before.
The Jogo CFLAA Alumni sets continues in 2017
JOGO will be producing three 20 card series and one 23 card series of CFL alumni players for 2017.

There are @ 165 numbered sets per series printed in 2017.
The numbering for the sets will continue on from the 2016 sets.

Series 16 will be #309-328,
Series 17 will be #329-348,
Series 18 will be #349-368,
Series 19 will be #369-391.
Each 20 card series will retail for $40.00 Cdn
except Series 19 has 23 cards for $46.00 Cdn.
Postage & Handling is extra. Canadian residents add applicable GST/HST. Manitoba residents also add PST.
Prices are listed in Canadian funds - please inquire as to the current exchange for prices in US funds.
2017 JOGO CFL ALUMNI CARDS PLAYERS CHECKLIST

Numbering will continue on from where the 2016 series 15 ended.

2017 JOGO CFL ALUMNI SET - series 16 (#309 to #328) - $40.00 Cdn per series
(165 numbered sets)

Year & Brand

Card #

Player & Jersey #

Team

School

Condition
Price per card
2017 Jogo CFL Alumni Series 16
309
Bruce Lemmerman - QB #10
Edmonton Eskimos
California State University (Northridge)
NM-MT
$3.00 Cdn
2017 Jogo CFL Alumni Series 16
310
Darrell Patterson #76, #78, (Coach)
Winnipeg Blue Bombers
Hamilton Tiger Cats
Ottawa Rough Riders
Texas Christian University
NM-MT
$3.00 Cdn
2017 Jogo CFL Alumni Series 16
311
Glen St.John #81, #60
Ottawa Rough Riders
Montreal Alouettes
Carleton / McGill University
NM-MT
$3.00 Cdn
2017 Jogo CFL Alumni Series 16
312
Kevin Lefsrud #65
Montreal Alouettes
Edmonton Eskimos
University of Saskatchewan
NM-MT
$3.00 Cdn
2017 Jogo CFL Alumni Series 16
313
Craig Ellis #23, #33
Winnipeg Blue Bombers
Calgary Stampeders
Toronto Argonauts
Saskatchewan Roughriders
Edmonton Eskimos
San Diego State University
NM-MT
$3.00 Cdn
2017 Jogo CFL Alumni Series 16
314
Willie Pless #32, #39
Toronto Argonauts
BC Lions
Edmonton Eskimos
Saskatchewan Roughriders
University of Kansas
NM-MT
$3.00 Cdn
2017 Jogo CFL Alumni Series 16
315
Henry "Gizmo" Williams #2
Edmonton Eskimos
East Carolina University
NM-MT
$3.00 Cdn
2017 Jogo CFL Alumni Series 16
316
Brian Kelly #70
Edmonton Eskimos
Washington State University
NM-MT
$3.00 Cdn
2017 Jogo CFL Alumni Series 16
317
Edward H. Molstad #74
Edmonton Eskimos
University of Alberta
NM-MT
$3.00 Cdn
2017 Jogo CFL Alumni Series 16
318
Blake Dermott #50
Edmonton Eskimos
University of Alberta
NM-MT
$3.00 Cdn
2017 Jogo CFL Alumni Series 16
319
Mike Maurer #19
Saskatchewan Roughriders
Ottawa Renegades
Edmonton Eskimos
BC Lions
Regina Jr.
NM-MT
$3.00 Cdn
2017 Jogo CFL Alumni Series 16
320
Alan Moffat #56
Hamilton Tiger Cats
University of Ottawa
NM-MT
$3.00 Cdn
2017 Jogo CFL Alumni Series 16
321
Carlo Disipio #33
Ottawa Rough Riders
University of Ottawa
NM-MT
$3.00 Cdn
2017 Jogo CFL Alumni Series 16
322
Randy Spencer #76
Edmonton Eskimos
Montreal Alouettes
Weber State University
NM-MT
$3.00 Cdn
2017 Jogo CFL Alumni Series 16
323
Randy Fabi #73
Winnipeg Blue Bombers
Hamilton Tiger Cats
University of Western Ontario
NM-MT
$3.00 Cdn
2017 Jogo CFL Alumni Series 16
324
Martin Fabi #74
Saskatchewan Roughriders
N/A
NM-MT
$3.00 Cdn
2017 Jogo CFL Alumni Series 16
325
Ian MacLeod #14
Edmonton Eskimos
Edmonton Huskies Jr.
NM-MT
$3.00 Cdn
2017 Jogo CFL Alumni Series 16
326
Mark Stock #12
San Antonio Texans
Virginia Military Institute
NM-MT
$3.00 Cdn
2017 Jogo CFL Alumni Series 16
327
Paul Brothers #10, #15
BC Lions
Ottawa Rough Riders
Oregon State University
NM-MT
$3.00 Cdn
2017 Jogo CFL Alumni Series 16
328
Barry Aldag #52
Saskatchewan Roughriders
Regina Rams Jr.
NM-MT
$3.00 Cdn

2017 JOGO CFL ALUMNI SET - series 17 (#329 to #348) - $40.00 Cdn per series
(165 numbered sets)

Year & Brand

Card #

Player & Jersey #

Team

School

Condition
Price per card
2017 Jogo CFL Alumni Series 17
329
Jerry Keeling - QB #10, #14
Calgary Stampeders
Ottawa Rough Riders
Hamilton Tiger Cats
University of Tulsa
NM-MT
$3.00 Cdn
2017 Jogo CFL Alumni Series 17
330
Val St Germain #57, #59
Hamilton Tiger Cats
Edmonton Eskimos
Ottawa Renegades
Winnipeg Blue Bombers
McGill University
NM-MT
$3.00 Cdn
2017 Jogo CFL Alumni Series 17
331
Tom Laputka #60
Ottawa Rough Riders
Edmonton Eskimos
Southern Illinois University
NM-MT
$3.00 Cdn
2017 Jogo CFL Alumni Series 17
332
Jay McNeil #50
Calgary Stampeders
Kent State University
NM-MT
$3.00 Cdn
2017 Jogo CFL Alumni Series 17
333
Mel Melin #10, #24
BC Lions
Washington State University
NM-MT
$3.00 Cdn
2017 Jogo CFL Alumni Series 17
334
Jerry Campbell #54
Ottawa Rough Riders
University of Idaho
NM-MT
$3.00 Cdn
2017 Jogo CFL Alumni Series 17
335
DeWayne Knight #44
Ottawa Rough Riders
Virginia Tech University
NM-MT
$3.00 Cdn
2017 Jogo CFL Alumni Series 17
336
Bill Hatanaka #16
Ottawa Rough Riders
Hamilton Tiger Cats
York University
NM-MT
$3.00 Cdn
2017 Jogo CFL Alumni Series 17
337
Gary Schreider #22
Ottawa Rough Riders
Queen`s University
NM-MT
$3.00 Cdn
2017 Jogo CFL Alumni Series 17
338
John Lynch #29
Ottawa Rough Riders
University of Western Ontario
NM-MT
$3.00 Cdn
2017 Jogo CFL Alumni Series 17
339
Doug Collins #66
Ottawa Rough Riders
University of Cincinnati
NM-MT
$3.00 Cdn
2017 Jogo CFL Alumni Series 17
340
Ted Collins #63
Ottawa Rough Riders
Winnipeg Blue Bombers
Montreal Alouettes
University of Detroit
NM-MT
$3.00 Cdn
2017 Jogo CFL Alumni Series 17
341
Gord Weber #43
Ottawa Rough Riders
University of Ottawa
NM-MT
$3.00 Cdn
2017 Jogo CFL Alumni Series 17
342
Richard Holmes #28
Ottawa Rough Riders
Toronto Argonauts
Winnipeg Blue Bombers
Edinboro University of Pennsylvania
NM-MT
$3.00 Cdn
2017 Jogo CFL Alumni Series 17
343
Donnie Ruiz #3, #17
Winnipeg Blue Bombers
Ottawa Renegades
Saskatchewan Roughriders
Wilfrid Laurier University
NM-MT
$3.00 Cdn
2017 Jogo CFL Alumni Series 17
344
Warner Miles #51
Toronto Argonauts
BC Lions
Hamilton Tiger Cats
Ottawa Rough Riders
University of Ottawa
NM-MT
$3.00 Cdn
2017 Jogo CFL Alumni Series 17
345
Bobby Kuntz #23, #32
Toronto Argonauts
McMaster Universty
NM-MT
$3.00 Cdn
2017 Jogo CFL Alumni Series 17
346
John Bonk #43
Hamilton Tiger Cats
Winnipeg Blue Bombers
Burlington Braves
NM-MT
$3.00 Cdn
2017 Jogo CFL Alumni Series 17
347
Scott Campbell - QB #14
Ottawa Rough Riders
Purdue University
NM-MT
$3.00 Cdn
2017 Jogo CFL Alumni
348
Bob Simpson #70
Ottawa Rough Riders
Windsor Rockets
NM-MT
$3.00 Cdn

2017 JOGO CFL ALUMNI SET - series 18 (#349 to #368) - $40.00 Cdn per series
(165 numbered sets)

Year & Brand

Card #

Player & Jersey #

Team

School

Condition
Price per card
2017 Jogo CFL Alumni Series 18
349
Reggie Slack - QB #10
Winnipeg Blue Bombers
Saskatchewan Roughriders
Toronto Argonauts
Hamilton Tiger Cats
Auburn University
NM-MT
$3.00 Cdn
2017 Jogo CFL Alumni Series 18
350
Merv Collins #54
Ottawa Rough Riders
University of Ottawa
NM-MT
$3.00 Cdn
2017 Jogo CFL Alumni Series 18
351
Michael Collymore #31
Ottawa Rough Riders
Saskatchewan Roughriders
Etobicoke Jr.
NM-MT
$3.00 Cdn
2017 Jogo CFL Alumni Series 18
352
Kensley Palmer #32, #38
Winnipeg Blue Bombers
Ottawa Rough Riders
BC Lions
University of Manitoba
Mesabi Range College
NM-MT
$3.00 Cdn
2017 Jogo CFL Alumni Series 18
353
Roger Cattelan #65
Ottawa Rough Riders
Boston College
NM-MT
$3.00 Cdn
2017 Jogo CFL Alumni Series 18
354
Steve Cotter #58
BC Lions
Edmonton Eskimos
Wenatchee Junior College
NM-MT
$3.00 Cdn
2017 Jogo CFL Alumni Series 18
355
Joe Hollimon #29
Edmonton Eskimos
Arkansas State University
NM-MT
$3.00 Cdn
2017 Jogo CFL Alumni Series 18
356
Eric Upton #57
Edmonton Eskimos
University of Ottawa
NM-MT
$3.00 Cdn
2017 Jogo CFL Alumni Series 18
357
Joe Upton #66
Ottawa Rough Riders
University of Toronto
NM-MT
$3.00 Cdn
2017 Jogo CFL Alumni Series 18
358
Pat Woodcock #6, #16
Ottawa Rough Riders
Montreal Alouettes
Edmonton Eskimos
Syracuse University
NM-MT
$3.00 Cdn
2017 Jogo CFL Alumni Series 18
359
Dana Segin #5
Hamilton Tiger Cats
Saint Mary`s University
NM-MT
$3.00 Cdn
2017 Jogo CFL Alumni Series 18
360
Bruno Heppell #33
Montreal Alouettes
Western Michigan University
NM-MT
$3.00 Cdn
2017 Jogo CFL Alumni Series 18
361
Chris Best #66
Saskatchewan Roughriders
Duke University / University of Waterloo
NM-MT
$3.00 Cdn
2017 Jogo CFL Alumni Series 18
362
Gino Berretta #76
Montreal Alouettes
Ottawa Rough Riders
NDG Maple Leafs
NM-MT
$3.00 Cdn
2017 Jogo CFL Alumni Series 18
363
Barron Miles #9, #31
Montreal Alouettes
BC Lions
University of Nebraska
NM-MT
$4.00 Cdn
2017 Jogo CFL Alumni Series 18
364
John Malinosky #62, #63
Toronto Argonauts
Hamilton Tiger Cats
Michigan State University
NM-MT
$3.00 Cdn
2017 Jogo CFL Alumni Series 18
365
Jim Piaskoski #73
Ottawa Rough Riders
Eastern Michigan University
NM-MT
$3.00 Cdn
2017 Jogo CFL Alumni Series 18
366
Gene Lakusiak #3, #31
Winnipeg Blue Bombers
Ottawa Rough Riders
University of Tulsa
NM-MT
$3.00 Cdn
2017 Jogo CFL Alumni Series 18
367
Bruce Holmes #53
Toronto Argonauts
Ottawa Rough Riders
University of Minnesota
NM-MT
$3.00 Cdn
2017 Jogo CFL Alumni Series 18
368
Greg Fieger #2, #7
Saskatchewan Roughriders
Calgary Stampeders
University of Regina
NM-MT
$3.00 Cdn

2017 JOGO CFL ALUMNI SET - series 19 (#369 to #391) - $46.00 Cdn this series
(165 numbered sets)

Year & Brand

Card #

Player & Jersey #

Team

School

Condition
Price per card
2017 Jogo CFL Alumni Series 19
369
Ron Lancaster - QB #16
Ottawa Rough Riders
Saskatchewan Roughriders
Wittenberg University
NM-MT
$4.00 Cdn
2017 Jogo CFL Alumni Series 19
370
Len Chandler #20, #27
Hamilton Tiger Cats
Ottawa Rough Riders
Toronto Argonauts
Brantford College
NM-MT
$3.00 Cdn
2017 Jogo CFL Alumni Series 19
371
Tom Beynon #61, #66
Saskatchewan Roughriders
Ottawa Rough Riders
Hamilton Tiger Cats
Queen`s University / University of Saskatchewan
NM-MT
$3.00 Cdn
2017 Jogo CFL Alumni Series 19
372
Pat Fleming #28
Ottawa Renegades
Hamilton Tiger Cats
Winnipeg Blue Bombers
Bowling Green State University
NM-MT
$3.00 Cdn
2017 Jogo CFL Alumni Series 19
373
Donn Smith #64
Ottawa Rough Riders
Purdue University
NM-MT
$3.00 Cdn
2017 Jogo CFL Alumni Series 19
374
Felix Wright #28
Hamilton Tiger Cats
Drake University
NM-MT
$3.00 Cdn
2017 Jogo CFL Alumni Series 19
375
Fritz Seyferth #26
Calgary Stampeders
University of Michigan
NM-MT
$3.00 Cdn
2017 Jogo CFL Alumni Series 19
376
Roger Perdrix #51
Ottawa Rough Riders
University of Cincinnati
NM-MT
$3.00 Cdn
2017 Jogo CFL Alumni Series 19
377
Glenn Keeble #58
Montreal Alouettes
Toronto Argonauts
Verdun Maple Leafs Jr.
NM-MT
$3.00 Cdn
2017 Jogo CFL Alumni Series 19
378
Tom Schuette #56
Ottawa Rough Riders

Indiana University
NM-MT
$3.00 Cdn
2017 Jogo CFL Alumni Series 19
379
Chuck Liebrock #54, #52
Winnipeg Blue Bombers
Toronto Argonauts
Saint Mary`s University
Hillsdale College
NM-MT
$3.00 Cdn
2017 Jogo CFL Alumni Series 19
380
Bruno Bitkowski #40, #35
Ottawa Rough Riders
Assumption College (Windsor)
NM-MT
$3.00 Cdn
2017 Jogo CFL Alumni Series 19
381
Robert Holland #17
Edmonton Eskimos
BC Lions
California State University (Sacramento)
NM-MT
$3.00 Cdn
2017 Jogo CFL Alumni Series 19
382
John Michaluk #46
Hamilton Tiger Cats
Kent State University
NM-MT
$3.00 Cdn
2017 Jogo CFL Alumni Series 19
383
Melendez O. Byrd #54
Baltimore Stallions
Virginia Tech University
NM-MT
$3.00 Cdn
2017 Jogo CFL Alumni Series 19
384
Ray Watrin #52
Calgary Stampeders
BC Lions
Winnipeg Blue Bombers
Montreal Alouettes
Ottawa Rough Riders
Utah State University
NM-MT
$3.00 Cdn
2017 Jogo CFL Alumni Series 19
385
Donnie Hickman #62
BC Lions
University of Southern California
NM-MT
$3.00 Cdn
2017 Jogo CFL Alumni Series 19
386
Justin Hickman #95, #7
Hamilton Tiger Cats
Toronto Argonauts
University of California (Los Angeles)
NM-MT
$3.00 Cdn
2017 Jogo CFL Alumni Series 19
387
George Brancato #10
Montreal Alouettes
Ottawa Rough Riders
Louisiana State University
NM-MT
$3.00 Cdn
2017 Jogo CFL Alumni Series 19
388
Randy Ambroise #51, #57
Calgary Stampeders
Toronto Argonauts
Edmonton Eskimos
University of Manitoba
NM-MT
$3.00 Cdn
2017 Jogo CFL Alumni Series 19
389
Andre Bolduc #87, #12
Ottawa Rough Riders
Edmonton Eskimos
Montreal Alouettes
Concordia University
NM-MT
$3.00 Cdn
2017 Jogo CFL Alumni Series 19
390
Shomari Williams #99
Saskatchewan Roughriders
Hamilton Tiger Cats
Edmonton Eskimos
University of Houston
Queen`s University
NM-MT
$3.00 Cdn
2017 Jogo CFL Alumni Series 19
391
Nick Hebeler #99
BC Lions
Saskatchewan Roughriders
Simon Fraser University
NM-MT
$3.00 Cdn

2017 JOGO CFL ALUMNI SHORT PRINT CARDS
(only 60-70 cards made)

Year & Brand

Card #

Player & Jersey #

Team

School

Condition
Price per card
2017 Jogo CFL Alumni Short Print
SP
Pat Abbruzzi #83 (short print)
Montreal Alouettes
University of Rhode Island
NM-MT
$5.00 Cdn
2017 Jogo CFL Alumni
SP
Clyde Brock #67 (short print)
Saskatchewan Roughriders
Utah State University
NM-MT
$5.00 Cdn
2017 Jogo CFL Alumni
SP
Willie Fleming #15 (short print)
BC Lions
University of Iowa
NM-MT
$5.00 Cdn
2017 Jogo CFL Alumni
SP
Gene Foster #1 (short print)
Edmonton Eskimos
Ottawa Rough Riders
Arizona State University
NM-MT
$5.00 Cdn
2017 Jogo CFL Alumni
SP
Tommie Frazier - QB #4 (short print)
Montreal Alouettes
University of Nebraska (Lincoln)
NM-MT
$5.00 Cdn
2017 Jogo CFL Alumni
SP
Bob Gain #52 (short print)
Ottawa Rough Riders
University of Kentucky
NM-MT
$5.00 Cdn
2017 Jogo CFL Alumni
SP
Jason Garrett - QB #4 (short print)
Ottawa Rough Riders
Princeton University
NM-MT
$10.00 Cdn
2017 Jogo CFL Alumni
SP
Donnie & Justin Hickman
DH- #62 & JH- #95 (short print)
BC Lions
DH - University of Southern California
JH - University of California (Los Angeles)
NM-MT
$5.00 Cdn
2017 Jogo CFL Alumni
SP
Ed McQuarters #61 (short print)
Saskatchewan Roughriders
University of Oklahoma
NM-MT
$5.00 Cdn
2017 Jogo CFL Alumni
SP
Bill Munsey #20 (short print)
BC Lions
University of Minnesota
NM-MT
$5.00 Cdn
2017 Jogo CFL Alumni
SP
David Overstreet #20 (short print)
Montreal Alouettes
University of Oklahoma
NM-MT
$5.00 Cdn
2017 Jogo CFL Alumni
SP
Avatus Stone #88 (short print)
Ottawa Rough Riders
Montreal Alouettes
Syracuse University
NM-MT
$5.00 Cdn
2017 Jogo CFL Alumni
SP
Bobby Thompson #26 (short print)
Saskatchewan Roughriders
University of Oklahoma
NM-MT
$5.00 Cdn
2017 Jogo CFL Alumni
SP
Tom "The Bomb" Tracy #86 (short print)
Ottawa Rough Riders
University of Tennessee
NM-MT
$5.00 Cdn
2017 Jogo CFL Alumni
SP
Bubba Wyche - QB #10 (short print)
Saskatchewan Roughriders
University of Tennessee
NM-MT
$5.00 Cdn

2017 JOGO CFL ALUMNI SPECIAL CARDS

Year & Brand

Card #

Player & Jersey #

Team

School

Condition
Price per card
2017 Jogo CFL Alumni Special
Special
Corey Chamblin Coach (special card)
Toronto Argonauts
Tennessee Tech University
NM-MT
$4.00 Cdn
2017 Jogo CFL Alumni Special
Special
Marcel Desjardins GM (special card)
Ottawa RedBlacks
Laurentian University
NM-MT
$3.00 Cdn
2017 Jogo CFL Alumni Special
Special
Jim Popp GM (special card)
Toronto Argonauts
Michigan State University
NM-MT
$3.00 Cdn

2017 JOGO CFL ALUMNI VARIATION CARDS

Year & Brand

Card #

Player & Jersey #

Team

School

Condition
Price per card
2017 Jogo CFL Alumni Variation
VC
Scott Campbell - QB #14 (variation card)
Ottawa Rough Riders
Purdue University
NM-MT
$5.00 Cdn
2017 Jogo CFL Alumni Variation
VC
Hugh and Chris Oldham (corrected card #388)
Hugh - Ottawa Rough Riders
Chris - 6 NFL teams
University of Oregon
NM-MT
$5.00 Cdn
2017 Jogo CFL Alumni Variation
VC
Gary Schreider #22 (variation card)
Ottawa Rough Riders
Queen`s University
NM-MT
$5.00 Cdn
2017 Jogo CFL Alumni Variation
VC
Bob Simpson #70 (variation card)
Ottawa Rough Riders
Windsor Rockets
NM-MT
$5.00 Cdn
2017 Jogo CFL Alumni Variation
VC
Glen St. John - QB #12, #81 (variation card)
Montreal Alouettes
Carleton / McGill University
NM-MT
$5.00 Cdn
2017 Jogo CFL Alumni Variation
VC
Henry Williams #2 (variation card)
Edmonton Eskimos
East Carolina University
NM-MT
$5.00 Cdn

2017 JOGO CFL LIFETIME SUPPORTER cards

Year & Brand

Card #

Supporter

Favorite Team

Condition

Price per card

2017 Jogo CFL Lifetime Supporter
LS 01
Mike Telepchuk
Hamilton Tiger Cats
NM-MT
$2.00 Cdn
2017 Jogo CFL Lifetime Supporter
LS 02
Kevin Kuntz
Hamilton Tiger Cats
NM-MT
$2.00 Cdn
2017 Jogo CFL Lifetime Supporter
LS 03
Bill Patterson
CFL
NM-MT
$2.00 Cdn
2017 Jogo CFL Lifetime Supporter
LS 04
David L Moore
Toronto Argonauts
NM-MT
$2.00 Cdn
2017 Jogo CFL Lifetime Supporter
LS 05
Dan Heimlich
Montreal Concordes / Alouettes
NM-MT
$2.00 Cdn
2017 Jogo CFL Lifetime Supporter
LS 06
Brian Lyle Short
CFL
NM-MT
$2.00 Cdn
2017 Jogo CFL Lifetime Supporter
LS 07
Bernie Lebovits
Montreal Alouettes
NM-MT
$2.00 Cdn
2017 Jogo CFL Lifetime Supporter
LS 08
Raymond Caron
Edmonton Eskimos
NM-MT
$2.00 Cdn
2017 Jogo CFL Lifetime Supporter
LS 09
Michael Edward Dupuis
Montreal Alouettes
NM-MT
$2.00 Cdn
2017 Jogo CFL Lifetime Supporter
LS 10
David Tosh
Toronto Argonauts
Hamilton Tiger Cats
NM-MT
$2.00 Cdn
2017 Jogo CFL Lifetime Supporter
LS 11
Steve Rimbault
CFL
NM-MT
$2.00 Cdn
Last Updated: Jan. 18, 2021