2016 JOGO CFL ALUMNI CARDS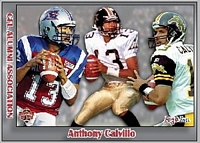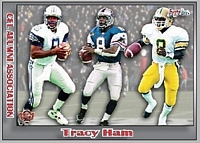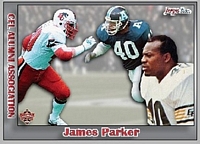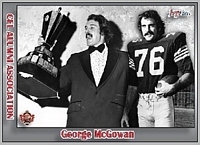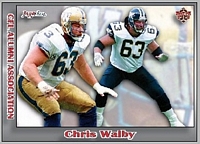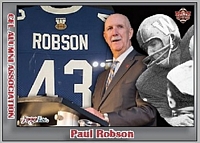 These Jogo CFL sets have a very limited print run (150 to 200 numbered sets) making them extremely collectible.

Some of the CFL Alumni players may have never had a card before.
The JOGO CFLAA Alumni sets continues in 2016
JOGO produced four 20 card series of CFL alumni players for 2016.
There are @ 165 numbered sets per series printed in 2016.
The numbering for the sets will continue on from the 2015 sets.

Series 12 will be #229-248,
Series 13 will be #249-268,
Series 14 will be #269-288,
Series 15 will be #289-308.
Each 20 card series will retail for $40.00 Cdn.
Postage & Handling is extra. Canadian residents add applicable GST/HST. Manitoba residents also add PST.
Prices are listed in Canadian funds - please inquire as to the current exchange for prices in US funds.
2016 JOGO CFL ALUMNI CARDS PLAYERS CHECKLIST

Numbering will continue on from where the 2015 series 11 ended.

2016 JOGO CFL ALUMNI SET - series 12 (#229 to #248)
$40.00 Cdn per series (165 numbered sets)

Year & Brand

Card #

Player & Jersey #

Team

School

Condition
Price per card
2016 Jogo CFL Alumni Series 12
229
Anthony Calvillo - QB #13
Montreal Alouettes
Las Vegas Posse
Hamilton Tiger Cats
Utah State University
NM-MT
$4.00 Cdn
2016 Jogo CFL Alumni Series 12
230
Treamelle Taylor #80
Ottawa Rough Riders
Las Vegas Posse
University of Nevada
NM-MT
$3.00 Cdn
2016 Jogo CFL Alumni Series 12
231
Reggie Barnes #19
Ottawa Rough Riders
Hamilton Tiger Cats
Toronto Argonauts
Shreveport Pirates
Delaware State University
NM-MT
$3.00 Cdn
2016 Jogo CFL Alumni Series 12
232
Eddie Lowe #42
Saskatchewan Roughriders
University of Alabama
NM-MT
$3.00 Cdn
2016 Jogo CFL Alumni Series 12
233
Malvin Hunter #46
Edmonton Eskimos
University of Wisconsin
NM-MT
$3.00 Cdn
2016 Jogo CFL Alumni Series 12
234
Darryl Hall #24
Edmonton Eskimos
Ottawa Rough Riders
San Diego State University
NM-MT
$3.00 Cdn
2016 Jogo CFL Alumni Series 12
235
John Grace Jr. #7
Ottawa Renegades
Calgary Stampeders
Montreal Alouettes
Marshall University
NM-MT
$3.00 Cdn
2016 Jogo CFL Alumni Series 12
236
Tim McCray #14
Saskatchewan Roughriders
Ottawa Rough Riders
University of Tulane
NM-MT
$3.00 Cdn
2016 Jogo CFL Alumni Series 12
237
Tracy Ham - QB #8
Montreal Alouettes
Baltimore Stallions
Edmonton Eskimos
Toronto Argonauts
Georgia Southern University
NM-MT
$4.00 Cdn
2016 Jogo CFL Alumni Series 12
238
Eric Blount #35, #12
Edmonton Eskimos
Winnipeg Blue Bombers
Toronto Argonauts
University of North Carolina
NM-MT
$3.00 Cdn
2016 Jogo CFL Alumni Series 12
239
Jayson Dzikowicz #20, #27
Winnipeg Blue Bombers
Ottawa Rough Riders
Toronto Argonauts
University of Manitoba
NM-MT
$3.00 Cdn
2016 Jogo CFL Alumni Series 12
240
Bruce Boyko #14, #15
Saskatchewan Roughriders
Winnipeg Blue Bombers
BC Lions
Western Michigan University
NM-MT
$3.00 Cdn
2016 Jogo CFL Alumni Series 12
241
Kevin Starkey - QB #2, #10
Ottawa Rough Riders
Montreal Concordes
Long Beach State University
NM-MT
$3.00 Cdn
2016 Jogo CFL Alumni Series 12
42
Willie Fells #39
Hamilton Tiger Cats
Calgary Stampeders
Winnipeg Blue Bombers
Purdue University
NM-MT
$3.00 Cdn
2016 Jogo CFL Alumni Series 12
243
Kerry Watkins #81
Montreal Alouettes
Georgia Tech University
NM-MT
$3.00 Cdn
2016 Jogo CFL Alumni Series 12
244
Kavis Reed #24
Edmonton Eskimos
Furman University
NM-MT
$3.00 Cdn
2016 Jogo CFL Alumni Series 12
245
Gerald Alphin #86
Montreal Alouettes
Ottawa Rough Riders
Winnipeg Blue Bombers
Baltimore Stallions
Kansas State University
NM-MT
$3.00 Cdn
2016 Jogo CFL Alumni Series 12
246
Ian Logan #31
Winnipeg Blue Bombers
Wilfrid Laurier University
NM-MT
$3.00 Cdn
2016 Jogo CFL Alumni Series 12
247
Tracy Gravely #17, #7, #3
Ottawa Rough Riders
Montreal Alouettes
BC Lions
Baltimore Stallions
Concord University
NM-MT
$3.00 Cdn
2016 Jogo CFL Alumni Series 12
248
Ricky Ellis #7
BC Lions
California State University (Fullerton)
NM-MT
$3.00 Cdn

2016 JOGO CFL ALUMNI SET - series 13 (#249 to #268)
$40.00 Cdn per series (165 numbered sets)

Year & Brand

Card #

Player & Jersey #

Team

School

Condition
Price per card
2016 Jogo CFL Alumni Series 13
249
Doug Brown #97
Winnipeg Blue Bombers
Simon Fraser University
NM-MT
$3.00 Cdn
2016 Jogo CFL Alumni Series 13
250
Wally Dempsey #77
Saskatchewan Roughriders
BC Lions
Washington State University
NM-MT
$3.00 Cdn
2016 Jogo CFL Alumni Series 13
251
Sandro DeAngelis #12, #4, #2
Calgary Stampeders
Hamilton Tiger Cats
Saskatchewan Roughriders
University of Nebraska
NM-MT
$4.00 Cdn
2016 Jogo CFL Alumni Series 13
252
Neal Hughes #32
Saskatchewan Roughriders
University of Regina
NM-MT
$3.00 Cdn
2016 Jogo CFL Alumni Series 13
253
James "Quick" Parker #40
Edmonton Eskimos
BC Lions
Toronto Argonauts
Wake Forest University
NM-MT
$3.00 Cdn
2016 Jogo CFL Alumni Series 13
254
Taylor Robertson #65
Calgary Stampeders
Toronto Argonauts
University of Central Florida
NM-MT
$3.00 Cdn
2016 Jogo CFL Alumni Series 13
255
Rob Bresciani #25, #11
Calgary Stampeders
Saskatchewan Roughriders
Ottawa Rough Riders
University of Saskatchewan
NM-MT
$3.00 Cdn
2016 Jogo CFL Alumni Series 13
256
Rob Brown #94
Edmonton Eskimos
Montreal Alouettes
University of Southern Mississippi
NM-MT
$3.00 Cdn
2016 Jogo CFL Alumni Series 13
257
George McGowan #76
Edmonton Eskimos
University of Kansas
NM-MT
$3.00 Cdn
2016 Jogo CFL Alumni Series 13
258
Rob Lazeo #68
Saskatchewan Roughriders
Calgary Stampeders
Winnipeg Blue Bombers
Western Illinois University
NM-MT
$3.00 Cdn
2016 Jogo CFL Alumni Series 13
259
Adam Rita (Coach)
Toronto Argonauts
Edmonton Eskimos
Ottawa Rough Riders
BC Lions
Boise State University
NM-MT
$3.00 Cdn
2016 Jogo CFL Alumni Series 13
260
Kenny Wilhite #25
Sacramento Gold Miners
San Antonio Texans
Ottawa Rough Riders
Hamilton Tiger Cats
University of Nebraska
NM-MT
$3.00 Cdn
2016 Jogo CFL Alumni Series 13
261
Chris Walby #63
Winnipeg Blue Bombers
Dickinson State University
NM-MT
$3.00 Cdn
2016 Jogo CFL Alumni Series 13
262
Jim Cain #52
Ottawa Rough Riders
University of Detroit
NM-MT
$3.00 Cdn
2016 Jogo CFL Alumni Series 13
263
J.T. Hay #5, #2
Calgary Stampeders
Ottawa Rough Riders
Ottawa Sooners Jr
NM-MT
$3.00 Cdn
2016 Jogo CFL Alumni Series 13
264
Paul Markle #76, #28
Toronto Argonauts
Waterloo Lutheran University
NM-MT
$3.00 Cdn
2016 Jogo CFL Alumni Series 13
265
Ray Mariuz #44, #36
Hamilton Tiger Cats
Toronto Argonauts
McMaster University
NM-MT
$3.00 Cdn
2016 Jogo CFL Alumni Series 13
266
Wally Zatylny #21
Hamilton Tiger Cats
Winnipeg Blue Bombers
Bishop`s University
NM-MT
$3.00 Cdn
2016 Jogo CFL Alumni Series 13
267
John Kruspe #3
Montreal Alouettes
Ottawa Rough Riders
Hamilton Tiger Cats
Wilfrid Laurier University
NM-MT
$3.00 Cdn
2016 Jogo CFL Alumni Series 13
268
Terry Wellesley #22
Ottawa Rough Riders
Hamilton Tiger Cats
University of Colorado
Tennessee Tech
NM-MT
$3.00 Cdn

2016 JOGO CFL ALUMNI SET - series 14 (#269 to #288)
$40.00 Cdn per series (165 numbered sets)

Year & Brand

Card #

Player & Jersey #

Team

School

Condition
Price per card
2016 Jogo CFL Alumni Series 14
269
John Barrow #61
Hamilton Tiger Cats
University of Florida
NM-MT
$3.00 Cdn
2016 Jogo CFL Alumni Series 14
270
Mike Murphy #38
Ottawa Rough Riders
Montreal Alouettes
University of Ottawa
NM-MT
$3.00 Cdn
2016 Jogo CFL Alumni Series 14
271
Ian Mofford #10 / #13
Montreal Alouettes
Ottawa Rough Riders
Verdun Invictus Jr.
NM-MT
$3.00 Cdn
2016 Jogo CFL Alumni Series 14
272
Phil Charron #8 / #3
Ottawa Rough Riders
Calgary Stampeders
Bishop`s University
NM-MT
$3.00 Cdn
2016 Jogo CFL Alumni Series 14
273
Sam Loucks #32
Hamilton Tiger Cats
McMaster University
NM-MT
$3.00 Cdn
2016 Jogo CFL Alumni Series 14
274
Dave Heasman #54 / #58
Edmonton Eskimos
Calgary Stampeders
BC Lions
Northern Arizona University
NM-MT
$3.00 Cdn
2016 Jogo CFL Alumni Series 14
275
Dimitri Tsoumpas #67
Calgary Stampeders
Weber State University
NM-MT
$3.00 Cdn
2016 Jogo CFL Alumni Series 14
276
Lester Brown #22 / #21
Saskatchewan Roughriders
Montreal Alouettes
Toronto Argonauts
Ottawa Rough Riders
Winnipeg Blue Bombers
Clemson University
NM-MT
$3.00 Cdn
2016 Jogo CFL Alumni Series 14
277
DeVonte Peterson #94
Hamilton Tiger Cats
Catawba College
NM-MT
$3.00 Cdn
2016 Jogo CFL Alumni Series 14
278
Robert Gordon #84 / #86
Ottawa Rough Riders
Toronto Argonauts
Edmmonton Eskimos
BC Lions
Winnipeg Blue Bombers
University Nebraska (Omaha)
NM-MT
$3.00 Cdn
2016 Jogo CFL Alumni Series 14
279
Aubrey Linne #75
Toronto Argonauts
Texas Christian University
NM-MT
$3.00 Cdn
2016 Jogo CFL Alumni Series 14
280
Wayne Tosh #17
Ottawa Rough Riders
University of Richmond
NM-MT
$3.00 Cdn
2016 Jogo CFL Alumni Series 14
281
Ray Honey #51
Ottawa Rough Riders
Hamilton Tiger Cats
Drake University
NM-MT
$3.00 Cdn
2016 Jogo CFL Alumni Series 14
282
Lance Chomyc #4
Toronto Argonauts
University of Toronto
NM-MT
$3.00 Cdn
2016 Jogo CFL Alumni Series 14
283
Paul Robson #43
Winnipeg Blue Bombers
University of North Dakota
NM-MT
$3.00 Cdn
2016 Jogo CFL Alumni Series 14
284
Cory Mantyka #68
BC Lions
Jamestown College
NM-MT
$3.00 Cdn
2016 Jogo CFL Alumni Series 14
285
Rick Cassata - QB #16
Saskatchewan Roughriders
Winnipeg Blue Bombers
Ottawa Rough Riders
Hamilton Tiger Cats
BC Lions
Syracuse University
NM-MT
$3.00 Cdn
2016 Jogo CFL Alumni Series 14
286
Demitris Scouras #15
Winnipeg Blue Bombers
Ottawa Renegades
Montreal Alouettes
University of Manitoba
Liberty University
NM-MT
$3.00 Cdn
2016 Jogo CFL Alumni Series 14
287
Arjei Franklin #86
Winnipeg Blue Bombers
Calgary Stampeders
University of Windsor
NM-MT
$3.00 Cdn
2016 Jogo CFL Alumni Series 14
288
Mike Samples #62
Hamilton Tiger Cats
Saskatchewan Roughriders
Drake University
NM-MT
$3.00 Cdn

2016 JOGO CFL ALUMNI SET - series 15 (#289 to #308)
$40.00 Cdn per series (165 numbered sets)

Year & Brand

Card #

Player & Jersey #

Team

School

Condition
Price per card
2016 Jogo CFL Alumni Series 15
289
Tom Clements - QB #2
Ottawa Rough Riders
Saskatchewan Roughriders
Hamilton Tiger Cats
Winnipeg Blue Bombers
University of Notre Dame
NM-MT
$4.00 Cdn
2016 Jogo CFL Alumni Series 15
290
Bob Krouse #14
Hamilton Tiger Cats
Central Collegiate
NM-MT
$3.00 Cdn
2016 Jogo CFL Alumni Series 15
291
Blaine Schmidt #54
Edmonton Eskimos
Toronto Argonauts
Hamilton Tiger Cats
University of Guelph
NM-MT
$3.00 Cdn
2016 Jogo CFL Alumni Series 15
292
Hugh Oldham #27
Ottawa Rough Riders
University of Oregon
NM-MT
$3.00 Cdn
2016 Jogo CFL Alumni Series 15
293
Jerry Dobrovolny #65, #69
Calgary Stampeders
Ottawa Rough Riders
Montreal Alouettes
University of British Columbia
NM-MT
$3.00 Cdn
2016 Jogo CFL Alumni Series 15
294
Tom Towns #20
Edmonton Eskimos
Ottawa Rough Riders
University of Alberta
NM-MT
$3.00 Cdn
2016 Jogo CFL Alumni Series 15
295
Jason Pottinger #46
BC Lions
Toronto Argonauts
Ottawa Rough Riders
McMaster University
NM-MT
$3.00 Cdn
2016 Jogo CFL Alumni Series 15
296
Kelly Lockbaum #33
BC Lions
Calgary Stampeders
Northern Arizona University
NM-MT
$3.00 Cdn
2016 Jogo CFL Alumni Series 15
297
Ray Elgaard #81
Saskatchewan Roughriders
University of Utah
NM-MT
$3.00 Cdn
2016 Jogo CFL Alumni Series 15
298
Dale Potter #30
Edmonton Eskimos
Toronto Argonauts
University of Ottawa
NM-MT
$3.00 Cdn
2016 Jogo CFL Alumni Series 15
299
Willard Reaves #38
Winnipeg Blue Bombers
Northern Arizona University
NM-MT
$3.00 Cdn
2016 Jogo CFL Alumni Series 15
300
Arland Bruce III #1, #4, #5
Winnipeg Blue Bombers
Toronto Argonauts
Saskatchewan Roughriders
Hamilton Tiger Cats
BC Lions
Montreal Alouettes
University of Minnesota
NM-MT
$3.00 Cdn
2016 Jogo CFL Alumni Series 15
301
Tim Hook #64
Ottawa Rough Riders
Saskatchewan Roughriders
Toronto Argonauts
University of Montana
NM-MT
$3.00 Cdn
2016 Jogo CFL Alumni Series 15
302
Ross Saunders
CFL Official
Wake Forest University
NM-MT
$3.00 Cdn
2016 Jogo CFL Alumni Series 15
303
David Loeb Owner
Ottawa Rough Riders
NM-MT
$3.00 Cdn
2016 Jogo CFL Alumni Series 15
304
Carl Kidd #26
BC Lions
University of Arkansas
NM-MT
$3.00 Cdn
2016 Jogo CFL Alumni Series 15
305
Art Green #20
Ottawa Rough Riders
Albany State University
NM-MT
$3.00 Cdn
2016 Jogo CFL Alumni Series 15
306
Lin-J Shell #2, #21
BC Lions
Toronto Argonauts
Jacksonville University
NM-MT
$3.00 Cdn
2016 Jogo CFL Alumni Series 15
307
Neal Fort #66
Baltimore Stallions
Montreal Alouettes
Brigham Young University
NM-MT
$3.00 Cdn
2016 Jogo CFL Alumni Series 15
308
Mike Vilimek #35
Ottawa Renegades
Montreal Alouettes
Simon Fraser University
NM-MT
$3.00 Cdn

2016 JOGO CFL ALUMNI VARIATION CARDS

Year & Brand

Card #

Player & Jersey #

Team

School

Condition
Price per card
2016 Jogo CFL Alumni Variation
VC
Anthony Calvillo - QB #13
(variation card)
Montreal Alouettes
Utah State University
NM-MT
$5.00 Cdn
2016 Jogo CFL Alumni Variation
VC
Chris Walby #63
(variation card)
Winnipeg Blue Bombers
Dickinson State University
NM-MT
$5.00 Cdn
2016 Jogo CFL Alumni Variation
VC
Gerry Organ #71
(variation card)
Ottawa Rough Riders
University of Guelph
NM-MT
$5.00 Cdn
2016 Jogo CFL Alumni Variation
VC
Robert Gordon #84
(variation card)
Edmmonton Eskimos
University Nebraska (Omaha)
NM-MT
$5.00 Cdn
2016 Jogo CFL Alumni Variation
VC
Hugh and Chris Oldham
#24, #27 (variation card)
Ottawa Rough Riders
(no back photo's)
University of Oregon
NM-MT
$5.00 Cdn
2016 Jogo CFL Alumni Variation
VC
Jim Popp GM
(variation card)
Montreal Alouettes
Michigan State University
NM-MT
$5.00 Cdn
2016 Jogo CFL Alumni Variation
VC
Darryl Hall #24
(variation card) corrected card
Edmonton Eskimos
Ottawa Rough Riders
San Diego State University
NM-MT
$5.00 Cdn
2016 Jogo CFL Alumni Variation
120
Ted Smale #71
corrected card
Ottawa Rough Riders
University of Toronto
NM-MT
$5.00 Cdn
2016 Jogo CFL Alumni Variation
175
Chris Keneally #57
(variation card) corrected card
Ottawa Rough Riders
University of Rhode Island
NM-MT
$5.00 Cdn
Last Updated: Jan. 18, 2021