CFL MEDIA GUIDES
CANADIAN FOOTBALL LEAGUE MEDIA GUIDES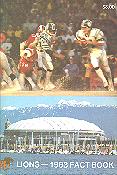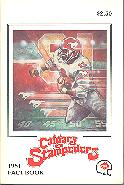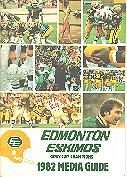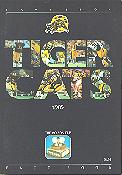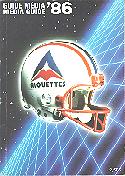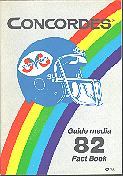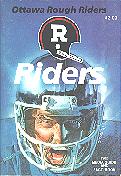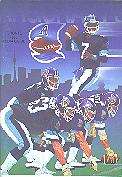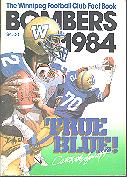 We have an assortment of Canadian Football League guides for sale
CFL Football Fact Books & CFL Football Media Guides.
Click on the blue links to see the book cover and then hit the back button to return to the list.
Prices subject to change without notice according to market conditions.
Postage & Handling is extra. Canadian residents add applicable GST/HST.
Prices are listed in Canadian funds - please inquire as to the current exchange for prices in US funds.
CFL FOOTBALL TEAM MEDIA GUIDES

BC LIONS FACT BOOKS

Scan Code
Title
Cover
Condition
Price per book
Pub 3439
1982 BC Lions Fact Book


helmet, field drawing & action shot
VG
$6.00 Cdn
Pub 3440
1983 BC Lions Fact Book


action shot & BC Place
VG-EX
$7.00 Cdn
Pub 3094
1983 BC Lions Fact Book


action shot & BC Place
VG++
$6.00 Cdn
Pub 3095
1986 BC Lions Fact Book


BC Lions helmet
VG+, spiral binding
$5.00 Cdn
Pub 3096
1987 BC Lions Fact Book


3 BC Lions players, Grey Cup trophy
VG+, spiral binding, 1" crease
$5.00 Cdn

CALGARY STAMPEDERS FACT BOOKS

Scan Code
Title
Cover
Condition
Price per book
Pub 3441
1981 Calgary Stampeders Fact Book


Calgary Stampeders player drawing
GD
$4.00 Cdn
Pub 3446
1985 Calgary Stampeders Fact Book


Joe Barnes
VG
$5.00 Cdn
Pub 4474
1985 Calgary Stampeders Prospectus


Calgary Stampeders helmet
EX
$8.00 Cdn
Pub 3447
1986 Calgary Stampeders Fact Book


JT Hay action
VG-EX
$7.00 Cdn
Pub 3101
1986 Calgary Stampeders Fact Book


JT Hay action
VG
$5.00 Cdn

EDMONTON ESKIMOS MEDIA GUIDES

Scan Code
Title
Cover
Condition
Price per book
Pub 3104
1979 Edmonton Eskimos Media Guide


Warren Moon, Edmonton skyline
FR, some ink inside, creased cover
$5.00 Cdn
Pub 3449
1980 Edmonton Eskimos Media Guide


Waddell Smith / Tom Scott
VG, creased cover
$5.00 Cdn
Pub 3450
1981 Edmonton Eskimos Media Guide


2 action shots
VG, 3" creased cover
$5.00 Cdn
Pub 3451
1981 Edmonton Eskimos Media Guide


2 action shots
GD
$4.00 Cdn
Pub 3105
1982 Edmonton Eskimos Media Guide


player collage
VG-EX
$8.00 Cdn
Pub 3452
1982 Edmonton Eskimos Media Guide


player collage
VGVG+
$6.00 Cdn
Pub 3454
1982 Edmonton Eskimos Media Guide


player collage
VG
$5.00 Cdn
Pub 3453
1982 Edmonton Eskimos Media Guide


player collage
GD
$4.00 Cdn
Pub 4664
1985 Edmonton Eskimos Training Camp Guide


drawing of an Edmonton Eskimo player
GD, cerlox binding
$5.00 Cdn
Pub 4475
1985 Edmonton Eskimos Pre Season Prospectus


Edmonton Eskimos helmet
GD
$5.00 Cdn
Pub 3459
1986 Edmonton Eskimos Media Guide


player action collage
VG+
$6.00 Cdn
Pub 3110
1986 Edmonton Eskimos Media Guide


player action collage
GD
$5.00 Cdn
Pub 3460
1986 Edmonton Eskimos Media Guide


player action collage
VG, writing on cover
$2.50 Cdn
Pub 3461
1987 Edmonton Eskimos Media Guide


drawing player action
VG-EX
$7.00 Cdn

HAMILTON TIGER CATS FACT BOOKS

Scan Code
Title
Cover
Condition
Price per book
Pub 3463
1981 Hamilton Tiger Cats Fact Book


David Green & Tom Clements
VG, 1 1/2" crease
$5.00 Cdn
Pub 3464
1982 Hamilton Tiger Cats Fact Book


Tom Clements & players
VG, hand made 3 hole punched
$2.00 Cdn
Pub 3465
1984 Hamilton Tiger Cats Fact Book


Johnny Shepherd
VG-EX
$7.00 Cdn
Pub 3466
1984 Hamilton Tiger Cats Fact Book


Johnny Shepherd
VG-EX
$7.00 Cdn
Pub 3111
1985 Hamilton Tiger Cats Fact Book


action shots inside of letters
VG
$5.00 Cdn
Pub 3112
1985 Hamilton Tiger Cats Fact Book


action shots inside of letters
VG
$5.00 Cdn
Pub 3467
1985 Hamilton Tiger Cats Fact Book


action shots inside of letters
VG
$5.00 Cdn
Pub 4476
1985 Hamilton Tiger Cats Prospectus


action shots inside of letters
VG++
$7.00 Cdn
Pub 3113
1986 Hamilton Tiger Cats Fact Book


Hamilton Tiger Cats helmet
VG
$5.00 Cdn
Pub 3114
1986 Hamilton Tiger Cats Fact Book


Hamilton Tiger Cats helmet
VG
$5.00 Cdn
Pub 3468
1986 Hamilton Tiger Cats Fact Book


Hamilton Tiger Cats helmet
VG
$5.00 Cdn
Pub 3469
1987 Hamilton Tiger Cats Fact Book


Hamilton Tiger Cats helmet
VG+
$6.00 Cdn
Pub 3470
1987 Hamilton Tiger Cats Fact Book


Hamilton Tiger Cats helmet
VG
$5.00 Cdn

MONTREAL ALOUETTES MEDIA GUIDES

Scan Code
Title
Cover
Condition
Price per book
Pub 3471
1981 Montreal Alouettes Media Guide


Vince Ferragamo
VG, creased back cover
$5.00 Cdn
Pub 3117
1986 Montreal Alouettes Media Guide


Montreal Alouettes helmet
VG++
$7.00 Cdn
Pub 3118
1986 Montreal Alouettes Media Guide


Montreal Alouettes helmet
VG++
$7.00 Cdn
Pub 3476
1986 Montreal Alouettes Media Guide


Montreal Alouettes helmet
VG
$6.00 Cdn
Pub 3477
1987 Montreal Alouettes Media Guide


Walter Lewis /Gill Stegall
VG+
$6.00 Cdn
Pub 3478
1987 Montreal Alouettes Media Guide


Walter Lewis /Gill Stegall
VG+
$6.00 Cdn

MONTREAL CONCORDES FACT BOOKS

Scan Code
Title
Cover
Condition
Price per book
Pub 3472
1982 Montreal Concordes Fact Book


Montreal Concordes helmet
GD-VG
$5.00 Cdn
Pub 3474
1983 Montreal Concordes Fact Book


Montreal Concordes helmet
GD-VG
$5.00 Cdn
Pub 3115
1984 Montreal Concordes Fact Book


Montreal Concordes helmet
VG, 1/4" tear
$6.00 Cdn
Pub 3475
1985 Montreal Concordes Fact Book


Olympic Stadium
VG+
$6.00 Cdn
Pub 3116
1985 Montreal Concordes Fact Book


Olympic Stadium
VG
$5.00 Cdn
Pub 4477
1985 Montreal Concordes Prospectus


Olympic Stadium
VG
$6.00 Cdn

OTTAWA ROUGH RIDERS MEDIA GUIDE & FACT BOOKS

Scan Code
Title
Cover
Condition
Price per book
Pub 6529
1972 Ottawa Rough Riders Press Manual


Team Logo
GD-VG, 3" back crease
$10.00 Cdn
Pub 3480
1981 Ottawa Rough Riders Media Guide & Fact Book


players abstract
VG++
$7.00 Cdn
Pub 3481
1981 Ottawa Rough Riders Media Guide & Fact Book


players abstract
GD, torn at staple
$4.00 Cdn
Pub 3484
1984 Ottawa Rough Riders Media Guide & Fact Book


Ottawa Rough Riders helmet
VG
$5.00 Cdn
Pub 3485
1984 Ottawa Rough Riders Media Guide & Fact Book


Ottawa Rough Riders helmet
VG
$5.00 Cdn
Pub 3119
1985 Ottawa Rough Riders Media Guide & Fact Book


Ottawa Rough Riders helmet
VG
$5.00 Cdn
Pub 3120
1985 Ottawa Rough Riders Media Guide & Fact Book


Ottawa Rough Riders helmet
VG
$5.00 Cdn
Pub 4478
1985 Ottawa Rough Riders Pre-Season Prospectus


Ottawa Rough Riders helmet
VG++
$7.00 Cdn
Pub 3121
1986 Ottawa Rough Riders Media Guide & Fact Book


Ottawa Rough Riders helmet
VG
$5.00 Cdn
Pub 3486
1986 Ottawa Rough Riders Media Guide & Fact Book


Ottawa Rough Riders helmet
VG
$5.00 Cdn
Pub 3122
1987 Ottawa Rough Riders Media Guide


Ottawa Rough Riders action shot inside 87
VG+, spiral binding, label removed, 1/4" skinned
$4.00 Cdn
Pub 3487
1987 Ottawa Rough Riders Media Guide


Ottawa Rough Riders action shot inside 87
VG, spiral binding, label removed
$4.00 Cdn

SASKATCHEWAN ROUGHRIDERS FACT BOOKS

Scan Code
Title
Cover
Condition
Price per book
Pub 3124
1978 Saskatchewan Roughriders Fact Book (o/s)


Ron Lancaster
GD-VG
$8.00 Cdn
Pub 3488
1979 Saskatchewan Roughriders Fact Book


action shot
VG
$7.00 Cdn
Pub 3489
1980 Saskatchewan Roughriders Club Record & Information Book


Saskatchewan Roughriders logo
VG
$7.00 Cdn
Pub 3490
1981 Saskatchewan Roughriders Fact Book


light grey action shot
VG
$7.00 Cdn
Pub 3125
1982 Saskatchewan Roughriders Fact Book


embossed Saskatchewan Roughriders helmet
VG-EX
$8.00 Cdn
Pub 3491
1982 Saskatchewan Roughriders Fact Book


embossed Saskatchewan Roughriders helmet
VG
$7.00 Cdn
Pub 3492
1982 Saskatchewan Roughriders Fact Book


embossed Saskatchewan Roughriders helmet
GD, hand made 3 hole punch
$2.00 Cdn
Pub 3493
1984 Saskatchewan Roughriders Media Guide / Fact Book


player drawing
GD-VG
$5.00 Cdn
Pub 3126
1985 Saskatchewan Roughriders Media Guide / Fact Book


Saskatchewan Roughriders locker room, 75th Anniversary
VG
$7.00 Cdn
Pub 3494
1985 Saskatchewan Roughriders Media Guide / Fact Book


Saskatchewan Roughriders locker room, 75th Anniversary
VG
$7.00 Cdn
Pub 3495
1986 Saskatchewan Roughriders Fact Book


drawing of players
VG+
$8.00 Cdn
Pub 3127
1986 Saskatchewan Roughriders Fact Book


drawing of players
VG
$7.00 Cdn
Pub 3128
1986 Saskatchewan Roughriders Fact Book


drawing of players
VG, 2" crease
$5.00 Cdn
Pub 3497
1987 Saskatchewan Roughriders Fact Book


drawing of players
VG-EX
$8.00 Cdn
Pub 3496
1987 Saskatchewan Roughriders Fact Book


drawing of players
VG+
$7.00 Cdn

TORONTO ARGONAUTS FACT BOOKS

Scan Code
Title
Cover
Condition
Price per book
Pub 3499
1979 Toronto Argonauts Fact Book


player collage
PR, front cover 75% torn
$2.00 Cdn
Pub 3500
1981 Toronto Argonauts Fact Book


Dave Newman
VG, check marks inside
$6.00 Cdn
Pub 3501
1981 Toronto Argonauts Fact Book


Dave Newman
VG
$6.00 Cdn
Pub 3502
1981 Toronto Argonauts Fact Book


Dave Newman
VG, check marks inside
$6.00 Cdn
Pub 3504
1983 Toronto Argonauts Media Guide


Toronto Argonauts helmet
VG
$6.00 Cdn
Pub 3505
1984 Toronto Argonauts Media Guide


Toronto Argonauts helmet
VG
$6.00 Cdn
Pub 3131
1985 Toronto Argonauts Media Guide


drawing Condredge Holloway & players, skyline
VG-EX
$8.00 Cdn
Pub 3506
1985 Toronto Argonauts Media Guide


drawing Condredge Holloway & players, skyline
VG+
$6.00 Cdn
Pub 3132
1986 Toronto Argonauts Media Guide


player collage
VG+
$6.00 Cdn
Pub 3133
1986 Toronto Argonauts Media Guide


player collage
VG
$5.00 Cdn
Pub 3134
1986 Toronto Argonauts Media Guide


player collage
VG
$5.00 Cdn
Pub 3507
1987 Toronto Argonauts Media Guide


action shot
VG-EX
$7.00 Cdn
Pub 3508
1987 Toronto Argonauts Media Guide


action shot
VG
$5.00 Cdn

WINNIPEG BLUE BOMBERS CFL BOOKS

Scan Code
Title
Cover
Condition
Price per book
Pub 3509
1981 Winnipeg Blue Bombers Fact Book


Winnipeg Blue Bomber helmet & football
VG
$6.00 Cdn
Pub 3136
1982 Winnipeg Blue Bombers Fact Book


Drawings Of Blue Bomber Players
VG-EX
$7.00 Cdn
Pub 1247
1983 Winnipeg Blue Bombers Fact Book


Drawings Of Blue Bomber Players
VG++
$8.00 Cdn
Pub 3513
1985 Winnipeg Blue Bombers Fact Book


Willard Reaves, Vernon Pahl, John Bonk, Stan Mikawos
VG
$6.00 Cdn
Pub 4480
1985 Winnipeg Blue Bombers Training Camp Prospectus


Winnipeg Blue Bombers Logo
VG
$6.00 Cdn
Pub 3138
1986 Winnipeg Blue Bombers Fact Book


Players & Fans
VG+
$6.00 Cdn
Pub 3139
1986 Winnipeg Blue Bombers Fact Book


Players & Fans
VG+
$6.00 Cdn
Pub 3516
1986 Winnipeg Blue Bombers Fact Book


Players & Fans
VG
$5.00 Cdn
Pub 3514
1987 Winnipeg Blue Bombers Fact Book


Blue Bomber Fans
VG++
$7.00 Cdn
Pub 3515
1987 Winnipeg Blue Bombers Fact Book


Blue Bomber Fans
VG+
$7.00 Cdn
Pub 2062
1990 Winnipeg Blue Bombers Media Guide
Autographed by
Warren Hudson, Ty Jones (deceased), Cal Murphy (deceased)


Winnipeg Blue Bombers 60th Anniversary Logo
VG, 1/8" cover tear
$20.00 Cdn
Last Updated: Feb. 12, 2020

---