Autographed Cards & Autographed Pucks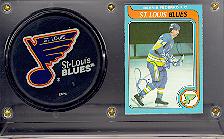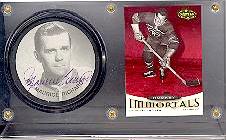 Looking for something special?
Autographed hockey cards with team pucks or autographed pucks with hockey cards in clear acrylic displays.
These displays make excellent gifts. We will scan any display on request.
AS = All Star, HL = Highlight, IA = In Action, LL = League Leader, (o/c) = off center,
RB = Record Breaker, RC = Rookie Card, SA = Super Action, TL = Team Leader
VG = Very Good, EX = Excellent, NM = Near Mint, MT = Mint
Postage & Handling is extra. Canadian residents add applicable GST/HST.

Prices are listed in Canadian funds - please inquire as to the current exchange for prices in US funds.
---
Autographed Card with Team Puck - in acrylic display

Autographed Card
Player
Team Puck
Price per display
1974-75 OPC
Al Arbour - Hall of Famer
New York Islanders
$25.00 Cdn
1981-82 OPC
Bill Barber - Hall of Famer
Philadelphia Flyers
$25.00 Cdn
1982-83 OPC IA
Bill Barber - Hall of Famer
Philadelphia Flyers
$25.00 Cdn
1991-92 Ultimate
Andy Bathgate - Hall of Famer
New York Rangers
$25.00 Cdn
1991-92 Ultimate #30
Bobby Baun
Toronto Maple Leafs
$20.00 Cdn
1991-92 Ultimate #93
Bobby Baun
Toronto Maple Leafs
$20.00 Cdn
1981-82 OPC RC
Don Beaupre - Goalie
Minnesota North Stars
$20.00 Cdn
1982-83 OPC IA
Barry Beck
New York Rangers
$16.00 Cdn
1979-80 OPC - VG
Mike Bossy - Hall of Famer
New York Islanders
$35.00 Cdn
1981-82 OPC
Mike Bossy - Hall of Famer
New York Islanders
$32.00 Cdn
1982-83 OPC RB
Mike Bossy - Hall of Famer
New York Islanders
$32.00 Cdn
1983-84 OPC RB *
Mike Bossy - Hall of Famer
New York Islanders
$32.00 Cdn
1982-83 OPC *
Richard Brodeur - Goalie
old Vancouver Canucks
$20.00 Cdn
1983-84 OPC RC
Guy Carbonneau
Montreal Canadiens
$18.00 Cdn
1982-83 OPC
Wayne Cashman
Boston Bruins
$17.00 Cdn
1976-77 OPC RC - VG
Guy Chouinard
Atlanta Flames
$18.00 Cdn
1981-82 OPC RC - (o/c)
Dino Ciccarelli
Minnesota North Stars
$35.00 Cdn
1982-83 OPC
Dino Ciccarelli
Minnesota North Stars
$25.00 Cdn
1987-88 OPC
Wendel Clark - signed on back
Toronto Maple Leafs
$20.00 Cdn
1975-76 Topps - AS - VG
Bobby Clarke
Philadelphia Flyers
$25.00 Cdn
1976-77 OPC - VG
Bobby Clarke
Philadelphia Flyers
$25.00 Cdn
1977-78 Topps - VG - (o/c)
Bobby Clarke
Philadelphia Flyers
$25.00 Cdn
1978-79 Topps
Bobby Clarke
Philadelphia Flyers
$25.00 Cdn
1982-83
Billl Clement
Calgary Flames
$18.00 Cdn
1982-83 OPC - VG
Paul Coffey
Edmonton Oilers
$35.00 Cdn
1982-83 OPC IA - VG
Paul Coffey
Edmonton Oilers
$30.00 Cdn
1978-79 OPC - VG - (oc)
John Davidson - Goalie
New York Rangers
$18.00 Cdn
1980-81 OPC - (o/c)
John Davidson - Goalie
New York Rangers
$18.00 Cdn
1977-78 OPC - VG
Marcel Dionne - Hall of Famer
Los Angeles Kings
$25.00 Cdn
1980-81 OPC - (o/c)
Marcel Dionne - Hall of Famer
Los Angeles Kings
$25.00 Cdn
1982-83 OPC IA
Marcel Dionne - Hall of Famer
Los Angeles Kings
$25.00 Cdn
1972-73 OPC
Phil Esposito - Hall of Famer
Boston Bruins
$35.00 Cdn
1979-80 OPC *
Bernie Federko - Hall of Famer
St. Louis Blues
$22.00 Cdn
1982-83 OPC
Nick Fotiu
New York Rangers
$16.00 Cdn
1978-79 OPC - (o/c)
Bob Gainey - Hall of Famer
Montreal Canadiens
$25.00 Cdn
1984-85 OPC
Bob Gainey - Hall of Famer
Montreal Canadiens
$25.00 Cdn
1982-83 OPC
John Garrett - Goalie
Quebec Nordiques
$17.00 Cdn
1980-81 OPC RC *
Mike Gartner - Hall of Famer
Washington Capitals
$45.00 Cdn
1980-81 OPC TL - (o/c)
Mike Gartner - Hall of Famer
Washington Capitals
$30.00 Cdn
1982-83 OPC
Mike Gartner - Hall of Famer
Washington Capitals
$30.00 Cdn
1982-83 OPC - (o/c)
Clark Gillies - Hall of Famer
New York Islanders
$25.00 Cdn
1987-88 OPC
Doug Gilmour
St. Louis Blues
$25.00 Cdn
1982-83 OPC
Butch Goring
New York Islanders
$16.00 Cdn
1981-82 OPC - (o/c)
Michel Goulet - Hall of Famer
Quebec Nordiques
$30.00 Cdn
1982-83 OPC
Michel Goulet - Hall of Famer
Quebec Nordiques
$25.00 Cdn
1987-88 OPC - (o/c)
Michel Goulet - Hall of Famer
Quebec Nordiques
$30.00 Cdn
1983-84 OPC LL *
Wayne Gretzky - Hall of Famer
Edmonton Oilers
$110.00 Cdn
1985-86 OPC LL *
Wayne Gretzky - Hall of Famer
Edmonton Oilers
$110.00 Cdn
1985-86 Topps
Wayne Gretzky - Hall of Famer
Edmonton Oilers
$130.00 Cdn
1982-83 OPC RC - small crease
Dale Hawerchuk - Hall of Famer
Winnipeg Jets
$25.00 Cdn
1992-93 Ultra
Ron Hextall - Goalie
Philadelphia Flyers
$17.00 Cdn
1982-83 OPC
Mark Howe
Philadelphia Flyers
$18.00 Cdn
1992-93 Ultra
Mark Howe
Detroit Red Wings
$18.00 Cdn
1970-71 OPC - VG
Harry Howell - Hall of Famer
Oakland Seals
$30.00 Cdn
1971-72 OPC - VG
Harry Howell - Hall of Famer
Los Angeles Kings
$30.00 Cdn
1982-83 OPC
Tim Kerr
Philadelphia Flyers
$17.00 Cdn
1982-83 OPC
Jari Kurri - Hall of Famer
Edmonton Oilers
$35.00 Cdn
1984-85 OPC - (o/c)
Jari Kurri - Hall of Famer
Edmonton Oilers
$30.00 Cdn
1979-80 OPC
Guy Lafleur - Hall of Famer
Montreal Canadiens
$30.00 Cdn
1980-81 OPC
Guy Lafleur - Hall of Famer
Montreal Canadiens
$30.00 Cdn
1981-82 Topps
Guy Lafleur - Hall of Famer
Montreal Canadiens
$30.00 Cdn
1983-84 OPC
Guy Lafleur - Hall of Famer
Montreal Canadiens
$30.00 Cdn
1980-81 OPC RC
Rod Langway - Hall of Famer
Washington Capitals
$25.00 Cdn
1982-83 OPC
Rod Langway - Hall of Famer
Washington Capitals
$25.00 Cdn
1972-73 OPC - VG
Guy Lapointe - Hall of Famer
Montreal Canadiens
$25.00 Cdn
1984-85 OPC
Steve Larmer
Chicago Blackhawks
$18.00 Cdn
1973-74 OPC
Jacques Lemaire - Hall of Famer
Montreal Canadiens
$25.00 Cdn
1990-91 Pro Set
Reggie Lemelin - Goalie
Boston Bruins
$16.00 Cdn
1992-93 OPC *
Mario Lemieux (85-86 OPC RC reprint)
Pittsburgh Penguins
$85.00 Cdn
1980-81 OPC RC - (o/c)
Ken Linseman
Philadelphia Flyers
$18.00 Cdn
1981-82 OPC - (o/c)
Mike Liut - Goalie
St. Louis Blues
$18.00 Cdn
1982-83 OPC HL
Mike Liut - Goalie
St. Louis Blues
$18.00 Cdn
1977-78 OPC - VG - (o/c)
Rick MacLeish
Philadelphia Flyers
$16.00 Cdn
1991-92 Ultimate
Frank Mahovlich - Hall of Famer
Toronto Maple Leafs
$30.00 Cdn
1980-81 OPC
Dennis Maruk
Washington Capitals
$17.00 Cdn
1980-81 OPC RC - (o/c)
Brad McCrimmon - Deceased
Boston Bruins
$25.00 Cdn
1982-83 OPC
Lanny McDonald - Hall of Famer
Calgary Flames
$30.00 Cdn
1984-85 OPC - VG
Gilles Meloche
Minnesota North Stars
$18.00 Cdn
1977-78 OPC
Rick Middleton
Boston Bruins
$20.00 Cdn
1982-83 OPC
Rick Middleton
Boston Bruins
$20.00 Cdn
1972-73 OPC - VG
Stan Mikita - Hall of Famer
Chicago Blackhawks
$30.00 Cdn
1974-75 Topps
Stan Mikita - Hall of Famer
Chicago Blackhawks
$30.00 Cdn
1977-78 Topps RC
Mike Milbury
Boston Bruins
$18.00 Cdn
1982-83 OPC RC
Joe Mullen - Hall of Famer
St. Louis Blues
$27.00 Cdn
1983-84 OPC
Joe Mullen - Hall of Famer
St. Louis Blues
$25.00 Cdn
1984-85 OPC
Joe Mullen - Hall of Famer
St. Louis Blues
$25.00 Cdn
1981-82 OPC RC
Larry Murphy - Hall of Famer
Los Angeles Kings
$35.00 Cdn
1983-84 OPC RC
Chris Nilan
Montreal Canadiens
$18.00 Cdn
1981-82 OPC SA - (o/c)
Kent Nilsson
Calgary Flames
$20.00 Cdn
1982-83 OPC - (o/c)
Kent Nilsson
Calgary Flames
$20.00 Cdn
1984-85 OPC
Kent Nilsson
Calgary Flames
$20.00 Cdn
1977-78 OPC RC
Mike Palmateer - Goalie
Toronto Maple Leafs
$25.00 Cdn
1979-80 OPC - o/c
Mike Palmateer - Goalie
Toronto Maple Leafs
$20.00 Cdn
1969-70 OPC - VG
Bernie Parent - Hall of Famer - Goalie
Philadelphia Flyers
$45.00 Cdn
1978-79 Topps - VG
Bernie Parent - Hall of Famer - Goalie
Philadelphia Flyers
$30.00 Cdn
1982-83 OPC
Brad Park - Hall of Famer
Boston Bruins
$25.00 Cdn
1980-81 OPC RC - VG
Pete Peeters - Goalie
Boston Bruins
$20.00 Cdn
1981-82 OPC
Gilbert Perreault - Hall of Famer
Buffalo Sabres
$25.00 Cdn
1974-75 OPC RC - (o/c) *
Denis Potvin - Hall of Famer
New York Islanders
$40.00 Cdn
1977-78 OPC
Denis Potvin - Hall of Famer
New York Islanders
$30.00 Cdn
1980-81 OPC RC - (o/c)
Brian Propp
Philadelphia Flyers
$20.00 Cdn
1982-83 OPC
Brian Propp
Philadelphia Flyers
$17.00 Cdn
1974-75 OPC
Bob Pulford - Hall of Famer
Los Angeles Kings
$35.00 Cdn
1975-76 Topps - VG
Pat Quinn
Atlanta Flames
$18.00 Cdn
1987-88 OPC RC
Bill Ranford - Goalie
Boston Bruins
$23.00 Cdn
1977-78 Topps
Jean Ratelle - Hall of Famer
Boston Bruins
$35.00 Cdn
1979-80 OPC
Jean Ratelle - Hall of Famer
Boston Bruins
$35.00 Cdn
1980-81 OPC *
Jean Ratelle - Hall of Famer
Boston Bruins
$35.00 Cdn
1971-72 Topps
Mickey Redmond
Detroit Red Wings
$20.00 Cdn
1974-75 OPC RC
Glenn Resch - Goalie
New York Islanders
$30.00 Cdn
1991-92 Ultimate
Henri Richard - Hall of Famer
Montreal Canadiens
$25.00 Cdn
1989-90 OPC RC
Gary Roberts
Calgary Flames
$18.00 Cdn
1990-91 Upper Deck CL
Jeremy Roenick
Chicago Blackhawks
$25.00 Cdn
1976-77 OPC - VG - (o/c)
Serge Savard - Hall of Famer
Montreal Canadiens
$23.00 Cdn
1977-78 OPC - VG
Serge Savard - Hall of Famer
Montreal Canadiens
$23.00 Cdn
1978-79 Topps
Serge Savard - Hall of Famer
Montreal Canadiens
$23.00 Cdn
1980-81 OPC - VG
Serge Savard - Hall of Famer
Montreal Canadiens
$23.00 Cdn
1982-83 OPC
Al Secord
Chicago Blackhawks
$17.00 Cdn
1980-81 OPC
Steve Shutt
Montreal Canadiens
$25.00 Cdn
1981-82 OPC - (o/c)
Charlie Simmer
Los Angeles Kings
$17.00 Cdn
1980-81 OPC - (o/c)
Darryl Sittler - Hall of Famer
Toronto Maple Leafs
$30.00 Cdn
1980-81 OPC TL
Darryl Sittler - Hall of Famer
Toronto Maple Leafs
$30.00 Cdn
1982-83 OPC
Darryl Sittler - Hall of Famer
Philadelphia Flyers
$30.00 Cdn
1981-82 OPC
Billy Smith - Goalie - Hall of Famer
New York Islanders
$25.00 Cdn
1981-82 Topps - (o/c)
Bobby Smith
Minnesota North Stars
$17.00 Cdn
1982-83 OPC
Bobby Smith
Minnesota North Stars
$17.00 Cdn
1981-82 OPC RB
Peter Stastny - Hall of Famer
Quebec Nordiques
$30.00 Cdn
1982-83 OPC
Peter Stastny - Hall of Famer
Quebec Nordiques
$30.00 Cdn
1981-82 OPC
Dave Taylor
Los Angeles Kings
$18.00 Cdn
1982-83 OPC - (o/c)
Dave Taylor
Los Angeles Kings
$18.00 Cdn
1983-84 OPC
Dave Taylor
Los Angeles Kings
$18.00 Cdn
1978-79 OPC AS
Bryan Trottier - Hall of Famer
New York Islanders
$30.00 Cdn
1979-80 OPC
Bryan Trottier - Hall of Famer
New York Islanders
$30.00 Cdn
1981-82 OPC
Bryan Trottier - Hall of Famer
New York Islanders
$30.00 Cdn
1982-83 OPC IA
Bryan Trottier - Hall of Famer
New York Islanders
$30.00 Cdn
1982-83 OPC RB
Bryan Trottier - Hall of Famer
New York Islanders
$30.00 Cdn
1971-72 OPC
Norm Ullman - Hall of Famer
Toronto Maple Leafs
$30.00 Cdn
1970-71 Topps - VG
Rogatien Vachon - Goalie
Montreal Canadiens
$25.00 Cdn
1974-75 OPC - VG
Rogatien Vachon - Goalie
Los Angeles Kings
$25.00 Cdn
1977-78 OPC - VG - (o/c)
Rogatien Vachon - Goalie
Los Angeles Kings
$25.00 Cdn
1979-80 OPC RC
Ryan Walter
Washington Capitals
$16.00 Cdn
1977-78 OPC - (o/c)
Dave "Tiger" Williams
Toronto Maple Leafs
$20.00 Cdn
1978-79 OPC RC
Doug Wilson
Chicago Blackhawks
$23.00 Cdn
1982-83 OPC
Doug Wilson
Chicago Blackhawks
$17.00 Cdn

Autographed Puck with Player Card - in acrylic display

Black & White photo pucks autographed through Sport Flash - circa 1990-91.
The position of the hand signed autographs may vary from what is actually shown.
Autographed Puck - Player
Card Type
Team
Price per display
Sid Abel - Hall of Famer - Deceased
1965-66 Topps
Detroit Red Wings
$90.00 Cdn
Sid Abel * - Hall of Famer - Deceased
1991 Ultimate
Detroit Red Wings
$90.00 Cdn
Sid Abel - Hall of Famer - Deceased
2003-04 Parkhurst Original Six
Detroit Red Wings
$90.00 Cdn
Sid Abel - Hall of Famer - Deceased
2003-04 Parkhurst Original Six - All Star
Detroit Red Wings
$90.00 Cdn
Sid Abel - Hall of Famer - Deceased
2003-04 Parkhurst Original Six - Enshrined
Detroit Red Wings
$90.00 Cdn
Jean Beliveau - Hall of Famer - Deceased
1999-00 UD Retro
Montreal Canadiens
$46.00 Cdn
Jean Beliveau - Hall of Famer - deceased
2000-01 UD Heroes
Montreal Canadiens
$46.00 Cdn
Jean Beliveau - Hall of Famer - deceased
2000-01 Upper Deck Legends
Montreal Canadiens
$46.00 Cdn
Jean Beliveau - Hall of Famer - deceased
2001-02 Fleer Greats of the Game
Montreal Canadiens
$46.00 Cdn
Jean Beliveau - Hall of Famer - deceased
2003-04 Parkhurst Original Six - Franchise Leaders
Montreal Canadiens
$46.00 Cdn
Johnny Bower - Hall of Famer - Goalie
1991 Ultimate
Toronto Maple Leafs
$37.00 Cdn
Johnny Bower - Hall of Famer - Goalie
2001-02 Fleer Greats of the Game
Toronto Maple Leafs
$37.00 Cdn
Johnny Bower - Hall of Famer - Goalie
2001-02 Topps/OPC Archives
Toronto Maple Leafs
$37.00 Cdn
John Bucyk- Hall of Famer
1973-74 OPC
Boston Bruins
$45.00 Cdn
John Bucyk - Hall of Famer
1977-78 OPC
Boston Bruins
$41.00 Cdn
John Bucyk * - Hall of Famer
1999-00 Upper Deck Century Legends
Boston Bruins
$41.00 Cdn
John Bucyk - Hall of Famer
2000-01 Upper Deck Legends
Boston Bruins
$41.00 Cdn
John Bucyk - Hall of Famer
2001-02 Fleer Greats of the Game
Boston Bruins
$41.00 Cdn
Yvan Cournoyer- Hall of Famer
1972-73 Topps
Montreal Canadiens
$43.00 Cdn
Yvan Cournoyer - Hall of Famer
1972-73 Topps All Star
Montreal Canadiens
$43.00 Cdn
Yvan Cournoyer- Hall of Famer
1973-74 Topps
Montreal Canadiens
$43.00 Cdn
Alex Delvecchio - Hall of Famer
1969-70 Topps
Detroit Red Wings
$45.00 Cdn
Alex Delvecchio- Hall of Famer
1972-73 Topps
Detroit Red Wings
$43.00 Cdn
Alex Delvecchio - Hall of Famer
1973-74 Topps
Detroit Red Wings
$43.00 Cdn
Alex Delvecchio * - Hall of Famer
1999-00 UD Retro
Detroit Red Wings
$41.00 Cdn
Alex Delvecchio - Hall of Famer
2001-02 Fleer Greats of the Game
Detroit Red Wings
$41.00 Cdn
Alex Delvecchio- Hall of Famer
2001-02 Topps / OPC Archives
Detroit Red Wings
$41.00 Cdn
Fern Flaman *- Hall of Famer - deceased
1956-57 Parkhurst
Boston Bruins
$41.00 Cdn
Fern Flaman- Hall of Famer - deceased
2003-04 Parkhurst Original Six
Boston Bruins
$41.00 Cdn
Bill Gadsby - Hall of Famer - deceased
1956-57 Parkhurst
New York Rangers
$41.00 Cdn
Bill Gadsby - Hall of Famer - deceased
2001-02 Topps / OPC Archives
Detroit Red Wings
$41.00 Cdn
Bill Gadsby - Hall of Famer - deceased
2003-04 Parkhurst Original Six
Detroit Red Wings
$41.00 Cdn
Bill Gadsby - Hall of Famer - deceased
2003-04 Parkhurst Original Six - Enshrined
Chicago Blackhawks
$41.00 Cdn
Bill Gadsby - Hall of Famer - deceased
2003-04 Parkhurst Original Six - Enshrined
Detroit Red Wings
$41.00 Cdn
Glenn Hall - Hall of Famer - Goalie
1999-00 UD Retro
Chicago Blackhawks
$70.00 Cdn
Glenn Hall - Hall of Famer - Goalie
2000-01 UD NHL Legends
Chicago Blackhawks
$70.00 Cdn
Glenn Hall * - Hall of Famer - Goalie
2001-02 Topps Archives (57-58 Topps RC reprint)
Chicago Blackhawks
$70.00 Cdn
Harry Howell - Hall of Famer
1956-57 Parkhurst
New York Rangers
$41.00 Cdn
Harry Howell - Hall of Famer
66-67 Parkhurst
New York Rangers
$41.00 Cdn
Harry Howell - Hall of Famer
2001-02 Fleer Greats of the Game
New York Rangers
$41.00 Cdn
Harry Howell - Hall of Famer
2001-02 Topps / OPC Archives
New York Rangers
$41.00 Cdn
Bobby Hull * - Hall of Famer (color)
1991 Ultimate
New York Rangers
$43.00 Cdn
Gilbert Perreault - Hall of Famer
1973-74 Topps
Buffalo Sabres
$45.00 Cdn
Gilbert Perreault - Hall of Famer
1977-78 Topps
Buffalo Sabres
$41.00 Cdn
Gilbert Perreault - Hall of Famer
1978-79 OPC
Buffalo Sabres
$41.00 Cdn
Gilbert Perreault * - Hall of Famer
1982-83 OPC
Buffalo Sabres
$41.00 Cdn
Gilbert Perreault - Hall of Famer
2000-01 Upper Deck Heroes
Buffalo Sabres
Sold
Henri Richard- Hall of Famer
1971-72 Topps
Montreal Canadiens
$45.00 Cdn
Henri Richard - Hall of Famer
1999-00 Upper Deck Century Legends
Montreal Canadiens
$41.00 Cdn
Henri Richard- Hall of Famer
1999-00 Upper Deck Retro
Montreal Canadiens
$41.00 Cdn
Henri Richard - Hall of Famer
2001-02 Fleer Greats of the Game
Montreal Canadiens
$41.00 Cdn
Henri Richard - Hall of Famer
2003-04 Parkhurst Original Six - All Star
Montreal Canadiens
$41.00 Cdn
Henri Richard - Hall of Famer
2003-04 Parkhurst Original Six - Enshrined
Montreal Canadiens
$41.00 Cdn
Henri Richard - Hall of Famer
2003-04 Parkhurst Original Six - Franchise Leaders
Montreal Canadiens
$41.00 Cdn
Maurice Richard - Hall of Famer - Deceased
1999-00 Upper Deck Century Legends
Montreal Canadiens
$135.00 Cdn
Maurice Richard- Hall of Famer - Deceased
2000-01 UD Heroes
Montreal Canadiens
$135.00 Cdn
Maurice Richard - Hall of Famer - Deceased
2003-04 Parkhurst Original Six - Enshrined
Montreal Canadiens
$135.00 Cdn
Maurice Richard - Hall of Famer - Deceased
2003-04 Parkhurst Original Six - Franchise Leaders
Montreal Canadiens
$135.00 Cdn
Milt Schmidt - Hall of Famer - deceased
1956-57 Parkhurst
Boston Bruins
$41.00 Cdn
Milt Schmidt - Hall of Famer - deceased
1999-00 UD Century Legends
Boston Bruins
$41.00 Cdn
Milt Schmidt - Hall of Famer - deceased
2001-02 Topps / OPC Archives
Boston Bruins
$41.00 Cdn
Milt Schmidt - Hall of Famer - deceased
2003-04 Parkhurst Original Six
Boston Bruins
$41.00 Cdn
Milt Schmidt - Hall of Famer - deceased
2003-04 Parkhurst Original Six - All Star
Boston Bruins
$41.00 Cdn
Milt Schmidt - Hall of Famer - deceased
2003-04 Parkhurst Original Six - Enshrined
Boston Bruins
$41.00 Cdn
Steve Shutt - Hall of Famer
1977-78 Topps All Star
Montreal Canadiens
$41.00 Cdn
Steve Shutt - Hall of Famer
1978-79 OPC
Montreal Canadiens
$41.00 Cdn
Steve Shutt - Hall of Famer
1982-83 OPC
Montreal Canadiens
$41.00 Cdn
Steve Shutt - Hall of Famer
2001-02 Topps / OPC Archives
Montreal Canadiens
$41.00 Cdn
Last Updated: May 6, 2017
---