OLD COLLECTOR IHL HOCKEY PUCKS
INTERNATIONAL HOCKEY LEAGUE PUCKS
Collecting Ice Hockey Pucks ?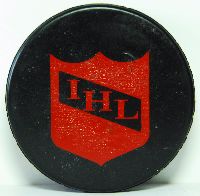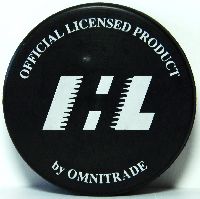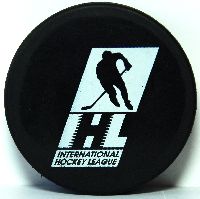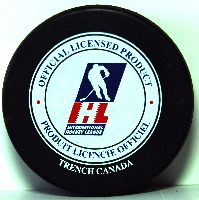 We sell IHL Souvenir team logo pucks,
IHL Turner Cup pucks, IHL All Star Game pucks,
championship pucks, play off pucks, anniversary pucks, etc..
as well as pucks from the NHL, AHL, AJHL, ECHL, MJHL, OHA, OHL, QMJHL,
SJHL, WHA & WHL and other junior hockey league pucks.
Most of these pucks are one of a kind - email to reserve.

Click on the puck`s blue links to view front & back,
then click your back button to return to the puck list.
Postage & Handling is extra. Canadian residents add applicable GST/HST.
Prices are listed in Canadian funds - please inquire as to the current exchange for prices in US funds.
---
IHL Pucks - INTERNATIONAL HOCKEY LEAGUE pucks

CINCINNATI CYCLONES pucks

Scan #
Front
Year
Puck Slug Type
Reverse
Condition
Price Per Puck
IHL 0076


Cincinnati Cyclones - goalie logo - color background (game)
92-93
CZ3 new Czechoslovakia


official IHL Omnitrade reverse
$15.00 Cdn
IHL 0259


1993-94 Cincinnati Cyclones Hockey
93-94
CZ3 Czechoslovakia


IHL by Omni-Sports reverse
$20.00 Cdn
IHL 0263


Five Year Anniversary Cincinnati Cyclones ECHL - IHL 1990-1995
94-95
CR1 Czech Republic


50th IHL Anniversary by Puck World reverse
$18.00 Cdn
IHL 0078


Cincinnati Cyclones - goalie logo - white background
94-95
CZ3 new Czechoslovakia


IHL reverse
$10.00 Cdn

CLEVELAND LUMBER JACKS pucks

Scan #
Front
Year
Puck Slug Type
Reverse
Condition
Price Per Puck
IHL 0082


Cleveland Lumber Jacks 29/2000
94-95
CZ3 new Czechoslovakia


Inaugural Season - Gund Arena - 50th IHL Anniversary - Limited Edition Commemorative Puck (gold) reverse
$25.00 Cdn

COLORADO RANGERS pucks

Scan #
Front
Year
Puck Slug Type
Reverse
Condition
Price Per Puck
IHL 0261


Colorado Rangers
85-90
GT1 General Tire


Little Caesars Pizza reverse
minor flaking
$15.00 Cdn

DENVER GRIZZLIES pucks

Scan #
Front
Year
Puck Slug Type
Reverse
Condition
Price Per Puck
IHL 0092


Denver Grizzlies Hockey
94-95
SL1 Vegum Slovakia


IHL reverse
$10.00 Cdn

FLINT SPIRITS pucks

Scan #
Front
Year
Puck Slug Type
Reverse
Condition
Price Per Puck
IHL 0265


Flint Spirits
85-90
IG2 InGlasCo
blank reverse
$25.00 Cdn

FORT WAYNE KOMETS pucks

Scan #
Front
Year
Puck Slug Type
Reverse
Condition
Price Per Puck
IHL 0104


Fort Wayne Komets - Since 1952
92-94
CZ3 new Czechoslovakia


Domino`s Pizza ad reverse
$18.00 Cdn

INDIANAPOLIS CHECKERS pucks

Scan #
Front
Year
Puck Slug Type
Reverse
Condition
Price Per Puck
IHL 0113


Indianapolis Checkers Hockey Club
80-86
V4 Viceroy


Marathon ad reverse
pitted
$16.00 Cdn

INDIANAPOLIS ICE pucks

Scan #
Front
Year
Puck Slug Type
Reverse
Condition
Price Per Puck
IHL 0115


Indianapolis Ice - player logo (game)
92-93
CZ3 new Czechoslovakia


official IHL Omnitrade reverse
$15.00 Cdn
IHL 0117


Indianapolis Ice - inverted triangle logo
94-95
SL1 Vegum Slovakia


IHL reverse
light scratches
$9.00 Cdn

KALAMAZOO WINGS pucks

Scan #
Front
Year
Puck Slug Type
Reverse
Condition
Price Per Puck
IHL 0125


Kalamazoo Wings 78 79
78-79
V3 Viceroy


orange IHL shield reverse
flaked
$12.00 Cdn
IHL 0127


Kalamazoo Wings (game)
92-93
CZ3 new Czechoslovakia


official IHL Omnitrade reverse
$15.00 Cdn

KANSAS CITY BLADES pucks

Scan #
Front
Year
Puck Slug Type
Reverse
Condition
Price Per Puck
IHL 0266


Kansas City Blades
90-94
CZ3 Czechoslovakia
blank reverse
$15.00 Cdn

LOS ANGELES ICE DOGS pucks

Scan #
Front
Year
Puck Slug Type
Reverse
Condition
Price Per Puck
IHL 0137


Los Angeles Ice Dogs
95-96
SL1 Vegum Slovakia


official IHL Trench reverse
$10.00 Cdn
IHL 0139


Los Angeles Ice Dogs
95-96
SL1 Vegum Slovakia


official IHL Trench reverse
$10.00 Cdn
IHL 0141


Los Angeles Ice Dogs
96-97
V4 Viceroy


official IHL Ravens Athletic reverse
$10.00 Cdn

MANITOBA MOOSE pucks

Scan #
Front
Year
Puck Slug Type
Reverse
Condition
Price Per Puck
IHL 0198


Manitoba Moose - For The Love Of The Game 1996-2001 5th Season - bronze relief
95-96
GT Lindsay Canada
blank reverse
$40.00 Cdn

MILWAUKEE ADMIRALS pucks

Scan #
Front
Year
Puck Slug Type
Reverse
Condition
Price Per Puck
IHL 0149


Milwaukee Admirals (game)
92-93
CZ3 new Czechoslovakia


official IHL Omnitrade reverse
$15.00 Cdn
IHL 0151


Milwaukee Admirals (gold)
80-82
V4 Viceroy
blank reverse
flaking
$12.00 Cdn
IHL 0152


Milwaukee Admirals (no name)
95-96
SL1 Vegum Slovakia


official IHL Trench reverse
$8.00 Cdn

MUSKEGON MOHAWKS pucks

Scan #
Front
Year
Puck Slug Type
Reverse
Condition
Price Per Puck
IHL 0269


Muskegon Mohawks
76-80
V3 Viceroy


gold front, IHL gold shield reverse
goudges
$8.00 Cdn

PEORIA RIVERMEN pucks

Scan #
Front
Year
Puck Slug Type
Reverse
Condition
Price Per Puck
IHL 0164


Peoria Rivermen (ships wheel logo)(game)
92-93
CZ3 new Czechoslovakia


official IHL Omnitrade reverse
$15.00 Cdn

PHOENIX ROADRUNNERS pucks

Scan #
Front
Year
Puck Slug Type
Reverse
Condition
Price Per Puck
IHL 0168


Phoenix Roadrunners (game)
92-93
CZ3 new Czechoslovakia


official IHL Omnitrade reverse
$15.00 Cdn

PORT HURON FLAGS pucks

Scan #
Front
Year
Puck Slug Type
Reverse
Condition
Price Per Puck
IHL 0174


Port Huron Flags (red)
74-75
B2 Biltrite


orange IHL shield reverse, raised Made In Canada
flaked on back
$30.00 Cdn
IHL 0176


Port Huron Flags (gold)
76-80
V3 Viceroy


gold IHL shield reverse
chipped, rough edge
$10.00 Cdn

SAGINAW GEARS pucks

Scan #
Front
Year
Puck Slug Type
Reverse
Condition
Price Per Puck
IHL 0180


Saginaw Gears - Turner Cup Champs 76-77 (gold)
77-78
V3 Viceroy


McDonalds ad reverse
flaked, 3 small hole marks on back
$15.00 Cdn

SALT LAKE GOLDEN EAGLES pucks

Scan #
Front
Year
Puck Slug Type
Reverse
Condition
Price Per Puck
IHL 0271


Salt Lake Golden Eagles Hockey Club
? wide diagonal ridges
damaged blank reverse
screw hole in middle of back
$3.00 Cdn
1999 IHL Turner Cup Play Offs Souvenir Pucks
$10.00 Cdn each
---
IHL Turner Cup Champions Souvenir Pucks
$10.00 Cdn each
---
IHL Official Game Pucks
$10.00 Cdn each
Last Updated: Nov. 17, 2019
---