COLLECTOR OHA HOCKEY PUCKS
&
OHL HOCKEY PUCKS
Collecting Ice Hockey Pucks?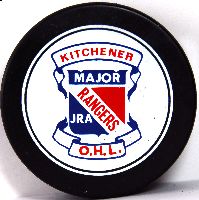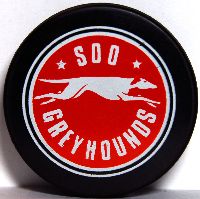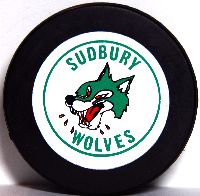 We sell old OHA hockey pucks & OHL hockey pucks,
Ontario Hockey Association pucks & Ontario Hockey League pucks
as well as pucks from the NHL, AHL, ECHL, IHL, QMJHL, WHL, Memorial Cup pucks,
American & Canadian Collegiate hockey pucks.
Most of these pucks are one of a kind - email to reserve.
Postage & Handling is extra. Canadian residents add applicable GST/HST.
Prices are listed in Canadian funds - please inquire as to the current exchange for prices in US funds.
OLD COLLECTOR OHA HOCKEY PUCKS & OHL HOCKEY PUCKS

AURORA TIGERS pucks

Scan #
Front
League
Year
Puck Slug Type
reverse
Condition
Price Per Puck
OHA 0007


Aurora Tigers (half tiger in circle)
Provincial Jr. A
74-82
V3 Viceroy


OHA reverse
minor scratches, peeled back
$4.00 Cdn

ELMIRA SUGAR KINGS pucks

Scan #
Front
League
Year
Puck Slug Type
reverse
Condition
Price Per Puck
OHA 0086


Elmira Sugar Kings - Go Kings Go (white & green)
Midwestern Jr. B
74-82
V3 Viceroy


OHA reverse
peeled back
$3.00 Cdn

ESSEX 73`s pucks

Scan #
Front
League
Year
Puck Slug Type
reverse
Condition
Price Per Puck
OHA 0508


Essex 73`s
Great Lakes Jr. C
74-82
V3 Viceroy


CAHA Approved reverse
flaked, small nail hole side
$4.00 Cdn

GEORGETOWN CHRYSLER RAIDERS pucks

Scan #
Front
League
Year
Puck Slug Type
reverse
Condition
Price Per Puck
OHA 0090


Georgetown Chrysler Raiders - OHA Sr. A
OHA Senior A
80-87
V4 Viceroy


OHA reverse
peeled back
$5.00 Cdn

GRIMSBY PEACH KINGS pucks

Scan #
Front
League
Year
Puck Slug Type
reverse
Condition
Price Per Puck
OHA 0101


Grimsby Jr. B Peach Kings Hockey Club (yellow & black)
Golden Horseshoe Jr. B
74-82
V3 Viceroy


OHA reverse
major peeled back
$3.00 Cdn

GUELPH HOLODY PLATERS pucks

Scan #
Front
League
Year
Puck Slug Type
reverse
Condition
Price Per Puck
OHA 0103


Guelph Holody Platers
Provincial Jr. A
74-82
V3 Viceroy


OHA reverse
bubbled logo, worn back
$3.00 Cdn
OHA 0107


Guelph Holody Platers
misc (Provincial Jr. A?)
79-80
B4 Biltrite
blank reverse
pin hole edge
$4.00 Cdn

GUELPH PLATERS pucks

Scan #
Front
League
Year
Puck Slug Type
reverse
Condition
Price Per Puck
OHA 0113


Guelph Platers
OHL
85-86
GDR East Germany


OHL reverse
scratched
$8.00 Cdn

HAGERSVILLE FLYERS pucks

Scan #
Front
League
Year
Puck Slug Type
reverse
Condition
Price Per Puck
OHA 0511


Hagersville Flyers
Niagara District Jr. C
74-82
V3 Viceroy
blank reverse
flaked, rough surfaces
$5.00 Cdn

KINGSTON CANADIANS pucks

Scan #
Front
League
Year
Puck Slug Type
reverse
Condition
Price Per Puck
OHA 0529


Kingston Canadians Support "Your" Team
OHL
84-85
GT0 General Tire


Police Laws and Youth Join "Our" Team 1984 1985 Kingston Police Force reverse
cracks
$12.00 Cdn
OHA 0531


Kingston Canadians Support "Your" Team
OHL
84-85
GT0 General Tire


Police Laws and Youth Join "Our" Team 1984 1985 Kingston Police Force reverse
scratches
$10.00 Cdn

KINGSTON FRONTENACS pucks

Scan #
Front
League
Year
Puck Slug Type
reverse
Condition
Price Per Puck
OHA 0171


Kingston Frontenacs (souv)
OHL
86-94
CZ3 new Czechoslovakia


OHL reverse
$20.00 Cdn

KITCHENER RANGERS pucks

Scan #
Front
League
Year
Puck Slug Type
reverse
Condition
Price Per Puck
OHA 0533


Kitchener Rangers Major Jr A
OHL
74-80
V3 Viceroy


CMJHL reverse (game)
chipping
$20.00 Cdn

LUCAN-ILDERTON JETS pucks

Scan #
Front
League
Year
Puck Slug Type
reverse
Condition
Price Per Puck
OHA 0518


(Lucan-Ilderton Jets) - L-1 Jets
Continental Sr. A
74-82
V3 Viceroy


CAHA Approved reverse
gouge, worn off back
$3.00 Cdn

MISSISSAUGA GOLDEN ARROWS pucks

Scan #
Front
League
Year
Puck Slug Type
reverse
Condition
Price Per Puck
OHA 0220


Mississauga Golden Arrows
OHA Senior A
74-82
V3 Viceroy


blank reverse
worn, chunk missing from back edge
$3.00 Cdn

NEW HAMBURG HAHNS pucks

Scan #
Front
League
Year
Puck Slug Type
reverse
Condition
Price Per Puck
OHA 0224


New Hamburg Hahns
Midwestern Jr. B or Niagara District Jr. C
80-87
V4 Viceroy


OHA reverse
minor wear
$9.00 Cdn

NORTH BAY CENTENNIALS pucks

Scan #
Front
League
Year
Puck Slug Type
reverse
Condition
Price Per Puck
OHA 0255


North Bay Centennials - Ontario Hockey League (game)
OHL
81-89
V4 Viceroy


OHL reverse
pin hole edge, dent back
$8.00 Cdn
OHA 0257


North Bay Centennials - Ontario Hockey League (game)
OHL
81-89
V4 Viceroy


OHL reverse
worn, scratched, dented, chipped edges
$2.00 Cdn
OHA 0539


North Bay Centennials (game)
OHL
91-95
IG2 InGlasCo


OHL reverse
$15.00 Cdn

NORTH YORK RANGERS pucks

Scan #
Front
League
Year
Puck Slug Type
reverse
Condition
Price Per Puck
OHA 0271


North York Rangers - Prov Jr. A - 82-83
Provincial Jr. A
80-87
V4 Viceroy


OHA reverse
chipped, bubbled logo
$4.00 Cdn

OAK RIDGE DYNES pucks

Scan #
Front
League
Year
Puck Slug Type
reverse
Condition
Price Per Puck
OHA 0273


Oak Ridge Dynes - OHA Jr. B
Central Ontario Jr. B
74-82
V3 Viceroy


OHA reverse
scratched front, peeled back, glue residue
$3.00 Cdn

ORILLIA TERRIERS pucks

Scan #
Front
League
Year
Puck Slug Type
reverse
Condition
Price Per Puck
OHA 0277


Orillia Terriers
OHA Senior A
74-82
V3 Viceroy


OHA reverse
chipped logos
$3.00 Cdn
OHA 0279


Orillia Terriers
OHA Senior A
74-82
V3 Viceroy


OHA reverse
chipped logos, gouged edges, 77 78 ink on back
$3.00 Cdn
OHA 0281


Orillia Terriers
OHA Senior A
80-87
V4 Viceroy


OHA reverse
worn logos
$4.00 Cdn

OSHAWA GENERALS pucks

Scan #
Front
League
Year
Puck Slug Type
reverse
Condition
Price Per Puck
OHA 0288


Oshawa Generals - OHL Major Junior (shield)
OHA Major Jr. A
80-81
V4 Viceroy


OHA reverse
slight wear
$12.00 Cdn
OHA 0290


Oshawa Generals - OHA Major Junior (shield)
OHA Major Jr. A
80-present
V4 Viceroy


OHA reverse
chipped, slug flaws
$9.00 Cdn
OHA 0527


Oshawa Generals - Eric Lindros photo
OHL
90-91
V2 Viceroy
blank reverse
$15.00 Cdn
OHA 0528


Oshawa Generals - Eric Lindros photo
OHL
90-91
V2 Viceroy
blank reverse
dent
$10.00 Cdn

OWEN SOUND GREYS pucks

Scan #
Front
League
Year
Puck Slug Type
reverse
Condition
Price Per Puck
OHA 0327


Owen Sound Greys
Southern Ontario Jr. A
70-78
CZ3 new Czechoslovakia
blank reverse
spotted
$10.00 Cdn
OHA 0328


Owen Sound Greys
Southern Ontario Jr. A
70-78
CZ2 old Czechoslovakia
blank reverse
chipped
$9.00 Cdn

PETERBOROUGH PETES pucks

Scan #
Front
League
Year
Puck Slug Type
reverse
Condition
Price Per Puck
OHA 0343


Peterborough Petes - Major Jr. A OHL
OHL
81-84
V4 Viceroy
blank reverse
minor chipping
$8.00 Cdn
OHA 0344


Peterborough Petes - Major Jr. A OHL (game)
OHL
81-89
V4 Viceroy


OHL reverse
major chipping
$5.00 Cdn
OHA 0354


Peterborough Petes - Major Jr. A OHL
OHL
85-86
GDR East Germany


OHL reverse
chipped, 1/4" cut on edge
$10.00 Cdn

PETROLIA SQUIRES pucks

Scan #
Front
League
Year
Puck Slug Type
reverse
Condition
Price Per Puck
OHA 0522


Petrolia Gibbons Squires
Continental Sr. A
74-82
V3 Viceroy


CAHA Approved reverse
flaked
$4.00 Cdn
OHA 0358


Petrolia Glis Squires
OHA Senior A
80-87
V4 Viceroy


CAHA - CHOK 1070 ad reverse
blurry
$5.00 Cdn
OHA 0360


Petrolia Squires
OHA Senior A
80-87
V4 Viceroy


OHA - CHOK 1070 ad reverse
slug flaw
$6.00 Cdn

PLYMOUTH WHALERS pucks

Scan #
Front
League
Year
Puck Slug Type
reverse
Condition
Price Per Puck
OHA 0538


Plymouth Whalers
OHL
93-present
SL1 Slovakia Vegum
blank reverse
minor chipping
$15.00 Cdn

PORT STANLEY DYNA-MITES pucks

Scan #
Front
League
Year
Puck Slug Type
reverse
Condition
Price Per Puck
OHA 0366


Port Stanley Dyna-Mites
Continental Senior A
74-82
V3 Viceroy


OHA reverse
chipped back with glue residue
$8.00 Cdn

ST. CLAIR SAINTS pucks

Scan #
Front
League
Year
Puck Slug Type
reverse
Condition
Price Per Puck
OHA 0407


St Clair Saints - Windsor
Canadian Collegiate OCAA
75-82
V3 Viceroy


OHA reverse
flaking
$6.00 Cdn
OHA 0409


St Clair Saints - Windsor
Canadian Collegiate OCAA
75-82
V3 Viceroy


OHA reverse
scratched
$3.00 Cdn

STRATFORD SAVEWAY PERTHS pucks

Scan #
Front
League
Year
Puck Slug Type
reverse
Condition
Price Per Puck
OHA 0423


Stratford Saveway Perths
Continental Sr. A
74-82
V3 Viceroy


OHA reverse
peeled back
$4.00 Cdn

SUDBURY WOLVES pucks

Scan #
Front
League
Year
Puck Slug Type
reverse
Condition
Price Per Puck
OHA 0438


Sudbury Wolves (facing left) (game)
OHL
81-89
V4 Viceroy


OHL reverse
$14.00 Cdn
OHA 0442


Sudbury Wolves (facing right)
OHL
85-86
GDR East Germany


OHL reverse
1/4" cut front edge
$14.00 Cdn

WELLAND FARR MERCURY COUGARS pucks

Scan #
Front
League
Year
Puck Slug Type
reverse
Condition
Price Per Puck
OHA 0478


Welland Farr Mercury Cougars
Golden Horseshoe Jr. B
80-87
V4 Viceroy


OHA reverse
flaked back
$8.00 Cdn

WINDSOR ROYALS pucks

Scan #
Front
League
Year
Puck Slug Type
reverse
Condition
Price Per Puck
OHA 0484


Windsor Royals
Great Lakes Jr. C
70-74
V2 Viceroy


OHA reverse
flaked, color transfer
$4.00 Cdn
Last Updated: Jan. 4, 2020
---