OLD COLLECTOR AJHL HOCKEY PUCKS
Old Collector Alberta Minor Hockey League Pucks
Collecting Ice Hockey Pucks?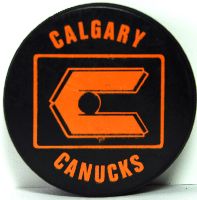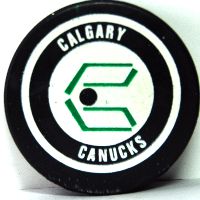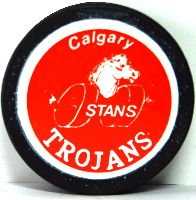 We sell old souvenir AJHL hockey pucks,
Alberta Junior Hockey League pucks as well as
NHL, AHL, ECHL, IHL,OHA, OHL, QMJHL, WHA, WHL & Memorial Cup pucks.
Most of these pucks are one of a kind - email to reserve.

Click on the puck`s blue links to view front & back,
then click your back button to return to the puck list.
Postage & Handling is extra. Canadian residents add applicable GST/HST.
Prices are listed in Canadian funds - please inquire as to the current exchange for prices in US funds.
AJHL - ALBERTA JUNIOR HOCKEY LEAGUE pucks

ALBERTA WINTER GAMES pucks

Scan #
Front
League
Year
Puck Slug Type
Reverse
Condition
Price Per Puck
AB 0197


Alberta Winter Games
Medicine Hat
March 1-5, 1978
75-94
CZ3 new Czechoslovakia
blank reverse
$8.00 Cdn

CALGARY CANUCKS pucks

Scan #
Front
League
Year
Puck Slug Type
Reverse
Condition
Price Per Puck
AB 0061


Calgary Canucks - orange - double sided
AJHL
70-74
V2 Viceroy


Calgary Canucks - orange reverse
scratched, crackled
$10.00 Cdn
AB 0066


Calgary Canucks - B&W, green
AJHL
74-82
V3 Viceroy


red AJHL reverse
small red spots front
$20.00 Cdn
AB 0068


Calgary Canucks - B&W, green
AJHL
74-82
V3 Viceroy


red AJHL reverse
small red spots front, pitted
$12.00 Cdn
AB 0070


Calgary Canucks - B&W, green
AJHL
74-82
V3 Viceroy


white AJHL reverse
flaked, pitted
$10.00 Cdn
AB 0074


Calgary Canucks - B&W, green
AJHL
74-82
V3 Viceroy


red AJHL reverse
flaked, puck flaws
$7.00 Cdn
AB 0076


Calgary Canucks - B&W, green
AJHL
74-82
V3 Viceroy
blank reverse
bubbled screening, red blotch on edge
$5.00 Cdn
AB 0077


Calgary Canucks - B&W, green
AJHL
74-82
V3 Viceroy
blank reverse
bubbled screening, white blotch on edge
$5.00 Cdn
AB 0078


Calgary Canucks - B&W, green
AJHL
74-82
V3 Viceroy
blank reverse
bubbled screening, white & green blotch on edge
$5.00 Cdn
AB 0079


Calgary Canucks - B&W, green
AJHL
74-82
V3 Viceroy
blank reverse
bubbled screening, white & green blotch on edge
$5.00 Cdn
AB 0080


Calgary Canucks - B&W, green
AJHL
74-82
V3 Viceroy
blank reverse
bubbled screening, white & green blotch on edge
$5.00 Cdn
AB 0081


Calgary Canucks - B&W, green
AJHL
74-82
V3 Viceroy
blank reverse
bubbled screening, white & green blotch on edge, pitted
$4.00 Cdn
AB 0082


Calgary Canucks - B&W, green
AJHL
74-82
V3 Viceroy
blank reverse
bubbled screening, white blotch on edge, pitted
$4.00 Cdn
AB 0083


Calgary Canucks - B&W, green
AJHL
74-82
V3 Viceroy
blank reverse
bubbled screening, white & green blotch on edge, bubbled screening
$4.00 Cdn
AB 0084


Calgary Canucks - B&W, green
AJHL
74-82
V3 Viceroy


bluish circle reverse
bubbled screening, pitted, dirty edge & front
$2.00 Cdn
AB 0204


Calgary Canucks - blue & green
AJHL
85-87
GDR East Germany


official AJHL reverse
pitted, flaked
$5.00 Cdn

STANS CALGARY TROJANS pucks

Scan #
Front
League
Year
Puck Slug Type
Reverse
Condition
Price Per Puck
AB 0093


Stans Calgary Trojans - orange
ASHL
70-78
CZ2 Czechoslovakia


orange Cooper reverse
flaked, worn back
$5.00 Cdn
AB 0095


Stans Calgary Trojans - orange
ASHL
70-78
CZ2 Czechoslovakia


orange Cooper reverse
flaked, worn back, rough edge
$4.00 Cdn
AB 0097


Stans Calgary Trojans - red & white
ASHL
74-82
V3 Viceroy
blank reverse
bubbled screening, flaked
$6.00 Cdn
AB 0098


Stans Calgary Trojans - orange & white
ASHL
74-82
V3 Viceroy
blank reverse
pitted, white transfer on edge
$6.00 Cdn
AB 0099


Stans Calgary Trojans - orange & white
ASHL
74-82
V3 Viceroy
blank reverse
pitted, white transfer on edge
$5.00 Cdn
AB 0100


Stans Calgary Trojans - orange & white
ASHL
74-82
V3 Viceroy
blank reverse
flaked, white transfer on edge
$5.00 Cdn
AB 0102


Stans Calgary Trojans - orange & white
ASHL
74-82
V3 Viceroy


white blotch blank reverse
pitted, white transfer on front & edge
$4.00 Cdn
AB 0104


Stans Calgary Trojans - orange & white
ASHL
74-82
V3 Viceroy
blank reverse
flaked, bubbled, bad screening
$3.00 Cdn

CAMROSE VIKINGS pucks

Scan #
Front
League
Year
Puck Slug Type
Reverse
Condition
Price Per Puck
AB 0107


Camrose Vikings - white
75-94
CZ3 new Czechoslovakia


orange Cooper reverse
flaked back
$7.00 Cdn

DRUMHELLER JR FALCONS pucks

Scan #
Front
League
Year
Puck Slug Type
Reverse
Condition
Price Per Puck
AB 0113


Drumheller Jr A Falcons - yellow
AJHL
72-80
B2 Biltrite


red & white AJHL reverse, raised Made in Canada
$20.00 Cdn

HIGH RIVER FLYERS pucks

Scan #
Front
League
Year
Puck Slug Type
Reverse
Condition
Price Per Puck
AB 0142


High River Flyers
72-80
B2 Biltrite
blank reverse, raised Made in Canada
worn front, 3 pin holes on back
$5.00 Cdn

MEDICINE HAT CUBS pucks

Scan #
Front
League
Year
Puck Slug Type
Reverse
Condition
Price Per Puck
AB 0148


Medicine Hat Cubs - metallic gold
72-80
B2 Biltrite
blank reverse, raised Made in Canada
scratched
$4.00 Cdn

SHERWOOD PARK CRUSADERS pucks

Scan #
Front
League
Year
Puck Slug Type
Reverse
Condition
Price Per Puck
AB 0169


Sherwood Park Crusaders
AJHL
70-78
CZ2 Czechoslovakia


orange Cooper reverse
flaked
$2.00 Cdn

THE PASS RED DEVILS pucks

Scan #
Front
League
Year
Puck Slug Type
Reverse
Condition
Price Per Puck
AB 0185


The Pass Red Devils
AJHL
74-82
V3 Viceroy


white AJHL reverse
scratched, flaked
$6.00 Cdn

WAINWRIGHT BISONS pucks

Scan #
Front
League
Year
Puck Slug Type
Reverse
Condition
Price Per Puck
AB 0193


Wainwright Bisons
NEAJHL
75-94
CZ3 new Czechoslovakia
blank reverse
cuts into puck
$2.00 Cdn
AB 0194


Wainwright Bisons
NEAJHL
75-94
CZ3 new Czechoslovakia
blank reverse
cuts into puck
$2.00 Cdn

WESTERN CANADA SHIELD pucks

Scan #
Front
League
Year
Puck Slug Type
Reverse
Condition
Price Per Puck
AB 0198


Western Canada Shield 1979 - Calgary, Alberta
75-94
CZ3 new Czechoslovakia


official Jelinek`s X-100 reverse
$10.00 Cdn
AB 0200


Western Canada Shield 1979 - Calgary, Alberta
75-94
CZ3 new Czechoslovakia


official Jelinek`s X-100 reverse
pitted
$9.00 Cdn
Last Updated: Oct. 18, 2018
---