OLD COLLECTOR NHL HOCKEY PUCKS
NATIONAL HOCKEY LEAGUE PUCKS
Collecting Ice Hockey Pucks ?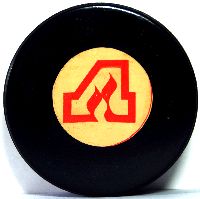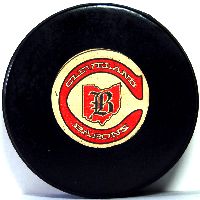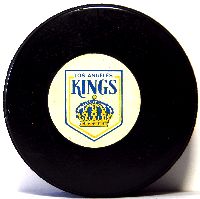 We sell old collector NHL souvenir pucks,
National Hockey League pucks as well as
AHL, ECHL, IHL, QMJHL , WHL & Memorial Cup pucks.
Most of these pucks are one of a kind - email to reserve.

Click on the puck`s blue links to view front & back,
then click your back button to return to the puck list.
Postage & Handling is extra. Canadian residents add applicable GST/HST.
Prices are listed in Canadian funds - please inquire as to the current exchange for prices in US funds.
MISCELLANEOUS NHL pucks

Scan #
Type
Front
Year
Puck Slug Type
reverse
Condition
Price Per Puck
NHL 0440
GAME


Trench Ziegler official puck
85-90
GT1 General Tire
blank reverse
scratched back
$20.00 Cdn
NHL 0438
GAME


Trench Ziegler official puck
85-90
GT1 General Tire
blank reverse
crackling, chipped
$12.00 Cdn
NHL 0439
GAME


Trench Ziegler official puck
85-90
GT1 General Tire
blank reverse
scratches, cut back & edge
$10.00 Cdn
NHL 0016
GAME


75th anniversary NHL
91-92
IG1 InGlasCo


John Ziegler reverse
$20.00 Cdn
NHL 0018
GAME


75th anniversary NHL
91-92
IG1 InGlasCo


John Ziegler reverse
$20.00 Cdn

assorted STANLEY CUP pucks

Scan #
Type
Front
Year
Puck Slug Type
reverse
Condition
Price Per Puck
NHL 0446
souv


I Want Stanley
95-96 Playoffs
Detroit Red Wings
94-95
SL1 Vegum Slovakia


Detroit Red Wings Logo reverse
$15.00 Cdn
NHL 0450
souv


1996 Stanley Cup Champions
95-96
SL1 Vegum Slovakia


Colorado Avalanche logo reverse
$15.00 Cdn

ATLANTA FLAMES pucks

Scan #
Type
Front
Year
Puck Slug Type
reverse
Condition
Price Per Puck
NHL 0026
GAME


Atlanta Flames
74-82
V3 Viceroy


rubber shield reverse
$100.00 Cdn
NHL 0028
GAME


Atlanta Flames
74-82
V3 Viceroy


rubber shield reverse
$80.00 Cdn

BUFFALO SABRES pucks

Scan #
Type
Front
Year
Puck Slug Type
reverse
Condition
Price Per Puck
NHL 0183
souv


Buffalo Sabres
75-78
V3 Viceroy
blank reverse
$13.00 Cdn
NHL 0191
souv


Buffalo Sabres ©NHL Services above logo
80-87
V4 Viceroy
blank reverse
smudged & light scratches
$5.00 Cdn
NHL 0192
souv


Buffalo Sabres
84-88
GT0 General Tire


official reverse
slightly flaked
$7.00 Cdn
NHL 0194
GAME


Buffalo Sabres - small logo
85-92
GT0 General Tire


Trench Ziegler reverse
light front smudge
$14.00 Cdn
NHL 0372
souv


Buffalo Sabres (crossed swords)
94-pres
SL1 Vegum Slovakia


InGlasCo reverse
$10.00 Cdn

CALGARY FLAMES pucks

Scan #
Type
Front
Year
Puck Slug Type
reverse
Condition
Price Per Puck
NHL 0196
GAME


Calgary Flames
73-83
V3 Viceroy


rubber shield reverse
$40.00 Cdn
NHL 0198
GAME


Calgary Flames - large logo
85-92
GT3 General Tire Gencorp


Trench reverse
minor chipping
$25.00 Cdn

CLEVELAND BARONS pucks

Scan #
Type
Front
Year
Puck Slug Type
reverse
Condition
Price Per Puck
NHL 0055
GAME


Cleveland Barons
74-82
V3 Viceroy


rubber shield reverse
$125.00 Cdn
NHL 0057
GAME


Cleveland Barons
74-82
V3 Viceroy


rubber shield reverse
dented logo
$80.00 Cdn

COLORADO ROCKIES pucks

Scan #
Type
Front
Year
Puck Slug Type
reverse
Condition
Price Per Puck
NHL 0061
souv


Colorado Rockies
74-82
V3 Viceroy
blank reverse
nail hole in side
$20.00 Cdn
NHL 0378
souv


Colorado Rockies
75-80
CZ3 Czechoslovakia
blank reverse
light scratches
$35.00 Cdn

FLORIDA PANTHERS pucks

Scan #
Type
Front
Year
Puck Slug Type
reverse
Condition
Price Per Puck
NHL 0068
souv


Florida Panthers
93-94
CZ3 new Czechoslovakia


Trench new official reverse
$10.00 Cdn
NHL 0214
souv


Florida Panthers
94-95
SL1 Slovakia


Trench new official reverse
$9.00 Cdn

HARTFORD WHALERS pucks

Scan #
Type
Front
Year
Puck Slug Type
reverse
Condition
Price Per Puck
NHL 0216
GAME


Hartford Whalers
79-80
B3 Biltrite


InGlasCo approved reverse
smudged
$30.00 Cdn

LOS ANGELES KINGS pucks

Scan #
Type
Front
Year
Puck Slug Type
reverse
Condition
Price Per Puck
NHL 0392
souv


Los Angeles Kings
The Silver Season 25th Anniversary
94-pres
SL1 Vegum Slovakia


final updated Trench reverse
light scratches
$10.00 Cdn

MINNESOTA NORTH STARS pucks

Scan #
Type
Front
Year
Puck Slug Type
reverse
Condition
Price Per Puck
NHL 0394
GAME


Minnesota North Stars (rubberized logo)
68-69
Art Ross Converse, Tyre


Official Art Ross Tyre Converse reverse
1/4" cut front edge, worn back
$125.00 Cdn
NHL 0404
souv


Minnesota North Stars (green circle)
85-87
GT0 General Tire
blank reverse
scratches
$10.00 Cdn

MINNESOTA STARS pucks

Scan #
Type
Front
Year
Puck Slug Type
reverse
Condition
Price Per Puck
NHL 0090
GAME


(Minnesota) Stars - small logo
85-90
GT1 General Tire


Trench reverse
$38.00 Cdn
NHL 0242
souv


(Minnesota) Stars
85-92
CZ3 New Czechoslovakia


Ziegler reverse
$20.00 Cdn
NHL 0244
souv


(Minnesota) Stars
85-92
CZ3 New Czechoslovakia


Ziegler reverse
$20.00 Cdn

NEW JERSEY DEVILS pucks

Scan #
Type
Front
Year
Puck Slug Type
reverse
Condition
Price Per Puck
NHL 0255
GAME


New Jersey Devils - green
85-92
IG1 InGlasCo


non approved reverse
scuffed logo
$15.00 Cdn
NHL 0257
souv


New Jersey Devils - black
85-92
CZ3 new Czechoslovakia


Ziegler Trench reverse
$10.00 Cdn

NEW YORK RANGERS pucks

Scan #
Type
Front
Year
Puck Slug Type
reverse
Condition
Price Per Puck
NHL 0411
souv


New York Rangers (black ring)
85-87
GT0 General Tire
blank reverse
light scratches, chipping
$8.00 Cdn
NHL 0412
souv


New York Rangers
94-95
SL1 Vegum Slovakia


Trench new official reverse
$10.00 Cdn

OAKLAND SEALS pucks

Scan #
Type
Front
Year
Puck Slug Type
reverse
Condition
Price Per Puck
NHL 0458
GAME


Oakland Seals rubber crest
69-77
Art Ross


Converse screen logo reverse
flaked
$350.00 Cdn

OTTAWA SENATORS pucks

Scan #
Type
Front
Year
Puck Slug Type
reverse
Condition
Price Per Puck
NHL 0285
souv


Ottawa Senators
85-92
CZ3 new Czechoslovakia


Ziegler reverse
$10.00 Cdn
NHL 0115
souv


Ottawa Senators - gladiator
93-94
CZ3 new Czechoslovakia


InGlasCo large orange reverse
$8.00 Cdn

PHILADELPHIA FLYERS pucks

Scan #
Type
Front
Year
Puck Slug Type
reverse
Condition
Price Per Puck
NHL 0292
GAME


Philadelphia Flyers
80-83
V4 Viceroy


InGlasCo official reverse
very minor pits, 1/4" cut on front
$35.00 Cdn
NHL 0299
GAME


Philadelphia Flyers - small logo
85-92
GTO General Tire


Trench with ® Ziegler reverse
1/4" nicked back edge
$15.00 Cdn
NHL 0303
GAME


Philadelphia Flyers - large logo with ®
85-92
GT1 General Tire


Trench with ® Ziegler reverse
$35.00 Cdn
NHL 0305
GAME


Philadelphia Flyers - large logo with ®
85-92
GT1 General Tire


Trench with ® Ziegler reverse
$35.00 Cdn

SAN JOSE SHARKS pucks

Scan #
Type
Front
Year
Puck Slug Type
reverse
Condition
Price Per Puck
NHL 0317
GAME


San Jose Sharks
85-92
GT1 General Tire


Trench with J. Ziegler reverse
Front logo off center, with back logo slightly peeled
$13.00 Cdn

TORONTO MAPLE LEAFS pucks

Scan #
Type
Front
Year
Puck Slug Type
reverse
Condition
Price Per Puck
NHL 0425
souv


Toronto Maple Leafs
72-74
B2 Biltrite
raised Made in Canada, blank reverse
$25.00 Cdn
NHL 0426
GAME


Toronto Maple Leafs
80-85
V4 Viceroy


InGlasCo Approved reverse
minor pitting
$45.00 Cdn
NHL 0332
GAME


Toronto Maple Leafs - small logo
92-93
GT3 General Tire


Trench Ziegler reverse
indents
$40.00 Cdn

WASHINGTON CAPITALS pucks

Scan #
Type
Front
Year
Puck Slug Type
reverse
Condition
Price Per Puck
NHL 0349
souv


Washington Capitals
75-78
V3 Viceroy
blank reverse
worn
$4.00 Cdn
NHL 0354
souv


Washington Capitals
80-87
V4 Viceroy
blank reverse
pitted
$5.00 Cdn
NHL 0355
souv


Washington Capitals
84-88
GT0 General Tire


official reverse
slight scratches
$10.00 Cdn
NHL 0357
souv


Washington Capitals
84-88
GT0 General Tire


official reverse
chipped front logo
$6.00 Cdn
NHL 0359
souv


Washington Capitals
94-95
SL1 Slovakia


Trench new official reverse
$10.00 Cdn
Last Updated: Sept. 21, 2019
---