COLLECTOR WHA HOCKEY PUCKS
WORLD HOCKEY ASSOCIATION PUCKS
Collecting Ice Hockey Pucks?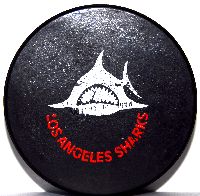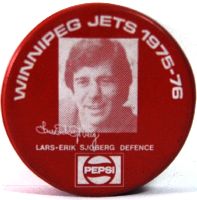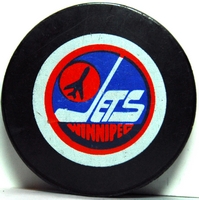 We sell old souvenir WHA hockey pucks,
World Hockey Association pucks as well as
NHL, AHL, ECHL, IHL, QMJHL, SJHL, WHL & Memorial Cup pucks.
Most of these pucks are one of a kind - email to reserve.
Postage & Handling is extra. Canadian residents add applicable GST/HST.
Prices are listed in Canadian funds - please inquire as to the current exchange for prices in US funds.
OLD COLLECTOR WHA HOCKEY PUCKS

Scan #
Front
Year
Puck Slug Type
Reverse
Condition
Price Per Puck
WHA 0076


Calgary Cowboys
70-78
CZ 2 Czechoslovakia
blank reverse
$45.00 Cdn
WHA 0077


Calgary Cowboys - raised Made in Canada
75-78
B2 Biltrite


large crest, small WHA reverse
chipped, slashed edge, scuffed back
$20.00 Cdn
WHA 0099


Chicago Cougars
72-75
CZ 2 Czechoslovakia
blank reverse
soft scratches
$45.00 Cdn
WHA 0083


Cincinnati Stingers
72-75
V3 Viceroy
blank reverse
sticker front
$50.00 Cdn
WHA 0084


Cleveland Crusaders
72-75
CCM 3
blank reverse
minor flaking
$80.00 Cdn
WHA 0085


Houston Aeros rubber crest
75-76
Art Ross


(Converse) orange WHA reverse
flaking
$50.00 Cdn
WHA 0089


Indianapolis Racers
72-78
B2 Biltrite
blank reverse - raised Made in Canada
sticker front
$75.00 Cdn
WHA 0090


Minnesota Fighting Saints - raised Made in Canada
72-75
B2 Biltrite


large crest, large WHA reverse
flaking
$75.00 Cdn
WHA 0096


Phoenix Roadrunners
72-78
B2 Biltrite
blank reverse - raised Made in Canada
condition
$75.00 Cdn
WHA 0097


San Diego Mariners - skating mariner
75-76
CZ 2 Czechoslovakia


gold WHA reverse - made in Czechoslovakia impression
$60.00 Cdn
Last Updated: Oct. 5, 2019
---