AHL HOCKEY PUCKS
AMERICAN HOCKEY LEAGUE PUCKS
Collecting Ice Hockey Pucks ?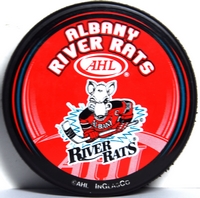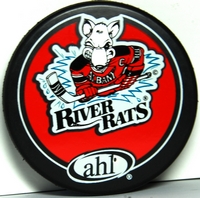 We sell AHL souvenir team logo pucks,
AHL Calder Cup championship pucks, play off pucks,
AHL All Star Game pucks, anniversary pucks, etc..
as well as pucks from the NHL, AHL, AJHL, ECHL, MJHL, OHA, OHL, QMJHL,
SJHL, WHA & WHL and other junior hockey league pucks.
Postage & Handling is extra. Canadian residents add applicable GST/HST.
Prices are listed in Canadian funds - please inquire as to the current exchange for prices in US funds.
AHL PUCKS
AMERICAN HOCKEY LEAGUE PUCKS

ABBOTSFORD HEAT HOCKEY PUCKS
DEFUNCT TEAM




Abbotsford Heat

AHL Basic Logo puck
black background
DEFUNCT TEAM

Sher-Wood back

$10.00 Cdn

ADIRONDACK PHANTOMS HOCKEY PUCKS
DEFUNCT TEAM




Adirondack Phantoms

AHL Basic Logo puck
DEFUNCT TEAM


Sher-Wood back

$10.00 Cdn

ALBANY DEVILS HOCKEY PUCKS
DEFUNCT TEAM




Albany Devils

AHL Retro Logo puck
DEFUNCT TEAM

Sher-Wood back

$10.00 Cdn

BINGHAMTON SENATORS HOCKEY PUCKS
DEFUNCT TEAM




Binghamton Senators

AHL Basic Logo puck
DEFUNCT TEAM
InGlasCo

(AHL) front - white back

$10.00 Cdn



Binghamton Senators

AHL Basic Logo puck
DEFUNCT TEAM
InGlasCo

(AHL InGlasCo) front -
InGlasCo back

$10.00 Cdn



Binghamton Senators

2004 AHL logo puck
DEFUNCT TEAM
InGlasCo

arched name over logo front
InGlasCo back

$10.00 Cdn

BRIDGEPORT SOUND TIGERS HOCKEY PUCKS




Bridgeport Sound Tigers

AHL Basic Logo puck
blue logo
InGlasCo

(ahl) front - white back

$10.00 Cdn



Bridgeport Sound Tigers

2004 AHL logo puck
blue logo
InGlasCo

arched name over logo front
InGlasCo back

$10.00 Cdn



Bridgeport Sound Tigers

AHL Retro Logo puck
orange logo

Sher-Wood back

$7.00 Cdn

CHARLOTTE CHECKERS HOCKEY PUCKS




Charlotte Checkers

AHL Retro Logo puck
Sher-Wood

$7.00 Cdn

CHICAGO WOLVES HOCKEY PUCKS




Chicago Wolves

2004 AHL logo puck
InGlasCo

arched name over logo front
InGlasCo back

$10.00 Cdn



Chicago Wolves

AHL Basic Logo puck
InGlasCo

(AHL InGlasCo) front -
InGlasCo back

$7.00 Cdn

CONNECTICUT WHALE HOCKEY PUCKS
DEFUNCT TEAM




Connecticut Whale

AHL Retro Logo puck
DEFUNCT TEAM
Sher-Wood

$10.00 Cdn

GRAND RAPIDS GRIFFINS HOCKEY PUCKS




Grand Rapids Griffins

AHL Basic Logo puck
OLD LOGO
Sher-Wood

(AHL InGlasCo) blue outline front
Sher-Wood Hockey Inc back

$10.00 Cdn



Grand Rapids Griffins

2004 AHL logo puck
OLD LOGO
InGlasCo

arched name over logo front
InGlasCo back

$10.00 Cdn

HAMILTON BULLDOGS HOCKEY PUCKS
DEFUNCT TEAM




Hamilton Bulldogs

AHL Basic Logo puck
DEFUNCT TEAM
InGlasCo

(AHL) front, blue background
white back

$10.00 Cdn



Hamilton Bulldogs

AHL Basic Logo puck
DEFUNCT TEAM
InGlasCo

(ahl) front, gold background
white back

$10.00 Cdn



Hamilton Bulldogs

2004 AHL logo puck
DEFUNCT TEAM
InGlasCo

arched name over logo front
InGlasCo back

$10.00 Cdn

HARTFORD WOLFPACK HOCKEY PUCKS




Hartford Wolf Pack

AHL Basic Logo puck
InGlasCo

(ahl) front - color back

$8.00 Cdn



Hartford Wolf Pack

2004 AHL logo puck
InGlasCo

arched name over logo front
InGlasCo back

$10.00 Cdn

HERSHEY BEARS HOCKEY PUCKS




Hershey Bears

AHL Basic Logo puck
OLD LOGO
swiping bear
InGlasCo

(AHL) front - white back

$8.00 Cdn



Hershey Bears

2004 AHL logo puck
OLD LOGO
InGlasCo

arched name over logo front
InGlasCo back

$10.00 Cdn

HOUSTON AEROS HOCKEY PUCKS
DEFUNCT TEAM




Houston Aeros

AHL Basic Logo puck
DEFUNCT TEAM
InGlasCo

black background
Sher-Wood back

$10.00 Cdn

LAKE ERIE MONSTERS HOCKEY PUCKS
DEFUNCT TEAM




Lake Erie Monsters

AHL Basic Logo puck
black background
DEFUNCT TEAM

Sher-Wood back

$10.00 Cdn

LOWELL LOCK MONSTERS HOCKEY PUCKS
DEFUNCT TEAM




Lowell Lock Monsters

AHL Basic Logo puck
red
DEFUNCT TEAM
InGlasCo

(AHL InGlasCo) front -
InGlasCo back

$10.00 Cdn



Lowell Lock Monsters

2004 AHL logo puck
DEFUNCT TEAM
InGlasCo

arched name over logo front
InGlasCo back

$10.00 Cdn

MANCHESTER MONARCHS HOCKEY PUCKS
DEFUNCT TEAM




Manchester Monarchs

AHL Basic Logo puck
MOVED TO ECHL
InGlasCo

(ahl) front - white back

$10.00 Cdn



Manchester Monarchs

2004 AHL logo puck
MOVED TO ECHL
InGlasCo

arched name over logo front
InGlasCo back

$10.00 Cdn



Manchester Monarchs

AHL Official Game puck
MOVED TO ECHL

InGlasCo

$15.00 Cdn

MANITOBA MOOSE HOCKEY PUCKS




Manitoba Moose

2004 AHL logo puck
brown moose
InGlasCo

arched name over logo front
InGlasCo back

$10.00 Cdn

MILWAUKEE ADMIRALS HOCKEY PUCKS




Milwaukee Admirals

2004 AHL logo puck
OLD LOGO
InGlasCo

arched name over logo front
InGlasCo back

$10.00 Cdn



Milwaukee Admirals

AHL Retro Logo puck
OLD LOGO
Sher-Wood

$10.00 Cdn

NORFOLK ADMIRALS HOCKEY PUCKS
DEFUNCT TEAM




Norfolk Admirals

AHL Basic Logo puck
MOVED TO ECHL
blue circle, yellow stars
InGlasCo

(ahl) front - color back

$10.00 Cdn



Norfolk Admirals

AHL Basic Logo puck
MOVED TO ECHL
blue circle, yellow stars
InGlasCo

(ahl) front - white back

$10.00 Cdn



Norfolk Admirals

AHL Basic Logo puck
MOVED TO ECHL
ship
InGlasCo

(AHL InGlasCo) front -
InGlasCo back

$10.00 Cdn



Norfolk Admirals

2004 AHL logo puck
MOVED TO ECHL
InGlasCo

arched name over logo front
InGlasCo back

$10.00 Cdn



Norfolk Admirals

AHL Retro Logo puck
MOVED TO ECHL
Sher-Wood

$10.00 Cdn

OKLAHOMA CITY BARONS HOCKEY PUCKS
DEFUNCT TEAM




Oklahoma City Barons

AHL Retro Logo puck
DEFUNCT TEAM
Sher-Wood

$10.00 Cdn

PEORIA RIVERMEN HOCKEY PUCKS
DEFUNCT TEAM




Peoria Rivermen

AHL Basic Logo puck
MOVED TO SPHL
yellow, no stick
InGlasCo

(AHL InGlasCo) front -
InGlasCo back

$10.00 Cdn



Peoria Rivermen

AHL Basic Logo puck
MOVED TO SPHL
yellow, no stick
Sher-Wood

(AHL InGlasCo) front -
Sher-Wood Hockey Inc back

$10.00 Cdn



Peoria Rivermen

AHL Basic Logo puck
MOVED TO SPHL
yellow, no stick
Sher-Wood

black background

Sher-Wood back

$10.00 Cdn

PHILADELPHIA PHANTOMS HOCKEY PUCKS
DEFUNCT TEAM




Philadelphia Phantoms

AHL Basic Logo puck
NAME CHANGED
Sher-Wood

(AHL) front
Sher-Wood back

$10.00 Cdn

PORTLAND PIRATES HOCKEY PUCKS
DEFUNCT TEAM




Portland Pirates

AHL Basic Logo puck
InGlasCo

(ahl) front - white back

$10.00 Cdn



Portland Pirates

AHL Basic Logo puck
InGlasCo

(AHL) front - white back

$10.00 Cdn



Portland Pirates

2004 AHL logo puck
InGlasCo

arched name over logo front
InGlasCo back

$10.00 Cdn

PROVIDENCE BRUINS HOCKEY PUCKS




Providence Bruins

AHL Basic Logo puck
InGlasCo

(ahl) front - color back

$8.00 Cdn



Providence Bruins

AHL Basic Logo puck
InGlasCo

(ahl) front - white back

$8.00 Cdn



Providence Bruins

2004 AHL logo puck
InGlasCo

arched name over logo front
InGlasCo back

$10.00 Cdn

ROCHESTER AMERICANS HOCKEY PUCKS




Rochester Americans

AHL Basic Logo puck
InGlasCo

(ahl) front - color back

$8.00 Cdn



Rochester Americans

AHL Basic Logo puck
InGlasCo

(AHL) front - white back

$8.00 Cdn



Rochester Americans

AHL Basic Logo puck
InGlasCo

(AHL InGlasCo) full circle front
InGlasCo back

$7.00 Cdn



Rochester Americans

AHL Basic Logo puck
Sher-Wood

(AHL) full circle front -
Sher-Wood Hockey Inc back

$7.00 Cdn



Rochester Americans

2004 AHL logo puck
InGlasCo

arched name over logo front
InGlasCo back

$10.00 Cdn



Rochester Americans

AHL Basic Logo puck
black background

Sher-Wood back

$7.00 Cdn

ROCKFORD ICE HOGS HOCKEY PUCKS




Rockford Ice Hogs

AHL logo puck

black background
Sher-Wood back

$7.00 Cdn

SAN ANTONIO RAMPAGE HOCKEY PUCKS




San Antonio Rampage

2004 AHL logo puck
InGlasCo

arched name over logo front
InGlasCo back

$10.00 Cdn



San Antonio Rampage

AHL Retro Logo puck
Sher-Wood

$7.00 Cdn

SPRINGFIELD FALCONS HOCKEY PUCKS
DEFUNCT TEAM




Springfield Falcons

AHL Basic Logo puck
DEFUNCT TEAM
bird head with puck
InGlasCo

(ahl) front - color back

$10.00 Cdn



Springfield Falcons

AHL Basic Logo puck
DEFUNCT TEAM
bird head with puck
InGlasCo

(ahl) front - white back

$10.00 Cdn



Springfield Falcons

AHL Basic Logo puck
DEFUNCT TEAM
bird with stick
InGlasCo

(AHL) front - white back

$10.00 Cdn



Springfield Falcons

2004 AHL logo puck
DEFUNCT TEAM
InGlasCo

arched name over logo front
InGlasCo back

$10.00 Cdn



Springfield Falcons

AHL logo puck
DEFUNCT TEAM
InGlasCo

red name, nave logo
Sher-Wood back

$10.00 Cdn

ST JOHN`S ICE CAPS HOCKEY PUCKS
DEFUNCT TEAM




St John`s Ice Caps

AHL logo puck
DEFUNCT TEAM

black background
Sher-Wood back

$10.00 Cdn

SYRACUSE CRUNCH HOCKEY PUCKS




Syracuse Crunch

AHL Basic Logo puck
OLD LOGO
InGlasCo

(ahl) front - white back

$10.00 Cdn



Syracuse Crunch

AHL Basic Logo puck
OLD LOGO
InGlasCo

(AHL) front - white back

$10.00 Cdn



Syracuse Crunch

2004 AHL logo puck
OLD LOGO
InGlasCo

arched name over logo front
InGlasCo back

$10.00 Cdn

TEXAS STARS HOCKEY PUCKS




Texas Stars

AHL logo puck
OLD LOGO

gold and green, black background
Sher-Wood back

$10.00 Cdn

TORONTO MARLIES HOCKEY PUCKS




Toronto Marlies

2004 AHL logo puck
InGlasCo

arched name over logo front
InGlasCo back

$10.00 Cdn



Toronto Marlies

AHL logo puck
OLD LOGO

black background
Sher-Wood back

$10.00 Cdn

WILKES-BARRE / SCRANTON PENGUINS HOCKEY PUCKS




Wilkes-Barre Scranton Penguins

AHL Basic Logo puck
OLD LOGO

InGlasCo

(ahl) front - color back

$10.00 Cdn



Wilkes-Barre Scranton Penguins

AHL Basic Logo puck
OLD LOGO

InGlasCo

(AHL InGlasCo) front -
InGlasCo back

$10.00 Cdn



Wilkes-Barre Scranton Penguins

2004 AHL Logo puck
OLD LOGO

InGlasCo

arched name over logo front
InGlasCo back

$10.00 Cdn

WORCESTER ICE CATS HOCKEY PUCKS
DEFUNCT TEAM




Worcester Ice Cats

AHL Basic Logo puck
DEFUNCT TEAM
side face
InGlasCo

(ahl) front - color back

$10.00 Cdn



Worcester Ice Cats

AHL Basic Logo puck
DEFUNCT TEAM
side face
InGlasCo

(ahl) front - white back

$10.00 Cdn



Worcester Ice Cats

AHL Basic Logo puck
DEFUNCT TEAM
front face
InGlasCo

(AHL InGlasCo) front
InGlasCo back

$10.00 Cdn

WORCESTER SHARKS HOCKEY PUCKS
DEFUNCT TEAM




Worcester Sharks

AHL Retro Logo puck
DEFUNCT TEAM
Sher-Wood

$10.00 Cdn

AHL ALL STAR GAME CLASSIC HOCKEY PUCKS

2003 AHL ALL STAR GAME CLASSIC HOCKEY PUCKS

SOUVENIR PUCKS

OFFICIAL GAME PUCKS




2003 AHL All Star Classic

AHL souvenir puck
Portland, Maine
InGlasCo

$12.00 Cdn



2003 AHL All Star Classic

AHL Official Game Puck
Portland, Maine
InGlasCo

$15.00 Cdn

2005 AHL ALL STAR GAME CLASSIC HOCKEY PUCKS

SOUVENIR PUCKS

OFFICIAL GAME PUCKS




2005 AHL All Star Classic

AHL souvenir puck
Manchester, NH
InGlasCo

$10.00 Cdn



2005 AHL All Star Classic

AHL Official Game Puck
Manchester, NH
InGlasCo

$15.00 Cdn

AHL CALDER CUP HOCKEY PUCKS

1999 AHL CALDER CUP HOCKEY PUCKS




Hartford Wolfpack
vs.
Springfield Falcons

1999 AHL Calder Cup Play Offs puck

InGlasCo

$10.00 Cdn



Lowell Lock Monsters
vs.
Saint John Flames

1999 AHL Calder Cup Play Offs puck

InGlasCo

$10.00 Cdn



Philadelphia Phantoms
vs.
Cincinnati Mighty Ducks

1999 AHL Calder Cup Play Offs puck

InGlasCo

$10.00 Cdn



Providence Bruins
vs.
Worcester Ice Cats

1999 AHL Calder Cup Play Offs puck

InGlasCo

$10.00 Cdn

2000 AHL CALDER CUP HOCKEY PUCKS

2001 AHL CALDER CUP HOCKEY PUCKS




2001 Calder Cup

AHL souvenir puck
InGlasCo

$10.00 Cdn

2004 AHL CALDER CUP HOCKEY PUCKS




2004 Calder Cup

AHL souvenir puck
InGlasCo

$10.00 Cdn



Milwaukee Admirals

2004 AHL Calder Cup Champion puck
InGlasCo

$10.00 Cdn

2005 AHL CALDER CUP HOCKEY PUCKS

SOUVENIR PUCKS

OFFICIAL GAME PUCKS




2005 Calder Cup

AHL souvenir puck
"16 Teams, 4 Rounds, 1 Champion"
InGlasCo

$8.00 Cdn



2005 Calder Cup

AHL Champions puck
"Philadelphia Phantoms
InGlasCo back

$10.00 Cdn



2005 AHL Calder Cup Playoffs

AHL Official Game Puck
InGlasCo

$12.00 Cdn
Last Updated: Sept. 15, 2019
---