COLLECTOR QMJHL HOCKEY PUCKS
&
OLD QUEBEC MINOR & JUNIOR LEAGUE PUCKS
Collecting Ice Hockey Pucks ?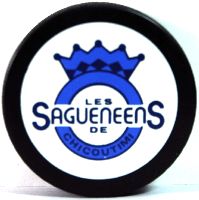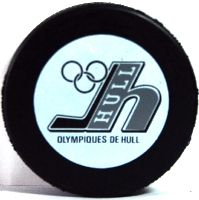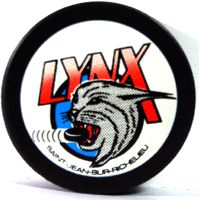 We sell old souvenir QMJHL hockey pucks,
Quebec Major Junior Hockey League pucks, old Quebec minor junior league pucks as well as
NHL, AHL, ECHL, IHL, OHA, OHL, WHL & Memorial Cup pucks.
Most of these pucks are one of a kind - email to reserve.

Click on the puck`s blue links to view front & back,
then click your back button to return to the puck list.
Postage & Handling is extra. Canadian residents add applicable GST/HST.

Prices are listed in Canadian funds - please inquire as to the current exchange for prices in US funds.
OLD COLLECTOR QMJHL HOCKEY PUCKS
& QUEBEC MINOR HOCKEY PUCKS

BELOEIL TIGERS pucks

Scan #
Front
League
Year
Puck Slug Type
Reverse
Condition
Price Per Puck
QMJ 0012
Beloeil Tigers
Richelieu Jr B
74-76
V3 Viceroy
small Ligue De Hockey Junior Richelieu Inc reverse
major flaking
$3.00 Cdn
QMJ 0014
Beloeil Tigers
Richelieu Jr B
75-83
CZ3 new Czechoslovakia
blank reverse
smudges & pit marks
$5.00 Cdn

CHATEUGUAY COUGARS pucks

Scan #
Front
League
Year
Puck Slug Type
Reverse
Condition
Price Per Puck
QMJ 0008
Chateuguay Cougars
Richelieu Jr B
74-76
V3 Viceroy
large Ligue De Hockey Junior Richelieu Inc reverse with border
flaking
$4.00 Cdn

CHICOUTIMI SAGUENEENS pucks

Scan #
Front
League
Year
Puck Slug Type
Reverse
Condition
Price Per Puck
QMJ 0020
Chicoutimi Sagueneens (blue & green, some orange)
QMJHL
75-82
V3 Viceroy
blank reverse
$5.00 Cdn
QMJ 0143
Chicoutimi Les Sagueneens - green & orange logo
QMJHL
80-84
V4 Viceroy
white circle QMJHL reverse
smudged & pitted
$5.00 Cdn
QMJ 0147
Chicoutimi Les Sagueneens - grey & red
QMJHL
84-86
GDR East Germany
white circle QMJHL reverse
1/4" cut on front edge, minor flaking
$10.00 Cdn
QMJ 0023
Chicoutimi Sagueneens (grey & red)
QMJHL
85-93
IG2 InGlasCo
white circle QMJHL reverse
$10.00 Cdn
QMJ 0149
Chicoutimi Les Sagueneens - white & blue
QMJHL
91-93
IG3 Inglasco
white circle QMJHL reverse
$10.00 Cdn
QMJ 0151
Chicoutimi Les Sagueneens - white & blue
QMJHL
91-93
IG3 Inglasco
white circle QMJHL reverse
minor flaking
$9.00 Cdn

COWANSVILLE VOYAGEURS pucks

Scan #
Front
League
Year
Puck Slug Type
Reverse
Condition
Price Per Puck
QMJ 0029
Cowansville Voyageurs
Richelieu Jr B
70-78
CZ2
old Czechoslovakia
light scratches
$5.00 Cdn
QMJ 0030
Cowansville Voyageurs
Richelieu Jr B
74-76
V3 Voyageur
large Ligue De Hockey Junior Richelieu Inc reverse with border
smudges & flaking
$3.00 Cdn

DRUMMONDVILLE SABRES pucks

Scan #
Front
League
Year
Puck Slug Type
Reverse
Condition
Price Per Puck
QMJ 0032
Drummondville Sabres
Richelieu Jr B
75-83
CZ3 new Czechoslovakia
blank reverse
thin screening
$5.00 Cdn
QMJ 0033
Drummondville Sabres
Richelieu Jr B
74-76
V3 Viceroy
small Ligue De Hockey Junior Richelieu Inc reverse with border
flaking
$4.00 Cdn

DRUMMONDVILLE VOLTIGEURS pucks

Scan #
Front
League
Year
Puck Slug Type
Reverse
Condition
Price Per Puck
QMJ 0153
Drummondville Les Voltigeurs - D logo
QMJHL
80-84
V4 Viceroy
white circle QJMHL reverse
smudged
$5.00 Cdn
QMJ 0035
Drummondville Voltigeurs
QMJHL
81-91
CZ3 new Czechoslovakia
white letter QMJHL reverse
flaking & white transfer
$4.00 Cdn
QMJ 0155
Drummondville Les Voltigeurs - D logo
QMJHL
84-86
GDR East Germany
white circle QMJHL reverse
scuffed, 1/4" cut on edge
$12.00 Cdn
QMJ 0157
Drummondville Les Voltigeurs - D logo
QMJHL
84-86
GDR East Germany
white circle QMJHL reverse
minor scratches
$10.00 Cdn

GRANBY VICS pucks

Scan #
Front
League
Year
Puck Slug Type
Reverse
Condition
Price Per Puck
QMJ 0037
Granby Vics
Richelieu Jr B
74-76
V3 Viceroy
large Ligue De Hockey Junior Richelieu Inc reverse with border
flaking
$4.00 Cdn
QMJ 0039
Granby Vics
Provincial Jr A
75-82
V3 Viceroy
blank reverse
thin screening
$5.00 Cdn

HALIFAX MOOSEHEADS pucks

Scan #
Front
League
Year
Puck Slug Type
Reverse
Condition
Price Per Puck
QMJ 0161
Halifax Mooseheads - no name
QMJHL
95-98
SL1 Slovakia Vegum
QMJHL Courteau President reverse
minor marks
$5.00 Cdn
QMJ 0163
Halifax Mooseheads - no name
QMJHL
95-98
SL1 Slovakia Vegum
QMJHL Courteau President reverse
minor marks
$5.00 Cdn

HOCKELAGA pucks

Scan #
Front
League
Year
Puck Slug Type
Reverse
Condition
Price Per Puck
QMJ 0040
Hockelaga
Metro Jr B
75-82
V3 Viceroy
blank reverse
flaking, color spots
$6.00 Cdn

HULL OLYMPIQUES pucks

Scan #
Front
League
Year
Puck Slug Type
Reverse
Condition
Price Per Puck
QMJ 0047
Hull Olympiques (blue & yellow, white, black ring)
QMJHL
80-84
V4 Viceroy
white letter QMJHL reverse
flaking, slug flaw
$8.00 Cdn
QMJ 0043
Hull Olympiques (blue & yellow, white background)
QMJHL
81-91
CZ3 new Czechoslovakia
white letter QMJHL reverse
flaking
$5.00 Cdn
QMJ 0167
Hull Olympiques - yellow, white & blue
QMJHL
81-91
CZ3 Czechoslovakia
white letter QMJHL reverse
flaked
$4.00 Cdn
QMJ 0177
Hull Olympiques - plain grey h
QMJHL
84-86
GDR East Germany
white circle QJMHL reverse
1/4" cut on edge, minor marks on back
$12.00 Cdn
QMJ 0049
Hull Olympiques (grey & white)
QMJHL
91-95
IG3 InGlasCo
25th Anniversary QMJHL reverse
$10.00 Cdn
QMJ 0169
Hull Olympiques - grey h
QMJHL
93-94
IG3 Inglasco
QMJHL 25th Anniversary reverse
$10.00 Cdn

JOLIETTE CYCLONES pucks

Scan #
Front
League
Year
Puck Slug Type
Reverse
Condition
Price Per Puck
QMJ 0051
Joliette Cyclones - Jr A
Provincial Jr A
75-82
V3 Viceroy
blank reverse
chipping
$5.00 Cdn

KIRKLAND KNIGHTS pucks

Scan #
Front
League
Year
Puck Slug Type
Reverse
Condition
Price Per Puck
QMJ 0052
Kirkland Knights - Quebec
Misc
75-82
V3 Viceroy
blank reverse
chipping, thin screening
$3.00 Cdn

LA PRAIRIE HAWKS, INC pucks

Scan #
Front
League
Year
Puck Slug Type
Reverse
Condition
Price Per Puck
QMJ 0235
La Prairie Hawks, Inc
Richelieu Jr B
75-82
V3 Viceroy
blank reverse
minor flaking
$3.00 Cdn
QMJ 0237
La Prairie Hawks, Inc
Richelieu Jr B
75-83
CZ3 new Czechoslovakia
blank reverse
minor flaking
$4.00 Cdn

LASALLE CYCLONES pucks

Scan #
Front
League
Year
Puck Slug Type
Reverse
Condition
Price Per Puck
QMJ 0053
Lasalle Cyclones Hockey Club (off white background)
Metro Jr B
75-82
V3 Viceroy
blank reverse
thin screening, slug flaw
$3.00 Cdn

LAVAL TITANS pucks

Scan #
Front
League
Year
Puck Slug Type
Reverse
Condition
Price Per Puck
QMJ 0185
Laval Titans
QMJHL
84-86
GDR East Germany
white circle QMJHL reverse
$15.00 Cdn

LAVAL VOISINS pucks

Scan #
Front
League
Year
Puck Slug Type
Reverse
Condition
Price Per Puck
QMJ 0179
Laval Voisins - with name
QMJHL
80-84
V4 Viceroy
white circle QMJHL reverse
scuffed, smudged
$5.00 Cdn
QMJ 0183
Laval Voisins - with name
no white printed - looks blank
QMJHL
84-86
GDR East Germany
white letter QMJHL reverse
blank front, flaked back
$2.00 Cdn

LONGUEUIL CHEVALIERS pucks

Scan #
Front
League
Year
Puck Slug Type
Reverse
Condition
Price Per Puck
QMJ 0061
Longueuil Chevaliers
QMJHL
81-91
CZ3 new Czechoslovakia
white letter QMJHL reverse
flaked, thin screening
$5.00 Cdn

LONGUEUIL SIEURS pucks

Scan #
Front
League
Year
Puck Slug Type
Reverse
Condition
Price Per Puck
QMJ 0065
Longueuil Sieurs
Richelieu Jr B
74-76
V3 Viceroy
large Ligue De Hockey Junior Richelieu Inc reverse with border
thin screening, flaked
$4.00 Cdn
QMJ 0067
Longueuil Sieurs
Richelieu Jr B
75-83
CZ3 new Czechoslovakia
blank reverse
smudged
$3.00 Cdn

MERCIER pucks

Scan #
Front
League
Year
Puck Slug Type
Reverse
Condition
Price Per Puck
QMJ 0068
Mercier (raised Made In Canada)
Metro Jr B
72-80
B2 Biltrite
blank reverse
smudged
$4.00 Cdn

MONTREAL JUNIORS pucks

Scan #
Front
League
Year
Puck Slug Type
Reverse
Condition
Price Per Puck
QMJ 0069
Montreal Juniors (red, white background)
QMJHL
75-94
CZ3 new Czechoslovakia
blank reverse
spotted screening
$12.00 Cdn
QMJ 0070
Montreal Juniors (red, white background)
QMJHL
75-94
CZ3 new Czechoslovakia
blank reverse
$12.00 Cdn

POINTE AUX TREMBLES pucks

Scan #
Front
League
Year
Puck Slug Type
Reverse
Condition
Price Per Puck
QMJ 0081
Pointe Aux Trembles Jets
Metro Jr B
75-77
CZ3 new Czechoslovakia
MJHL reverse (no background skater, facing right)
flaked, peeled back
$2.00 Cdn

QUEBEC REMPARTS pucks

Scan #
Front
League
Year
Puck Slug Type
Reverse
Condition
Price Per Puck
QMJ 0191
Quebec Remparts
QMJHL
81-91
CZ3 Czechoslovakia
white letter QMJHL reverse
scratched, thin screening, circle spot peeled off top
$3.00 Cdn

OLYMPIQUE de REPENTIGNY JR INC pucks

Scan #
Front
League
Year
Puck Slug Type
Reverse
Condition
Price Per Puck
QMJ 0383
Olympique de Repentigny Jr Inc
Metro Jr B
70-78
CZ2 old Czechoslovakia
blank reverse
smudged & spotted
$4.00 Cdn

SAINT-LAURENT JETS pucks

Scan #
Front
League
Year
Puck Slug Type
Reverse
Condition
Price Per Puck
QMJ 0089
Saint-Laurent Jets
Metro Jr B
72-80
B2 Biltrite
blank reverse (raised Made In Canada)
flaked
$5.00 Cdn

SHAWINIGAN CATARACTES pucks

Scan #
Front
League
Year
Puck Slug Type
Reverse
Condition
Price Per Puck
QMJ 0090
Shawinigan Cataractes (white ring)
QMJHL
80-84
V4 Viceroy
white circle QMJHL reverse
flaked
$5.00 Cdn
QMJ 0201
Shawinigan Cataractes - striped logo
QMJHL
85-93
IG2 Inglasco
white circle QMJHL reverse
$10.00 Cdn

SHAWINIGAN DYNAMOS pucks

Scan #
Front
League
Year
Puck Slug Type
Reverse
Condition
Price Per Puck
QMJ 0092
Shawinigan Dynamos
QMJHL
75-80
V3 Viceroy
large CMJHL reverse
scratched, worn back, slug flaws
$5.00 Cdn
QMJ 0094
Shawinigan Dynamos
QMJHL
75-82
V3 Viceroy
blank reverse
flaking
$8.00 Cdn
QMJ 0095
Shawinigan Dynamos
QMJHL
75-83
CZ3 new Czechoslovakia
blank reverse
flaking, 1" back edge shaved off
$4.00 Cdn

SHERBROOKE BEAVERS pucks

Scan #
Front
League
Year
Puck Slug Type
Reverse
Condition
Price Per Puck
QMJ 0130
Sherbrooke Beavers - no name
QMJHL
75-83
CZ3 new Czechoslovakia
blank reverse
$6.00 Cdn

SHERBROOKE SAINT FRANCOIS pucks

Scan #
Front
League
Year
Puck Slug Type
Reverse
Condition
Price Per Puck
QMJ 0096
Sherbrooke Saint Francois - Jr A
Misc
75-82
V3 Viceroy
blank reverse
thin screening
$4.00 Cdn

SOREL SURVENANTS pucks

Scan #
Front
League
Year
Puck Slug Type
Reverse
Condition
Price Per Puck
QMJ 0097
Sorel Survenants - Junior B - Equipe... Regionale (large logo)
Richelieu Jr B
74-76
V3 Viceroy
large Ligue De Hockey Junior Richelieu Inc reverse with border
flaked, smudged
$4.00 Cdn
QMJ 0099
Sorel Survenants - Junior B - Equipe... Regionale (small logo)
Richelieu Jr B
74-82
V3 Viceroy
blank reverse
chipped
$4.00 Cdn

ST EUSTACHE PATRIOTS pucks

Scan #
Front
League
Year
Puck Slug Type
Reverse
Condition
Price Per Puck
QMJ 0102
St Eustache Patriots (dark green)
Metro Jr B
75-76
CZ3 new Czechoslovakia
MJHL reverse (no background skater, facing left)
smudged, flaked, peeled back
$2.00 Cdn
QMJ 0104
St Eustache Patriots (light green)
Metro Jr B
75-82
V3 Viceroy
blank reverse
uneven screening, marks
$3.00 Cdn

ST JEAN AIGLES pucks

Scan #
Front
League
Year
Puck Slug Type
Reverse
Condition
Price Per Puck
QMJ 0101
St Jean Aigles
Richelieu Jr B
75-83
CZ3 new Czechoslovakia
blank reverse
flaked, eneven screening
$5.00 Cdn

ST JEAN LYNX pucks

Scan #
Front
League
Year
Puck Slug Type
Reverse
Condition
Price Per Puck
QMJ 0108
St Jean Lynx
QMJHL
85-93
IG2 InGlasCo
white circle QMJHL reverse
smudged
$10.00 Cdn

ST-JEAN-SUR-RICHELIEU CASTORS pucks

Scan #
Front
League
Year
Puck Slug Type
Reverse
Condition
Price Per Puck
QMJ 0133
St-Jean-Sur-Richelieu Castors - with team name
QMJHL
80-84
CZ3 new Czechoslovakia
white letter QMJHL reverse
scratched
$6.00 Cdn
QMJ 0135
St-Jean-Sur-Richelieu Castors - no team name
QMJHL
84-86
GDR East Germany
white circle QMJHL reverse
flaked, smudged
$7.00 Cdn

ST LAMBERT LIONS pucks

Scan #
Front
League
Year
Puck Slug Type
Reverse
Condition
Price Per Puck
QMJ 0110
St Lambert Lions (blue background)
Richelieu Jr B
70-78
CZ2 old Czechoslovakia
blank reverse
smudged
$5.00 Cdn
QMJ 0111
St Lambert Lions (dark green background)
Richelieu Jr B
74-76
V3 Viceroy
large Ligue De Hockey Junior Richelieu Inc reverse with border
smudged, scratched
$4.00 Cdn

ST LEONARD COUGARS pucks

Scan #
Front
League
Year
Puck Slug Type
Reverse
Condition
Price Per Puck
QMJ 0113
St Leonard Cougars (light blue background)
Metro Jr B
75-80
CZ3 new Czechoslovakia
blank reverse
slug flaws, dented
$4.00 Cdn
QMJ 0114
St Leonard Cougars (dark blue background)
Metro Jr B
75-82
V3 Viceroy
blank reverse
goudged, big chunk missing from side
$2.00 Cdn

STE THERESE VOLANTS pucks

Scan #
Front
League
Year
Puck Slug Type
Reverse
Condition
Price Per Puck
QMJ 0115
Ste Therese Volants (raised Made in Canada)
Metro Jr B
72-80
B2 Biltrite
blank reverse
smudged
$5.00 Cdn

TROIS RIVIERES DRAVEURS pucks

Scan #
Front
League
Year
Puck Slug Type
Reverse
Condition
Price Per Puck
QMJ 0117
Trois Rivieres Draveurs
QMJHL
75-82
V3 Viceroy
blank reverse
discolored, thin screening
$8.00 Cdn
QMJ 0118
Trois Rivieres Draveurs
QMJHL
75-82
V3 Viceroy
blank reverse
error, thin screening
$8.00 Cdn
QMJ 0213
Trois-Rivieres Les Draveurs - blue ring
QMJHL
80-84
V4 Viceroy
white circle QMJHL reverse
smudged
$6.00 Cdn
QMJ 0215
Trois-Rivieres Les Draveurs - blue ring
QMJHL
80-84
V4 Viceroy
white circle QMJHL reverse
smudged
$7.00 Cdn
QMJ 0119
Trois Rivieres Draveurs
QMJHL
81-91
CZ3 new Czechoslovakia
white letter QMJHL reverse
flaked, thin screening
$6.00 Cdn
QMJ 0217
Trois-Rivieres Les Draveurs - blue ring
QMJHL
81-91
CZ3 Czechoslovakia
white letter QMJHL reverse
flaked, thin screening
$5.00 Cdn
QMJ 0211
Trois-Rivieres Les Draveurs - thin black ring
QMJHL
84-86
GDR East Germany
white circle QJMHL reverse
minor flaking
$10.00 Cdn

VALLEYFIELD NATIONAL JR pucks

Scan #
Front
League
Year
Puck Slug Type
Reverse
Condition
Price Per Puck
QMJ 0121
Valleyfield National Jr
Richelieu Jr B
70-78
CZ2 old Czechoslovakia
blank reverse
smudges
$6.00 Cdn

VERDUN CANADIENS pucks

Scan #
Front
League
Year
Puck Slug Type
Reverse
Condition
Price Per Puck
QMJ 0233
Verdun Canadiens
QMJHL
84-86
GDR East Germany
white circle QMJHL reverse
1/4" cut on edge, spotted
$12.00 Cdn
QMJ 0231
Verdun Canadiens
QMJHL
84-86
GDR East Germany
white circle QMJHL reverse
scuffed, flaked
$9.00 Cdn

VERDUN JUNIORS pucks

Scan #
Front
League
Year
Puck Slug Type
Reverse
Condition
Price Per Puck
QMJ 0137
Verdun Juniors - V logo
QMJHL
80-84
V4 Viceroy
white circle QMJHL reverse
scuffed, smudged
$6.00 Cdn

VICTORIAVILLE TIGRES pucks

Scan #
Front
League
Year
Puck Slug Type
Reverse
Condition
Price Per Puck
QMJ 0223
Victoriaville Tigres - red & blue
QMJHL
85-93
IG2 Inglasco
white circle QMJHL reverse
flaked back
$9.00 Cdn
QMJ 0227
Victoriaville Tigres - yellow & black
QMJHL
91-93
IG3 Inglasco
white circle QMJHL reverse
minor flaked
$10.00 Cdn
Last Updated: Aug. 28, 2012
---