COLLECTOR QMJHL HOCKEY PUCKS
&
OLD QUEBEC MINOR & JUNIOR LEAGUE PUCKS
Collecting Ice Hockey Pucks?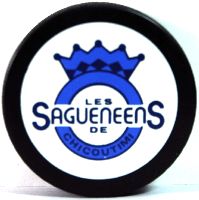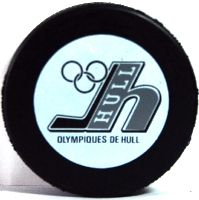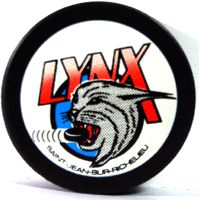 We sell old souvenir QMJHL hockey pucks,
Quebec Major Junior Hockey League pucks, old Quebec minor junior league pucks as well as
NHL, AHL, ECHL, IHL, OHA, OHL, WHL & Memorial Cup pucks.
Most of these pucks are one of a kind - email to reserve.
Postage & Handling is extra. Canadian residents add applicable GST/HST.

Prices are listed in Canadian funds - please inquire as to the current exchange for prices in US funds.
OLD COLLECTOR QMJHL HOCKEY PUCKS & QUEBEC MINOR HOCKEY PUCKS

CHICOUTIMI SAGUENEENS pucks

Scan #
Front
League
Year
Puck Slug Type
reverse
Condition
Price Per Puck
QMJ 0023


Chicoutimi Sagueneens
grey & red
QMJHL
85-93
IG2 InGlasCo


white circle QMJHL reverse
$12.00 Cdn
QMJ 0151


Chicoutimi Les Sagueneens
white & blue
QMJHL
91-93
IG3 Inglasco


white circle QMJHL reverse
minor flaking
$10.00 Cdn

COWANSVILLE VOYAGEURS pucks

Scan #
Front
League
Year
Puck Slug Type
reverse
Condition
Price Per Puck
QMJ 0029


Cowansville Voyageurs
Richelieu Jr. B
70-78
CZ2
old Czechoslovakia
light scratches
$5.00 Cdn

DRUMMONDVILLE SABRES pucks

Scan #
Front
League
Year
Puck Slug Type
reverse
Condition
Price Per Puck
QMJ 0032


Drummondville Sabres
Richelieu Jr. B
75-83
CZ3 new Czechoslovakia
blank reverse
thin screening
$6.00 Cdn

DRUMMONDVILLE VOLTIGEURS pucks

Scan #
Front
League
Year
Puck Slug Type
reverse
Condition
Price Per Puck
QMJ 0157


Drummondville Les Voltigeurs
D logo
QMJHL
84-86
GDR East Germany


white circle QMJHL reverse
minor scratches
$10.00 Cdn

GRANBY VICS pucks

Scan #
Front
League
Year
Puck Slug Type
reverse
Condition
Price Per Puck
QMJ 0039


Granby Vics
Provincial Jr. A
75-82
V3 Viceroy
blank reverse
thin screening
$6.00 Cdn

HALIFAX MOOSEHEADS pucks

Scan #
Front
League
Year
Puck Slug Type
reverse
Condition
Price Per Puck
QMJ 0161


Halifax Mooseheads - no name
QMJHL
95-98
SL1 Slovakia Vegum


QMJHL Courteau President reverse
minor marks
$7.00 Cdn
QMJ 0163


Halifax Mooseheads - no name
QMJHL
95-98
SL1 Slovakia Vegum


QMJHL Courteau President reverse
minor marks
$7.00 Cdn

HULL OLYMPIQUES pucks

Scan #
Front
League
Year
Puck Slug Type
reverse
Condition
Price Per Puck
QMJ 0049


Hull Olympiques
grey & white
QMJHL
91-95
IG3 InGlasCo


25th Anniversary QMJHL reverse
$12.00 Cdn

KIRKLAND KNIGHTS pucks

Scan #
Front
League
Year
Puck Slug Type
reverse
Condition
Price Per Puck
QMJ 0052


Kirkland Knights - Quebec
Misc
75-82
V3 Viceroy
blank reverse
chipping, thin screening
$3.00 Cdn

LONGUEUIL SIEURS pucks

Scan #
Front
League
Year
Puck Slug Type
reverse
Condition
Price Per Puck
QMJ 0067


Longueuil Sieurs
Richelieu Jr. B
75-83
CZ3 new Czechoslovakia
blank reverse
smudged
$3.00 Cdn

MERCIER pucks

Scan #
Front
League
Year
Puck Slug Type
reverse
Condition
Price Per Puck
QMJ 0068


Mercier
(raised Made In Canada)
Metro Jr. B
72-80
B2 Biltrite
blank reverse
smudged
$4.00 Cdn

OLYMPIQUE de REPENTIGNY JR INC pucks

Scan #
Front
League
Year
Puck Slug Type
reverse
Condition
Price Per Puck
QMJ 0383


Olympique de Repentigny Jr. Inc.
Metro Jr. B
70-78
CZ2 old Czechoslovakia
blank reverse
smudged & spotted
$4.00 Cdn

SHERBROOKE SAINT FRANCOIS pucks

Scan #
Front
League
Year
Puck Slug Type
reverse
Condition
Price Per Puck
QMJ 0096


Sherbrooke Saint Francois - Jr. A
Misc
75-82
V3 Viceroy
blank reverse
thin screening
$5.00 Cdn

SOREL SURVENANTS pucks

Scan #
Front
League
Year
Puck Slug Type
reverse
Condition
Price Per Puck
QMJ 0099


Sorel Survenants - Junior B
Equipe... Regionale (small logo)
Richelieu Jr. B
74-82
V3 Viceroy
blank reverse
chipped
$5.00 Cdn

ST. JEAN AIGLES pucks

Scan #
Front
League
Year
Puck Slug Type
reverse
Condition
Price Per Puck
QMJ 0101


St. Jean Aigles
Richelieu Jr. B
75-83
CZ3 new Czechoslovakia
blank reverse
flaked, eneven screening
$6.00 Cdn

ST-JEAN-SUR-RICHELIEU CASTORS pucks

Scan #
Front
League
Year
Puck Slug Type
reverse
Condition
Price Per Puck
QMJ 0135


St-Jean-Sur-Richelieu Castors - no team name
QMJHL
84-86
GDR East Germany


white circle QMJHL reverse
flaked, smudged
$7.00 Cdn

STE. THERESE VOLANTS pucks

Scan #
Front
League
Year
Puck Slug Type
reverse
Condition
Price Per Puck
QMJ 0115


Ste. Therese Volants
(raised Made in Canada)
Metro Jr. B
72-80
B2 Biltrite
blank reverse
smudged
$6.00 Cdn

TROIS RIVIERES DRAVEURS pucks

Scan #
Front
League
Year
Puck Slug Type
reverse
Condition
Price Per Puck
QMJ 0117


Trois Rivieres Draveurs
QMJHL
75-82
V3 Viceroy
blank reverse
discolored, thin screening
$8.00 Cdn
QMJ 0118


Trois Rivieres Draveurs
QMJHL
75-82
V3 Viceroy
blank reverse
$8.00 Cdn
QMJ 0213


Trois-Rivieres Les Draveurs
blue ring
QMJHL
80-84
V4 Viceroy


white circle QMJHL reverse
smudged
$6.00 Cdn
QMJ 0119


Trois Rivieres Draveurs
QMJHL
81-91
CZ3 new Czechoslovakia


white letter QMJHL reverse
flaked, thin screening
$6.00 Cdn
QMJ 0217


Trois-Rivieres Les Draveurs
blue ring
QMJHL
81-91
CZ3 Czechoslovakia


white letter QMJHL reverse
flaked, thin screening
$5.00 Cdn

VAL D`OR FOREURS pucks

Scan #
Front
League
Year
Puck Slug Type
reverse
Condition
Price Per Puck
QMJ 0219


Val D`Or Foreurs
QMJHL
93-94
SL1 Vegum


25th Anniversary QMJHL reverse
$15.00 Cdn

VERDUN JUNIOR pucks

Scan #
Front
League
Year
Puck Slug Type
reverse
Condition
Price Per Puck
QMJ 0238


Junior de Verdun
QMJHL
82-84
V4 Viceroy


white circle QMJHL reverse
worn, scratches
$5.00 Cdn

VICTORIAVILLE TIGRES pucks

Scan #
Front
League
Year
Puck Slug Type
reverse
Condition
Price Per Puck
QMJ 0223


Victoriaville Tigres
red & blue
QMJHL
85-93
IG2 Inglasco


white circle QMJHL reverse
flaked back
$9.00 Cdn
QMJ 0227


Victoriaville Tigres
yellow & black
QMJHL
91-93
IG3 Inglasco


white circle QMJHL reverse
minor flaked
$10.00 Cdn
QMJ 0229


Victoriaville Tigres
yellow & black
QMJHL
91-93
IG3 Inglasco


25th Anniversary QMJHL reverse
$15.00 Cdn
Last Updated: Nov. 18, 2019
---