2006 Jogo CFL Football Cards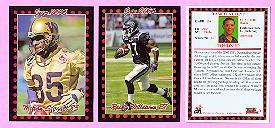 Are you missing cards from your CFL football sets?
Are you looking for a specific CFL player?
A Favorite Player! A Friend! A Relative! Your Own Card!
We sell 2006 Jogo CFL football cards as well as Jogo CFL cards from 1981 to present.
Some of the players from the Canadian Football League are now playing or have played in the NFL.
These Jogo CFL football cards have a very limited print run making them extremely collectible.
Prices subject to change without notice according to market conditions.
Postage & Handling is extra. Canadian residents add applicable GST/HST.
Prices are listed in Canadian funds - please inquire as to the current exchange for prices in US funds.
2006 JOGO CFL "REGULAR" FOOTBALL CARDS
(165 cards) $110.00 Cdn set

black border with red dots, UV coated
Brand
Card #
Player & Jersey #
Team
School
Condition
Price per Card
2006 Jogo CFL
1

Milton Stegall #85
Winnipeg Blue Bombers
University of Miami (Ohio)
NM-MT

SOLD

2006 Jogo CFL
2

Kevin Glenn - QB #5
Winnipeg Blue Bombers
Illinois State University
NM-MT

SOLD

2006 Jogo CFL
3
Gavin Walls #98
Winnipeg Blue Bombers
Phoebus High School
NM-MT
$1.50 Cdn
2006 Jogo CFL
4
Matt Sheridan #54
Winnipeg Blue Bombers
University of Manitoba
NM-MT
$1.50 Cdn
2006 Jogo CFL
5 RC
Ron Warner #94
Winnipeg Blue Bombers
University of Kansas
NM-MT
$1.50 Cdn
2006 Jogo CFL
6
Donnavan Carter #20
Winnipeg Blue Bombers
Northern Illinois University
NM-MT
$1.50 Cdn
2006 Jogo CFL
7

Charles Roberts #1
Winnipeg Blue Bombers
California State University (Sacramento)
NM-MT

SOLD

2006 Jogo CFL
8
Val St.Germain #65/59
Winnipeg Blue Bombers
McGill University
NM-MT
$1.50 Cdn
2006 Jogo CFL
9 RC
Adrian Baird #90
Winnipeg Blue Bombers
University of Ottawa
NM-MT
$1.50 Cdn
2006 Jogo CFL
10
Kyries Hebert #23
Winnipeg Blue Bombers
University of Louisiana at Lafayette
NM-MT

SOLD

2006 Jogo CFL
11
Barrin Simpson #51
Winnipeg Blue Bombers
Mississippi State University
NM-MT
$1.50 Cdn
2006 Jogo CFL
12
Omar Evans #4
Winnipeg Blue Bombers
Howard University
NM-MT
$1.50 Cdn
06 Jogo CFL
13
Tom Canada #44
Winnipeg Blue Bombers
University of California (Berkeley)
NM-MT
$1.50 Cdn
2006 Jogo CFL
14
Albert Johnson III #87
Winnipeg Blue Bombers
Southern Methodist University
NM-MT
$1.50 Cdn
2006 Jogo CFL
15
Ron Ockimey #15
Winnipeg Blue Bombers
San Jose State University
NM-MT
$1.50 Cdn
2006 Jogo CFL
16
Shawn Gallant #22
Winnipeg Blue Bombers
Eastern Kentucky University
NM-MT
$1.50 Cdn
2006 Jogo CFL
17
Stanford Samuels #16
Winnipeg Blue Bombers
Florida State University
NM-MT
$1.50 Cdn
2006 Jogo CFL
18
Chris Brazzell #84
Winnipeg Blue Bombers
Angelo State University
NM-MT
$1.50 Cdn
2006 Jogo CFL
19
Chris Cvetkovic #50
Winnipeg Blue Bombers
Concordia University
NM-MT
$1.50 Cdn
2006 Jogo CFL
20 RC
Graeme Bell # 26
Winnipeg Blue Bombers
University of Saskatchewan
NM-MT
$1.50 Cdn
2006 Jogo CFL
21 RC
Mike Quinn - QB #12
Winnipeg Blue Bombers
Stephen F. Austin State University
NM-MT

SOLD

2006 Jogo CFL
22 RC
Arjei Franklin #86
Winnipeg Blue Bombers
University of Windsor
NM-MT
$1.50 Cdn
2006 Jogo CFL
23 RC
Terrence Edwards #80
Montreal Alouettes
University of Georgia
NM-MT

SOLD

2006 Jogo CFL
24
Sylvain Girard #3
Montreal Alouettes
Concordia University
NM-MT
$1.50 Cdn
2006 Jogo CFL
25 RC
Jeff Piercy #34
Montreal Alouettes
University of Saskatchewan
NM-MT
$1.50 Cdn
2006 Jogo CFL
26
Dave Mudge #67
Montreal Alouettes
Michigan State University
NM-MT
$1.50 Cdn
2006 Jogo CFL
27
Eric Lapointe #5
Montreal Alouettes
Mount Allison University
NM-MT

SOLD

2006 Jogo CFL
28
Dario Romero #94
Montreal Alouettes
Eastern Washington University
NM-MT
$1.50 Cdn
2006 Jogo CFL
29
Ed Philion #75
Montreal Alouettes
Ferris State University
NM-MT
$1.50 Cdn
2006 Jogo CFL
30
Paul Lambert #65
Montreal Alouettes
Western Michigan University
NM-MT
$1.50 Cdn
2006 Jogo CFL
31

Anthony Calvillo - QB #13
Montreal Alouettes
Utah State University
NM-MT

SOLD

2006 Jogo CFL
32
Luke Fritz #61
Montreal Alouettes
Eastern Washington University
NM-MT
$1.50 Cdn
2006 Jogo CFL
33
Scott Flory #57
Montreal Alouettes
University of Saskatchewan
NM-MT
$1.50 Cdn
2006 Jogo CFL
34 RC
Kai Ellis #93
Montreal Alouettes
University of Washington
NM-MT
$1.50 Cdn
2006 Jogo CFL
35
Dave Stala #88
Montreal Alouettes
Saint Mary`s University
NM-MT
$1.50 Cdn
2006 Jogo CFL
36 RC
Matthieu Proulx #20
Montreal Alouettes
Laval University
NM-MT
$1.50 Cdn
2006 Jogo CFL
37
Jerome Haywood #99
Montreal Alouettes
San Diego State University
NM-MT
$1.50 Cdn
2006 Jogo CFL
38
Uzo Okeke #53
Montreal Alouettes
Southern Methodist University
NM-MT
$1.50 Cdn
2006 Jogo CFL
39
Mike Vilimek #35
Montreal Alouettes
Simon Fraser University
NM-MT
$1.50 Cdn
2006 Jogo CFL
40
Bryan Chiu #68
Montreal Alouettes.
Washington State University
NM-MT
$1.50 Cdn
2006 Jogo CFL
41

Kenton Keith #28
Saskatchewan Roughriders
New Mexico State University
NM-MT
$1.50 Cdn
2006 Jogo CFL
41
Kenton Keith #28
Saskatchewan Roughriders
New Mexico State University
NM
$1.25 Cdn
2006 Jogo CFL
42
Ryan Phillips #21
B.C. Lions
Eastern Washington University
NM-MT
$1.50 Cdn
2006 Jogo CFL
46 RC
Luca Congi #10
Saskatchewan Roughriders
Simon Fraser University
NM-MT

SOLD

2006 Jogo CFL
47
Marcus Crandell - QB #8
Saskatchewan Roughriders
East Carolina University
NM-MT

SOLD

2006 Jogo CFL
73
Joffrey Reynolds #21
Calgary Stampeders
University of Houston
NM-MT
$1.50 Cdn
2006 Jogo CFL
74
Jeff Pilon #64
Calgary Stampeders
Syracuse University
NM-MT
$1.50 Cdn
2006 Jogo CFL
75
Pascal Masson #9
Calgary Stampeders
Laval University
NM-MT
$1.50 Cdn
2006 Jogo CFL
76
Jay McNeil #50
Calgary Stampeders
Kent State University
NM-MT
$1.50 Cdn
2006 Jogo CFL
77
Elijah Thurmon #84
Calgary Stampeders
Howard University
NM-MT
$1.50 Cdn
2006 Jogo CFL
78
Tony Tiller #24
Calgary Stampeders
East Tennessee State University
NM-MT
$1.50 Cdn
2006 Jogo CFL
79
Brian Clark #48
Calgary Stampeders
Hofstra University
NM-MT
$1.50 Cdn
2006 Jogo CFL
80 RC
John Comiskey #62
Calgary Stampeders
Rutgers University
University of Windsor
NM-MT
$1.50 Cdn
2006 Jogo CFL
81
Sandro DeAngelis #12
Calgary Stampeders
University of Nebraska
NM-MT

SOLD

2006 Jogo CFL
82
Trey Young #33
Calgary Stampeders
University of Montana
NM-MT
$1.50 Cdn
2006 Jogo CFL
83
Nik Lewis #82
Calgary Stampeders
Southern Arkansas University
NM-MT
$1.50 Cdn
2006 Jogo CFL
84

Danny McManus - QB #14
Calgary Stampeders
Florida State University
NM-MT
$2.00 Cdn
06 Jogo CFL
85
Taylor Robertson #65
Calgary Stampeders
University of Central Florida
NM-MT
$1.50 Cdn
2006 Jogo CFL
86
Marc Mitchell #39
Calgary Stampeders
Queen`s University
NM-MT
$1.50 Cdn
2006 Jogo CFL
87
Wes Lysack #31
Calgary Stampeders
Rutgers University
University of Manitoba
NM-MT
$1.50 Cdn
2006 Jogo CFL
88

Henry Burris - QB #1
Calgary Stampeders
Temple University
NM-MT

SOLD

2006 Jogo CFL
89 RC
Wes Cates #25
Calgary Stampeders
California University of Pennsylvania
NM-MT
$1.50 Cdn
2006 Jogo CFL
90 RC
J.R. Ruffin #28
Calgary Stampeders
University of Idaho
NM-MT
$1.50 Cdn
2006 Jogo CFL
91
John Grace #7
Calgary Stampeders
Marshall University
NM-MT

SOLD

2006 Jogo CFL
92 RC
Khalid Abdullah #42
Calgary Stampeders
Mars Hill College
NM-MT
$1.50 Cdn
2006 Jogo CFL
93 RC
Jermaine Chatman #41
Calgary Stampeders
University of Arizona
NM-MT
$1.50 Cdn
2006 Jogo CFL
94
Angus Reid #64
B.C. Lions
Simon Fraser University
NM-MT
$1.50 Cdn
2006 Jogo CFL
95
Paul McCallum #4
B.C. Lions
Surrey Rams Jr.
NM-MT
$1.50 Cdn
2006 Jogo CFL
96 RC
Tim Bakker #64
Edmonton Eskimos
University of Western Ontario
NM-MT
$1.50 Cdn
2006 Jogo CFL
97
Malcolm Frank #10
Edmonton Eskimos
Baylor University
NM-MT
$1.50 Cdn
2006 Jogo CFL
98
Mike Maurer #19
Edmonton Eskimos
Regina Rams Jr.
NM-MT
$1.50 Cdn
2006 Jogo CFL
99
Kelly Wiltshire #31
Edmonton Eskimos
James Madison University
NM-MT
$1.50 Cdn
2006 Jogo CFL
100
Shannon Garrett #23
Edmonton Eskimos
Mississippi College
NM-MT
$1.50 Cdn
2006 Jogo CFL
101
Pat Woodcock #6
Edmonton Eskimos
Syracuse University
NM-MT
$1.50 Cdn
2006 Jogo CFL
102

Ricky Ray - QB #15
Edmonton Eskimos
Sacramento State University
NM-MT

SOLD

2006 Jogo CFL
103 RC
Marcus Winn #40
Edmonton Eskimos
Alabama State University
NM-MT
$1.50 Cdn
2006 Jogo CFL
104
Rob Brown #94
Edmonton Eskimos
University of Southern Mississippi
NM-MT
$1.50 Cdn
2006 Jogo CFL
105 RC
Adam Braidwood #91
Edmonton Eskimos
Washington State University
NM-MT
$1.50 Cdn
2006 Jogo CFL
106 RC
Jonte L. Buhl #25
Edmonton Eskimos
Texas A & M University
NM-MT
$1.50 Cdn
2006 Jogo CFL
107
Anthony Malbrough #3
Winnipeg Blue Bombers
Texas Tech University
NM-MT

SOLD

2006 Jogo CFL
108 RC
Rob LeBlanc #3
Edmonton Eskimos
McGill University
NM-MT
$1.50 Cdn
2006 Jogo CFL
109
Ibrahim "Obby" Khan #60
Winnipeg Blue Bombers
Simon Fraser University
NM-MT
$1.50 Cdn
2006 Jogo CFL
110 RC
John Jenkins Head Coach
Ottawa Renegades
University of Arkansas
NM-MT
$1.50 Cdn
2006 Jogo CFL
111
John Sullivan #39
Winnipeg Blue Bombers
University of Waterloo
NM-MT
$1.50 Cdn
2006 Jogo CFL
112 RC
Ian Logan #31
Winnipeg Blue Bombers
Wilfred Laurier University
NM-MT
$1.50 Cdn
2006 Jogo CFL
113 RC
Shockmain Davis #84
Toronto Argonauts
Blinn College
Angelo State University
NM-MT
$1.50 Cdn
2006 Jogo CFL
114
Mark Parenteau #68
Winnipeg Blue Bombers
Boston College
NM-MT
$1.50 Cdn
2006 Jogo CFL
115 RC
Jean-Philippe Abraham #55
Edmonton Eskimos
Laval University
NM-MT
$1.50 Cdn
2006 Jogo CFL
116

Damon Allen - QB #9
Toronto Argonauts
California State University (Fullerton)
NM-MT

SOLD

2006 Jogo CFL
117
David Azzi #86
Toronto Argonauts
University of Ottawa
NM-MT
$1.50 Cdn
2006 Jogo CFL
117
David Azzi #86
Toronto Argonauts
University of Ottawa
NM
$1.25 Cdn
2006 Jogo CFL
118
Chad Folk #56
Toronto Argonauts
University of Utah
NM-MT
$1.50 Cdn
2006 Jogo CFL
119
David Costa #68
Toronto Argonauts
University of Wisconsin (Madison)
NM-MT
$1.50 Cdn
2006 Jogo CFL
120
Orlondo Steinauer #21
Toronto Argonauts
Western Washington University
NM-MT
$1.50 Cdn
2006 Jogo CFL
121
Jude St.John #66
Toronto Argonauts
University of Western Ontario
NM-MT
$1.50 Cdn
2006 Jogo CFL
122 RC
Byron Parker #28
Toronto Argonauts
Tulane University
NM-MT
$1.50 Cdn
2006 Jogo CFL
123
Mike O`Shea #50
Toronto Argonauts
University of Guelph
NM-MT
$1.50 Cdn
2006 Jogo CFL
124 RC
J.D. Davis #65
Toronto Argonauts
University of Minnesota
NM-MT
$1.50 Cdn
2006 Jogo CFL
125 RC
Matthew Kudu #93
Toronto Argonauts
Eastern Michigan University
NM-MT
$1.50 Cdn
2006 Jogo CFL
126 RC

Ricky Williams #27
Toronto Argonauts
University of Texas
NM-MT
$4.50 Cdn
2006 Jogo CFL
127
Clifford Ivory #13
Toronto Argonauts
Troy State University
NM-MT
$1.50 Cdn
2006 Jogo CFL
128
Agustin Barrenechea #39
Hamilton Tiger Cats
University of Calgary
NM-MT
$1.50 Cdn
2006 Jogo CFL
129
Ryan Folk #43
Montreal Alouettes
University of Calgary
NM-MT
$1.50 Cdn
2006 Jogo CFL
130 RC
Etienne Boulay #22
Montreal Alouettes
University of New Hampshire
NM-MT
$1.50 Cdn
2006 Jogo CFL
131
Davis Sanchez #2
Montreal Alouettes
University of Oregon
NM-MT
$1.50 Cdn
2006 Jogo CFL
132
R-Kal Truluck #91
Montreal Alouettes
Courtland State University
NM-MT
$1.50 Cdn
2006 Jogo CFL
133
Jim Popp GM
Montreal Alouettes
Michigan State University
NM-MT
$1.50 Cdn
2006 Jogo CFL
134
Roger Dunbrack #70
Hamilton Tiger Cats
University of Western Ontario
NM-MT
$1.50 Cdn
2006 Jogo CFL
135
Richard Karikari #1
Montreal Alouettes
St. Francis Xavier University
NM-MT
$1.50 Cdn
2006 Jogo CFL
136
Bobby Singh #62
B.C. Lions
Portland State University
NM-MT
$1.50 Cdn
2006 Jogo CFL
137

Geroy Simon #81
B.C. Lions
University of Maryland
NM-MT

SOLD

2006 Jogo CFL
138
Aaron Lockett #84
B.C. Lions
Kansas State University
NM-MT
$1.50 Cdn
2006 Jogo CFL
139
Mark Washington #23
B.C. Lions
Rutgers University
NM-MT
$1.50 Cdn
2006 Jogo CFL
140 RC
Miguel Robede #96
Calgary Stampeders
Laval University
NM-MT
$1.50 Cdn
2006 Jogo CFL
141
Walter Spencer/Robinson #45
Calgary Stampeders
University of Indianapolis
NM-MT
$1.50 Cdn
2006 Jogo CFL
142
Kelly Bates #59
B.C. Lions
University of Saskatchewan
NM-MT
$1.50 Cdn
2006 Jogo CFL
144 RC

Korey Banks #24
B.C. Lions
Mississippi State University
NM-MT
$2.50 Cdn
2006 Jogo CFL
145
Carl Kidd #26
B.C. Lions
University of Arkansas
NM-MT
$1.50 Cdn
2006 Jogo CFL
147 RC
Aaron Hunt #90
B.C. Lions
Texas Tech University
NM-MT
$1.50 Cdn
2006 Jogo CFL
148 RC
Tony Simmons #88
B.C. Lions
University of Wisconsin (Madison)
NM-MT
$1.50 Cdn
2006 Jogo CFL
149 RC
Jason Jimenez #60
B.C. Lions
University of Southern Missisippi
NM-MT
$1.50 Cdn
2006 Jogo CFL
151

Dave Dickenson - QB #12
B.C. Lions
University of Montana
NM-MT

SOLD

2006 Jogo CFL
152 RC
Rob Pikula #14
B.C. Lions
University of Western Ontario
NM-MT
$1.50 Cdn
2006 Jogo CFL
152 RC
Rob Pikula #14
B.C. Lions
University of Western Ontario
VG-EX
.75 Cdn
2006 Jogo CFL
153
William Loftus #18
Edmonton Eskimos
University of Manitoba
NM-MT
$1.50 Cdn
2006 Jogo CFL
154 RC
Richard Dwight Alston #86
Edmonton Eskimos
East Carolina University
NM-MT
$1.50 Cdn
2006 Jogo CFL
154 RC
Richard Dwight Alston #86
Edmonton Eskimos
East Carolina University
EX
$1.00 Cdn
2006 Jogo CFL
155
James Cotton #99
Hamilton Tiger Cats
Ohio State University
NM-MT
$1.50 Cdn
2006 Jogo CFL
156 RC
Cornelius Anthony #8
Calgary Stampeders
Texas A & M University
NM-MT
$1.50 Cdn
2006 Jogo CFL
157
Jason Maas - QB #11
Hamilton Tiger Cats
University of Oregon
NM-MT

SOLD

2006 Jogo CFL
158
Ray Mariuz #44
Hamilton Tiger Cats
McMaster University
NM-MT
$1.50 Cdn
2006 Jogo CFL
159
DeVonte Peterson #94
Hamilton Tiger Cats
Catawba College
NM-MT
$1.50 Cdn
2006 Jogo CFL
159
DeVonte Peterson #94
Hamilton Tiger Cats
Catawba College
EX
$1.00 Cdn
2006 Jogo CFL
161
Jason Tucker #83
Edmonton Eskimos
Texas Christian University
NM-MT
$1.50 Cdn
2006 Jogo CFL
162
Corey Holmes #3
Hamilton Tiger Cats
Mississippi Valley State University
NM-MT
$1.50 Cdn
2006 Jogo CFL
162
Corey Holmes #3
Hamilton Tiger Cats
Mississippi Valley State University
EX
$1.00 Cdn
2006 Jogo CFL
163 RC
Jarious Jackson - QB #7
B.C. Lions
University of Notre Dame
NM
$1.25 Cdn
2006 Jogo CFL
164
George Hudson #52
Hamilton Tiger Cats
Colorado University
NM-MT
$1.50 Cdn
2006 Jogo CFL
164
George Hudson #52
Hamilton Tiger Cats
Colorado University
VG-EX
.75 Cdn
2006 Jogo CFL
165
Marwan Hage #62
Hamilton Tiger Cats
New Mexico State University
NM-MT
$1.50 Cdn
2006 Jogo CFL
165
Marwan Hage #62
Hamilton Tiger Cats
New Mexico State University
VG-EX
.75 Cdn

2006 JOGO CFL "PLAYERS" VERSION FOOTBALL CARDS
(165 cards - White borders) &nbsp $200.00 Cdn set

white border with red dots, matte finish
Brand
Card #
Player & Jersey #
Team
School
Condition
Price per card
2006 Jogo CFL Players - white
2

Kevin Glenn - QB #5
Winnipeg Blue Bombers
Illinois State University
NM-MT
$2.00 Cdn
2006 Jogo CFL Players - white
3
Gavin Walls #98
Winnipeg Blue Bombers
Phoebus High School
NM-MT
$2.00 Cdn
2006 Jogo CFL Players - white
3
Gavin Walls #98
Winnipeg Blue Bombers
Phoebus High School
NM
$1.75 Cdn
2006 Jogo CFL Players - white
3
Gavin Walls #98
Winnipeg Blue Bombers
Phoebus High School
EX+
$1.50 Cdn
2006 Jogo CFL Players - white
4
Matt Sheridan #54
Winnipeg Blue Bombers
University of Manitoba
NM-MT
$2.00 Cdn
2006 Jogo CFL Players - white
4
Matt Sheridan #54
Winnipeg Blue Bombers
University of Manitoba
EX
$1.50 Cdn
2006 Jogo CFL Players - white
5 RC
Ron Warner #94
Winnipeg Blue Bombers
University of Kansas
NM-MT
$2.00 Cdn
2006 Jogo CFL Players - white
5 RC
Ron Warner #94
Winnipeg Blue Bombers
University of Kansas
EX
$1.50 Cdn
2006 Jogo CFL Players - white
6
Donnavan Carter #20
Winnipeg Blue Bombers
Northern Illinois University
NM-MT
$2.00 Cdn
06 Jogo CFL Players - white
7

Charles Roberts #1
Winnipeg Blue Bombers
California State University (Sacramento)
NM-MT
$2.00 Cdn
06 Jogo CFL Players - white
9 RC
Adrian Baird #90
Winnipeg Blue Bombers
University of Ottawa
NM-MT
$2.00 Cdn
06 Jogo CFL Players - white
9 RC
Adrian Baird #90
Winnipeg Blue Bombers
University of Ottawa
EX
$1.50 Cdn
2006 Jogo CFL Players - white
10
Kyries Hebert #23
Winnipeg Blue Bombers
University of Louisiana at Lafayette
NM-MT
$2.00 Cdn
2006 Jogo CFL Players - white
10
Kyries Hebert #23
Winnipeg Blue Bombers
University of Louisiana at Lafayette
EX
$1.50 Cdn
2006 Jogo CFL Players - white
11

Barrin Simpson #51
Winnipeg Blue Bombers
Mississippi State University
NM-MT
$2.00 Cdn
2006 Jogo CFL Players - white
11
Barrin Simpson #51
Winnipeg Blue Bombers
Mississippi State University
NM
$1.75 Cdn
2006 Jogo CFL Players - white
12
Omar Evans #4
Winnipeg Blue Bombers
Howard University
NM-MT
$2.00 Cdn
2006 Jogo CFL Players - white
12
Omar Evans #4
Winnipeg Blue Bombers
Howard University
NM
$1.75 Cdn
2006 Jogo CFL Players - white
13
Tom Canada #44
Winnipeg Blue Bombers
University of California (Berkeley)
NM-MT
$2.00 Cdn
2006 Jogo CFL Players - white
14
Albert Johnson III #87
Winnipeg Blue Bombers
Southern Methodist University
NM-MT
$2.00 Cdn
2006 Jogo CFL Players - white
15
Ron Ockimey #15
Winnipeg Blue Bombers
San Jose State University
NM-MT
$2.00 Cdn
2006 Jogo CFL Players - white
16
Shawn Gallant #22
Winnipeg Blue Bombers
Eastern Kentucky University
NM-MT
$2.00 Cdn
2006 Jogo CFL Players - white
17
Stanford Samuels #16
Winnipeg Blue Bombers
Florida State University
NM-MT
$2.00 Cdn
2006 Jogo CFL Players - white
17
Stanford Samuels #16
Winnipeg Blue Bombers
Florida State University
EX+
$1.50 Cdn
2006 Jogo CFL Players - white
18
Chris Brazzell #84
Winnipeg Blue Bombers
Angelo State University
NM-MT
$2.00 Cdn
2006 Jogo CFL Players - white
18
Chris Brazzell #84
Winnipeg Blue Bombers
Angelo State University
EX+
$1.50 Cdn
2006 Jogo CFL Players - white
19
Chris Cvetkovic #50
Winnipeg Blue Bombers
Concordia University
NM-MT
$2.00 Cdn
2006 Jogo CFL Players - white
19
Chris Cvetkovic #50
Winnipeg Blue Bombers
Concordia University
EX
$1.50 Cdn
2006 Jogo CFL Players - white
20 RC
Graeme Bell # 26
Winnipeg Blue Bombers
University of Saskatchewan
NM-MT
$2.00 Cdn
2006 Jogo CFL Players - white
20 RC
Graeme Bell # 26
Winnipeg Blue Bombers
University of Saskatchewan
EX+
$1.50 Cdn
2006 Jogo CFL Players - white
21 RC

Mike Quinn - QB #12
Winnipeg Blue Bombers
Stephen F. Austin State University
NM-MT
$2.00 Cdn
2006 Jogo CFL Players - white
21 RC
Mike Quinn - QB #12
Winnipeg Blue Bombers
Stephen F. Austin State University
NM
$1.75 Cdn
2006 Jogo CFL Players - white
21 RC
Mike Quinn - QB #12
Winnipeg Blue Bombers
Stephen F. Austin State University
EX
$1.50 Cdn
2006 Jogo CFL Players - white
22 RC
Arjei Franklin #86
Winnipeg Blue Bombers
University of Windsor
NM-MT
$2.00 Cdn
2006 Jogo CFL Players - white
84

Danny McManus - QB #14
Calgary Stampeders
Florida State University
NM-MT
$4.00 Cdn
2006 Jogo CFL Players - white
107
Anthony Malbrough #3
Winnipeg Blue Bombers
Texas Tech University
NM-MT
$2.00 Cdn
2006 Jogo CFL Players - white
109
Ibrahim "Obby" Khan #60
Winnipeg Blue Bombers
Simon Fraser University
NM-MT
$2.00 Cdn
2006 Jogo CFL Players - white
109
Ibrahim "Obby" Khan #60
Winnipeg Blue Bombers
Simon Fraser University
NM
$1.75 Cdn
2006 Jogo CFL Players - white
126 RC

Ricky Williams #27
Toronto Argonauts
University of Texas
EX
$5.00 Cdn
2006 Jogo CFL Players - white
126 RC
Ricky Williams #27
Toronto Argonauts
University of Texas
VG-EX
$4.00 Cdn
2006 Jogo CFL Players - white
137

Geroy Simon #81
B.C. Lions
University of Maryland
NM-MT

SOLD

2006 JOGO CFL "REGULAR" ROOKIE CARDS
(14 cards) $42.00 Cdn set

Year
Card #
Player & Jersey #
Team
School
Condition
Price Per Card
2006 Jogo CFL RC
2 R

Chip Cox #11
Montreal Alouettes
University of Ohio
NM-MT

SOLD

2006 Jogo CFL RC
4 R

Eric Crouch - QB #
Toronto Argonauts
University of Nebraska–Lincoln
NM-MT
SOLD
2006 Jogo CFL RC
5 R

Kahlil Carter #3
Toronto Argonauts
University of Arkansas
VG-EX
$1.50 Cdn
2006 Jogo CFL RC
6 R
Coby Rhinehart #3
Calgary Stampeders
Southern Methodist University
NM-MT
$4.00 Cdn
2006 Jogo CFL RC
7 R
Dahrran Diedrick #8
Montreal Alouettes
University of Nebraska
NM-MT
$3.00 Cdn
2006 Jogo CFL RC
7 R
Dahrran Diedrick #8
Montreal Alouettes
University of Nebraska
EX+
$2.00 Cdn
2006 Jogo CFL RC
8 R

Jordan Younger #26
Toronto Argonauts
University of Connecticut
NM-MT
$4.50 Cdn
2006 Jogo CFL RC
9 R

Rontarius Robinson #21
Saskatchewan Roughriders
Howard University
VG-EX
$1.50 Cdn
2006 Jogo CFL RC
10 R
Shermar Bracey #25
Saskatchewan Roughriders
Arkansas State University
NM-MT
$3.00 Cdn
2006 Jogo CFL RC
10 R
Shermar Bracey #25
Saskatchewan Roughriders
Arkansas State University
EX
$2.00 Cdn
2006 Jogo CFL RC
11 R
Robert Bean # 25
Winnipeg Blue Bombers
Mississippi State University
NM-MT
$3.00 Cdn
2006 Jogo CFL RC
12 R

Avon Colbourne #6
Montreal Alouettes
West Virginia University
NM-MT
SOLD
2006 Jogo CFL RC
13 R
Cedrick Williams #30
Calgary Stampeders
Kansas State University
NM-MT
$3.00 Cdn
2006 Jogo CFL RC
14 R
Davon Fowlkes #87
Hamilton Tiger Cats
Appalachian State University
NM-MT
$3.00 Cdn

2006 JOGO CFL "REGULAR" VARIATION / SHORT PRINT CARDS
(15 cards) $45.00 Cdn set

Year
Card #
Player & Jersey #
Team
School
Condition
Price Per Card
2006 Jogo CFL Var-SP
1 V

Milton Stegall #85
Winnipeg Blue Bombers
University of Miami (Ohio)
VG+
$2.50 Cdn
2006 Jogo CFL Var-SP
2 V RC

Ricky Williams #27
Toronto Argonauts
University of Texas
NM-MT
$8.00 Cdn
2006 Jogo CFL Var-SP
2 V RC
Ricky Williams #27
Toronto Argonauts
University of Texas
VG-EX
$4.00 Cdn
2006 Jogo CFL Var-SP
3 SP
Arland Bruce III #5
Toronto Argonauts
University of Minnesota
NM-MT
$3.50 Cdn
2006 Jogo CFL Var-SP
3 SP
Arland Bruce III #5
Toronto Argonauts
University of Minnesota
VG-EX 40/60 o/c
$1.50 Cdn
2006 Jogo CFL Var-SP
4 SP

Ben Cahoon #86
Montreal Alouettes
Brigham Young University
VG-EX
$2.25 Cdn
2006 Jogo CFL Var-SP
6 V
Brent Johnson #97
B.C. Lions
Ohio State University
NM-MT

SOLD

2006 Jogo CFL Var-SP
7 SP RC
Ken-Yon Rambo #85
Calgary Stampeders
Ohio State University
NM-MT
$3.50 Cdn
2006 Jogo CFL Var-SP
9 SP

Buck Pierce - QB #16
BC Lions
New Mexico State University
NM-MT
SOLD
2006 Jogo CFL Var-SP
10 V

Ricky Ray - QB #15
California State University (Sacramento)
Edmonton Eskimos
NM-MT
$7.00 Cdn
2006 Jogo CFL Var-SP
11 SP

Rocky Butler #
Saskatchewan Roughriders
Hofstra University
NM-MT
SOLD
2006 Jogo CFL Var-SP
12 SP

Jesse Lumsden #28
Hamilton Tiger Cats
McMaster University
NM-MT
$3.50 Cdn
2006 Jogo CFL Var-SP
13 SP
Jeremaine Copeland #80
Calgary Stampeders
University of Tennessee
NM-MT
$3.50 Cdn
2006 Jogo CFL Var-SP
13 SP
Jeremaine Copeland #80
Calgary Stampeders
University of Tennessee
VG+
$1.25 Cdn
2006 Jogo CFL Var-SP
14 SP
Terry Vaughn #2
Hamilton Tiger Cats
University of Arizona
NM-MT
$4.00 Cdn
2006 Jogo CFL Var-SP
14 SP
Terry Vaughn #2
Hamilton Tiger Cats
University of Arizona
VG
$1.50 Cdn
2006 Jogo CFL Var-SP
15 V

Geroy Simon #81
B.C. Lions
University of Maryland
NM-MT
$5.00 Cdn
2006 Jogo CFL Var-SP
15 V
Geroy Simon #81
B.C. Lions
University of Maryland
VG+
$1.75 Cdn

2006 JOGO CFL SPECIAL CARDS

Year
Card #
Player & Jersey #
Team
School
Condition
Price Per Card
2006 Jogo CFL
no #
Damon Allen Special
Limited - only 100 cards made!
Damon Allen / Marcus Allen / Warren Moon
Toronto Argonauts
NM-MT
$20.00 Cdn
Last Updated: April 15, 2018
---