WHA Hockey Media Guides
World Hockey Association Media Guides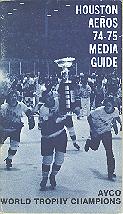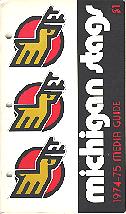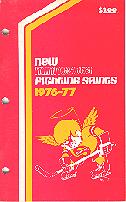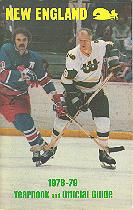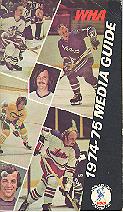 We have WHA League Media Guides & WHA Team Media Guides -
WHA Action Guides, WHA Facts Books, WHA Media Guides, WHA Press Guides, WHA Yearbooks for sale.

The WHA Media Guides are listed alphabetically by team and chronologically by year.
Prices subject to change without notice according to market conditions.
Copy the whole line (code & description) for each guide that you are interested in and paste them directly into an email,
please include your address and we will confirm guides are still available and work out the P+H.
Postage & Handling is extra. Canadian residents add applicable GST/HST.
Prices are listed in Canadian funds - please inquire as to the current exchange for prices in US funds.
WHA TEAM MEDIA GUIDES
3 hole punched copies were made for media binders

HOUSTON AEROS WHA MEDIA GUIDES



Pub 2105

77-78 Houston Aeros
WHA Media Guide

Team Logo
VG

$20.00 Cdn

INDIANAPOLIS RACERS WHA MEDIA GUIDES



Pub 2113

77-78 Indianapolis Racers
WHA Hockey Album

Player Drawing
VG+

$20.00 Cdn

PHOENIX ROADRUNNERS WHA FACTS BOOKS



Pub 2139

75-76 Phoenix Roadrunners
WHA Facts Book

Team Logo
VG+

$20.00 Cdn

SAN DIEGO MARINERS WHA MEDIA GUIDES



Pub 2155

74-75 San Diego Mariners
WHA Media Guide

Player Caricatures
VG, 3 hole punched

$20.00 Cdn


Pub 2156

75-76 San Diego Mariners
WHA Media Guide

Action and Player Photos
VG, 3 hole punched

$20.00 Cdn


Pub 2159

76-77 San Diego Mariners
WHA Media Guide

Team Logo
VG+

$22.00 Cdn


Pub 2157

76-77 San Diego Mariners
WHA Media Guide

Team Logo
VG

$20.00 Cdn


Pub 0733

76-77 WHA League
Media Guide

Marc Tardif
GD-VG

$20.00 Cdn


Pub 2072

76-77 WHA League
Media Guide

Marc Tardif
GD, "Brian Conacher"
printed on cover in ink

$10.00 Cdn


Pub 2073

76-77 WHA League
Media Guide

Marc Tardif
PR-FR

$5.00 Cdn

WHA ACTION ANNUAL



Pub 3194

72-73
WHA Action Annual

Bobby Hull
VG, autographed: To Larry Best Regards Bobby Hull

$45.00 Cdn

WHA SCHEDULE



Pub 3430

74-75
WHA Schedule - 1973-74 Statistics

Mike Walton
VG+, creased Cover

$10.00 Cdn
Last Updated: Aug. 3, 2017

---