WHA HOCKEY PROGRAMS
WORLD HOCKEY ASSOCIATION PROGRAMS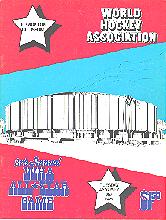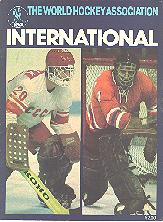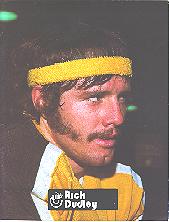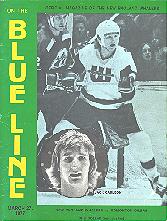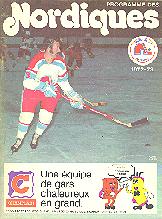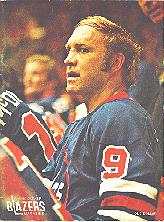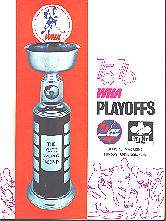 We sell back issues of vintage WHA hockey programs, WHA All-Star Game programs, WHA Playoff programs &
WHA media guides as well as many other hockey magazines, hockey media guides and minor hockey record books.
Postage & Handling is extra. Canadian residents add applicable GST/HST.
Prices are listed in Canadian funds - please inquire as to the current exchange for prices in US funds.
WHA HOCKEY PROGRAMS
WORLD HOCKEY ASSOCIATION PROGRAMS

WHA ALL STAR GAME HOCKEY PROGRAMS

Scan Code
Mag Issue
Cover
Contents
Condition
Price per magazine
Pub 4018
Jan. 13, 1976
4th Annual WHA All Star Game - Cleveland


Drawing of a Canadian All-Star Player &amp US All-Star Player
Canadian All-Stars Line-up:
Thommie Bergman, Serge Bernier, Christian Bordeleau, Real Cloutier, Joe Daley, Anders Hedberg, Larry Hornung, Rejean Houle, Bobby Hull, Barry Long, Danny Lawson, Frank Mahovlich, Don McLeod, John Miszuk, Vaclav Nedomansky, Ulf Nilsson, Rusty Patenaude, Lars-Erik Sjoberg, Marc Tardif, Jean-Claude Tremblay

US All-Stars Line-up:
Christer Abrahamsson, Ralph Backstrom, Don Borgeson, Wayne Carleton, Gerry Cheevers, Robbie Ftorek, Gordie Howe, Mark Howe, Marty Howe, Dave Keon, Andre Lacroix, Claude Larose, Rick Ley, Kevin Morrison, Gene Peacosh, John Schella, Paul Shmyr, Pat Stapleton, Mike Walton, Tom Webster
NM
$50.00 Cdn
Pub 4019
Jan. 13, 1976
4th Annual WHA All Star Game - Cleveland


Drawing of a Canadian All-Star Player & US All-Star Player
Canadian All-Stars Line-up:
Thommie Bergman, Serge Bernier, Christian Bordeleau, Real Cloutier, Joe Daley, Thommie Bergman, Anders Hedberg, Larry Hornung, Rejean Houle, Bobby Hull, Barry Long, Danny Lawson, Frank Mahovlich, Don McLeod, John Miszuk, Vaclav Nedomansky, Ulf Nilsson, Rusty Patenaude, Lars-Erik Sjoberg, Marc Tardif, Jean-Claude Tremblay

US All-Stars Line-up:
Christer Abrahamsson, Ralph Backstrom, Don Borgeson, Wayne Carleton, Gerry Cheevers, Robbie Ftorek, Gordie Howe, Mark Howe, Marty Howe, Dave Keon, Andre Lacroix, Claude Larose, Rick Ley, Kevin Morrison, Gene Peacosh, John Schella, Paul Shmyr, Pat Stapleton, Mike Walton, Tom Webster
VG
$15.00 Cdn

WHA INTERNATIONAL PROGRAMS

Scan Code
Mag Issue
Cover
Contents
Condition
Price per magazine
Pub 4021
1976-77
WHA International Program


Vladimir Dzurilla / Vladislav Tretiak
CCCP Line-up:
Boris Alexsandrov, Viacheslav Anisin, Sergei Babinov, Helmut Balderis, Aleksandr Bilialetdinov, Aleksandr Golikov, Aleksandr Gusev, Sergei Kapustin, Valeri Kharlamov, Vladimir Krikunov, Vladimir Lutchenko, Aleksandr Maltsev, Boris Mikhailov, Vladimir Petrov, Petr Prirodin, Vladimir Repniov, Vladimir Shadrin, Victor Shalimov, Vladislav Tretiak, Genadi Tsygankov, Valeri Vasilyev, Vladimir Vikulov, Aleksandr Yakushev, Viktor Zhluktov

Edmonton Oilers Line-up:
Doug Barrie, Frank Beaton, Ken Broderick, Ron Busniuk, Brett Callighen, Bryan Campbell, Wayne Connelly, Dave Dryden, Bill Flett, Al Hamilton, Larry Hornung, Gavin Kirk, Peter LaFramboise, Dave Langevin, Barry Merrell, Peter Morris, Rick Morris, Bob Nevin, Rusty Patenaude, Dennis Patterson, Randy Rota, Bob Russell, Glen Sather, Tim Sheehy, Barry Wilkins, Warren Williams

Calgary Cowboys Line-up:
Ken Baird, Gary Bromley, Ron Chipperfield, Peter Driscoll, Chris Evans, Mike Ford, Paul Hurley, Rick Jodzio, Danny Lawson, Richard Lemieux, Don McLeod, Warren Miller, John Miszuk, George Pesut, Lynn Powis, Claude St. Saveur, Rick Sentes, Don Tannahill, Paul Terbenche

Quebec Nordiques Line-up:
Serge Aubry, Paul Baxter, Jean Bernier, Serge Bernier, Chris Bordeleau, Paulin Bordeleau, Curt Brackenberry, Richard Brodeur, Charles Constantin, Real Cloutier, Jim Dorey, Bob Fitchner, Richard Grenier, Francois Lacombe, Steve Sutherland, Marc Tardif, Jean-Claude Tremblay, Wally Weir

Winnipeg Jets Line-up:
Thommie Bergman, Joe Daley, Dave Dunn, Ted Green, Bobby Guindon, Anders Hedberg, Bobby Hull, Veli-Pekka Ketola, Dan Labraaten, Curt Larsson, Bill Lesuk, Mats Lindh, Willy Lindstrom, Barry Long, Perry Miller, Lyle Moffat, Ulf Nilsson, Hexi Riihiranta, Kent Ruhnke, Lars-Erik Sjoberg, Peter Sullivan
GD-VG, stained on back
$6.00 Cdn
Pub 4022
1976-77
WHA International Program


Vladimir Dzurilla / Vladislav Tretiak
CCSR Line-up:
Lybomir Bauer, Frantisek Cermek, Vladimir Dzurilla, Frantisek Kaberle, Miroslav Krasa, Miroslav Kravasec, Antonin Melc, Zdenek Muller, Zdenek Nedved, Jan Neliba, Eduard Novak, Milan Novy, Frantisek Posposil, Jaroslav Pouzar, Milan Skrbec, Marian Stastny, Peter Stastny, Vaclav Sykora, Miroslav Termer, Otakar Vejvoda, Jaroslav Vins, Ladislav Vysusil, Jan Zajicek *additional player printed in: Jan Novotny

Edmonton Oilers Line-up:
Doug Barrie, Frank Beaton, Ken Broderick, Ron Busniuk, Brett Callighen, Bryan Campbell, Wayne Connelly, Dave Dryden, Bill Flett, Al Hamilton, Larry Hornung, Gavin Kirk, Peter LaFramboise, Dave Langevin, Barry Merrell, Peter Morris, Rick Morris, Bob Nevin, Rusty Patenaude, Dennis Patterson, Randy Rota, Bob Russell, Glen Sather, Tim Sheehy, Barry Wilkins, Warren Williams

Calgary Cowboys Line-up:
Ken Baird, Gary Bromley, Ron Chipperfield, Peter Driscoll, Chris Evans, Mike Ford, Paul Hurley, Rick Jodzio, Danny Lawson, Richard Lemieux, Don McLeod, Warren Miller, John Miszuk, George Pesut, Lynn Powis, Claude St. Saveur, Rick Sentes, Don Tannahill, Paul Terbenche

Quebec Nordiques Line-up:
Serge Aubry, Paul Baxter, Jean Bernier, Serge Bernier, Chris Bordeleau, Paulin Bordeleau, Curt Brackenberry, Richard Brodeur, Charles Constantin, Real Cloutier, Jim Dorey, Bob Fitchner, Richard Grenier, Francois Lacombe, Steve Sutherland, Marc Tardif, Jean-Claude Tremblay, Wally Weir

Winnipeg Jets Line-up:
Thommie Bergman, Joe Daley, Dave Dunn, Ted Green, Bobby Guindon, Anders Hedberg, Bobby Hull, Veli-Pekka Ketola, Dan Labraaten, Curt Larsson, Bill Lesuk, Mats Lindh, Willy Lindstrom, Barry Long, Perry Miller, Lyle Moffat, Ulf Nilsson, Hexi Riihiranta, Kent Ruhnke, Lars-Erik Sjoberg, Peter Sullivan
FR, CSSR lineup scratches, several small tears on back cover
$5.00 Cdn

WHA HOCKEY PROGRAMS
WORLD HOCKEY ASSOCIATION PROGRAMS

CINCINNATI STINGERS WHA HOCKEY PROGRAMS

Scan Code
Mag Issue
Cover
Contents
Condition
Price per magazine
Pub 4024
1978-79, date unknown
New England Whalers
vs
Cincinatti Stingers
WHA Program


Drawing of Whalers Logo & Players vs Stingers Players
New England Whalers Line-up:
Mike Antonovich, Jack Carlson, Jordy Douglas, John Garrett, Alan Hangsleben, Gordie Howe, Mark Howe, Marty Howe, Andre Lacroix, Rick Ley, George Lyle, John McKenzie, Warren Miller, Ron Plumb, Gordie Roberts, Mike Rogers, Brad Selwood, Al Smith

Cincinatti Stingers Line-up:
Bryon Baltimore, Gordie Clark, Kelly Davis, Dave DeBol, Michel Dion, Robbie Ftorek, Mike Gartner, Eddie Gilbert, Bill Gilligan, Hugh Harris, Jamie Hislop, Mike Liut, Chuck Luksa, Peter Marsh, Barry Melrose, Craig Norwich, Paul Stewart
VG, 3" creased cover, few stains on back
$4.00 Cdn

LOS ANGELES SHARKS WHA HOCKEY PROGRAMS

Scan Code
Mag Issue
Cover
Contents
Condition
Price per magazine
Pub 4661
Nov. 23, 1973
Edmonton Oilers
vs
Los Angeles Sharks
WHA Program


Danny Lawson / Ron Plumb & Chicago Cougars Player
Edmonton Oilers Line-up:
Ken Baird, Doug Barrie, Steve Carlyle, Ron Climie, Roger Cote, Bob Falkenberg, Bob Fitchner, Val Fonteyne, Tom Gilmore, Al Hamilton, Jim Harrison, Ed Joyal, Len Lunde, Jim McCrimmon, Blair McDonald, Brian McKenzie, Jack Norris, Rusty Patenaude, Ross Perkins, Bob Wall, Chris Worthy

Los Angeles Sharks Line-up:
Bart Crashley, Ron Garwasiuk, Russ Gillow, Earl Heiskala, Paul Hoganson, Mike Hyndman, J.P. LeBlanc, Ted McCaskill, Brian McDonald, Jim Niekamp, Gerry Odrowski, Tom Serviss, Peter Slater, Steve Sutherland, Marc Tardif, Reg Thomas, Gary Veneruzzo, Ron Walters, Jim Watson, Ian Wilkie
GD
$15.00 Cdn

QUEBEC NORDIQUES WHA HOCKEY PROGRAMS

Scan Code
Mag Issue
Cover
Contents
Condition
Price per magazine
Pub 4662
Oct. 18, 1973
Toronto Toros
vs
Quebec Nordiques
WHA Program


Serge Bernier / Brad Selwood
Toronto Toros Line-up:
Mike Amodeo, Les Binkley, Carl Brewer, Wayne Carleton, Steve Cuddie, Rick Cunningham, Wayne Dillon, Brian Gibbons, Jack Gibson, Gilles Gratton, Pat Hickey, Steve King, Gavin Kirk, Bob Leduc, Peter Marrin, Tom Martin, Brit Selby, Rick Sentes, Tom Simpson, Guy Trottier

Quebec Nordiques Line-up:
Serge Aubry, Alain Beaule, Serge Bernier, Richard Brodeur, Alain Caron, Michel Deguise, Normand Descoteaux, Ken Desjardine, Andre Gaudette, Jean Guy Gendron, Jeannot Gilbert, Robert Guindon, Pierre Guite, Dale Hoganson, Rejean Houle, Francois Lacombe, Renald Leclerc, Michel Parizeau, Jean Payette, Jean-Claude Tremblay
VG
$15.00 Cdn

WINNIPEG JETS WHA HOCKEY PROGRAMS

Scan Code
Mag Issue
Cover
Contents
Condition
Price per magazine
Pub 5162
Dec. 7, 1972
Quebec Nordiques
vs
Winnipeg Jets
WHA Program


Chris Bordeleau
Quebec Nordiques Line-up:
Michel Archembault, Serge Aubry, Yves Bergeron, Jacques Blain, Alain Caron, Ken Des Jardine, Guy Dufour, Andre Gaudette, Jean Guy Gendron, Rejean Giroux, Frank Golembrosky, Robert Guindon, Pierre Guite, Michel Harvey, Francois Lacombe, Paul Larose, Renald Leclerc, Jacques Lemelin, Michael McNamara, Jean Payette, Mike Rouleau, Pierre Roy, Steve Sutherland, Jean-Claude Tremblay

Winnipeg Jets Line-up:
Bob Ash, Duke Asmundson, Norm Beaudin, Milt Black, Chris Bordeleau, Wally Boyer, Brian Cadle, Steve Cuddie, Joe Daley, Jean Guy Gratton, Larry Hornung, Bobby Hull, Danny Johnson, Ab McDonald, Garth Rizzuto, Dunc Rousseau, Cal Swenson, Bill Sutherland, Gord Tumilson, Ernie Wakely, Bob Woytowich, Joe Zanussi
GD-VG, lineup scratches
$7.00 Cdn
Pub 5163
Feb. 16 or 18, 1973
Houston Aeros
vs
Winnipeg Jets
WHA Program


Bobby Hull
Houston Aeros Line-up:
Don Grierson, Larry Hale, Murray Hall, Duke Harris, Andre Hinse, Ed Hoekstra, Bill Hughes, Frank Hughes, Gordon Kannegeiser, Gord Labossiere, Ray Larose, Larry Lund, Dunc McCallum, Brian McDonald, Don McLeod, Keke Mortson, Poul Popiel, Wayne Rutledge, John Schella, Brian Smith, Jack Stanfield, Ted Taylor

Winnipeg Jets Line-up:
Bob Ash, Duke Asmundson, Norm Beaudin, Milt Black, Chris Bordeleau, Wally Boyer, Brian Cadle, Steve Cuddie, Joe Daley, Jean Guy Gratton, Larry Hornung, Bobby Hull, Danny Johnson, Ab McDonald, Garth Rizzuto, Dunc Rousseau, Cal Swenson, Bill Sutherland, Gord Tumilson, Ernie Wakely, Bob Woytowich, Joe Zanussi
GD, water damage
$5.00 Cdn

WINNIPEG JETS 1972-73 WHA PLAYOFF PROGRAMS

Scan Code
Mag Issue
Cover
Contents
Condition
Price per magazine
Pub 5165
April 6, 8 or 15, 1973
Minnesota Fighting Saints
vs
Winnipeg Jets
WHA Playoff Program


1972-73 Winnipeg Jets Team Photo
Minnesota Fighting Saints Line-up:
Mike Antonovich, John Arbour, Terry Ball, Keith Christiansen, Wayne Connelly, Mike Curran, Craig Falkman, Ted Hampson, Billy Klatt, George Konik, Len Lilyholm, Bob MacMillan, Jack McCartan, Mike McMahon, George Morrison, Dick Paradise, Mel Pearson, Terry Ryan, Blaine Rydman, Frank Sanders, Fred Speck, Bill Young

Winnipeg Jets Line-up:
Bobby Ash, Duke Asmundsen, Norm Beaudin, Milt Black, Chris Bordeleau, Wally Boyer, Brian Cadle, Steve Cuddie, Joe Daley, Jean Guy Gratton, Larry Hornung, Bobby Hull, Danny Johnson, Ab McDonald, Garth Rizzuto, Dunc Rousseau, John Shmyr, Bill Sutherland, Cal Swenson, Gord Tumilson, Ernie Wakely, Bob Woytowich, Joe Zanussi
VG, loose centerfold
$9.00 Cdn

WINNIPEG JETS 1974-75 WHA PROGRAMS

Scan Code
Mag Issue
Cover
Contents
Condition
Price per magazine
Pub 5167
March 31, 1975
Indianapolis Racers
vs
Winnipeg Jets
WHA Program


Curt Larsson
Indianapolis Racers Line-up:
Bob Ash, Ken Block, Kerry Bond, Andy Brown, Ron Buchanan, Ken Desjardine, Ed Dyck, Bob Fitchner, Nick Harbaruk, Craig Hanmer, Joe Hardy, Bill Horton, Jim Johnson, Brian McDonald, Dick Proceviat, John Sheridan, Bob Sicinski, Bob Whitlock, Jim Wiste, Bob Woytowich

Winnipeg Jets Line-up:
Duke Asmundson, Norm Beaudin, Alain Beaule, Milt Black, Joe Daley, Mike Ford, Jean Guy Gratton, Danny Gruen, Anders Hedberg, Larry Hornung, Bobby Hull, Danny Johnson, Veli-Pekka Ketola, Curt Larsson, Perry Miller, Heikki Riihiranta, Lars-Erik Sjoberg, Danny Spring, Howie Young
FR, 5" cover crease
$4.00 Cdn

WINNIPEG JETS 1975-76 WHA PROGRAMS

Scan Code
Mag Issue
Cover
Contents
Condition
Price per magazine
Pub 5168
Oct. 24, 1975
Denver Spurs
vs
Winnipeg Jets
WHA Program


Veli-Pekka Ketola
Denver Spurs Line-up:
Ralph Backstrom, Bryon Baltimore, Larry Bignell, Don Borgeson, Gary Bredin, Brian Gibbons, Bob Johnson, Brian Lavender, J.P. LeBlanc, Barry Legge, Bob Liddington, Mark Lomenda, Gary MacGregor, Darryl Maggs, Peter Mara, Larry Mavety, Rick Morris, Cam Newton, Ed Puzinski, Francois Rochon, Jim Sherrit

Winnipeg Jets Line-up:
Duke Asmundson, Thommie Bergman, Norm Beaudin, Joe Daley, Mike Ford, Ted Green, Anders Hedberg, Larry Hillman, Larry Hornung, Bobby Hull, Veli-Pekka Ketola, Curt Larsson, Randy Legge, Bill Lesuk, Mats Lindh, Willy Lindstrom, Perry Miller, Ulf Nilsson, Hexi Riihiranta, Lars-Erik Sjoberg, Peter Sullivan
VG
$7.00 Cdn
Pub 5169
Nov. 4, 1975
New England Whalers
vs
Winnipeg Jets
WHA Program


Willy Lindstrom
New England Whalers Line-up:
Christer Abrahamsson, Tommy Abrahamsson, Danny Arndt, Mike Byers, Terry Caffery, Wayne Carleton, Ron Climie, Tom Earl, Nick Fotiu, Alan Hangsleben, Paul Hoganson, Paul Hurley, Bruce Landon, Rick Ley, Fred O`Donnell, Rosaire Paiement, Larry Pleau, Gordie Roberts, Brad Selwood, Garry Swain, Tom Webster

Winnipeg Jets Line-up:
Duke Asmundson, Thommie Bergman, Joe Daley, Mike Ford, Ted Green, Anders Hedberg, Larry Hillman, Larry Hornung, Bobby Hull, Veli-Pekka Ketola, Curt Larsson, Randy Legge, Bill Lesuk, Mats Lindh, Willy Lindstrom, Perry Miller, Ulf Nilsson, Hexi Riihiranta, Lars-Erik Sjoberg, Peter Sullivan
VG
$7.00 Cdn
Pub 5170
Nov. 11, 1975
Cleveland Crusaders
vs
Winnipeg Jets
WHA Program


Hexi Riihiranta
Cleveland Crusaders Line-up:
Terry Ball, Paul Baxter, Gerry Cheevers, Tom Edur, Danny Gruen, Jim Harrison, Terry Holbrook, Gary Jarrett, Rich Leduc, Bryan Maxwell, Al McDonough, Ray McKay, Lyle Moffat, Wayne Muloin, Gerry Pinder, Paul Shmyr, John A. Stewart, John C. Stewart, Juhani Tamminen, Bob Whidden, Russ Walker, Ron Ward

Winnipeg Jets Line-up:
Duke Asmundson, Norm Beaudin, Thommie Bergman, Joe Daley, Mike Ford, Ted Green, Anders Hedberg, Larry Hillman, Larry Hornung, Bobby Hull, Veli-Pekka Ketola, Curt Larsson, Randy Legge, Bill Lesuk, Mats Lindh, Willy Lindstrom, Perry Miller, Ulf Nilsson, Hexi Riihiranta, Lars-Erik Sjoberg, Peter Sullivan
VG
$7.00 Cdn
Pub 5171
Jan. 18, 1976
New England Whalers
vs
Winnipeg Jets
WHA Program


Ted Green
New England Whalers Line-up:
Christer Abrahamsson, Tommy Abrahamsson, Danny Arndt, Wayne Carleton, Bob Charlebois, Tom Earl, Nick Fotiu, Murty Gateman, Alan Hangsleben, Paul Hurley, Bruce Landon, Rick Ley, Mob McManuma, Fred O`Donnell, Rosaire Paiement, Doug Roberts, Gordie Roberts, Brad Selwood, Garry Swain, Tom Webster

Winnipeg Jets Line-up:
Duke Asmundson, Norm Beaudin, Thommie Bergman, Joe Daley, Mike Ford, Ted Green, Anders Hedberg, Larry Hillman, Larry Hornung, Bobby Hull, Veli-Pekka Ketola, Curt Larsson, Bill Lesuk, Mats Lindh, Willy Lindstrom, Perry Miller, Lyle Moffat, Ulf Nilsson, Hexi Riihiranta, Lars-Erik Sjoberg, Peter Sullivan
GD
$5.00 Cdn
Last Updated: June 18, 2017
---