AHL Books & Media Guides
American Hockey League Books & Guides
We sell AHL Media Guides, AHL Rule Books, Calder Cup Playoff Guides back issues.
These minor league media guides are listed chronologically by year.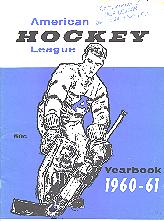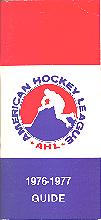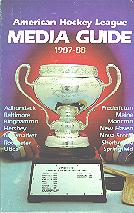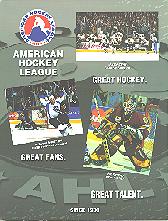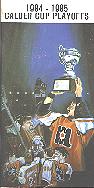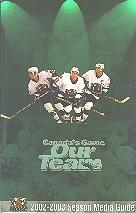 Prices subject to change without notice according to market conditions.
Postage & Handling is extra. Canadian residents add applicable GST/HST.
Prices are listed in Canadian funds - please inquire as to the current exchange for prices in US funds.
AHL BOOKS - AMERICAN HOCKEY LEAGUE BOOKS

Scan Code
Description
Cover
Condition
Price per book
Pub 0977
1936-86 American Hockey League: The First Fifty Years (o/s)



GD
$5.00 Cdn

AHL RULE BOOKS - AMERICAN HOCKEY LEAGUE RULE BOOKS

Scan Code
Year
Description
Cover
Condition
Price per book
Pub 3426
82-83
AHL Official Rule Book


AHL Logo
VG
$5.00 Cdn
Pub 0980
83-84
AHL Official Rule Book


AHL Logo
EX
$10.00 Cdn
Pub 0981
84-85
AHL Official Rule Book


Logo
VG-EX
$5.00 Cdn
Pub 0982
87-88
AHL Rules


Face-off
VG+
$5.00 Cdn

AHL GUIDES - AMERICAN HOCKEY LEAGUE GUIDES
AMERICAN HOCKEY LEAGUE YEARBOOKS

Scan Code
Year
Description
Cover
Condition
Price per book
Pub 4229
60-61
American Hockey League Yearbook (o/s)


Hockey Goalie Drawing
Compliments of Jack Gordon
VG+, small stain on cover
$25.00 Cdn
Pub 0979
61-62
American Hockey League Yearbook (o/s)


Hockey Player Drawing
GD-VG, 1" split spine
$25.00 Cdn
Pub 3389
76-77
American Hockey League Guide


AHL logo
VG, 1" crease
$7.00 Cdn
Pub 3388
76-77
American Hockey League Guide


AHL logo
GD-VG
$7.00 Cdn
Pub 3390
77-78
American Hockey League Guide


AHL logo
VG
$8.00 Cdn
Pub 0983
77-78
American Hockey League Guide


AHL logo
GD-VG
$7.00 Cdn
Pub 3391
79-80
American Hockey League Guide


AHL logo
VG
$8.00 Cdn
Pub 3392
82-83
American Hockey League Yearbook - Guide


AHL team logo pucks
GD-VG
$7.00 Cdn
Pub 3394
84-85
American Hockey League Guide


AHL logo
VG-EX
$10.00 Cdn
Pub 3398
87-88
American Hockey League Yearbook


Calder Cup Trophy
VG
$7.00 Cdn
Pub 3397
87-88
American Hockey League Yearbook


Calder Cup Trophy
GD+
$6.00 Cdn

AMERICAN HOCKEY LEAGUE GUIDE & RECORD BOOKS (o/s)

Scan Code
Year
Description
Cover
Condition
Price per book
Pub 3437
02-03
American Hockey League Guide & Record Book (o/s)


Bridgeport Sound Tigers / Chicago Wolves / Pasi Nurminen
VG+
$10.00 Cdn
Pub 3438
03-04
American Hockey League Guide & Record Book (o/s)


Rick DiPietro / Jason Spezza / Jason Ward
VG
$7.50 Cdn
Pub 3436
04-05
American Hockey League Guide & Record Book (o/s)


Milwaukee Admirals player with Calder Cup with Martin St. Louis inset
VG+
$10.00 Cdn

CALDER CUP PLAYOFF GUIDES

Scan Code
Year
Description
Cover
Condition
Price per book
Pub 3385
84-85
Calder Cup Playoffs Guide


Drawing of Maine Mariners hoisting Calder Cup
VG+, 3/4" crease
$5.00 Cdn
Pub 3386
86-87
Calder Cup Guide


Adirondack Red Wings hoisting Calder Cup
VG, 1 1/2" crease
$4.00 Cdn
Pub 3387
87-88
Calder Cup Guide


Rochester Americans hoisting Calder Cup
VG+
$6.00 Cdn
Pub 0985
87-88
Calder Cup Guide


Rochester Americans hoisting Calder Cup
VG
$5.00 Cdn
Pub 0987
90-91
Calder Cup Guide


Calder Cup + Hockey Equipment
EX
$8.00 Cdn
Pub 0988
91-92
Calder Cup Guide


Team logo pins, AHL Ref jersey, AHL puck & map
EX
$8.00 Cdn
Pub 3405
96-97
Philadelphia Phantoms Playoff Guide (o/s)


Calder Cup Trophy & Philadelphia Phantoms Logo
VG, cerlox binding
$6.00 Cdn

AHL TEAM MEDIA GUIDES

MAINE MARINERS MEDIA GUIDES

Scan Code
Year
Description
Cover
Condition
Price per book
Pub 0989
81-82
Maine Mariners Media Guide


Pelle Lindbergh
VG
$7.00 Cdn

MANITOBA MOOSE MEDIA GUIDES

Scan Code
Year
Description
Cover
Condition
Price per book
Pub 3400
02-03
Manitoba Moose Media Guide


Brian Chapman / Brandon Reid / Jimmy Roy
VG+
$5.00 Cdn
Pub 3401
02-03
Manitoba Moose Media Guide


Brian Chapman / Brandon Reid / Jimmy Roy
GD+
$3.00 Cdn
Pub 3402
03-04
Manitoba Moose Media Guide


Jimmy Roy
EX+
$7.00 Cdn
Pub 3403
03-04
Manitoba Moose Media Guide


Jimmy Roy
VG++
$5.00 Cdn
Pub 3404
04-05
Manitoba Moose Media Guide


MTS Centre
VG+
$5.00 Cdn

NEW BRUNSWICK HAWKS FACT BOOKS

Scan Code
Year
Description
Cover
Condition
Price per book
Pub 0990
79-80
New Brunswick Hawks Fact Book


multiple logos
GD-VG
$6.00 Cdn

NEW HAVEN NIGHTHAWKS MEDIA GUIDES

Scan Code
Year
Description
Cover
Condition
Price per book
Pub 0996
83-84
New Haven Nighthawks Media Guide


Action shot
GD-VG, cover worn
$6.00 Cdn

AHL TEAM RECORD BOOKS

ADIRONDACK RED WINGS REDCORD BOOKS (o/s)

Scan Code
Year
Description
Cover
Condition
Price per book
Pub 6409
10th Anniversary 1979-1989
Adirondack Red Wings Record Book


Team Logo
VG+
$8.00 Cdn

AHL TEAM YEARBOOKS (o/s)

MANITOBA MOOSE YEARBOOKS (o/s)

Scan Code
Year
Description
Cover
Condition
Price per book
Pub 4230
01-02
Manitoba Moose Yearbook (o/s) with program vs Milwaukee Admirals


Jimmy Roy
VG+
$6.00 Cdn
Pub 3433
01-02
Manitoba Moose Yearbook (o/s)


Jimmy Roy
VG
$5.00 Cdn
Pub 3192
02-03
Manitoba Moose Yearbook (o/s)


Brian Chapman / Brandon Reid / Jimmy Roy
VG+
$6.00 Cdn
Pub 3434
02-03
Manitoba Moose Yearbook (o/s)


Brian Chapman / Brandon Reid / Jimmy Roy
VG
$5.00 Cdn
Pub 3435
04-05
Manitoba Moose Yearbook (o/s)


MTS Centre
VG+
$5.00 Cdn

TORONTO MARLBOROS YEARBOOKS

Scan Code
Year
Description
Cover
Condition
Price per book
Pub 4252
1986-87
Toronto Marlboros Yearbook


Team Logo
VG
$6.00 Cdn

UTICA DEVILS YEARBOOKS (o/s)

Scan Code
Year
Description
Cover
Condition
Price per book
Pub 4331
88-89
Utica Devils Yearbook (o/s) with Adirondack vs Utica Line-up Sheets


Devils Locker Room
VG
$5.00 Cdn

AHL SCHEDULE

Scan Code
Year
Description
Cover
Condition
Price per book
Pub 3427
02-03
AHL Schedule


Bridgeport Sound Tigers / Chicago Wolves / Pasi Nurminen
VG
$2.00 Cdn
Last Updated: Sept. 2, 2017

---