WCHL Media Guides & WHL Media Guides

WCHL Yearbooks & WHL Yearbooks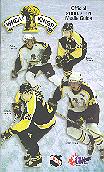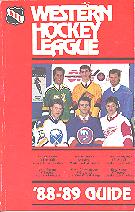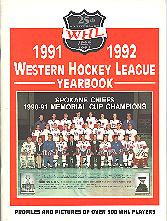 These minor league media guides are listed chronologically by year.
Prices subject to change without notice according to market conditions.
Postage & Handling is extra. Canadian residents add applicable GST/HST.
Prices are listed in Canadian funds - please inquire as to the current exchange for prices in US funds.
BRANDON WHEAT KINGS WHL MEDIA GUIDES

Scan Code
Year
Description
Cover
Condition
Price per book
Pub 0808
99-00
WHL Brandon Wheat Kings Media Guide


Brian Propp
EX
$5.00 Cdn
Pub 0809
99-00
WHL Brandon Wheat Kings Media Guide


Brian Propp
VG
$3.00 Cdn
Pub 0810
00-01
WHL Brandon Wheat Kings Media Guide


Ryan Craig / Colin McRae / Randy Ponte / Jordin Tootoo
VG+
$3.50 Cdn
Pub 0811
00-01
WHL Brandon Wheat Kings Media Guide


Ryan Craig / Colin McRae / Randy Ponte / Jordin Tootoo
VG
$3.00 Cdn
Pub 0812
00-01
WHL Brandon Wheat Kings Media Guide


Ryan Craig / Colin McRae / Randy Ponte / Jordin Tootoo
GD-VG
$2.50 Cdn
Pub 0813
00-01
WHL Brandon Wheat Kings Media Guide


Ryan Craig / Colin McRae / Randy Ponte / Jordin Tootoo
GD-VG, 1/2" cover tear
$2.00 Cdn
Pub 0814
00-01
WHL Brandon Wheat Kings Media Guide


Ryan Craig / Colin McRae / Randy Ponte / Jordin Tootoo
GD
$2.00 Cdn

LETHBRIDGE HURRICANES WHL YEARBOOKS

Pub 4333
1989-90
WHL Lethbridge Hurricanes Yearbook (o/s)


Don Blishen / Mark Greig / Corey Lyons with inset Corey Lyons & Wes Walz
VG+
$6.00 Cdn

REGINA PATS WHL MEDIA GUIDES

Scan Code
Year
Description
Cover
Condition
Price per book
Pub 0816
00-01
WHL Regina Pats Media Guide


Logo
NM
$6.00 Cdn

WHL TEAM HISTORY BOOKS

Scan Code
Year
Description
Cover
Condition
Price per book
Pub 1448
1971-1981
Prince Albert Jr. Raider History Book (217 pages)


1971-1981 players hoisting the Centennial Cup
GD, 2 staple holes in cover
$5.00 Cdn
Pub 6472
1964-1987
Saskatoon Blades 1987 Reunion (225 pages)


Saskatoon Arena
GD-VG creased cover
$5.00 Cdn

WHL GUIDES - WESTERN HOCKEY LEAGUE GUIDES

Poorer conditions relate more to the covers.
The inside of the books are fine + readable.
Scan Code
Year
Description
Cover
Condition
Price per book
Pub 3015
81-82
Western Hockey League Guide


Jim Benning / Grant Fuhr / Garth Butcher / Randy Moller / Marty Ruff
VG
$8.00 Cdn
Pub 3016
81-82
Western Hockey League Guide


Jim Benning / Grant Fuhr / Garth Butcher / Randy Moller / Marty Ruff
GD-VG
$6.00 Cdn
Pub 3014
81-82
Western Hockey League Guide


Jim Benning / Grant Fuhr / Garth Butcher / Randy Moller / Marty Ruff
GD-VG
$5.00 Cdn
Pub 3319
81-82
Western Hockey League Guide


Jim Benning / Grant Fuhr / Garth Butcher / Randy Moller / Marty Ruff
GD
$4.00 Cdn
Pub 5190
82-83
Western Hockey League Guide


Gary Nylund / Gord Kluzak / Ron Sutter
VG-EX
$5.00 Cdn
Pub 830
82-83
Western Hockey League Guide


Gary Nylund / Gord Kluzak / Ron Sutter
VG
$5.00 Cdn
Pub 3018
82-83
Western Hockey League Guide


Gary Nylund / Gord Kluzak / Ron Sutter
FR-GD
$3.00 Cdn
Pub 5191
83-84
Western Hockey League Guide


Russ Courtnall / Cam Neely
EX
$10.00 Cdn
Pub 3019
83-84
Western Hockey League Guide


Russ Courtnall / Cam Neely
VG
$6.00 Cdn
Pub 3022
84-85
Western Hockey League Guide


Doug Bodger
VG
$5.00 Cdn
Pub 0836
84-85
Western Hockey League Guide


Doug Bodger
GD, 2 x 1/2" tear on cover
$3.00 Cdn
Pub 3023
84-85
Western Hockey League Guide


Doug Bodger
FR
$4.00 Cdn
Pub 3024
84-85
Western Hockey League Guide


Doug Bodger
FR
$4.00 Cdn
Pub 3031
89-90
Western Hockey League Guide


Stu Barnes / Dave Chyzowski / Mike Sillinger
VG
$5.00 Cdn
Pub 0848
90-91
Western Hockey League Guide


Petr Nedved / Scott Scissons / Darryl Sydor
GD
$3.00 Cdn
Pub 0849
91-92
Western Hockey League Guide


Tyler Wright / Richard Matvichuk / Scott Niedermayer / Pat Falloon
VG+
$6.00 Cdn
Pub 3032
91-92
Western Hockey League Guide


Tyler Wright / Richard Matvichuk / Scott Niedermayer / Pat Falloon
GD
$4.00 Cdn
Pub 0853
93-94
Western Hockey League Guide


Adam Deadmarsh / Rob Niedermayer / Denis Pederson / Brendan Witt
VG
$5.00 Cdn
Pub 3039
07-08
Western Hockey League Guide


Vancouver Giants - 2007 Memorial Cup Champions
Medicine Hat Tigers - 2007 WHL Champions
VG
$5.00 Cdn

WHL - WESTERN HOCKEY LEAGUE YEARBOOKS

(oversize)
Scan Code
Year
Description
Cover
Condition
Price per book
Pub 0868
1991-92
Western Hockey League Yearbook (o/s)


Spokane Chiefs Memorial Cup Champions Team Picture
VG
$8.00 Cdn
Pub 0869
1992-93
Western Hockey League Yearbook (o/s)


Kamloops Blazers Memorial Cup Champions Team Picture
VG
$8.00 Cdn
Pub 0870
1993-94
Western Hockey League Yearbook (o/s)


Swift Current Broncos WHL Champions
VG-EX
$9.00 Cdn
Pub 0871
1993-94
Western Hockey League Yearbook (o/s)


Swift Current Broncos WHL Champions
VG
$8.00 Cdn
Pub 3193
1993-94
Western Hockey League Yearbook (o/s)


Swift Current Broncos WHL Champions
VG
$8.00 Cdn
Pub 4332
1993-94
Western Hockey League Yearbook (o/s)


Swift Current Broncos WHL Champions
VG
$8.00 Cdn
Pub 0873
1994-95
Western Hockey League Yearbook (o/s)


Kamloops Blazers Memorial Cup Champions Team Picture
VG
$8.00 Cdn
Last Updated: Aug. 3, 2017

---