EDMONTON OILERS WHA HOCKEY PROGRAMS
EDMONTON OILERS WHA PLAYOFF PROGRAMS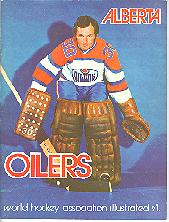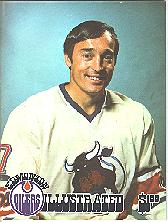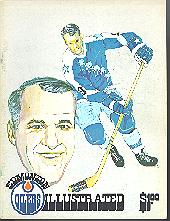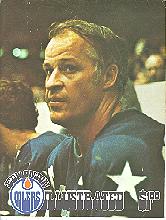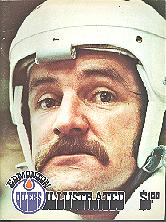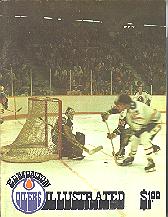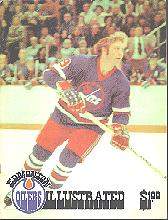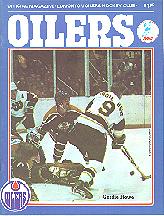 We sell back issues of old Edmonton Oilers WHA hockey programs, WHA Playoff programs & NHL hockey programs,
as well as many other hockey magazines, hockey media guides and WHA hockey record books.
We have more years to list for the Edmonton Oilers NHL hockey programs.
Prices subject to change without notice according to market conditions.
Postage & Handling is extra. Canadian residents add applicable GST/HST.
Prices are listed in Canadian funds - please inquire as to the current exchange for prices in US funds.
EDMONTON OILERS WHA PROGRAMS & WHA PLAYOFF PROGRAMS

EDMONTON OILERS - 1975-76 WHA HOCKEY PROGRAMS

Scan Code
Mag Issue
Cover
Contents
Condition
Price per magazine
Pub 4506
Oct. 12, 1975
Chicago Cougars
vs
Edmonton Oilers
WHA Program



Pat Stapleton
Chicago Cougars Line-up:
Ken Block, Andy Brown, Ron Buchanan, Kim Clackson, Brian Coates, Michel Dubois, Bob Fitchner, Nick Harbaruk, Murray Heatley, Leif Holmquist, Al Karlander, Bill Prentice, Dick Proceviat, Ted Scharf, John Sheridan, Bob Sicinski, Pat Stapleton, Reg Thomas, Bob Whitlock, Jim Wiste, Bob Wotowich, Randy Wyrozub

Edmonton Oilers Line-up:
Ken Baird, Doug Barrie, Steve Carlyle, Dave Dryden, Bill Evo, Al Hamilton, Ed Joyal, Kerry Ketter, Skip Krake, Bill Laing, Barry Long, Blair MacDonald, Bruce MacGregor, Bob McAneeley, Ted McAneeley, Peter Morris, Rusty Patenaude, Jacques Plante, Mike Rogers, Bob Russell, Tim Sheehy, Dan Spring, Norm Ullman, Chris Worthy
FR, lineup scored
$4.00 Cdn
Pub 4508
Oct. 19, 1975
Cincinnati Stingers
vs
Edmonton Oilers
WHA Program



Dennis Sobchuk
Cincinnati Stingers Line-up:
Bruce Abbey, Steve Andrascik, Sergw Aubrey, Bryan Campbell, Rick Dudley, Pierre Guite, John Hughes, Dave Inkpen, Norm Lapointe, Claude Larose, Jacques Locas, Bernie MacNeil, Don O`Donoghue, Mike Pelyk, Ron Plumb, Dale Smedmo, Dennis Sobchuk, Gene Sobchuk, Gary Veneruzzo

Edmonton Oilers Line-up:
Ken Baird, Doug Barrie, Steve Carlyle, Dave Dryden, Bill Evo, Ed Joyal, Murray Kennett, Kerry Ketter, Skip Krake, Barry Long, Blair MacDonald, Bruce MacGregor, Bob McAneeley, Ted McAneeley, Peter Morris, Rusty Patenaude, Mike Rogers, Bob Russell, Tim Sheehy, Dan Spring, Norm Ullman, Chris Worthy
GD
$5.00 Cdn
Pub 4509
Oct. 19, 1975
Cincinnati Stingers
vs
Edmonton Oilers
WHA Program



Dennis Sobchuk
Cincinnati Stingers Line-up:
Bruce Abbey, Steve Andrascik, Serge Aubrey, Bryan Campbell, Rick Dudley, Pierre Guite, John Hughes, Dave Inkpen, Norm Lapointe, Claude Larose, Jacques Locas, Bernie MacNeil, Don O`Donoghue, Mike Pelyk, Ron Plumb, Dale Smedmo, Dennis Sobchuk, Gene Sobchuk, Gary Veneruzzo

Edmonton Oilers Line-up:
Ken Baird, Doug Barrie, Steve Carlyle, Dave Dryden, Bill Evo, Ed Joyal, Murray Kennett, Kerry Ketter, Skip Krake, Barry Long, Blair MacDonald, Bruce MacGregor, Bob McAneeley, Ted McAneeley, Peter Morris, Rusty Patenaude, Mike Rogers, Bob Russell, Tim Sheehy, Dan Spring, Norm Ullman, Chris Worthy
VG
$6.00 Cdn
Pub 4511
Nov. 2, 1975
San Diego Mariners
vs
Edmonton Oilers
WHA Program


WHA All-Star Game
San Diego Mariners Line-up:
Ray Adduono, John Burgess, Kevin Devine, Bob Falkenberg, Norm Ferguson, John French, Russ Gillow, Bill Goldthorpe, Jim Hagreaves, Brent Hughes, Andre Lacroix, Mike McMahon, Brian Morenz, Kevin Morrison, Joe Noris, Gene Peacosh, Wayne Rivers, Alex Tidey, Ernie Wakely, Dave Walter, Bob Wall

Edmonton Oilers Line-up:
Ken Baird, Doug Barrie, Steve Carlyle, Dave Dryden, Bill Evo, Ed Joyal, Murray Kennett, Kerry Ketter, Skip Krake, Barry Long, Blair MacDonald, Bruce MacGregor, Bob McAneeley, Ted McAneeley, Peter Morris, Rusty Patenaude, Mike Rogers, Bob Russell, Tim Sheehy, Dan Spring, Norm Ullman, Chris Worthy
GD
$5.00 Cdn
Pub 4512
Nov. 4, 1975
Quebec Nordiques
vs
Edmonton Oilers
WHA Program


J.C. Tremblay
Quebec Nordiques Line-up:
Jean Bernier, Serge Bernier, Christian Bordeleau, Richard Brodeur, Real Cloutier, Michel Deguise, Gordie Gallant, Allan Globensky, Dale Hoganson, Rejean Houle, Rich Jordan, Renald Leclerc, Michel Parizeau, Pierre Roy, Tom Serviss, Steve Sutherland, Marc Tardif, Jean-Claude Tremblay, Jim Watson

Edmonton Oilers Line-up:
Ken Baird, Doug Barrie, Steve Carlyle, Dave Dryden, Bill Evo, Ed Joyal, Murray Kennett, Kerry Ketter, Skip Krake, Barry Long, Blair MacDonald, Bruce MacGregor, Bob McAneeley, Ted McAneeley, Peter Morris, Rusty Patenaude, Mike Rogers, Bob Russell, Tim Sheehy, Dan Spring, Norm Ullman, Chris Worthy
VG
$7.00 Cdn
Pub 4513
Nov. 4, 1975
Quebec Nordiques
vs
Edmonton Oilers
WHA Program


J.C. Tremblay
Quebec Nordiques Line-up:
Jean Bernier, Serge Bernier, Christian Bordeleau, Richard Brodeur, Real Cloutier, Michel Deguise, Gordie Gallant, Allan Globensky, Dale Hoganson, Rejean Houle, Rich Jordan, Renald Leclerc, Michel Parizeau, Pierre Roy, Tom Serviss, Steve Sutherland, Marc Tardif, Jean-Claude Tremblay, Jim Watson

Edmonton Oilers Line-up:
Ken Baird, Doug Barrie, Steve Carlyle, Dave Dryden, Bill Evo, Ed Joyal, Murray Kennett, Kerry Ketter, Skip Krake, Barry Long, Blair MacDonald, Bruce MacGregor, Bob McAneeley, Ted McAneeley, Peter Morris, Rusty Patenaude, Mike Rogers, Bob Russell, Tim Sheehy, Dan Spring, Norm Ullman, Chris Worthy
GD-VG
$6.00 Cdn
Pub 4515
Nov. 17, 1975
San Diego Mariners
vs
Edmonton Oilers
WHA Program


Cleveland Crusaders vs Edmonton Oilers Brawl
San Diego Mariners Line-up:
Ray Adduono, Don Burgess, Kevin Devine, Bob Falkenberg, Norm Ferguson, John French, Russ Gillow, Bill Goldthorpe, Jim Hargreaves, Brent Highes, Gary Jacquith, Andre Lacroix, Mike McMahon, Brian Morenz, Kevin Morrison, Joe Noris, Gene Peacosh, Wayne Rivers, Alec Tidey, Ernie Wakely, Bob Wall, Dave Walter

Edmonton Oilers Line-up:
Ken Baird, Doug Barrie, Steve Carlyle, Dave Dryden, Al Hamilton, Ed Joyal, Murray Kennett, Kerry Ketter, Skip Krake, Barry Long, Blair MacDonald, Bruce MacGregor, Bob McAneeley, Ted McAneeley, Peter Morris, Rusty Patenaude, Mike Rogers, Tim Sheehy, Dan Spring, Norm Ullman, Chris Worthy
GD
$5.00 Cdn
Pub 4518
Dec. 10, 1975
Quebec Nordiques
vs
Edmonton Oilers
WHA Program


J.C. Tremblay
Quebec Nordiques Line-up:
Jean Bernier, Serge Bernier, Jim Benzelock, Christian Bordeleau, Richard Brodeur, Real Cloutier, Michel Deguise, Pete Donnelly, Gordie Gallant, Allan Globensky, Dale Hoganson, Rejean Houle, Rich Jordan, Renald Leclerc, Michel Parizeau, Perre Roy, Tom Serviss, Steve Sutherland, Marc Tardif, Jean-Claude Tremblay, Jim Watson

Edmonton Oilers Line-up:
Ken Baird, Doug Barrie, Steve Carlyle, Dave Dryden, Ed Joyal, Kerry Ketter, Skip Krake, Barry Long, Bruce MacGregor, Bob McAneeley, Ted McAneeley, Peter Morris, Rusty Patenaude, John Rogers, Mike Rogers, Tim Sheehy, Dan Spring, Norm Ullman, Chris Worthy
VG+
$7.00 Cdn
Pub 4519
Dec. 10, 1975
Quebec Nordiques
vs
Edmonton Oilers
WHA Program


J.C. Tremblay
Quebec Nordiques Line-up:
Jean Bernier, Serge Bernier, Jim Benzelock, Christian Bordeleau, Richard Brodeur, Real Cloutier, Michel Deguise, Pete Donnelly, Gordie Gallant, Allan Globensky, Dale Hoganson, Rejean Houle, Rich Jordan, Renald Leclerc, Michel Parizeau, Pierre Roy, Tom Serviss, Steve Sutherland, Marc Tardif, Jean-Claude Tremblay, Jim Watson

Edmonton Oilers Line-up:
Ken Baird, Doug Barrie, Steve Carlyle, Dave Dryden, Ed Joyal, Kerry Ketter, Skip Krake, Barry Long, Bruce MacGregor, Bob McAneeley, Ted McAneeley, Peter Morris, Rusty Patenaude, John Rogers, Mike Rogers, Tim Sheehy, Dan Spring, Norm Ullman, Chris Worthy
GD
$6.00 Cdn
Pub 4520
Dec. 10, 1975
Quebec Nordiques
vs
Edmonton Oilers
WHA Program


J.C. Tremblay
Quebec Nordiques Line-up:
Jean Bernier, Serge Bernier, Jim Benzelock, Christian Bordeleau, Richard Brodeur, Real Cloutier, Michel Deguise, Pete Donnelly, Gordie Gallant, Allan Globensky, Dale Hoganson, Rejean Houle, Rich Jordan, Renald Leclerc, Michel Parizeau, Pierre Roy, Tom Serviss, Steve Sutherland, Marc Tardif, Jean-Claude Tremblay, Jim Watson

Edmonton Oilers Line-up:
Ken Baird, Doug Barrie, Steve Carlyle, Dave Dryden, Ed Joyal, Kerry Ketter, Skip Krake, Barry Long, Bruce MacGregor, Bob McAneeley, Ted McAneeley, Peter Morris, Rusty Patenaude, John Rogers, Mike Rogers, Tim Sheehy, Dan Spring, Norm Ullman, Chris Worthy
FR, lineup scored
$5.00 Cdn
Pub 4521
Jan. 4, 1976
Winnipeg Jets
vs
Edmonton Oilers
WHA Program


Curt Larsson / Ulf Nilsson / Anders Hedberg / Lars-Erik Sjoberg
Winnipeg Jets Line-up:
Duke Asmundson, Norm Beaudin, Thommie Bergman, Joe Daley, Mike Ford, Ted Green, Anders Hedberg, Larry Hillman, Larry Hornung, Bobby Hull, Veli-Pekka Ketola, Bill Lesuk, Mats Lindh, Willy Lindstrom, Perry Miller, Ulf Nilsson, Heikki Riihiranta, Lars-Erik Sjoberg, Peter Sullivan

Edmonton Oilers Line-up:
Ken Baird, Doug Barrie, Steve Carlyle, Dave Dryden, Al Hamilton, Ed Joyal, Kerry Ketter, Skip Krake, Bill Laing, Barry Long, Bruce MacGregor, Bob McAneeley, Ted McAneeley, Peter Morris, Rusty Patenaude, John Rogers, Mike Rogers, Bob Russell, Tim Sheehy, Dan Spring, Norm Ullman, Chris Worthy
FR, lineup scored
$4.00 Cdn
Pub 4522
Jan. 6, 1976
Indianapolis Racers
vs
Edmonton Oilers
WHA Program


Pat Stapleton
Indianapolis Racers Line-up:
Ken Block, Andy Brown, Kim Clackson, Brian Coates, Michel Dion, Michel Dubois, Bob Fitchner, Nick Harbaruk, Murray Heatley, Leif Holmquist, Al Karlander, Blair MacDonald, Brian McDonald, Bill Prentice, Dick Proceviat, Ted Scarf, Bob Sicinski, Pat Stapleton, Reg Thomas, Bob Whitlock, Bob Woytowich, Randy Wyrozub

Edmonton Oilers Line-up:
Ken Baird, Doug Barrie, Steve Carlyle, Dave Dryden, Al Hamilton, Ed Joyal, Kerry Ketter, Skip Krake, Bill Laing, Barry Long, Bruce MacGregor, Bob McAneeley, Ted McAneeley, Peter Morris, Wayne Muloin, Rusty Patenaude, John Rogers, Mike Rogers, Bob Russell, Tim Sheehy, Dan Spring, Norm Ullman, Chris Worthy
GD, folded in half
$4.00 Cdn
Pub 4526
Jan. 11, 1976
Houston Aeros
vs
Edmonton Oilers
WHA Program


Gordie Howe
Houston Aeros Line-up:
Ron Grahame, Larry Hale, Murray Hall, Andre Hinse, Gordie Howe, Mark Howe, Marty Howe, Frank Hughes, Glen Irwin, Don Larway, Gordon Labossiere, Larry Lund, Jan Popiel, Poul Popiel, Rich Preston, Terry Ruskowski, Wayne Rutledge, John Schella, Ted Taylor, John Tonelli

Edmonton Oilers Line-up:
Ken Baird, Doug Barrie, Steve Carlyle, Dave Dryden, Al Hamilton, Ed Joyal, Doug Kerslake, Kerry Ketter, Skip Krake, Bill Laing, Barry Long, Bruce MacGregor, Bob McAneeley, Ted McAneeley, Peter Morris, Wayne Muloin, Rusty Patenaude, John Rogers, Mike Rogers, Bob Russell, Tim Sheehy, Dan Spring, Norm Ullman, Chris Worthy
FR, folded in half
$5.00 Cdn
Pub 4527
Jan. 11, 1976
Houston Aeros
vs
Edmonton Oilers
WHA Program


Gordie Howe
Houston Aeros Line-up:
Ron Grahame, Larry Hale, Murray Hall, Andre Hinse, Gordie Howe, Mark Howe, Marty Howe, Frank Hughes, Glen Irwin, Don Larway, Gordon Labossiere, Larry Lund, Jan Popiel, Poul Popiel, Rich Preston, Terry Ruskowski, Wayne Rutledge, John Schella, Ted Taylor, John Tonelli

Edmonton Oilers Line-up:
Ken Baird, Doug Barrie, Steve Carlyle, Dave Dryden, Al Hamilton, Ed Joyal, Doug Kerslake, Kerry Ketter, Skip Krake, Bill Laing, Barry Long, Bruce MacGregor, Bob McAneeley, Ted McAneeley, Peter Morris, Wayne Muloin, Rusty Patenaude, John Rogers, Mike Rogers, Bob Russell, Tim Sheehy, Dan Spring, Norm Ullman, Chris Worthy
GD-VG
$8.00 Cdn
Pub 4529
Feb. 1, 1976
Cincinnati Stingers
vs
Edmonton Oilers
WHA Program


Dennis Sobchuk
Cincinnati Stingers Line-up:
Terry Ball, Frank Beaton, Bryan Campbell, Rick Dudley, Pierre Guite, Paul Hoganson, John Hughes, Dave Inkpen, Dan Justin, John Kiely, Claude Larose, Jacques Locas, Bernie MacNeil, Murray Myers, Mike Pelyk, Ron Plumb, Dale Smedsmo, Dennis Sobchuk, Gene Sobchuk

Edmonton Oilers Line-up:
Doug Barrie, Wayne Carleton, Dave Dryden, Al Hamilton, Ed Joyal, Doug Kerslake, Kerry Ketter, Skip Krake, Bill Laing, Barry Long, Bob McAneeley, Ted McAneeley, Rick Morris, Rusty Patenaude, John Rogers, Bob Russell, Tim Sheehy, Dan Spring, Norm Ullman, Chris Worthy
FR, folded in half
$4.00 Cdn
Pub 4535
Feb. 15, 1976
Phoenix Roadrunners
vs
Edmonton Oilers
WHA Program


Sandy Hucul
Phoenix Roadrunners Line-up:
Serge Beaudoin, Jim Boyd, Jim Clarke, Cam Connor, Barry Dean, Grant Erickson, Robbie Ftorek, Dave Gorman, John Gray, Del Hall, Ron Huston, Gary Kurt, Garry Lariviere, Al McLeod, Pete McNamee, John Migneault, Lauri Mononen, Jim Niekamp, Jack Norris, Pekka Rautakallio, Mike Sleep, Gary Veneruzzo

Edmonton Oilers Line-up:
Doug Barrie, Wayne Carleton, Dave Dryden, Al Hamilton, Paul Hurley, Ed Joyal, Doug Kerslake, Bill Laing, Barry Long, Bob McAneeley, Ted McAneeley, Peter Morris, Rick Morris, Rusty Patenaude, John Rogers, Bob Russell, Tim Sheehy, Dan Spring, Frank Turnbull, Norm Ullman
GD-VG
$5.00 Cdn
Pub 4536
Feb. 15, 1976
Phoenix Roadrunners
vs
Edmonton Oilers
WHA Program


Sandy Hucul
Phoenix Roadrunners Line-up:
Serge Beaudoin, Jim Boyd, Jim Clarke, Cam Connor, Barry Dean, Grant Erickson, Robbie Ftorek, Dave Gorman, John Gray, Del Hall, Ron Huston, Gary Kurt, Garry Lariviere, Al McLeod, Pete McNamee, John Migneault, Lauri Mononen, Jim Niekamp, Jack Norris, Pekka Rautakallio, Mike Sleep, Gary Veneruzzo

Edmonton Oilers Line-up:
Doug Barrie, Wayne Carleton, Dave Dryden, Al Hamilton, Paul Hurley, Ed Joyal, Doug Kerslake, Bill Laing, Barry Long, Bob McAneeley, Ted McAneeley, Peter Morris, Rick Morris, Rusty Patenaude, John Rogers, Bob Russell, Tim Sheehy, Dan Spring, Frank Turnbull, Norm Ullman
VG
$5.00 Cdn
Pub 4539
Feb. 22, 1976
Minnesota Fighting Saints
vs
Edmonton Oilers
WHA Program


Rusty Patenaude
Minnesota Fighting Saints Line-up:
Mike Antonovich, John Arbour, Curt Brackenbury, Ron Busniuk, Bill Butters, Jack Carlson, Wayne Connelly, Gary Gambucci, John Garrett, Ted Hampson, Paul Holmgren, Fran Huck, Dave Keon, Louie Levasseur, John McKenzie, Perry Miller, Mike Walton, Pat Westrum, Jerry Zrymiak

Edmonton Oilers Line-up:
Doug Barrie, Wayne Carleton, Dave Dryden, Al Hamilton, Paul Hurley, Ed Joyal, Doug Kerslake, Bill Laing, Barry Long, Bruce MacGregor, Bob McAneeley, Ted McAneeley, Peter Morris, Rick Morris, Rusty Patenaude, John Rogers, Bob Russell, Tim Sheehy, Dan Spring, Frank Turnbull, Norm Ullman
VG+
$7.00 Cdn
Pub 4540
Feb. 24, 1976
Calgary Cowboys
vs
Edmonton Oilers
WHA Program


WHA All-Star Game Action
Calgary Cowboys Line-up:
Ron Chipperfield, Butch Deadmarsh, Ray Delorenzi, Peter Driscoll, Chris Evans, Harry Howell, Steve Hull, Larry Israelson, Rick Jodzio, Francois Lacombe, Danny Lawson, Bob Leiter, Don McLeod, John Miszuk, George Morrison, Lynn Powis, Duane Rupp, Rick Sentes, Don Tannahill, Paul Terbenche, Wayne Wood

Edmonton Oilers Line-up:
Doug Barrie, Wayne Carleton, Dave Dryden, Al Hamilton, Paul Hurley, Ed Joyal, Doug Kerslake, Bill Laing, Barry Long, Bruce MacGregor, Bob McAneeley, Ted McAneeley, Peter Morris, Rick Morris, Rusty Patenaude, John Rogers, Bob Russell, Tim Sheehy, Dan Spring, Frank Turnbull, Norm Ullman
VG+
$8.00 Cdn
Pub 4541
Feb. 24, 1976
Calgary Cowboys
vs
Edmonton Oilers
WHA Program


WHA All-Star Game Action
Calgary Cowboys Line-up:
Ron Chipperfield, Butch Deadmarsh, Ray Delorenzi, Peter Driscoll, Chris Evans, Harry Howell, Steve Hull, Larry Israelson, Rick Jodzio, Francois Lacombe, Danny Lawson, Bob Leiter, Don McLeod, John Miszuk, George Morrison, Lynn Powis, Duane Rupp, Rick Sentes, Don Tannahill, Paul Terbenche, Wayne Wood

Edmonton Oilers Line-up:
Doug Barrie, Wayne Carleton, Dave Dryden, Al Hamilton, Paul Hurley, Ed Joyal, Doug Kerslake, Bill Laing, Barry Long, Bruce MacGregor, Bob McAneeley, Ted McAneeley, Peter Morris, Rick Morris, Rusty Patenaude, John Rogers, Bob Russell, Tim Sheehy, Dan Spring, Frank Turnbull, Norm Ullman
FR, creased cover
$4.00 Cdn
Pub 4542
Feb. 29, 1976
Cleveland Crusaders
vs
Edmonton Oilers
WHA Program


Cleveland Crusaders vs Edmonton Oilers Brawl
Cleveland Crusaders Line-up:
Paul Baxter, Tom Edur, Bill Evo, Danny Gruen, Garry Jarrett, Bob Johnson, Rich Leduc, Barry Legge, Randy Legge, Bryan Maxwell, Al McDonough,Gary McGregor, Ray McKay, Cam Newton, Gerry Pinder, Paul Shmyr, John A. Stewart, Juhani Tamminen, Russ Walker, Ron Ward

Edmonton Oilers Line-up:
Doug Barrie, Wayne Carleton, Dave Dryden, Al Hamilton, Paul Hurley, Ed Joyal, Doug Kerslake, Bill Laing, Barry Long, Bruce MacGregor, Bob McAneeley, Ted McAneeley, Peter Morris, Rick Morris, Rusty Patenaude, John Rogers, Bob Russell, Tim Sheehy, Dan Spring, Frank Turnbull, Norm Ullman
FR, folded cover
$4.00 Cdn
Pub 4543
March 9, 1976
Quebec Nordiques
vs
Edmonton Oilers
WHA Program


J.C. Tremblay
Quebec Nordiques Line-up:
Jim Benzelock, Jean Bernier, Serge Bernier, Christian Bordeleau, Richard Brodeur, Real Cloutier, Charles Constantin, Michel Deguise, Michel Dubois, Bob Fitchner, Gordie Gallant, Allan Globensky, Dale Hoganson, Rejean Houle, Pierre Roy, Tom Serviss, Marc Tardif, J.C. Tremblay

Edmonton Oilers Line-up:
Doug Barrie, Wayne Carleton, Dave Dryden, Al Hamilton, Paul Hurley, Ed Joyal, Doug Kerslake, Bill Laing, Barry Long, Bruce MacGregor, Bob McAneeley, Ted McAneeley, Peter Morris, Rick Morris, Rusty Patenaude, John Rogers, Bob Russell, Tim Sheehy, Dan Spring, Frank Turnbull, Norm Ullman
GD
$5.00 Cdn
Pub 4544
March 9, 1976
Quebec Nordiques
vs
Edmonton Oilers
WHA Program


J.C. Tremblay
Quebec Nordiques Line-up:
Jean Bernier, Serge Bernier, Jim Benzelock, Christian Bordeleau, Richard Brodeur, Real Cloutier, Charles Constantin, Michel Deguise, Michel Dubois, Bob Fitchner, Gordie Gallant, Allan Globensky, Dale Hoganson, Rejean Houle, Pierre Roy, Tom Serviss, Marc Tardif, J.C. Tremblay

Edmonton Oilers Line-up:
Doug Barrie, Wayne Carleton, Dave Dryden, Al Hamilton, Paul Hurley, Ed Joyal, Doug Kerslake, Bill Laing, Barry Long, Bruce MacGregor, Bob McAneeley, Ted McAneeley, Peter Morris, Rick Morris, Rusty Patenaude, John Rogers, Bob Russell, Tim Sheehy, Dan Spring, Frank Turnbull, Norm Ullman
FR, folded in half
$4.00 Cdn
Pub 4545
March 21, 1976
Quebec Nordiques
vs
Edmonton Oilers
WHA Program


J.C. Tremblay
Quebec Nordiques Line-up:
Jim Benzelock, Jean Bernier, Serge Bernier, Christian Bordeleau, Curt Brackenbury, Richard Brodeur, Real Cloutier, Charles Constantin, Michel Deguise, Michel Dubois, Bob Fitchner, Gordie Gallant, Allan Globensky, Ted Hampson, Dale Hoganson, Rejean Houle, Bill Prentice, Pierre Roy, Tom Serviss, Steve Sutherland, Marc Tardif, J.C. Tremblay

Edmonton Oilers Line-up:
Ken Baird, Doug Barrie, Wayne Carleton, Jack Carlson, Dave Dryden, Al Hamilton, Paul Hurley, Doug Kerslake, Bill Laing, Barry Long, Bruce MacGregor, Bob McAneeley, Ted McAneeley, Peter Morris, Rick Morris, Wayne Muloin, Rusty Patenaude, John Rogers, Bob Russell, Tim Sheehy, Dan Spring, Norm Ullman, Chris Worthy
VG+
$8.00 Cdn

EDMONTON OILERS - 1976 WHA PLAYOFF PROGRAMS

Scan Code
Mag Issue
Cover
Contents
Condition
Price per magazine
Pub 4547
April, 1976
Winnipeg Jets
vs
Edmonton Oilers
WHA Playoffs Program


WHA All-Star Game Action
Winnipeg Jets Line-up:
Duke Asmundson, Norm Beaudin, Thommie Bergman, Joe Daley, Mike Ford, Ted Green, Bobby Guindon, Anders Hedberg, Larry Hillman, Larry Hornung, Bobby Hull, Veli-Pekka Ketola, Curt Larsson, Bill Lesuk, Mats Lindh, Willy Lindstrom, Lyle Moffat, Ulf Nilsson, Gerry Odrowski, Heikki Riihiranta, Lars-Erik Sjoberg, Peter Sullivan

Edmonton Oilers Line-up:
Ken Baird, Doug Barrie, Wayne Carleton, Jack Carlson, Dave Dryden, Al Hamilton, Paul Hurley, Doug Kerslake, Bill Laing, Barry Long, Bruce MacGregor, Bob McAneeley, Ted McAneeley, Peter Morris, Rick Morris, Wayne Muloin, Rusty Patenaude, John Rogers, Bob Russell, Tim Sheehy, Dan Spring, Norm Ullman, Chris Worthy
GD
$5.00 Cdn
Pub 4548
April, 1976
Winnipeg Jets
vs
Edmonton Oilers
WHA Playoffs Program


WHA All-Star Game Action
Winnipeg Jets Line-up:
Duke Asmundson, Norm Beaudin, Thommie Bergman, Joe Daley, Mike Ford, Ted Green, Bobby Guindon, Anders Hedberg, Larry Hillman, Larry Hornung, Bobby Hull, Veli-Pekka Ketola, Curt Larsson, Bill Lesuk, Mats Lindh, Willy Lindstrom, Lyle Moffat, Ulf Nilsson, Gerry Odrowski, Heikki Riihiranta, Lars-Erik Sjoberg, Peter Sullivan

Edmonton Oilers Line-up:
Ken Baird, Doug Barrie, Wayne Carleton, Jack Carlson, Dave Dryden, Al Hamilton, Paul Hurley, Doug Kerslake, Bill Laing, Barry Long, Bruce MacGregor, Bob McAneeley, Ted McAneeley, Peter Morris, Rick Morris, Wayne Muloin, Rusty Patenaude, John Rogers, Bob Russell, Tim Sheehy, Dan Spring, Norm Ullman, Chris Worthy
FR, folded in half
$4.00 Cdn
Pub 4549
April, 1976
Winnipeg Jets
vs
Edmonton Oilers
WHA Playoffs Program


WHA All-Star Game Action
Winnipeg Jets Line-up:
Duke Asmundson, Norm Beaudin, Thommie Bergman, Joe Daley, Mike Ford, Ted Green, Bobby Guindon, Anders Hedberg, Larry Hillman, Larry Hornung, Bobby Hull, Veli-Pekka Ketola, Curt Larsson, Bill Lesuk, Mats Lindh, Willy Lindstrom, Lyle Moffat, Ulf Nilsson, Gerry Odrowski, Heikki Riihiranta, Lars-Erik Sjoberg, Peter Sullivan

Edmonton Oilers Line-up:
Ken Baird, Doug Barrie, Wayne Carleton, Jack Carlson, Dave Dryden, Al Hamilton, Paul Hurley, Doug Kerslake, Bill Laing, Barry Long, Bruce MacGregor, Bob McAneeley, Ted McAneeley, Peter Morris, Rick Morris, Wayne Muloin, Rusty Patenaude, John Rogers, Bob Russell, Tim Sheehy, Dan Spring, Norm Ullman, Chris Worthy
GD
$5.00 Cdn
Pub 4550
April 16, 1976
Winnipeg Jets
vs
Edmonton Oilers
WHA Playoffs Program


Cleveland Crusaders vs Edmonton Oilers Brawl
Winnipeg Jets Line-up:
Duke Asmundson, Norm Beaudin, Thommie Bergman, Joe Daley, Mike Ford, Ted Green, Bobby Guindon, Anders Hedberg, Larry Hillman, Larry Hornung, Bobby Hull, Veli-Pekka Ketola, Curt Larsson, Bill Lesuk, Mats Lindh, Willy Lindstrom, Lyle Moffat, Ulf Nilsson, Gerry Odrowski, Heikki Riihiranta, Lars-Erik Sjoberg, Peter Sullivan

Edmonton Oilers Line-up:
Ken Baird, Doug Barrie, Wayne Carleton, Jack Carlson, Dave Dryden, Al Hamilton, Paul Hurley, Doug Kerslake, Bill Laing, Barry Long, Bruce MacGregor, Bob McAneeley, Ted McAneeley, Peter Morris, Rick Morris, Wayne Muloin, Rusty Patenaude, John Rogers, Bob Russell, Tim Sheehy, Dan Spring, Norm Ullman, Chris Worthy
FR
$4.00 Cdn

EDMONTON OILERS - 1976-77 WHA HOCKEY PROGRAMS

Scan Code
Mag Issue
Cover
Contents
Condition
Price per magazine
Pub 4551
Oct. 15, 1976
Winnipeg Jets
vs
Edmonton Oilers
WHA Program


Steve Sutherland / Norm Ullman
Winnipeg Jets Line-up:
Terry Ball, Thommie Berman, Joe Daley, Dave Dunn, Mike Ford, Ted Green, Bob Guindon, Anders Hedberg, Bobby Hull, Veli-Pekka Ketola, Dan Labraaten, Curt Larsson, Bill Lesuk, Mats Lindh, Willy Lindstrom, Perry Miller, Lyle Moffat, Kent Nilsson, Hexi Riihiranta, Kent Ruhnke, Lars-Erik Sjoberg, Peter Sullivan

Edmonton Oilers Line-up:
Ken Baird, Doug Barrie, Ken Broderick, Dave Dryden, Al Hamilton, Larry Hornung, Pete Laframboise, Dave Langevin, Barry Long, Barry Merrell, Peter Morris, Rick Morris, Rusty Patenaude, Dennis Patterson, Gene Peacosh, Bob Russell, Glen Sather, Tim Sheehy, Norm Ullman, Barry Wilkins, Warren Williams
FR, folded in half
$4.00 Cdn
Pub 4553
Oct. 24, 1976
Phoenix Roadrunners
vs
Edmonton Oilers
WHA Program


Painting of Quebec Nordiques vs Edmonton Oilers
Phoenix Roadrunners Line-up:
Serge Beaudoin, Michel Cormier, Robbie Ftorek, Dave Gorman, John Gray, Del Hall, Clay Hebenton, Mike Hobin, Ron Huston, Gary Kurt, Gary Lariviere, Bob Liddington, Al McLeod, Lauri Mononen, Jim Niekamp, Pekka Rautakallio, Seppo Repo, Juhani Tamminen

Edmonton Oilers Line-up:
Ken Baird, Doug Barrie, Ken Broderick, Dave Dryden, Al Hamilton, Larry Hornung, Pete Laframboise, Dave Langevin, Barry Long, Barry Merrell, Peter Morris, Rusty Patenaude, Dennis Patterson, Gene Peacosh, Bob Russell, Glen Sather, Tim Sheehy, Norm Ullman, Barry Wilkins, Warren Williams
VG-EX
$8.00 Cdn
Pub 4556
Nov. 19, 1976
Cincinnati Stingers
vs
Edmonton Oilers
WHA Program


Dave Langevin?
Cincinnati Stingers Line-up:
Dennis Abgrall, Greg Carroll, Rick Dudley, Pierre Guite, Paul Hoganson, John Hughes, Dave Inkpen, Norm Lapointe, Claude Larose, Rich Leduc, Barry Legge, Jacques Locas, Peter Marsh, Francois Ouimet, Ron Plumb, Dennis Sobchuk, Billy Steele, Blaine Stoughton

Edmonton Oilers Line-up:
Doug Barrie, Frank Beaton, Ken Broderick, Bryan Campbell, Dave Dryden, Al Hamilton, Larry Hornung, Pete Laframboise, Dave Langevin, Rick Morris, Rusty Patenaude, Dennis Patterson, Bob Russell, Glen Sather, Tim Sheehy, Norm Ullman, Barry Wilkins, Warren Williams
FR
$4.00 Cdn
Pub 4557
Nov. 19, 1976
Cincinnati Stingers
vs
Edmonton Oilers
WHA Program


Dave Langevin?
Cincinnati Stingers Line-up:
Dennis Abgrall, Greg Carroll, Rick Dudley, Pierre Guite, Paul Hoganson, John Hughes, Dave Inkpen, Norm Lapointe, Claude Larose, Rich Leduc, Barry Legge, Jacques Locas, Peter Marsh, Francois Ouimet, Ron Plumb, Billy Steele, Dennis Sobchuk, Blaine Stoughton

Edmonton Oilers Line-up:
Doug Barrie, Frank Beaton, Ken Broderick, Bryan Campbell, Dave Dryden, Al Hamilton, Larry Hornung, Pete Laframboise, Dave Langevin, Rick Morris, Rusty Patenaude, Dennis Patterson, Bob Russell, Glen Sather, Tim Sheehy, Norm Ullman, Barry Wilkins, Warren Williams
VG
$6.00 Cdn
Pub 4558
Nov. 21, 1976
Quebec Nordiques
vs
Edmonton Oilers
WHA Program


Al Hamilton
Quebec Nordiques Line-up:
Serge Aubry, Paul Baxter, Jean Bernier, Serge Bernier, Christian Bordeleau, Paulin Bordeleau, Curt Brackenbury, Richard Brodeur, Real Cloutier, Charles Constantin, Jim Dorey, Bob Fitchner, Richard Grenier, Francois Lacombe, Perre Roy, Steve Sutherland, Marc Tardif, J.-C. Tremblay, Wally Weir

Edmonton Oilers Line-up:
Doug Barrie, Frank Beaton, Ken Broderick, Bryan Campbell, Dave Dryden, Al Hamilton, Larry Hornung, Pete Laframboise, Dave Langevin, Rick Morris, Rusty Patenaude, Dennis Patterson, Bob Russell, Glen Sather, Tim Sheehy, Norm Ullman, Barry Wilkins, Warren Williams
VG, lineup scored
$5.00 Cdn
Pub 4559
Nov. 21, 1976
Quebec Nordiques
vs
Edmonton Oilers
WHA Program


Steve Sutherland / Norm Ullman
Quebec Nordiques Line-up:
Serge Aubry, Paul Baxter, Jean Bernier, Serge Bernier, Christian Bordeleau, Paulin Bordeleau, Curt Brackenbury, Richard Brodeur, Real Cloutier, Charles Constantin, Jim Dorey, Bob Fitchner, Richard Grenier, Francois Lacombe, Perre Roy, Steve Sutherland, Marc Tardif, J.-C. Tremblay, Wally Weir

Edmonton Oilers Line-up:
Doug Barrie, Frank Beaton, Ken Broderick, Bryan Campbell, Dave Dryden, Al Hamilton, Larry Hornung, Pete Laframboise, Dave Langevin, Rick Morris, Rusty Patenaude, Dennis Patterson, Bob Russell, Glen Sather, Tim Sheehy, Norm Ullman, Barry Wilkins, Warren Williams
FR, creased in half
$4.00 Cdn
Pub 4560
Nov. 28, 1976
San Diego Mariners
vs
Edmonton Oilers
WHA Program


Drawing of Barry Wilkens
San Diego Mariners Line-up:
Don Burgess, Kevin Devine, Bob Dobek, Bob Falkenberg, Norm Ferguson, John French, John Hughes, Andre Lacroix, Randy Legge, Ken Lockett, Kevin Morrison, Joe Noris, Gerry Pinder, Brad Rhiness, Wayne Rivers, Paul Shmyr, Gary Veneruzzo, Ernie Wakely

Edmonton Oilers Line-up:
Doug Barrie, Frank Beaton, Ken Broderick, Bryan Campbell, Dave Dryden, Al Hamilton, Dave Langevin, Rick Morris, Rusty Patenaude, Dennis Patterson, Bob Russell, Glen Sather, Tim Sheehy, Dan Spring, Norm Ullman, Barry WIlkins, Warren Williams, Chris Worthy
VG, lineup scored
$5.00 Cdn
Pub 4562
Dec. 21, 1976
Calgary Cowboys
vs
Edmonton Oilers
WHA Program


Drawing of Norm Ullman
Calgary Cowboys Line-up:
Gary Bromley, Ron Chipperfield, Wayne Connelly, Peter Driscoll, Chris Evans, Mike Ford, Paul Hurley, Rick Jodzio, Danny Lawson, Richard Lemieux, Don McLeod, Warren Miller, John Miszuk, George Morrison, Lynn Powis, Claude St. Sauveur, Rick Sentes, Don Tannahill, Paul Terbenche

Edmonton Oilers Line-up:
Doug Barrie, Frank Beaton, Greg Boddy, Ken Broderick, Bryan Campbell, Dave Dryden, Bill Flett, Al Hamilton, Gavin Kirk, Dave Langevin, Rick Morris, Bob Nevin, Rusty Patenaude, Randy Rota, Bob Russell, Glen Sather, Tom Simpson, Norm Ullman, Barry WIlkins
VG-EX, lineup scored
$8.00 Cdn
Pub 4563
Dec. 21, 1976
Calgary Cowboys
vs
Edmonton Oilers
WHA Program


Drawing of Norm Ullman
Calgary Cowboys Line-up:
Gary Bromley, Ron Chipperfield, Wayne Connelly, Peter Driscoll, Chris Evans, Mike Ford, Paul Hurley, Rick Jodzio, Danny Lawson, Richard Lemieux, Don McLeod, Warren Miller, John Miszuk, George Morrison, Lynn Powis, Claude St. Sauveur, Rick Sentes, Don Tannahill, Paul Terbenche

Edmonton Oilers Line-up:
Doug Barrie, Frank Beaton, Greg Boddy, Ken Broderick, Bryan Campbell, Dave Dryden, Bill Flett, Al Hamilton, Gavin Kirk, Dave Langevin, Rick Morris, Bob Nevin, Rusty Patenaude, Randy Rota, Bob Russell, Glen Sather, Tom Simpson, Norm Ullman, Barry WIlkins
VG
$7.00 Cdn
Pub 4564
Jan. 4, 1977
Houston Aeros
vs
Edmonton Oilers
WHA Program


Gordie Howe
Houston Aeros Line-up:
Cam Connor, Gary Donaldson, Mike Fedorko, Ron Grahame, John Gray, Larry Hale, Ron Hansis, Gordie Howe, Marty Howe, Glen Irwin, Don Larway, Morris Lukowich, Larry Lund, Al McLeod, Poul Popiel, Rich Preston, Terry Ruskowski, Wayne Rutledge, Ted Taylor, John Tonelli

Edmonton Oilers Line-up:
Doug Barrie, Frank Beaton, Greg Boddy, Ken Broderick, Bryan Campbell, Dave Dryden, Bill Flett, Al Hamilton, Gavin Kirk, Rick Morris, Bob Nevin, Rusty Patenaude, Randy Rota, Bob Russell, Glen Sather, Tom Simpson, Barry WIlkins
FR, folded in half, lineup scored
$4.00 Cdn
Pub 4566
Jan. 9, 1977
Indianapolis Racers
vs
Edmonton Oilers
WHA Program


Dave Dryden / Al Hangsleben
Indianapolis Racers Line-up:
Bryon Baltimore, Ken Block, Andy Brown, Kim Clackson, Michel Dion, Hugh Harris, Al Karlander, Renald Leclerc, Mark Lomenda, Darryl Maggs, Blair MacDonald, Brian McDonald, Rosaire Paiement, Michel Parizeau, Jim Park, Gene Peacosh, Dick Proceviat, Francois Rochon, Bob Sicinski, Pat Stapleton, Reg Thomas

Edmonton Oilers Line-up:
Doug Barrie, Frank Beaton, Greg Boddy, Ken Broderick, Bryan Campbell, Wayne Connelly, Dave Dryden, Bill Flett, Al Hamilton, Gavin Kirk, Dave Langevin, Rick Morris, Bob Nevin, Rusty Patenaude, Randy Rota, Bob Russell, Claude St. Sauveur, Glen Sather, Tom Simpson, Barry WIlkins
FR, folded in half
$4.00 Cdn
Pub 4567
Jan. 28, 1977
Houston Aeros
vs
Edmonton Oilers
WHA Program


Gordie Howe
Houston Aeros Line-up:
Cam Connor, Ron Grahame, John Gray, Larry Hale, Gordie Howe, Mark Howe, Marty Howe, Don Larway, Morris Lukowich, Larry Lund, Al McLeod, Dwayne Pentland, Poul Popiel, Rich Preston, Terry Ruskowski, Wayne Rutledge, Ted Taylor, John Tonelli

Edmonton Oilers Line-up:
Mike Antonovich, Danny Arndt, Doug Barrie, Frank Beaton, Greg Boddy, Ken Broderick, Bill Butters, Bryan Campbell, Wayne Connelly, Bill Flett, Al Hamilton, Gavin Kirk, Louis Levasseur, Barry Merrell, Rick Morris, Rusty Patenaude, Randy Rota, Bob Russell, Glen Sather, Tom Simpson, Norm Ullman, Barry WIlkins
FR, folded in half, lineup scored
$4.00 Cdn
Pub 4569
Feb. 1, 1977
Winnipeg Jets
vs
Edmonton Oilers
WHA Program


Bobby Hull
Winnipeg Jets Line-up:
Thommie Bergman, Jim Cole, Joe Daley, Ted Green, Bob Guindon, Anders Hedberg, Veli-Pekka Ketola, Curt Larsson, Bill Lesuk, Mats Lindh, Willy Lindstrom, Barry Long, Lyle Moffat, Perry Miller, Morris Mott, Ulf Nilsson, Hexi Riihiranta, Kent Runhke, Peter Sullivan

Edmonton Oilers Line-up:
Mike Antonovich, Danny Arndt, Doug Barrie, Frank Beaton, Greg Boddy, Ken Broderick, Bill Butters, Bryan Campbell, Wayne Connelly, Bill Flett, Al Hamilton, Gavin Kirk, Dave Langevin, Louis Levasseur, Rick Morris, Rusty Patenaude, Randy Rota, Bob Russell, Glen Sather, Tom Simpson, Norm Ullman, Barry WIlkins
VG, 2" cover crease
$6.00 Cdn
Pub 4571
Feb. 1, 1977
Winnipeg Jets
vs
Edmonton Oilers
WHA Program


Bobby Hull
Winnipeg Jets Line-up:
Thommie Bergman, Jim Cole, Joe Daley, Ted Green, Bob Guindon, Anders Hedberg, Veli-Pekka Ketola, Curt Larsson, Bill Lesuk, Mats Lindh, Willy Lindstrom, Barry Long, Lyle Moffat, Morris Mott, Ulf Nilsson, Hexi Riihiranta, Kent Runhke, Peter Sullivan

Edmonton Oilers Line-up:
Mike Antonovich, Danny Arndt, Doug Barrie, Frank Beaton, Greg Boddy, Ken Broderick, Bill Butters, Bryan Campbell, Wayne Connelly, Bill Flett, Al Hamilton, Gavin Kirk, Dave Langevin, Louis Levasseur, Rick Morris, Rusty Patenaude, Randy Rota, Bob Russell, Glen Sather, Tom Simpson, Norm Ullman, Barry WIlkins
GD-VG, lineup scored
$5.00 Cdn
Pub 4572
Feb. 1, 1977
Winnipeg Jets
vs
Edmonton Oilers
WHA Program


Bobby Hull
Winnipeg Jets Line-up:
Thommie Bergman, Jim Cole, Joe Daley, Ted Green, Bob Guindon, Anders Hedberg, Veli-Pekka Ketola, Curt Larsson, Bill Lesuk, Mats Lindh, Willy Lindstrom, Barry Long, Lyle Moffat, Morris Mott, Ulf Nilsson, Hexi Riihiranta, Kent Runhke, Peter Sullivan

Edmonton Oilers Line-up:
Mike Antonovich, Danny Arndt, Doug Barrie, Frank Beaton, Greg Boddy, Ken Broderick, Bill Butters, Bryan Campbell, Wayne Connelly, Bill Flett, Al Hamilton, Gavin Kirk, Dave Langevin, Louis Levasseur, Rick Morris, Rusty Patenaude, Randy Rota, Bob Russell, Glen Sather, Tom Simpson, Norm Ullman, Barry WIlkins
FR, folded in half, lineup scored
$4.00 Cdn
Pub 4027
Feb. 18, 1977
Winnipeg Jets
vs
Edmonton Oilers
WHA Program


Drawing of Norm Ullman
Winnipeg Jets Line-up:
Thommie Bergman, Joe Daley, Dave Dunn, Ted Green, Bob Guindon, Veli-Pekka Ketola, Dan Labraaten, Curt Larsson, Bill Lesuk, Mats Lindh, Willy Lindstrom, Barry Long, Perry Miller, Lyle Moffat, Ulf Nilsson, Kent Runhke, Lars-Erik Sjoberg, Peter Sullivan, Ron Ward

Edmonton Oilers Line-up:
Doug Barrie, Frank Beaton, Greg Boddy, Ken Broderick, Ron Busniuk, Brett Callighen, Bryan Campbell, Wayne Connelly, Bill Flett, Al Hamilton, Gavin Kirk, Dave Langevin, Louis Levasseur, Rick Morris, Rusty Patenaude, Randy Rota, Bob Russell, Glen Sather, Tom Simpson, Norm Ullman
VG, spot on cover
$6.00 Cdn
Pub 4028
Feb. 18, 1977
Winnipeg Jets
vs
Edmonton Oilers
WHA Program


Drawing of Norm Ullman
Winnipeg Jets Line-up:
Thommie Bergman, Joe Daley, Dave Dunn, Ted Green, Bob Guindon, Veli-Pekka Ketola, Dan Labraaten, Curt Larsson, Bill Lesuk, Mats Lindh, Willy Lindstrom, Barry Long, Perry Miller, Lyle Moffat, Ulf Nilsson, Kent Runhke, Lars-Erik Sjoberg, Peter Sullivan, Ron Ward

Edmonton Oilers Line-up:
Doug Barrie, Frank Beaton, Greg Boddy, Ken Broderick, Ron Busniuk, Brett Callighen, Bryan Campbell, Wayne Connelly, Bill Flett, Al Hamilton, Gavin Kirk, Dave Langevin, Louis Levasseur, Rick Morris, Rusty Patenaude, Randy Rota, Bob Russell, Glen Sather, Tom Simpson, Norm Ullman Player added: Glen Patrick
VG, lineup scored
$5.00 Cdn
Pub 4029
Feb. 25, 1977
Indianapolis Racers
vs
Edmonton Oilers
WHA Program


Drawing of Dave Langevin
Indianapolis Racers Line-up:
Bryon Baltimore, Andy Brown, Randy Burchell, Kim Clackson, Brian Coates, Michel Dion, Nick Harbaruk, Hugh Harris, Dave Inkpen, Al Karlander, Renald Leclerc, Mark Lomenda, Darryl Maggs, Blair MacDonald, Brian McDonald, Rosaire Paiement, Michel Parizeau, Jim Park, Gene Peacosh, Dick Proceviat, Francois Rochon, Bob Sicinski, Pat Stapleton, Reg Thomas, Mike Zuke

Edmonton Oilers Line-up:
Doug Barrie, Frank Beaton, Greg Boddy, Ken Broderick, Ron Busniuk, Brett Callighen, Bryan Campbell, Wayne Connelly, Bill Flett, Al Hamilton, Gavin Kirk, Dave Langevin, Louis Levasseur, Rick Morris, Rusty Patenaude, Randy Rota, Bob Russell, Glen Sather, Tom Simpson, Norm Ullman
FR
$4.00 Cdn
Pub 4030
March 3, 1977
Winnipeg Jets
vs
Edmonton Oilers
WHA Program


Bobby Hull
Winnipeg Jets Line-up:
Thommie Bergman, Joe Daley, Dave Dunn, Ted Green, Bob Guindon, Anders Hedberg, Bobby Hull, Veli-Pekka Ketola, Dan Labraaten, Curt Larsson, Bill Lesuk, Mats Lindh, Willy Lindstrom, Barry Long, Perry Miller, Lyle Moffat, Ulf Nilsson, Hexi Riihiranta, Kent Runhke, Lars-Erik Sjoberg, Peter Sullivan, Ron Ward

Edmonton Oilers Line-up:
Doug Barrie, Frank Beaton, Greg Boddy, Ken Broderick, Ron Busniuk, Brett Callighen, Bryan Campbell, Wayne Connelly, Bill Flett, Al Hamilton, Gavin Kirk, Dave Langevin, Louis Levasseur, Rick Morris, Rusty Patenaude, Glenn Patrick, Randy Rota, Bob Russell, Claude St. Saveur, Glen Sather, Norm Ullman
PR, lineup scored
$3.00 Cdn
Pub 4033
March 30, 1977
Houston Aeros
vs
Edmonton Oilers
WHA Program


Glen Sather
Houston Aeros Line-up:
Cam Connor, Ron Grahame, John Gray, Larry Hale, Gordie Howe, Mark Howe, Marty Howe, Don Larway, Morris Lukowich, Larry Lund, Al McLeod, Dwayne Pentland, Poul Popiel, Rich Preston, Terry Ruskowski, Wayne Rutledge, Ted Taylor, John Tonelli

Edmonton Oilers Line-up:
Doug Barrie, Frank Beaton, Greg Boddy, Ken Broderick, Brett Callighen, Bryan Campbell, Wayne Connelly, Bill Flett, Al Hamilton, Gavin Kirk, Louis Levasseur, Rick Morris, Rusty Patenaude, Glenn Patrick, Randy Rota, Bob Russell, Clude St. Saveur, Glen Sather, Norm Ullman
VG+, 2" cover stain, lineup scored
$4.00 Cdn
Pub 4034
April 4, 1977
Winnipeg Jets
vs
Edmonton Oilers
WHA Program


Bryan Campbell
Winnipeg Jets Line-up:
Thommie Bergman, Joe Daley, Dave Dunn, Mike Ford, Ted Green, Bob Guindon, Anders Hedberg, Fran Huck, Bobby Hull, Dan Labraaten, Curt Larsson, Danny Lawson, Bill Lesuk, Mats Lindh, Willy Lindstrom, Barry Long, Perry Miller, Lyle Moffat, Ulf Nilsson, Kent Runhke, Lars-Erik Sjoberg, Peter Sullivan

Edmonton Oilers Line-up:
Doug Barrie, Frank Beaton, Greg Boddy, Ken Broderick, Ron Busniuk, Brett Callighen, Bryan Campbell, Wayne Connelly, Bill Flett, Al Hamilton, Gavin Kirk, Dave Langevin, Louis Levasseur, Rick Morris, Rusty Patenaude, Glenn Patrick, Randy Rota, Bob Russell, Claude St. Saveur, Glen Sather, Norm Ullman
VG+, lineup scratches
$6.00 Cdn
Pub 4035
April 4, 1977
Winnipeg Jets
vs
Edmonton Oilers
WHA Program


Bryan Campbell
Winnipeg Jets Line-up:
Thommie Bergman, Joe Daley, Dave Dunn, Mike Ford, Ted Green, Bob Guindon, Anders Hedberg, Fran Huck, Bobby Hull, Dan Labraaten, Curt Larsson, Danny Lawson, Bill Lesuk, Mats Lindh, Willy Lindstrom, Barry Long, Perry Miller, Lyle Moffat, Ulf Nilsson, Kent Runhke, Lars-Erik Sjoberg, Peter Sullivan

Edmonton Oilers Line-up:
Doug Barrie, Frank Beaton, Greg Boddy, Ken Broderick, Ron Busniuk, Brett Callighen, Bryan Campbell, Wayne Connelly, Bill Flett, Al Hamilton, Gavin Kirk, Dave Langevin, Louis Levasseur, Rick Morris, Rusty Patenaude, Glenn Patrick, Randy Rota, Bob Russell, Claude St. Saveur, Glen Sather, Norm Ullman
VG+
$7.00 Cdn

EDMONTON OILERS - 1977 WHA PLAYOFF PROGRAMS

Scan Code
Mag Issue
Cover
Contents
Condition
Price per magazine
Pub 4036
April 13, 1977
Houston Aeros
vs
Edmonton Oilers
WHA Playoff Program


Gordie Howe
Houston Aeros Line-up:
Cam Connor, Ron Grahame, John Gray, Larry Hale, Ron Hansis, Gordie Howe, Mark Howe, Marty Howe, Glen Irwin, Don Larway, Morris Lukowich, Larry Lund, Al McLeod, Dwayne Pentland, Poul Popiel, Rich Preston, Terry Ruskowski, Wayne Rutledge, Ted Taylor, John Tonelli, Steve West

Edmonton Oilers Line-up:
Doug Barrie, Frank Beaton, Greg Boddy, Ken Broderick, Ron Busniuk, Brett Callighen, Bryan Campbell, Wayne Connelly, Bill Flett, Al Hamilton, Gavin Kirk, Dave Langevin, Louis Levasseur, Rick Morris, Rusty Patenaude, Glenn Patrick, Randy Rota, Bob Russell, Claude St. Saveur, Glen Sather, Norm Ullman
VG+
$12.00 Cdn
Pub 4037
April 13, 1977
Houston Aeros
vs
Edmonton Oilers
WHA Playoff Program


Gordie Howe
Houston Aeros Line-up:
Cam Connor, Ron Grahame, John Gray, Larry Hale, Ron Hansis, Gordie Howe, Mark Howe, Marty Howe, Glen Irwin, Don Larway, Morris Lukowich, Larry Lund, Al McLeod, Dwayne Pentland, Poul Popiel, Rich Preston, Terry Ruskowski, Wayne Rutledge, Ted Taylor, John Tonelli, Steve West

Edmonton Oilers Line-up:
Doug Barrie, Frank Beaton, Greg Boddy, Ken Broderick, Ron Busniuk, Brett Callighen, Bryan Campbell, Wayne Connelly, Bill Flett, Al Hamilton, Gavin Kirk, Dave Langevin, Louis Levasseur, Rick Morris, Rusty Patenaude, Glenn Patrick, Randy Rota, Bob Russell, Claude St. Saveur, Glen Sather, Norm Ullman
VG
$10.00 Cdn
Pub 4039
April 13, 1977
Houston Aeros
vs
Edmonton Oilers
WHA Playoff Program


Gordie Howe
Houston Aeros Line-up:
Cam Connor, Ron Grahame, John Gray, Larry Hale, Ron Hansis, Gordie Howe, Mark Howe, Marty Howe, Glen Irwin, Don Larway, Morris Lukowich, Larry Lund, Al McLeod, Dwayne Pentland, Poul Popiel, Rich Preston, Terry Ruskowski, Wayne Rutledge, Ted Taylor, John Tonelli, Steve West

Edmonton Oilers Line-up:
Doug Barrie, Frank Beaton, Greg Boddy, Ken Broderick, Ron Busniuk, Brett Callighen, Bryan Campbell, Wayne Connelly, Bill Flett, Al Hamilton, Gavin Kirk, Dave Langevin, Louis Levasseur, Rick Morris, Rusty Patenaude, Glenn Patrick, Randy Rota, Bob Russell, Claude St. Saveur, Glen Sather, Norm Ullman
VG, lineup scored
$8.00 Cdn
Pub 4040
April 20, 1977
Houston Aeros
vs
Edmonton Oilers
WHA Playoff Program


Drawing of Barry Wilkins
Houston Aeros Line-up:
Cam Connor, Ron Grahame, Larry Hale, Ron Hansis, Gordie Howe, Mark Howe, Marty Howe, Don Larway, Morris Lukowich, Larry Lund, Al McLeod, Dwayne Pentland, Poul Popiel, Rich Preston, Terry Ruskowski, Wayne Rutledge, Ted Taylor, John Tonelli, Steve West

Edmonton Oilers Line-up:
Doug Barrie, Frank Beaton, Greg Boddy, Ken Broderick, Ron Busniuk, Brett Callighen, Bryan Campbell, Wayne Connelly, Bill Flett, Al Hamilton, Gavin Kirk, Dave Langevin, Louis Levasseur, Rick Morris, Rusty Patenaude, Glenn Patrick, Randy Rota, Bob Russell, Claude St. Saveur, Glen Sather, Norm Ullman
VG
$8.00 Cdn
Pub 4041
April 20, 1977
Houston Aeros
vs
Edmonton Oilers
WHA Playoff Program


Drawing of Barry Wilkins
Houston Aeros Line-up:
Cam Connor, Ron Grahame, Larry Hale, Ron Hansis, Gordie Howe, Mark Howe, Marty Howe, Don Larway, Morris Lukowich, Larry Lund, Al McLeod, Dwayne Pentland, Poul Popiel, Rich Preston, Terry Ruskowski, Wayne Rutledge, Ted Taylor, John Tonelli, Steve West

Edmonton Oilers Line-up:
Doug Barrie, Frank Beaton, Greg Boddy, Ken Broderick, Ron Busniuk, Brett Callighen, Bryan Campbell, Wayne Connelly, Bill Flett, Al Hamilton, Gavin Kirk, Dave Langevin, Louis Levasseur, Rick Morris, Rusty Patenaude, Glenn Patrick, Randy Rota, Bob Russell, Claude St. Saveur, Glen Sather, Norm Ullman
FR, lineup scored, folded in half, stained cover
$3.00 Cdn

EDMONTON OILERS - 1977-78 WHA HOCKEY PROGRAMS

Scan Code
Mag Issue
Cover
Contents
Condition
Price per magazine
Pub 4042
Jan. 1, 1978
Indianapolis Racers
vs
Edmonton Oilers
WHA Program


Rich Preston
Houston Aeros Line-up:
Scott Campbell, Cam Connor, John Gray, Larry Hale, Ron Hansis, John Hughes, Andre Lacroix, Don Larway, Morris Lukowich, Larry Lund, Al McLeod, Poul Popiel, Rich Preston, Terry Ruskowski, Wayne Rutledge, Ted Taylor, John Tonelli, Ernie Wakely, Steve West, Lynn Zimmerman

Edmonton Oilers Line-up:
Brett Callighen, Bryan Campbell, Ron Chipperfield, Ab Demarco, Dave Dryden, Norm Ferguson, Bill Flett, Pierre Guite, Dell Hall, Al Hamilton, Jerry Holland, Dave Langevin, Blair MacDonald, Gary MacGregor, Don McLeod, Joe Micheletti, Randy Rota, Dave Semenko, Paul Shmyr, Dennis Sobchuk, Juha Widing, Mike Zuke
VG+
$7.00 Cdn
Pub 4046
Jan. 29, 1978
Quebec Nordiques
vs
Edmonton Oilers
WHA Program


Norm Ferguson
Quebec Nordiques Line-up:
Paul Baxter, Jean Bernier, Serge Bernier, Paulin Bordeleau, Ken Broderick, Real Cloutier, Charles Constantin, Jim Corsi, Alain Cote, Normand Dube, Chris Evans, Bob Fitchner, Matti Hagman, Dave Inkpen, Gary Lariviere, Markus Mattson, Joe Micheletti, Warren Miller, Rick Morris, Steve Sutherland, Marc Tardif, Jean-Claude Tremblay Player added: Pierre LeGase

Edmonton Oilers Line-up:
Ron Busniuk, Brett Callighen, Bryan Campbell, Ron Chipperfield, Ab Demarco, Dave Dryden, Norm Ferguson, Bill Flett, Pierre Guite, Al Hamilton, Jerry Holland, Dave Langevin, Blair MacDonald, Gary MacGregor, Don McLeod, Joe Micheletti, Randy Rota, Dave Semenko, Paul Shmyr, Jim Troy, Juha Widing, Mike Zuke
VG+, line-up scored
$5.00 Cdn
Pub 4045
April 5, 1978
New England Whalers
vs
Edmonton Oilers
WHA Program


Ron Busniuk
New England Whalers Line-up:
Mike Antonovich, Danny Bolduc, Jack Carlson, Steve Carlson, Alan Hangsleben, Gordie Howe, Mark Howe, Marty Howe, Dave Keon, Louie Levasseur, Rick Ley, George Lyle, Jim Mayer, John McKenzie, Larry Pleau, Ron Plumb, Mike Rogers, Tim Sheehy, Al Smith

Edmonton Oilers Line-up:
Ron Busniuk, Brett Callighen, Bryan Campbell, Ron Chipperfield, Ab Demarco, Dave Dryden, Bill Flett, Pierre Guite, Pierre Jarry, Dave Langevin, Blair MacDonald, Ray McKay, Don McLeod, Joe Micheletti, Kevin Primeau, Randy Rota, Cal Sandbeck, Dave Semenko, Paul Shmyr, Jim Troy, Juha Widing, Mike Zuke
GD
$4.00 Cdn

EDMONTON OILERS - 1978 WHA PLAYOFF PROGRAMS

Scan Code
Mag Issue
Cover
Contents
Condition
Price per magazine
Pub 4047
April 19, 1978
New England Whalers
vs
Edmonton Oilers
WHA Playoff Program


Gordie Howe / Paul Shmyr / Mike Zuke
New England Whalers Line-up:
Mike Antonovich, Danny Bolduc, Jack Carlson, Steve Carlson, Alan Hangsleben, Gordie Howe, Mark Howe, Marty Howe, Dave Keon, Louie Levasseur, Rick Ley, George Lyle, Jim Mayer, John McKenzie, Larry Pleau, Ron Plumb, Mike Rogers, Tim Sheehy, Al Smith

Edmonton Oilers Line-up:
Ron Busniuk, Brett Callighen, Bryan Campbell, Ron Chipperfield, Ab Demarco, Dave Dryden, Bill Flett, Pierre Guite, Pierre Jarry, Dave Langevin, Blair MacDonald, Ray McKay, Don McLeod, Joe Micheletti, Kevin Primeau, Randy Rota, Cal Sandbeck, Dave Semenko, Paul Shmyr, Jim Troy, Juha Widing, Mike Zuke
VG++
$10.00 Cdn
Pub 4049
April 19, 1978
New England Whalers
vs
Edmonton Oilers
WHA Playoff Program


Gordie Howe / Paul Shmyr / Mike Zuke
New England Whalers Line-up:
Mike Antonovich, Danny Bolduc, Jack Carlson, Steve Carlson, Alan Hangsleben, Gordie Howe, Mark Howe, Marty Howe, Dave Keon, Louie Levasseur, Rick Ley, George Lyle, Jim Mayer, John McKenzie, Larry Pleau, Ron Plumb, Mike Rogers, Tim Sheehy, Al Smith

Edmonton Oilers Line-up:
Ron Busniuk, Brett Callighen, Bryan Campbell, Ron Chipperfield, Ab Demarco, Dave Dryden, Bill Flett, Pierre Guite, Pierre Jarry, Dave Langevin, Blair MacDonald, Ray McKay, Don McLeod, Joe Micheletti, Kevin Primeau, Randy Rota, Cal Sandbeck, Dave Semenko, Paul Shmyr, Jim Troy, Juha Widing, Mike Zuke
GD
$5.00 Cdn

EDMONTON OILERS - 1978-79 WHA HOCKEY PROGRAMS

Scan Code
Mag Issue
Cover
Contents
Condition
Price per magazine
Pub 3195
Dec. 17, 1978
Team Sweden
vs
Edmonton Oilers
WHA Program


Swedish Logo
Team Sweden Line-up:
Mats Abrahsson, Lars Andersson, Kent Andersson, Torbjorn Andersson, Hakan Dahlov, Bo Eriksson, Jan Eriksson, Ola Ernlund, Gunnar Leidborg, Roger Lindstrom, Ulf Lindstrom, Jan Lundstrom, Per Morts, Tord Nanzen, Lennart Norberg, Ulf Norberg, Stevan Perlstrom, Stefan Petterson, Roland Stolz, Ulf Thors, Peter Wallin

Edmonton Oilers Line-up:
Claire Alexander, Garnet Bailey, Doug Berry, Brett Callighen, Steve Carlson, Ron Chipperfield, Peter Driscoll, Dave Dryden, Bill Flett, Bill Goldsworthy, Wayne Gretzky, Al Hamilton, Dave Hunter, Dave Langevin, Blair MacDonald, Joe Micheletti, Ed Mio, Jim Nielson, Dave Semenko, Paul Shmyr, Dennis Sobchuk, Ed Walsh, Stan Weir
GD-VG
$12.00 Cdn
Last Updated: Aug. 6, 2020

---