1972 OPC CFL Football Cards
1972 O-Pee-Chee CFL Football Cards
1972 OPC CFL Football Sticker Inserts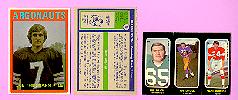 Are you missing cards from your CFL football sets?
Are you looking for a specific CFL player?
A Favorite Player! A Friend! A Relative! Your Own Card!
We sell O-Pee-Chee CFL cards from 1968 to 1972.
Some of the players from the Canadian Football League have played in the NFL.
Prices subject to change without notice according to market conditions.
Postage & Handling is extra. Canadian residents add applicable GST/HST.
Prices are listed in Canadian funds - please inquire as to the current exchange for prices in US funds.
1972 OPC CFL FOOTBALL CARDS

Brand
Card #
Player
Team
Condition
Price per card
72 OPC CFL
2 RC
John Williams
Hamilton Tiger Cats
EX
$2.25 Cdn
72 OPC CFL
3
Garney Henley
Hamilton Tiger Cats
EX+ 30/70 o/c
$3.00 Cdn
72 OPC CFL
4
Dick Wesolowski
Hamilton Tiger Cats
VG 55/45 o/c
.75 Cdn
72 OPC CFL
4
Dick Wesolowski
Hamilton Tiger Cats
EX 20/80 o/c
.60 Cdn
72 OPC CFL
6
Bill Danychuk
Hamilton Tiger Cats
EX+ 25/75 o/c
$1.25 Cdn
72 OPC CFL
6
Bill Danychuk
Hamilton Tiger Cats
EX 20/80 o/c
$1.00 Cdn
72 OPC CFL
10 RC
Mike Blum
Hamilton Tiger Cats
NM-MT 40/60 o/c
$3.00 Cdn
72 OPC CFL
12 RC
Emery Hicks
Hamilton Tiger Cats
VG-EX 25/75 o/c
.75 Cdn
72 OPC CFL
20
Larry Fairholm
Montreal Alouettes
NM-MT
$3.00 Cdn
72 OPC CFL
20
Larry Fairholm
Montreal Alouettes
EX+
$2.25 Cdn
72 OPC CFL
23 RC
Barry Randall
Montreal Alouettes
NM
$2.50 Cdn
72 OPC CFL
23 RC
Barry Randall
Montreal Alouettes
NM-MT 35/65 o/c
$2.00 Cdn
72 OPC CFL
23 RC
Barry Randall
Montreal Alouettes
NM 75/25 o/c
$1.50 Cdn
72 OPC CFL
23 RC
Barry Randall
Montreal Alouettes
EX 40/60 o/c
$1.50 Cdn
72 OPC CFL
25 RC
Jorma Kuisma
Montreal Alouettes
NM-MT
$2.50 Cdn
72 OPC CFL
25 RC
Jorma Kuisma
Montreal Alouettes
NM 40/60 o/c
$2.25 Cdn
72 OPC CFL
25 RC
Jorma Kuisma
Montreal Alouettes
VG+ 30/70 o/c
.75 Cdn
72 OPC CFL
33
Dick Thornton
Toronto Argonauts
EX+ 25/75 o/c
$1.25 Cdn
72 OPC CFL
34
Marv Luster
Toronto Argonauts
NM-MT 25/75 o/c
$2.50 Cdn
72 OPC CFL
38 RC
Chip Barrett
Toronto Argonauts
NM-MT 35/65 o/c
$1.75 Cdn
72 OPC CFL
39 RC
Noah Jackson
Toronto Argonauts
NM-MT 15/85 o/c
$2.00 Cdn
72 OPC CFL
42
Garrett Hunspberger
B.C. Lions
NM-MT 85/15 o/c
$1.50 Cdn
72 OPC CFL
50
Jim Evenson
B.C. Lions
NM-MT 40/60 o/c
$2.50 Cdn
72 OPC CFL
54
Jerry Keeling - QB
Calgary Stampeders
NM-MT 45/55 o/c
$4.00 Cdn
72 OPC CFL
55
Herman Harrison
Calgary Stampeders
NM-MT 20/80 o/c
$2.00 Cdn
72 OPC CFL
61
Joe Forzani
Calgary Stampeders
EX
$2.00 Cdn
72 OPC CFL
61
Joe Forzani
Calgary Stampeders
EX 60/40 o/c
$1.75 Cdn
72 OPC CFL
72 RC
Marshall Shirk
Ottawa Rough Riders
EX+ 20/80 o/c
$1.25 Cdn
72 OPC CFL
73 RC
Tom Laputka
Ottawa Rough Riders
VG-EX 40/60 o/c
$1.25 Cdn
72 OPC CFL
74
Barry Ardern
Ottawa Rough Riders
EX+
$1.75 Cdn
72 OPC CFL
75
Billy Cooper
Ottawa Rough Riders
VG 30/70 o/c
.50 Cdn
72 OPC CFL
76 RC
Dan Dever
Ottawa Rough Riders
VG++
$1.00 Cdn
72 OPC CFL
76 RC
Dan Dever
Ottawa Rough Riders
EX 20/80 o/c
.75 Cdn
72 OPC CFL
76 RC
Dan Dever
Ottawa Rough Riders
GD-VG
.75 Cdn
72 OPC CFL
87
Gary Brandt
Saskatchewan Roughriders
VG+
$1.00 Cdn
72 OPC CFL
87
Gary Brandt
Saskatchewan Roughriders
VG 25/75 o/c
.50 Cdn
72 OPC CFL
94
Dave Gasser
Edmonton Eskimos
VG-EX 0/100 o/c
.60 Cdn
72 OPC CFL
99
Bayne Norrie
Edmonton Eskimos
EX+ 20/80 o/c
.75 Cdn
72 OPC CFL
102 RC
Fred Dunn
Edmonton Eskimos
EX+ 35/65 o/c
$1.25 Cdn
72 OPC CFL
111
Rob McLaren
Winnipeg Blue Bombers
EX+
$2.00 Cdn
72 OPC CFL
121
Pro Action
Hamilton Tiger Cats
vs Ottawa Rough Riders
NM-MT 60/40 o/c
$2.00 Cdn
72 OPC CFL
124
Pro Action
Hamilton Tiger Cats
vs Ottawa Rough Riders
EX 85/15 o/c
.75 Cdn
72 OPC CFL
129
Pro Action
Toronto Argonauts
vs Winnipeg Blue Bombers
NM 95/5 o/c
$1.00 Cdn

1972 OPC CFL FOOTBALL TRIO STICKER INSERT CARDS

Brand
Trio Sticker # - Player
Condition
Price per card
72 OPC CFL sticker
19 - Hugh Oldham, 20 - Joe Thiesmann, 20 - Ed George
EX 35/65 o/c
$25.00 Cdn
Last Updated: Dec. 1, 2015
---