1962 Topps CFL Card Panels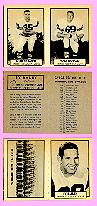 Are you missing cards from your CFL football sets?
Are you looking for a specific CFL player?
A Favorite Player! A Friend! A Relative! Your Own Card!
We sell Topps CFL cards from 1958 to 1964.
Some of the players from the Canadian Football League have played in the NFL.
Prices subject to change without notice according to market conditions.
Postage & Handling is extra. Canadian residents add applicable GST/HST.
Prices are listed in Canadian funds - please inquire as to the current exchange for prices in US funds.
1962 TOPPS CFL FOOTBALL CARDS

2 card panels
These are the original attached perforated panels. Note - pair variations exist.
One team indicated means both players are on the same team.
Brand
Left
Card #
Player - paired with
Right
Card #
Player
Team
Condition
Price per panel pair
62 Topps CFL
1
By Bailey
169
team, checklist
1 B.C. Lions
169 Winnipeg Blue Bombers
NM-MT 35/65 o/c
$40.00 Cdn
62 Topps CFL
2
Nub Beamer - RC
3
Tom Brown - RC
B.C. Lions
NM-MT 35/65 o/c
$12.00 Cdn
62 Topps CFL
3
Tom Brown - RC
4
Mack Burton
B.C. Lions
NM-MT
$14.00 Cdn
62 Topps CFL
4
Mack Burton
5
Mike Cacic
B.C. Lions
NM-MT
$10.00 Cdn
62 Topps CFL
5
Mike Cacic
6
Pat Claridge - RC
B.C. Lions
NM-MT 65/35 o/c
$7.00 Cdn
62 Topps CFL
6
Pat Claridge - RC
7
Steve Cotter - RC
B.C. Lions
NM 55/45 o/c
$10.00 Cdn
62 Topps CFL
7
Steve Cotter - RC
88
Mike Kovac
B.C. Lions
NM-MT 65/35 o/c, Kovac (back crease)
$4.00 Cdn
62 Topps CFL
8
Lonnie Dennis
89
Ed Learn
8 B.C. Lions
89 Montreal Alouettes
NM 45/55 o/c
$8.00 Cdn
62 Topps CFL
24
Barrie Cyr - RC
105
Joe Poirier
24 Calgary Stampeders
105 Ottawa Rough Riders
NM-MT 60/40 o/c
$8.00 Cdn
62 Topps CFL
24
Barrie Cyr - RC
105
Joe Poirier
24 Calgary Stampeders
105 Ottawa Rough Riders
VG-EX 60/40 o/c
$2.50 Cdn
62 Topps CFL
24
Barrie Cyr - RC
112
Kaye Vaughan
24 Calgary Stampeders
112 Ottawa Rough Riders
62 Topps CFL
40
Marion Drew Deese - RC
121
Ron Dundas
40 Edmonton Eskimos
121 Saskatchewan Roughriders
62 Topps CFL
72
Bronko Nagurski
153
Herb Gray
72 Hamilton Tiger Cats
153 Winnipeg Blue Bombers
35/65 o/c
$20.00 Cdn
62 Topps CFL
91
Marv Luster - RC
92
Bobby Jack Oliver - RC
Montreal Alouettes
NM-MT 35/65 o/c
$15.00 Cdn
62 Topps CFL
93
Sandy Stephens - RC
94
team, checklist
Montreal Alouettes
62 Topps CFL
94
Montreal Alouettes checklist
95
Gilles Archambeault
Ottawa Rough Riders
NM-MT
$35.00 Cdn
62 Topps CFL
95
Gilles Archambeault
96
Bruno Bitkowski
Ottawa Rough Riders
NM
$6.00 Cdn
62 Topps CFL
98
Doug Daigneault
99
Dick Desmarais - RC
Ottawa Rough Riders
VG-EX
$6.00 Cdn
62 Topps CFL
100
Russ Jackson - QB
101
Tom Jones
Ottawa Rough Riders
VG 25/75 o/c
$40.00 Cdn
62 Topps CFL
107
Gary Schreider - RC
108
Bob Simpson
Ottawa Rough Riders
NM-MT 65/35 o/c
$10.00 Cdn
62 Topps CFL
107
Gary Schreider - RC
108
Bob Simpson
Ottawa Rough Riders
VG-EX 55/45 o/c
$7.50 Cdn
62 Topps CFL
108
Bob Simpson
109
Ted Smale
Ottawa Rough Riders
NM-MT 40/60 o/c
$13.00 Cdn
62 Topps CFL
109
Ted Smale
110
Ron Stewart
Ottawa Rough Riders
NM-MT 65/35 o/c
$20.00 Cdn
62 Topps CFL
110
Ron Stewart
111
Dave Thelen
Ottawa Rough Riders
NM-MT 65/35 o/c
$20.00 Cdn
62 Topps CFL
111
Dave Thelen
112
Kaye Vaughan
111 Ottawa Rough Riders
112 Ottawa Rough Riders
62 Topps CFL
114
Ron Atcheson
115
Danny Banda
Saskatchewan Roughriders
NM-MT 60/40 o/c
$10.00 Cdn
62 Topps CFL
115
Danny Banda
116
Al Benecik
Saskatchewan Roughriders
NM-MT
$9.00 Cdn
62 Topps CFL
116
Al Benecik - RC
117
Clair Branch - RC
Saskatchewan Roughriders
VG-EX 25/75 o/c
$7.50 Cdn
62 Topps CFL
117
Clair Branch - RC
118
Fred Burket
Saskatchewan Roughriders
VG-EX 60/40 o/c
$7.50 Cdn
62 Topps CFL
118
Fred Burket - RC
119
Bill Clarke
Saskatchewan Roughriders
NM
$15.00 Cdn
62 Topps CFL
119
Bill Clarke
120
Jim Copeland
Saskatchewan Roughriders
VG-EX
$5.00 Cdn
62 Topps CFL
121
Ron Dundas
122
Bob Golic
Saskatchewan Roughriders
NM-MT
$9.00 Cdn
62 Topps CFL
122
Bob Golic
123
Jack Gotta
Saskatchewan Roughriders
NM-MT
$11.00 Cdn
62 Topps CFL
124
Dave Grosz
125
Neil Habig - RC
Saskatchewan Roughriders
NM-MT 55/45 o/c
$9.00 Cdn
62 Topps CFL
131
Lynn Bottoms
132
Dick Fouts
Toronto Argonauts
62 Topps CFL
134
Cookie Gilchrist
135
Art Johnson - RC
Toronto Argonauts
VG-EX
$25.00 Cdn
62 Topps CFL
135
Art Johnson - RC
136
Bobby Kuntz
Toronto Argonauts
NM-MT 40/60 o/c
$6.00 Cdn
62 Topps CFL
138
Marty Martinello - RC
139
Doug Nicholl
Toronto Argonauts
NM-MT
$9.00 Cdn
62 Topps CFL
140
Bill Mitchell - RC
141
Danny Nykoluk
Toronto Argonauts
NM-MT
$9.00 Cdn
62 Topps CFL
141
Danny Nykoluk
142
Walt Radzick
Toronto Argonauts
NM-MT
$9.00 Cdn
62 Topps CFL
143
Tobin Rote - QB
144
Jim Rountree
Toronto Argonauts
NM-MT 45/55 o/c
$20.00 Cdn
62 Topps CFL
146
Billy Shipp
147
Norm Stoneburgh
Toronto Argonauts
NM-MT
$10.00 Cdn
62 Topps CFL
147
Norm Stoneburgh
148
team, checklist
Toronto Argonauts
62 Topps CFL
153
Herb Gray
154
Roger Hagberg - RC
Winnipeg Blue Bombers
62 Topps CFL
158
Hal Ledyard- RC
159
Leo Lewis
Winnipeg Blue Bombers
NM-MT 35/65 o/c
$15.00 Cdn
62 Topps CFL
164
Norm Rauhaus
165
Frank Rigney - RC
Winnipeg Blue Bombers
NM-MT 45/55 o/c
$18.00 Cdn
Last Updated: July 15, 2009
---