2014 UPPER DECK CFL FOOTBALL CARD BOXES
We can sell the 2014 Upper Deck CFL Football Cards sealed foil boxes in Canada only!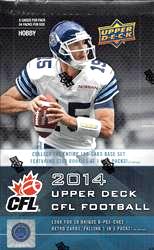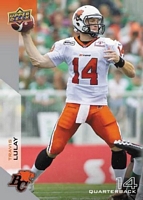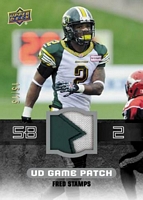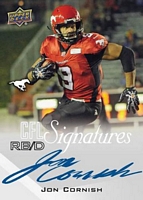 Postage & Handling is extra. Canadian residents add applicable GST/HST. Manitoba residents also add PST.
2014 UPPER DECK CFL FOOTBALL CARDS
Build your own set - get the thrill of opening packs and finding rare inserts cards.
(144 cards per foil box) Email for price.
Sealed foil boxes Sold in Canada only. We cannot sell sealed 2014 Upper Deck CFL boxes to the States.
6 Cards per Pack
24 Packs per Box
CONTENT HIGHLIGHTS:
Collect the entire 180-card Base Set!
Get all your favourites, with top-notch Upper Deck quality photography!
Look for Star Rookies, inserted 1 in 4 packs!
Also look for SP's on Defense and Special Teams, inserted 1 per pack!
Find 2 UD Game Jersey cards per box!
Highlighting 42 CFL Stars!
Also pull Game Jersey Patch parallels, Numbered to just 15!
Look for rare SP1 and SP2 cards featuring CFL Legends Doug Flutie and Warren Moon!
Top it off with signed versions (Numbered to 10) of those venerable superstars!
Grab some Great Signatures in the CFL Marks insert!
Inserted at 1:192, these hit 1 per inner shipper!
Collectors can also find 2013 Grey Cup Highlights, inserted at 1 in 960 packs!
Look for 50 different O-Pee-Chee Retro cards, inserted 1 in 3 packs!
Picturing today's biggest CFL stars on a vintage-themed design!
PRODUCT BREAKDOWN:
* Base Set, with SP's for Great Value!
Offense, 100 Regular Cards
Defense – inserted 1:1
Star Rookies – inserted 1:4
* Signature & Memorabilia Cards
UD Game Jersey – inserted 1:12
UD Game Patch – numbered to 15
CFL Marks – inserted 1:192
* SP Inserts (Featuring Warren Moon & Doug Flutie!)
SP 1 and SP2 – inserted 1:960
Autograph versions – numbered to 10
* CFL-Themed Inserts
2013 Grey Cup Moments – inserted 1:960
O-Pee-Chee Retro – inserted 1:3
---
2014 Upper Deck CFL Football Box Break
2 Jersey Cards
8 O-Pee-Chee Retro Inserts
6 Star Rookies Cards
24 Defense/Special Teams Cards
You will need more than one box to make a set.
---
2014 UPPER DECK CFL CARDS - CFL PLAYER CHECKLIST
2014 Upper Deck CFL Football Set Checklist Base Set Checklist 150 cards

No Star Rookies (#1-150)
With Star Rookies (#1-180)

Year & Brand
Card #
Player
Team
2014 Upper Deck CFL
1
Andrew Harris
BC Lions
2014 Upper Deck CFL
2
Travis Lulay
BC Lions
2014 Upper Deck CFL
3
Shawn Gore
BC Lions
2014 Upper Deck CFL
4
Emmanuel Arceneaux
BC Lions
2014 Upper Deck CFL
5
Stefan Logan
BC Lions
2014 Upper Deck CFL
6
Rolly Lumbala
BC Lions
2014 Upper Deck CFL
7
Paul McCallum
BC Lions
2014 Upper Deck CFL
8
Tim Brown
BC Lions
2014 Upper Deck CFL
9
Jovan Olafioye
BC Lions
2014 Upper Deck CFL
10
Courtney Taylor
BC Lions
2014 Upper Deck CFL
11
Kevin Glenn
BC Lions
2014 Upper Deck CFL
12
Drew Tate
Calgary Stampeders
2014 Upper Deck CFL
13
Jabari Arthur
Calgary Stampeders
2014 Upper Deck CFL
14
Jon Cornish
Calgary Stampeders
2014 Upper Deck CFL
15
Nik Lewis
Calgary Stampeders
2014 Upper Deck CFL
16
Marquay McDaniel
Calgary Stampeders
2014 Upper Deck CFL
17
Jock Sanders
Calgary Stampeders
2014 Upper Deck CFL
18
Rene Paredes
Calgary Stampeders
2014 Upper Deck CFL
19
Bo Levi Mitchell
Calgary Stampeders
2014 Upper Deck CFL
20
Stanley Bryant
Calgary Stampeders
2014 Upper Deck CFL
21
Maurice Price
Calgary Stampeders
2014 Upper Deck CFL
22
Grant Shaw
Edmonton Eskimos
2014 Upper Deck CFL
23
Adarius Bowman
Edmonton Eskimos
2014 Upper Deck CFL
24
John White
Edmonton Eskimos
2014 Upper Deck CFL
25
Calvin McCarty
Edmonton Eskimos
2014 Upper Deck CFL
26
Simeon Rottier
Edmonton Eskimos
2014 Upper Deck CFL
27
Mike Reilly
Edmonton Eskimos
2014 Upper Deck CFL
28
Fred Stamps
Edmonton Eskimos
2014 Upper Deck CFL
29
Nate Coehoorn
Edmonton Eskimos
2014 Upper Deck CFL
30
Matthew O`Donnell
Edmonton Eskimos
2014 Upper Deck CFL
31
Shamawd Chambers
Edmonton Eskimos
2014 Upper Deck CFL
32
Akeem Foster
Edmonton Eskimos
2014 Upper Deck CFL
33
Luke Tasker
Hamilton Tiger Cats
2014 Upper Deck CFL
34
Cary Koch
Hamilton Tiger Cats
2014 Upper Deck CFL
35
Zach Callaros
Hamilton Tiger Cats
2014 Upper Deck CFL
36
Greg Ellingson
Hamilton Tiger Cats
2014 Upper Deck CFL
37
Brandon Banks
Hamilton Tiger Cats
2014 Upper Deck CFL
38
Jeremiah Masoli
Hamilton Tiger Cats
2014 Upper Deck CFL
39
Bakari Grant
Hamilton Tiger Cats
2014 Upper Deck CFL
40
Andy Fantuz
Hamilton Tiger Cats
2014 Upper Deck CFL
41
Dan LeFevour
Hamilton Tiger Cats
2014 Upper Deck CFL
42
Samuel Giguere
Hamilton Tiger Cats
2014 Upper Deck CFL
43
Luc Brodeur-Jourdain
Montreal Alouettes
2014 Upper Deck CFL
44
Brandon London
Montreal Alouettes
2014 Upper Deck CFL
45
Larry Taylor
Montreal Alouettes
2014 Upper Deck CFL
46
Bo Bowling
Montreal Alouettes
2014 Upper Deck CFL
47
Tanner Marsh
Montreal Alouettes
2014 Upper Deck CFL
48
Brandon Whitaker
Montreal Alouettes
2014 Upper Deck CFL
49
Tyrell Sutton
Montreal Alouettes
2014 Upper Deck CFL
50
S.J. Green
Montreal Alouettes
2014 Upper Deck CFL
51
Steven Lumbala
Montreal Alouettes
2014 Upper Deck CFL
52
Sean Whyte
Montreal Alouettes
2014 Upper Deck CFL
53
Josh Bourke
Montreal Alouettes
2014 Upper Deck CFL
54
John Delahunt
Ottawa Redblacks
2014 Upper Deck CFL
55
Paris Jackson
Ottawa Redblacks
2014 Upper Deck CFL
56
Kierrie Johnson
Ottawa Redblacks
2014 Upper Deck CFL
57
Chevon Walker
Ottawa Redblacks
2014 Upper Deck CFL
58
Dobson Collins
Ottawa Redblacks
2014 Upper Deck CFL
59
Henry Burris
Ottawa Redblacks
2014 Upper Deck CFL
60
Matt Carter
Ottawa Redblacks
2014 Upper Deck CFL
61
Thomas DeMarco
Ottawa Redblacks
2014 Upper Deck CFL
62
Marcus Henry
Ottawa Redblacks
2014 Upper Deck CFL
63
Jon Gott
Ottawa Redblacks
2014 Upper Deck CFL
64
Will Ford
Saskatchewan Roughriders
2014 Upper Deck CFL
65
Rob Bagg
Saskatchewan Roughriders
2014 Upper Deck CFL
66
Chris Milo
Saskatchewan Roughriders
2014 Upper Deck CFL
67
Chris Getzlaf
Saskatchewan Roughriders
2014 Upper Deck CFL
68
Darian Durant
Saskatchewan Roughriders
2014 Upper Deck CFL
69
Tino Sunseri
Saskatchewan Roughriders
2014 Upper Deck CFL
70
Ben Heenan
Saskatchewan Roughriders
2014 Upper Deck CFL
71
Dominic Picard
Saskatchewan Roughriders
2014 Upper Deck CFL
72
Brendon LaBatte
Saskatchewan Roughriders
2014 Upper Deck CFL
73
Eron Riley
Saskatchewan Roughriders
2014 Upper Deck CFL
74
Taj Smith
Saskatchewan Roughriders
2014 Upper Deck CFL
75
Neal Hughes
Saskatchewan Roughriders
2014 Upper Deck CFL
76
Scott McHenry
Saskatchewan Roughriders
2014 Upper Deck CFL
77
Zander Robinson
Toronto Argonauts
2014 Upper Deck CFL
78
Trevor Harris
Toronto Argonauts
2014 Upper Deck CFL
79
Swayze Waters
Toronto Argonauts
2014 Upper Deck CFL
80
Andre Durie
Toronto Argonauts
2014 Upper Deck CFL
81
Curtis Steele
Toronto Argonauts
2014 Upper Deck CFL
82
Ricky Ray
Toronto Argonauts
2014 Upper Deck CFL
83
Jason Barnes
Toronto Argonauts
2014 Upper Deck CFL
84
Jeff Keeping
Toronto Argonauts
2014 Upper Deck CFL
85
Chris Van Zeyl
Toronto Argonauts
2014 Upper Deck CFL
86
Chad Owens
Toronto Argonauts
2014 Upper Deck CFL
87
John Chiles
Toronto Argonauts
2014 Upper Deck CFL
88
Mike Bradwell
Toronto Argonauts
2014 Upper Deck CFL
89
Spencer Watt
Toronto Argonauts
2014 Upper Deck CFL
90
Eric Deslauriers
Montreal Alouettes
2014 Upper Deck CFL
91
Chris Greaves
Winnipeg Blue Bombers
2014 Upper Deck CFL
92
Glenn January
Winnipeg Blue Bombers
2014 Upper Deck CFL
93
Drew Willy
Winnipeg Blue Bombers
2014 Upper Deck CFL
94
Cory Watson
Winnipeg Blue Bombers
2014 Upper Deck CFL
95
Aaron Kelly
Winnipeg Blue Bombers
2014 Upper Deck CFL
96
Nick Moore
Winnipeg Blue Bombers
2014 Upper Deck CFL
97
Julian Feoli-Gudino
Winnipeg Blue Bombers
2014 Upper Deck CFL
98
Clarence Denmark
Winnipeg Blue Bombers
2014 Upper Deck CFL
99
Rory Kohlert
Winnipeg Blue Bombers
2014 Upper Deck CFL
100
Ricky Ray
Toronto Argonauts
2014 Upper Deck CFL
100
Darian Durant
Saskatchewan Roughriders
2014 Upper Deck CFL
101
Solomon Elimimian
BC Lions
2014 Upper Deck CFL
102
Khalif Mitchell
BC Lions
2014 Upper Deck CFL
103
Adam Bighill
BC Lions
2014 Upper Deck CFL
104
Ryan Phillips
BC Lions
2014 Upper Deck CFL
105
Dante Marsh
BC Lions
2014 Upper Deck CFL
106
Cord Parks
BC Lions
2014 Upper Deck CFL
107
Fred Bennett
Calgary Stampeders
2014 Upper Deck CFL
108
Juwan Simpson
Calgary Stampeders
2014 Upper Deck CFL
109
Keon Raymond
Calgary Stampeders
2014 Upper Deck CFL
110
Charleston Hughes
Calgary Stampeders
2014 Upper Deck CFL
111
Jamar Wall
Calgary Stampeders
2014 Upper Deck CFL
112
Brandon Smith
Calgary Stampeders
2014 Upper Deck CFL
113
JC Sherritt
Edmonton Eskimos
2014 Upper Deck CFL
114
Marcus Howard
Edmonton Eskimos
2014 Upper Deck CFL
115
Almondo Sewell
Edmonton Eskimos
2014 Upper Deck CFL
116
Odell Willis
Edmonton Eskimos
2014 Upper Deck CFL
117
Joe Burnett
Edmonton Eskimos
2014 Upper Deck CFL
118
Patrick Watkins
Edmonton Eskimos
2014 Upper Deck CFL
119
Marc Beswick
Hamilton Tiger Cats
2014 Upper Deck CFL
120
Eric Norwood
Hamilton Tiger Cats
2014 Upper Deck CFL
121
Brian Bulcke
Hamilton Tiger Cats
2014 Upper Deck CFL
122
Rico Murray
Hamilton Tiger Cats
2014 Upper Deck CFL
123
Craig Butler
Hamilton Tiger Cats
2014 Upper Deck CFL
124
Chip Cox
Montreal Alouettes
2014 Upper Deck CFL
125
Geoff Tisdale
Montreal Alouettes
2014 Upper Deck CFL
126
Jerald Brown
Montreal Alouettes
2014 Upper Deck CFL
127
Billy Parker
Montreal Alouettes
2014 Upper Deck CFL
128
Mike Edem
Montreal Alouettes
2014 Upper Deck CFL
129
Kyries Hebert
Montreal Alouettes
2014 Upper Deck CFL
130
Justin Phillips
Ottawa Redblacks
2014 Upper Deck CFL
131
Keith Shologan
Ottawa Redblacks
2014 Upper Deck CFL
132
T.J. Hill
Ottawa Redblacks
2014 Upper Deck CFL
133
Jovon Johnson
Ottawa Redblacks
2014 Upper Deck CFL
134
Ricky Foley
Saskatchewan Roughriders
2014 Upper Deck CFL
135
Tyron Brackenridge
Saskatchewan Roughriders
2014 Upper Deck CFL
136
Weldon Brown
Saskatchewan Roughriders
2014 Upper Deck CFL
137
Tearrius George
Saskatchewan Roughriders
2014 Upper Deck CFL
138
John Chick
Saskatchewan Roughriders
2014 Upper Deck CFL
139
Terrell Maze
Saskatchewan Roughriders
2014 Upper Deck CFL
140
Jamie Robinson
Toronto Argonauts
2014 Upper Deck CFL
141
Matt Black
Toronto Argonauts
2014 Upper Deck CFL
142
Shane Horton
Toronto Argonauts
2014 Upper Deck CFL
143
Shea Emry
Toronto Argonauts
2014 Upper Deck CFL
144
Jalil Carter
Toronto Argonauts
2014 Upper Deck CFL
145
Bryant Turner
Winnipeg Blue Bombers
2014 Upper Deck CFL
146
Demond Washington
Winnipeg Blue Bombers
2014 Upper Deck CFL
147
Jason Vega
Winnipeg Blue Bombers
2014 Upper Deck CFL
148
Ian Wild
Winnipeg Blue Bombers
2014 Upper Deck CFL
149
Alex Suber
Winnipeg Blue Bombers
2014 Upper Deck CFL
150
Charleston Hughes
Calgary Stampeders
2014 Upper Deck CFL
150
Chip Cox
Montreal Alouettes

2014 Upper Deck CFL Star Rookies
30 cards 1:4 packs

Year & Brand
Card #
Player
Team
2014 Upper Deck CFL Star Rookies
151
Seydou Junior Haidara
BC Lions
2014 Upper Deck CFL Star Rookies
152
T-Dre Player
BC Lions
2014 Upper Deck CFL Star Rookies
153
Travis Partridge
BC Lions
2014 Upper Deck CFL Star Rookies
154
Micah Johnson
Calgary Stampeders
2014 Upper Deck CFL Star Rookies
155
Brett Jones
Calgary Stampeders
2014 Upper Deck CFL Star Rookies
156
A.J. Guyton
Edmonton Eskimos
2014 Upper Deck CFL Star Rookies
157
Aaron Grymes
Edmonton Eskimos
2014 Upper Deck CFL Star Rookies
158
Devon Bailey
Edmonton Eskimos
2014 Upper Deck CFL Star Rookies
159
Pat White
Edmonton Eskimos
2014 Upper Deck CFL Star Rookies
160
Beau Landry
Hamilton Tiger Cats
2014 Upper Deck CFL Star Rookies
161
C.J. Gable
Hamilton Tiger Cats
2014 Upper Deck CFL Star Rookies
162
Kenny Stafford
Montreal Alouettes
2014 Upper Deck CFL Star Rookies
163
Duron Carter
Montreal Alouettes
2014 Upper Deck CFL Star Rookies
164
Troy Smith
Montreal Alouettes
2014 Upper Deck CFL Star Rookies
165
Chad Johnson
Montreal Alouettes
2014 Upper Deck CFL Star Rookies
166
Jerrel Gavins
Ottawa Redblacks
2014 Upper Deck CFL Star Rookies
167
Nolan MacMillan
Ottawa Redblacks
2014 Upper Deck CFL Star Rookies
168
Antoine Pruneau
Ottawa Redblacks
2014 Upper Deck CFL Star Rookies
169
Brett Swain
Saskatchewan Roughriders
2014 Upper Deck CFL Star Rookies
170
Anthony Allen
Saskatchewan Roughriders
2014 Upper Deck CFL Star Rookies
171
Ryan Smith
Saskatchewan Roughriders
2014 Upper Deck CFL Star Rookies
172
Steve Slaton
Toronto Argonauts
2014 Upper Deck CFL Star Rookies
173
Jeremiah Johnson
Toronto Argonauts
2014 Upper Deck CFL Star Rookies
174
Anthony Coombs
Toronto Argonauts
2014 Upper Deck CFL Star Rookies
175
Jermaine Gabriel
Toronto Argonauts
2014 Upper Deck CFL Star Rookies
176
Matthias Goossen
Winnipeg Blue Bombers
2014 Upper Deck CFL Star Rookies
177
Liriam Hajrullahu
Winnipeg Blue Bombers
2014 Upper Deck CFL Star Rookies
178
Nic Grigsby
Winnipeg Blue Bombers
2014 Upper Deck CFL Star Rookies
179
Brian Brohm
Winnipeg Blue Bombers
2014 Upper Deck CFL Star Rookies
180
C.J. Gable
Hamilton Tiger Cats
2014 Upper Deck CFL Star Rookies
180
Troy Smith
Montreal Alouettes

2014 Upper Deck CFL 2013 Grey Cup Moments
2 cards

Year & Brand
Card #
Player
Team
2014 UD CFL Grey Cup Moments
GCM1
Darian Durant
Saskatchewan Roughriders
2014 UD CFL Grey Cup Moments
GCM2
Chris Getzlaf
Saskatchewan Roughriders

2014 Upper Deck CFL Marks
6 cards

Year & Brand
Card #
Player
Team
2014 Upper Deck CFL Marks
M-CG
Chris Getzlaf
Saskatchewan Roughriders
2014 Upper Deck CFL Marks
M-CH
Charleston Hughes
Calgary Stampeders
2014 Upper Deck CFL Marks
M-FS
Fred Stamps
Edmonton Eskimos
2014 Upper Deck CFL Marks
M-GE
Greg Ellingson
Hamilton Tiger Cats
2014 Upper Deck CFL Marks
M-MR
Mike Reilly
Edmonton Eskimos
2014 Upper Deck CFL Marks
M-TL
Travis Lulay
BC Lions

2014 Upper Deck CFL Chase Cards
2 cards
PARALLEL CARD: Autograph #/10

Year & Brand
Card #
Player
Team
2014 Upper Deck CFL SP
SP1
Doug Flutie
Toronto Argonauts
2014 Upper Deck CFL SP
SP2
Warren Moon
Edmonton Eskimos

2014 Upper Deck CFL O-Pee-Chee Retro
50 cards 1:3 packs

Year & Brand
Card #
Player
Team
2014 UD O-Pee-Chee Retro CFL
1
Travis Lulay
BC Lions
2014 UD O-Pee-Chee Retro CFL
2
Andrew Harris
BC Lions
2014 UD O-Pee-Chee Retro CFL
3
Tim Brown (CFL)
BC Lions
2014 UD O-Pee-Chee Retro CFL
4
Adam Bighill
BC Lions
2014 UD O-Pee-Chee Retro CFL
5
Emmanuel Arceneaux
BC Lions
2014 UD O-Pee-Chee Retro CFL
6
Jamall Johnson
BC Lions
2014 UD O-Pee-Chee Retro CFL
7
Marquay McDaniel
Calgary Stampeders
2014 UD O-Pee-Chee Retro CFL
8
Jon Cornish
Calgary Stampeders
2014 UD O-Pee-Chee Retro CFL
9
Charleston Hughes
Calgary Stampeders
2014 UD O-Pee-Chee Retro CFL
10
Rene Paredes
Calgary Stampeders
2014 UD O-Pee-Chee Retro CFL
11
Nik Lewis
Calgary Stampeders
2014 UD O-Pee-Chee Retro CFL
12
Bo Levi Mitchell
Calgary Stampeders
2014 UD O-Pee-Chee Retro CFL
13
Mike Reilly
Edmonton Eskimos
2014 UD O-Pee-Chee Retro CFL
14
Fred Stamps
Edmonton Eskimos
2014 UD O-Pee-Chee Retro CFL
15
Joe Burnett
Edmonton Eskimos
2014 UD O-Pee-Chee Retro CFL
16
Rennie Curran
Edmonton Eskimos
2014 UD O-Pee-Chee Retro CFL
17
Adarius Bowman
Edmonton Eskimos
2014 UD O-Pee-Chee Retro CFL
18
Samuel Giguere
Hamilton Tiger Cats
2014 UD O-Pee-Chee Retro CFL
19
Andy Fantuz
Hamilton Tiger Cats
2014 UD O-Pee-Chee Retro CFL
20
Bakari Grant
Hamilton Tiger Cats
2014 UD O-Pee-Chee Retro CFL
21
Zach Callaros
Hamilton Tiger Cats
2014 UD O-Pee-Chee Retro CFL
22
Cary Koch
Hamilton Tiger Cats
2014 UD O-Pee-Chee Retro CFL
23
Chip Cox
Montreal Alouettes
2014 UD O-Pee-Chee Retro CFL
24
S.J. Green
Montreal Alouettes
2014 UD O-Pee-Chee Retro CFL
25
Sean Whyte
Montreal Alouettes
2014 UD O-Pee-Chee Retro CFL
26
Kyries Hebert
Montreal Alouettes
2014 UD O-Pee-Chee Retro CFL
27
Geoff Tisdale
Montreal Alouettes
2014 UD O-Pee-Chee Retro CFL
28
Larry Taylor
Montreal Alouettes
2014 UD O-Pee-Chee Retro CFL
29
Chevon Walker
Ottawa Redblacks
2014 UD O-Pee-Chee Retro CFL
30
Thomas DeMarco
Ottawa Redblacks
2014 UD O-Pee-Chee Retro CFL
31
Henry Burris
Ottawa Redblacks
2014 UD O-Pee-Chee Retro CFL
32
Jovon Johnson
Ottawa Redblacks
2014 UD O-Pee-Chee Retro CFL
33
Taj Smith
Saskatchewan Roughriders
2014 UD O-Pee-Chee Retro CFL
34
Darian Durant
Saskatchewan Roughriders
2014 UD O-Pee-Chee Retro CFL
35
Chris Getzlaf
Saskatchewan Roughriders
2014 UD O-Pee-Chee Retro CFL
36
Rob Bagg
Saskatchewan Roughriders
2014 UD O-Pee-Chee Retro CFL
37
Chris Milo
Saskatchewan Roughriders
2014 UD O-Pee-Chee Retro CFL
38
Ricky Foley
Saskatchewan Roughriders
2014 UD O-Pee-Chee Retro CFL
39
Will Ford
Saskatchewan Roughriders
2014 UD O-Pee-Chee Retro CFL
40
Curtis Steele
Toronto Argonauts
2014 UD O-Pee-Chee Retro CFL
41
Jalil Carter
Toronto Argonauts
2014 UD O-Pee-Chee Retro CFL
42
John Chiles
Toronto Argonauts
2014 UD O-Pee-Chee Retro CFL
43
Chad Owens
Toronto Argonauts
2014 UD O-Pee-Chee Retro CFL
44
Andre Durie
Toronto Argonauts
2014 UD O-Pee-Chee Retro CFL
45
Spencer Watt
Toronto Argonauts
2014 UD O-Pee-Chee Retro CFL
46
Ricky Ray
Toronto Argonauts
2014 UD O-Pee-Chee Retro CFL
47
Rory Kohlert
Winnipeg Blue Bombers
2014 UD O-Pee-Chee Retro CFL
48
Clarence Denmark
Winnipeg Blue Bombers
2014 UD O-Pee-Chee Retro CFL
49
Nick Moore
Winnipeg Blue Bombers
2014 UD O-Pee-Chee Retro CFL
50
Drew Willy
Winnipeg Blue Bombers

2014 Upper Deck CFL OPC Team Logo Patches
30 cards

Year & Brand
Card #
Player
Team
2014 UD O-Pee-Chee CFL
TL-1
Team Logo Patch
Canadian Football League
2014 UD O-Pee-Chee CFL
TL-2
Team Logo Patch
Saskatchewan Roughriders
2014 UD O-Pee-Chee CFL
TL-3
Team Logo Patch
Hamilton Tiger-Cats
2014 UD O-Pee-Chee CFL
TL-4
Team Logo Patch
Calgary Stampeders
2014 UD O-Pee-Chee CFL
TL-5
Team Logo Patch
Toronto Argonauts
2014 UD O-Pee-Chee CFL
TL-6
Team Logo Patch
Montreal Alouettes
2014 UD O-Pee-Chee CFL
TL-7
Team Logo Patch
BC Lions
2014 UD O-Pee-Chee CFL
TL-8
Team Logo Patch
Edmonton Eskimos
2014 UD O-Pee-Chee CFL
TL-9
Team Logo Patch
Winnipeg Blue Bombers
2014 UD O-Pee-Chee CFL
TL-10
Team Logo Patch
Ottawa Redblacks
2014 UD O-Pee-Chee CFL
TL-11
Team Logo Patch
BC Lions
2014 UD O-Pee-Chee CFL
TL-12
Team Logo Patch
Hamilton Tiger-Cats
2014 UD O-Pee-Chee CFL
TL-13
Team Logo Patch
Toronto Argonauts
2014 UD O-Pee-Chee CFL
TL-14
Team Logo Patch
BC Lions
2014 UD O-Pee-Chee CFL
TL-15
Team Logo Patch
Winnipeg Blue Bombers
2014 UD O-Pee-Chee CFL
TL-16
Team Logo Patch
Hamilton Tiger-Cats
2014 UD O-Pee-Chee CFL
TL-17
Team Logo Patch
Edmonton Eskimos
2014 UD O-Pee-Chee CFL
TL-18
Team Logo Patch
Toronto Argonauts
2014 UD O-Pee-Chee CFL
TL-19
Team Logo Patch
Saskatchewan Roughriders
2014 UD O-Pee-Chee CFL
TL-20
Team Logo Patch
Toronto Argonauts
2014 UD O-Pee-Chee CFL
TL-21
Team Logo Patch
Montreal Alouettes
2014 UD O-Pee-Chee CFL
TL-22
Team Logo Patch
Calgary Stampeders
2014 UD O-Pee-Chee CFL
TL-23
Team Logo Patch
Grey Cup
2014 UD O-Pee-Chee CFL
TL-24
Team Logo Patch
Grey Cup
2014 UD O-Pee-Chee CFL
TL-25
Team Logo Patch
Grey Cup
2014 UD O-Pee-Chee CFL
TL-26
Team Logo Patch
Grey Cup
2014 UD O-Pee-Chee CFL
TL-27
Team Logo Patch
Grey Cup
2014 UD O-Pee-Chee CFL
TL-28
Team Logo Patch
BC Lions
2014 UD O-Pee-Chee CFL
TL-29
Team Logo Patch
Winnipeg Blue Bombers
2014 UD O-Pee-Chee CFL
TL-30
Team Logo Patch
Toronto Argonauts

2014 Upper Deck CFL Game Jersey Cards
41 cards PARALLEL CARDS: Patch #/15

Year & Brand
Card #
Player
Team
2014 UD CFL Game Jersey
GJ-AB
Adam Bighill
BC Lions
2014 UD CFL Game Jersey
GJ-AD
Andre Durie
Toronto Argonauts
2014 UD CFL Game Jersey
GJ-AF
Andy Fantuz
Hamilton Tiger Cats
2014 UD CFL Game Jersey
GJ-AH
Andrew Harris
BC Lions
2014 UD CFL Game Jersey
GJ-BG
Bakari Grant
Hamilton Tiger Cats
2014 UD CFL Game Jersey
GJ-BO
John Bowman
Montreal Alouettes
2014 UD CFL Game Jersey
GJ-BT
Bryant Turner
Winnipeg Blue Bombers
2014 UD CFL Game Jersey
GJ-BU
Joe Burnett
Edmonton Eskimos
2014 UD CFL Game Jersey
GJ-BW
Brandon Whitaker
Montreal Alouettes
2014 UD CFL Game Jersey
GJ-CC
Chip Cox
Montreal Alouettes
2014 UD CFL Game Jersey
GJ-CD
Clarence Denmark
Winnipeg Blue Bombers
2014 UD CFL Game Jersey
GJ-CH
Charleston Hughes
Calgary Stampeders
2014 UD CFL Game Jersey
GJ-CO
Jon Cornish
Calgary Stampeders
2014 UD CFL Game Jersey
GJ-CW
Cory Watson
Winnipeg Blue Bombers
2014 UD CFL Game Jersey
GJ-DD
Darian Durant
Saskatchewan Roughriders
2014 UD CFL Game Jersey
GJ-DT
Drew Tate
Calgary Stampeders
2014 UD CFL Game Jersey
GJ-DW
Demond Washington
Winnipeg Blue Bombers
2014 UD CFL Game Jersey
GJ-EA
Emmanuel Arceneaux
BC Lions
2014 UD CFL Game Jersey
GJ-FS
Fred Stamps
Edmonton Eskimos
2014 UD CFL Game Jersey
GJ-GC
Chris Getzlaf
Saskatchewan Roughriders
2014 UD CFL Game Jersey
GJ-GI
Samuel Giguere
Hamilton Tiger Cats
2014 UD CFL Game Jersey
GJ-GO
Shawn Gore
BC Lions
2014 UD CFL Game Jersey
GJ-JB
Jason Barnes
Toronto Argonauts
2014 UD CFL Game Jersey
GJ-JC
John Chick
Saskatchewan Roughriders
2014 UD CFL Game Jersey
GJ-JO
Jovan Olafioye
BC Lions
2014 UD CFL Game Jersey
GJ-JS
JC Sherritt
Edmonton Eskimos
2014 UD CFL Game Jersey
GJ-KH
Kyries Hebert
Montreal Alouettes
2014 UD CFL Game Jersey
GJ-LL
Lindsey Lamar
Hamilton Tiger Cats
2014 UD CFL Game Jersey
GJ-MR
Mike Reilly
Edmonton Eskimos
2014 UD CFL Game Jersey
GJ-NL
Nik Lewis
Calgary Stampeders
2014 UD CFL Game Jersey
GJ-OW
Chad Owens
Toronto Argonauts
2014 UD CFL Game Jersey
GJ-RF
Ricky Foley
Saskatchewan Roughriders
2014 UD CFL Game Jersey
GJ-RL
Rolly Lumbala
BC Lions
2014 UD CFL Game Jersey
GJ-RP
Rene Paredes
Calgary Stampeders
2014 UD CFL Game Jersey
GJ-RR
Ricky Ray
Toronto Argonauts
2014 UD CFL Game Jersey
GJ-SC
Shamawd Chambers
Edmonton Eskimos
2014 UD CFL Game Jersey
GJ-SG
S.J. Green
Montreal Alouettes
2014 UD CFL Game Jersey
GJ-SM
Taj Smith
Saskatchewan Roughriders
2014 UD CFL Game Jersey
GJ-SW
Sean Whyte
Montreal Alouettes
2014 UD CFL Game Jersey
GJ-TB
Tyron Brackenridge
Saskatchewan Roughriders
2014 UD CFL Game Jersey
GJ-TL
Travis Lulay
BC Lions
Last Updated: Oct. 10, 2014
---