Who`s Who in Baseball Magazines
We have a collection of older Who`s Who in Baseball magazine back issues for sale.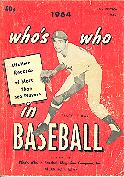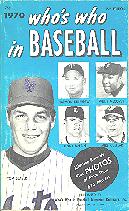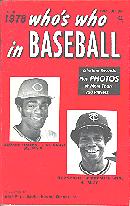 We just bought a collection of Who's Who in Baseball magazines.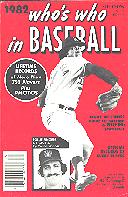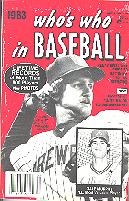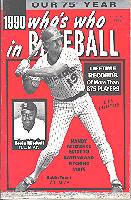 Click on the blue links to see the magazine cover and then hit the back button to return to the list.
Prices subject to change without notice according to market conditions.
Postage & Handling is extra. Canadian residents add applicable GST/HST.
Prices are listed in Canadian funds - please inquire as to the current exchange for prices in US funds.
WHO`S WHO IN BASEBALL magazine
1960s WHO`S WHO IN BASEBALL magazine
Scan Code
Mag Issue
Front Cover
Back Cover
Condition
Price per Mag
Pub 1668
1964
Who`s Who In Baseball
Sandy Koufax
Gary Peters
FR-GD, 1/2" corner cover missing
$6.00 Cdn
Pub 1667
1969
Who`s Who In Baseball
Denny McLain with inset Bob Gibson / Pete Rose / Carl Yastrzemski
Frank Howard
GD-VG
$8.00 Cdn
Pub 3248
1969
Who`s Who In Baseball
Denny McLain with inset Bob Gibson / Pete Rose / Carl Yastrzemski
Frank Howard
PR, 1/2" corner back cover missing
$2.50 Cdn
1970s WHO`S WHO IN BASEBALL magazine
Scan Code
Mag Issue
Front Cover
Back Cover
Condition
Price per Mag
Pub 3249
1970
Who`s Who In Baseball
(blue cover)
Tom Seaver with inset Mike Cuellar / Harmon Killebrew / Willy McCovey / Denny McLain
1969 New York Mets Team Picture
GD, writing on cover, 1" x 1/2" back piece missing
$2.50 Cdn
Pub 3250
1970
Who`s Who In Baseball
(red cover)
Tom Seaver with inset Mike Cuellar / Harmon Killebrew / Willy McCovey / Denny McLain
1969 New York Mets Team Picture
FR-GD
$3.00 Cdn
Pub 3251
1975
Who`s Who In Baseball
Lou Brock with inset Jeff Burroughs / Steve Garvey
1974 Oakland Athletics Team Picture
GD, 1/4" cover tear
$5.00 Cdn
Pub 3252
1976
Who`s Who In Baseball
Fred Lynn / Joe Morgan
1975 Cincinnati Reds Team Picture
VG
$6.00 Cdn
Pub 3253
1977
Who`s Who In Baseball
Joe Morgan / Thurman Munson
1976 Cincinnati Reds Team Picture
GD, 1/2" cover tear
$4.00 Cdn
Pub 3254
1978
Who`s Who In Baseball
Rod Carew / George Foster
1977 New York Yankees Team Picture
VG, 1/4" back cover tear
$6.00 Cdn
1980s WHO`S WHO IN BASEBALL magazine
Scan Code
Mag Issue
Front Cover
Back Cover
Condition
Price per Mag
Pub 3255
1981
Who`s Who In Baseball
George Brett with inset Mike Schmidt
1980 Philadelphia Phillies Team Picture
FR, creased cover, 1" cover tear
$2.50 Cdn
Pub 3256
1982
Who`s Who In Baseball
Fernando Valenzuela with inset Rollie Fingers
1981 Los Angeles Dodgers Team Picture
VG
$5.00 Cdn
Pub 3257
1983
Who`s Who In Baseball
Robin Yount with inset Dale Murphy
1982 St. Louis Cardinals Team Picture
VG+, white print spots on cover
$4.00 Cdn
Pub 3258
1985
Who`s Who In Baseball
Ryan Sandberg with inset Willie Hernandez
1984 Detroit Tigers Team Picture
VG+, wet cover
$3.00 Cdn
Pub 1774
1989
Who`s Who In Baseball
Jose Canseco with inset Kirk Gibson
1988 Los Angeles Dodgers Team Picture
GD+, 1 1/2" crease
$3.00 Cdn
1990s WHO`S WHO IN BASEBALL magazine
Scan Code
Mag Issue
Front Cover
Back Cover
Condition
Price per Mag
Pub 3263
1990
Who`s Who In Baseball
Robin Yount with inset Kevin Mitchell
1989 Oakland Athletics Team Picture
VG
$4.00 Cdn
Last Updated: Sept. 21, 2011

---