Baseball Digest Magazine Back Issues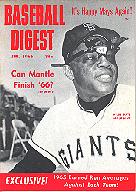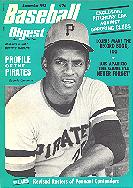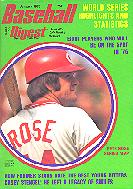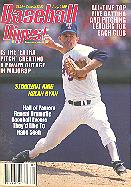 We sell back issues of vintage Baseball Digest magazines as well as many other baseball magazines.
The magazines are listed in chronological order, starting back to the 1960s.
Click on the blue links to see the magazine cover and then hit the back button to return to the list.
Prices subject to change without notice according to market conditions.
Postage & Handling is extra. Canadian residents add applicable GST/HST.
Prices are listed in Canadian funds - please inquire as to the current exchange for prices in US funds.
BASEBALL DIGEST magazine back issues

Scan Code
Mag Issue
Cover
Contents
Condition
Price per magazine
Digest 001
March 56
BB Digest


Front: Billy Harrell / Charlie Locke / Ken Lehman / Charley Rabe / Archie Wilson
Stories: Jackie Brandt / Jim Brosnan / Bob Buhl / Bill Veeck & Miami / 150 Rookie Scouting Reports / 1956 Schedule
FR, some water damage
$6.00 Cdn

1964 BASEBALL DIGEST magazine back issues

Scan Code
Mag Issue
Cover
Contents
Condition
Price per magazine
Digest 002
July 64
BB Digest



Front: Jim Maloney
Stories: Bunting / Day Babe Ruth Broke In / Jimmy Dykes / Paul Foytack / Gallery Of Goats / Ron Hunt / Tommy John / Vern Law / Jim Maloney / Stan Musial / Tony Oliva / Orange Baseballs / Warren Spahn / 25 Years Of TV Baseball
VG, creased back
$4.00 Cdn

1966 BASEBALL DIGEST magazine back issues

Scan Code
Mag Issue
Cover
Contents
Condition
Price per magazine
Digest 011
March 66
BB Digest



Front: Gil Downs / Tommy Helms / Manly Johnston / Chris Zachary

Back: Dick Joyce / Andy Kosco / Jim McGlothlin
Stories: Ken Aspromonte / Jackie Brandt / Dick Groat / Houston Astros / Willie Kamm / Jim Lefebvre / Willie Mays / Bernie McCay / Sam Mele / Stu Miller / Minnesota Twins / New York Mets / Gene Oliver / Johnny Roseboro / Jimmy Temple / Ted Williams / 279 Rookie Scouting Reports / 1966 Schedule
GD
$5.00 Cdn

1967 BASEBALL DIGEST magazine back issues

Scan Code
Mag Issue
Cover
Contents
Condition
Price per magazine
Digest 019
Jan. 67
BB Digest



Front: Wally Bunker / Moe Drabowsky / Dave McNally / Jim Palmer

Back: Jim Northrup / Larry Stahl
Stories: Darrell Brandon / Paul Casanova / Larry Jaster / Jim Kaat / Jim Nash / Dennis Ribant / Paul Richards / Frank Robinson / Ron Santo / George Stalling / Willie Stargell / What They Want For 1967 / Steve Whitaker / World Series Wrap-Up / 23 Greatest Plays Of 1966
VG
$6.00 Cdn
Digest 020
Feb. 67
BB Digest



Front: Bob Allison / Don Drysdale / Eddie Matthews / Ed Monbouquette / Juan Pizarro / Floyd Robinson

Back: Frank Robinson
Stories: Dave Boswell / Roberto Clemente / Bill DeWitt / Eugene, Or / Josh Gibson / Japanese BB / Los Angeles Dodgers / Lee MacPhail / Marichal vs Koufax / Ed Matthews & Clete Boyer / Lee Maye / Willie Mays / Sam McDowell / Walter O`Malley / Roger Repoz / Pete Richert / Rudy Rufer / Second Wind / Charley Smith / ERA's For 160 Pitchers
VG
$6.00 Cdn
Digest 021
March 67
BB Digest



Front: Emmett Ashford / Mike Epstein / Duane Josephson / Paul Richards / Luke Walker / John Werhas

Back: Hank Allen / Ken Henderson
Stories: Jim Bouton / Ollie Brown / Ken Harrelson / Instant Stardom? Often It's Later / Sandy Koufax / Gene Mauch / Harry Walker / 320 Rookie Scouting Reports
VG
$5.00 Cdn
Digest 022
April 67
BB Digest



Front: Content Stories

Back: Ollie Brown Catch
Stories: How Pennants Are Lost In The Spring / Jimmy Lavender / Player Data / Phil Regan / Team Analysis / 1967 Schedule
GD-VG
$5.00 Cdn
Digest 023
May 67
BB Digest



Front: Roger Maris

Back: Content Stories
Stories: Roberto Clemente / Larry Dierker / Johnny Edwards / Al Kaline / Eddie Lopat / Stan Musial / Mutiny On The Pirates / New Baseball Parks / Claude Osteen / Problems Worth Having / Ron Reed / Floyd Robinson / Ray Sadecki / Striking Evidence / 1967 Schedule
VG
$9.00 Cdn
Digest 024
June 67
BB Digest



Front: Juan Marichal / Gaylord Perry

Back: Content Stories
Stories: Tommie Agee / Jim Bunning / Smoky Burgess / Catchers Wanted / Frank Crosetti / Leo Durocher / Chuck Harrison / Kansas City A's / Midyear Rosters / Players' Wives / Chico Ruiz / Frank Schellenback / Bill Singer / Leon Wagner / Don Zimmer
GD-VG
$6.00 Cdn
Digest 025
July 67
BB Digest



Front: Ted Abernathy / Glenn Beckert / Curt Blefary / Denny McLain / Bill Rohr / Jimmy Wynn

Back: Cesar Tovar
Stories: Sandy Amoros / Bargain Bazaar / Don Cardwell / Chicago White Sox / Jimmy Dykes / Whitey Ford / Norm Gigon / Highly Unusual / Ron Hunt / Bill Kelso / Barry Latman / Charley Metro / Johnny Mize / Walter O'Malley / Tony Pierce / Mel Queen / Joe Sewell / Joe Sparma / Don Sutton / Ceasr Tovar / Hoyt Wilhelm
GD-VG
$5.00 Cdn
Digest 026
Aug. 67
BB Digest



Front: Joel Horlen

Back: Steve Hargan
Stories: Roberto Clemente / Miguel Cuellar / Bill Dillman / Don Drysdale / Curt Flood / Whitey Ford / Ferguson Jenkins / Deron Johnson / Ernie Lombardi / Jon Matlack / Sam Mele / Midyear Rosters / Gary Nolan / Rico Petrocelli / Tom Seaver
GD
$5.00 Cdn
Digest 027
Sept. 67
BB Digest



Front: Tim McCarver

Back: Al Kaline
Stories: Jesus Alou / Boston Red Sox / Tony Conigliaro / Decisions...Decisions! / Jimmy Foxx / Dick Hall / Randy Hundley / Tim McCarver / New Generation Of Shortstops / Gary Nolan / Pitching Coach / Rusty Staub / Harry Walker Fired / Bobby Wine / Jimmy Wynn / ERA's For 138 Pitchers
VG
$6.00 Cdn
Digest 028
Oct.-Nov. 67
BB Digest



Front: Lew Burdette / Stan Coveleskie / Red Faber

Back: Hoyt Wilhelm
Stories: John Donaldson / Al Downing / Julian Javier / Harmon Killebrew / Jim Lonborg / Willie Mays / Mike McCormick / Jim McGlothlin / Not Always The World Serious! / Phil Ortega / Red Ruffing / Red Schoendienst / Mike Shannon / Hoyt Wilhelm / World Series Special
FR-GD
$4.00 Cdn

1971 BASEBALL DIGEST magazine back issues

Scan Code
Mag Issue
Cover
Contents
Condition
Price per magazine
Digest 051
Jan. 71
BB Digest



Front: Brooks Robinson
Stories: Don Gullett / Fritz Peterson / Brooks Robinson / Trouble Triggers Trades / Whatever Became Of / 30th Anniversary Specials Of Lou Gehrig / Walter Johnson / Babe Ruth / Tris Speaker
VG+
$7.00 Cdn
Digest 052
March 71
BB Digest



Front: Carl Yastremski


Stories: Josh Gibson / Montreal Expos / Minnie Rojas / Bobby Valentine / Whatever Became Of? / Carl Yastremski / 1970 Pitching Records / 1971 Rookie Scouting Report
VG+
$7.00 Cdn
Digest 055
July 71
BB Digest



Front: Hank Aaron
Stories: Bert Blyleven / Cesar Cedeno / Chick Gandil / Alex Johnson / How Mexican Raids Threatened Majors / Mickey Mantle's Trophy Room / Cecil Upshaw / Team Rosters / Whatever Became Of? / 5 Toughest Problems For Managers
VG+
$8.00 Cdn
Digest 056
Aug. 71
BB Digest



Front: Vida Blue


Stories: Baseball's Most Chaotic Year / Vida Blue / Tom Bradley / Down Memory Lane / Mickey Mantle - Game I'll Never Forget / Sam McDowell / Mental Blunders, Part Of The Game / New Way Of Rating Homers / Chris Speier / Whatever Became Of? / Why Lefties Hate To Pitch In Fenway / 5 Best Relievers
VG-EX
$5.00 Cdn

1972 BASEBALL DIGEST magazine back issues

Scan Code
Mag Issue
Cover
Contents
Condition
Price per magazine
Digest 058
Jan. 72
BB Digest



Front: Steve Blass
Stories: Hank Aaron / Age - Challenge Of Super Stars / Baltimore Orioles / Roberto Clemente / Willie Crawford / Jim Hunter / Walter Johnson / Satchel Paige / Ed Walsh / Whatever Became Of? / Who Will Be The Next Player Of The Year? / Hack Wilson / World Series Wrap-up
VG-EX
$7.00 Cdn
Digest 059
Feb. 72
BB Digest



Front: Earl Williams


Stories: Dave Cash / Eddie Cicotte / Down Memory Lane / Freddie Patek / The Slider / Casey Stengel Talks About Mickey Mantle / Whatever Became Of? / Why Orioles Won't Win Pennant / 1971 Final Statistics
EX
$8.00 Cdn
Digest 060
March 72
BB Digest



Front: Frank Robinson
Stories: New York Yankees Faded Glory / Frank Robinson / Rookie Scouting Report / The Night It Rained Homeruns / Whatever Became Of? Why They Dealt Richie Allen - Leo Cardenas - Lee May - Sam McDowell / 1971 ERA's
VG, 1/4" spine tear
$5.00 Cdn
Digest 061
April 72
BB Digest



Front: Bill Melton
Stories: All - Time Greatest Shortstops / Down Memory Lane / Alva (Bobo) Holloman / Fergie Jenkins / Sandy Koufax / Angel Mangual / Bill Melton / Team Analysis / Trade Winds / Whatever Became Of? / 1972 Rosters & Schedules
EX, water spots
$5.00 Cdn
Digest 062
June 72
BB Digest



Front: Reggie Jackson with inset Willie Mays / Pete Rose
Stories: The Battle For New York / Johnny Bench / Gates Brown / Down Memory Lane / Reggie Jackson / Mickey Mantle / Willie Mays / Dave McNally / Revised Team Rosters / Pete Rose / Pie Traynor / Whatever Became Of? / Jimmy Wynn
EX
$12.00 Cdn
Digest 063
July 72
BB Digest



Front: Richie Allen
Stories: Richie Allen / Alou Brothers / Baseball Can Be A Funny Game / CobbTouched Off 1st Baseball Strike / Bobby Darwin / Game I'll Never Forget - Ron Santo /Burt Hooten / Al Kaline / Willie Montanez / The Northern League / Players Rate Their All-Stars / Robin Roberts / Reggie Smith / Spite Trades Can Ruin Races / Whatever Became Of?
VG, 1" crease
$5.00 Cdn
Digest 064
Aug. 72
BB Digest



Front: Bud Harrelson with inset Danny Frisella / Tug McGraw / Tom Seaver
Stories: Batters Must Learn To Cope With Fear / Bobby Bonds / Norm Cash / Roberto Clemente / The Day After Ray Chapman Was Killed / Leo Durocher / Game I'll Never Forget - Billy Martin / Roger Hornsby's 5 Fabulous Years / Ron Hunt / Mickey Lolich / Los Angeles Dodgers Infield Of The Future / Greg Luzinski / New York Mets / Players Of Old Had More Colorful Nicknames / Jim Ray / Whatever Became Of? / 1945 Philadelphia Phillies Worst Team? / 1952 Milwaukee Braves Were The First To Go
VG
$5.00 Cdn
Digest 065
Sept. 72
BB Digest



Front: Roberto Clemente
Stories: Age, A Big Factor As Stars Pursue Records / Sandy Alomar / Johnny Bench & Manny Sanguillen / Joe Bush Remembers Babe Ruth / Chicago White Sox Score 10 Runs in One Hit Inning / Game I'll Never Forget - Luis Aparicio / Tommy Hall / Jewish Players Have Excelled / Losers Make the Record Book Too / Nostalgic Look At 1962 / Pittsburgh Pirates Live By The Bat / Revised Rosters Of Pennant Contenders / Whatever Became Of? / Where Have The Comics Gone?
EX
$20.00 Cdn
Digest 066
Oct. 72
BB Digest



Front: Gary Nolan with inset Action Photo
Stories: Baseball Espionage - How Effective? / Catching - Lost Art? / Cincinnati Reds / Game I'll Never Forget - Brooks Robinson / How To Rate A Pitcher / Ernie Lombardi / Memorable Series Controversies / New Way Of Rating Batting Leaders / John Quinn / Nolan Ryan / Mickey Stanley / Stars Who Missed The Series / Whatever Became Of? / Ted Williams / World Series Game Records
VG+, 1/16" tear
$7.00 Cdn
Digest 067
Nov. 72
BB Digest



Front: Carlton Fisk with inset Steve Carlton / Nate Colbert / Joe Coleman / Wilbur Wood
Stories: Steve Carlton / Cesar Cedeno / Nate Colbert / Joe Coleman / Game I'll Never Forget - Lou Brock / Bobby Grich Rollie Hemsley / Sparky Lyle / Manny Mota / New Ranking Of All-Time Pitchers / Bobby Richardson / Babe Ruth's Last Game / Richie Scheinblum / Chris Speier / They Pinch Hit For The Greats / Whatever Became Of? / Wilbur Wood / 1972 All-Star Rookie Team
VG+
$7.00 Cdn
Digest 068
Dec. 72
BB Digest



Front: Drawing Of Dick Allen
Stories: Dick Allen / Felipe Alou / Terry Forster / Game I'll Never Forget - Lou Brock / Jim Bunning / The Day Mickey Mantle Signed / Jesse Haines / Carl Hubbell / Joe Morgan / New York Yankees Bullpen Pride Since 1927 / Dusty Rhodes / Jackie Robinsons's Debut / Aurelio Rodriguez / Should Spitball Be Legalized? / Warren Spahn & Johnny Sain Pitching Tutors / Luis Tiant / What Contenders Need For '73 / Whatever Became Of? / Billy Williams
VG+, 1" crease
$5.00 Cdn

1973 BASEBALL DIGEST magazine back issues

Scan Code
Mag Issue
Cover
Contents
Condition
Price per magazine
Digest 069
Jan. 73
BB Digest



Front: Oakland A's Celebrate with inset Pete Rose


Stories: Baltimore Orioles - Decline And Fall / Boston Red Sox - So Close, Yet So Far / Rico Carty / Did Espionage Beat Red? / Game I'll Never Forget - Tony Kubek / Al Gionfriddo / Greg Luzinski / Rising Tide Of Latin Stars / Whatever Became Of? / Why All Pitchers Have Bad Days / 1972 Final Stats
VG+
$7.00 Cdn
Digest 070
Feb. 73
BB Digest



Front: Cesar Cedeno
Stories: Biggest Surprises Of 1972 / Steve Carlton / Game I'll Never Forget - Juan Marichal / Babe Herman / Johnny Mize / Ed Reulbach / Bill Stoneman / The Jackie Robinson I Knew / Whatever Became Of? / Ted Williams / World Series Wrap-up
VG+, spots
$6.00 Cdn
Digest 071
March 73
BB Digest



Front: Harmon Killebrew
Stories: Norm Cash / Carlton Fisk / Frankie Frisch / Game I'll Never Forget - Ferguson Jenkins / Rookie Scouting Report / Joe Rudi / Whatever Became Of? / 1972 Pitching ERA's
VG-EX
$10.00 Cdn
Digest 072
April 73
BB Digest



Front: Don Kessinger
Stories: All - Time Greatest Catchers / Designated Pinch Hitter Rules / Game I'll Never Forget - Stan Musial / How The Trade Winds Blow / Team Analysis / Team Rosters & Schedules / Bobby Tolan / Whatever Became Of? / Ted Williams Last At Bat
VG, water stain
$5.00 Cdn
Digest 073
May 73
BB Digest



Front: Don Kessinger
Stories: All - Time Greatest Catchers / Hank Bauer Recalls New York Yankees Glory Years / Game I'll Never Forget - Monte Irvin / Tony Oliva / Jim Palmer / Nolan Ryan / Manny Sanguillen Remembers Roberto Clemente / Stars On The Spot / Whatever Became Of?
VG
$15.00 Cdn
Digest 074
June 73
BB Digest



Front: Tom Seaver
Stories: Hank Aaron Rates Best Young Hitters / All-Time Greatest Catchers / Beanball War For A.L.? / Gals Behind The Guys / Game I'll Never Forget - Jim Hunter / Bobby Grich / Graig Nettles / Amos Otis / Milt Pappas / Revised Team Rosters / Tom Seaver / Ted Simmons / Charlie Spikes / Whatever Became Of? / The Day Hack Wilson Set His Record
VG+, 1/4" tear
$6.00 Cdn
Digest 076
Aug. 73
BB Digest



Front: Dick Allen / Carlos May / Bill Melton
Stories: Rod Carew / Chicago White Sox / Rollie Fingers / Ralph Kiner / Sandy Koufax / Tony Perez / Ron Santo / Willie Stargell / Bob Watson / Whatever Became Of?
VG, 1/2" corner piece missing
$4.00 Cdn
Digest 077
Sept. 73
BB Digest



Front: Ken Holtzman
Stories: Hank Aaron / Joe DiMaggio Streak / Walt Dropo / Carlton Fisk / Ken Holtzman / Harry Hooper / The Knuckler / John Mayberry / Bobby Murcer / Vada Pinson / Frank Robinson / Whatever Became Of?
VG-EX
$5.00 Cdn

1974 BASEBALL DIGEST magazine back issues

Scan Code
Mag Issue
Cover
Contents
Condition
Price per magazine
Digest 081
Jan. 74
BB Digest



Front: Bert Campaneris with inset Yogi Berra
Stories: Bud Harrelson / Reggie Jackson / Tug McGraw / Jim Palmer / Whatever Became Of? / World Series Special
EX
$8.00 Cdn
Digest 082
Feb. 74
BB Digest



Front: Bobby Bonds
Stories: Bobby Bonds / Ron Bryant / Tommy Davis / Joe Hauser / How Nolan Ryan Compares To Sandy Koufax / Willie Mays / Whatever Became Of?
VG+
$6.00 Cdn
Digest 083
March 74
BB Digest



Front: Bobby Grich
Stories: Double Play Kings / Ron Fairly / Bobby Grich / John Hiller / Catfish Hunter / Davey Lopes / Team Rookie Scouting Reports / The Spitter / Whatever Became Of? / 1973 AL + NL Pitching Records
VG+
$6.00 Cdn
Digest 085
May 74
BB Digest



Front: Ted Sizemore
Stories: Bunting - A Lost Art? / Jim Colborne / Joe Coleman / Al Kaline / Rusty Staub / Whatever Became Of? / Who Are The Real Superstars? / Who's On Third?... Angels + Dodgers
VG-EX, 3" back crease
$5.00 Cdn
Digest 086
June 74
BB Digest



Front: Felix Millan
Stories: Tony Cloninger / Tony Conigliaro / Dan Driessen + Ken Griffey / Grant Jackson / Greg Luzinski / John McGraw / The Perry Brothers / Reggie Smith / Whatever Became Of? / Rick Wise
VG+
$5.00 Cdn
Digest 087
July 74
BB Digest



Front: Brooks Robinson
Stories: Ferguson Jenkins / Ted Kluszewski / Nobody Will Ever Catch Hank Aaron / On Base Average / Brooks Robinson / Frank Tanana / Whatever Became Of? / Billy Williams / Carl Yastrzemski
VG, 4" cover crease
$5.00 Cdn
Digest 088
Aug. 74
BB Digest



Front: Gaylord Perry
Stories: Mark Belanger / Rod Carew / Dave Concepcion / Mickey Mantle / Willie Mays / Tony Perez / Gaylord Perry / Ken Reitz / Andy Seminick / Casey Stengel / Bobby Valentine
VG
$5.00 Cdn
Digest 089
Sept. 74
BB Digest



Front: Tommy John
Stories: Lou Brock / Los Angeles Dodgers / Tony Oliva / Claude Osteen / Sacramento Solons / Mike Schmidt / Six Pitchers Recall Their No-Hitters / Mel Stottlemyre / 10 Best Teams Ever / 1962 Mets
VG, Sub
$5.00 Cdn
Digest 090
Oct. 74
BB Digest



Front: Dick Allen
Stories: Dick Allen / Jeff Burroughs / Dave Cash / Dizzy Dean / Don Gullett / Eddie Matthews / Hack Wilson / Team Errors / Richie Zisk / 7 Greatest World Series Upsets
EX
$8.00 Cdn
Digest 091
Nov. 74
BB Digest



Front: Sal Bando / Bert Campaneris / Reggie Jackson
Stories: All - Time Pitching Duos / Ken Brett / Tim Foli / Ralph Garr / Greg Gross / Steve Busby / Mike Marshall / Bake McBride / Oakland A's / The Rookie League / Tom Seaver / Whatever Happened To The Miracle Mets? / Robin Yount / 1974 All-Star Rookie Team
VG-EX
$6.00 Cdn
Digest 092
Dec. 74
BB Digest



Front: Lou Brock
Stories: Hank Aaron / Lou Brock / Bunting / Steve Garvey / Bog Gibson / Houston Astros / Al Kaline / Joe Rudi / Nolan Ryan / Willie Stargell / Superstitions / Wilbur Wood / 49 Run Game
VG-EX
$8.00 Cdn

1975 BASEBALL DIGEST magazine back issues

Scan Code
Mag Issue
Cover
Contents
Condition
Price per magazine
Digest 093
Jan. 75
BB Digest



Front: Rollie Fingers
Stories: Al Smith / All-Time Best Hitting Pitchers / Baseball's Best Years...The 50's? / Bobby Grich / Al Hrabosky / Mel Stottlemyre / World Series Special / 7 Comeback Candidates For 1975 / 50 Years Of Cleveland Indians Memories
VG-EX
$7.00 Cdn
Digest 094
Feb. 75
BB Digest



Front: Steve Garvey
Stories: Bert Blyleven / Ken Guettler / Mike Hargrove / Most Futile Hitters / Sam Rice / Where Are The 1st Base Heroes? / Billy Williams
EX, 1/16" tear
$10.00 Cdn
Digest 3608
April 75
BB Digest



Front: Jim "Catfish" Hunter
Stories: Bobby Bonds / Buzz Capra / Ken Holtzman / Many Career Targets Loom For Veterans / Next Pitcher To Win 300? / Bob O`Farrell / Perry Brothers / Casey Stengel / Team Analysises / Don Wilson
FR
$3.00 Cdn
Digest 097
May 75
BB Digest



Front: Jim "Catfish" Hunter
Stories: Moe Berg / Good Defensive Infields / Jim Kaat / Jim Lonborg / What Mickey Mantle Thinks Of Modern Players ? / Rudy May / Bill Mazeroski / Dave Philley / Nolan Ryan / Talent At Hot Corner / Steve Yeager
VG-EX
$10.00 Cdn
Digest 099
July 75
BB Digest



Front: Nolan Ryan
Stories: Hank Aaron / BB Not A Game For The Timid / Many Parallels Between Aaron + Ruth / Amos Otis / Nolan Ryan / Manny Sanguillen / Red Schoendienst / Rip Sewell / Luis Tiant
VG+
$15.00 Cdn
Digest 100
Aug. 75
BB Digest



Front: Rick Monday
Stories: All - Time Greatest All-Round Infields / Bench Warmers Not Meant To Be Heroes / Paul Blair / Cesar Cedeno / Tony Conigliaro / Bucky Dent / Randy Jones + Dave Winfield / Rick Monday / Billy Williams / Rudy York
VG+
$5.00 Cdn
Digest 101
Sept. 75
BB Digest



Front: Johnny Bench
Stories: Johnny Bench / Lefty Grove / Don Kessinger / Harmon Killebrew / Mickey Lolich / Fred Lynn / Bill Madlock / Mickey Rivers / Joe Rudi / Dick Sisler / Tom Underwood / The Walk
VG+, few water spots
$7.00 Cdn
Digest 102
Oct. 75
BB Digest



Front: Vida Blue
Stories: Vida Blue / Joe DiMaggio / Jim Kaat / Mickey Lolich / Joe Morgan / Most Memorable Players In History / Bill Rigney / Frank Robinson / Duke Snider
VG+
$5.00 Cdn
Digest 103
Nov. 75
BB Digest



Front: Fred Lynn
Stories: All-Time Greatest Rookie Performers / Best Contact Hitters / Greg Luzinski / Fred Lynn / Rick Manning / Phil Niekro / 1975 Rookie All - Star Team
VG
$4.00 Cdn

1976 BASEBALL DIGEST magazine back issues

Scan Code
Mag Issue
Cover
Contents
Condition
Price per magazine
Digest 105
Jan. 76
BB Digest



Front: Pete Rose
Stories: Best Young Hitters / Burt Hooten / Rusty Staub / Casey Stengel / Frank Thomas / Too Early To Tag Reds "The Greatest" / World Series Special / 8 Stars On The Spot
VG+
$8.00 Cdn
Digest 106
Feb. 76
BB Digest



Front: Jim Palmer
Stories: Hank Aaron / All - Time Leading RBI Rookie Tandems / Best Hitting Gainers/Losers Of 1975 / Comback Pitchers Of 1975 / Denny Doyle / Leo Duroucher / Carl Erskine / Nellie Fox / Tommy John / Gary Nolan / Relief Pitchers / Robin Roberts / Luis Tiant
EX
$10.00 Cdn
Digest 107
March 76
BB Digest



Front: George Brett
Stories: Grover Cleveland Alexander / George Brett / Dwight Evans / Great Rookie Years Tepid Second Years / Ken Griffey / Highly Touted Rookies For '76 / Walter Johnson / Leading 20 Game Winners / Davey Lopes / Minor League Stardom No Guarantee / Jim Palmer / Enos Slaughter / Rusty Staub / Jimmy Wynn
VG++
$8.00 Cdn
Digest 108
April 76
BB Digest



Front: Carlton Fisk
Stories: How Pennant Races Shape Up / How The Trade Winds Blew / Official Team Rosters / Team Schedules / Wilbur Wood / 1975 Final Stats
VG-EX
$8.00 Cdn
Digest 114
Oct. 76
BB Digest



Front: Mickey Rivers
Stories: Hank Aaron / BB Rarity: Bats Right - Throws Left / Bench Jockeys A Dying Breed / Ewell Blackwell / Don Drysdale / Ed Figuero / Mark Fidrych / Fred Kendall / Don Larsen / Mickey Rivers / Rookies Who Starred In World Series / Today's Center Fielders Not As Good / Bill Travers /td>
NM, water spots
$5.00 Cdn
Digest 115
Nov. 76
BB Digest



Front: Mark Fidrych
Stories: Cesar Cedeno / Expansion Will Dilute Talent Even More / Garry Maddox / Bill Madlock / Most Unusual Home Runs / Thurman Munson / Bobo Newsome / Phil Niekro / Pete Rose / Why Boston Red Sox Fell From Contention / Butch Wynegar / 1976 Rookie All - Star Team
NM, water spots
$5.00 Cdn
Digest 116
Dec. 76
BB Digest



Front: Joe Morgan
Stories: All - Time Team Of Super "Hustlers" / Chris Chambliss / Chicago White Soc Curse? / Bob Feller / Don Gullett / Toby Harrah / Roy Johnson / Jerry Koosman / Joe Morgan / Al Oliver / Gaylord Perry / Bobby Thompson / Bill Virdon
FR, water spots, creased cover
$3.00 Cdn

1977 BASEBALL DIGEST magazine back issues

Scan Code
Mag Issue
Cover
Contents
Condition
Price per magazine
Digest 117
Jan. 77
BB Digest



Front: Chris Chambliss
Stories: Hank Aaron & Walt Alston / Are Major Leaguers Losing Their HR Clout? / Pat Dobson / Curt Flood / How It Was During The War Years / Manager's Delight: Five .300 Hitters / Jim Palmer / Who Will Break Walter Johnson's Strikeout Record? / World Series Special
VG+, water ring
$3.00 Cdn
Digest 119
March 77
BB Digest



Front: Amos Otis
Stories: Yogi Berra / Chicago Cubs / Cesar Geronimo / How Valuable Are These Ex- Free Agents? / Kansas City Royals / Danny Murtaugh / Jim Piersall / These Rookies Are Ten Best Bets Of 1977
VG+
$4.00 Cdn
Digest 121
May 77
BB Digest



Front: John Montefusco
Stories: Ty Cobb / John Montefusco / Pitchers Rank High On Comeback Players Of 1977 / Don Sutton / Frank Tanana
NM
$7.00 Cdn
Digest 122
June 77
BB Digest



Front: Steve Carlton
Stories: Bobby Bonds / Joe DiMaggio / How Scouting Rperts Doomed Yankees In 1976 Series / Dave Kingman / Most Unusual Pitching Feats / Jim Palmer / Pennant Contenders Need Lefties / Toughest Batters To Strike Out / Why The Rangers Traded Jeff Burroughs
VG+
$5.00 Cdn
Digest 3609
June 77
BB Digest



Front: Steve Carlton
Stories: Bobby Bonds / Joe DiMaggio / How Scouting Rperts Doomed Yankees In 1976 Series / Dave Kingman / Most Unusual Pitching Feats / Jim Palmer / Pennant Contenders Need Lefties / Toughest Batters To Strike Out / Why The Rangers Traded Jeff Burroughs
VG, cup ring
$3.00 Cdn
Digest 123
July 77
BB Digest



Front: Dave Parker
Stories: Biggest Player Bargains / Rod Carew / Mike Cuellar / Sparky Lyle / Mickey Mantle / Hal McRae / Dave Parker / Bill Russell / Bruce Sutter / Who's Better: Tom Seaver Or Jim Palmer? / Why The Red Sox Hate The Yankees
EX, water spots
$4.00 Cdn
Digest 124
Aug. 77
BB Digest



Front: Ivan DeJusus / Manny Trillo
Stories: Ernie Banks / Lou Brock / Ron Cey / Ivan DeJusus & Manny Trillo / Rollie Fingers / Tom Gorman / Nolan Ryan & Frank Tanana / They Almost Won The Triple Crown / Triple Plays / Bump Wills
VG-EX
$4.00 Cdn
Digest 126
Oct. 77
BB Digest



Front: Steve Garvey
Stories: Bill Bevens / Brushback Pitches / Ron Fairly / Steve Garvey / Ron Luciano / Ted Simmons / These Hitters Had Best Final Seasons / Earl Weaver / World Series Special / Richie Zisk
VG
$3.50 Cdn
Digest 127
Nov. 77
BB Digest



Front: Bump Wills
Stories: Lyman Bostock / George Foster / Greg Luzinski / Montreal Expos Original Team / Ken Singleton / Stealing Home / These Pitchers Has Best Career Starts / What Happened To The Bullpen Pranksters / 1977 All-Star Rookie Team
VG-EX
$4.00 Cdn

1978 BASEBALL DIGEST magazine back issues

Scan Code
Mag Issue
Cover
Contents
Condition
Price per magazine
Digest 128
Jan. 78
BB Digest



Front: Reggie Jackson
Stories: Good Trades Helped Yankees / Ron LeFlore / Billy Martin / Some Big Winners Were Also Big Losers / Some Favorite All-Time All-Stars / Earl Torgeson / World Series Special / 5 Leading Comeback Players
VG-EX, 1/2" corner tear
$5.00 Cdn
Digest 129
Feb. 78
BB Digest



Front: Willie McCovey
Stories: Best Control Pitchers / Lou Brock / Andre Dawson / Firing Managers Have Become A Mania / Don Gutteridge / Butch Hobson / Tommy John / Sparky Lyle / Phil Masi / Willie McCovey / These Batters Had Biggest Gains / Losers
VG-EX
$10.00 Cdn
Digest 130
March 78
BB Digest



Front: Rod Carew
Stories: Analysis Of Free-Agent Deals / Ty Cobb / Hardest To Hit Pitchers In 1977 / Roger Maris / Offensive Interference / Sadaharu Oh / Duke Snider / Ted Williams / Hack Wilson
VG, 4" crease
$5.00 Cdn
Digest 131
April 78
BB Digest



Front: Tom Seaver
Stories: Bing Crosby / How Pennant Races Shape Up / Fergie Jenkins / Oakland A's / They Homered More Than They Struck Out / Manny Trillo
EX+
$10.00 Cdn
Digest 132
May 78
BB Digest



Front: Cesar Cedeno
Stories: Cesar Cedeno / Ryne Duren / Carlton Fisk / Larry McPhail / Omar Moreno / Parallels Between Pete Rose & Ty Cobb / Ted Simmons / Zaniest Moments On The FIeld / 1977's Toughest Batters To Strike Out
VG+
$4.00 Cdn
Digest 133
June 78
BB Digest



Front: Garry Templeton
Stories: Mark Belanger / Steve Bilko / George (Highpockets) Kelly / Davey Lopes / Major League DP Combos / Bobby Murcer / Babe Ruth / Some Big-Name Pitchers Were Career Losers / Stable Lineups Are Rare / Stars Of The 1980's / Garry Templeton
VG+, 1' crease
$4.00 Cdn
Digest 134
July 78
BB Digest



Front: Dave Kingman
Stories: Cecil Cooper / Grand Slams / Ken Griffey / Steve Henderson / Elston Howard / Dave Kingman / Frank Lary / Joe Morgan / Graig Nettles / Odd Ball Plays Part Of Game / Pee Wee Reese / Ted Sizemore / Steve Yeager
EX+
$7.00 Cdn
Digest 135
Aug. 78
BB Digest



Front: Jim Rice
Stories: Arm Injuries / Steve Blass / Bill Buckner / Defensive Shifts / Fastest Game Ever / Martinet Managers Are Tintypes Now / What Happened To Rookie Class Of 1968
VG+
$5.00 Cdn
Digest 136
Sept. 78
BB Digest



Front: Ron Guidry
Stories: Brushback Pitchers / Bruce Froemming / Ross Grimsley / Ron Guidry / Bob Knepper / Garry Maddox / Johnny Mize / Eddie Murray / Ozzy Smith / Gene Tenace / Trade For Vida Blue
EX
$7.00 Cdn
Digest 137
Oct. 78
BB Digest



Front: Rich Gale / Clint Hurdle
Stories: Jack Clark Carlton Fisk / Rich Gale / Clint Hurdle: Royals Rookies / Gabby Hartnett / Jim Kaat / Latino Players Still Battle Anonymity / Mickey Mantle / Don Newcombe / Freddie Patek / Temper Tantrums / Jason Thompson
VG, 1/2" tear
$3.00 Cdn
Digest 138
Nov. 78
BB Digest



Front: Reggie Smith
Stories: Bob Buhl / David Clyde / Joe DiMaggio 56 Game Streak / Dodgers & Giants Rivalry Re-Birth / Gil Hodges / Al Oliver / Reggie Smith / Jim Sundberg / Frank Tanana / Alan Trammell & Lou Whitaker / Trick Pitches / 1978 Rookie All-Star Team / 20 Most Under-Rated Players
EX+
$7.00 Cdn
Digest 139
Dec. 78
BB Digest



Front: Dave Parker
Stories: Larry Bowa / Mike Caldwell / Chris Chambliss / Doug DeCinces / Rollie Fingers / Ron Guidry / Home Collisions / Kansas City A's / Tim McCarver / Mickey Mantle's 565 Foot Homer / Dave Parker / J.R. Richard / Kent Tekulve / 1968 Detroit Tigers
VG-EX
$5.00 Cdn

1979 BASEBALL DIGEST magazine back issues

Scan Code
Mag Issue
Cover
Contents
Condition
Price per magazine
Digest 3613
Feb. 79
BB Digest



Front: Dave Winfield
Stories: Biggest Batting, Pitching Gainers And Losers / Gene Mauch / Willie Mays / Thurman Munson / Billy Pierce / Steve Rogers / Ken Singleton / These Brothers Won The Most / Bobby Valentine / Dave Winfield
VG
$5.00 Cdn

1980 BASEBALL DIGEST magazine back issues

Scan Code
Mag Issue
Cover
Contents
Condition
Price per magazine
Digest 152
Jan. 80
BB Digest



Front: Mike Flanagan
Stories: Brian Downing / Mike Flanagan / Ron Guidry / Keith Hernandez / Ray Knight / Mark Koenig / Walt (Moose) Moryn / Bill Madlock / What Pitchers Fear Most / Who Will Set Career Strikeout Record? / World Series Special
EX
$6.00 Cdn
Digest 153
Feb. 80
BB Digest



Front: Paul Molitor
Stories: Catalyst Position: Second Base / Dave Kingman / Carney Lansford / Fred Lynn / Eddie Murray / Andy Pafko / Larry Parrish / Please Don't Kill The Umpires / Phil Rizzuto
VG+
$4.00 Cdn
Digest 154
March 80
BB Digest



Front: Gary Carter
Stories: Best Bets For Rookie Stardom In 1980 / Gary Carter / Kiko Garcia / Rube Marquard / Satchel Paige / Rare Batting Feat: 100 Extra Base Hits / Rick Reuschel / Bill Robinson / Nolan Ryan / Umps Treated With Respect In Japan
VG
$4.00 Cdn
Digest 155
April 80
BB Digest



Front: Willie Stargell
Stories: Best Of The 1970's / Al Kaline & Duke Snider / Jim Lonborg / Off-Season Player Deals / Pennant Race Previews / Wildest Pitchers
VG+
$5.00 Cdn
Digest 156
May 80
BB Digest



Front: Don Baylor
Stories: Don Baylor / Barry Bonds / Doc Ellis / Joe Morgan / Gaylord Perry / Pete Rose / Babe Ruth Had Best RBI/Bat Ratio / "Under" Coogan's Bluff /10 Most Prolific Teams Ever
EX
$6.00 Cdn
Digest 163
June 80
BB Digest



Front: J.R. Richard & Nolan Ryan
Stories: Artificial Surfaces: Hurt Or Help? / George Brett / California Angels History / Andre Dawson / Don't Feel Sorry For Lefties / George Foster / J.R. Richard / Jason Thompson / Luis Tiant / Who Pitched The Game's Ultimate Fastball? / 7 Top Candidates For Stardom
EX+
$15.00 Cdn
Digest 3614
June 80
BB Digest



Front: J.R. Richard & Nolan Ryan
Stories: Artificial Surfaces: Hurt Or Help? / George Brett / California Angels History / Andre Dawson / Don't Feel Sorry For Lefties / George Foster / J.R. Richard / Jason Thompson / Luis Tiant / Who Pitched The Game's Ultimate Fastball? / 7 Top Candidates For Stardom
VG+
$8.00 Cdn
Digest 157
July 80
BB Digest



Front: Ross Baumgartner / Britt Burns / Steve Trout
Stories: Chicago White Sox Lefties / Emmett Ashford / Bill Dickey / Phil Garner / Steve Garvey / Greg Luzinski / Pickoff Plays / Jim Sundberg / Joe Torre / Johnny Vandermeer / Dick Williams
VG+
$3.00 Cdn
Digest 158
Aug. 80
BB Digest



Front: Ken Landreaux
Stories: Chicago Cubs Zany Antics / Willie Horton / Ken Landreaux / Rudy Law / Rare Feat: 40+ Homers 3 Years In A Row / Riggs Stephenson / Worst Hitters Of The 1970's
VG+
$3.00 Cdn
Digest 159
Sept. 80
BB Digest



Front: Steve Carlton
Stories: Blooper Pitch / Steve Carlton / Joe Niekro / Ben Oglivie / Frank Pastore / Willie Randolph / Bob Uecker / 700 At Bats
VG-EX
$5.00 Cdn
Digest 160
Nov. 80
BB Digest



Front: Joe Charboneau
Stories: Baltimore Orioles: 20 Game Winners Tradition / Bets Hitter: George Brett / Catchers Pay A High Price For Leadership / Joe Charboneau / Steve Dalkowski / How About An Asterisk For Chuck Klein? / Old Parks Had Character / Steve Stone / Chuck Tanner / 1980 All-Star Rookie Team
VG-EX
$4.00 Cdn
Digest 161
Dec. 80
BB Digest



Front: George Brett
Stories: Johnny Bench / Best Of 1980 / George Brett / Chris Chambliss / Damaso Garcia & Alfredo Griffin / Bob Horner & Dale Murphy / Japanese Baseball / Ron Luciano / Mike Norris / Ted Williams / 5 Biggest Surprises & Disappointments Of 1980
EX
$7.00 Cdn

1981 BASEBALL DIGEST magazine back issues

Scan Code
Mag Issue
Cover
Contents
Condition
Price per magazine
Digest 162
Jan. 81
BB Digest



Front: Tug McGraw
Stories: Batting Rarity: 400 Total Bases / Buddy Bell / Tommy Ferguson / Good Shortstop Key To Winning / Joe Morgan / Gary Nolan / Mel Parnell / Pete Rose / Bruce Sutter / These Greats Belong In Hall Of Fame / Earl Weaver / Why Base Stealers Are Running Wild
VG-EX
$4.00 Cdn
Digest 164
Feb. 81
BB Digest



Front: Eddie Murray
Stories: Biggest Batting, Pitching Gainers, Losers In 1980 / Case For Realignment / Johnny Castino / Jose Cruz / Gretaest Runner-ups Performances / Hal McRae / Eddie Murray / Bill North / 13 Most Forgotten Stars
VG+
$4.00 Cdn
Digest 166
March 81
BB Digest



Front: Rickey Henderson
Stories: Sal Bando / Guy Bush / Rick Cerone / Phillies Scouting Helped Win Series / Rarity: More RBI's Than Games / Slugging Percentage / They Led The League In Wins While Piching For Losers / Top Prospects To Watch in 1981
VG+
$5.00 Cdn
Digest 167
March 81
BB Digest



Front: Rickey Henderson
Stories: Sal Bando / Guy Bush / Rick Cerone / Phillies Scouting Helped Win Series / Rarity: More RBI's Than Games / Slugging Percentage / They Led The League In Wins While Piching For Losers / Top Prospects To Watch in 1981
VG-EX
$6.00 Cdn
Digest 168
April 81
BB Digest



Front: Mike Schmidt
Stories: All-Time MVP? - Joe DiMaggio / Batting Champs Who Fell The Farthest / Bill Buckner / Rich Gossage / Bob Horner / Steve Howe / Willie McCovey / Off-Season Trade Deals / Pennant Race Previews / Mike Schmidt / 1981 Team Rosters & Team Schedules
VG-EX
$6.00 Cdn
Digest 169
May 81
BB Digest



Front: Gary Carter
Stories: Angels And Brewers Have Potent Lineups - What About Pitching? / George Brett / Gary Carter / Ever Be ANother .400 Hitter? / Mike Hargrove / Pitchers With 5 Or More 200 Strikeout Seasons / Eric Soderholm / Smokey Joe Wood / 1928 Philadelphia A's
VG, 2 stains Sub
$3.00 Cdn
Digest 170
June 81
BB Digest



Front: Cecil Cooper
Stories: Clay Carroll / Catching: Most Vital Postion / Cecil Cooper / Bob Gibson / Hit Batsmen: Trigger For Brawls / Rick Langford / Chet Lemon / Mickey Mantle / Juan Marichal / Steve Stone / Manny Trillo
VG+, Sub
$4.00 Cdn
Digest 172
July 81
BB Digest



Front: Carlton Fisk
Stories: Willie Aikens / Atlanta Stadium / Baltimore Orioles Pitching Formula / Carlton Fisk / Darold Knowles / Charley Lau / Vic Raschi / Cy Young / 1927 New York Yankees
VG, 1" crease, Sub
$3.00 Cdn
Digest 173
July 81
BB Digest



Front: Carlton Fisk
Stories: Willie Aikens / Atlanata Stadium / Baltimore Orioles Pitching Formula / Carlton Fisk / Darold Knowles / Charley Lau / Vic Raschi / Cy Young / 1927 New York Yankees
VG, back coffee stain
$3.00 Cdn
Digest 174
Aug. 81
BB Digest



Front: Fernando Valenzuela
Stories: Tony Armas / Steve Carlton / Bob Gibson / Carl Hubbell / Longest Game Ever / No Relief For Relief Pitchers / Gaylord Perry / Tim Raines / Ken Reitz / Rookie 20 Game Winners / Fernando Valenzuela
VG+, Sub
$4.00 Cdn
Digest 175
Aug. 81
BB Digest



Front: Fernando Valenzuela
Stories: Tony Armas / Steve Carlton / Bob Gibson / Carl Hubbell / Longest Game Ever / No Relief For Relief Pitchers / Gaylord Perry / Tim Raines / Ken Reitz / Rookie 20 Game Winners / Fernando Valenzuela
VG+, Sub label removed
$4.00 Cdn
Digest 176
Sept. 81
BB Digest



Front: Danny Darwin
Stories: Don Buford / Danny Darwin / Bill Gullickson / Steve Howe / Catfish Hunter / Scott McGregor / New Report Card On Free Agents / New York Yankees / Non-Power Guys With 100 Strikeouts / Johnny Podres / Shortstop Talent Blooms / Carl Yastrzemski
VG, Sub
$3.00 Cdn
Digest 177
Oct. 81
BB Digest



Front: Ron Davis
Stories: Lou Boudreau / Ty Cobb / Ron Davis / Zeb Eaton / Art Fowler / Jimmy Foxx / 12 Greatest All-Time "Clutch" Homers / 1981 Strike Shouldn't have Happened
VG+, water spots, Sub
$2.50 Cdn
Digest 178
Oct. 81
BB Digest



Front: Ron Davis
Stories: Lou Boudreau / Ty Cobb / Ron Davis / Zeb Eaton / Art Fowler / Jimmy Foxx / 12 Greatest All-Time "Clutch" Homers / 1981 Strike Shouldn't have Happened
VG, Sub label removed
$2.50 Cdn
Digest 179
Nov. 81
BB Digest



Front: Pete Rose
Stories: Wally Berger / Best Outfield Arms / Bobby Bonds / Lou Brock / Hubie Brooks / Andre Dawson / Jim Delsing / Reggie Jackson / Willie Kamm / Al Oliver / Pete Rose / Some High And Low Points Of 1981 / 12 Greatest World Series Bloopers
VG+ Sub
$4.00 Cdn
Digest 180
Nov. 81
BB Digest



Front: Pete Rose
Stories: Wally Berger / Best Outfield Arms / Bobby Bonds / Lou Brock / Hubie Brooks / Andre Dawson / Jim Delsing / Reggie Jackson / Willie Kamm / Al Oliver / Pete Rose / Some High And Low Points Of 1981 / 12 Greatest World Series Bloopers
Pr Sub label removed
$1.25 Cdn
Digest 181
Dec. 81
BB Digest



Front: Tim Raines
Stories: Hank Aaron / Rick Camp / Rod Carew / Jody Davis / Dwight Evans / Lefty Gomez / Goose Gossage / Art Howe / Christy Mathewson / Tim Raines / Mike Schmidt / Kent Tekulve / Frank White / 1981 Rookie All-Star Team
VG, water spots, Sub
$2.50 Cdn

1982 BASEBALL DIGEST magazine back issues

Scan Code
Mag Issue
Cover
Contents
Condition
Price per magazine
Digest 184
Jan. 82
BB Digest



Front: Steve Garvey
Stories: Hank Bauer / Best Individual One-Season Records / Harlond Clift / Rollie Fingers / Tim Foli / Dallas Green / Carney Lansford / Bob Lemon / Davey Lopes / Dave Righetti / Nolan Ryan / Superstitions / Dazzy Vance / 7 Most Overlooked Records
VG Sub label removed
$3.00 Cdn
Digest 185
Feb. 82
BB Digest



Front: Carney Lansford
Stories: Biggest Batting Gainers And Losers / Augie Galan / Ron Guidry / Lack Of DH Cost New York Yankees / Mickey Mantle / Jeff Reardon / Some Double Header Oddities
FR, Sub
$2.00 Cdn
Digest 186
March 82
BB Digest



Front: Rollie Fingers
Stories: Rollie Fingers & Goose Gossage / Roger Peckinpaugh / Pete Rose / They Set The Stage For Base Stealong Surge / Fernando Valenzuela / 15 All-Time Lopsided Trades / 1982 Top Prospects
VG, Sub
$3.00 Cdn
Digest 187
April 82
BB Digest



Front: Dave Winfield
Stories: Davey Lopes / Pennant Race Preview / Pete Reiser / Tom Seaver / Bill Stein / 10 Players Who Belong In Hall Of Fame / 1981 Was Season Of Oddities / 1982 Team Rosters & Team Schedules
VG, 2" crease, Sub
$3.00 Cdn
Digest 188
May 82
BB Digest



Front: Nolan Ryan
Stories: Best And Worst Contact Hitters In 1981 / Tito Francona / Josh Gibson / Kirk Gibson / Helmets With Ear Flaps / Dwayne Murphy / Nolan Ryan / St. Louis Browns War Time Teams / Mike Schmidt / Pete Vukovich
VG, Sub
$7.00 Cdn
Digest 3612
May 82
BB Digest



Front: Nolan Ryan
Stories: Best And Worst Contact Hitters In 1981 / Tito Francona / Josh Gibson / Kirk Gibson / Helmets With Ear Flaps / Dwayne Murphy / Nolan Ryan / St. Louis Browns War Time Teams / Mike Schmidt / Pete Vukovich
VG, Sub label removed
$5.00 Cdn
Digest 189
June 82
BB Digest



Front: Ken Forsch
Stories: David Clyde / Bob Horner / How Cy Young Winners Fared The Next Year / Long Ball Hitters Favored By Fans / Fred Lynn / Mickey Mantle / Tom Seaver / Sophomore Jinx: Fact Or Myth / Stealing Bases / Gus Suhr / Why Contenders Need Lefties
VG, FR back cover Sub
$2.50 Cdn
Digest 190
July 82
BB Digest



Front: Salome Barojas
Stories: Salome Barojas / Base Stealers Doing It More Often / Larry Bowa / Ty Cobb / Dave Concepcion / Ron Davis / Bernie DeViveiros / Whitey Ford / Mike Hargrove / Steve Rogers / Luke Sewell / Alan Trammell
VG, 1" crease, Sub
$2.50 Cdn
Digest 191
Aug. 82 - 40th Anniversary Edition
BB Digest



Front: Dale Murphy
Stories: Kiki Cuyler / Jimmy Foxx / Paul Foytack / Funny Side Of Brawls / Gene Garber / Walter Johnson / Dale Murphy / Stan Musial / Steve Sax / Casey Stengel / Don Sutton / Top Player Achievements Of Last 40 Years / Carl Yastrzemski
VG Sub
$4.00 Cdn
Digest 3615
Aug. 82 - 40th Anniversary Edition
BB Digest



Front: Dale Murphy
Stories: Kiki Cuyler / Jimmy Foxx / Paul Foytack / Funny Side Of Brawls / Gene Garber / Walter Johnson / Dale Murphy / Stan Musial / Steve Sax / Casey Stengel / Don Sutton / Top Player Achievements Of Last 40 Years / Carl Yastrzemski
GD-VG, 1" back crease, Sub label removed
$3.00 Cdn
Digest 192
Sept. 82
BB Digest



Front: Rickey Henderson
Stories: Hank Aaron / Best Clutch Hitters / Doctoring Balls / Rickey Henderson / Glenn Hubbard / Jay Johnstone / Lou Novikoff / Dan Quisenberry / Records Stars Would Like To Forget / George Selkirk / Lonnie Smith / Virgil Trucks
VG, Sub
$3.50 Cdn
Digest 193
Oct. 82
BB Digest



Front: Robin Yount
Stories: Dale Berra / Biggest Payoff Hits / Bob Boone / California Angels Tight Infield / Joe Dugan / Leon Durham / Phil Garner / Toby Harrah / Kent Hrbek / Hal McRae / Al Oliver / Warren Spahn / Jim Sundberg / World Series Most Embarrasing Moments
VG-EX, Sub
$4.00 Cdn
Digest 194
Nov. 82
BB Digest



Front: Kent Hrbek
Stories: Kent Hrbek / Jim Kaat / Joe Morgan / Lou Piniella / Frank Robinson / Ozzie Smith / TV's Top 5 Series Highlights / George Uhle / Utility Players Crucial To Success / 1982 Rookie All-Star Team
VG, FR creased back, Sub
$2.50 Cdn
Digest 195
Dec. 82
BB Digest



Front: Lonnie Smith & Ozzie Smith
Stories: Steve Carlton / Doug DeCinces / Damaso Garcia / Good Hitting Catchers / Greatest "Miracle" Teams / Nicollet Park / Tony Pena / Ron Perranoski / George Pipgras / Cal Ripken Jr. / Ryne Sandberg / Scouts / Lonnie Smith & Ozzie Smith / Top "Hustlers" / Robin Yount / 30 Or More Homer Batters In Each League
VG+, Sub
$3.00 Cdn

1983 BASEBALL DIGEST magazine back issues

Scan Code
Mag Issue
Cover
Contents
Condition
Price per magazine
Digest 196
Jan. 83
BB Digest



Front: Darrell Porter
Stories: Johnny Babich / Ken Boyer / Leo Durocher / Forecast On 1983 Hall Of Fame Elections / Bud Harrelson / How Waite Hoyt Compares Ty Cobb And Pete Rose / Dutch Leonard / Eddie Murray / Phil Niekro / Monty Stratton / World Series Special
VG, 2" crease, Sub
$2.50 Cdn
Digest 197
Feb. 83
BB Digest



Front: Darrell Porter
Stories: Biggest Batting Leaders, Losers / Babe Herman / Sparky Lyle / Mickey Mantle / Red Ruffing / Seattle Pilots / Mario Soto / Bruce Sutter / Dixie Walker
VG, Sub
$2.50 Cdn
Digest 198
March 83
BB Digest



Front: Doug DeCinces
Stories: Defense: Vital To Winning / Jimmy Halperin / Tommy John / Bowie Kuhn / Bill Madlock / Ted Simmons / Steve Stone / Top Rookie Prospects For 1983 / 4 Worst All - Time Teams
VG+, Sub
$2.50 Cdn
Digest 199
April 83
BB Digest



Front: Willie McGee
Stories: Ken Harrelson / Hitters Who Won Title By Narrowest Margin / Home Run Leaders By Position / Sam McDowell / Jim Palmer / Pennant Race Preview
VG, Sub
$3.00 Cdn
Digest 200
May 83
BB Digest



Front: Pete Vukovich
Stories: Greg Brock / Homered In Their First At Bat / Ron Neccaia / "Triple Crown" Teams / Ed Vandenberg / Pete Vukovich / 200 Homer And Stolen Base Members
VG+, Sub
$3.00 Cdn
Digest 201
June 83
BB Digest



Front: Cal Ripken Jr.
Stories: Wade Boggs / Storm Davis / How Reggie Jackson's Advice Helped Cal Ripken / Al Hrabosky / Charley Lau / Joe Niekro / Amos Otis / Dave Righetti / Phil Rizzuto / Who Says BB Is A Gentle Game? / Yankees Stadium "Death Valley"
EX, Sub
$8.00 Cdn
Digest 202
July 83
BB Digest



Front: Tony Pena
Stories: Best Latin - American Players / Forkball / Middle Infield / Paul Molitor / Pete Rose / Ozzie Smith / Dick Williams / Ted Williams & Rip Sewell / 5 Greatest All-Star Game Performers / 10 Years Of DH
VG, Sub
$2.50 Cdn
Digest 203
Aug. 83
BB Digest



Front: Dave Stieb
Stories: Dusty Baker / Rod Carew / Steve Carlton / Chili Davis / Walter Johnson / Eddie Murphy / Al Oliver / Darrell Porter / Power And Speed / Power Pitchers Still A Hit With Fans / Joe Rudi / Who Are Best Leadoff Hitters? / 7 Biggest Surprises Of 1983 / 10 Years Ago The Kansas City Royals Came Of Age
GD-VG, Sub
$2.00 Cdn
Digest 204
Sept. 83
BB Digest



Front: Chris Chambliss
Stories: Johnny Bench / Chris Chambliss / Dave Dravecky / Home Run Titles For More Than One Team / Ron Kittle / Will McEnaney / Most Dominant 20 Game Winners / Johnny Ray / Brooks Robinson / John Stupor / Versatile Players Often Key To Winning
VG, Sub
$2.50 Cdn
Digest 393
Oct. 83
BB Digest



Front: Ron Kittle
Stories: Atlanta Braves / Catching: The Job's A Pain / Rich Dauer / Darrell Evans / Ron Kittle / Dan Quisenberry / Chris Speier / Dickie Thon / 10 Best World Series Pitching Feats Since 1956
GD
$2.00 Cdn
Digest 205
Oct. 83
BB Digest



Front: Ron Kittle
Stories: Atlanta Braves / Catching: The Job's A Pain / Rich Dauer / Darrell Evans / Ron Kittle / Dan Quisenberry / Chris Speier / Dickie Thon / 10 Best World Series Pitching Feats Since 1956
VG, 1" crease, Sub
$2.50 Cdn
Digest 206
Nov. 83
BB Digest



Front: Steve Carlton
Stories: Harold Baines / Steve Carlton / Jim Gantner / Pedro Guerrero / Rick Honeycutt / Terry Kennedy / Juan Marichal / Ron Reed / Cecil Travis
VG, water spots, Sub
$3.00 Cdn
Digest 207
Dec. 83
BB Digest



Front: Carlton Fisk
Stories: Luis Aparicio & Nellie Fox / Are Overpowering Pitchers Vanishing? / Carlton Fisk / Johnny Hopp / Deron Johnson / Lloyd Moseby / Gus Niarhos / Jose Oquendo / Cal Ripken / "Triple Threat" Pitchers / Carl Yastrzemski / 7 Most Improved Players Of 1983
VG, Sub
$3.00 Cdn

1984 BASEBALL DIGEST magazine back issues

Scan Code
Mag Issue
Cover
Contents
Condition
Price per magazine
Digest 208
Jan. 84
BB Digest



Front: Rick Dempsey
Stories: Mike Boddicker / Wade Boggs / Ron Cey / Lou Gehrig's Streak / Willie Mays / Hal Schumacher / Stolen Base / Darryl Strawberry / Teammates Who Finished One-Two In Homers / World Series Special / 7 Biggest Questions For 1984
VG, water spots, Sub
$2.50 Cdn
Digest 209
Feb. 84
BB Digest



Front: Wade Boggs
Stories: Biggest Batting Gainers And Losers / Wade Boggs / Atlee Hammaker / Al Holland / LaMarr Hoyt / Ed Linke / Ray Miller / Bill Monbouquette / Phil Niekro / "Role" Players
GD-VG, water spots, Sub
$2.50 Cdn
Digest 210
March 84
BB Digest



Front: Dale Murphy
Stories: Best Rookie Prospects Of 1984 / Best Career Strikeout-to-Walk Ratios / Carl Hubbell / John Montefusco / Dale Murphy / Babe Ruth's Longest Homer / Earl Weaver / Marvell Wynne
VG, Sub label removed
$3.00 Cdn
Digest 211
April 84
BB Digest



Front: Mike Boddicker
Stories: Biggest Innings Ever / Mike Boddicker / Goose Gossage / Richie Hebner / Tony LaRussa / Jim Rice / Dickie Thon & Bill Doran / Pete Vukovich / 1984 Team Rosters & Schedule
VG+ Sub
$3.00 Cdn
Digest 212
May 84
BB Digest



Front: Andre Dawson
Stories: Best Under 25 Year Olds / Andre Dawson / Bibb Falk / Hitters Choice For Toughest Pitcher / Tippy Martinez / Graig Nettles / Joe Sewell / Umpiring Is A Calling / Bob Welch / 9 Most Complete Players
EX, 1" back crease, Sub
$4.00 Cdn
Digest 213
June 84
BB Digest



Front: Lance Parrish
Stories: Boston Red Sox Missed Signing Harmon Killebrew / Dennis Eckersley / Formula For Winning: Power Hitting & Pitching / Larry French / Hall Of Shame / Burt Hooton / Steve Kemp / Billy Martin / Lance Parrish / Ryne Sandberg / Shortstops Who Hit Becoming A Trend
VG, water spots, Sub
$2.50 Cdn
Digest 214
July 84
BB Digest



Front: Bill Madlock
Stories: Sparky Anderson / Finding, Developing Solid Pitching / Mel Harder / Tom LaSorda / Light Bats Still Favored / Bill Madlock / Jim Rice / Pete Rose / Al Rosen / When "Giants" Strode The Mound At Shea
EX, Sub
$4.00 Cdn
Digest 215
Aug. 84
BB Digest



Front: Leon Durham
Stories: Hank Aaron / Britt Burns / Jose Cruz / Leon Durham / Dwight Gooden / Dave Kingman / Hal McRae / Jack Morris / Bill Russell / Bruce Sutter / 7 Biggest Surprises Of 1984
VG-EX, water spots, Sub
$2.50 Cdn
Digest 216
Sept. 84
BB Digest



Front: Tony Gwynn / Carmello Martinez / Kevin McReynolds
Stories: Felipe Alou / Joaquin Andujar / Best One-Season Brother Acts / Bob Dernier / Keith Hernandez / Travis Jackson / Chet Lemon / Phil Niekro / Nothing Like A Glove / Dick Radatz / Juan Samuel / San Diego Padres: Best Young Outfield / Sign Language / Warren Spahn
VG+, water spots, Sub
$2.50 Cdn
Digest 217
Oct. 84
BB Digest



Front: Ryne Sandberg
Stories: Sparky Anderson / Babe Ruth #1 For Mickey Mantle / Ray Burris / Chicago Cubs / Houston Astros And Shorter Fences / Ted Kluszewski / Don Mattingly / Joe Morgan / Enos Slaughter / Willie Upshaw / 8 Biggest Strategic Gambles In Series History
VG+, Sub
$3.00 Cdn
Digest 218
Nov. 84
BB Digest



Front: Keith Hernandez
Stories: Luis Aparicio / Baltimore Orioles / Clint "Scrap Iron" Courtney / Orel Heshiser / Reggie Jackson / Ernie Lombardi & Arky Vaughn For The Hall? / Not All 19 Year Olds Survive / One Season Minro League Records Are Awesome / Kirby Puckett / Don Sutton / Rick Sutcliffe / Talent Boom At First / Dick Williams
VG, water spots, Sub
$2.50 Cdn
Digest 219
Dec. 84
BB Digest



Front: Mark Langston with inset Dwight Gooden
Stories: Mike Boddicker / Joe Cronin & Waite Hoyt Passing / George Foster / Dwight Gooden & Mark Langston / Tony Gwynn / Willie Hernandez / Reggie Jackson / Dan Quisenberry / J.R. Richard / Switchitting / Dickie Thon / 1984 Rookie All - Star Team
VG, water spots, Sub
$2.50 Cdn

1985 BASEBALL DIGEST magazine back issues

Scan Code
Mag Issue
Cover
Contents
Condition
Price per magazine
Digest 220
Jan. 85
BB Digest



Front: Alan Trammell
Stories: John Candelaria / Eric Davis / Pee Wee Reese / Pitchers Who Won 20 Games With 2 Different Temas / Ryne Sandberg / Teams With Six 80+ RBI Men / Top 10 Pitchers & Sluggers For Each Decade / Alan Trammell / World Series Special
VG, water spots, Sub
$2.50 Cdn
Digest 221
Feb. 85
BB Digest



Front: Don Mattingly
Stories: Walter Alston / Dusty Baker / Kurt Bevacqua / Biggest Batting Gainers, Losers in 1984 / Japanese Baseball / Don Mattingly / Milwaukee Brewers / Joe & Phil Niekro / Players Who Hit 30+ Homers For 3 Teams / Rookie Pitchers Who Fanned 200 / San Diego Padres / 60 Or More Career Shutouts
GD, water spots, creased back, Sub
$2.50 Cdn
Digest 222
March 85
BB Digest



Front: Frank Viola
Stories: Augie Galan / Hal McRae / Minnesota Twins Pitching Staff / Pitchers Who Won Cy Young Right After Being Traded / Rookie Award: Blessing Or Curse? / Teams That Made Biggest 1 Year Turnaround / Top Prospects For 1985
VG, water spots, Sub
$2.50 Cdn
Digest 223
April 85
BB Digest



Front: Jack Morris
Stories: Best Defensive Players / Ty Cobb/ Cuba / Steve Garvey / Hal Newhauser / Off-Season Deals / Dave Parker / Pennant Race Preview / Dave Righetti / Team Rosters & Schedule
VG, water spots, Sub
$2.50 Cdn
Digest 225
June 85
BB Digest



Front: Dwight Gooden
Stories: Marty Barrett / Comebacks By Injured Stars Could Determine Pennants / Dwight Gooden / Bob James / Tug McGraw / Dwayne Murphy / Gary (The Sarge) Matthews / Strikeout Masters / Johnny Vandermeer
GD, Sub
$2.00 Cdn
Digest 226
July 85
BB Digest



Front: Bruce Sutter
Stories: Beanball Pitch / Best Balanced Outfields / Britt Burns / Cecil Cooper / Willie McGee / Jack Morris / Dan Quisenberry & Bruce Sutter / Nolan Ryan / Garry Templeton / These Pitchers Know How To Hit Too / 26 Year Old & Under All-Star Team
VG+, Sub
$3.00 Cdn
Digest 227
Aug. 85
BB Digest



Front: Pete Rose
Stories: Bird Dogs / Future: All Artificial Surfaces? / Don Baylor / Ty Cobb / Jose Cruz / Andy Hawkins / Stan Musial / Oakland A's Glory Years / Pete Rose / Hoyt Wilhelm
VG+, Sub
$4.00 Cdn
Digest 228
Sept. 85
BB Digest



Front: Lee Smith
Stories: Bob Boone / Bill Caudill / Keith Hernandez / Tom Herr / Al Holland / Dave Kingman / Montreal Expos / Spiiter / Postage Stamps / Babe Ruth's Legend / Mel Stottlemyre / Don Sutton / 7 Biggest Surprises Of 1985 / 1950 Boston Red Sox Scored 1,027 Runs
GD+, water spots, Sub
$2.00 Cdn
Digest 229
Oct. 85
BB Digest



Front: Ron Guidry
Stories: Phil Bradley / Vince Coleman / Pedro Guerrero / Ron Guidry / Harvey Haddix / LaMarr Hoyt / Gary Matthews / "Running Triple Crown" / St Louis Cardinals / Split-Finger Fastball / World Series Top Running Feats And Blunders
VG, water spots, Sub
$2.50 Cdn
Digest 230
Nov. 85
BB Digest



Front: Pedro Guerrero
Stories: Joaquin Andujar & Dwight Gooden / All-Time "All-Flake Team / Wade Boggs / Lou Brock / Jake Early / Pedro Guerrero / Jay Howell / Jimmy Key / Tom Paciorek / Dave Parker / Tom Seaver's 300th Win / Billy Williams / 300 Wins May Be Unreachable In Future
VG, water spots, Sub
$2.50 Cdn
Digest 231
Dec. 85
BB Digest



Front: Dwight Gooden
Stories: Jose Cruz / Tony Fernandez / Ned Garver / Dwight Gooden / Reggie Jackson / Knuckleball / Willie McGee / Old Ballparks Are A Dying Breed / Bret Saberhagen / George Sisler's 257 Hit Season Unbeatable? / Ted Williams / 1985 Rookie All-Star Team
VG+, water spots, Sub
$2.50 Cdn

1986 BASEBALL DIGEST magazine back issues

Scan Code
Mag Issue
Cover
Contents
Condition
Price per magazine
Digest 232
Jan. 86
BB Digest



Front: Willie McGee
Stories: Steve Balboni / George Bell / Tony Cuccinello / Cleveland Indians / Ron Darling / Alfreo Griffin / Detroit Tigers / Orel Hershiser / Sixto Lezcano / Willie McGee / John Tudor / 1985: A Years Of Achievements
VG, 5" crease, water spots, Sub
$2.50 Cdn
Digest 234
March 86
BB Digest



Front: Tom Browning
Stories: Best Rookie Prospects / Tom Browning / Tim Burke / Vince Coleman / Roger Maris / Bake McBride / Mexican League / Cal Ripken Jr. / Babe Ruth's Famous Visit To Ailing Boy / Bobby Valentine
VG, Sub
$2.50 Cdn
Digest 235
April 86
BB Digest



Front: Harold Baines
Stories: Tom Cheney / Mike Heath / Most Enduring Group Of Starters: 1974-76 Cincinnati Reds / Eddie Murray / Pennant Races Preview / 10 Most Overlooked Stars
VG-EX, water spots,Sub
$2.50 Cdn
Digest 236
May 86
BB Digest



Front: Darryl Strawberry
Stories: Ballpark Dimensions Often Subject To "Gamemanship" / Mike Brito / Brushback Pitch / Quality Starts: A New Measure / Rick Reuschel / Mike Smithson / Darryl Strawberry / Bill Terry / Ted Williams / Steve Yeager
VG-EX, water spots,Sub
$2.50 Cdn
Digest 237
June 86
BB Digest



Front: Eddie Murray
Stories: Bob Dernier / Bob Feller / Sid Fernandez / Dwight Gooden / How's This For A List Of Special Phillies Old-Timers? / Eddie Murray / Tom Niedenfeur / Pete Rose / San Francisco Giants / San Pedro de Macoris, DR / Ron Skidmore / Milt Wilcox / 7 Players On The Spot In 1986
VG, water spots, Sub
$3.00 Cdn
Digest 238
July 86
BB Digest



Front: Bert Blyleven
Stories: Bert Blyleven / Darrell Evans / Don Gullett / Pitchers Who Best Strikeout Tandem / Tim Raines / Johnny Ray / Bert Shepard / Teammates Who Finish 1-2 In RBI Race / Mike Young / Robin Yount
VG+
$3.00 Cdn
Digest 239
Aug. 86
BB Digest



Front: Roger Clemens
Stories: Boston Red Sox / Roger Clemens / Shawon Dunston / Reggie Jackson / Mike Marshall / Odibe McDowell / Middle Man In Relief / Red Ruffing / Andre Thornton / John Tudor / Who Says "Little Guys" Can't Hit Homers
VG, water spots, Sub
$3.00 Cdn
Digest 240
Sept. 86
BB Digest



Front: Gary Carter
Stories: Advance Scouts / Ambidexterous Pitchers / Jose Canseco / Gary Carter / "Characters" Always A Part Of BB / Joe DiMaggio / Brian Downing / Goose Gossage / Ted Lyons / Talent Scouts / Manny Trillo / 8 Biggest Surprises Of 1988
VG+ Sub
$3.00 Cdn
Digest 241
Oct. 86
BB Digest



Front: Jose Canseco / Wally Joyner
Stories: Bizarre, Unexpected Plays / Tom Candiotti & Phil Niekro / Rod Carew / Great Pennant Race Fadeouts / Glenn Hubbard / Wally Joyner / Charlie Kerfeld / Pitchers Who Won 20 Games & Hit .300
GD, Sub
$2.50 Cdn
Digest 243
Dec. 86
BB Digest



Front: Ted Higuera with inset Roger Clemens
Stories: Catching: Most Punishing Position / Roger Clemens / David Clyde / Vince Coleman / Rick Dempsey / Hank Greenberg / Ted Higuera / Dave Kingman / Sandy Koufax / Quickest Way To Be Ejected / Mike Schmidt / Joe Sewell / 1986 Rookie All-Star Team
VG, Sub
$2.50 Cdn

1987 BASEBALL DIGEST magazine back issues

Scan Code
Mag Issue
Cover
Contents
Condition
Price per magazine
Digest 244
Jan. 87
BB Digest



Front: Wade Boggs / Don Mattingly
Stories: Bats Shattering / Wade Boggs / Bob Boone / Joe Carter / Andre Dawson / Rob Deer / Good Scout Worth His Weight In Prospects / Steve Sax / 1st Time I Met Babe Ruth
VG,Sub
$4.00 Cdn
Digest 245
Feb. 87
BB Digest



Front: Sid Fernandez
Stories: Marty Barrett / Biggest Batting Gainers And Losers / Detroit Tigers Infield / Leo Duroucher / Sid Fernandez / Al Nipper / Boog Powell / Mike Scott / Danny Tartabull / Texas Rangers
VG, Sub
$2.50 Cdn
Digest 246
March 87
BB Digest



Front: Mike Scott
Stories: Best Rookie Prospects / Marty Marion / Mike Schmidt / Dick Scofield / Mike Scott / Jo Jo White / Roy White
VG, Sub
$2.50 Cdn
Digest 247
April 87
BB Digest



Front: Chris Brown
Stories: Ken Griffey / Pennant Race Preview / Pitching Feat: 20 Games Above .500 / Robin Yount
VG, Sub
$2.50 Cdn
Digest 248
June 87
BB Digest



Front: Jody Davis with inset Eric Davis
Stories: Yogi Berra / Mike Caldwell / Doc Cramer / Eric Davis / Jody Davis / Curt Flood / Wally Joyner / Bowie Kuhn / Relief Pitchers: Once Low Man On Totem Pole / Bruce Ruffin / Toronto Blue Jays: Best Outfield?
FR-GD. skinned cover Sub
$1.50 Cdn
Digest 249
July 87
BB Digest



Front: Mike Witt with inset Bo Diaz
Stories: Cathers Need More Than Brawn / Mike Krukow / "Lady Luck" Plays Role In No-Hitters / Fred Lynn / Willie Mays Recalls Ray Dandridge / Kirby Puckett / Sophomore Jinx: Real Or Not / Tris Speaker / Frank White / Mike Witt / Will 50 Homers Become Extinct?
GD Sub
$2.00 Cdn
Digest 250
Aug. 87
BB Digest



Front: Rickey Henderson
Stories: George Brett / "Bullpen Burnout" Is Common / Darrell Evans / Scott Garrelts / Ken Griffey / Rickey Henderson / Don Mattingly / Only Memories From 1984 San Diego Padres / Jackie Robinson / Nolan Ryan / Some Facts & Figures On Leading Strikout Pitchers / Sonny Siebert
VG, water spots, Sub
$2.50 Cdn
Digest 252
Oct. 87
BB Digest



Front: Mark McGwire
Stories: Cincinnati Reds Bullpen Strength / Nate Colbert / Andre Dawson / Don Liddle / Mark McGwire / Dale Murphy / New York Yankees 5 Straight Series / Terry Pendleton / Pitcher's Balk / Dan Plesac / 1957 Milwaukee Braves
VG-EX, water spots, Sub
$3.00 Cdn
Digest 253
Nov. 87
BB Digest



Front: George Bell
Stories: Steve Bedrosian / George Bell / Biggest Comeback Players Of 1987 / Rick Dempsey / Scott Fletcher / Bob Gibson / Reggie Jackson / Knockdown Pitch / Alan Trammell / Tim Wallach / Bill Werber Recalls The 1930's / Whatever Became Of 2 Hour Games? / 4 Homers In A game Still Rare / 1962 San Francisco Giants
VG, water spots, Sub
$2.50 Cdn
Digest 254
Dec. 87
BB Digest



Front: Kevin Seitzer with inset Mike Dunne
Stories: Bat: Ultimate Weapon / Wally Berger / Will Clark / Dave Concepcion / Gary Gaetti / Mark Koenig / Dale Long / Paul Molitor's Hit Streak Undelined Joe DiMaggio's Feat / Kevin Seitzer / Ruben Sierra / Some Highlights Of 1987 / 1987 Rookie All - Star Team
VG+,Sub
$2.50 Cdn

1988 BASEBALL DIGEST magazine back issues

Scan Code
Mag Issue
Cover
Contents
Condition
Price per magazine
Digest 255
Jan. 88
BB Digest



Front: Andre Dawson
Stories: Wade Boggs / Andre Dawson / Carl Erskine / Fenways's Green Monster / Goose Gossage / Larry Parrish / Cory Snyder / Toughest Outs?
VG, water spots, skimmed back, Sub
$2.00 Cdn
Digest 256
Feb. 88
BB Digest



Front: Frank Viola
Stories: Kurt Bevacqua / Biggest Batting Gainers And Losers In 1987 / Joe Carter / Detroit Tigers Led Homer Barrage In 1987 / Al Lopez / Minnesota Twins "Fab 4" In 1987 / Some ERA Champs Had Hard Time Winning Games / 9 Stars At Career Crossroads
GD, water spots Sub
$2.00 Cdn
Digest 257
March 88
BB Digest



Front: Jimmy Key
Stories: Best Rookie Prospects / Bob Boone / Tony Gwynn / Jimmy Key / Minnesota Twins In 1987 / Don Mueller / Jorge Orta / "Purpose Pitch" Brews Trouble / Why Don't Today's Pitchers Challenge More?
VG,Sub
$2.50 Cdn
Digest 258
April 88
BB Digest



Front: Kevin McReynolds / Mike Pagliarulo
Stories: Jeffrey Leonard / Connie Mack / Stan Musial / Pennant Race Preview / Players To Watch In 1988 / Runnersup In MVP Voting / 1987 Produced Two 30-Game Hitting Streaks / 1988 Team Rosters & Schedules
VG,Sub
$3.00 Cdn
Digest 259
May 88
BB Digest



Front: Eric Davis
Stories: All - Time "Runaway" League Leaders / Eric Davis / Darrell Evans / Tommy John / Joe Magrane / Dale Murphy / Nolan Ryan / Some Overlooked Records From 1987 / Willie Stargell
VG+, water spots, 1/4' tear, Sub
$3.00 Cdn
Digest 260
June 88
BB Digest



Front: Floyd Bannister / Mark Gubicza / Charlie Liebrandt / Bret Saberhagen
Stories: Roger Clemens & Dwight Gooden Early Faves For Cy Young / Donated Items Enhance Hall Of Fame / Dwight Evans / Jinxes / Kansas City Royals "Big 4" / Pitching vs Power: Wgich Will Dominate In 1988 / Juan Samuel / Pinky Whitney / Ted Williams / Ernie Witt
VG, water spots, Sub
$2.50 Cdn
Digest 261
July 88
BB Digest



Front: Andy Van Slyke
Stories: Biggest Batting Challenge: Winning The Triple Crown / Closest Batting Races Ever / "Comeback" Players May Alter Division Races / Eternal Duel: Hitter vs Pitcher / Are "Good Field, No Hit" Shortstops History? / Dave Henderson / Most Complete Players In 1988? / Philadelphia Phillies History Of Odd Characters & Events / Short Reliever Is Now Glamor Pitcher / Danny Tartabull / Andy Van Slyke / 1968 Detroit Tigers
FR-GD, Sub
$1.50 Cdn
Digest 262
Aug. 88
BB Digest



Front: Dave Winfield
Stories: George Brett / Roger Clemns & Bruce Hurst / Dennis Eckersley / Fastball Still #1 In Pitcher's Arsebal / Ozzie Guillen / Hall Of Shame / Bobo Holloman / Tony Kubek Picks 11 Best Shortstops He Ever Saw / Sharp Curveball Tests Nerve And Verve Of Hitters / Jim Sundberg / Dave Winfield / 1978 New York Yankees "Miracle Finish"
VG, water spots, Sub
$2.50 Cdn
Digest 263
Sept. 88
BB Digest



Front: Greg Maddux
Stories: Ballparks Of The Past Challenged Outfielders / Paul Blair / Bobby Bonilla / Carney Lansford / New Breed Of Second Baseman Brightens N.L. / New Stars On The Rise / Jerry Reuss / Darryl Strawberry / Greg Swindell / Elmer Valo / Bob Watson / Whatever Happened To "Rabbit Ball"?
VG, Sub
$3.00 Cdn
Digest 264
Oct. 88
BB Digest



Front: Kirby Puckett
Stories: Rich Gossage / Mike Greenwell / Fergie Jenkins / Don Larsen / No-Hitters That Get Away / Only The Strong Survive Behind The Plate / Kirby Puckett / Bill Virdon
VG, Sub
$3.00 Cdn
Digest 265
Nov. 88
BB Digest



Front: Jose Canseco
Stories: Sparky Anderson / "Anonymous" All-Star Team / Bob Boone / Tom Brookens / Jose Canseco / Sam Chapman / Chicago Cubs / Managers Keep Platoon System Popular / Pete Rose / Chris Sabo / Scout: Eyes Are On The Future / Tom Seaver
VG, Sub
$2.50 Cdn
Digest 266
Dec. 88
BB Digest



Front: Danny Darwin
Stories: Danny Darwin / Bob Gibson / Catfish Hunter / Doug Jones / Mickey Mantle's Longest Home Runs / Rick Reuschel / Harold Reynolds / Benito Santiago / Jim Sundberg / Mike Witt / 1988 Rookie All-Star Team
VG, water spots, Sub
$2.50 Cdn

1989 BASEBALL DIGEST magazine back issues

Scan Code
Mag Issue
Cover
Contents
Condition
Price per magazine
Digest 267
Jan. 89
BB Digest



Front: Jose Canseco Caricature Drawing
Stories: First Base: Deepest Talent / Kirk Gibson / Next Player To Join 40-40 Club? / Orel Hershiser / Players To Watch In 1989 / Red Schoendienst / Ken Singleton
VG, Sub
$2.50 Cdn
Digest 268
Feb. 89
BB Digest



Front: Orel Hershiser
Stories: Batters Hit For High Average, But Finished Second / Biggest Hitting Gainers And Losers / Ewell Blackwell / Wade Boggs / Bobby Bonds / For Some Stars, The End Can Be Bitter / Mickey Hatcher / Orel Hershiser / Ray Knight / New York Mets Pitchers Thrived On "Heat" In 1988 / 1939 Was A Great Year
VG, water spots, Sub
$2.50 Cdn
Digest 269
March 89
BB Digest



Front: Greg Jefferies
Stories: Jose Canseco & Mark McGwire / Jack Clark / Brian Downing / ERA Leaders Don't Always Have Winning Record / Kirk Gibson & Orel Hershiser Part Of Series Lore / Dwight Gooden / Top Rookies For 1989 / Bill Werber / 10 Biggest Outs In History
VG, water spots, Sub
$2.50 Cdn
Digest 270
April 89
BB Digest



Front: Kirk Gibson
Stories: Gary Carter / Rickey Henderson / Chet Lemon / Pennant Race Preview / Pitchers With Best Power Proficiency Rating / Team Rosters And Schedule
GD-VG, water damage
$1.50 Cdn
Digest 271
May 89
BB Digest



Front: Cory Snyder
Stories: Wade Boggs / Carl Furillo / Give More Credit To Utilitymen / Dave Henderson / "Protecting The Plate" Memories / Some Rookie Phenoms Fall Short / Strange Plays Are Part Of The Game / Bobby Thigpen / Claudell Washington
VG-EX, water spots
$2.50 Cdn
Digest 272
June 89
BB Digest



Front: Fred McGriff
Stories: Lou Brock For Ernie Broglio Trade / Lefty Gomez / Mark Gubicza / Barry Larkin / Mike Pagliarulo / Strikeouts: High Cost OF Hitting Homers / Frank Thomas / 7 Keys To Winning Pennant In 1989
GD, creased cover
$2.00 Cdn
Digest 279
July 89
BB Digest



Front: Will Clark
Stories: Best Clutch Hitters / Jack Clark / John Franco / Glory Days Of 1969 New York Mets Pennant Race / Willie Mays / Kirby Puckett
VG, water spots
$2.50 Cdn
Digest 273
Aug. 89
BB Digest



Front: Nolan Ryan
Stories: Mark Davis / Bibb Falk / "Hot Corner" No Place For The Timd / Kevin Mitchell / Terry Puhl / Nolan Ryan / What's Causing Shortage Of Quality Catchers?
VG, water spots
$4.00 Cdn
Digest 274
Sept. 89
BB Digest



Front: Bo Jackson
Stories: Jose DeLeon / Rob Dibble / Dwight Evans / Lefty Grove / Mel Harder / Bo Jackson / Dan Quisenberry / Mike Schmidt / Mickey Tettleton / Mitch Williams / 7 Biggest Surprises Of 1989
VG, water spots
$3.00 Cdn
Digest 275
Oct. 89
BB Digest



Front: Dave Stewart
Stories: Boston Red Sox Filled With Frustration / Buddy Bell / Bubba Church / Ozzie Guillen / Dennis Martinez / Most Unusual Game Of 1989 / Near No-Hitters / Willie Randolph / Dave Stewart
VG, water spots
$2.50 Cdn
Digest 276
Nov. 89
BB Digest



Front: Howard Johnson
Stories: Catching: Art Or Science / Ron Guidry / Howard Johnson / Paul Molitor / Lonnie Smith / 10 Greatest Series Fielding Feats / 15 Most Dramatic Homers
VG, water spots
$2.00 Cdn
Digest 277
Dec. 89
BB Digest



Front: Dwight Smith / Jerome Walton
Stories: Bart Giamatti / Brushback Pitch / Bob Forsch / Mark Koenig / Mike Moore / New York Mets Worst Trade Ever: Nolan Ryan / Tim Raines / Pete Rose / Ryne Sandberg / 1949 Philadelphia Athletics: Masters Of The DP / 1989 Rookie All-Star Team
VG, water spots
$2.50 Cdn

1990 BASEBALL DIGEST magazine back issues

Scan Code
Mag Issue
Cover
Contents
Condition
Price per magazine
Digest 278
Jan. 90
BB Digest



Front: Will Clark with inset Jim Abbott / Nolan Ryan
Stories: Jim Abbott / Will Clark / Mickey Mantle / Johnny Roseboro & Manny Sanguillen / Dave Parker / Mookie Wilson
VG, water spots
$3.00 Cdn
Digest 280
Feb. 90
BB Digest



Front: Reuben Sierra
Stories: Are The 1989 A's As Good As The 1976 Reds? / Biggest Batting Gainers And Losers / Wade Boggs / Joe Carter / Mark Davis / Roland Hemond / Tony LaRussa / Dennis Leonard / Don Mattingly / Ruben Sierra / Jerome Walton / Hack WIlson
VG, water spots
$2.50 Cdn
Digest 281
March 90
BB Digest



Front: Ken Griffey Jr.
Stories: Best Rookie Prospects / DH Rule: 17 Years Later / Jim Dwyer / Ken Griffey Jr. / Tony Gwynn / Kevin Mitchell / Jo Jo Moore / Dale Murphy / Buck Weaver
VG, water spots
$3.00 Cdn
Digest 282
April 90
BB Digest



Front: Jose Canseco / Mark McGwire / Terry Steinbach
Stories: Andy Benes / Jimmy Foxx / Mike Greenwell / Tito Landrum / Billy Martin / Pennant Race Preview / Pitchers Who Have Best Power Proficiency Ratings / Some Hall Of Famers Never Won MVP Or Cy Young / Team Rosters & Schedule
VG+
$3.00 Cdn
Digest 283
May 90
BB Digest



Front: Kirk Gibson / Darryl Strawberry / Dave Winfield
Stories: Blend Of Power And Speed / Bob Feller / Rickey Henderson / Highlight List Of 1980's / Eddie Mattews / Next Player To Hit 50 Homers / Jim Palmer / Gaylord Perry / Mike Scott / Tim Wallach / 8 Stars At Career Crossroads
VG
$2.50 Cdn
Digest 284
June 90
BB Digest



Front: Mark Grace
Stories: Roger Clemens / Walker Cooper / Mark Grace / Bo Jackson / Jim Kaat / Harmon Killebrew / Dave McNally / Hal Newhouser / One-Hitter Pitching Debuts
VG, water spots
$2.50 Cdn
Digest 285
July 90
BB Digest



Front: Bob Geren & Lou Whitaker
Stories: Roger Clemens / Crisis In Catching / Jim Eisenreich / Mike Krukow / Barry Larkin / Mark McGwire / Johnny Neunn / Pitchers Who Tossed 2 No-Hitters In 1 Season / Relief Pitching Comes Of AGe And Pay / Nolan Ryan & Rickey Henderson Special Targets / Ryne Sandberg / Roy Sievers
VG+, water spots
$2.50 Cdn
Digest 286
Aug. 90
BB Digest



Front: Bobby Bonilla with inset Frank Viola
Stories: Bobby Bonilla / Billy Bruton / Pedro Guerrero / Tony Gwynn / John Lowenstein / Pitcher With Most Wins Over 3 Seasons / Sammy Sosa / Mike Scioscia / Sometimes Pitching & Hitting Stats Don't Figure / Frank Viola
VG+, water spots
$2.50 Cdn
Digest 287
Sept. 90
BB Digest



Front: Ozzie Guillen
Stories: Bert Blyleven / Lou Brock / Leny Dykstra / Jeffrey Leonard / Ray Miller / Ponce de Leon Park / Slumps Come And Go / Teams With 100 Wins Don't Always Finish On Top
VG, water spots
$2.50 Cdn
Digest 288
Oct. 90
BB Digest



Front: Rickey Henderson
Stories: Phil Cavarretta / Kelly Gruber / Rickey Henderson / Tommy Herr / Bill Mazeroski / Brooks Robinson / Ryne Sandberg / Top Outfielders Arms / Why Players Favor Certain Numbers / World Series Controversies
GD-VG, water spots
$2.50 Cdn
Digest 289
Nov. 90
BB Digest



Front: Cecil Fielder
Stories: Nate Andrews / Arm, Shoulder Injuries Inevitable For Pitchers / Base Sliding : A Lost Art / Bert Campaneris / Ty Cobb's Son Remembers His Father / Cecil Fielder / John Franco / Augie Galan / Ken Griffey Jr. / Charlie Keller / Mammoth Homers Are Legendary / Tim Raines / Bobby Thigpen / Matt Williams
GD-VG, water spots
$2.00 Cdn

1991 BASEBALL DIGEST magazine back issues

Scan Code
Mag Issue
Cover
Contents
Condition
Price per magazine
Digest 290
Jan. 91
BB Digest



Front: Bob Welch
Stories: Willie McGee / Rariry: Homer Power In The Middle Infield / Ryne Sandberg / Ozzie Smith / Casey Stengel / Bob Welch / Willie Wilson / 200 Hit, 40 Homer, 100 RBI Club
VG+, water spots
$2.50 Cdn
Digest 291
Feb. 91
BB Digest



Front: Chris Sabo
Stories: Bob Allison / Rick Cerone / Choke: Dirtiest Word / Cincinnati Reds / Al Kaline / Wally Moses / New York Mets Starters Led N.L. Strikeouts / New York Yankees / Joe Pepitone / Chris Sabo
VG, water spots
$2.50 Cdn
Digest 292
March 91
BB Digest



Front: Ray Lankford
Stories: Sandy Alomar Jr. / Best Rookie Prospects / Chicago White Sox / Kansas City Royals / Most Valuable Players Of Last 50 Years / Lance Parrish / Dave Stewart / Darryl Strawberry / Al Weiss / 5 Reasons Why Pitchers Suffer Arm Injuries / 8 Great Moments / 12 Journeymen Who Became League Leaders
VG, water spots
$2.50 Cdn
Digest 293
April 91
BB Digest



Front: Norm Charlton / Rob Dibble / Randy Myers
Stories: Cincinnati Reds "Nasty Boys" / Shawon Dunston / Floyd Giebell / Jim Greengrass / Dave Magadan / Manny Mota / Odds & Ends Left Over From 1990 / Pennant Race Preview / Pitchers With Best Power Proficiency / Team Rosters & Schedule
VG+
$2.50 Cdn
Digest 294
May 91
BB Digest



Front: Darryl Strawberry
Stories: Marty Barrett / Glenn Davis / Rickey Henderson / Russ Meyer / Pinch Hitters Live On The Edge / Player Trades: Always A Risk / Allie Reynolds / Mike Scioscia / Darryl Strawberry / Ted Williams .406 Still A Magic Mark / 7 Big Question Marks Of 1991
VG, water spots
$2.50 Cdn
Digest 3611
May 91
BB Digest



Front: Darryl Strawberry
Stories: Marty Barrett / Glenn Davis / Rickey Henderson / Russ Meyer / Pinch Hitters Live On The Edge / Player Trades: Always A Risk / Allie Reynolds / Mike Scioscia / Darryl Strawberry / Ted Williams .406 Still A Magic Mark / 7 Big Question Marks Of 1991
GD-VG, water spot
$2.50 Cdn
Digest 295
June 91
BB Digest



Front: Tim Raines
Stories: Hubie Brooks / David Cone / Jim Davenport / Joe DiMaggio / Durability: Key To 300 Club / Bowie Kuhn / Hector Lopez & Bill Stafford / Tim Raines / RBI Champs Who Made Their Hits Count / Bill Veeck
VG, coffee stain
$1.50 Cdn
Digest 296
July 91
BB Digest



Front: Kevin Mitchell
Stories: Gary Carter / Rob Dibble / Ramon Martinez / Next Player To Hit 60? / Bob Ojeda / Race For 3,000 Hits: George Brett vs Robin Yount / Billy Ripken / Top Pitchers Add To Their Repertoire / Ultimate Weapon: The Homer
VG, water spots
$2.00 Cdn
Digest 297
Aug. 91
BB Digest



Front: Roger Clemens
Stories: All - Time Team Of "Gamers" / Johnny Berardino / Roger Clemens / Charlie Liebrandt / Nolan Ryan / Lee Smith / Alan Trammell / Robin Yount
VG, coffee stain
$2.00 Cdn
Digest 298
Aug. 91
BB Digest



Front: Roger Clemens
Stories: All-Time Team Of "Gamers" / Johnny Berardino / Roger Clemens / Charlie Liebrandt / Nolan Ryan / Lee Smith / Alan Trammell / Robin Yount
VG, Sub label removed, cover skinned
$2.00 Cdn
Digest 299
Sept. 91
BB Digest



Front: Robin Yount
Stories: Len Barker / The Changeup / Andre Dawson / Tony Gwynn / Halsey Hall / George Kell / Negative Side Of Pitching Records / Bobby Thompson / Velocity & Wildness Usually Go Together / Bob Welch / Robin Yount
VG, coffee stains
$2.00 Cdn
Digest 300
Oct. 91
BB Digest



Front: Cal Ripken Jr.
Stories: Hank Aaron's Home Run Record Out Of Reach? / Roberto Alomar Jr. / Lew Burdette / Brushback Pitch / Scott Erickson / Barry Larkin / Managers Too Quick To Relieve Starters? / Paul Molitor / Cal Ripken / Top 12 Comeback Players Of The Year / Washington Senators Fans Memories
GD-VG, coffee stains
$2.00 Cdn
Digest 301
Nov. 91
BB Digest



Front: Roberto Alomar Jr. / Rafael Palmeiro
Stories: Rod Carew / Mike Davis / Facts On Obscure One Month RBI Records / Gabby Catchers On The Way Out? / Dave Henderson / Charlie Hough / Catfish Hunter / Latin Players Score Big / Hal Morris / Nolan Ryan / 12 Men The Hall Of Fame Has Forgotten
GD-VG, water spots
$2.00 Cdn
Digest 302
Dec. 91
BB Digest



Front: Chuck Knoblauch
Stories: Dick Groat / Tony Lazzeri / Old-Timers Bemoan The Lost Art Of Bunting / Bret Saberhagen / Tainted No-Hitters / Terry Steinbach / Frank Thomas / 1991 All-Star Rookie Team / 1991 Had Good & Bad Streaks
VG, water spots
$2.50 Cdn

1992 BASEBALL DIGEST magazine back issues

Scan Code
Mag Issue
Cover
Contents
Condition
Price per magazine
Digest 303
Jan. 92
BB Digest



Front: Steve Avery
Stories: Steve Avery / Leo Durocher / Pedro Guerrero / Jim Leyland / Gregg Olson / Tracy Stallard / 1990 Final Statistics
VG, cola spots
$2.50 Cdn
Digest 304
Feb. 92
BB Digest



Front: Kirby Puckett
Stories: Baltimore`s Memorial Stadium / Biggest Batting Gainers & Losers / Ralph Branca / Ivan Calderon / Dennis Eckersley / Tommy Holmes / Eddie Joost / Johnny Logan / Oakland A's Pitching Staff Sunk Team In 1991 / 1991 World Series Special
VG, coffee stain
$3.00 Cdn
Digest 305
March 92
BB Digest



Front: Felix Jose
Stories: Harold Baines / Best Rookies For 1992 / Ron Gant / Dave Philley / Players To Watch In 1992 / Players Who Collected Most Hits In One Month / Teams Top Rookies / Thorny Issue: Pete Rose Reinstatemnt / Alan Trammell / Devon White / 1956 Cincinnati Reds Had Power To Burn
VG, water damaged cover
$2.00 Cdn
Digest 306
April 92
BB Digest



Front: Frank Thomas
Stories: Detroit Tigers / Goose Gossage / Reggie Jackson / Kevin Mitchell / Pennant Race Previews / Player Changes That May Change Division Races / Save Rules Too Liberal For Relievers / Rick Sutcliffe / Team Rosters & Schedules / Frank Thomas / 1991 Best Strikeout-to-Walk Ratio
VG, water spots
$2.50 Cdn
Digest 307
May 92
BB Digest



Front: Wade Boggs
Stories: Wade Boggs / Dennis "Oil Can" Boyd / Jerry Grote / Odds & Ends Left Over From 1981 / Players Who Narrowly Missed .300 Career Average / Warren Spahn / Robin Ventura / Monte Weaver / 9 Big Myths Of Baseball
EX, water spots
$3.00 Cdn
Digest 308
June 92
BB Digest



Front: Dan Gladden & Greg Olson
Stories: Paul Blair / Colorful Quotes / Lenny Dykstra / How Stars Fared In Their 1st At-Bat / Charlie Liebrandt / Ben McDonald / Most Bizarre Relief Job / Luke Sewell Manager: 9 Pitchers In 1 Game / Lee Smith / Ozzie Smith / Danny Tartabull / Burgess Whitehead / Mitch Williams / Dave Winfield
VG-EX
$2.50 Cdn
Digest 309
July 92
BB Digest



Front: Howard Johnson
Stories: Dennis Eckersley / Greg Gagne / Whitey Herzog / Memories Of Tiger Stadium / Luis Quinones / Cal Ripken Jr. / Ron Santo / Will 4 Man Rotation Return? / 1972 Cincinnati Reds
VG, water spots
$2.50 Cdn
Digest 310
Aug. 92
BB Digest



Front: Mark McGwire
Stories: A Long, Tough Road For Colorado Rockies & Florida Marlins / Sparky Anderson / Juan Berenguer / Cecil Fielder / Mark Grace / Mark McGwire / Pitching: "It Ain't What It Used To Be" / Babe Ruth's Last Stand / Carl Yastrzemski
VG, cola stain
$2.50 Cdn
Digest311
Sept. 92
BB Digest



Front: Juan Guzman
Stories: Cal Abrams / Frankie Baumholtz / Bucky Dent / Ron Gant / Ken Griffey Jr. / Roberto Kelly / Players Destined To Star In The 21st Century? / Johnny Podres / Jeff Reardon / Enos Slaughter / Robin Yount
VG, water spots
$2.50 Cdn
Digest 312
Oct. 92
BB Digest



Front: Kirby Puckett
Stories: Chris Chambliss / Bill Gullickson / Doug Harvey / Rickey Henderson / Billy Jurges / Kirby Puckett /Ralph Terry / Unsung Heroes / Larry Walker / 8 Worst Series Games
VG-EX
$4.00 Cdn
Digest 313
Nov. 92
BB Digest



Front: Dennis Eckersley / Tom Glavine
Stories: Steve Carlton / Cincinnati Reds Relief Corps Has Been Populated By "Free Spirits" / Dennis Eckersley / Charlie Gehringer / Tom Glavine / Mark Grace / Infield Defense Helped Tom Seaver & Rollie Fingers / Shane Mack / Don Mattingly / Mike Mussina / Mike Pagliarulo / Andy Pafko / Scouts: Indispensable Men / Some Players Were Disasters On Defense / 7 Leading "Comeback" Players
VG, cola spots
$2.00 Cdn
Digest 314
Nov. 92
BB Digest



Front: Dennis Eckersley / Tom Glavine
Stories: Steve Carlton / Cincinnati Reds Relief Corps Has Been Populated By "Free Spirits" / Dennis Eckersley / Charlie Gehringer / Tom Glavine / Mark Grace / Infield Defense Helped Tom Seaver & Rollie Fingers / Shane Mack / Don Mattingly / Mike Mussina / Mike Pagliarulo / Andy Pafko / Scouts: Indispensable Men / Some Players Were Disasters On Defense / 7 Leading "Comeback" Players
VG
$2.50 Cdn
Digest 315
Dec. 92
BB Digest



Front: Pat Listach
Stories: Edgar Martinez / Embarrassing Moments Are Part Of Lore / Billy Hermann / Charles Nagy / Al Oliver / Tony Perez / "Boots" Poffenberger / Renie Stennett / 1992 Rookie All-Star Team / 6 Records Appear Beyond Challenge
VG, water spots
$2.50 Cdn

1993 BASEBALL DIGEST magazine back issues

Scan Code
Mag Issue
Cover
Contents
Condition
Price per magazine
Digest 316
Jan. 93
BB Digest



Front: Roberto Alomar
Stories: Roberto Alomar / Carlos Baerga / George Brett / Joe Brinkman / Detroit Tigers Feature 30+ Home Run Hitters / Cecil Fielder / Cal Ripken Jr. / Frank Thomas
VG-EX
$3.00 Cdn
Digest 317
Feb. 93
BB Digest



Front: Gary Sheffield
Stories: Elden Auker / Al Barlick / Biggest Batting Gainers And Losers / Rocky Colavito / Carl Erskine / First Base Still Requires A "Good Glove" / Ryne Sandberg / Tim Wakefield / World Series Triple Play Recalled
VG, water spots
$2.50 Cdn
Digest 318
March 93
BB Digest



Front: Tim Wakefield
Stories: Atlanta Braves Playoff Comeback In 1992 Ranks With Classics / George Brett / Gary Carter / Father-Son Pitching Duos Topped Dizzy & Steve Trout / Jack Fisher / Most Promising Rookies For 1993 / Fred McGriff / Odds & Ends Left Over From 1992 / Dave Stieb
VG, cola spots
$2.00 Cdn
Digest 319
April 93
BB Digest



Front: Jose Canseco
Stories: Don Baylor / Rob Dibble / Mark Grace / Doug Harvey / Reggie Jackson / Ed Kranepool / Pennant Race Preview / Team Rosters & Schedules
VG, water spots
$2.50 Cdn
Digest 320
May 93
BB Digest



Front: Mike Mussina / Curt Schilling
Stories: Tony Cloninger / How Injuries Shortened Don Gullett, Jim Maloney, Gary Nolan & Wayne Simpson Careers / Reggie Jackson / John Kruk / Sal (The Barber) Maglie / Pete Rose / Starters With Best Strike-Walk Proficiency / Darryl Strawberry / Cecil Travis / 1953 Brooklyn Dodgers / 9 Candidates For "Comeback" Honors
VG, cola spots
$2.00 Cdn
Digest 321
June 93
BB Digest



Front: Robin Ventura
Stories: Kevin Brown / Ever Another Willie Mays? / Fans Of 1969 Chicago Cubs / Dennis Eckersley / Frankie Frisch / Shane Mack / Dave Righetti / Third Base No Place For The Faint Hearted / Willie Wilson
VG+, water spots
$2.50 Cdn
Digest 322
July 93
BB Digest



Front: Juan Gonzalez with inset Carlos Baerga
Stories: Atlanta Braves Loaded With "Quality" Arms / George Brett / Fatal Tragedies Of Players / Boo Ferris / Art Howe / Latin Stars More Abundant Than Ever / Camilo Pasqual / Bip Roberts / Frank Tanana / Larry Walker / Duane Ward / Dave Winfield / Wilbur Wood
VG, water spots
$2.50 Cdn
Digest 323
Aug. 93
BB Digest



Front: Barry Bonds
Stories: Barry Bonds / Spud Chandler / Ever Another 30 Game Winner? / Tony Gwynn / Lefty Pitchers & Yankee Field / Mickey Mantle's Epic 1953 Homer / Dennis Martinez / Jack McDowell / Mel Parnell / Nolan Ryan / Mike Stanton / Why Don't Second Baseman Get More Respect?
VG, water spots
$2.50 Cdn
Digest 324
Sept. 93
BB Digest



Front: Joe Carter
Stories: Brett Butler / Joe Carter / Clevelan Indians, Seattle Mariners & Texas Rangers Still Chasing A Division Title / Mel Harder / Howard Johnson / Mark Koenig / Dale Murphy / Pitchers Who Won 200 Games But Never 20 In A Season / Kent Tekulve / Frank Thomas
GD-VG, water spots
$2.00 Cdn
Digest 325
Oct. 93
BB Digest



Front: John Kruk
Stories: Joe Adcock / Johnny Bench / Boston's Haunting Memory: Bucky Dent's 1978 Home Run / Roy Campanella / Bryan Harvey / John Kruk / John Olerud / Mike Piazza / Dave Winfield
VG, water spots
$2.50 Cdn
Digest 326
Nov. 93
BB Digest



Front: Frank Thomas
Stories: Albert Belle / Joe DiMaggio Had 61 Game Minor League Hit Streak / Don Drysdale / Ken Griffey Jr. / Hitting Power & Good Bat Control: A Rarity / Bo Jackson & Fernando Valezuela Head 1993 Comeback / Jeff Montgomery / Mike Morgan / Claude Passeau / Kirby Puckett / St Louis Browns Leaving Town / Larry Sherry / Some Myths Dispelled About The 1927 New York Yankees / Frank Thomas / Top "NearMisses" In Hall Of Fame Voting
VG, cola spots
$2.50 Cdn
Digest 327
Dec. 93
BB Digest



Front: Tim Salmon with inset Mike Piazza
Stories: Sparky Anderson / Chuck Carr / Closest Batting Race Ever / Lenny Dykstra / Juan Gonzalez / Marquis Grissom / Dick Hall / Gregg Jefferies / New York Yankees Of 1960-64 / Bill Rogell / Dave Stewart / Frank Thomas / Robby Thompson / 1993 All-Star Rookie Team
VG, cola spots
$2.50 Cdn

1994 BASEBALL DIGEST magazine back issues

Scan Code
Mag Issue
Cover
Contents
Condition
Price per magazine
Digest 328
Jan. 94
BB Digest



Front: Paul Molitor
Stories: Barry Bonds / George Brett / Complete Game Starters Fading Away / Five 40 Home Run Hitters Made Impact On 1993 / Managers Rate Players With Best Skills / Hal Morris / Mike Scioscia / Mike Stanley / MLB Embarks On A New Era / Dave Winfield / Gus Zernial / 1993 Team Statistics
EX, water spots
$2.50 Cdn
Digest 330
Feb. 94
BB Digest



Front: Randy Johnson
Stories: Are Managers Running Scared? / Rod Beck / Biggest Batting Gainers And Losers In 1993 / Ron Blomberg / Bob Feller / Andy Haak / Randy Johnson / Dave Justice / Mickey Lolich / Cal Ripken Jr. / Nolan Ryan
GD-VG, water spots
$2.00 Cdn
Digest 329
March 94
BB Digest



Front: Greg Maddux
Stories: Eldon Auker / Gates Brown / Bill Dickey / How Atlanta Braves Were Put In N.L. West / Greg Maddux / Billy O`Dell / Babe Ruth Still Champ In Home Run Frequency / Top Rookies Of 1994 / Matt Williams / 1916 Was The Strangest Of All Seasons
VG, 1" crease
$2.50 Cdn
Digest 331
April 94
BB Digest



Front: Carlos Baerga
Stories: Kevin Appier / Steve Carlton / Eric Davis / Rickey Henderson / Randy Johnson Posted Best Strikouts Over Walk Ratio / Odds & Ends Left Over From 1993 / Opening Day Grand Slams Are Rarities / Pennant Race Preview / Sammy Sosa / "Worlds Worst" Series Game Recalled By Umpire / Zany Moments From 1993
VG, water spots
$2.00 Cdn
Digest 332
May 94
BB Digest



Front: Lenny Dykstra
Stories: Jeff Bagwell / Chicago White Sox / Lenny Dykstra / Erik Hanson / Dave Hollins / Middle Releivers Deserve More Respect / Stan Musial / John Olerud / Top Comeback Candidates / Frank Viola / Robin Yount / 1954 Cleveland Indians
VG, water spots
$2.00 Cdn
Digest 333
June 94
BB Digest



Front: Rafael Palmiero / Chris Sabo
Stories: All-Time Greatest: Catchers / BB Played A Special Role During World War II / Andre Dawson / Dennis Eckersley / Jack Morris / MVP Award: Coveted But Controversial / New Faces, New Places / Terry Pendleton / Some Stars Memorable At-Bats / Frank Thomas / Bobby Thompson
VG, water spots
$2.50 Cdn
Digest 334
July 94
BB Digest



Front: Lance Johnson
Stories: All-Time Greatest: First Basemen / Roberto Alomar Jr. / Lance Blauser / Steve Carlton, Leo Durocher & Phil Rizzuto Hall Of Fame Inductees / Cleveland Indians / Lance Johnson / Jim Landis / Buddy Lewis / Paul Molitor / Mike Piazza & Tim Salmon / Fernando Valenzuela / Don Zimmer
VG, water spots
$2.00 Cdn
Digest 335
Aug. 94
BB Digest



Front: Matt Williams
Stories: Hank Aaron / All - Time Greatest: Second Basemen / Bo Belinsky / Dante Bichette / Larry Doby / Juan Gonzalez / George Kell / Terry Moore / Jose Rijo / Larry Walker / Matt Williams
VG-EX, water spots
$2.50 Cdn
Digest 336
Sept. 94
BB Digest



Front: Kirby Puckett


Stories: All - Time Greatest: Third Basemen / Woody English / Andres Galaraga / Tom Glavine / Whitey Herzog / Greg Maddux / Gil McDougald / Paul O'Neill / Kirby Puckett / Tim Wallach
VG+
$3.00 Cdn
Digest 337
Oct. 94
BB Digest



Front: Cal Ripken Jr. / Ozzie Smith
Stories: All-Time Greatest: Shortstops / Baltimore Orioles Stars Of The Past / Harry Danning / Travis Fryman / Houston Astros /Jimmy Key / Fred McGriff / Players In The Late 30's Can Still Shine / Jeff Reardon / When The A's Left Philadelphia
VG-EX, water spots
$2.50 Cdn
Digest 338
Nov. 94
BB Digest



Front: Jimmy Key
Stories: All - Time Greatest: Left Fielders / Roberto Clemente / Harry Dorish / Bob Hamelin / Gregg Jefferies / Low Supply Of Lefties Create Demand / Roger McDowell / Pinch Hitters / Ryne Sandberg / Top Comeback Players Of 1994 / Wrigley Field
VG-EX
$2.50 Cdn
Digest 339
Dec. 94
BB Digest



Front: Bob Hamelin
Stories: Grover Alexander / All-Time Greatest: Center Fielders / Richie Ashburn / Lou Brock / Alex Fernandez / Preston Gomez / Bob Hamelin / How Mickey Mantle & Stan Musial Fared In High School / Kenny Lofton / Jack Morris / Ivan Rodriguez / Mike Schmidt / Earl Webb / 1994 Rookie All-Star Team
VG-EX
$2.50 Cdn

1995 BASEBALL DIGEST magazine back issues

Scan Code
Mag Issue
Cover
Contents
Condition
Price per magazine
Digest 340
Jan. 95
BB Digest



Front: Jeff Bagwell
Stories: All - Time Greatest: Right Fielders / Jeff Bagwell / George Brett / Pitchers With Control Are Usually Winners / Don Sutton / Mickey Vernon / 1994 Team Statistics
EX, few water spots
$3.00 Cdn
Digest 341
Feb. 95
BB Digest



Front: Tony Gwynn
Stories: All - Time Greatest: Multi-Position Players / Biggest Batting Gainers And Losers / Eddie Gaedel / Tony Gwynn / Orel Hershiser / Gil Hodges / Greg Maddux / Virgil Trucks / Young Mickey Mantle / 10 Oddest Plays In History
VG-EX, back corner water spot
$2.00 Cdn
Digest 342
March 95
BB Digest



Front: Raul Mondesi
Stories: All - Time Greatest: Right-Handed Pitchers / Craig Biggio / Bob Feller / Intimidation Helps Pitchers / Frank Mancuso / Raul Mondesi / Team By Team Top Prospects / Bob Walk
VG-EX, some water spots
$2.00 Cdn
Digest 343
April 95
BB Digest



Front: Raul Mondesi
Stories: All - Time Greatest: Left-Handed Pitchers / Andy Benes / Calling Balls And Strikes An Imperfect Art / Cecil Fielder / Kenny Lofton / Willie Mays / Memorable Pitching Duels / Jim Northrup / Mike Schmidt / Some Odds & Ends Left Over From 1994
VG-EX, some water spots
$2.00 Cdn
Digest 346
Sept. 95
BB Digest



Front: John Valentin
Stories: Kevin Appier / Boston Red Sox / Orlando Cepeda / Roberto Clemente Joins 3,000 Club / Cleveland Indians / Lenny Dykstra / Orel Hershiser / Chipper Jones / Mickey Mantle / Bobby Richardson / Steve Stone / Ron Taylor / 1980 Philadelphia Phillies
EX, water spots
$2.50 Cdn
Digest 347
Oct. 95
BB Digest



Front: Barry Larkin
Stories: Dante Bichette / Tony Gwynn / Barry Larkin / Vernon Law / Dennis Martinez / Hideo Nomo / Don Zimmer / 7 Greatest World Series Relief Appearances
VG+, water spots
$2.50 Cdn
Digest 348
Nov. 95
BB Digest



Front: Mickey Mantle
Stories: Sparky anderson / Craig Biggio / California Angels / Vinny Castilla / Farewell To Mickey Mantle / Lou Gehrig / Tino Martinez / Brian McRae / Ted Williams / Omar Vizquel / 8 Leading "Comeback" Players Of 1995
VG-EX, some water spots
$5.00 Cdn

1996 BASEBALL DIGEST magazine back issues

Scan Code
Mag Issue
Cover
Contents
Condition
Price per magazine
Digest 355
June 96
BB Digest



Front: Sandy Alomar Jr. / Cal Ripken Jr.
Stories: Hank Aaron / Sandy Alomar Jr. / Cal Ripken Jr. / Joe DiMaggio / Jim Eisenreich / Mark Grace / Lance Johnson / Randy Johnson / Ray Lankford / Tito Martinez / Jose Mesa / Paul Molitor / Mickey Mantle / Satchel Paige / Hack Wilson / 10 Players "On The Spot"
water damage
$1.25 Cdn
Digest 356
July 96
BB Digest



Front: Mike Piazza
Stories: en Camminiti / Dennis Eckersley / DH Rule: Hit Or Miss? / Pete Gray / Ozzie Guillen / Chuck Knoblauch / Willie Mays Debuts In New York Mets Debut / Joe Nuxhall / Mike Piazza / Bip Roberts / Butch Wynegar
VG-EX, water spots
$2.00 Cdn

1997 BASEBALL DIGEST magazine back issues

Scan Code
Mag Issue
Cover
Contents
Condition
Price per magazine
Digest 362
Jan. 97
BB Digest



Front: Alex Rodriguez
Stories: Jay Buhner / Lance Johnson / Alex Rodriguez / Ivan Rodriguez / Jim Thome / Mo Vaughn / Wealth Of Talented Young Shortstops / Bernie Williams / 1996 Statistics
VG+
$3.00 Cdn
Digest 363
Feb. 97
BB Digest



Front: Ken Caminiti
Stories: Ray Berres / Steve Carlton / Roger Clemens / How Batters Fared With Runners In Scoring Position / John Jaha / Greg Maddux / Super Kids From Cobb To Alex Rodriguez
VG-EX
$2.50 Cdn
Digest 367
April 97
BB Digest



Front: Ken Griffey Jr.
Stories: Jaime Navarro / Phil Niekro / Pennant Race Preview / Pitchers With Best Proficiency Ratings In 1996 / Team Rosters & Schedule / Robin Ventura
VG++
$3.00 Cdn
Digest 366
June 97
BB Digest



Front: Kevin Brown / Alex Fernandez / Al Leiter


Stories: Mike Bordick / Dolph Camilli / Roger Clemens / Chili Davis / Delino DeShields / Florida Marlins / Nellie Fox / Mark Grace / Dick Green / Ryan Klesko / Mariano Rivera / Gary Sheffield / Gus Triandos / Uniform Numbers / Matt Williams / Ted Williams
EX
$3.00 Cdn
Digest 365
July 97
BB Digest



Front: Ivan Rodriguez
Stories: Wilson Alvarez / Jay Bell / Larry Doby / Memorable Homers At Tiger Stadium / Rafael Palmeiro / Alex Rodriguez / Ivan Rodriguez / Billy Williams / Cy Young Jinx?
VG+
$2.50 Cdn
Digest 364
Aug. 97
BB Digest



Front: Larry Walker
Stories: All-Time Best And Worst Free-Agent Signings / Wade Boggs / Tony Clark / Jeff Fassero / Ken Griffey Jr. / Tony Gwynn / Todd Hundley / Jon Matlack / Andy Pettitte
VG-EX
$2.50 Cdn
Digest 368
Sept. 97
BB Digest



Front: Roger Clemens
Stories: Boone Family / Dave Justice / Mark McGwire / Pressure: Foe Of Long Hitting Streaks / Herb Score / Frank Thomas / Jim Thome / Trickery: Always A Part / What Pitchers Fear Most On Mound
VG+
$3.00 Cdn

1998 BASEBALL DIGEST magazine back issues

Scan Code
Mag Issue
Cover
Contents
Condition
Price per magazine
Digest 369
April 98
BB Digest



Front: Jay Bell / Matt Williams
Stories: Craig Biggio / Expansion Drafts Yield Impact Players / Pennant Race Preview / Mike Piazza / Don Sutton / Team Rosters & Schedule / Ted Williams
VG+, Sub
$2.00 Cdn
Digest 370
May 98
BB Digest



Front: Paul O`Neill
Stories: Barry Bonds / Dean Chance / Jim Edmonds / Ken Griffey Jr. / Randy Jones / Jason Kendall / Paul O`Neill / Retirement Time When Players Loses Desire & Ability / 9 Best Comeback Candidates For 1998
VG, crease on back, Sub
$2.00 Cdn
Digest 371
June 98
BB Digest



Front: Mike Mussina
Stories: Edgardo Alfonzo / Best 40 Year-Old Pitchers Ever / Travis Fryman / Hitting 61 Homers Requires A Perfect Season / "Shoeless Joe" Jackson / Spider Jorgenson Recalls Jackie Robinson / Darryl Kile / Mike Mussina / 13 Most Fascinating No-Hitters
EX, Sub
$2.50 Cdn
Digest 372
July 98
BB Digest



Front: Jeremy Burnitz
Stories: Jeff Bagwell / Best Pitcher? / Jose Cruz Jr. / Designated Hitter Rule Born 25 Years Ago / Dizzy Dean / Andres Galaraga / Chuck Knoblauch / Mike Lansing / Mike McCormick / One Great Season Doesn't Assure Successful Career
VG+, water on back, Sub
$2.00 Cdn
Digest 373
Aug. 98
BB Digest



Front: Kerry Wood
Stories: Bob Feller / Last Starter In Rotation, A Fifth Wheel / Lefty Relievers In Demand / Juan Marichal / Al Martin / Bill Mazeroski / Fred McGriff / Tim Slamon
VG++, Sub
$2.50 Cdn
Digest 374
Sept. 98
BB Digest



Front: Mark McGwire
Stories: Tom Cheney / Tom Gordon / Juan Gonzalez / Larry Jansen / Greg Maddux / Mark McGwire / Pinch Hitters / Quirks Of Many Parks / Sammy Sosa / B.J. Surhoff / Mo Vaughn / David Wells
VG-EX, Sub
$2.50 Cdn
Digest 375
Oct. 98
BB Digest



Front: Derek Jeter
Stories: Darin Erstad / Orel Hershiser / Trevor Hoffman / Derek Jeter / Mickey Morandini / Shortage Of Pitching Talent / What Happened To 1973 Oakland A's / Bill Veeck / 1968 Detroit Tigers Recall World Series Victory
VG+ Sub
$2.50 Cdn
Digest 376
Nov. 98
BB Digest



Front: Greg Vaughn
Stories: Closers: Mental Factor Key / David Cone / Eric Karros / Leading Comeback Players Of 1998 / Johnny Mize / Greg Vaughn
VG Sub
$2.00 Cdn
Digest 377
Dec. 98
BB Digest



Front: Sammy Sosa
Stories: Hank Aaron / Nomar Garciaparra / Randy Johnson / Roger Maris / Tino Martinez / Mark McGwire / John Olerud / Babe Ruth / Sammy Sosa / Cesar Tovar / 1998 All-Star Rookie Team
GD, creases, Sub
$1.50 Cdn

1999 BASEBALL DIGEST magazine back issues

Scan Code
Mag Issue
Cover
Contents
Condition
Price per magazine
Digest 378
Jan. 99
BB Digest



Front: David Wells with inset Kevin Brown & Roger Clemens
Stories: Brothers Don't Always Match Up In Talent / Kevin Brown / Roger Clemens / Jason Kendall / Jeff Kent / Cal Ripken Jr. / Rolen Scott / David Wells / 1998 Final Statistics
VG, Sub
$2.50 Cdn
Digest 379
Feb. 99
BB Digest



Front: Omar Vizquel
Stories: Biggest Batting Gainers And Losers / Jeff Cirillo / Josh Gibson / Ken Griffey Jr. / Jim Hegan / Mark McGwire 1998 Mac-Complishments / Omar Vizquel / Kerry Woods
GD-VG, creases, Sub
$2.50 Cdn
Digest 380
March 99
BB Digest



Front: Juan Gonzalez
Stories: Juan Gonzalez / Brian Hunter / Ralph Kiner / Power Pitching Proficiency Leaders / Tom Seaver / Team Rookie Reports
VG+,Sub
$2.50 Cdn
Digest 381
April 99
BB Digest



Front: Mark McGwire
Stories: Hank Aaron / Bret Boone / Hall Of Fame Election Sometimes Defy Reasoning / Pennant Race Preview / Manny Ramirez / Team Rosters & Schedule
VG, Sub
$2.50 Cdn
Digest 382
May 99
BB Digest



Front: Vladimir Guerrero
Stories: Comeback Players Candidates / Free Agency & Trades Keep Players On The Move / Vladimir Guerrero / Jim Hisner / Greg vs Mike Maddux / Allie Reynolds / Shane Reynolds / Alex Rodriguez / Babe Ruth's Personla Mascot Remembers Babe / Scouts Deserve Hall Of Fame Consideration
VG, Sub
$2.50 Cdn
Digest 383
June 99
BB Digest



Front: Roger Clemens
Stories: Roberto Alomar Jr. / Rico Brogna / Farewll To Joe DiMaggio / Mark Grace / Ken Griffey Jr. / Milwaukee County Stadium / Pinch-Hitting / Power Hitters Don't Have To Be Huge / Cal Ripken Jr. / 15 Top "Blockbuster" Trades Of The Century
VG, Sub
$2.50 Cdn
Digest 384
July 99
BB Digest



Front: Tony Gwynn / Cal Ripken Jr. / Frank Thomas
Stories: Roberto Alomar Jr. / Roy Campanella / Ray Durham / Homers Capture Spotlight / Derek Jeter / Losers: Why We Love 'Em / Henry Rodriguez / Babe Ruth / Harry Walker / Early Wynn / 20 Game Losers Who Pitched Well
VG, Sub
$2.50 Cdn
Digest 385
Aug. 99
BB Digest



Front: Jose Canseco
Stories: Baseball Brawls / Jose Canseco / Mike Caruso / Chuck Finley / Jim Gentile / Grand Slams Add Special Touch / Lost Secrets Of Hitting / Overlooked Stars Of The Century / 1969 New York Mets Remembered
VG, 2 back creases, Sub
$2.50 Cdn
Digest 386
Sept. 99
BB Digest



Front: Pedro Martinez
Stories: Sean Casey / Nick Kamzic / Jeff Kent / Edgar Martinez / Pedro Martinez / Gil McDougald / Raul Mondesi / John Olerud / Should Umps Be Allowed To Use Replays? / Strikeout Over Walks: Koufax Is King / Billy Wagner
GD-VG, back creases,Sub
$2.50 Cdn
Digest 387
Oct. 99
BB Digest



Front: Manny Ramirez
Stories: A.L.`s Talented Shortstops / Jimmy Foxx / Jim Landis / Manny Ramirez / Time For Baseball To Raise Mound? / Larry Walker / Jim Wetteland / Why Less Talented Players Make Good Managers / World Series History Filled With Dramatic Hitting & Pitching
GD-VG, back creases,Sub
$2.50 Cdn
Digest 388
Nov. 99
BB Digest



Front: Mike Piazza / Robin Ventura
Stories: Wade Boggs / Ron Coomer / Embarrassing Moments / Tony Gwynn / George Scott / Robin Yount / Why Aren't Pitchers Good Hitters? / 10 Comeback Player Candidates Of The Year
VG+, back creases, Sub
$2.50 Cdn
Digest 389
Dec. 99
BB Digest



Front: Willie Mays / Babe Ruth / Ted Williams
Stories: Fans Picks For Top 50 All - Time / Shawn Green / Rickey Henderson / Jackie Jensen / Al Leiter / Ivan Rodriguez / Sammy Sosa / Greg Vaughn / Why Triples Are Fading / 1999 All - Star Rookie Team
GD-VG, Sub
$2.50 Cdn

2000 BASEBALL DIGEST magazine back issues

Scan Code
Mag Issue
Cover
Contents
Condition
Price per magazine
Digest 390
Jan. 00
BB Digest



Front: Ivan Rodriguez
Stories: Biggest Surprises & Flops Of 1999 / George Brett / Brian Giles / Jim "Catfish" Hunter / Derek Jeter / Pedro Martinez / Ivan Rodriguez / Sammy Sosa / Greg Vaughn / Why Triples Are Fading / 1999 Final Statistics
GD, creased back. small tears, Sub
$2.00 Cdn
Digest 391
Feb. 00
BB Digest



Front: Mariano Rivera
Stories: Art Of The Deal / Johnny Bench / Biggest Batting Gainers & Losers / Jermaine Dye / Flame-Throwers / Jason Giambi / Mike Lieberthal / Gene Woodling
GD-VG, Sub
$2.50 Cdn
Digest 392
March 00
BB Digest



Front: Randy Johnson
Stories: Aces: Best Hurlers Are Kings Of The Hill / Rocky Colavito / Dowd Report On Pete Rose's Gambling / Randy Johnson / Dean Palmer / Kevin Millwood / Philadelphia Phillies / Pitchers Power Proficiency Rating For 1999 / Root, Root, Root For The Home Team: Local Broadcasters / B.J. Surhoff / Teams Top Rockies
GD, Sub
$2.00 Cdn

BASEBALL DIGEST - BASEBALL`S BEST PLAYERS back issues (o/s)

Scan Code
Mag Issue
Cover
Contents
Condition
Price per magazine
Pub 3946
1987
BB Digest - Baseball`s Best Players (o/s) (full magazine size)



Front: Gary Carter, Kirk Gibson, Rickey Henderson, Don Mattingly, Tim Raines, Ryne Sandberg, Mike Schmidt, Ozzie Smith, Fernando Valenzuela
Stories: Best, Past And Present, In Special Categories, Ratings Of Top Performers By Position
VG-EX
$3.00 Cdn
Pub 3947
1988
BB Digest - Baseball`s Best Players (o/s) (full magazine size)



Front: George Bell, Eric Davis, Andre Dawson, Gary Gaetti, Don Mattingly, Lance Parrish, Ryne Sandberg, Ozzie Smith
Stories: All - Time Best Infields, All - Time Top Outfields For Each Decade, Best Of Old - Time Catchers, Greatest Catchers Of Recent Times, Mickey Mantle / Tim McCarver / Minnie Minoso "Game I'll Never Forget", Most Durable Double Play Combos, Ratings of Top Performers By Position
EX
$4.00 Cdn

BASEBALL DIGEST - BASEBALL`S BEST PITCHERS back issues (o/s)

Scan Code
Mag Issue
Cover
Contents
Condition
Price per magazine
Pub 3948
1989
BB Digest - Best Pitchers (o/s) (full magazine size)



Front: Roger Clemens / David Cone / Dennis Eckersley / Orel Hershiser / Danny Jackson / Frank Viola
Stories: Ray Beres, Best Starting Pitchers / Middle & Short Relievers, Fastball: Still #1, No-Hitters Produce Oddities, Frank Viola, 9 Greatest Pitching Duels, 11 "Meanest" Pitchers
VG-EX
$3.00 Cdn

BASEBALL DIGEST - YEARBOOK back issues (o/s)

Scan Code
Mag Issue
Cover
Contents
Condition
Price per magazine
Pub 3949
1986
BB Digest - Yearbook (o/s) (full magazine size)



Front: Dwight Gooden with inset Don Mattingly / Willie McGee / Ryne Sandberg
Stories: Biggest Player Heists Of Modern Times, How Pitchers Rate In Special Categories, MLB Teams Preview & Schedules, MVP: BB's Most Controversial Award, Earl Weaver
VG+
$2.50 Cdn
Last Updated: Mar. 10, 2017
---