Minor League Baseball Team Media Guides & Yearbooks
Pacific Coast League Team Media Guides & Yearbooks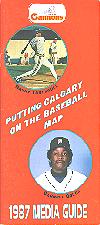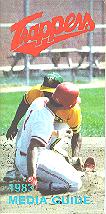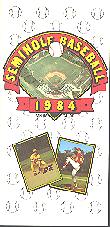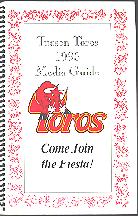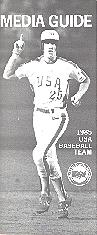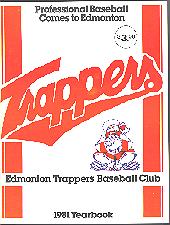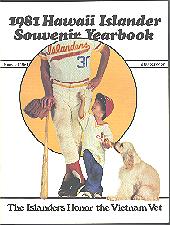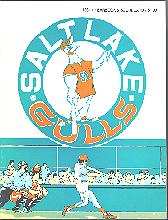 We have an assortment of Minor League Baseball Media Guides for sale,
which are listed alphabetically by team and chronologically by year.
Prices subject to change without notice according to market conditions.
Copy the whole line (code & description) for each guide that you are interested in and paste them directly into an email,
please include your address and we will confirm guides are still available and work out the P+H.
Postage & Handling is extra. Canadian residents add applicable GST/HST.
Prices are listed in Canadian funds - please inquire as to the current exchange for prices in US funds.
MINOR LEAGUE BASEBALL MEDIA GUIDES
MINOR LEAGUE BASEBALL YEARBOOKS

CALGARY CANNONS MEDIA GUIDES & YEARBOOKS

Scan Code
Year
Team
Cover
Condition
Price per book
Pub 3725
1985
Calgary Cannons Media Guide


team logo on black cover
VG
$4.00 Cdn
Pub 3726
1985
Calgary Cannons Media Guide


team logo on black cover
VG
$4.00 Cdn
Pub 3727
1986
Calgary Cannons Media Guide


Dan Tartabull batting
EX
$8.00 Cdn
Pub 3728
1987
Calgary Cannons Media Guide


Danny Tartabull / Darnell Coles
VG+
$5.00 Cdn
Pub 3729
1988
Calgary Cannons Fact Book


team celebration
VG
$4.00 Cdn
Pub 3995
1989
Calgary Cannons Yearbook (o/s)


Drawings of Ex-Calgary Cannons
EX+
$10.00 Cdn
Pub 3996
1991
Calgary Cannons Fact Book (o/s)


Team Logo
VG-EX, cerlox binding
$7.00 Cdn

EDMONTON TRAPPERS MEDIA GUIDES & YEARBOOKS

Scan Code
Year
Team
Cover
Condition
Price per book
Pub 3734
1981
Edmonton Trappers Media Guide


team logo on white cover
VG+
$5.00 Cdn
Pub 3735
1981
Edmonton Trappers Media Guide


team logo on white cover
VG+
$5.00 Cdn
Pub 3733
1981
Edmonton Trappers Media Guide


team logo on white cover
VG
$4.00 Cdn
Pub 3997
1981
Edmonton Trappers Yearbook - Inaugural Season (o/s)


Team Logo
VG
$6.00 Cdn
Pub 3998
1981
Edmonton Trappers Yearbook - Inaugural Season (o/s)


Team Logo
VG
$6.00 Cdn
Pub 3739
1982
Edmonton Trappers Media Guide


Ron Kittle batting
VG-EX
$6.00 Cdn
Pub 3737
1982
Edmonton Trappers Media Guide


Ron Kittle batting
VG+
$6.00 Cdn
Pub 3738
1982
Edmonton Trappers Media Guide


Ron Kittle batting
GD-VG
$4.00 Cdn
Pub 3736
1982
Edmonton Trappers Media Guide


Ron Kittle batting
GD, ink inside
$3.00 Cdn
Pub 3742
1983
Edmonton Trappers Media Guide


player sliding into base
VG++
$6.00 Cdn
Pub 3740
1983
Edmonton Trappers Media Guide


player sliding into base
VG+
$5.00 Cdn
Pub 3741
1983
Edmonton Trappers Media Guide


player sliding into base
VG+
$5.00 Cdn
Pub 3746
1984
Edmonton Trappers Media Guide


6 frames player running into home plate
VG-EX
$6.00 Cdn
Pub 3745
1984
Edmonton Trappers Media Guide


6 frames player running into home plate
VG+
$5.00 Cdn
Pub 3744
1984
Edmonton Trappers Media Guide


6 frames player running into home plate
VG+
$5.00 Cdn
Pub 3743
1984
Edmonton Trappers Media Guide


6 frames player running into home plate
VG
$4.00 Cdn
Pub 3999
1985
Edmonton Trappers Media Guide (o/s)


Team Logo
VG+, duo-tang folder
$6.00 Cdn
Pub 3750
1986
Edmonton Trappers Fact Book


Devon White jumping against the wall
EX
$7.00 Cdn
Pub 3748
1986
Edmonton Trappers Fact Book


Devon White jumping against the wall
VG-EX
$6.00 Cdn
Pub 3749
1986
Edmonton Trappers Fact Book


Devon White jumping against the wall
VG-EX
$6.00 Cdn
Pub 3747
1986
Edmonton Trappers Fact Book


Devon White jumping against the wall
VG+
$5.00 Cdn
Pub 4000
1987
Edmonton Trappers Yearbook (o/s)


Ball, Bat, Team Cap & Glove
VG
$5.00 Cdn
Pub 4001
1988
Edmonton Trappers Media Guide (o/s)


Team Logo - white cover
VG, cerlox binding
$5.00 Cdn
Pub 4002
1990
Edmonton Trappers Media Guide (o/s)


Team Logo - blue cover
VG, coil binding
$5.00 Cdn
Pub 4003
1991
Edmonton Trappers Information Guide (o/s)


Team Logo - clear, cream cover
NM, cerlox binding
$10.00 Cdn
Pub 4004
1991
Edmonton Trappers Information Guide (o/s)


Team Logo - clear, cream cover
NM, cerlox binding
$10.00 Cdn
Pub 4005
1992
Edmonton Trappers Information Guide (o/s)


Team Logo - black cover
VG+, coil binding
$5.00 Cdn
Pub 4006
1993
Edmonton Trappers Information Guide (o/s)


Team Logo - teal cover
VG-EX, coil binding
$7.00 Cdn
Pub 4007
1993
Edmonton Trappers Information Guide (o/s)


Team Logo - teal cover
VG, coil binding
$5.00 Cdn
Pub 4008
1993
Edmonton Trappers Information Guide (o/s)


Team Logo - teal cover
VG, coil binding, 3" cover crease
$4.00 Cdn
Pub 4009
1995
Edmonton Trappers Information Guide (o/s)


Telus Field & Downtown
EX
$7.00 Cdn
Pub 4010
1996
Edmonton Trappers Information Guide - with Opening Day Media Notes (o/s)


Telus Field
NM
$10.00 Cdn

FLORIDA STATE SEMINOLES MEDIA GUIDES

Scan Code
Year
Team
Cover
Condition
Price per book
Pub 3753
1984
Florida State Seminoles Media Guide


aerial shot of ball field & 2 player photos
VG
$5.00 Cdn

HAWAII ISLANDERS YEARBOOKS

Scan Code
Year
Description
Cover
Condition
Price per book
Pub 4011
1981
Hawaii Islanders Yearbook (o/s)


Islanders Player with Young Boy & Dog
VG
$6.00 Cdn
Pub 4012
1981
Hawaii Islanders Yearbook (o/s)


Islanders Player with Young Boy & Dog
GD
$4.00 Cdn

PACIFIC COAST LEAGUE RECORD BOOKS

Scan Code
Year
Team
Cover
Condition
Price per book
Pub 3752
1983
Pacific Coast League Record Book


baseball
VG-EX
$8.00 Cdn
Pub 3751
1983
Pacific Coast League Record Book


baseball
GD
$5.00 Cdn

PHOENIX FIREBIRDS YEARBOOKS

Scan Code
Year
Description
Cover
Condition
Price per book
Pub 4013
1993
Phoenix Firebirds Yearbook (o/s)


Phoenix Firebirds & San Francisco Giants Locker Stalls
VG+
$6.00 Cdn

PHOENIX GIANTS YEARBOOKS

Scan Code
Year
Description
Cover
Condition
Price per book
Pub 4014
1981
Phoenix Giants Yearbook (o/s)


Various San Francisco Giants Baseball Cards
VG+
$7.00 Cdn

SALT LAKE GULLS YEARBOOKS

Scan Code
Year
Description
Cover
Condition
Price per book
Pub 4015
1981
Salt Lake Gulls Yearbook


Team Logo + Action Drawing
VG-EX, Steve Lubratich autograph
$9.00 Cdn

TUCSON TOROS MEDIA GUIDES

Scan Code
Year
Team
Cover
Condition
Price per book
Pub 3730
1989
Tucson Toros Media Guide


team logo on white cover
VG
$4.00 Cdn
Pub 3731
1990
Tucson Toros Media Guide


team logo on white cover
VG+
$5.00 Cdn
Pub 3732
1995
Tucson Toros Media Guide


team logo
VG-EX, spiral binding
$6.00 Cdn

VANCOUVER CANADIANS YEARBOOKS

Scan Code
Year
Description
Cover
Condition
Price per book
Pub 4017
1991
Vancouver Canadians Yearbook


Action Shots & Autographed Baseballs
VG, drink circles on cover
$3.00 Cdn

USA BASEBALL TEAM MEDIA GUIDES

Scan Code
Year
Team
Cover
Condition
Price per book
Pub 3756
1985
USA Baseball Team Media Guide


USA #25 player running
VG-EX
$6.00 Cdn
Pub 3757
1985
USA Baseball Team Media Guide


USA #25 player running
VG-EX
$6.00 Cdn
Pub 3758
1985
USA Baseball Team Media Guide


USA #25 player running
VG+
$5.00 Cdn
Pub 3755
1985
USA Baseball Team Media Guide


USA #25 player running
VG
$4.00 Cdn
Pub 3754
1990
USA Baseball Team Media Guide


3 stars over baseball
VG+
$5.00 Cdn


Rules, History ... of Baseball
Scan Code
Year
Team
Cover
Condition
Price per book
Pub 3759
Richard Saul Wurman - Baseball Access


baseball on turf
GD
$3.00 Cdn
Last Updated: Mar. 10, 2017
---