CFL TEAM PROGRAMS
CANADIAN FOOTBALL LEAGUE TEAM PROGRAMS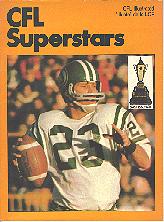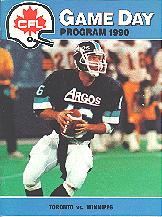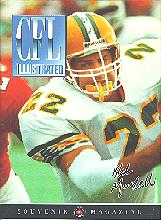 We have an assortment of Canadian Football League programs for sale.
Calgary Stampeders CFL programs, Edmonton Eskimos CFL programs, Winnipeg Blue Bombers CFL programs.
Prices subject to change without notice according to market conditions.
Postage & Handling is extra. Canadian residents add applicable GST/HST.
Prices are listed in Canadian funds - please inquire as to the current exchange for prices in US funds.
CFL TEAM FOOTBALL PROGRAMS

EDMONTON ESKIMOS CFL FOOTBALL PROGRAMS

Pub 5480
Sept. 26, 1970

Hamilton Tiger-Cats

vs
Edmonton Eskimos

CFL Program


Western Division Team Logos
Hamilton Tiger-Cats Line-up:
Allan Ray Aldridge, John Barrow, Tommy Joe Coffey, Ed Buchanan, Ed Chalupka, Gord Christian, Bob Crouse, Bill Danychuk, Bryan Demarchi, John Eckman, Dave Fleming, Garney Henley, Jon Hohman, Al Irwin, Paul Johnson, Ellison Kelly, Mack Lamb, Billy Ray Lochlin, John Manel, Doug Mitchell, Angelo Mosca, Ted Page, John Reid, Paul Schmidlin, Henry Sorrell, Bob Steiner, Ed Turek, Charlie Turner, John Vilunas, Dick Wesolowski, John Williams, Joe Zuger

Edmonton Eskimos Line-up:
Keith Christensen, Rusty Clark, Dave Cutler, Doug Dersch, Fred Dunn, Dick Dupuis, Mike Eben, Dave Fahrner, Ron Forwick, R.C. Gamble Jr., Dave Gasser, Fritz Greenlee, Jerry Griffin, James Henshall, Joe Hernandez, Henry Hubert, Allen Ische, Larry Kerychuk, Henry King, John LaGrone, Mike Law, Ed Molstad, Bayne Norrie, Bob Pickens, Greg Pipes, Roy Shatzko, Howie Schumm, Terry Swarn, Jim Thomas, Peter Travis, Don Trull, John Wydarany
VG
$15.00 Cdn
Pub 4891
Sept. 17, 1977

British Columbia Lions

vs
Edmonton Eskimos

CFL Program


Ron Lancaster
British Columbia Lions Line-up:
Charles Anthony, Terry Bailey, John Blain, Leon Bright, Doug Carlson, Grady Cavness, Al Charuk, Ted Dushinski, Rudy Florio, Paul Giroday, Jim Harrison, Ken Hinton, Gerry Inglis, Glen Jackson, Gary Keithley, Ted Kudaba, Frank Landy, Hal Lund, Layne McDowell, Rob McLaren, Jesse O`Neal, Lui Passaglia, Gary Robinson, Jim Schneitz, Doug Seymour, Mike Strickland, Jerry Tagge, Tyrone Wall, Larry Watkins, Al Wilson, Don Wonderly, Jim Young

Edmonton Eskimos Line-up:
Ian Bryans, David Boone, Dave Cutler, Herb Dobbins, Ron Estay, John Farlinger, Dave Fennell, Jim Germany, York Hentschel, Larry Highbaugh, Bob Howes, Hank Ilesic, Ed Jones, Danny Kepley, John Konihowski, Stuart Lang, Peter Lavorato, Bruce Lemmerman, Willie Martin, George McGown, Dave Montagano, Phil Price, Dale Potter, Angelo Santucci, Roger Scales, Bill Stevenson, Howard Strickland, Tom Towns, Charlie Turner, Eric Upton, Don Warrington, Larry Washington, Tom Wilkinson
GD
$7.00 Cdn
Pub 4890
June 25, 1982

Calgary Stampeders
vs
Edmonton Eskimos

CFL Program


James Sykes
Calgary Stampeders Line-up:
Alton Alexis, David Amer, Willie Armstead, Larry Barker, Danny Bass, Doug Battershill, Al Burleson, Steve Cichy, Gerry Dattilio, Brett Davis, Neil Evans, Lloyd Fairbanks, Rob Forbes, Tom Forzani, Miles Gorrell, Kevin Graffis, Wayne Harris, Mike Higgins, John Holland, Norm Hopely, Jeff Inglis, Lepoleon Ingram, Terry Irvin, Larry James, Clifton Jones, Franklin King, Dave Kirzinger, Tom Krebs, Harry Kruger, Rob Lubig, Scott MacArthur, Ed McAleney, Mike McTaig, Darrell Moir, Mark Moors, Bernie Morrison, Mark Nelson, Ray Odums, Jerry Parrish, George Small, Darrell Smith, Bruce Threadgill, Darrel Toussaint, Bruce Walker, Rob Waite, Merv Walker, James West, Doug Woodward

Edmonton Eskimos Line-up:
Leo Blanchard, David Boone, Rod Connop, Dave Cutler, Mark deBrueys, Herb Dobbins, Ron Estay, John Farlinger, Dave Fennell, Emilio Fraietta, Gary Hayes, Larry Highbaugh, Joe Hollimon, Bob Howes, Hank Ilesic, Ed Jones, Dan Kearns, Sean Kehoe, Brian Kelly, Danny Kepley, Mike Levenseller, Neil Lumsden, Bill Manchuk, Mike McLeod, Ted Millian, Warren Moon, Cliff Olander, James Parker, Dale Potter, Angelo Santucci, Tom Scott, Bill Stevenson, Tom Towns, Tom Tuinei
VG
$10.00 Cdn
Pub 4889
Sept. 12, 1982

Ottawa Rough Riders
vs
Edmonton Eskimos

CFL Program


Waddell Smith
Ottawa Rough Riders Line-up:
Jeff Avery, Ricky Barden, Val Belcher, Carl Brazley, Jordan Case, Gary Cook, Glenn Cook, Maurice Doyle, Gary Dulin, Brian Fryer, Dale Getty, John Glassford, Mike Graffi, Billy Hardee, Allen Hughes, Chris Isaac, William Mitchell, Gerry Organ, John Park, Rudy Phillips, Jim Piaskoski, Kevin Powell, Mike Raines, Jim Reid, Rickey Rey, Doug Seymour, Rick Sowieta, Pat Staub, Bob Stephen, Pat Stoqua, Jonathan Sutton, Bruce Walker, Skip Walker

Edmonton Eskimos Line-up:
Leo Blanchard, David Boone, Rod Connop, Dave Cutler, Mark deBrueys, Herb Dobbins, Ron Estay, John Farlinger, Dave Fennell, Emilio Fraietta, Gary Hayes, Larry Highbaugh, Joe Hollimon, Bob Howes, Hank Ilesic, Ed Jones, Dan Kearns, Sean Kehoe, Brian Kelly, Danny Kepley, Mike Levenseller, Neil Lumsden, Bill Manchuk, Mike McLeod, Ted Millian, Warren Moon, Cliff Olander, James Parker, Dale Potter, Angelo Santucci, Tom Scott, Bill Stevenson, Tom Towns, Tom Tuinei
VG
$10.00 Cdn

WINNIPEG BLUE BOMBERS CFL FOOTBALL PROGRAMS

Pub 5481
Oct. 13, 1975

Calgary Stampeders
vs
Winnipeg Blue Bombers

CFL Program


Larry Cates
Calgary Stampeders Line-up:
Basil Bark, Jim Bond, Willie Burden, Doug Carlsson, Larry Carr, Larry Cates, Ozell Collier, Steve Conley, Don Cowie, Karl Douglas, Joe Forzani, John Forzani, Tom Forzani, Rick Galbos, Roger Goree, Mark Green, Greg Hare, John Helton, Harold Holton, Max Huber, Moody Jackson, Blaine Lamorieux, Bob Larsen, Bill Line, Rudy Linterman, Paul McKay, Larry Moore, Octavus Morgan, Ron Moulton, Geary Murdoch, Vern Roberson, Lorne Sherbina, Jim Silye, Ron Southwick, Howard Starks, Gord Stewart, Chuck Varner, Joe Washington, Dick Wesolowski, Ross Wright, Bill Ziegler

Winnipeg Blue Bombers Line-up:
Brian Adams, David Bailey, Steve Beaird, Al Brenner, John Bonk, Don Bowman, Ralph Brock, Buddy Brown, Richard Crump, Jim Duke, Garry Duffy, Chuck Ealey, Bill Frank, Mark Gefert, Lloyd Grimsrud, Randy Halsall, Chuck Harrison, Jim Heighton, Brian Herosian, Brian Jack, Dave Knechtel, Bob Kraemer, Bob LaRose, Bob Macoritti, Ted McEachern, Walt McKee, Dave Montagano, Alex Morris, John Murphy, Butch Norman, Ray Odums, Gord Paterson, Ken Peeples, Peter Ribbins, Steve Spiro, Bob Swift, Bob Toogood, Tuufuli Uperesa, Tom Waddell, Tom Walker, Harry Walters, Paul Williams
GD-VG, loose centerfold
$7.00 Cdn
Pub 5482
June 25, 1976

British Columbia Lions
vs
Winnipeg Blue Bombers

CFL Program


Montreal Alouettes vs Toronto Argonauts
British Columbia Lions Line-up:
Terry Bailey, Bill Baker, Jim Baker, Edgar Bell, Dave Benson, Doug Carlson, Grady Cavness, Ross Clarkson, Ted Dushinski, Mike Ernst, Joe Fourqurean, Allan Gallaher, Paul Giroday, Eric Guthrie, Lou Harris, Barry Houlihan, Glen Jackson, Jimmie Jones, Reggie Lewis, Rocky Long, Dan McDonough, Layne McDowell, Geary Murdock, Bill Norton, Lui Passaglia, Bob Pearce, Vince Phason, Len Platt, Gary Robinson, Jim Schnietz, John Sciarra, Neal Skarin, Wayne Smith, Merced Solis, Brian Sopatyk, Mike Strickland, Ed Thomas, Slade Willis, Al Wilson, Don Wunderly

Winnipeg Blue Bombers Line-up:
Ollie Bakken, Steve Beaird, Lee Benard, John Bonk, Don Bowman, Ralph Brock, Buddy Brown, Darryl Craig, Richard Crump, Jim Elder, Bill Frank, Lloyd Grimsrud, Randy Halsall, Jim Heighton, Brian Herosian, Mike Hoban, Brian Jacks, Joe Jackson, Dave Knechtel, Rick Koswin, Bob LaRose, Chuck Liebrock, Mark McDonald, Calvin Miller, Roy Mironuck, Butch Norman, Gord Paterson, Marion Reeves, Peter Ribbins, Bernie Ruoff, Tom Scott, Ron Southwick, Bob Swift, Bob Toogood, Merv Walker, Tom Walker, Jim Washington, Steve Williams
VG
$10.00 Cdn
Pub 5493
Oct. 5, 1986

Toronto Argonauts
vs
Winnipeg Blue Bombers

CFL Program


Dan Ferrone
Toronto Argonauts Line-up:
Keith Baker, Jerald Bayliss, Carl Brazley, Bob Bronk, Keith Browner, Lance Chomyc, Tim Cowan, Steve Del Col, Dan Ferrone, Marcellus Greene, Rodney Harding, Cliff Hewitt, Conredge Holloway, Warren Hudson, Hank Ilesic, Marlon Jones, David Kirzinger, David Marshall, Cedric Minter, Darrell Moir, Don Moen, Gary Moten, Jerry Nash, Kerry Parker, Paul Pearson, Dan Petschenig, Kelvin Pruenster, Dan Rashovich, Chris Schultz, Mark Seale, Mike Siroishka, Darrell Smith, Paul Tripoli, J.C. Watts, Chris Woods

Winnipeg Blue Bombers Line-up:
Nick Bastaja, Lyle Bauer, Roy Bennett, David Black, Jeff Boyd, Bob Cameron, Pat Cantner, Randy Fabi, Scott Flagel, Delbert Fowler, Mike Gray, Ken Hailey, Mike Hameluck, John Hufnagel, James Jefferson, Tyrone Jones, Sean Kehoe, Trevor Kennard, Stan Mikawos, Bob Molle, Mark Moors, Tom Muecke, James Murphy, Richard Nemeth, Vernon Pahl, Darrell Patterson, Joe Poplawski, Rob Prodanovic, Darryl Sampson, John Sturdivant, James Sykes, David Taylor, Bennie Thompson, Perry Tuttle, Chris Walby, James West, Jim Zorn
VG, lineup scratches
$5.00 Cdn
Pub 6092
July 14, 1989

Ottawa Rough Riders
vs
Winnipeg Blue Bombers

CFL Program


Winnipeg Blue Bombers with the Grey Cup
Ottawa Rough Riders Line-up:
Damon Allen, Gerald Alphin, Ken Braden, Rod Brown, Arnold Campbell, Alex Carter, Irv Daymond, Dean Dorsey, Ken Evraire, Brad Fawcett, Denny Ferdinand, Sean Foudy, Eugene Goodlow, Leo Groenwegen, Kyle Hall, Darrel Hopper, Steve Howlett, Terry Jones, Tony Kimbrough, Michel Lamy, Orville Lee, Loyd Lewis, Lloyd Mumphrey, Tyrone Pope, Robert Reid, Rae Roberitis, Rocco Romano, Tom Schimmer, John Ulmer, Reggie Ward, Patrick Wayne, Robert Weir, Derrick White, Gerald Wilcox, Byron Willliams, Troy Wilson, Karl Yli Renko

Winnipeg Blue Bombers Line-up:
Moustafa Ali, Michael Allen, Romel Andrews, Greg Battle, Lyle Bauer, David Black, Less Browne, Bob Cameron, Paul Clatney, Terry Cochrane, Jeff Croonen, Randy Fabi, Sammy Garza, Mike Gray, Leon Hatziioannnou, Rod Hill, Rick House, Tim Jessie, Dan Kearns, Trevor Kennard, Will Lewis, Bob Molle, James Murphy, Matt Pearce, Paul Randolph, Buster Rhymes, Junior Robinson, Steve Rodehutskors, Sean Salisbury, Darryl Sampson, Perry Tuttle, Chris Walby, James West, Quency Williams, Ken Winey
VG
$6.00 Cdn
Pub 6093
Aug. 2, 1989

Saskatchewan Roughriders
vs
Winnipeg Blue Bombers

CFL Program


Grover Covington
Saskatchewan Roughriders Line-up:
Dave Albright, Roger Aldag, Tuineau Alipate, Mike Anderson, Kent Austin, Terry Baker, Rob Bresciani, Albert Brown, Tom Burgess, James Curry, Kevin Dixon, Wayne Drinkwalter, Ray Elgaard, James Ellingson, Jeff Fairholm, Vince Goldsmith, Richie Hall, Bill Henry, John Hoffman, Bryan Illebrun, Milson Jones, Bobby Jurasin, Gary Lewis, Eddie Lowe, Tim McCray, Ray McDonald, Ken Moore, Donald Narcisse, Bob Poley, Dave Ridgway, Harry Skipper, Vic Stevenson, Glen Suitor, Kelly Trithart, Eddie Ray Walker, Donovan Wright

Winnipeg Blue Bombers Line-up:
Moustafa Ali, Michael Allen, Romel Andrews, Greg Battle, Lyle Bauer, David Black, Less Browne, Bob Cameron, Paul Clatney, Terry Cochrane, Jeff Croonen, Randy Fabi, Sammy Garza, Mike Gray, Ken Hailey, Leon Hatziioannnou, Rod Hill, Rick House, Tim Jessie, Dan Kearns, Trevor Kennard, Will Lewis, Bob Molle, James Murphy, Matt Pearce, Rob Prodanovic, Paul Randolph, Buster Rhymes, Steve Rodehutskors, Sean Salisbury, Lee Saltz, Darryl Sampson, Jeff Smith, Perry Tuttle, Chris Walby, James West, Quency Williams, Ken Winey
GD-VG
$5.00 Cdn
Pub 5483
Oct. 5, 1990

Toronto Argonauts
vs
Winnipeg Blue Bombers

CFL Program


Matt Dunigan
Toronto Argonauts Line-up:
Ian Beckstead, Ed Berry, Jeff Boyd, Carl Brazley, Keith Browner, Keith Castello, Lance Chomyc, Mike Clemons, John Congemi, Howard Dell, Matt Dunigan, Bruce Elliott, Dan Ferrone, Rickey Foggie, Darryl Ford, Chris Gaines, Harold Hallman, Rodney Harding, Glenn Harper, Jim Kardash, Keith Kelly, Paul Masotti, Don Moen, Chris Munford, Andrew Murray, Paul Nastasiuk, James Parker, Reggie Pleasant, Kelvin Pruenster, Blaine Schmidt, Chris Schultz, Bob Skemp, Kevin Smellie, Darrell Smith, Robert Smith, Dave VanBellingham, Don Wilson

Winnipeg Blue Bombers Line-up:
Michael Allen, Greg Battle, Lyle Bauer, Nick Benjamin, David Black, Dave Bovell, Less Browne, Tom Burgess, Bob Cameron, Rob Crifo, Jeff Croonen, Sammy Garza, Mike Gray, Ken Hailey, Leon Hatziioannnou, Rod Hill, Rick House, Warren Hudson, Lee Hull, Tyrone Jones, Trevor Kennard, Danny McManus, Stan Mikawos, Robert Mimbs, Bob Molle, Matt Pearce, Ken Pettway, Paul Randolph, Scott Redl, Quentin Riggins, Jerome Rinehart, Steve Rodehutskors, Darryl Sampson, Perry Tuttle, Chris Walby, David Ward, Albert Williams, Quency Williams, Ken Winey, Steve Zatylny
GD, lineup scratches
$5.00 Cdn
Pub 5484
Oct. 21, 1990

Ottawa Rough Riders
vs
Winnipeg Blue Bombers

CFL Program


Hamilton Tiger-Cats vs Ottawa Rough Riders
Ottawa Rough Riders Line-up:
Damon Allen, Terry Baker, Reggie Barnes, David Conrad, Stacey Dawsey, Irv Daymond, Dean Dorsey, Jerry Dunlap, James Ellingson, Scott Flagel, Sean Foudy, Kyle Hall, Ken Hobart, Bruce Holmes, Bryan Illerbrun, Dan Johnston, Stephen Jones, Tony Kimbrough, John Kropke, Glenn Kulka, Brent Lewis, Loyd Lewis, John Mandarich, Paul McGowan, Rob Prodanovic, Jeff Smith, Robert Smith, Gregg Stumon, Brad Tierney, Jed Tommy, Patrick Wayne, David Williams, Tony Wilson, Charles Wright, Brett Young, Kari Yli-Renko

Winnipeg Blue Bombers Line-up:
Michael Allen, Greg Battle, Lyle Bauer, Nick Benjamin, David Black, Dave Bovell, Less Browne, Tom Burgess, Bob Cameron, Rob Crifo, Jeff Croonen, Sammy Garza, Mike Gray, Ken Hailey, Leon Hatziioannnou, Rod Hill, Rick House, Warren Hudson, Lee Hull, Tyrone Jones, Trevor Kennard, Danny McManus, Stan Mikawos, Robert Mimbs, Bob Molle, James Murphy, Matt Pearce, Paul Randolph, Scott Redl, Jerome Rinehart, Steve Rodehutskors, Darryl Sampson, Perry Tuttle, Chris Walby, David Ward, Albert Williams, Quency Williams, Ken Winey, Steve Zatylny
GD+
$5.00 Cdn
Pub 5485
Nov. 4, 1990

Hamilton Tiger-Cats
vs
Winnipeg Blue Bombers

CFL Program


Hamilton Tiger-Cats vs Ottawa Rough Riders
Hamilton Tiger-Cats Line-up:
David Adams, Romel Andrews, Terry Andrysiak, Peter Buchanan, Tony Champion, Darrell Corbin, Grover Covington, Bobby Dawson, Mark Dennis, Mike Derks, Todd Dillon, Richard Estell, Ken Evraire, Peter Giftopoulos, Sonny Gordon, Miles Gorrell, Darrell Harle, Stephen Jordan, Mike Kerrigan, Lee Knight, Tim Lorenz, Sam Loucks, Mark Napiorkowski, Richard Nurse, Paul Osbaldiston, Darrell Patterson, Jason Riley, Rae Robirtis, Floyd Salazar, Dale Sanderson, Ernie Schramayr, Dan Sellers, Albert Thomas, Gary Wilkerson, Earl Winfield, John Zajdel, Wally Zatylny

Winnipeg Blue Bombers Line-up:
Michael Allen, Greg Battle, Lyle Bauer, Nick Benjamin, David Black, Dave Bovell, Less Browne, Tom Burgess, Bob Cameron, Rob Crifo, Jeff Croonen, Sammy Garza, Mike Gray, Ken Hailey, Leon Hatziioannnou, Rod Hill, Rick House, Warren Hudson, Lee Hull, Tyrone Jones, Trevor Kennard, Danny McManus, Stan Mikawos, Robert Mimbs, Bob Molle, Matt Pearce, Paul Randolph, Scott Redl, Steve Rodehutskors, Darryl Sampson, Perry Tuttle, Chris Walby, David Ward, Albert Williams, Quency Williams, Ken Winey, Steve Zatylny
GD-VG
s
$7.00 Cdn
Pub 5486
Aug. 2, 1991

Ottawa Rough Riders
vs
Winnipeg Blue Bombers

CFL Program


Greg Battle
Ottawa Rough Riders Line-up:
Damon Allen, Terry Baker, Reggie Barnes, Brian Bonner, Jeff Braswell, Eddie Brown, Jock Climie, John Congemi, David Conrad, Shawn Daniels, Irv Daymond, Anthony Drawhorn, James Ellingson, Scott Flagel, Andre Francis, Sean Foudy, Jason Garrett, Charles Gordon, Bart Hull, Daniel Hunter, Bryan Illerbrun, Stephen Jones, John Kropke, Glenn Kulka, Brent Lewis, Loyd Lewis, Rob Prodanovic, Gerald Roper, Lance Shields, Brock Smith, Rob Smith, Gregg Stumon, Brad Tierney, Patrick Wayne, Gord Weber, Gerald Wilcox, Kari Yli-Renko

Winnipeg Blue Bombers Line-up:
Michael Allen, Greg Battle, Lyle Bauer, Nick Benjamin, David Black, Less Browne, Tom Burgess, Bob Cameron, Rob Crifo, Burt Cummings, Bobby Evans, Sammy Garza, Steve Grant, Mike Gray, Ken Hailey, Kyle Hall, Craig Harrison, Leon Hatziioannnou, Rod Hill, Rick House, Warren Hudson, Lee Hull, Troy Johnson, Trevor Kennard, Danny McManus, Stan Mikawos, Robert Mimbs, Bob Molle, Elfrid Payton, Matt Pearce, Paul Randolph, Steve Rodehutskors, Brendan Rogers, Eric Streater, Eddie Taylor, Dave Vankoughnett, Chris Walby, James West, Quency Williams, Larry Willis
VG
$7.00 Cdn
Pub 6094
Aug. 16, 1991

Hamilton Tiger Cats
vs
Winnipeg Blue Bombers

CFL Program


Hamilton Tiger Cats Players
Hamilton Tiger Cats Line-up:
Tuineau Alipate, Romel Andrews, Mark Brus, Tony Champion, Grover Covington, Bobby Dawson, Mark Dennis, Todd Dillon, Rocky DiPietro, Scott Douglas, Corris Ervin, Ken Evraire, Miles Gorrell, Darrell Harle, Herman Heard, Tim Jackson, Michael Jones, Mike Kerrigan, Lee Knight, Tim Lorenz, Jamie Morris, Richard Nurse, Paul Osbaldiston, Mitchell Price, Dave Richardson, Jason Riley, Virgil Robinson, Dale Sanderson, Ernie Schramayr, Ronald Veal, Tony Visco, Mark Waterman, Gary Wilkerson, Earl Winfield, Todd Wiseman, John Zajdel, Wally Zatylny

Winnipeg Blue Bombers Line-up:
Michael Allen, Greg Battle, Lyle Bauer, Nick Benjamin, David Black, Less Browne, Tom Burgess, Bob Cameron, Rob Crifo, Burt Cummings, Bobby Evans, Sammy Garza, Steve Grant, Mike Gray, Ken Hailey, Craig Harrison, Leon Hatziioannnou, Rod Hill, Rick House, Warren Hudson, Lee Hull, Troy Johnson, Trevor Kennard, Danny McManus, Stan Mikawos, Robert Mimbs, Bob Molle, Matt Pearce, Paul Randolph, Jerome Rinehart, Steve Rodehutskors, Brendan Rogers, Darryl Sampson, Eric Streater, Dave Vankoughnett, Chris Walby, James West, Quency Williams, Larry Willis
VG
$7.00 Cdn
Pub 5487
Oct. 11, 1991

Toronto Argonauts
vs
Winnipeg Blue Bombers

CFL Program


Raghib Ismail
Toronto Argonauts Line-up:
Ian Beckstead, Ed Berry, Carl Brazley, Mike Campbell, Keith Castello, Lance Chomyc, Mike Clemons, John Coflin, Bruce Elliott, Dan Ferrone, Rickey Foggie, Darryl Ford, Chris Gaines, Willie Gillus, Harold Hallman, Rodney Harding, Hank Ilesic, Raghib Ismail, J. P. Izquierdo, Jim Kardash, Paul Masotti, Fred McNair, Don Moen, Chris Munford, Paul Nastasiuk, Reggie Pleasant, Kelvin Pruenster, Blaine Schmidt, Chris Schultz, Bob Skemp, Kevin Smellie, Darrell K. Smith, Marcus Thomas, Dave VanBellingham, Brian Warren, David Williams, Don Wilson

Winnipeg Blue Bombers Line-up:
Michael Allen, Greg Battle, Lyle Bauer, Nick Benjamin, David Black, Less Browne, Tom Burgess, Bob Cameron, Rob Crifo, Burt Cummings, Bobby Evans, Sammy Garza, Steve Grant, Mike Gray, Ken Hailey, Kyle Hall, Craig Harrison, Leon Hatziioannnou, Rod Hill, Rick House, Warren Hudson, Lee Hull, Troy Johnson, Trevor Kennard, Danny McManus, Stan Mikawos, Robert Mimbs, Bob Molle, Elfrid Payton, Matt Pearce, Paul Randolph, Steve Rodehutskors, Brendan Rogers, Eric Streater, Eddie Taylor, Dave Vankoughnett, Chris Walby, James West, Quency Williams, Larry Willis
GD-VG
$6.00 Cdn
Pub 5488
July 22, 1992

Toronto Argonauts
vs
Winnipeg Blue Bombers

CFL Program


Blake Marshall
Edmonton Eskimos Line-up:
Randy Ambrosie, Leroy Blugh, Michel Bourgeau, Trent Brown, Dechane Cameron, Rod Connop, Rob Davidson, John Davis, Blake Dermott, Mike DuMareso, Craig Ellis, Sean Fleming, Bennie Goods, Tracy Ham, Glenn Harper, Enis Jackson, Chris Johnstone, Stephan Jordan, Loyd Lewis, Damion Lyons, Blake Marshall, Chris Morris, Tom Muecke, Dan Murphy, Dewayne Odom, Willie Pless, Mike Pringle, Jed Roberts, Jim Sandusky, Michael Soles, Eddie L. Thomas, Pierre Vercheval, Henry Williams, Ken Winey, Larry Wruck

Winnipeg Blue Bombers Line-up:
Greg Battle, Nick Benjamin, David Black, Vaughn Booker, Bob Cameron, Rob Crifo, Matt Dunigan, Bobby Evans, Sammy Garza, Miles Gorrell, Steve Grant, Mike Gray, Kyle Hall, Craig Harrison, Leon Hatziioannnou, Rod Hill, Lee Hull, Danny McManus, Stan Mikawos, Robert Mimbs, Bob Molle, Elfrid Payton, Matt Pearce, Paul Randolph, Brendan Rogers, Darryl Sampson, Donald Smith, Eric Streater, Eddie Taylor, Andrew Thomas, Chris Tsangaris, Dave Vankoughnett, Chris Walby, James West, Troy Westwood, Ray Wiens, Quency Williams, Larry Willis
GD-VG
$6.00 Cdn
Pub 5489
Aug. 13, 1992

Toronto Argonauts
vs
Winnipeg Blue Bombers

CFL Program


Raghib Ismail
Toronto Argonauts Line-up:
Ian Beckstead, Ken Benson, Ed Berry, Jeff Braswell, Carl Brazley, Mike Campbell, Keith Castello, Lance Chomyc, Mike Clemons, John Congemi, Bruce Elliott, Dan Ferrone, Rickey Foggie, Chris Green, Willie Gillus, Harold Hallman, Rodney Harding, Hank Ilesic, Raghib Ismail, J.P. Izquierdo, Mike Kerrigan, Paul Masotti, Don Moen, Chris Munford, Andrew Murray, Paul Nastasiuk, Lou Olsacher, Reggie Pleasant, Blaine Schmidt, Chris Schultz, Bob Skemp, Kevin Smellie, Darrell K. Smith, Marcus Thomas, Dave VanBellingham, Brian Warren, David Williams, Don Wilson, Johnathan Wilson

Winnipeg Blue Bombers Line-up:
Lorenza Baker, Greg Battle, Nick Benjamin, David Black, Vaughn Booker, Bob Cameron, Darrell Corbin, Rob Crifo, Matt Dunigan, Jayson Dzikowicz, Bobby Evans, Sammy Garza, Miles Gorrell, Steve Grant, Mike Gray, Kyle Hall, Craig Harrison, Leon Hatziioannnou, Rod Hill, Andrew Martin, Danny McManus, Stan Mikawos, Robert Mimbs, Bob Molle, Matt Pearce, Paul Randolph, Brendan Rogers, Darryl Sampson, Donald Smith, Eric Streater, Andrew Thomas, Dave Vankoughnett, Chris Walby, James West, Troy Westwood, Ray Wiens, Quency Williams, Larry Willis
GD-VG
$6.00 Cdn
Pub 6095
Nov. 22, 1992

Hamilton Tiger Cats
vs
Winnipeg Blue Bombers

CFL Program


Drawing of the Grey Cup
Hamilton Tiger Cats Line-up:
Damon Allen, David Bailey, Steve Bates, Bobby Dawson, Todd Dillon, Scott Douglas, Corris Ervin, Ken Evraire, Jeff Fields, Peter Giftopoulos, Darrell Harle, Roger Hennig, Lonzell Hill, Tim Jackson, Jim Jauch, Joey Jauch, Mike Jovanovich, Lee Knight, Orville Lee, Nick Mazzoli, Don McPherson, John Motton, Richard Nurse, Paul Osbaldiston, Dave Richardson, Jason Riley, Rickey Royal, Dale Sanderson, Ernie Schramayr, Scott Walker, Mark Waterman, Gary Wilkerson, Earl Winfield, Todd Wiseman, Terry Wright, John Zajdel, Lubo Zizakovic

Winnipeg Blue Bombers Line-up:
Gerald Alphin, Lorenza Baker, Greg Battle, Nick Benjamin, David Black, Vaughn Booker, Bob Cameron, Rob Crifo, Matt Dunigan, Jayson Dzikowicz, Bobby Evans, Sammy Garza, Miles Gorrell, Steve Grant, Mike Gray, Rod Hill, Warren Hudson, Brett MacNeil, Andrew Martin, Danny McManus, Stan Mikawos, Bob Molle, Matt Pearce, Frank Pillow, Bruce Plummer, Paul Randolph, Michael Richardson, Brendan Rogers, Darryl Sampson, Donald Smith, Eric Streater, Andrew Thomas, Larry Thompson, Chris Tsangaris, Dave Vankoughnett, Chris Walby, James West, Troy Westwood, Larry Willis
VG
$7.00 Cdn
Pub 5490
July 17, 1993

B.C. Lions
vs
Winnipeg Blue Bombers

CFL Program


Danny Barrett
B.C. Lions Line-up:
Ray Alexander, Zock Allen, Danny Barrett, O.J. Brigance, Less Browne, Matt Clark, Matt Clarke, Tom Europe, Darren Flutie, Sean Foudy, Ron Francis, Tracy Gravely, Leo Groenewegen, Ken Hailey, Ryan Hanson, Doug Hocking, Tyrone Jones, Derek MacCready, Spencer McLennan, Danny McManus, Sean Millington, Jim Mills, Robert Mimbs, Lui Passaglia, Keith Powe, Glen Scrivener, Ian Sinclair, Chris Skinner, Rob Smith, Vic Stevenson, Jamie Taras, Eddie Taylor, Mike Trevathan, Jason Verduzco, Kent Warnock, James West, Donovan Wright

Winnipeg Blue Bombers Line-up:
Gerald Alphin, Ousmane Bary, Greg Battle, Nick Benjamin, David Black, Nathaniel Bolton, Allan Boyko, Blaise Bryant, Bob Cameron, Matt Dunigan, Jayson Dzikowicz, Bobby Evans, Corian Freeman, Miles Gorrell, Mike Gray, Leon Hatziioannnou, Patrick Hinton, Brett MacNeil, Quinn Magnuson, Keithen McCant, Danny McManus, Stan Mikawos, Robert Mimbs, Matt Pearce, Kim Phillips, Tom Porras, Paul Randolph, Michael Richardson, Brendan Rogers, Darryl Sampson, Donald Smith, Chris Tsangaris, Dave Vankoughnett, Chris Walby, Troy Westwood, Gerald Wilcox, David Williams
GD-VG
$6.00 Cdn
Pub 5491
Aug. 13, 1993

Edmonton Eskimos
vs
Winnipeg Blue Bombers

CFL Program


Willie Pless
Edmonton Eskimos Line-up:
Damon Allen, Randy Ambrosie, Leroy Blugh, Michel Bourgeau, Ed Berry, Eddie Brown, Trent Brown, Rod Connop, Blake Dermott, Bruce Dickson, Mike DuMareso, Kasey Dunn, Sean Fleming, Rickey Foggie, Bennie Goods, Glenn Harper, Malvin Hunter, J.P. Izquierdo, Steve Krupey, Loyd Lewis, Damion Lyons, Blake Marshall, Errol Martin, Eric Mitchell, Chris Morris, Tom Muecke, Dan Murphy, Doug Parrish, Willie Pless, Jed Roberts, Glen Rogers Jr., Jim Sandusky, Michael Soles, Brian Walling, Henry Williams, Don Wilson, Tony Woods, Larry Wruck

Winnipeg Blue Bombers Line-up:
Ousmane Bary, Greg Battle, Mike Bellamy, Nick Benjamin, David Black, Nathaniel Bolton, Allan Boyko, Bob Cameron, Rob Davidson, Matt Dunigan, Jayson Dzikowicz, Bobby Evans, Corian Freeman, Miles Gorrell, Mike Gray, Leon Hatziioannnou, Chris Johnstone, Del Lyles, Brett MacNeil, Keithen McCant, Stan Mikawos, Elfrid Payton, Matt Pearce, Kim Phillips, Tom Porras, Paul Randolph, Michael Richardson, Brendan Rogers, Darryl Sampson, Donald Smith, Chris Tsangaris, Dave Vankoughnett, Chris Walby, Troy Westwood, Gerald Wilcox, David Williams
GD-VG
$7.00 Cdn
Pub 5492
Sept. 12, 1993

Saskatchewan Roughriders
vs
Winnipeg Blue Bombers

CFL Program


Ray Elgaard
Saskatchewan Roughriders Line-up:
Mike Anderson, Charles Anthony, Kent Austin, Jerald Baylis, Ray Bernard, Brian Bonner, Bruce Boyko, Albert Brown, Errol Brown, Maurice Crum, Wayne Drinkwalter, Ray Elgaard, Jeff Fairholm, Dan Farthing, Brooks Findlay, Craig Hendrickson, Scott Hendrickson, Stewart Hill, Warren Jones, Bobby Jurasin, Carlton Lance, Gary Lewis, Tom MacCallum, Brent Matich, Peter Miller, Don Narcisse, Chris Munford, Dan Payne, David Pitcher, Michael Proctor, Mark Ricks, Dave Ridgway, Mike Saunders, Glen Suitor, Paul Vajda, Alan Wetmore, Byron Williams

Winnipeg Blue Bombers Line-up:
Gerald Alphin, Ousmane Bary, Greg Battle, Mike Bellamy, Nick Benjamin, David Black, Allan Boyko, Bob Cameron, Matt Dunigan, Jayson Dzikowicz, Bobby Evans, Duane Forde, Sammy Garza, Miles Gorrell, Alfred Jackson, Chris Johnstone, Del Lyles, Brett MacNeil, Quinn Magnuson, Stan Mikawos, Elfrid Payton, Kim Phillips, Tom Porras, Paul Randolph, Michael Richardson, Brendan Rogers, Kelly Rush, Darryl Sampson, Donald Smith, Chris Tsangaris, Dave Vankoughnett, Chris Walby, Troy Westwood, Alan Wetmore, Gerald Wilcox, David Williams
GD-VG
$6.00 Cdn

CFL FOOTBALL TEAM TRAINING CAMP PROSPECTUS

Scan Code
Title
Cover
Description
Condition
Price per book
Pub 4892
1985 Toronto Argonauts Training Camp Prospectus


Toronto Argonauts players drawing
VG
$6.00 Cdn
Last Updated: July 6, 2017

---