Licensed 3x5 NHL Banners & 5x3 NHL Flags, 3x5 NHL Flags
3x5 NHL Stanley Cup Banners
12x18 NHL Mini Flags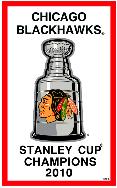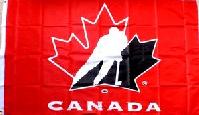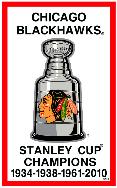 We sell licensed horizontal 5`x 3` or 3'x5' NHL team flags, vertical 3x5 NHL team banners
& vertical 3x5 NHL Stanley Cup Champions commemorative banners
as well as horizontal 12"x 18" NHL team mini flags.
All horizontal flags and vertical banners are made of 100% Polyester.
Postage & Handling is extra. Canadian residents add applicable GST/HST.
Prices are listed in Canadian funds - please inquire as to the current exchange for prices in US funds.
Copy the banner or flag details and paste into email, include address for P+H quote.
ATLANTA THRASHERS BANNERS & FLAGS

Atlanta Thrashers

vertical 3x5 banner

Thrasher logo over name
blue background

$35.00 Cdn

Atlanta Thrashers

12x18 mini flag

burgundy & blue background

$10.00 Cdn

BUFFALO SABRES BANNERS & FLAGS

Buffalo Sabres
slug logo

vertical 3x5 banner

name over modern yellow buffalo
blue background

$35.00 Cdn

Buffalo Sabres
old head logo

vertical 3x5 banner

white buffalo head over name
black background

$35.00 Cdn

Buffalo Sabres
old head logo

5x3 horizontal flag

name over white buffalo head
black background

$35.00 Cdn

Buffalo Sabres
slug logo

12x18 mini flag

modern yellow buffalo
blue background

$8.00 Cdn

Buffalo Sabres
old head logo - black

12x18 mini flag

white buffalo head
black background

$8.00 Cdn

CALGARY FLAMES BANNERS & FLAGS

Calgary Flames

12x18 mini flag

black flaming C
red background

$8.00 Cdn

Calgary Flames

5x3 horizontal flag

"2003-2004 Western Conference Champions"

$35.00 Cdn

CAROLINA HURRICANES BANNERS & FLAGS

Carolina Hurricanes

vertical 3x5 banner

logo between team name
white background

$35.00 Cdn

Carolina Hurricanes

12x18 mini flag

white background

$8.00 Cdn

Carolina Hurricanes

3x5 Stanley Cup Banner

2005-2006

$35.00 Cdn

CHICAGO BLACKHAWKS BANNERS & FLAGS

Chicago Blackhawks

3x5 Stanley Cup Banner

2010

$35.00 Cdn

Chicago Blackhawks
4 years

3x5 Stanley Cup Banner

1934, 1938, 1961, 2010

$35.00 Cdn

COLORADO AVALANCHE BANNERS & FLAGS

Colorado Avalanche

5x3 horizontal flag

name over logo
white background

$35.00 Cdn

Colorado

2001 NHL All Star Game

3x5 vertical banner

$35.00 Cdn

Colorado Avalanche

3x5 Stanley Cup Banner

1996

$35.00 Cdn

Colorado Avalanche

3x5 Stanley Cup Banner

2001

$35.00 Cdn

Colorado Avalanche

3x5 Stanley Cup Banner

1996, 2001

$35.00 Cdn

COLUMBUS BLUE JACKETS BANNERS & FLAGS

Columbus Blue Jackets
bug logo

vertical 3x5 banner

bug with hockey stick over name
navy blue background

$35.00 Cdn

Columbus Blue Jackets
CBJ logo

12x18 mini flag

CBJ logo
navy blue background

$8.00 Cdn

DALLAS STARS BANNERS & FLAGS

Dallas Stars

vertical 3x5 banner

name over green & gold star
black background

$35.00 Cdn

Dallas Stars

5x3 horizontal flag

logo on tri-color block background
(similar to State flag)

$35.00 Cdn

Dallas Stars

12x18 mini flag

green & gold star
on tri-color background

$8.00 Cdn

DETROIT RED WINGS BANNERS & FLAGS

Detroit Red Wings
9 years

3x5 Stanley Cup Banner

1936, 1937, 1943, 1950, 1952, 1954, 1955, 1997, 1998

$35.00 Cdn
SPECIAL PRICE $20.00 Cdn

Detroit Red Wings
11 years

3x5 Stanley Cup Banner

1936, 1937, 1943, 1950, 1952, 1954, 1955, 1997, 1998, 2002, 2008

$35.00 Cdn

EDMONTON OILERS BANNERS & FLAGS

Edmonton Oilers
cog logo

5x3 horizontal flag

blue oil cog over name
navy blue background

$35.00 Cdn

Edmonton Oilers
cog logo

12x18 mini flag

alternate oil cog logo
navy blue background

$8.00 Cdn

Edmonton Oilers

6x9 car antenna flag

round logo
blue background

$6.00 Cdn

Edmonton Oilers
oil rigger logo

vertical 3x5 banner

name over alternate oil rigger logo
blue background

$35.00 Cdn

Edmonton Oilers

3x5 Stanley Cup Banner

1983-84, 1984-85, 1986-87, 1987-88, 1989-90

$35.00 Cdn

Edmonton Oilers

5x3 horizontal flag

"2006 Western Conference Champions"
over round logo
navy blue background

$35.00 Cdn

FLORIDA PANTHERS BANNERS & FLAGS

Florida Panthers

12x18 mini flag

full body panther
red background

$8.00 Cdn

HARTFORD WHALERS BANNERS & FLAGS

Hartford Whalers
new logo

12x18 mini flag

silver H
white background

$10.00 Cdn

MINNESOTA WILD BANNERS & FLAGS

Minnesota Wild

12x18 mini flag

bear head
white background

$8.00 Cdn

MONTREAL CANADIENS BANNERS & FLAGS

Montreal Canadiens

5x3 horizontal flag

logo on team color stripes
red background

$35.00 Cdn

NEW JERSEY DEVILS BANNERS & FLAGS

New Jersey Devils
white

vertical 3x5 banner

large logo between name
white background

$35.00 Cdn

New Jersey Devils
red

vertical 3x5 banner

name over logo in white circle
red background

$35.00 Cdn

New Jersey Devils

5x3 horizontal flag

large logo
red background

$35.00 Cdn

New Jersey Devils

3x5 Stanley Cup Banner

1995, 2000, 2003

$35.00 Cdn

NEW YORK ISLANDERS BANNERS & FLAGS

New York Islanders
fisherman logo

vertical 3x5 banner

fisherman logo
white wavy background

$35.00 Cdn

New York Islanders
old wavy background

vertical 3x5 banner

round island logo
white wavy background

$35.00 Cdn

New York Islanders
old wavy background

12x18 mini flag

island logo
white wavy background

$8.00 Cdn

New York Islanders

3x5 Stanley Cup Banner

1979-80, 1980-81, 1981-82, 1982-83

$35.00 Cdn

NEW YORK RANGERS BANNERS & FLAGS

New York Rangers
Liberty logo

12x18 mini flag

alternate Liberty logo
navy blue background

$8.00 Cdn

New York Rangers

3x5 Stanley Cup Banner

1928, 1933, 1940, 1994

$35.00 Cdn

OTTAWA SENATORS BANNERS & FLAGS

Ottawa Senators
new logo

vertical 3x5 banner

name above 3D front face
red background

$35.00 Cdn

Ottawa Senators
new logo

5x3 horizontal flag

3D front face over name
red & black background

$35.00 Cdn

Ottawa Senators
new logo

12x18 mini flag

3D front face
red background

$8.00 Cdn

Ottawa Senators
old logo

5x3 horizontal flag

2D side face logo
white background

$35.00 Cdn

Ottawa Senators
old logo

12x18 mini flag

2D side face
white background

$8.00 Cdn

PHOENIX COYOTES BANNERS & FLAGS

Phoenix Coyotes
new logo

vertical 3x5 banner

name over coyote head
brick red background

$35.00 Cdn

Phoenix Coyotes
new logo

12x18 mini flag

coyote head
brick red background

$8.00 Cdn

PITTSBURGH PENGUINS BANNERS & FLAGS

Pittsburgh Penguins
new logo

vertical 3x5 banner

name over gold skating penguin
white background

$35.00 Cdn

Pittsburgh Penguins
new logo

5x3 horizontal flag

gold skating penguin
white background

$35.00 Cdn

Pittsburgh Penguins
new logo

12x18 mini flag

gold skating penguin
white background

$8.00 Cdn

Pittsburgh Penguins
old logo

vertical 3x5 banner

name over modern triangular penguin in white circle
vertical black & yellow striped background

$35.00 Cdn

Pittsburgh Penguins
old logo

5x3 horizontal flag

modern triangular penguin
black background

$35.00 Cdn

Pittsburgh Penguins
3 years

3x5 Stanley Cup Banner

1990-91, 1991-92, 2008-09
gold logo & striping

$35.00 Cdn

ST LOUIS BLUES BANNERS & FLAGS

St. Louis Blues

vertical 3x5 banner

name over note logo
blue background

$35.00 Cdn

St. Louis Blues
new logo

12x18 mini flag

note with name on bottom right
blue background

$8.00 Cdn

St. Louis Blues
old logo

12x18 mini flag

name inside note
diagonal blue & red background

$8.00 Cdn

TAMPA BAY LIGHTNING BANNERS & FLAGS

Tampa Bay Lightning

vertical 3x5 banner

lightning bolt logo in between team name
white background

$35.00 Cdn

Tampa Bay Lightning

3x5 Stanley Cup Banner

2004

$35.00 Cdn

TORONTO MAPLE LEAFS BANNERS & FLAGS

Toronto Maple Leafs
blue

5x3 horizontal flag

blue block maple leaf in white circle
blue background

$35.00 Cdn

Toronto Maple Leafs

12x18 mini flag

white block maple leaf
blue background

$8.00 Cdn

Toronto Maple Leafs

6x9 car antenna flag

blue block maple leaf
white background

$6.00 Cdn

Toronto

2000 NHL All Star Game

3x5 vertical banner

$35.00 Cdn

VANCOUVER CANUCKS BANNERS & FLAGS

Vancouver Canucks
new logo

12x18 mini flag

name over orca white C, grey outline
blue background

$8.00 Cdn

Vancouver Canucks
old logo

5x3 horizontal flag

orca blue C, red outline
white background

$35.00 Cdn

Vancouver Canucks
old logo

12x18 mini flag

orca blue C, red outline
white background

$8.00 Cdn

Vancouver Canucks
alternate logo

5x3 horizontal flag

name over Johnny Canuck logo
blue background

$35.00 Cdn

Vancouver Canucks
alternate logo

12x18 mini flag

Johnny Canuck
blue background

$8.00 Cdn

Vancouver

1998 NHL All Star Game

3x5 vertical banner

$35.00 Cdn

Vancouver

12x18 mini flag

1998 NHL All Star Game
white background

$8.00 Cdn

WINNIPEG JETS BANNERS & FLAGS

Winnipeg Jets

5x3 horizontal flag
team name on left side in grey panel
team logo in middle
blue background

$35.00 Cdn

TEAM CANADA BANNERS & FLAGS

Team Canada Hockey

12x18 mini flag

red & black maple leaf with white hockey player in middle over Canada
white background

$8.00 Cdn

Banner & Flag Details & Quantity Pricing

NHL 3x5 Team Banners

3x5 vertical banner

3' wide x 5' tall
2" white sleeve at top
2 brass grommets at top
100% polyester

$35.00 Cdn each
6 or more - $33.00 Cdn each
10 or more - $30.00 Cdn each

NHL 5x3 Team Flags

5x3 horizontal flag

5' wide x 3' tall
2" white sleeve on side
2 brass grommets on side
100% polyester

$35.00 Cdn each
6 or more - $33.00 Cdn each
10 or more - $30.00 Cdn each

NHL 12x18 Team Flags

12x18 horizontal flag

12" tall x 18" wide
white side sleeve for stick
(made for 24" x 1/4" stick dowel)
100% polyester

$8.00 Cdn each
6 or more - $7.50 Cdn each
10 or more - $7.00 Cdn each

NHL 3x5 Stanley Cup Banners

3x5 vertical banner

3' wide x 5' tall
2" white sleeve at top
2 brass grommets at top
100% polyester

$35.00 Cdn each
6 or more - $33.00 Cdn each
10 or more - $30.00 Cdn each

NHL 6x9 Team Antenna Flags

6x9 horizontal flag

9" wide x 6" tall
white velcro sleeve on side
velcro attaches to car antenna
100% polyester

$6.00 Cdn each

1980's - Early 90's NHL SATIN BANNERS
5 1/2" x 10 1/4" team color banner, embroidered edges, with team color hanging cord

Scan Code
Description
Team
Banner Color
Condition
Price Per

SB NHL
NHL Satin Banner
NHL Shield Logo (orange & black)
black
EX
$7.00 Cdn

SB Bruins
NHL Satin Banner
Boston Bruins
gold
NM-MT
$10.00 Cdn

SB Sabres 1
NHL Satin Banner
Buffalo Sabres (gold lettering)
blue
NM-MT
$12.00 Cdn

SB Sabres 2
NHL Satin Banner
Buffalo Sabres (white lettering)
blue
NM-MT
$12.00 Cdn

SB Flames 1
NHL Satin Banner
Calgary Flames (red edging) ®
white
NM-MT
$12.00 Cdn

SB Flames 2
NHL Satin Banner
Calgary Flames (yellow edging)
white
NM-MT
$12.00 Cdn

SB Hawks
NHL Satin Banner
Chicago Black Hawks
black
NM-MT
$10.00 Cdn

SB Wings
NHL Satin Banner
Detroit Red Wings
hite
NM-MT
$10.00 Cdn

SB Oilers
NHL Satin Banner
Edmonton Oilers (old logo, orange drop)
white
NM-MT
$12.00 Cdn

SB Whalers
NHL Satin Banner
Hartford Whalers (old logo, white H)
white
NM-MT
$12.00 Cdn

SB Kings 2
NHL Satin Banner
Los Angeles Kings (old logo, silver crest)
white
NM-MT
$12.00 Cdn

SB Canadiens 1
NHL Satin Banner
Montreal Canadiens (English)
white
VG, small hole at top
$5.00 Cdn

SB Canadiens 2
NHL Satin Banner
Montreal Canadiens ® (French)
white
NM-MT
$12.00 Cdn

SB Devils
NHL Satin Banner
New Jersey Devils (old colors, green)
white
NM-MT
$12.00 Cdn

SB Islanders
NHL Satin Banner
New York Islanders
white
NM-MT
$10.00 Cdn

SB NY Rangers
NHL Satin Banner
New York Rangers
blue
NM-MT
$10.00 Cdn

SB Penguins
NHL Satin Banner
b>Pittsburgh Penguins (old logo, skating penguin)
gold
NM-MT
$12.00 Cdn

SB Nordiques 1
NHL Satin Banner
Quebec Nordiques (English) (thicker outline, fleck missing on red)
blue
NM-MT
$10.00 Cdn

SB Nordiques 2
NHL Satin Banner
Quebec Nordiques (French) © (thin outline)
blue
NM-MT
>$12.00 Cdn

SB Blues 1
NHL Satin Banner
St Louis Blues (old round logo, yellow lettering)
blue
NM-MT
$12.00 Cdn

SB Blues 2
NHL Satin Banner
St Louis Blues (old round logo, gold lettering)
blue
NM-MT
$12.00 Cdn

SB Blues 3
NHL Satin Banner
St Louis Blues (old arched logo, white banner)
white
NM-MT
$12.00 Cdn

SB Leafs
NHL Satin Banner
Toronto Maple Leafs
white
NM-MT
$10.00 Cdn

SB Canucks 1
NHL Satin Banner
Vancouver Canucks (dark orange skate logo)
black
NM-MT
$12.00 Cdn

SB Canucks 2
NHL Satin Banner
Vancouver Canucks (light orange skate logo)
black
NM-MT
$12.00 Cdn

SB Jets
NHL Satin Banner
Winnipeg Jets (old logo, vertical jet, fleck missing on white)
blue
NM-MT
$15.00 Cdn

SB Norris
NHL Satin Banner
Norris Division (gold fringe)
Chicago, Detroit, Minnesota, St Louis, Toronto
white
NM-MT
$12.00 Cdn

SB Patrick
NHL Satin Banner
Patrick Division (gold fringe)
New Jersey, NY Islanders, NY Rangers, Philadelphia, Pittsburgh, Washington
white
NM-MT
$12.00 Cdn

SB Smythe
NHL Satin Banner
Smythe Division (gold fringe)
Calgary, Edmonton, Los Angeles, Vancouver, Winnipeg
white
NM-MT
$12.00 Cdn

SB HHOF
NHL Satin Banner
Hockey Hall Of Fame and Museum (torch)
black
NM-MT
$15.00 Cdn

SB Canada
Satin Banner
1983 Team Canada (double maple leaf)
white
EX
$15.00 Cdn

SB 96 MEM
1996 Memorial Cup Satin Banner
Peterborough (red fringe, dowel top, 1 end missing)
white, long
NM-MT
$12.00 Cdn

SB 97 MEM
1997 Memorial Cup Satin Banner
Hull, Quebec (black fringe)
white, long
NM-MT
$12.00 Cdn



SB RUS 80
Olympic banner 5" x 8"
MOCKBA 1980 (Moscow Winter Olympics)
red twill
screened



SB RUS 85
reverse
2 sided satin hockey banner 9" x 11"
ЕВРОПЕЙСКО ПЪРВЕНСТВО ПО ХОКЕЙ НА ЛЕД ЗА ЮНОШИ - СОФИЯ 85
(European Junior Ice Hockey Championship - Sofia `85 ?)
white satin, fringed, tri-color cord
light stain from sticker, screened
Last Updated: Apr. 17, 2020
---