CPHL PROGRAMS
CHL PROGRAMS
CHL ALL-STAR GAME PROGRAMS
We sell back issues of CPHL - Central Professonal Hockey League programs, CHL - Central Hockey League programs
as well as many other minor league hockey programs, minor league hockey media guides and record books.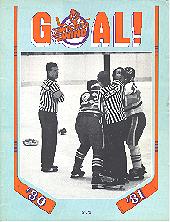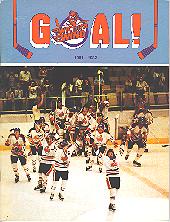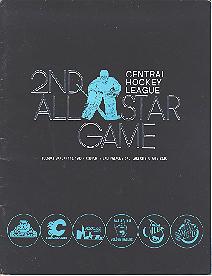 Prices subject to change without notice according to market conditions.
Postage & Handling is extra. Canadian residents add applicable GST/HST.
Prices are listed in Canadian funds - please inquire as to the current exchange for prices in US funds.
CPHL - CENTRAL PROFESSIONAL HOCKEY LEAGUE PROGRAMS

OKLAHOMA CITY BLAZERS CPHL HOCKEY PROGRAMS

Scan Code
Mag Issue
Cover
Contents
Condition
Price per magazine
Pub 4882
1968-69
Omaha Knights
vs
Oklahoma City Blazers
CPHL Program


Drawing of Hockey Players
Omaha Knights Line-up:
John Barber, Ron Boehm, Larry Brown, Ray Brunel, Don Caley, Jack Egers, Bill Fairbairn, Len Haley, Sheldon Kannegeiser, Jim Krulicki, Gary Kurt, Roger Lafreniere, Don Luce, Mike Parizeau, Terry Pembroke, Roger Picard, Larry Popein, Mike Robitaille, Juha Widing

Oklahoma City Blazers Line-up:
Guy Allen, Steve Atkinson, Nick Beverley, Murray Davison, Grant Erickson, Barry Gibbs, Russ Gillow, Jim Harrison, Joe Junkin, Bill Lesuk, Ross Lonsberry, Jim Lorentz, Dan Schock, Bob Toothill, Clem Tremblay, Tom Webster, Dave Woodley
VG
$15.00 Cdn

CHL - CENTRAL HOCKEY LEAGUE PROGRAMS

SALT LAKE GOLDEN EAGLES CHL HOCKEY PROGRAMS

Scan Code
Mag Issue
Cover
Contents
Condition
Price per magazine
Pub 4880
Feb. 27, 1980
Birmingham Bulls
vs
Salt Lake Golden Eagles
CHL Program


Rick Bowness / Doug Palazzari
Birmingham Bulls Line-up:
Rick Adduono, Serge Beaudoin, Tim Bernhardt, Harvey Bennett, Yves Dandurand, Mike Dwyer, Dave Gorman, Bobby Gould, Earl Ingarfield, Rejean Lemelin, Dale Lewis, Peter Marrin, Paul Messier, Mike Perovich, Larry Sacharuk, Paul Terbenche, Gordie Wappel

Salt Lake Golden Eagles Line-up:
Rick Bowness, Bob Crawford, Len Frig, Doug Grant, Steve Harrison, Richie Hansen, Rick Heinz, Bob Hess, Neil Labatte, Dick Lambe, Red Laurence, Joe Mullen, Brian Ogilvie, Doug Palazzari, Ken Richardson, Bobby Simpson, Floyd Thomson, Kevin Willison
VG
$8.00 Cdn

WICHITA WIND CHL HOCKEY PROGRAMS

Pub 4881
A History Of Hockey In Wichita


"Hockey Weekend in Wichita"
B&W (6 pages)
VG
$5.00 Cdn

CENTRAL HOCKEY LEAGUE ALL STAR GAME HOCKEY PROGRAMS

Scan Code
Mag Issue
Cover
Contents
Condition
Price per magazine
Pub 4878
Feb. 2, 1982 - 1st All Star Game
Central Hockey League All Stars
vs
Salt Lake Golden Eagles
CHL All Star Program


Team Logos
Central Hockey League All Stars Line-up:
Mike Antonovich, Bob Attwell, Neil Belland, Bruce Boudreau, Rick Bowness, Bobby Crawford, Bobby Francis, Mike Hordy, Greg Hotham, Kelly Hrudey, Kelly Kisio, Kris Manery, John Marks, Joe McDonnell, Lindsay Middlebrook, Lance Nethery, Walt Poddubny, Dan Poulin, Reggie Thomas

Salt Lake Golden Eagles Line-up:
Perry Anderson, Mike Boland, Bobby Crawford, Ken Federko, Doug Grant, Richie Hansen, Steve Harrison, Rick Heinz, Denis Houle, Claude Julien, Neil Labatte, Alain Lemieux, John Markell, Doug Palazzari, Mark Reeds, Paul Skidmore, Bill Stewart, John Taft, Floyd Thomson, Alain Vigneault, Bert Wilson
VG
$20.00 Cdn
Last Updated: Feb. 12, 2020
---