Canadian Hockey Magazines
Junior Hockey Magazines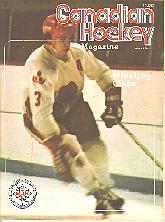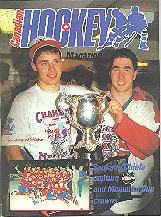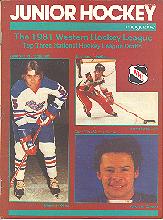 We sell back issues of Junior Hockey magazine, Canadian Hockey magazine.
Prices subject to change without notice according to market conditions.
Postage & Handling is extra. Canadian residents add applicable GST/HST.
Prices are listed in Canadian funds - please inquire as to the current exchange for prices in US funds.
CANADIAN HOCKEY MAGAZINE

Scan Code
Mag Issue
Cover
Contents
Condition
Price per mag
Pub 5247
Vol. 1, No. 1, 1975
Canadian Hockey Magazine


Kevin McCarthy
Stories: Blood, Sweat and Beauty - Then And Now, Gord Blumenschein, City Of Winnipeg, Goerge Dorman, First 56 Years Of The Memorial Cup, Magnificent 7, Kevin McCarthy Interview, Lorne Molleken, Winnipeg Clubs Up & Comers
VG
$8.00 Cdn
Pub 6513
Vol. 1, No. 4, 1975
Canadian Hockey Magazine


Ed Staniowski
Stories: Blood, Sweat and Beauty - Then And Now, City of Regina, First 56 Years Of The Memorial Cup, Vaclav Nedomansky, Playmakers, Regina Pats Up & Comers, Anatoli Tarasov, Bob Turner
VG+
$7.00 Cdn
Pub 5249
Vol. 1, No. 4, 1975
Canadian Hockey Magazine


Ed Staniowski
Stories: Blood, Sweat and Beauty - Then And Now, City of Regina, First 56 Years Of The Memorial Cup, Vaclav Nedomansky, Playmakers, Regina Pats Up & Comers, Anatoli Tarasov, Bob Turner
GD, creased cover
$5.00 Cdn
Pub 6650
Vol. 1, No. 10, 1975
Canadian Hockey Magazine


Kamloops Chiefs
Stories: Blood, Sweat and Beauty - Then And Now, City of Kamloops, Playmakers, Kamloops Chiefs Up & Comers, Dave Robinson, Harvey Roy, Starline
VG
$6.00 Cdn
Pub 5252
Vol. 1, No. 12, 1975-76
Canadian Hockey Magazine


Curt Fraser
Stories: Blood, Sweat and Beauty - Then And Now, City Of Victoria, Pat Ginnell, Al Hill, Hockey Hall Of Fame - How It Began, Danny Lucas, Playmakers, Gordie Roberts, Victoria Cougars Up & Comers, Tim Willliams
GD-VG, missing 1/8 page, no story missing
$5.00 Cdn
Pub 6651
Vol. 1, No. 14, 1977-78
Canadian Hockey Magazine


Billings, MT.
Stories: 1977 Memorial Cup Story, Angelo Bumbacco, Different Philosophies Of Coaching, Is Debate On Violence Over?, Playmakers, Doug Robb, Who is the Best Player in the World?
VG, missing 1/8" piece of cover
$5.00 Cdn
Pub 6652
Vol. 1, No. 14, 1977-78
Canadian Hockey Magazine


Billings, MT.
Stories: 1977 Memorial Cup Story, Angelo Bumbacco, Different Philosophies Of Coaching, Is Debate On Violence Over?, Playmakers, Doug Robb, Who is the Best Player in the World?
GD, 3 x 1/4" cover tears
$5.00 Cdn
Pub 6653
Vol. 1, No. 16, 1977-78
Canadian Hockey Magazine


Ray Allison / Bill Derlago / Brian Propp
Stories: 1977 Memorial Cup Story, Brandon Wheat Kings History, Bill Derlago, Different Philosophies Of Coaching, Is Debate On Violence Over?, Dunc McCallum, Playmakers, Rookie Indoctrination
VG, missing 1/8" piece of cover
$5.00 Cdn
Pub 5260
Vol. 3, No. 24, 1977-78
Canadian Hockey Magazine


Victoria, B.C. Harbour
Stories: 1977 Memorial Cup Story, Different Philosophies Of Coaching, Dennis Fenske, Grabbing Hold Of A Dream, Is Debate On Violence Over?, Curt Fraser, Gary Lupul, Dale McCourt, New Westminster Memorial Cup Contenders, Officiating Dilemma, Playmakers, Geordie Robertson, Jack Shupe, Soviet Comparison, Victoria Cougars Grads, Victoria Cougars History
GD, 1/4" cover tear
$5.00 Cdn
Pub 6654
Vol. 3, No. 31, 1977-78
Canadian Hockey Magazine - in French


Shawinigan, QC.
Stories: 1977 Memorial Cup Story, City of Shawinigan, Different Philosophies Of Coaching, Is Debate On Violence Over?, Marc Picard, Playmakers, Rookie Initiation
VG
$6.00 Cdn
Pub 6655
Vol. 3, No. 32, 1977-78
Canadian Hockey Magazine - in French


Ray Bourque / Normand Aubin / Maurice Cayouette
Stories: 1977 Memorial Cup Story, Jean-Marc Bonamie, City of Verdun, Different Philosophies Of Coaching, Is Debate On Violence Over?, Rodrigue Lemoyne, Playmakers, Verdun Grads
GD, 1/4" cover tear
$5.00 Cdn
Pub 6656
Vol. 9, No. 2, Nov./Dec., 1986
Magazine Hockey Canadien - in French


Player Drawings
Stories: 1986 NHL Draft Picks in Order, 1986 QMJHL Draft Picks in Order, 85-86 QMJHL Award Winners, Guelph Platers Wins 68th Memorial Cup, QMJHL Team Reviews

Export A Profile: Kevin Lowe
VG, 1/8" cover tear
$6.00 Cdn
Pub 6657
Vol. 10, No. 1, Sept./Oct.,1987
Magazine Hockey Canadien - in French


Pierre Turgeon with inset Jimmy Waite / Yves Racine / Stephane Quintal
Stories: 1987 NHL Draft Picks in Order, 86-87 QMJHL Award Winners, Rob Brown: CHL Player of the Year, Medicine Hat Wins 69th Memorial Cup, Olympic Winter Games Report, QMJHL Team Reviews

Export A Profile: Kevin Lowe
GD
$5.00 Cdn
Pub 4925
Vol. 10, No. 1, 1987
Canadian Hockey Magazine


Medicine Hat Tigers on Ice With Memorial Cup
Stories: 86-87 WHL All-Star Scholastic Team, 86-87 WHL Championsip, 86-87 WHL East Division All Stars, 86-87 WHL West Division Award Winners, A to Z in the WHL, Rob Brown: CHL Player of the Year, The CHL, Brad Hornung Tribute, Chris Joseph Interview, Lethbridge Hurricanes, Medicine Hat Wins 69th Memorial Cup, NHL Takes Best of the WHL, Olympic Winter Games Report, West Division Preview, WHL Celebrates 20 Years

Export A Profile: Kevin Lowe
VG-EX, 2 1/1" back crease
$6.00 Cdn
Pub 5264
Vol. 10, No. 2, 1987
Canadian Hockey Magazine


Derek Booth / Rick Corriveau / John Uniac / Jason Winch
Stories: 86-87 OHL All Star Teams, 86-87 OHL Highlights, 87-88 OHL Outstanding Sophomore, 87-88 OHL Rookies, 88 Winter Olympics Report, A to Z in the OHL, Rob Brown: CHL Player of the Year, Defence Wins Championships, Bill LaForge / Larry Mavety / Dick Todd, Medicine Hat Wins 69th Memorial Cup, OHL Game of the Week, OHL NHL Draft Picks, OHL Priority Selections, Which Stars Will Shine in New OHL Season

Export A Profile: Brian Skrudland
VG
$5.00 Cdn
Pub 5617
Vol. 10, No. 2, 1987
Canadian Hockey Magazine


Dave Archibald / Dean Chynoweth / Chris Joseph / Wayne McBean / Scott McCrady / Glen Wesley
Stories: 20th WHL Anniversary, 69th Memorial Cup, 86-87 WHL Championship, 86-87 East Division Award Winners, 86-87 West Division All-Stars, A to Z in the WHL, Dave Archibald + Glen Wesley Interview, Rick Brodsky, Rob Brown CHL Player of the Year, Edmonton Oilers Beat Philadelphia Flyers, Entry Draft Changes Help WHL, Importance of 20 Year Olds, Wayne McBean Interview, NHL Takes Best of WHL, Olympic Winter Games Report, WHL Coaching Quiz

Export A Profile: Brian Skrudland
VG
$7.00 Cdn
Pub 5618
Vol. 10, No. 3, 1987
Canadian Hockey Magazine


Grant Fuhr / Craig Hartsburg w/inset Casey McMillan
Stories: 20th WHL Anniversary, 69th Memorial Cup, 1988 Molson/Cooper Memorial Cup Banquet, 86-87 WHL Championship, A to Z in the WHL, Nate Brodsky, Rob Brown CHL Player of the Year, CHL Stars Shoot for Gold, Edmonton Oilers Beat Philadelphia Flyers, Grant Fuhr Interview, Casey McMillan, NHL Takes Best of WHL, WHL Grads Help Capture Canada Cup, New Westminster Bruins, Olympic Winter Games Report, WHL 20 Year Olds, WHL School of Officiating

Export A Profile: Pierre Turgeon
VG
$6.00 Cdn
Pub 4929
Vol. 11, No. 2, 1988
Canadian Hockey Magazine


Brad Barton / Adam Bennett / Drake Berehowsky / Bill Kovacs / Graydon Reid
Stories: 87-88 OHL Top Goalies, 87-88 OHL Top Rookies, 87-88 OHL Season in Review, 88-89 Stars of the OHL, Sean Burke Interview, CHL Annual Awards, Drama of the OHL Draft, Medicine Hat Tigers Memorial Cup Repeat, NHL Takes Best of the OHL, OHL - Great Learning Experience, Overachievers of the OHL, Joe Sakic - CHL Player of the Year, Shannon Family, Ron Smith Interview

Export A Profile: Kirk Muller
VG
$5.00 Cdn
Pub 5267
Vol. 12, No. 1, 1989
Canadian Hockey Magazine


Peterborough Petes with Memorial Cup
Stories: 88-89 OHL Award Winners, 1989 CHL Awards, 1989 Memorial Cup, 89-90 OHL Team Previews, 1990 Memorial Cup in Hamilton, 1990 OHL Priority Selection, How Sault Ste. Marie Saved Their Team, Bryan Fogarty - CHL Player of the Year, Look Back at 88-89 OHL Season, New OHL Grads in the NHL, NHL Takes Best of the OHL, OHL Coaching Changes, Who To Look For in 89-90 OHL

VG
$5.00 Cdn
Pub 5268
Vol. 13, No. 1, 1990
Canadian Hockey Magazine


Iain Fraser w/ Memorial Cup / inset Oshawa Generals
Stories: 90-91 OHL Team Previews, 90-91 OHL Top Stars, 1990 CHL Awards, 1990 Memorial Cup Review, 1990 OHL Priority Selection, Grant Marshall, NHL Takes The Best Of The OHL, Owen Nolan / Keith Primeau Interview, Mike Ricci - CHL Player of the Year, Jim Rutherford Interview, Top Rookies, 87-88 OHL Season in Review, 88-89 Stars of the OHL,CHL Annual Awards, Drama of the OHL Draft, Medicine Hat Tigers Memorial Cup Repeat, NHL Takes Best of the OHL, OHL - Great Learning Experience, Overachievers of the OHL, Shannon Family, Ron Smith Interview, Where The OHL Is Heading

VG
$5.00 Cdn
Pub 5269
Vol. 13, No. 3, 1990
Canadian Hockey Magazine


John Slaney w/inset Adam Bennett / Chris Snell
Stories: 80`s OHL All-Star Team, 1990 CHL Awards, 1990 Memorial Cup, 1991 Memorial Cup in Quebec City, 90-91 Stars of the OHL, All-Star Challenge, Drake Berehowsky Interview, Foreigners in the OHL, Louie De Brusk / Scott Hollis / Mike Torchia Interview, NHL Takes Best of the OHL, Mike Ricci - CHL Player of the Year, Sault + Windsor on the Rise, Top Defencemen in OHL, Where the OHL is Heading

VG
$5.00 Cdn
Pub 5272
Vol. 13, No. 4, 1990
Canadian Hockey Magazine


Ron Bertrand w/inset Sean Basillio / Mike Torchia
Stories: 80`s OHL All-Star Team, 90-91 Stars of the OHL, 1990 CHL Awards, 1990 Memorial Cup, NHL Takes Best of the OHL, OHL Priority Selections, OHL Super Fans, OHL Top NHL Draft Choices, Mike Ricci - CHL Player of the Year, Mathieu Schneider Interview, Some Rookies Surprise Early, Sudbury Wolves On Rise, Bert Templeton Wins 500 Wins, Top Goalies in OHL, Where The OHL Is Heading

VG+
$6.00 Cdn
Pub 5271
Vol. 13, No. 4, 1990
Canadian Hockey Magazine


Richard Matvichuk w/inset Brent Bilodeau / Scott Niedermayer
Stories: 90-91 WHL Playoff Format, 1990 CHL Awards, 1990 Memorial Cup, 1990 Stanley Cup Final, 1990 WHL Final, Brent Bilodeau Interview, Richard Matvichuk Interview, Jason McBain 6 Day Trip Diary, OHL Update, Mike Ricci - CHL Player of the Year, Scott Niedermayer, NHL Takes Best of the WHL, Brian Sakic Interview, Top Rookies of the WHL West, WHL From Inception to Today, World Junior Gold

VG
$5.00 Cdn
Pub 5273
Vol. 13, No. 5, 1991
Canadian Hockey Magazine


Brad Rubachuk & Jason Ruff w/inset Trevor Kidd / Cal McGowan
Stories: 1990 CHL Awards, 1990 Memorial Cup, 1990 Stanley Cup Final, 1990 WHL Final, 91 WHL Final, 91 WHL Playoff Review, Canada Captures World Jr. Gold, Cal McGowan, NHL Takes Best of the WHL, OHL Playoff Fever, QMJHL Update, Mike Ricci - CHL Player of the Year, Brad Rubachuk + Jason Ruff Interview, Geoff Sanderson Interview, Tacoma, WA. Expansion Team, WHL East Wins All-Star Game, WHL From Inception to Today, WHL School of Officiating

VG+
$6.00 Cdn
Pub 6537
Vol. 13, No. 5, 1991
Canadian Hockey Magazine


Eric Lindros & w/inset Steven Rice / World Jr. Team Canada
Stories: 80`s OHL All-Star Team, 1990 CHL Awards, 1990 Memorial Cup, Canada Captures World Jr. Gold, Education and The OHL, Home Away From Home in OHL, Molson-Chrysler All-Star Challenge, Gord Murphy Interview, NHL Takes Best of the OHL, OHL Playoff Fever, OHL Trophy Candidates, Mike Ricci - CHL Player of the Year, Stars of 90-91 OHL Season, Where the OHL is Headed

GD-VG
$5.00 Cdn
Pub 5619
Vol. 14, No. 1, 1991
Canadian Hockey Magazine


Ray Whitney / Pat Falloon w/inset Spokane Chiefs
Stories: 1991 Memorial Cup, 90-91 WHL Award Winners, 90-91 WHL Championship, 90-91 WHL West Division All-Stars, 91 CHL Awards, Canada`s World Jr. Gold Rush, CHL: Look At it Grow, Hot Summer in the WHL, Steve Konowalchuk, Eric Lindros Molson-Cooper Player of the Year, Dean McAmmond Interview, NHL Takes Best of WHL, WHL Coaching Changes, WHL History Pt. 1, World Hockey Championships + the WHL Influence, Tyler Wright

Ryobi Player Profile: Joe Sakic
VG-EX
$6.00 Cdn
Pub 4930
Vol. 14, No. 1, 1991
Canadian Hockey Magazine


Pat Falloon & Ray Whitney with Memorial Cup with inset Spokane Chiefs
Stories: 90-91 WHL Award Winners, 91 CHL Awards Presentation, 91 Memorial Cup, 91 Stanley Cup Playoffs - from a WHL Perspective, 91 WHL West Division All-Stars, Canada`s World Jr. Gold Rush, CHL - Look at it Grow, 91 WHL Playoffs, Coaching Changes in the WHL, Hot Summer in the WHL, Steve Konowalchuk, Eric Lindros - CHL Player of the Year, Dean McAmmond Interview, NHL Takes Best of the WHL, WHL History - Part 1, World Hockey Championships and the WHL Influence, Tyler Wright

Ryobi Player Profile: Joe Sakic
VG
$5.00 Cdn
Pub 5274
Vol. 14, No. 1, 1991
Canadian Hockey Magazine


Pat Falloon & Ray Whitney with Memorial Cup with inset Spokane Chiefs
Stories: 90-91 WHL Award Winners, 91 CHL Awards Presentation, 91 Memorial Cup, 91 Stanley Cu 91 WHL West Division All-Stars, Canada`s World Jr. Gold Rush, CHL - Look at it Grow, 91 WHL Playoffs, Coaching Changes in the WHL, Hot Summer in the WHL, Steve Konowalchuk, Eric Lindros - CHL Player of the Year, Dean McAmmond Interview, NHL Takes Best of the WHL, WHL History - Part 1, World Hockey Championships and the WHL Influence, Tyler Wright

Ryobi Player Profile: Joe Sakic
VG
$5.00 Cdn
Pub 5282
Vol. 14, No. 2, 1991
Canadian Hockey Magazine


Pat Falloon / Richard Matvichuk / Scott Niedermayer / Tyler Wright
Stories: 90-91 WHL Award Winners, 91 Air Canada Cup, 91 CHL Awards, 91 Memorial Cup, 91 Playoffs - from a WHL Perspective,1 WHL Playoffs, Canada's World Junior Gold Rush, CHL - Look At It Grow, Eric Lindros - CHL Player of the Year, NHL Takes Best of the WHL, Chris Osgood Interview, WHL East Division Preview, WHL History - Part 2, WHL`s #1s Of NHL Draft, Who Looks Good in WHL West

Ryobi Player Profile: John MacLean
VG-EX
$6.00 Cdn
Pub 5620
Vol. 14, No. 2, 1991
Canadian Hockey Magazine


Pat Falloon / Richard Matvichuk / Scott Niedermayer / Tyler Wright
Stories: 1991 Memorial Cup, 90-91 WHL Award Winners, 1991 WHL Playoffs, 90-91 WHL East Division All-Stars, 91 CHL Awards, 91 Stanley Cup Playoffs: From a WHL Perspective, Canada`s World Jr. Gold Rush, CHL: Look At it Grow, Eric Lindros Molson-Cooper Player of the Year, NHL Takes Best of WHL, Chris Osgood Interview, WHL East Division Preview, WHL History Pt. 2, WHL`s #1`s of NHL Draft, Who Looks Good in the West Division

Ryobi Player Profile: John MacLean
VG+
$6.00 Cdn
Pub 5275
Vol. 14, No. 2, 1991
Canadian Hockey Magazine


Pat Falloon / Richard Matvichuk / Scott Niedermayer / Tyler Wright
Stories: 90-91 WHL Award Winners, 91 Air Canada Cup, 91 CHL Awards, 91 Memorial Cup, 91 Playoffs - from a WHL Perspective,1 WHL Playoffs, Canada's World Junior Gold Rush, CHL - Look At It Grow, Eric Lindros - CHL Player of the Year, NHL Takes Best of the WHL, Chris Osgood Interview, WHL East Division Preview, WHL History - Part 2, WHL`s #1s Of NHL Draft, Who Looks Good in WHL West

Player Profile: John MacLean
VG
$5.00 Cdn
Pub 5276
Vol. 14, No. 2, 1991
Canadian Hockey Magazine


Pat Falloon / Richard Matvichuk / Scott Niedermayer / Tyler Wright
Stories: 90-91 WHL Award Winners, 91 Air Canada Cup, 91 CHL Awards, 91 Memorial Cup, 91 Playoffs - from a WHL Perspective,1 WHL Playoffs, Canada's World Junior Gold Rush, CHL - Look At It Grow, Eric Lindros - CHL Player of the Year, NHL Takes Best of the WHL, Chris Osgood Interview, WHL East Division Preview, WHL History - Part 2, WHL`s #1s Of NHL Draft, Who Looks Good in WHL West

Ryobi Player Profile: John MacLean
VG, fingerprints on cover
$5.00 Cdn
Pub 4931
Vol. 15, No. 1, 1992
Canadian Hockey Magazine


Kamloop Blazers with Memorial Cup with inset Spokane Chiefs
Stories: 5 WHL Players Chosen in 1st Round, 75th Anniversary for Memorial Cup, Air Canada Cup Celebrates 15 Years, Brandon Wheat Kings, Canada Gets Wake Up Call at 92 World Jrs., CHL Announces its 1st All-Star + All-Rookie Teams, CHL Awards, Exceptional 20 Year Olds Have Led West Before - Will This Years?, Todd Holt, Kamloops Meets Blades in WHL Championship, Kamloop Blazers with Memorial Cup, Charles Poulin - CHL Player of the Year, Rating the 10 WHL Memorial Cup Winners, WHL Awards, WHL Boasts 16 Clubs, WHL East & Western Division Previews

Ryobi Player Profile: Jeremy Roenick
VG-EX, fingerprint on cover
$5.00 Cdn
Pub 5621
Vol. 15, No. 1, 1992
Canadian Hockey Magazine


Kamloops Blazers with Memorial Cup with inset Spokane Chiefs
Stories: 5 WHL Players Taken in NHL First Round, 75th Memorial Cup, Brandon Wheat Kings, CHL All-Star + All-Rookie Teams, CHL Awards, Former WHL Stars Shine in NHL Playoffs, Corey Hirsch Molson Player of the Year, Todd Holt, Kamloops Beats Saskatoon, Kamloops Wins Memorial Cup, No Obvious West Division Winner, One Man`s View of 10 Western Winning Memorial Cup Teams, Charles Poulin Molson-Cooper Player of the Year, WHL Awards, WHL East Division Teams Preview, WHL Has 16 Teams

Ryobi Player Profile: Jeremy Roenick
GD-VG
$5.00 Cdn
Pub 5622
Vol. 15, No. 2, 1992
Canadian Hockey Magazine


Jason Bowen / David Cooper / Mike Rathje / Jason Smith / David Wilkie
Stories: 5 WHL Players Taken in NHL First Round, 75th Memorial Cup, Valeri Bure, CHL All-Star + All-Rookie Teams, CHL Awards, Jarrett Deuling, Former WHL Stars Shine in NHL Playoffs, Corey Hirsch Molson Player of the Year, Kamloops Blazers Win Memorial Cup, One Man`s View of 10 Western Winning Memorial Cup Teams, Charles Poulin Molson-Cooper Player of the Year, Red Deer Rebels, Jason Smith, WHL East Division All-Star Teams, WHL Makes Changes in Office + Bench, WHL Officiating School

Ryobi Player Profile: Gary Roberts
GD-VG
$4.00 Cdn
Pub 4932
Vol. 15, No. 2, 1992
Canadian Hockey Magazine


Jason Bowen / David Cooper / Mike Rathje / Jason Smith / David Wilkie
Stories: 5 WHL Players Chosen in 1st Round, 75th Anniversary for Memorial Cup, Air Canada Cup Celebrates 15 Years, Valeri Bure, CHL Announces its 1st All-Star + All-Rookie Teams, CHL Award Winners, Coaching Changes in the WHL, Jarrett Deuling, Exceptional 20 Year Olds Have Led West Before - Will This Years?, Former WHL Stars Shine in NHL Playoffs, Kamloop Blazers Win Memorial Cup, Charles Poulin - CHL Player of the Year, Rating the 10 WHL Memorial Cup Winners, Red Deer Rebels, Jason Smith, Super Series Returns to OHL in 93, WHL All-Star Teams, WHL East All-Star Team, WHL Officiating School a Success

Ryobi Player Profile: Gary Roberts
GD-VG, 1" crease on cover
$4.00 Cdn
Pub 5623
Vol. 15, No. 3, 1993
Canadian Hockey Magazine


Rob Niedermayer with inset Adam Deadmarsh
Stories: 5 WHL Players Taken in NHL First Round, 75th Anniversary for Memorial Cup, Air Canada Cup Celebrates 15 Years, Jason Bowen, Bantam Draft Works Well for the WHL, Canada Gets Wake-up Call at 92 World Jr. Championship, CHL Announces its 1st All-Star + All-Rookie Team, CHL Awards, Adam Deadmarsh, Former WHL Stars Shine in NHL Playoffs, Brent Gilchrist, Kamloops Blazers Win Memorial Cup, More Than 100 WHL Grads in the Pros, Rob Niedermayer, Charles Poulin CHL Player of the Year, Rating the 10 WHL Memorial Cup Winners, East Division Rookies Look to Stardom in WHL

Ryobi Player Profile: Mark Recchi
NM
$8.00 Cdn
Pub 5624
Vol. 15, No. 4, 1993
Canadian Hockey Magazine


Brendan Witt w/inset Ashley Buchberger
Stories: 5 WHL Players Taken in NHL First Round, 20 Year Olds Integral To Teams, 75th Anniversary for Memorial Cup, Ashley Buchberger, CHL Announces its 1st All-Star + All-Rookie Team, CHL Awards, Europeans Help WHL, Former WHL Stars Shine in NHL Playoffs, Corey Hirsch Molson Player of the Year, Kamloops Blazers Win Memorial Cup, Trevor Linden, One Man`s View of 10 Western Winning Memorial Cup Teams, Charles Poulin CHL Player of the Year, Rookies Shine in WHL West, Brendan Witt

Ryobi Player Profile: Mark Recchi
EX
$7.00 Cdn
Pub 4933
Vol. 15, No. 5, 1993
Canadian Hockey Magazine


Allan Egeland with inset Jason Krywulak
Stories: 5 WHL Players Chosen in 1st Round, 75th Anniversary for Memorial Cup, Air Canada Cup Celebrates 15 Years, Canada Gets Wake Up Call at 92 World Jrs., Canada Wins World Jrs., CHL Announces its 1st All-Star + All-Rookie Teams, CHL Award Winners, CHL has Seen some Great Brother Acts, Alexandre Daigle - Tigres Lead QMJHL, Allan Egeland, Former WHL Stars Shine in NHL Playoffs, Jason Krywulak, Looks Like Broncos Will Win, Peterborough Petes Seem Headed for the Memorial Cup, Charles Poulin - CHL Player of the Year, Rating the 10 WHL Memorial Cup Winners, Red Deer Rebels, WHL All-Stars Join Ontario in Victory, WHL Officiating School a Success

Ryobi Player Profile: Mike Gartner
GD
$4.00 Cdn
Pub 4933
Vol. 15, No. 5, 1993
Canadian Hockey Magazine


Allan Egeland with inset Jason Krywulak
Stories: 5 WHL Players Chosen in 1st Round, 75th Anniversary for Memorial Cup, Air Canada Cup Celebrates 15 Years, Canada Gets Wake Up Call at 92 World Jrs., CANADA Wins World Jrs., CHL Announces its 1st All-Star + All-Rookie Teams, CHL Award Winners, CHL has Seen some Great Brother Acts, Alexandre Daigle - Tigres Lead QMJGL, Allan Egeland, Former WHL Stars Shine in NHL Playoffs, Jason Krywulak, Looks Like Broncos Will Win, Peterborough Petes Seem Headed for the Memorial Cup, Charles Poulin - CHL Player of the Year, Rating the 10 WHL Memorial Cup Winners, Red Deer Rebels, WHL All-Stars Join Ontario in Victory, WHL Officiating School a Success

Ryobi Player Profile: Mike Gartner
GD
$4.00 Cdn
Pub 5279
Vol. 16, No. 2, 1993
Canadian Hockey Magazine


Jeff Friesen
Stories: 10 All-Time Best WHL Teams, 20 Year Olds in WHL West Division, 44 WHL Players Drafted by NHL, CHL Awards, Bobby Clarke / Charlie Conacher / Guy Lafleur Were Junior Stars, Jeff Friesen, Hockey Night in Mexico, Walt Kyle, NHL Players Superstitions, Bobby Orr, Pat Peake CHL Player of the Year, Geoff Sanderson, Sault Ste. Maries Wins Memorial Cup, Swift Current Wins WHL Crown, WHL East + West All-Star Teams, WHL West Teams Preview

Ryobi Player Profile: Eric Lindros
VG-EX
$6.00 Cdn
Pub 6538
Vol. 16, No. 3, 1993
Canadian Hockey Magazine


Mark Deyell
Stories: 10 All-Time Best WHL Teams, 44 WHL Players Drafted by NHL, Canadian Olympic Team, CHL Awards, Bobby Clarke / Charlie Conacher / Guy Lafleur Were Junior Stars, Chrysler Cup, Jarrett Deuling, Hockey Night in Mexico, Scott Langkow, Scott Niedermayer, Pat Peake CHL Player of the Year, Jason Podollan, Sault Ste. Maries Wins Memorial Cup, Swift Current Wins WHL Crown, Rhett Warrener, Ryobi Player Profile: Mike Modano
GD-VG
$5.00 Cdn
Pub 6658
1994-95
Canadian Hockey Magazine


Luc Robitaille with inset Team Canada Photos / Marianne Grnak
Stories: 1941 Allan Cup - Glace Bay Millionaires vs Sydney Miners, 25th Anniversary for Centennial Cup, Brother Acts in the NHL, CAHA and Hockey Canada Merge, Chrysler Initiation Plan, Hockey Families, Hockey Hall of Fame, Jim Quinn, Paying Dues - Jamie Heward / Todd Hlushko / Dean McAmmond / Joel Savage, Referees, Tom Renney Salutes His Influences, Salute to Gordon Juckes, The Art of Coaching, World Hockey Dominance - Canada

Ryobi Player Profile: Mike Gartner
VG-EX
$6.00 Cdn
Pub 6539
1994-95
Canadian Hockey Magazine


Luc Robitaille with inset Team Canada Photos / Marianne Grnak
Stories: 1941 Allan Cup - Glace Bay Millionaires vs Sydney Miners, 25th Anniversary for Centennial Cup, Brother Acts in the NHL, CAHA and Hockey Canada Merge, Chrysler Initiation Plan, Hockey Families, Hockey Hall of Fame, Jim Quinn, Paying Dues - Jamie Heward / Todd Hlushko / Dean McAmmond / Joel Savage, Referees, Tom Renney Salutes His Influences, Salute to Gordon Juckes, The Art of Coaching, World Hockey Dominance - Canada

Ryobi Player Profile: Mike Gartner
VG-EX, 1" split spine
$5.00 Cdn
Pub 4934
1994-95
Canadian Hockey Magazine


Luc Robitaille with inset Team Canada Photos / Marianne Grnak
Stories: 1941 Allan Cup - Glace Bay Millionaires vs Sydney Miners, 25th Anniversary for Centennial Cup, Brother Acts in the NHL, CAHA and Hockey Canada Merge, Chrysler Initiation Plan, Hockey Families, Hockey Hall of Fame, Jim Quinn, Paying Dues - Jamie Heward / Todd Hlushko / Dean McAmmond / Joel Savage, Referees, Tom Renney Salutes His Influences, Salute to Gordon Juckes, The Art of Coaching, World Hockey Dominance - Canada

Ryobi Player Profile: Mike Gartner
VG
$5.00 Cdn
Pub 5280
Vol. 17, No. 1, 1994
Canadian Hockey Magazine


Manny Fernandez / Darcy Tucker w/inset Kamloops Blazers with Memorial Cup
Stories: Ken Baumgartner, Canadians Shine In 94, CHL Awards, CHL Grads in NHL List, CHL Records List, Ed Chynoweth, Eric Fichaud / Alyn McAuley / Darcy Tucker, Kamloops Blazers Win 5th WHL Title in 10 Years, Kamloops Host 95 Memorial Cup, Dave Manson, Memorial Cup Week Memories, Ryan Smyth, Chris Wells, WHL Award Winners List, WHL Team Previews, WHL Officiating School Celebrating 10 Years
VG
$5.00 Cdn
Pub 5283
Vol. 17, No. 1, 1994
Canadian Hockey Magazine


Wade Belak / Chris Dingman / Jeff Friesen
Stories: Ken Baumgartner, Canadians Shine In 94, CHL Awards, CHL Grads in NHL List, CHL Records List, Ed Chynoweth, Eric Fichaud / Alyn McAuley / Darcy Tucker, Kamloops Blazers Win 5th WHL Title in 10 Years, Kamloops Host 95 Memorial Cup, Dave Manson, Memorial Cup Week Memories, Ryan Smyth, Chris Wells, WHL Award Winners List, WHL Team Previews, WHL Officiating School Celebrating 10 Years
EX
$7.00 Cdn
Pub 5285
Vol. 17, No. 2, 1994
Canadian Hockey Magazine


Marty Murray
Stories: 7 New OHL Coaches, 66 WHL Picks By NHL, 93-94 WHL Stats, 94 Memorial Cup, Ken Baumgartner, Canadians Shine In 94, CHL Awards, CHL Grads Galore In NHL, CHL Records List, Ed Chynoweth, Eric Fichaud / Alyn McAuley / Darcy Tucker, Kamloops Host 95 Memorial Cup, Daymond Langkow, Mike Modano, Marty Murray, QMJHL Expands Into Maritimes, WHL Award Winners List, WHL Officiating School Celebrating 10 Years
VG-EX
$6.00 Cdn
Pub 6541
Vol. 17, No. 5, 1995
Canadian Hockey Magazine - Bilingual


Georges Laraque / Christian Dube / Christian Laflamme / Martin Biron / Jason Doig
Stories: 1994 Memorial Cup, 1994 NHL Draft Picks in Order, 1995 NHL Draft Preview of QMJHL Stars, Canadians Shine In 94, Frederic Cassivi, CHL Grads Galore In NHL, Gilles Courteau, Decade Dream Teams of the QMJHL, Education in the QMJHL, Eric Fichaud, Gilles Meloche, Jean Pronovost, QMJHL Yearly Trophy Winners, Louis-Phillippe Sevigny, Sherbooke to Host Air Canada Cup, Jose Theodore
GD
$4.00 Cdn
Pub 6542
Vol. 17, No. 5, 1995 - Playoff Edition
Canadian Hockey Magazine


Memorial Cup w/inset Sandy Allan / Marty Murray
Stories: 3-Peat Canada Wins World Jrs., 66 WHL Picks By NHL, 94 Memorial Cup, Ken Baumgartner, Canadians Shine In 94, CHL Awards, CHL Grads Galore In NHL, CHL Records List, Ed Chynoweth, Eric Fichaud / Alyn McAuley / Darcy Tucker, Flurry of Trades Set Up East Division Playoffs, Kamloops Heavy Faves in West, Kamloops Host 95 Memorial Cup, Daymond Langkow / Marty Murray / Darcy Tucker Lead for MVP Honors, Bobby Lowes, West/Quebec Win Chrysler Cup Challenge, WHL Yearly Award Winners List, WHL Claims Cup 7 Times in 10 Years, WHL Playoff Records
EX
$7.00 Cdn
Pub 6543
Vol. 17, No. 5, 1995 - Playoff Edition
Canadian Hockey Magazine


Memorial Cup w/inset Sandy Allan / Marty Murray
Stories: 3-Peat Canada Wins World Jrs., 66 WHL Picks By NHL, 94 Memorial Cup, Ken Baumgartner, Canadians Shine In 94, CHL Awards, CHL Grads Galore In NHL, CHL Records List, Ed Chynoweth, Eric Fichaud / Alyn McAuley / Darcy Tucker, Flurry of Trades Set Up East Division Playoffs, Kamloops Heavy Faves in West, Kamloops Host 95 Memorial Cup, Daymond Langkow / Marty Murray / Darcy Tucker Lead for MVP Honors, Bobby Lowes, West/Quebec Win Chrysler Cup Challenge, WHL Yearly Award Winners List, WHL Claims Cup 7 Times in 10 Years, WHL Playoff Records
VG-EX
$6.00 Cdn
Pub 5286
Vol. 18 No. 2, 1995
Canadian Hockey Magazine


Curtis Brown w/inset Darryl Laplante / Kevin McKay / Al Tuer
Stories: 3 New CHL Teams - Barrie / Calgary / Moncton, 5 OHL 1st Round NHL Picks, 94-95 CHL Award Winners, 94-95 WHL Leaders, 1995 NHL Draft Picks in Order, Chad Allan, Bryan Berard / Daniel Briere / Wade Redden, CHL Grads in the NHL, Alexandre Daigle, Memorial Cup `95, Moose Jaw Warriors, Quebec Goalies Dominate NHL Draft, Byron Ritchie, Todd Robinson, Saskatoon Blades, Spokane`s New Arena
VG
$5.00 Cdn
Pub 5628
Vol. 18, No. 3, 1995-96
Canadian Hockey Magazine


Rod Branch
Stories: 3 New CHL Teams - Barrie / Calgary / Moncton, 1995 NHL Draft Picks in Order, 94-95 CHL Award Winners, Bryan Berard / Daniel Briere / Wade Redden, Rod Branch, CHL Grads in the NHL, Bobby Clarke Donates Memorabilia to the Hall of Fame, Brian Elder, Sean Gillam, Granby Predateurs + QMJHL Coaching Changes, Kelowna Rockets, NHL Players in the Olympics, OHL Notes, Saskatoon Blades, WHL All-Time All-Star Teams, Brendan Witt
VG
$5.00 Cdn
Pub 6544
Vol. 18, No. 3, 1995-96
Canadian Hockey Magazine


Brian Elder
Stories: 3 New CHL Teams - Barrie / Calgary / Moncton, 1995 NHL Draft Picks in Order, 94-95 CHL Award Winners, Bryan Berard / Daniel Briere / Wade Redden, Rod Branch, CHL Grads in the NHL, CHL Grads in Universities, Brian Elder, Sean Gillam, Granby Predateurs + QMJHL Coaching Changes, Kelowna Rockets, Memorial Cup `95, NHL Players in the Olympics, OHL Notes, Saskatoon Blades History, WHL All-Time All-Star Teams, Brendan Witt
EX
$7.00 Cdn
Pub 6545
Vol. 18, No. 3, 1995-96
Canadian Hockey Magazine


Brian Elder
Stories: 3 New CHL Teams - Barrie / Calgary / Moncton, 1995 NHL Draft Picks in Order, 94-95 CHL Award Winners, Bryan Berard / Daniel Briere / Wade Redden, Rod Branch, CHL Grads in the NHL, CHL Grads in Universities, Brian Elder, Sean Gillam, Granby Predateurs + QMJHL Coaching Changes, Kelowna Rockets, Memorial Cup `95, NHL Players in the Olympics, OHL Notes, Saskatoon Blades History, WHL All-Time All-Star Teams, Brendan Witt
VG-EX
$6.00 Cdn
Pub 6659
Vol. 18, No. 5, 1995-96
Canadian Hockey Magazine


Peter Schaefer / Memorial Cup Trophy / Curtis Brown / Mark Deyell / Chad Mercier
Stories: 3 New CHL Teams - Barrie / Calgary / Moncton, 9 Top WHL NHL Prospects, 1995 NHL Draft Picks in Order, 94-95 CHL Award Winners, Best in the West, Canada Wins 4th Gold in a Row, Central/East Wins WHL All-Star Game, Central`s Team Leaders, CHL Grads in the NHL, CHL Grads in Universities, Edmonton Ice, Memorial Cup `95, Peterborough to Host 1996 Memorial Cup, Saskatoon Blades History, Team Cherry Wins 1996 Chrysler Cup, Who`s Key in the East?
VG
$5.00 Cdn
Pub 4936
1995-96 Annual
Canadian Hockey Magazine


Eric Lindros
Stories: Art & Science of Coaching, City Centers of Excellence, Canada at the World Championships, Canada Influences European Scene, Canada Wins World Jrs., Future`s Bright, Eric Lindros, David Ling, Rule Crack-Down Aims at Safety, TSN & World Jr. Championship, Womens National Hockey
VG-EX
$8.00 Cdn
Pub 6773
1995-96 Annual
Canadian Hockey Magazine


Eric Lindros
Stories: Art & Science of Coaching, City Centers of Excellence, Canada at the World Championships, Canada Influences European Scene, Canada Wins World Jrs., Future`s Bright, Eric Lindros, David Ling, Rule Crack-Down Aims at Safety, TSN & World Jr. Championship, Womens National Hockey
VG
$5.00 Cdn
Pub 6546
1996-97 Annual
Canadian Hockey Magazine


Joe Sakic
Stories: 1996 Hockey Champions, Jason Botterill, Canada Wins Silver Medal at World Championships, Canada Wins Under-18`s, Canada Wins World Jrs., City Centers of Excellence, International Coaches Conference, Paul Kariya, Tim Manning, Dave Matsos, Gary Roberts, Joe Sakic, Under-17 Worlds in Red Deer, Women Aim For Olympic Gold, Women`s Canadian Championship
VG
$6.00 Cdn
Pub 6549
Vol. 20 No. 2, 1997-98
Canadian Hockey Magazine


Evan Lindsay
Stories: 1997 NHL Draft Picks in Order, CHL Award Winners, Education & the WHL, Hull Olympiques Win Memorial Cup, Evan Lindsay, Memorial Cup `97, Brad Moran, Bill Murdoch, NHL Players to Go For Olympic Gold, Steve Passmore, Todd Robinson, Spokane Host 1998 Memorial Cup, Charlie Stephens, WHL Helps Ease Rookies Transition
VG-EX
$6.00 Cdn
Pub 5287
Vol. 22 No. 1, 1999
Canadian Hockey Magazine


Pavel Brendl / Brad Morin
Stories: 1999 NHL Draft Picks in Order, 99-00 WHL Team Directory, Calgary Hitmen Beat Kamloops Blazers in WHL Final, Calgary Hitmen Lose in Memorial Cup Final, CHL Award Winners, Scott Hartnell / Kiel McLeod / Jarrett Stoll, Mastercard Honours All-Time Greats (Brian Kilrea / Guy Lafleur / Bobby Orr / Denis Potvin / Brian Propp)
VG-EX
$6.00 Cdn
Pub 6550
1999-00 Annual
Canadian Hockey Magazine


Wayne Gretzky
Stories: 1999 Hockey Champions, Canadian Women Aim for 6 Straight, International Coaching Conference, Wayne Gretzky, Ken Hitchcock, Hockey Volunteers, Molson Open Ice Summit, Marina Zenk
GD
$5.00 Cdn
Pub 6551
Vol. 23 No. 1, 1999-00
Canadian Hockey Magazine


Robyn Regehr
Stories: 1999 Draft Pick by Pick, Brady Block, CHL Award Winners, Darrell Hay, Barrett Jackman, Kelowna Rockets, Mastercard Honours All-Time Greats, Kiel McLeod / Jarret Stoll / Scott Hartnell, Robyn Regehr, Brent Sutter
GD-VG
$5.00 Cdn
Pub 6552
Vol. 23 No. 2, 1999-00
Canadian Hockey Magazine


Milan Kraft / Michal Sivek
Stories: 1999 Draft Pick by Pick, Jay Bouwmeester, Canada Wins Bronze Medal at World Championships, CHL Award Winners, Milan Kraft / Michal Sivek Win Gold, Kiel McLeod / Jarret Stoll / Scott Hartnell, Kent Sauer, 1999 Draft Pick by Pick, Brady Block, Darrell Hay, Barrett Jackman, Kelowna Rockets, Mastercard Honours All-Time Greats, Mastercard Honours All-Time Greats, Kiel McLeod / Jarret Stoll / Scott Hartnell, Robyn Regehr, Brent Sutter
EX
$6.00 Cdn
Pub 5288
Vol. 23 No. 4, 2001
Canadian Hockey Magazine


Dan Blackburn
Stories: 1977-00 World Jrs. Statistics, 2000 Draft Pick by Pick, Dan Blackburn, Stan Butler, Micki DuPont, Mike Hasenfratz, Brent Krahn, Steve Larouche / Dean Malkoc / Steve Maltais, Seattle Thunderbirds, WHL Coaching Changes
EX
$7.00 Cdn
Pub 5289
Vol. 23 No. 4, 2001
Canadian Hockey Magazine


Dan Blackburn
Stories: 1977-00 World Jrs. Statistics, 2000 Draft Pick by Pick, Dan Blackburn, Stan Butler, Micki DuPont, Mike Hasenfratz, Brent Krahn, Steve Larouche / Dean Malkoc / Steve Maltais, Seattle Thunderbirds, WHL Coaching Changes
VG-EX
$6.00 Cdn
Pub 6553
Vol. 24 No. 1, 2000-01
Canadian Hockey Magazine


Layne Ulmer
Stories: 2000 Draft Pick by Pick, Justin Mapletoft, Kiel McLeod, Lorne Molleken, Regina Host 2001 Memorial Cup, Ron Robison, Tim Smith, Jordan Tootoo, Tri-City Americans, Layne Ulmer
EX
$7.00 Cdn
Pub 5290
Vol. 24 No. 1, 2000-01
Canadian Hockey Magazine


Layne Ulmer
Stories: 2000 Draft Pick by Pick, Justin Mapletoft, Kiel McLeod, Lorne Molleken, Regina Host 2001 Memorial Cup, Ron Robison, Tim Smith, Jordan Tootoo, Tri-City Americans, Layne Ulmer
VG-EX
$6.00 Cdn
Pub 6554
Vol. 24 No. 1, 2000-01
Canadian Hockey Magazine


Donald Choukalos
Stories: 2000 Draft Pick by Pick, Mike Comrie, Education & the WHL, Martin Erat, Dan Hamhuis, Portland Winter Hawks, Regina Pats, Vancouver Giants, WHL Alumni Among NHL`S Best, WHL`S Top Prospects Gear Up For NHL Draft
EX, 1/4" back tear
$5.00 Cdn
Pub 6555
Vol. 24 No. 4, 2001-02
Canadian Hockey Magazine


Jay Bouwmeester
Stories: 2001 Draft Pick by Pick, B.C.: A Division Unto Itself, Jay Bouwmeester, Stan Butler, Adrian Foster, Owen Fussey, Matt Keith / Chris Heid / Jeff Lucky, Shaone Morrisonn / Scottie Upshall, Prince Albert Raiders, Seattle Thunderbirds
EX, 1/4" back tear
$5.00 Cdn
Pub 6660
Vol. 25 No. 1, 2001-02
Canadian Hockey Magazine


Kiel McLeod
Stories: 2001 Draft Pick by Pick, Ryan Craig, Hershey Cup Coming to Red Deer, Kiel McLeod, Josh Olson, Saskatoon All-Star Game, Marek Svatos, Tyler Weiman, Ian White
VG-EX
$6.00 Cdn
Pub 6661
Vol. 25 No. 1, 2001-02
Canadian Hockey Magazine


Kiel McLeod
Stories: 2001 Draft Pick by Pick, Ryan Craig, Hershey Cup Coming to Red Deer, Kiel McLeod, Josh Olson, Saskatoon All-Star Game, Marek Svatos, Tyler Weiman, Ian White
VG
$5.00 Cdn
Pub 6556
2001-02 - Minor Hockey Edition
Canadian Hockey Magazine


Rob Blake / Paul Kariya / Mario Lemieux / Scott Niedermayer / Owen Nolan / Chris Pronger / Joe Sakic / Steve Yzerman
Stories: A Golden World Jr. History, All-Time Olympic Results, All-Time World Jr. All-Star Teams & Awards, All-Time World Jr. Results, Stan Butler, Canada`s All-Time Olympic Rosters, Canadian Women`s Team, Brenden Morrow, Team Canada Pre-Olympic Camp, Where are They Now? - 17 Team Canada Coaches, Women`s All-Time World Championship Results
NM
$8.00 Cdn
Pub 6557
2001-02 - Minor Hockey Edition
Canadian Hockey Magazine


Rob Blake / Paul Kariya / Mario Lemieux / Scott Niedermayer / Owen Nolan / Chris Pronger / Joe Sakic / Steve Yzerman
Stories: A Golden World Jr. History, All-Time Olympic Results, All-Time World Jr. All-Star Teams & Awards, All-Time World Jr. Results, Stan Butler, Canada`s All-Time Olympic Rosters, Canadian Women`s Team, Brenden Morrow, Team Canada Pre-Olympic Camp, Where are They Now? - 17 Team Canada Coaches, Women`s All-Time World Championship Results
EX+
$7.00 Cdn
Pub 6558
2001-02 - Minor Hockey Edition
Canadian Hockey Magazine


Rob Blake / Paul Kariya / Mario Lemieux / Scott Niedermayer / Owen Nolan / Chris Pronger / Joe Sakic / Steve Yzerman
Stories: A Golden World Jr. History, All-Time Olympic Results, All-Time World Jr. All-Star Teams & Awards, All-Time World Jr. Results, Stan Butler, Canada`s All-Time Olympic Rosters, Canadian Women`s Team, Brenden Morrow, Team Canada Pre-Olympic Camp, Where are They Now? - 17 Team Canada Coaches, Women`s All-Time World Championship Results
EX
$6.00 Cdn

JUNIOR HOCKEY MAGAZINE

Scan Code
Mag Issue
Cover
Contents
Condition
Price per mag
Pub 4923
Sept./Oct., 1981
Junior Hockey Magazine


Jim Benning / Garth Butcher / Grant Fuhr
Stories: 62nd Memorial Cup, 80-81 WHL Award Winners, 81 NHL Draft, Perry Ganchar + Mark Habscheid Interview, Dale Hawerchuk CMJHL Player of the Year, Leadership From the WHL to the NHL, NHL League Backgrounds - Some Do It Right - Some Wrong, Brad Palmer Interview, WHL Predictions, WHL Stars in the NHL Playoffs, Who Were Greatest WHL Stars?

Export A Profile: Wayne Gretzky
GD-VG
$6.00 Cdn
Pub 4924
Jan./Feb., 1984
Junior Hockey Magazine


Doug Bodger / Fabian Joseph
Stories: 65th Memorial Cup, Doug Bodger, Brandon Wheat Kings Back on Track, Familiar Look in the NHL - The WHL Graduate, Great Little Big Men of the WHL, Greatest WHL Players Over the Years, Fabian Joseph, Pat LaFontaine CMJHL Player of the Year, Dunc McCallum, New York Islanders, Sutter Family, Trade Talk Within the WHL Over the Years, WHL - From Inception Until Today, WHL Road Trip - A Time to Bring the Team Together, WHL Rookies

Export A Profile: Sylvain Turgeon
GD-VG
$6.00 Cdn
Pub 5616
Sept./Oct., 1985
Junior Hockey Magazine


Dan Hodgson with Memorial Cup
Stories: 67th Memorial Cup, 84-85 WHL Award Winners, 84-85 WHL Championship, Dan Hodgson CMJHL Player of the Year, Dana Murzyn Interview, NHL Takes Best of WHL, Seattle Thunderbirds, Team Canada Wins Jurnior Gold, WHL Coaching Changes, WHL Graduates Contribute to Philadelphia, WHL West Division All-Star Team, Who to Watch in 85-86

Export A Profile: Joe Cirella
VG
$6.00 Cdn
Last Updated: Oct. 1, 2017

---