GOAL MAGAZINES
GOAL MAGAZINE PROGRAMS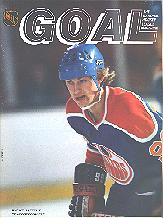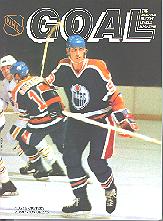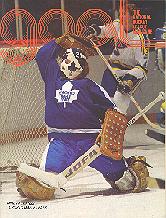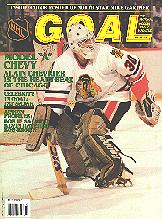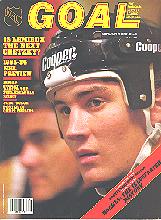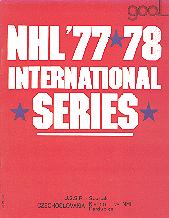 We sell back issues of Goal magazine, Goal magazine programs
as well as many other NHL hockey magazines,
NHL media guides and NHL record books.
The Goal magazines have repeatedly used several covers over & over at different times over several years.
Prices subject to change without notice according to market conditions.
Postage & Handling is extra. Canadian residents add applicable GST/HST.
Prices are listed in Canadian funds - please inquire as to the current exchange for prices in US funds.
GOAL MAGAZINES

1979 GOAL MAGAZINES

Scan Code
Magazine Issue
Cover
Contents
Condition
Price per Magazine
Pub 4139
Volume VI - Issue 11, April 1979
Goal


Bobby Orr
Stories: John Davidson at home, Brian Engblom, Stan Gilbertson, Goalie Woes, Bobby Orr, Loudon Wainwright, Jimmy Watson
EX, poster missing
$3.00 Cdn
Pub 4140
Volume VI - Issue 5, Jan 1979
Goal


Terry O`Reilly
Stories: Flin Flon, Doug Harvey & Larry Robinson, Bobby Kromm, Peter Marshall, Terry O`Reilly, Denis Potvin at home, Roz Pulford, Jim Schoenfeld, Bryan Watson
VG, 1/4" cover tear, fingerprints
$3.00 Cdn
Pub 4143
Volume 7 - Issue 2, 1979
Goal


Bob Smith
Stories: Wayne Babych, Dave Balon, Dom DeLuise, Bob Gainey, Jerry Korab at home, Al MacNeil, Rick Middleton, Summer Scenes, Ryan Walter
VG+
$3.00 Cdn
Pub 4144
Volume 7 - Issue 3, 1979
Goal


Bobby Clarke
Stories: Claude Bechard / Gregg Madill / Leon Stickle, Scotty Bowman, Curt Bennett + Hockey Humour, Marcel Dionne, Edmonton Oilers, GEM Line: Guy Chouinard / Bob MacMillan / Eric Vail, Alan Greenberg, Willie Huber
FR, creased cover
$2.00 Cdn
Pub 4146
Volume 7 - Issue 3, 1979
Goal


Rick Middleton
Stories: Claude Bechard / Gregg Madill / Leon Stickle, Scotty Bowman, Curt Bennett + Hockey Humour, Marcel Dionne, Edmonton Oilers, GEM Line: Guy Chouinard / Bob MacMillan / Eric Vail, Alan Greenberg, Willie Huber
VG-EX
$3.00 Cdn
Pub 4147
Volume 7 - Issue 4, 1979
Goal


Wayne Gretzky
Stories: Bill Barber, Don Blackburn, John Davidson, Bernie Geoffrion, Glenn Hall, Monte Johnson, Dan Maloney at home, Brad Maxwell
EX+
$25.00 Cdn
Pub 4148
Volume 7 - Issue 4, 1979
Goal


Wayne Gretzky
Stories: Bill Barber, Don Blackburn, John Davidson, Bernie Geoffrion, Glenn Hall, Monte Johnson, Dan Maloney at home, Brad Maxwell
EX
$20.00 Cdn
Pub 4151
Volume 7 - Issue 4, 1979
Goal


Mark Howe
Stories: Bill Barber, Don Blackburn, John Davidson, Bernie Geoffrion, Glenn Hall, Monte Johnson, Dan Maloney at home, Brad Maxwell
VG+
$2.50 Cdn
Pub 4153
Volume 7 - Issue 5, 1979
Goal


Bob Gainey
Stories: Don Cherry, John Ferguson / Glen Sather / Lou Nanne, Gerard Gauthier / Thomas (Swede) Knox / David Newell, Hartford Whalers, How Swede It Is, Dave & Don Maloney, Dennis Maruk, Craig Ramsay, Wife of Weston Adams Sr. induction speech for Bobby Orr, Behn Wilson at home
VG-EX
$3.00 Cdn
Pub 4155
Volume 7 - Issue 5, 1979
Goal


Bob MacMillan
Stories: Don Cherry, John Ferguson / Glen Sather / Lou Nanne, Gerard Gauthier / Thomas (Swede) Knox / David Newell, Hartford Whalers, How Swede It Is, Dave & Don Maloney, Dennis Maruk, Craig Ramsay, Wife of Weston Adams Sr. induction speech for Bobby Orr, Behn Wilson at home
EX+
$4.00 Cdn
Pub 4154
Volume 7 - Issue 5, 1979
Goal


Bob MacMillan
Stories: Don Cherry, John Ferguson / Glen Sather / Lou Nanne, Gerard Gauthier / Thomas (Swede) Knox / David Newell, Hartford Whalers, How Swede It Is, Dave & Don Maloney, Dennis Maruk, Craig Ramsay, Wife of Weston Adams Sr. induction speech for Bobby Orr, Behn Wilson at home
VG-EX, 1/2" tear
$1.75 Cdn
Pub 4156
Volume 7 - Issue 6, 1979
Goal


Bryan Trottier
Stories: Alex Delvecchio, Thomas Gradin, Eddie Johnston, David Letterman, Paul Martha, Olympia Stadium, Rich Preston & Terry Ruskowski, Darryl Sittler, Victor Tikhonov
VG-EX
$3.50 Cdn
Pub 4161
Volume 7 - Issue 8, 1979
Goal


Randy Carlyle
Stories: Marv Albert book excerpt, Anastasia Doran, Gary Green, Wayne Gretzky, Dave Jennings, My All-Star Fantasy Team, Simon Nolet, Tom Rowe, Charlie Simmer, Rogie Vachon
NM
$6.00 Cdn
Pub 4162
Volume 7 - Issue 8, 1979
Goal


Randy Carlyle
Stories: Marv Albert book excerpt, Anastasia Doran, Gary Green, Wayne Gretzky, Dave Jennings, My All-Star Fantasy Team, Simon Nolet, Tom Rowe, Charlie Simmer, Rogie Vachon
NM
$6.00 Cdn
Pub 4163
Volume 7 - Issue 8, 1979
Goal


Randy Carlyle
Stories: Marv Albert book excerpt, Anastasia Doran, Gary Green, Wayne Gretzky, Dave Jennings, My All-Star Fantasy Team, Simon Nolet, Tom Rowe, Charlie Simmer, Rogie Vachon
EX
$4.00 Cdn
Pub 4165
Volume 7 - Issue 8, 1979
Goal


Darryl Sittler
Stories: Marv Albert book excerpt, Anastasia Doran, Gary Green, Wayne Gretzky, Dave Jennings, My All-Star Fantasy Team, Simon Nolet, Tom Rowe, Charlie Simmer, Rogie Vachon
VG+
$2.50 Cdn

1980 GOAL MAGAZINES

Scan Code
Magazine Issue
Cover
Contents
Condition
Price per Magazine
Pub 4166
Volume 7 - Issue 9, 1980
Goal


Bobby Clarke
Stories: Ahead of Their Time, Ted Bulley, Randy Carlyle, Edward Houston, Bob Myers / Will Norris / Ray Scapinello, Kent Nilsson, Terry O`Reilly at home, Winnipeg Jets
VG
$2.00 Cdn
Pub 4167
Volume 7 - Issue 9, 1980
Goal


New York Rangers
Stories: Ahead of Their Time, Ted Bulley, Randy Carlyle, Edward Houston, Bob Myers / Will Norris / Ray Scapinello, Kent Nilsson, Terry O`Reilly at home, Winnipeg Jets
VG-EX
$2.50 Cdn
Pub 4169
Volume 7 - Issue 11, 1980
Goal


Wayne Gretzky
Stories: Ralph Backstrom / Fern Flaman / Bill Quakenbush coaching in Colleges, Gord Broseker / Kevin Collins / Bob Kilger, Real Cloutier / Robbie Ftorek / Marc Tardif, Orest Kindrachuk, Ulf Nilsson at home, Steve Payne, Gordie Roberts, Vladislav Tretiak
VG-EX
$15.00 Cdn
Pub 4170
Volume 7 - Issue 11, 1980
Goal


Rick Middleton
Stories: Ralph Backstrom / Fern Flaman / Bill Quakenbush coaching in Colleges, Gord Broseker / Kevin Collins / Bob Kilger, Real Cloutier / Robbie Ftorek / Marc Tardif, Orest Kindrachuk, Ulf Nilsson at home, Steve Payne, Gordie Roberts, Vladislav Tretiak
EX
$3.00 Cdn
Pub 4171
Volume 7 - Issue 11, 1980
Goal


Gilbert Perreault
Stories: Ralph Backstrom / Fern Flaman / Bill Quakenbush coaching in Colleges, Gord Broseker / Kevin Collins / Bob Kilger, Real Cloutier / Robbie Ftorek / Marc Tardif, Orest Kindrachuk, Ulf Nilsson at home, Steve Payne, Gordie Roberts, Vladislav Tretiak
VG-EX
$3.00 Cdn
Pub 4172
Volume 7 May, 1980
Goal


Bobby Clarke
Stories: Ralph Backstrom / Fern Flaman / Bill Quakenbush coaching in Colleges, Gord Broseker / Kevin Collins / Bob Kilger, Bobby Clarke, Real Cloutier / Robbie Ftorek / Marc Tardif, Mac Davis, Glen Hanlon, Dennis Hull, Morris Lukowich, Blair MacDonald, Ulf Nilsson at home, Off The Record, Bobby Orr - As I See It, Steve Payne, Vladislav Tretiak

Poster: Lanny McDonald
EX
$5.00 Cdn
Pub 4173
Nov 1980
Goal


Denis Potvin
Stories: Danny Gare, Tony Esposito, John Garrett, Larry Hillman, New Breed Of Coaches, Brian Propp, Duke Snider, Dave Taylor, John Ziegler, 80-81 Preview

Poster: Pierre Larouche
VG, loose centerfold
$3.50 Cdn
Pub 4174
Dec 1980
Goal


Guy Lafleur
Stories: Ray Bourque, John Ferguson, Goalie Mask Photo Essay, Ice Is Thicker Than Blood, Guy Lafleur, Ron Low, Al MacAdam, Don Maloney, Lanny McDonald, Joe Micheletti at home, Grant Mulvey, Rule Changes End Brawls?, Serge Savard, Wrist Shots

Poster: Ron Duguay
VG
$4.00 Cdn
Pub 4178
Volume 8 - Issue 1, 1980
Goal


Marc Tardif
Stories: Roger Crozier, Danny Gare, John Garrett, Gil Gerard, Ron Harris, Larry Hillman, Lazy, Hazy Crazy Days of Summer, Jim Schoenfeld, Duke Snider, Dave Taylor, John Ziegler
VG-EX
$2.50 Cdn
Pub 4180
Volume 8 - Issue 2, 1980
Goal


Al MacAdam
Stories: Tony Esposito, Hello Calgary...Farewell Atlanta, Rod Langway, New Breed of Coaches, Denis Potvin, Brian Propp, John Ziegler
VG-EX
$2.50 Cdn
Pub 4182-1
Volume 8 - Issue 4, 1980
Goal


Glen Hanlon
Stories: John Ferguson, Guy Lafleur, Al MacAdam, Don Maloney, Joe Micheletti at home, Rule Changes End Brawls?, Serge Savard, Wrist Shots
NM
$4.00 Cdn
Pub 5429
Volume 8 - Issue 6, 1980
Goal


Mike Foligno
Stories: A Defense Grows In Chicago, How To Watch Hockey On TV, Joel Nixon, Brad Park, Stan Smyl, The Day They Reunited The Bentleys, What`s In A Nickname?
VG, loose centerfold
$2.00 Cdn
Pub 4187
Volume 8 - Issue 6, 1980
Goal


Guy Lafleur
Stories: A Defense Grows In Chicago, How To Watch Hockey On TV, Joel Nixon, Brad Park, Stan Smyl, The Day They Reunited The Bentleys, What`s In A Nickname?
EX+
$6.00 Cdn
Pub 4188
Volume 8 - Issue 7, 1980
Goal


Ray Bourque
Stories: Mike Foligno, Wayne Gretzky at home, Eric Heiden, How The "European Style" Has Infiltrated The NHL, Jacques Richard, Borje Salming, Gilles Villemure, 1984 Canda & US Olympic Teams: An Early Prognosis
EX+
$7.00 Cdn
Pub 4189
Volume 8 - Issue 7, 1980
Goal


Ray Bourque
Stories: Mike Foligno, Wayne Gretzky at home, Eric Heiden, How The "European Style" Has Infiltrated The NHL, Jacques Richard, Borje Salming, Gilles Villemure, 1984 Canda & US Olympic Teams: An Early Prognosis
EX
$6.00 Cdn
Pub 4190
Volume 8 - Issue 7, 1980
Goal


Ray Bourque
Stories: Mike Foligno, Wayne Gretzky at home, Eric Heiden, How The "European Style" Has Infiltrated The NHL, Jacques Richard, Borje Salming, Gilles Villemure, 1984 Canda & US Olympic Teams: An Early Prognosis
VG-EX
$4.00 Cdn

1981 GOAL MAGAZINES

Scan Code
Magazine Issue
Cover
Contents
Condition
Price per Magazine
Pub 4175
April 1981
Goal


Charlie Simmer
Stories: Rick Kehoe, Pete Mahovlich, Mike McEwen & Rob Ramage, Billy Mosienko, Craig Patrick, Charlie Simmer, 1947 All-Star Game

Poster: Bobby Smith
VG-EX
$3.00 Cdn
Pub 4176
June 1981
Goal


Mike Bossy
Stories: Don Beaupre, Barry Beck, Mike Bossy, Morris Lukowich, Patty LuPone, Walt McKechnie, Doug Mohns, Gil Perreault, Pat Quinn, Rating The Defensemen, Larry Robinson, This Year`s Top Prospects, 1970 Montreal Canadiens

Poster: Charlie Simmer
EX+
$5.00 Cdn
Pub 4191
Volume 8 - Issue 9, 1981
Goal


Guy Lafleur
Stories: Deflections, Don Edwards & Bob Sauve, Emile Francis, Mike Gartner, Don Maloney at home, Gerry Meehan, The Chicken, 1947 All-Star Game
VG-EX
$4.00 Cdn
Pub 4192
Volume 8 - Issue 10, 1981
Goal


Guy Chouinard
Stories: Rick Kehoe, Pete Mahovlich, Mike McEwen & Rob Ramage, Billy Mosienko, Craig Patrick, Charlie Simmer
VG, 1/4" tear
$1.50 Cdn
Pub 4195
Volume IX Issue 2, Dec 1981
Goal


Wayne Gretzky
Stories: Air Force Academy, "Baby" Birmingham Bulls, Scotty Bowman, Pat Bradley, Canada Cup, Future Is Now (Bossy, Bourque, Gretzky, Liut, P. Stastny), Tom Lysiak, Boris Mayorov, Tony McKegney, Ken Morrow, Pittsburgh Penguins, Underwater Hockey, Vintage (last 7 pre-expansion players)

Poster: Bernie Federko
VG-EX
$20.00 Cdn
Pub 4196
Volume IX Issue 4, 1981
Goal


Wayne Gretzky
Stories: Canada Cup, Future Is Now (Mike Bossy, Ray Bourque, Wayne Gretzky, Mike Liut, Peter Stastny), Boris Mayorov, Tony McKegney, Vintage (last 7 pre-expansion players)
NM
$30.00 Cdn
Pub 6364
Volume IX Issue 9, 1981
Goal


Bill Barber
Stories: Bill Barber, Bet You Didn't Know That, Dan Bouchard, Jamie Farr, Ed Kea, Peter McNab, Nashville South Stars Rick Vaive
NM
$6.00 Cdn
Pub 4200
Volume IX Issue 10, 1981
Goal


Wilf Paiement
Stories: Bill Clement, Gerry Cooney, Rich Costello, Future Shock, Hockey Personalities, Rejean Lemelin & Pat Riggin, NHL Officials, Craig Ramsey, Al Secord, Frank J. Zamboni
NM
$4.00 Cdn
Pub 1838
Volume IX Issue 10, 1981
Goal


Stan Smyl
Stories: Bill Clement, Gerry Cooney, Richie Costello, Reggie Lemelin Pat Riggin, Dave Leonardi, Officials, Craig Ramsay, Al Secord
NM
$6.00 Cdn
Pub 6363
Volume IX Issue 10, 1981
Goal


Stan Smyl
Stories: Bill Clement, Gerry Cooney, Richie Costello, Reggie Lemelin Pat Riggin, Dave Leonardi, Officials, Craig Ramsay, Al Secord
VG
$2.50 Cdn
Pub 4201
Volume IX Issue 10, 1981
Goal


Stan Smyl
Stories: Bill Clement, Gerry Cooney, Richie Costello, Reggie Lemelin Pat Riggin, Dave Leonardi, Officials, Craig Ramsay, Al Secord
VG
$2.00 Cdn

1982 GOAL MAGAZINES

Scan Code
Magazine Issue
Cover
Contents
Condition
Price per Magazine
Pub 4203
Volume IX Issue 4, Feb-Mar 1982
Goal


Bobby Smith
Stories: Australian Hockey, Neal Broten, Bob Gainey / Ron Greschner / Rick MacLeish, Wayne Gretzky, Larry King, Yvon Lambert, Dale & Danny McCourt, Rick Middleton, Greg Millen, Minor Officials (Dave Daniels / Tony Nota / Tony Rand / Ed Sanford) Larry Murphy, Fred Shero, Bobby Smith, 47 Years of All-Star History

Poster: Randy Carlyle < /td>
EX
$5.00 Cdn
Pub 4206
Volume IX Issue 7, June 1982
Goal


Stanley Cup Trophy
Stories: Tai Babilonia & Randy Gardner, Scotty Bowman, Paul Coffey, Cornell University, Michel Dion, Ron Duguay, NewYork Islanders, Ed Johnston, Tom Lasorda, Brad Marsh, Jacques Plante, John Van Boxmeer, Georges Vezina

Poster: Mike Bossy
VG+
$4.50 Cdn
Pub 0439
Volume IX Issue 7, June 1982
Goal


Stanley Cup Trophy
Stories: Tai Babilonia & Randy Gardner, Scotty Bowman, Paul Coffey, Cornell University, Michel Dion, Ron Duguay, NewYork Islanders, Ed Johnston, Tom Lasorda, Brad Marsh, Jacques Plante, John Van Boxmeer, Georges Vezina

Poster: Mike Bossy
VG
$4.00 Cdn
Pub 0441
Volume X Issue 6, Dec 1982
Goal


Ron Francis
Stories: Marv Albert, Coming Up: (Jim Fox, Paul MacLean, Jim Peplinski, Chris Valentine), Foot Soldiers, Phil Housley, Rick Middleton, Reijo Ruotsalainen
EX
$5.00 Cdn
Pub 4208
Volume X Issue 6, Dec 1982
Goal


Ron Francis
Stories: Marv Albert, Coming Up: (Jim Fox, Paul MacLean, Jim Peplinski, Chris Valentine), Foot Soldiers, Phil Housley, Rick Middleton, Reijo Ruotsalainen
VG-EX, 1/16" cover tear
$2.50 Cdn
Pub 0440
Volume X Issue 6, Dec 1982
Goal


Mel Bridgman
Stories: Marv Albert, Coming Up: (Jim Fox, Paul MacLean, Jim Peplinski, Chris Valentine) Foot Soldiers, Phil Housley, Rick Middleton, Reijo Ruotsalainen
GD
$1.50 Cdn

1983 GOAL MAGAZINES

Scan Code
Magazine Issue
Cover
Contents
Condition
Price per Magazine
Pub 4209
Volume X Issue 8, Jan 1983
Goal


Barry Beck
Stories: John Anderson, Canadiens vs Nordiques, Dino Ciccarelli, Norm Jewison, Billy MacMillan, John Mariucci, Thomas Steen
EX
$3.00 Cdn
Pub 4210
Volume X Issue 8, Jan 1983
Goal


Rick Vaive
Stories: John Anderson, Canadiens vs Nordiques, Dino Ciccarelli, Norm Jewison, Billy MacMillan, John Mariucci, Thomas Steen
EX+
$4.00 Cdn
Pub 0443
Volume X Issue 8, Jan 1983
Goal


Rick Vaive
Stories: John Anderson, Canadiens vs Nordiques, Dino Ciccarelli, Norm Jewison, Billy MacMillan, John Mariucci, Thomas Steen
EX
$3.50 Cdn
Pub 4211
Volume X Issue 8, Jan 1983
Goal


Rick Vaive
Stories: John Anderson, Canadiens vs Nordiques, Dino Ciccarelli, Norm Jewison, Billy MacMillan, John Mariucci, Thomas Steen
VG-EX
$2.50 Cdn
Pub 0444
Volume X Issue 8, Jan 1983
Goal


Rick Vaive
Stories: John Anderson, Montreal Canadiens vs Quebec Nordiques, Dino Ciccarelli, Norm Jewison, Billy MacMillan, John Mariucci, Thomas Steen
VG++
$2.00 Cdn
Pub 4212
Feb 1983
Goal


Dino Ciccarelli
Stories: John Anderson, F. Lee Bailey, Best Years of Our Lives, From Russia With Love, Montreal Canadiens vs Quebec Nordiques, Dino Ciccarelli, Mike Foligno, History of Hockey: Pittsburgh, Norm Jewison, Billy MacMillan, John Mariucci, Thomas Steen, Orval Tessier

Poster: Dale Hawerchuk
VG, loose staple
$2.50 Cdn
Pub 0446
Volume X Issue 11, Feb 1983
Goal


Hockey Skate
Stories: Adirondack Red Wings, Herb Brooks, Dick Enberg, Fast Skaters, Philadelphia Hockey History, Harold Snepsts, Trainers, Washington Capitals
FR-GD
$1.50 Cdn
Pub 4214
Volume X Issue 14, April1983
Goal


Drawing of Stanley Cup
Stories: Jim Gregory, It`s In The Stars, Tom McCarthy, Pete Peeters, Playoff Heroes, The Rookies, Vladislav Tretiak, 50 Ways To Win Another
VG-EX
$2.50 Cdn
Pub 4213
Nov 1983
Goal


Billy Smith
Stories: Aaron Broten / Paul Gagne / Jeff Larmer, All-Rookie Team, Gary Carter, Jari Kurri, Bryan Murray, National Sports Festival, New York Islanders, NHL Teams Preview, Regulation Overtime Back, Billy Smith

Poster: Wayne Gretzky
VG+
$6.00 Cdn

1985 GOAL MAGAZINES

Scan Code
Magazine Issue
Cover
Contents
Condition
Price per Magazine
Pub 5430
May/June 1985
Goal


Wayne Gretzky Jersey
Stories: Carol Alt + Ron Greschner, Cornermen, Wayne Gretzky, Anders Hedberg, IVY League in the NHL, Larry King, Stan Obodiac, Colin Patterson, St. Louis Blues, Sidelined, Greg Stefan, Patrick Sundstrom, Superstitions, George Wendt

Poster: Rod Langway
GD
$4.00 Cdn

1986 GOAL MAGAZINES

Scan Code
Magazine Issue
Cover
Contents
Condition
Price per Magazine
Pub 4219
Jan 1986
Goal


Hockey Rink
Stories: Randy Carlyle, Scotty Connal, Dawn of High-Tech Hockey, Orel Hershiser, Hockey Personalities, Tom Kurvers, On Golden Skates, Tomas Sandstrom, Gord Sherven, Petri Skriko, Ray Staszak

Poster: Brent Sutter
VG+
$2.00 Cdn

1990 GOAL MAGAZINES

Scan Code
Magazine Issue
Cover
Contents
Condition
Price per Magazine
Pub 0456
April 90
Goal


Ron Hextall / Michal Pivonka
Stories: The Goal Poll (Best Players)

Poster: Ron Francis
VG-EX
$3.00 Cdn

1991 GOAL MAGAZINES

Scan Code
Magazine Issue
Cover
Contents
Condition
Price per Magazine
Pub 4225
Dec 1991
Goal


75th NHL Anniversary
Stories: 75th Commemorative Issue
VG-EX
$2.50 Cdn

1992 GOAL MAGAZINES

Scan Code
Magazine Issue
Cover
Contents
Condition
Price per Magazine
Pub 0464
Feb 1992
Goal


Chris Terreri
Stories: Marv Albert, Geoff Courtnall, Dirk Graham, Mike Ricci, Gary Roberts, Chris Terreri
VG+
$2.25 Cdn
Pub 4227
June 1992
Goal


Ottawa / Tampa Bay
Stories: CCM, Ottawa Senators, Power Stick Hockey Week, Tampa Bay Lightning
GD+
$2.00 Cdn



GOAL MAGAZINE PROGRAMS

1977 GOAL MAGAZINE PROGRAMS

Scan Code
Program Issue
Cover
Contents
Condition
Price per Magazine
Pub 1809
Dec. 28, 1977
Goal Program


NHL 77-78 International Series

Pardubice, Czechoslovakia vs Minnesota North Stars

Stories: Peggy Fleming, Danny Gare, Kladno & Pardubice, Bryan Lewis, Don Marcotte, Gerry McNamara, George Plimpton

Pardubice Line-up:
Josef Augusta, Pavel Beranek, Vladimir Bezdicek, Jiri Bubla, Franisek Bulis, Frantisek Cernik, Milan Charluba, Jiri Crha, Ladislav Dinis, Libor Havlicek, Ivan Hlinka, Milan Kadousek, Milan Kajkl, Richard Kalhous, Milan Klement, Jiri Kralik, Jan Levinsky, Vladimir Martinec, Zemick Moucka, Parvel Nestak, Jiri Novak, Parvel Novotny, Frantisek Pecival, Horymir Sekera, Josef Slavik, Bohuslav Stastny

Minnesota North Stars Line-up:
Kent-Erik Andersson, Fred Barrett, Harvey Bennett, Per-Olav Brasar, Jerry Engele, Roland Eriksson, Paul Harrison, Doug Hicks, Pierre Jarry, Steve Jensen, Pete LoPresti, Brad Maxwell, Lou Nanne, Alex Pirus, Tom Reid, Glen Sharpley, Dean Talafous, Tim Young, Tim Younghans, Ron Zanussi
VG
$12.00 Cdn

1978 GOAL MAGAZINE PROGRAMS

Scan Code
Program Issue
Cover
Contents
Condition
Price per Magazine
Pub 1820
Jan. 13, 1978
Goal Program


Guy Charron

New York Rangers vs Minnesota North Stars

Stories: All-Everything Team, John Gould, Jacques Lemaire, Dan Maloney, Name's Almost The Same, North Stars Players + Coaches Bio`s, Bobby Orr

Washington Capitals Line-up:
Jim Bedard, Larry Bolonchuk, Rick Bragnalo, Guy Charron, Bill Collins, Dave Forbes, Bob Girard, Eddy Godin, Ron Lalonde, Gord Lane, Jean Lemieux, Mike Marson, Gerry Meehan, Craig Patrick, Robert Picard, Bill Riley, Tom Rowe, Bob Sirois, Gord Smith, Bryan Watson, Bernie Wolfe

Minnesota North Stars Line-up:
Kent-Erik Andersson, Fred Barrett, Harvey Bennett, Nick Beverley, Per-Olav Brasar, Jerry Engele, Roland Eriksson, Paul Harrison, Doug Hicks, Pierre Jarry, Steve Jensen, Pete LoPresti, Brad Maxwell, Lou Nanne, Alex Pirus, Tom Reid, Glen Sharpley, Dean Talafous, Tim Young, Tim Younghans, Ron Zanussi
VG, 2" back crease, game notes
$6.00 Cdn
Pub 1828
Nov. 29, 1978
Goal Program


Mike Palmateer

Toronto Maple Leafs vs Minnesota North Stars

Stories: Buffalo Sabres Fan Survey, M. Donald Grant, Reed Larson, North Stars Players + Coaches Bio`s, Old Timers Association, Playing in Their Home Town, Joe Schaefer, Brian Spencer, Bill Torrey

Toronto Maple Leafs Line-up:
John Anderson, Bruce Boudreau, Pat Boutette, Dave Burrows, Jerry Butler, Paul Harrison, Dave Hutchison, Trevor Johansen, Jimmy Jones, Lanny McDonald, Walt McKechnie, Garry Monahan, Mike Palmateer, Borje Salming, Darryl Sittler, Lorne Stamler, Ian Turnbull, Ron Wilson, Dave Williams

Minnesota North Stars Line-up:
Kent-Erik Andersson, Fred Barrett, Harvey Bennett, Nick Beverley, Per-Olav Brasar, Jerry Engele, Roland Eriksson, Paul Harrison, Doug Hicks, Pierre Jarry, Steve Jensen, Pete LoPresti, Brad Maxwell, Lou Nanne, Alex Pirus, Tom Reid, Glen Sharpley, Dean Talafous, Tim Young, Tim Younghans, Ron Zanussi
VG+, loose center page, game notes
$6.00 Cdn

1982 GOAL MAGAZINE PROGRAMS

Scan Code
Program Issue
Cover
Contents
Condition
Price per Magazine
Pub 4682
Oct. 17, 1982
Edmonton Oilers
vs
Buffalo Sabres
NHL Program


Lindy Ruff
Edmonton Oilers Line-up:
Glenn Anderson, John Blum, Laurie Boschmann, Paul Coffey, Lee Fogolin, Grant Fuhr, Randy Gregg, Wayne Gretzky, Marc Habscheid, Charlie Huddy, Pat Hughes, Dave Hunter, Jari Kurri, Gary Lariviere, Ken Linseman, Kevin Lowe, Dave Lumley, Mark Messier, Andy Moog, Jaroslav Pouzar, Don Nachbauer, Tom Roulston, Dave Semenko

Buffalo Sabres Line-up:
Dave Andreychuk, Jacques Cloutier, Paul Cyr, Ron Fischer, Mike Foligno, Jere Gillis, Bill Hajt, Gilles Hamel, Phil Housley, Dale McCourt, Tony McKegney, Sean McKenna, Mike Moller, Steve Patrick, Brent Peterson, Larry Playfair, Gilbert Perreault, Mike Ramsey, Lindy Ruff, Bob Sauve, Andre Savard, Ric Seiling, John Van Boxmeer, Hannu Virta
GD, creased cover, 1/2" split spine
$10.00 Cdn

1986 GOAL MAGAZINE PROGRAMS

Scan Code
Program Issue
Cover
Contents
Condition
Price per Magazine
Pub 1514
Jan. 21, 1986
Goal Program


Hockey Net

Philadelphia Flyers vs New York Islanders

Stories: Herb Brooks, Kelly Hrudey, Illustrated History Of Hockey - The Soviets, Olympic Team Canada, Olympic Team USA, Soviet Hockey, Mats Thelen, 84-85 New York Islanders In Review
GD, loose center fold + marked
$2.50 Cdn
Pub 1515
Jan. 28, 1986
Goal Program


Miroslav Frycer

Philadelphia Flyers vs New York Islanders

Stories: Bobby Carpenter, Howard Cosell, IHL, Illustrated History Of Hockey - The Scorers, Short Players, 50 Years Of The AHL, 84-85 New York Islanders In Review

*Denis Potvin scored his 271st goal which broke Bobby Orr`s record for goals at the time
GD, marked
$7.00 Cdn
Last Updated: Jan. 10, 2020

---