EDMONTON DRILLERS NASL SOCCER PROGRAMS
We sell back issues of old Edmonton Drillers NASL Soccer programs from 1979 to 1983,
as well as old NASL - North American Soccer League team media guides.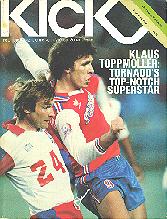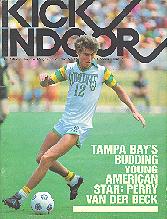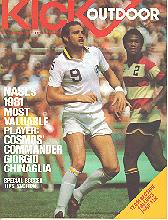 Prices subject to change without notice according to market conditions.
Postage & Handling is extra. Canadian residents add applicable GST/HST.
Prices are listed in Canadian funds - please inquire as to the current exchange for prices in US funds.
EDMONTON DRILLERS NORTH AMERICAN SOCCER LEAGUE PROGRAMS

1979 Edmonton Drillers NASL Programs

Scan Code
Mag Issue
Cover
Contents
Condition
Price per Program
Pub 6232
May 9, 1979
New England Tea Men
vs
Edmonton Drillers


Tony Waiters
New England Tea Men Lineup: Brian Alderson, Alhinho, Juan Cano, Ringo Cantillo, Peter Carr, Roger Gibbins, Keita, John Lignos, Dale Peterson, Steve Reid, Peter Simpson, Chris Turner, Keith Weller, Kevin Welsh, Dennis Wit

Edmonton Drillers Lineup: John Anton, Pete Arnautoff, Lee Atack, Andy Atuegbu, Bozidar Ban, Jan Endeman, Derek Evans, Jans Goossens, Lorenz Hilkes, Ronald Klinkenberg, Hans Kraay Jr., Gudgeir Leifsson, Mark Liveric, Dwight Lodeweges, Gordon Manzini, Joe Raduka, Bogdan Turudija, Bruce Twamley
VG
$6.00 Cdn
Pub 6233
May 30, 1979
Vancouver Whitecaps
vs
Edmonton Drillers


Karl-Heinz Granitza
Vancouver Whitecaps Lineup: Bob Bolitho, John Craven, Peter Daniel, Drew Ferguson, Kevin Hector, Willie Johnston, Roger Kenyon, Bob Lenarduzzi, Dan Lenarduzzi, Ray Lewington, Bob McNab, Paul Nelson, Buzz Parsons, Derek Possee, Jon Sammels, Carl Valentine, Trevor Whymark

Edmonton Drillers Lineup: John Anton, Pete Arnautoff, Lee Atack, Andy Atuegbu, Bozidar Ban, Jan Endeman, Derek Evans, Jans Goossens, Lorenz Hilkes, Ronald Klinkenberg, Hans Kraay Jr., Gudgeir Leifsson, Dwight Lodeweges, Gordon Manzini, Rob Ouwehand, Joe Raduka, Alex Shoenmaker, Bogdan Turudija, Bruce Twamley
GD-VG
$5.00 Cdn
Pub 6234
June 16, 1979
San Diego Sockers
vs
Edmonton Drillers


Hans Beckenbauer
San Diego Sockers Lineup: Leonardo Cuellar, Bob Dogancic, Laszio Harsanyi, Harald Heck, Ty Keough, Doc Lawson, Pete Lechermann, Walker McCall, Jose Neto, Pete Nover, Yilmaz Orhan, Julie Veee, Gert Wieczorkowski, Jean Willrich

Edmonton Drillers Lineup: John Anton, Pete Arnautoff, Lee Atack, Andy Atuegbu, Jan Endeman, Derek Evans, Drew Ferguson, Jans Goossens, Lorenz Hilkes, Ronald Klinkenberg, Hans Kraay Jr., Gudgeir Leifsson, Dwight Lodeweges, Gordon Manzini, Rob Ouwehand, Joe Raduka, Alex Shoenmaker, Bogdan Turudija, Bruce Twamley
VG
$6.00 Cdn
Pub 6235
July 4, 1979
Seattle Sounders
vs
Edmonton Drillers


Kids Playing Soccer
Seattle Sounders Lineup: Frank Barton, Cliff Brown, Steve Buttle, Micky Cave, Paul Crossley, Ron Davies, Mike England, Alan Hudson, John Impey, Mike Ivanov, Tom Jenkins, Eddie Krueger, Jim McAllister, Bruce Miller, Jimmy Neighbour, Tommy Ord, Bruce Rudroff, John Ryan, Derek Smethurst, Al Trost, Adrian Webster

Edmonton Drillers Lineup: John Anton, Pete Arnautoff, Lee Atack, Andy Atuegbu, Jan Endeman, Derek Evans, Drew Ferguson, Jans Goossens, Lorenz Hilkes, Henning Munk-Jensen, Ronald Klinkenberg, Hans Kraay Jr., Gudgeir Leifsson, Dwight Lodeweges, Gordon Manzini, Rob Ouwehand, Joe Raduka, Paul Roe, Alex Shoenmaker, Bogdan Turudija, Bruce Twamley
VG
$6.00 Cdn

1980 Edmonton Drillers NASL Programs

Scan Code
Mag Issue
Cover
Contents
Condition
Price per Program
Pub 6236
May 4, 1980
Detroit Express
vs
Edmonton Drillers


Bob Lenarduzzi
Detroit Express Lineup: Ivan Belfiore, David Bradford, Jim Brown, Eddie Colquhoun, Benny Dargle, Pete Dawson, Robert De Oliveira, Bert Farley, Keith Furphy, Neils Guldbjerg, Jim Hagen, Paul Hunter, Patricio Margetic, David McGill, Angus Moffatt, Ken Murphy, Donato Nardiello, Steve Seargeant, Lesh Shkreli, Brian Tinnion

Edmonton Drillers Lineup: Pertti Alaja, John Baretta, Bill Connor, Derek Evans, Drew Ferguson, Jans Goossens, Klaus Heinlein, Lorenz Hilkes, Bernie James, Edward Kirschner, Ronald Klinkenberg, Hayden Knight, Dwight Lodeweges, Ross Ongaro, Andre Oostrom, Joe Raduka, Paul Roe, Ulf Ryberg, Mark Snell, Mike Sweeney, Raymond Taylor, John Webb
VG, light soft drink stain
$5.00 Cdn
Pub 6237
May 21, 1980
Portland Timbers
vs
Edmonton Drillers


Hans Beckenbauer / Oscar Fabbiani / Karl-Heinz Granitza
Portland Timbers Lineup: Willie Anderson, Garry Ayre, John Bain, John Benbow, Clyde Best, Clive Charles, Gary Collier, Jimmy Conway, Graham Day, Willie Donachie, Bernie Fagan, Brian Gant, Bruce Gant, Jim Gorsek, Stuart Lee, Glenn Myernick, Mick Poole, Rob Resenbrink

Edmonton Drillers Lineup: Pertti Alaja, John Baretta, Bill Connor, Derek Evans, Drew Ferguson, Jans Goossens, Klaus Heinlein, Lorenz Hilkes, Bernie James, Edward Kirschner, Ronald Klinkenberg, Hayden Knight, Dwight Lodeweges, Ross Ongaro, Andre Oostrom, Joe Raduka, Paul Roe, Ulf Ryberg, Mark Snell, Mike Sweeney, Raymond Taylor, John Webb
GD-VG
$6.00 Cdn
Pub 6238
Aug. 22, 1980
Seattle Sounders
vs
Edmonton Drillers


Klaus Toppmoller
Seattle Sounders Lineup: Reine Almquist, Frank Barton, Jeff Bourne, Jack Brand, Steve Buttle, Paul Crossley, Ron Davies, Dave Gillett, Roy Greaves, Fred Hamel, Alan Hudson, Tommy Hutchison, Mike Ivanov, Bruce Miller, David Nish, Mark Peterson, Bruce Rioch, John Ryan, Derek Smethurst, Jeff Stock, Max Thompson, Al Trost, Chris Vaccaro

Edmonton Drillers Lineup: Pertti Alaja, John Baretta, Bill Connor, Drew Ferguson, Jans Goossens, Klaus Heinlein, Lorenz Hilkes, Bernie James, Edward Kirschner, Ronald Klinkenberg, Hayden Knight, Dwight Lodeweges, Ross Ongaro, Andre Oostrom, Joe Raduka, Paul Roe, Ulf Ryberg, Mark Snell, Mike Sweeney, Raymond Taylor, Henk ten Cate, John Webb
GD-VG
$6.00 Cdn

1980-81 Edmonton Drillers Indoor Soccer Programs

Scan Code
Mag Issue
Cover
Contents
Condition
Price per Program
Pub 6241
Dec. 1980
Vancouver Whitecaps
vs
Edmonton Drillers


Perry Van Der Beck
Vancouver Whitecaps Lineup: Jim Armstrong, Hans Bongers, Alan Goad, Wayne Gordey, Hans Granander, Gerry Gray, Randy Keen, Bob Lenarduzzi, Dan Lenarduzzi, Steve Nesin, Mark Nickeas, Buzz Parsons, Derek Possee, Peter Roe, Sam Saundh

Edmonton Drillers Lineup: Jim Amos, John Baretta, Bill Connor, Pasquale DeLuca, Drew Ferguson, Jan Goosens, Albert Gudmundsson, Kai Haaskivi, Bernie James, Ron Klinkenberg, Hayden Knight, Ross Ongaro, Andre Oostrom, Claudio Perusco, Joe Raduka, Paul Roe, Mike Sweeney, Ray Taylor, John Webb
GD-VG, book store ink stamp on cover, light water damage on back
$5.00 Cdn

1981 Edmonton Drillers NASL Programs

Scan Code
Mag Issue
Cover
Contents
Condition
Price per Program
Pub 6239
May 8, 1981
Vancouver Whitecaps
vs
Edmonton Drillers


Giorgio Chinagala
Vancouver Whitecaps Lineup: Brent Barling, Peter Beardsley, Liam Buckley, Ralston Dunlop, Gerry Gray, Ray Hankin, David Henderson, Jimmy Holmes, Randy Keen, Roger Kenyon, Bobby Lenarduzzi, Peter Lorimer, Paul Nelson, David Norman, Pierce O`Leary, Buzz Parsons, Derek Possee, Sam Saundh, Alan Taylor, Ron Village, Carl Valentine, Terry Yorath

Edmonton Drillers Lineup: Pertti Alaja, John Baretta, Pasquale DeLuca, Drew Ferguson, Jans Goossens, Albert Gudmundsson, Kai Haaskivi, Klaus Heinlein, Bernie James, P.J. Johns, Edi Kirschner, Dwight Lodeweges, Peter Nogly, Norm Odinga, Ross Ongaro, Andre Oostrom, Joe Raduka, Ulf Ryberg, Mark Snell, Mike Sweeney, John Webb
VG, book store ink stamp on cover
$5.00 Cdn

1982 Edmonton Drillers NASL Programs

Scan Code
Mag Issue
Cover
Contents
Condition
Price per Program
Pub 6240
May 12, 1982
Toronto Blizzard
vs
Edmonton Drillers


Giorgio Chinagala
Toronto Blizzard Lineup: Clyde Best, David Byrne, Cliff Calvert, Tony Chursky, Frank Ciacci, Duncan Davidson, David Fairclough, Colin Franks, Victor Kodelja, Sam Lenarduzzi, Dave McQueen, Alan Merrick, Juan Carlos Molina, Jan Moller, Jimmy Nicholl, Ace Ntsoelengoe, Randy Ragan, Jomo Sono, Blagoje Tamindzic, Bruce Wilson, David Woodsford

Edmonton Drillers Lineup: Paul Barron, Pasquale DeLuca, Larry Dill, Drew Ferguson, Jans Goossens, Kai Haaskivi, Brian Hornsby, Bernie James, P.J. Johns, Dwight Lodeweges, Mike McLenaghen, Peter Mellor, Andre Oostrom, Darren Poole, Joe Raduka, Neill Roberts, Mike Sweeney, Gordon Sweetzer, John Webb
VG, book store ink stamp on cover
$5.00 Cdn
Last Updated: May 18, 2018

---