1970`s B&W NHL HOCKEY PLAYERS
TEAM ISSUED 8 x 10 PRESS PHOTOS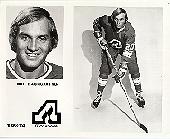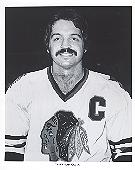 We have a collection of 1970`s 8" x 10" B&W NHL retired player press photographs for sale.
The majority of these team issued horizontal black & white press photos
have a portrait shot on the left and an action or posed shot on the right.
The players are listed alphabetically by team. These are excellent for autographs.
Click on the the numbered link to see the photo and hit the back button to return to the list.
Postage & Handling is extra. Canadian residents add applicable GST/HST.
Prices are listed in Canadian funds - please inquire as to the current exchange for prices in US funds.
B&W RETIRED NHL PRESS PHOTOS

The majority of these photos are one of a kind.
These have slightly curled corners which are common with old photos.

ATLANTA FLAMES B&W PRESS PHOTOS

Item
Player
Team
Condition
Cost Per Photo
74-75 B&W photo 0001
Arnie Brown
Atlanta Flames
VG ¾ " corner crease
$5.00 Cdn
74-75 B&W photo 0002
Gerry Byers
Atlanta Flames
VG 3 small corner creases
$4.00 Cdn
76-77 B&W photo 0003
Larry Carriere
Atlanta Flames
VG
$5.00 Cdn
76-77 B&W photo 0004
Guy Chouinard
Atlanta Flames
VG
$5.00 Cdn
76-77 B&W photo 0005
Bill Clement
Atlanta Flames
VG
$6.00 Cdn
76-77 B&W photo 0008
Bill Flett
Atlanta Flames
VG++
$6.00 Cdn
B&W photo 0009
Lucien Grenier
Atlanta Flames
GD 4" border crease
$3.00 Cdn
75-76 B&W photo 0010
Ed Kea
Atlanta Flames
VG 1" corner crease
$5.00 Cdn
75-76 B&W photo 0011
Dave Kryskow
Atlanta Flames
VG 1" corner crease
$5.00 Cdn
75-76 B&W photo 0012
Bob Leiter
Atlanta Flames
VG 2 x 1" corner creases
$4.00 Cdn
74-75 B&W photo 0013
Jean Lemieux
Atlanta Flames
2" corner and ½ " creases
$4.00 Cdn
73-74 B&W photo 0014
Keith McCreary
Atlanta Flames
VG 2" border creases
$4.00 Cdn
76-77 B&W photo 0015
Richard Mulhern
Atlanta Flames
VG ½ " corner crease
$5.00 Cdn
B&W photo 0016
Larry Romanchych
Atlanta Flames
VG
$5.00 Cdn
75-76 B&W photo 0017
Claude St. Sauveur
Atlanta Flames
GD-VG 1" corner crease
$4.00 Cdn
76-77 B&W photo 0018
Eric Vail
Atlanta Flames
VG++
$6.00 Cdn

BOSTON BRUINS B&W PRESS PHOTOS

Item
Player
Team
Condition
Cost Per Photo
76-77 B&W photo 0020
Earl Anderson
Boston Bruins
VG++
$6.00 Cdn
79-80 B&W photo 0021
Ray Bourque
Boston Bruins
VG+ ½ " corner crease
$10.00 Cdn
79-80 B&W photo 0022
Wayne Cashman
Boston Bruins
VG 35/65 o/c
$6.00 Cdn
79-80 B&W photo 0023
Gerry Cheevers - goalie
Boston Bruins
VG ½ " corner crease
$5.00 Cdn
79-80 B&W photo 0025
Fred Creighton - Coach (Portrait)
Boston Bruins
VG++
$6.00 Cdn
78-79 B&W photo 0026
Gary Doak (no helmet)
Boston Bruins
VG 1" border crease
$5.00 Cdn
79-80 B&W photo 0027
Gary Doak (helmet)
Boston Bruins
VG+
$6.00 Cdn
76-77 B&W photo 0030
Doug Gibson
Boston Bruins
EX
$8.00 Cdn
76-77 B&W photo 0031
Stan Johnathan
Boston Bruins
EX
$7.00 Cdn
78-79 B&W photo 0035
Bob Miller (2 hands on stick)
Boston Bruins
VG
$5.00 Cdn
79-80 B&W photo 0036
Bob Miller (1 hand on stick)
Boston Bruins
GD 1/4" tear, ½ " corner crease and ½ " border discoloration
$5.00 Cdn
76-77 B&W photo 0037
Hank Nowak
Boston Bruins
VG++
$6.00 Cdn
78-79 B&W photo 0038
Dennis O`Brien (1 hand on stick)
Boston Bruins
VG
$5.00 Cdn
78-79 B&W photo 0041
Terry O`Reilly
Boston Bruins
VG
$6.00 Cdn
79-80 B&W photo 0042
Terry O`Reilly
Boston Bruins
VG+
$7.00 Cdn
79-80 B&W photo 0043
Terry O`Reilly
Boston Bruins
VG+ 1" back crease
$6.00 Cdn
77-78 B&W photo 0044
Jean Ratelle (corner of net)
Boston Bruins
VG+ 1" corner crease
$7.00 Cdn
78-79 B&W photo 0045
Jean Ratelle (ref in background)
Boston Bruins
VG+
$7.00 Cdn
76-77 B&W photo 0051
Joe Zanussi
Boston Bruins
GD several creases
$3.00 Cdn

BUFFALO SABRES B&W PRESS PHOTOS

Item
Player
Team
Condition
Cost Per Photo
B&W photo 0052
Ken Breitenbach
Buffalo Sabres
VG
$5.00 Cdn
B&W photo 0053
Paul Curtis
Buffalo Sabres
VG
$5.00 Cdn
B&W photo 0478
Butch Deadmarsh (Portrait)
Buffalo Sabres
GD-VG 2 x 1" corner creases and pencil writing on back
$3.00 Cdn
B&W photo 0054
Rick Dudley
Buffalo Sabres
VG
$5.00 Cdn
B&W photo 0055
Rick Dudley (Action shot wearing headband)
Buffalo Sabres
VG 1" border crease and border discoloration
$4.00 Cdn
B&W photo 0056
Richard Dunn
Buffalo Sabres
VG
$5.00 Cdn
B&W photo 0057
Lee Fogolin
Buffalo Sabres
VG
$5.00 Cdn
B&W photo 0058
Jocelyn Guevremont (#2 visible)
Buffalo Sabres
VG
$5.00 Cdn
B&W photo 0059
Jocelyn Guevremont (Action shot has #3 visible)
Buffalo Sabres
GD-VG 1" corner crease
$3.00 Cdn
B&W photo 0481
Bill Hajt
Buffalo Sabres
GD 3 x 1" corner creases and pen writing on back, erased writing impression on front border
$3.00 Cdn
B&W photo 0061
Jim Lorentz
Buffalo Sabres
VG
$5.00 Cdn
B&W photo 0062
Don Luce (Action shot facing forward)
Buffalo Sabres
VG
$5.00 Cdn
B&W photo 0064
Richard Martin
Buffalo Sabres
VG
$6.00 Cdn
B&W photo 0065
Terry Martin
Buffalo Sabres
VG 1" crease
$5.00 Cdn
B&W photo 0066
Gary McAdam
Buffalo Sabres
VG
$5.00 Cdn
B&W photo 0067
Paul McIntosh
Buffalo Sabres
VG
$5.00 Cdn
B&W photo 0479
Ray McKay (Portrait)
Buffalo Sabres
GD pencil writing on back
$3.00 Cdn
B&W photo 0068
Larry Mickey
Buffalo Sabres
VG
$5.00 Cdn
B&W photo 0069
Joe Noris
Buffalo Sabres
VG
$5.00 Cdn
B&W photo 0070
Larry Playfair
Buffalo Sabres
VG ¾ " crease
$5.00 Cdn
B&W photo 0480
Tracy Pratt (Portrait)
Buffalo Sabres
GD pencil writing on back
$3.00 Cdn
B&W photo 0071
Marcel Pronovost (Coach)
Buffalo Sabres
VG 1/2" corner crease
$5.00 Cdn
B&W photo 0074
Jacques Richard (Portrait shot has #9 showing)
Buffalo Sabres
VG
$5.00 Cdn
B&W photo 0075
Rene Robert (Portrait)
Buffalo Sabres
VG+
$7.00 Cdn
B&W photo 0076
Rene Robert
Buffalo Sabres
VG
$6.00 Cdn
B+W photo 0078
Derek Smith
Buffalo Sabres
VG
$5.00 Cdn
B&W photo 0079
Fred Stanfield
Buffalo Sabres
VG
$5.00 Cdn

CALIFORNIA GOLDEN SEALS B&W PRESS PHOTOS

Item
Player
Team
Condition
Cost Per Photo
74-75 B&W photo 0084
Joey Johnston
California Golden Seals
VG ½ " corner crease and slight discoloration
$4.00 Cdn
74-75 B&W photo 0085
Wayne King
California Golden Seals
VG
$5.00 Cdn
74-75 B&W photo 0086
Brian Lavender
California Golden Seals
VG ¾ " corner crease
$5.00 Cdn
74-75 B&W photo 0087
Bill McCreary - Director of Hockey Operations (Portrait)
California Golden Seals
VG
$5.00 Cdn

CHICAGO BLACKHAWKS B&W PRESS PHOTOS

Item
Player
Team
Condition
Cost Per Photo
B&W photo 0089
Terry Ruskowski (Portrait)
Chicago Blackhawks
VG+
$6.00 Cdn

CLEVELAND BARONS B&W PRESS PHOTOS

Item
Player
Team
Condition
Cost Per Photo
B&W photo 0090
Fred Ahern
Cleveland Barons
VG
$5.00 Cdn
B&W photo 0091
Mike Christie
Cleveland Barons
VG small stain on back
$5.00 Cdn
B&W photo 0092
Mike Crombeen
Cleveland Barons
VG+
$6.00 Cdn
B&W photo 0094
Mike Fidler
Cleveland Barons
VG
$5.00 Cdn
B&W photo 0095
Dave Gardner
Cleveland Barons
EX
$8.00 Cdn
B&W photo 0096
Bob Girard
Cleveland Barons
VG
$5.00 Cdn
B&W photo 0097
Bob Girard
Cleveland Barons
VG
$5.00 Cdn
B&W photo 0098
Bjorn Johansson
Cleveland Barons
VG+
$6.00 Cdn
B&W photo 0100
Kris Manery
Cleveland Barons
VG+
$6.00 Cdn
B&W photo 0102
Wayne Merrick
Cleveland Barons
VG+
$6.00 Cdn
B&W photo 0104
Greg Smith
Cleveland Barons
VG ¾ " corner and 1" back crease
$5.00 Cdn
B&W photo 0105
Greg Smith
Cleveland Barons
VG small back stain
$5.00 Cdn
B&W photo 0093
Jack Curran / Gerry Dean - Trainers
Cleveland Barons
EX
$6.00 Cdn

COLORADO ROCKIES B&W PRESS PHOTOS

Item
Player
Team
Condition
Cost Per Photo
B&W photo 0106
Fred Ahern
Colorado Rockies
VG 2" crease and back discoloration
$3.00 Cdn
B&W photo 0113
Bob Neely
Colorado Rockies
VG 2" crease
$4.00 Cdn
B&W photo 0114
Dennis Owchar
Colorado Rockies
VG 2" crease
$4.00 Cdn
B&W photo 0115
Randy Pierce
Colorado Rockies
VG 2" crease
$4.00 Cdn
B&W photo 0116
Nelson Pyatt
Colorado Rockies
VG 2" crease
$4.00 Cdn
B&W photo 0117
Mark Suzor
Colorado Rockies
GD 2" and 3 x 1" creases
$3.00 Cdn

DETROIT RED WINGS B&W PRESS PHOTOS

Item
Player
Team
Condition
Cost Per Photo
75-76 B&W photo 0118
Frank Bathe
Detroit Red Wings
VG 1" crease
$5.00 Cdn
79-80 B&W photo 0119
Thommie Bergman
Detroit Red Wings
VG 1" crease
$5.00 Cdn
79-80 B&W photo 0122
Dan Labraaten
Detroit Red Wings
GD ¾ " corner crease
$3.00 Cdn
76-77 B&W photo 0123
Nick Libett
Detroit Red Wings
VG
$4.00 Cdn
79-80 B&W photo 0124
Barry Long
Detroit Red Wings
VG
$5.00 Cdn
79-80 B&W photo 0125
Dale McCourt
Detroit Red Wings
VG 1" corner crease
$5.00 Cdn
79-80 B&W photo 0126
Perry Miller
Detroit Red Wings
VG
$5.00 Cdn
79-80 B&W photo 0127
Vaclav Nedomansky
Detroit Red Wings
VG 1" corner crease
$5.00 Cdn
79-80 B&W photo 0128
Brent Peterson
Detroit Red Wings
VG+
$6.00 Cdn
75-76 B&W photo 0129
Phil Roberto
Detroit Red Wings
VG 1/16" tear
$5.00 Cdn
79-80 B&W photo 0130
Dennis Sobchuk
Detroit Red Wings
VG
$5.00 Cdn
79-80 B&W photo 0131
Tom Webster
Detroit Red Wings
VG 2" corner crease
$4.00 Cdn
79-80 B&W photo 0132
Paul Woods
Detroit Red Wings
VG
$5.00 Cdn

HARTFORD WHALERS B&W PRESS PHOTOS

Item
Player
Team
Condition
Cost Per Photo
B&W photo 0133
Ray Allison
Hartford Whalers
EX
$8.00 Cdn
B&W photo 0134
Bill Bennett
Hartford Whalers
VG+
$6.00 Cdn
B&W photo 0136
Gordie Roberts
Hartford Whalers
VG+
$6.00 Cdn
B&W photo 0137
Mike Rogers
Hartford Whalers
VG+
$6.00 Cdn
B&W photo 0138
Al Sims
Hartford Whalers
VG+
$6.00 Cdn

KANSAS CITY SCOUTS B&W PRESS PHOTOS

Item
Player
Team
Condition
Cost Per Photo
B&W photo 0140
Sid Abel G.M. / Baz Bastien A. G. M. / John Choyce Scout / Bep Guidolin Coach / Edwin G. Thompson Pres.
Kansas City Scouts
GD 1" corner crease and a few border creases
$3.00 Cdn
B&W photo 0147
Guy Charron
Kansas City Scouts
VG ¾ " and 1/4" tear
$3.00 Cdn
B&W photo 0152
Denis Dupere
Kansas City Scouts
VG 1" crease
$5.00 Cdn
B&W photo 0161
Larry Johnston
Kansas City Scouts
VG
$5.00 Cdn
B&W photo 0174
Randy Rota
Kansas City Scouts
VG+ 1" back crease and slight stain on back
$4.00 Cdn

LOS ANGELES KINGS B&W PRESS PHOTOS

Item
Player
Team
Condition
Cost Per Photo
74-75 B&W photo 0176
Bob Berry
Los Angeles Kings
2 x 1" corner creases
$5.00 Cdn
74-75 B&W photo 0178
Bob Murdoch
Los Angeles Kings
GD 2 x 1" corner creases
$4.00 Cdn
74-75 B&W photo 0180
Bob Nevin
Los Angeles Kings
VG 1" tear
$2.00 Cdn
74-75 B&W photo 0179
Bob Pulford - Coach (Portrait)
Los Angeles Kings
VG 2 x 1" corner creases
$5.00 Cdn
74-75 B&W photo 0181
Whitey Widing
Los Angeles Kings
VG minor back creases
$4.00 Cdn

MINNESOTA NORTH STARS B&W PRESS PHOTOS

Item
Player
Team
Condition
Cost Per Photo
B&W photo 0182
Chris Ahrens
Minnesota North Stars
VG++ 1" back crease
$4.00 Cdn
79-80 B&W photo 0183
Kent-Erik Andersson
Minnesota North Stars
GD-VG 3 minor back creases
$4.00 Cdn
79-80 B&W photo 0184
Fred Barrett
Minnesota North Stars
GD-VG 2 x 1" crease
$4.00 Cdn
79-80 B&W photo 0186
Per-Olov Brasar
Minnesota North Stars
GD 2 x 2" border creases
$4.00 Cdn
B&W photo 0187
Wayne Connelly
Minnesota North Stars
GD-VG 1" corner creases
$4.00 Cdn
77-78 B&W photo 0188
Roland Eriksson
Minnesota North Stars
VG
$5.00 Cdn
79-80 B&W photo 0190
Mike Fidler
Minnesota North Stars
EX+
$8.00 Cdn
75-76 B&W photo 0478
John Flesch
Minnesota North Stars
VG++
$6.00 Cdn
76-77 B&W photo 0191
Bill Goldsworthy
Minnesota North Stars
VG 1" top crease, 2" and 1" back crease
$5.00 Cdn
B&W photo 0192
Danny Grant
Minnesota North Stars
VG minor back creases
$5.00 Cdn
75-76 B&W photo 0193
Norm Gratton
Minnesota North Stars
VG++ minor back creases
$5.00 Cdn
77-78 B&W photo 0194
Pierre Jarry
Minnesota North Stars
GD back creases
$3.00 Cdn
77-78 B&W photo 0195
Steve Jensen
Minnesota North Stars
VG++
$6.00 Cdn
79-80 B&W photo 0196
Kris Manery
Minnesota North Stars
VG 1" back crease
$5.00 Cdn
B&W photo 0197
Don Martineau
Minnesota North Stars
VG++
$6.00 Cdn
78-79 B&W photo 0199
Brad Maxwell
Minnesota North Stars
VG 2" surface crease
$5.00 Cdn
79-80 B&W photo 0198
Brad Maxwell
Minnesota North Stars
GD-VG 1" back crease
$5.00 Cdn
78-79 B&W photo 0200
Bryan Maxwell
Minnesota North Stars
GD 2" crease, 2" surface and 1" corner crease
$4.00 Cdn
77-78 B&W photo 0203
Lou Nanne
Minnesota North Stars
VG 1" back crease
$6.00 Cdn
B&W photo 0204
Richard Nantais
Minnesota North Stars
VG++ ½ " creased corner
$6.00 Cdn
B&W photo 0205
Murray Oliver
Minnesota North Stars
VG+ ½ " creased corner
$6.00 Cdn
B&W photo 0206
J.P. Parise
Minnesota North Stars
VG++
$7.00 Cdn
78-79 B&W photo 0207
Steve Payne
Minnesota North Stars
VG+ ½ " creased corner
$6.00 Cdn
78-79 B&W photo 0208
Alex Pirus
Minnesota North Stars
VG++ 1" back crease
$5.00 Cdn
B&W photo 0209
Bill Plager
Minnesota North Stars
VG++ ½ " creased corner
$6.00 Cdn
79-80 B&W photo 0210
Mike Polich
Minnesota North Stars
VG few minor back creases
$5.00 Cdn
77-78 B&W photo 0211
Tom Reid
Minnesota North Stars
VG 1" back crease, 2 dinged corners
$5.00 Cdn
77-78 B&W photo 0212
Jim Roberts
Minnesota North Stars
VG 2 dinged corners
$5.00 Cdn
B&W photo 0213
Johnny Rogers
Minnesota North Stars
EX
$8.00 Cdn
75-76 B&W photo 0214
Doug Rombough
Minnesota North Stars
VG++ 2 dinged corners
$6.00 Cdn
77-78 B&W photo 0217
Glen Sharpley
Minnesota North Stars
GD 1" crease creased corner and
$4.00 Cdn
79-80 B&W photo 0218
Glen Sharpley
Minnesota North Stars
VG
$6.00 Cdn
79-80 B&W photo 0216
Paul Shmyr
Minnesota North Stars
EX ½ " creased corner
$7.00 Cdn
79-80 B&W photo 0219
Greg Smith
Minnesota North Stars
VG+, 1" back crease
$5.00 Cdn
79-80 B&W photo 0220
Tom Younghans
Minnesota North Stars
GD-VG 1 ½ " corner crease
$4.00 Cdn

MONTREAL CANADIENS B&W PRESS PHOTOS

Item
Player
Team
Condition
Cost Per Photo
B&W photo 0222
Scott Bowman
Montreal Canadiens
several border creases
$4.00 Cdn
B&W photo 0223
Yvan Cournoyer (Portrait)
Montreal Canadiens
GD 3" corner crease, some border discoloration
$4.00 Cdn
B&W photo 0224
Brian Engblom (Portrait)
Montreal Canadiens
EX 1" corner crease
$5.00 Cdn
74-75 B&W photo 0225
Glenn Goldup (Portrait)
Montreal Canadiens
2 dinged corners, 3 minor back creases
$4.00 Cdn
74-75 B&W photo 0227
Jacques Laperriere (Portrait)
Montreal Canadiens
VG
$6.00 Cdn
74-75 B&W photo 0228
Guy Lapointe (Portrait)
Montreal Canadiens
VG 1" creased corner
$6.00 Cdn
74-75 B&W photo 0229
Chuck Lefley (Portrait)
Montreal Canadiens
GD 1" creased corner, 2 small border creases
$4.00 Cdn
74-75 B&W photo 0234
Jim Roberts (Portrait)
Montreal Canadiens
EX
$8.00 Cdn
73-74 B&W photo 0236
Serge Savard
Montreal Canadiens
VG ½ " creased corner
$7.00 Cdn
74-75 B&W photo 0237
Serge Savard (Portrait)
Montreal Canadiens
VG 1" back crease
$7.00 Cdn
B&W photo 0238
Serge Savard
Montreal Canadiens
EX
$10.00 Cdn
B&W photo 0239
Serge Savard
Montreal Canadiens
VG 1" corner crease and crease
$6.00 Cdn
B&W photo 0240
Steve Shutt
Montreal Canadiens
VG+ 1" corner crease
$7.00 Cdn
73-74 B&W photo 0243
Murray Wilson
Montreal Canadiens
VG-EX
$8.00 Cdn
73-74 B&W photo 0244
Richard (Rick) Wilson
Montreal Canadiens
VG 2 x ¼ " tears
$4.00 Cdn

NEW YORK ISLANDERS B&W PRESS PHOTOS

Item
Player
Team
Condition
Cost Per Photo
B&W photo 0245
Al Arbour - Coach (Portrait)
New York Islanders
GD-VG
$5.00 Cdn
B&W photo 0246
Bob Bourne
New York Islanders
VG 1" back crease
$5.00 Cdn
B&W photo 0247
Craig Cameron
New York Islanders
VG ½ " crease, small border discoloration
$3.00 Cdn
B&W photo 0248
Dave Fortier
New York Islanders
VG 1" back crease
$5.00 Cdn
B&W photo 0249
Germain Gagnon
New York Islanders
VG++ slight discoloration
$5.00 Cdn
B&W photo 0250
Clark Gillies
New York Islanders
GD-VG ¾ " corner and 1" crease
$6.00 Cdn
B&W photo 0251
Dave Lewis
New York Islanders
VG
$6.00 Cdn
B&W photo 0252
Bert Marshall
New York Islanders
VG 2 x ¾ " corner creases
$5.00 Cdn
B&W photo 0253
Tom Miller
New York Islanders
VG dinged corner and 1" back crease
$5.00 Cdn
B&W photo 0254
Bob Nystrom
New York Islanders
VG 3" border discoloration and 1" crease
$5.00 Cdn
B&W photo 0256
Andre St. Laurent
New York Islanders
PR ¼ " tear and creased border
$2.00 Cdn
B&W photo 0257
Ralph Stewart
New York Islanders
VG
$6.00 Cdn
B&W photo 0258
Ralph Stewart
New York Islanders
GD ½ " tear and 3 minor creases
$4.00 Cdn
B&W photo 0259
Bryan Trottier
New York Islanders
VG 1" light surface crease
$8.00 Cdn

NEW YORK RANGERS B&W PRESS PHOTOS

Item
Player
Team
Condition
Cost Per Photo
81-82 B&W photo 0260
Mike Allison
New York Rangers
VG++
$6.00 Cdn
79-80 B&W photo 0261
Tim Bothwell
New York Rangers
GD-VG creases on border
$4.00 Cdn
81-82 B&W photo 0262
Herb Brooks - Coach (Portrait)
New York Rangers
GD-VG 1" crease
$4.00 Cdn
78-79 B&W photo 0263
Lucien DeBlois
New York Rangers
GD 1" creased corner and ½ " tear
$4.00 Cdn
B&W photo 0264
Wayne Dillon
New York Rangers
PR creased
$2.00 Cdn
78-79 B&W photo
Ron Duguay
New York Rangers
VG 1" creased corner and ½ " tear
$4.00 Cdn
79-80 B&W photo
Ron Duguay
New York Rangers
VG 2 dinged corners and 1" surface crease
$6.00 Cdn
78-79 B&W photo 0265
Dave Farrish
New York Rangers
VG 1" corner crease
$5.00 Cdn
B&W photo 0266
John Ferguson - General Manager - Coach (Portrait)
New York Rangers
GD, 3/4" corner crease, few back creases, ½ " tear
$3.00 Cdn
B&W photo 0267
Emile Francis - General Manager - Coach (Portrait)
New York Rangers
VG 2" back crease
$6.00 Cdn
78-79 B&W photo 0268
Ron Greschner
New York Rangers
GD 1" corner crease, ½ " tear and 4 back creases
$3.00 Cdn
B&W photo 0269
Eddie Johnstone (Portrait)
New York Rangers
VG++ ½ " corner crease
$7.00 Cdn
B&W photo 0271
Sheldon Kannegiesser
New York Rangers
VG+
$6.00 Cdn
78-79 B&W photo 0272
Mickey Keating - Assistant General Manager (Portrait)
New York Rangers
VG 1" corner crease
$5.00 Cdn
78-79 B&W photo 0273
Mike Korney
New York Rangers
GD 1" corner crease and ½ " tear
$4.00 Cdn
79-80 B&W photo 0275
Dave Maloney
New York Rangers
VG
$5.00 Cdn
79-80 B&W photo 0276
Don Maloney
New York Rangers
VG
$5.00 Cdn
79-80 B&W photo 0277
Mario Marois
New York Rangers
VG++
$6.00 Cdn
78-79 B&W photo 0278
Mike McEwen
New York Rangers
VG 1" corner crease and ½ " tear
$4.00 Cdn
79-80 B&W photo 0279
Warren Miller
New York Rangers
VG
$5.00 Cdn
79-80 B&W photo 0280
Don Murdoch
New York Rangers
VG++
$6.00 Cdn
B&W photo 0281
Dan Newman
New York Rangers
VG-EX
$7.00 Cdn
78-79 B&W photo 0283
Mike Nykoluk - Assistant Coach (Portrait)
New York Rangers
VG 1" corner crease
$5.00 Cdn
79-80 B&W photo 0284
Mike Nykoluk - Assistant Coach (Portrait)
New York Rangers
VG+
$6.00 Cdn
81-82 B&W photo 0285
Mark Pavelich
New York Rangers
VG++
$6.00 Cdn
78-79 B&W photo 0286
Pierre Plante
New York Rangers
GD+ 1" corner crease
$4.00 Cdn
78-79 B&W photo 0287
Greg Polis
New York Rangers
VG 1" corner crease
$5.00 Cdn
B&W photo 0288
Larry Popein - Coach (Portrait)
New York Rangers
VG few minor back creases
$5.00 Cdn
B&W photo 0289
Jean Ratelle
New York Rangers
GD-VG 1" corner crease and 1" crease
$6.00 Cdn
B&W photo 0290
Pete Stemkowski
New York Rangers
VG 2" back crease
$4.00 Cdn
79-80 B&W photo 0292
Dean Talafous
New York Rangers
VG
$6.00 Cdn
B&W photo 0293
Jean-Guy Talbot - Coach (Portrait)
New York Rangers
VG++
$6.00 Cdn
79-80 B&W photo 0294
Walt Tkaczuk
New York Rangers
VG
$5.00 Cdn
79-80 B&W photo 0295
Carol Vadnais
New York Rangers
VG+
$6.00 Cdn
79-80 B&W photo 0296
Steve Vickers
New York Rangers
VG ½ " corner crease
$6.00 Cdn
B&W photo 0297
Tom Williams
New York Rangers
VG minor 1" back crease
$5.00 Cdn

PHILADELPHIA FLYERS B&W PRESS PHOTOS

Item
Player
Team
Condition
Cost Per Photo
B&W photo 0298
Bill Barber
Philadelphia Flyers
VG
$7.00 Cdn
78-79 B&W photo 0299
Barry Dean
Philadelphia Flyers
VG-EX
$7.00 Cdn
78-79 B&W photo 0300
Blake Dunlop
Philadelphia Flyers
EX
$7.00 Cdn
78-79 B&W photo 0301
Tom Gorence
Philadelphia Flyers
EX
$7.00 Cdn
78-79 B&W photo 0302
Danny Lucas
Philadelphia Flyers
VG+
$6.00 Cdn
78-79 B&W photo 0303
Rick MacLeish
Philadelphia Flyers
EX
$8.00 Cdn
78-79 B&W photo 0304
Kevin McCarthy
Philadelphia Flyers
EX
$7.00 Cdn
78-79 B&W photo 0305
Kevin McCarthy
Philadelphia Flyers
EX
$7.00 Cdn
78-79 B&W photo 0307
Terry Murray
Philadelphia Flyers
EX
$7.00 Cdn
B&W photo 0308
Jean Potvin
Philadelphia Flyers
6" top crease, GD creased along border and 1/8 " tear
$3.00 Cdn
B&W photo 0309
Frank Spring
Philadelphia Flyers
FR-GD creases and ½ " tear
$2.00 Cdn

PITTSBURGH PENGUINS B&W PRESS PHOTOS

Item
Player
Team
Condition
Cost Per Photo
78-79 B&W photo 0311
Russ Anderson
Pittsburgh Penguins
VG 2" border crease
$5.00 Cdn
75-76 B&W photo 0312
Harvey Bennett
Pittsburgh Penguins
GD-VG 2" back crease
$4.00 Cdn
78-79 B&W photo 0313
Tom Bladon
Pittsburgh Penguins
VG-EX
$7.00 Cdn
73-74 B&W photo 0314
Robin Burns
Pittsburgh Penguins
VG 2 x 1" border creases
$5.00 Cdn
74-75 B&W photo 0315
Dave Burrows
Pittsburgh Penguins
VG
$5.00 Cdn
78-79 B&W photo 0316
Colin Campbell
Pittsburgh Penguins
EX
$8.00 Cdn
78-79 B&W photo 0318
Blair Chapman
Pittsburgh Penguins
VG+
$6.00 Cdn
78-79 B&W photo 0320
Mario Faubert
Pittsburgh Penguins
EX
$8.00 Cdn
78-79 B&W photo 0321
George Ferguson
Pittsburgh Penguins
EX
$8.00 Cdn
78-79 B&W photo 0322
Rick Kehoe
Pittsburgh Penguins
VG++
$7.00 Cdn
78-79 B&W photo 0323
Orest Kindrachuk
Pittsburgh Penguins
EX
$8.00 Cdn
75-76 B&W photo 0324
Pete Laframboise
Pittsburgh Penguins
VG
$5.00 Cdn
78-79 B&W photo 0325
Peter Lee
Pittsburgh Penguins
EX
$8.00 Cdn
78-79 B&W photo 0326
Ross Lonsberry
Pittsburgh Penguins
VG-EX
$7.00 Cdn
B&W photo 0329
Keith McCreary
Pittsburgh Penguins
VG
$5.00 Cdn
78-79 B&W photo 0331
Bob Paradise
Pittsburgh Penguins
VG++
$7.00 Cdn
74-75 B&W photo 0332
Jean Pronovost
Pittsburgh Penguins
GD 2" border crease and slight discloration
$4.00 Cdn
78-79 B&W photo 0333
Rod Schutt
Pittsburgh Penguins
VG+
$6.00 Cdn
78-79 B&W photo 0334
Gregg Sheppard
Pittsburgh Penguins
VG+
$6.00 Cdn
73-74 B&W photo 0335
Ted Snell
Pittsburgh Penguins
VG
$5.00 Cdn
78-79 B&W photo 0337
Ron Stackhouse
Pittsburgh Penguins
VG++
$6.00 Cdn
73-74 B&W photo 0339
Jim Wiley
Pittsburgh Penguins
VG
$5.00 Cdn

ST. LOUIS BLUES B&W PRESS PHOTOS

Item
Player
Team
Condition
Cost Per Photo
77-78 B&W photo 0340
Bruce Affleck
St. Louis Blues
VG 1" back crease
$5.00 Cdn
79-80 B&W photo 0341
Wayne Babych
St. Louis Blues
VG++
$6.00 Cdn
79-80 B&W photo 0342
Jack Brownschidle
St. Louis Blues
VG+
$6.00 Cdn
79-80 B&W photo 0343
Blake Dunlop
St. Louis Blues
VG++
$6.00 Cdn
79-80 B&W photo 0344
Bernie Federko
St. Louis Blues
VG++
$8.00 Cdn
B&W photo 0345
Emile Francis - President and General Manager (Portrait)
St. Louis Blues
EX
$8.00 Cdn
B&W photo 0346
Emile Francis - President and General Manager (Portrait)
St. Louis Blues
GD 3" border and minor back creases
$3.00 Cdn
79-80 B&W photo 0349
Ralph Klassen
St. Louis Blues
VG-EX
$7.00 Cdn
79-80 B&W photo 0350
Neil Komadoski
St. Louis Blues
VG+
$6.00 Cdn
79-80 B&W photo 0352
Rick LaPointe
St. Louis Blues
VG
$5.00 Cdn
76-77 B&W photo 0353
Gilles Marotte
St. Louis Blues
GD-VG slight discoloration
$4.00 Cdn
79-80 B&W photo 0354
Joe Micheletti
St. Louis Blues
VG++
$6.00 Cdn
79-80 B&W photo 0355
Hartland Monahan
St. Louis Blues
VG+
$6.00 Cdn
78-79 B&W photo 0356
Doug Palazzari
St. Louis Blues
VG
$5.00 Cdn
79-80 B&W photo 0357
Larry Patey
St. Louis Blues
VG+
$6.00 Cdn
73-74 B&W photo 0358
Barclay Plager
St. Louis Blues
VG
$6.00 Cdn
74-75 B&W photo 0359
Richard Pumple
St. Louis Blues
VG
$5.00 Cdn
78-79 B&W photo 0361
Ken Richardson
St. Louis Blues
EX
$7.00 Cdn
73-74 B&W photo 0362
Gary Sabourin
St. Louis Blues
VG 1" crease
$5.00 Cdn
79-80 B&W photo 0363
Bobby Simpson
St. Louis Blues
VG-EX
$7.00 Cdn
76-77 B&W photo 0364
Rick Smith
St. Louis Blues
VG slight discloration
$5.00 Cdn
79-80 B&W photo 0365
Perry Turnbull
St. Louis Blues
VG-EX
$7.00 Cdn
79-80 B&W photo 0366
Mike Zuke
St. Louis Blues
VG+
$6.00 Cdn

TORONTO MAPLE LEAFS B&W PRESS PHOTOS

Item
Player
Team
Condition
Cost Per Photo
B&W photo 0367
Johnny Bower / Joe Crozier / Dick Duff / Floyd Smith
Toronto Maple Leafs
VG 1" back crease
$5.00 Cdn
B&W photo 0368
Harold Ballard / King Clancy / Gerry McNamara / George "Punch" Imlach
Toronto Maple Leafs
VG+
$6.00 Cdn
75-76 B&W photo 0369
Claire Alexander
Toronto Maple Leafs
VG+
$6.00 Cdn
B&W photo 0370
John Anderson (Portrait side in blue jersey)
Toronto Maple Leafs
VG+
$6.00 Cdn
B&W photo 0372
John Anderson (Portrait side in white jersey)
Toronto Maple Leafs
VG
$5.00 Cdn
75-76 B&W photo 0373
Don Ashby
Toronto Maple Leafs
GD 2" corner crease and 3" border crease
$3.00 Cdn
B&W photo 0375
Normand Aubin
Toronto Maple Leafs
VG
$5.00 Cdn
B&W photo 0376
Serge Boisvert
Toronto Maple Leafs
VG+
$6.00 Cdn
B&W photo 0377
Laurie Boschman (Portrait side in blue jersey)
Toronto Maple Leafs
VG+
$6.00 Cdn
B&W photo 0379
Laurie Boschman (Portrait side in white jersey)
Toronto Maple Leafs
VG++
$6.00 Cdn
B&W photo 0380
Laurie Boschman (Portrait side in white jersey)
Toronto Maple Leafs
VG light back stain
$5.00 Cdn
B&W photo 0382
Bruce Boudreau
Toronto Maple Leafs
VG 1" crease
$5.00 Cdn
75-76 B&W photo 0383
Pat Boutette
Toronto Maple Leafs
VG
$5.00 Cdn
B&W photo 0384
Pat Boutette
Toronto Maple Leafs
VG+
$6.00 Cdn
B&W photo 0385
Pat Boutette
Toronto Maple Leafs
VG
$5.00 Cdn
73-74 B&W photo 0386
Will Brossart
Toronto Maple Leafs
VG 2 x 1" back crease
$5.00 Cdn
B&W photo 0387
Dave Burrrows (Portrait side in blue jersey)
Toronto Maple Leafs
VG
$5.00 Cdn
B&W photo 0388
Dave Burrrows (Portrait side in white jersey)
Toronto Maple Leafs
VG 8" border crease
$2.00 Cdn
B&W photo 0389
Jerry Butler
Toronto Maple Leafs
VG 2 x 1" light creases
$5.00 Cdn
B&W photo 0390
Jiri Crha - goalie (Portrait side in blue jersey)
Toronto Maple Leafs
VG
$6.00 Cdn
B&W photo 0392
Jiri Crha - goalie (Portrait side in white jersey)
Toronto Maple Leafs
VG++
$7.00 Cdn
B&W photo 0394
Vitezslav Duris
Toronto Maple Leafs
VG
$5.00 Cdn
B&W photo 0396
Ron Ellis (no moustache)
Toronto Maple Leafs
VG, 1" x ¼" minor cracks
$5.00 Cdn
B&W photo 0399
Dave Farrish
Toronto Maple Leafs
VG 1/2" corner crease
$5.00 Cdn
B&W photo 0400
Dave Farrish
Toronto Maple Leafs
VG 1/2" corner crease
$5.00 Cdn
B&W photo 0401
Paul Gardner
Toronto Maple Leafs
VG 7" border crease
$2.00 Cdn
B&W photo 0402
Stewart Gavin
Toronto Maple Leafs
VG
$5.00 Cdn
B&W photo 0403
Stewart Gavin
Toronto Maple Leafs
VG 3" border crease
$3.00 Cdn
B&W photo 0405
Paul Harrison - goalie (Portrait side in white jersey)
Toronto Maple Leafs
VG+
$6.00 Cdn
B&W photo 0406
Pat Hickey
Toronto Maple Leafs
GD several creases and ½ " tear
$3.00 Cdn
B&W photo 0407
Pat Hickey
Toronto Maple Leafs
7" crease on side VG 8" border crease
$2.00 Cdn
B&W photo 0408
Trevor Johansen
Toronto Maple Leafs
VG ½ " corner crease
$5.00 Cdn
B&W photo 0409
Jimmy Jones (Portrait side in blue jersey, no number)
Toronto Maple Leafs
VG
$5.00 Cdn
B&W photo 0410
Jimmy Jones (Portrait side in blue jersey, #6 showing)
Toronto Maple Leafs
VG ¾ " corner crease and small back stain
$5.00 Cdn
73-74 B&W photo 0411
Dave Keon
Toronto Maple Leafs
VG 2 x ¾" corner creases
$6.00 Cdn
B&W photo 0412
Mark Kirton
Toronto Maple Leafs
VG 1" crease
$3.00 Cdn
B&W photo 0415
Terry Martin
Toronto Maple Leafs
VG 1" crease
$5.00 Cdn
B&W photo 0416
Larry McIntyre
Toronto Maple Leafs
GD 2 x 1 ½ " creases
$3.00 Cdn
B&W photo 0417
Walt McKechnie
Toronto Maple Leafs
VG 1" crease
$5.00 Cdn
B&W photo 0418
Gary Monahan
Toronto Maple Leafs
VG
$5.00 Cdn
B&W photo 0419
Wilf Paiement
Toronto Maple Leafs
VG
$5.00 Cdn
B&W photo 0420
Wilf Paiement
Toronto Maple Leafs
VG 8" border crease
$2.00 Cdn
B&W photo 0422
Robert Picard
Toronto Maple Leafs
VG 2 x ½ " creases
$5.00 Cdn
B&W photo 0423
Robert Picard
Toronto Maple Leafs
VG 2 x ½ " creases
$5.00 Cdn
B&W photo 0426
Curt Ridley - goalie
Toronto Maple Leafs
VG
$6.00 Cdn
B&W photo 0427
Rocky Saganiuk (Portrait side in blue jersey)
Toronto Maple Leafs
VG 1" border crease
$5.00 Cdn
B&W photo 0428
Rocky Saganiuk (Portrait side in blue jersey)
Toronto Maple Leafs
GD 4" border crease
$3.00 Cdn
B&W photo 0429
Rocky Saganiuk (Portrait side in white jersey)
Toronto Maple Leafs
VG+
$6.00 Cdn
B&W photo 0430
Rocky Saganiuk (Portrait side in white jersey)
Toronto Maple Leafs
VG
$5.00 Cdn
B&W photo 0437
Darryl Sittler (Portrait side in white jersey and action pose with helmet)
Toronto Maple Leafs
GD-VG
$5.00 Cdn
B&W photo 0438
Vincent Tremblay - goalie
Toronto Maple Leafs
GD 2 x 2" border creases
$4.00 Cdn
B&W photo 0439
Ian Turnbull (Portrait side in white jersey)
Toronto Maple Leafs
VG
$5.00 Cdn
B&W photo 0440
Ian Turnbull (Portrait side in white jersey)
Toronto Maple Leafs
VG
$5.00 Cdn
B&W photo 0441
Ian Turnbull (Portrait side in blue jersey)
Toronto Maple Leafs
VG++
$6.00 Cdn
B&W photo 0442
Ian Turnbull (Portrait side in blue jersey)
Toronto Maple Leafs
VG 1" border crease
$5.00 Cdn
B&W photo 0443
Norm Ullman
Toronto Maple Leafs
FR-GD several light creases
$3.00 Cdn
75-76 B&W photo 0445
Jack Valiquette
Toronto Maple Leafs
VG
$5.00 Cdn
75-76 B&W photo 0446
Stan Weir
Toronto Maple Leafs
VG
$5.00 Cdn
B&W photo 0448
Ron Wilson (Action pose #11)
Toronto Maple Leafs
VG+
$6.00 Cdn
B&W photo 0449
Ron Wilson (Action pose #14)
Toronto Maple Leafs
VG+
$6.00 Cdn

VANCOUVER CANUCKS B&W PRESS PHOTOS

Item
Player
Team
Condition
Cost Per Photo
77-78 B&W photo 0450
Jack McIlhargey / Don Lever / Chris Oddleifson / Dennis Kearns / Garry Monahan / Brad Gassoff / John Grisdale
Vancouver Canucks
GD-VG 3 x 1" border creases
$3.00 Cdn
79-80 B&W photo 0451
Don Lever / Kevin McCarthy / Drew Callander / Chris Oddleifson / Bob Manno / Brent Ashton / Gary Bromley / Glen Hanlon
Vancouver Canucks
VG+
$6.00 Cdn
75-76 B&W photo 0452
Paulin Bordeleau
Vancouver Canucks
VG 1" border crease
$5.00 Cdn
75-76 B&W photo 0454
Ab DeMarco
Vancouver Canucks
VG
$5.00 Cdn
75-76 B&W photo 0455
Dennis Kearns
Vancouver Canucks
VG, ½ " corner crease
$5.00 Cdn
B&W photo 0456
Garry Monahan / John Grisdale
Vancouver Canucks
VG 1" border crease
$5.00 Cdn
B&W photo 0458
Leon Rochefort / Jim Wiley
Vancouver Canucks
VG 1" crease
$5.00 Cdn
75-76 B&W photo 0459
Harold Snepsts
Vancouver Canucks
VG
$5.00 Cdn
74-75 B&W photo 0460
Dennis Ververgaert
Vancouver Canucks
VG 3" border crease
$4.00 Cdn
B&W photo 0461
John Wright
Vancouver Canucks
GD-VG
$4.00 Cdn

WASHINGTON CAPITALS B&W PRESS PHOTOS

Item
Player
Team
Condition
Cost Per Photo
75-76 B&W photo 0462
Willy Brossart
Washington Capitals
VG 2 " corner creases
$4.00 Cdn
B&W photo 0463
Bill Collins
Washington Capitals
VG+
$6.00 Cdn
B&W photo 0468
Dave Forbes
Washington Capitals
VG+
$6.00 Cdn
B&W photo 0469
Rick Green
Washington Capitals
VG+
$6.00 Cdn
75-76 B&W photo 0470
Bob Gryp
Washington Capitals
VG
$5.00 Cdn
B&W photo 0464
Ron Lalonde
Washington Capitals
EX, slight border discoloration
$5.00 Cdn
75-76 B&W photo 0465
Jack Lynch
Washington Capitals
VG 1" back crease
$5.00 Cdn
B&W photo 0466
Jack Lynch
Washington Capitals
EX ½ " border discoloration
$5.00 Cdn
75-76 B&W photo 0472
Paul Nicholson
Washington Capitals
VG+
$6.00 Cdn
B&W photo 0474
Tom Rowe
Washington Capitals
VG-EX
$7.00 Cdn
B&W photo 0475
Bob Sirois
Washington Capitals
VG
$5.00 Cdn
B&W photo 0476
Gord Smith
Washington Capitals
VG+ ½ " border discoloration
$4.00 Cdn
Last Updated: Mar. 10, 2015
---