SPORT WORLD MAGAZINE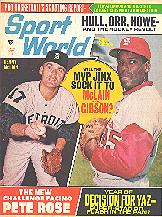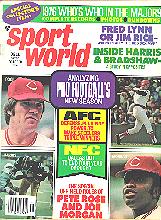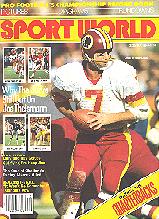 We sell Sport World magazine back issues from the 1960s, 1970s and 1980s.
Sport World magazine features baseball, basketball, football and hockey in season.
The magazines are listed chronologically by year and month.
Prices subject to change without notice according to market conditions.
Postage & Handling is extra. Canadian residents add applicable GST/HST.
Prices are listed in Canadian funds - please inquire as to the current exchange for prices in US funds.
SPORT WORLD magazine

1960`s SPORT WORLD magazine

Scan Code
Mag Issue
Cover
Contents
Condition
Price per mag
Pub 1917
Apr 1969
Sport World


Bob Gibson / Denny McLain
Stories: Lou Alcindor + Other College Kids / Alou Brothers / Bob Gibson & Denny McLain / Bobby Hull, Bobby Orr & Gordie Howe + The Hockey Revolt / Leo Durocher / Billy Martin / Dick McAuliffe / Earl Monroe / Rating NHL Goalies / Pete Rose / Carl Yastrzemski / 1969 MLB Rookie Crop
VG
$10.00 Cdn
Pub 1918
Aug 1969
Sport World


Hank Aaron / Carl Yastrzemski w/inset Willie McCovey / Denny McLain
Stories: Hank Aaron / All-Star Record Book / Johnny Bench / Campy Campaneris / Curt Flood / Bill Freehan / Bob Gibson / Tommy Helms / Frank Howard / Don Kessinger / Jerry Koosman / Willie McCovey / Sam McDowell / Denny McLain / Boog Powell / Brooks Robinson / Frank Robinson / Pete Rose / Ron Santo / Red Schoendiest & Mayo Smith / Carl Yastrzemski / 1969 MLB All-Star Team Selections
VG, felt pen on cover
$4.00 Cdn

1970`s SPORT WORLD magazine

Scan Code
Mag Issue
Cover
Contents
Condition
Price per mag
Pub 1922
Dec 1975
Sport World


Ken Stabler w/ Ken Anderson, Terry Bradshaw / Bob Griese / Joe Namath inset
Stories: NBA Preview / NFL Championship Record Book / Philadelphia Flyers / Rating the QBs / Pete Rose / Nolan Ryan / Washington Bullets
VG, 1/4" tear
$7.00 Cdn
Pub 1924
June 1976
Sport World


Tom Seaver w/ Jim Hunter / Nolan Ryan / Luis Tiant inset
Stories: Jim Hunter / Greg Luzinski / Fred Lynn / Joe Morgan / Rating the Pitchers / MLB Team stories
GD, 1 1/2" split spine
$4.00 Cdn
Pub 1925
Oct 1976
Sport World


Franco Harris / Fred Lynn / Joe Morgan / Pete Rose
Stories: Terry Bradshaw & Franco Harris / Dallas Cowboys / Fred Lynn or Jim Rice / Joe Morgan & Pete Rose / Pittsburgh Steelers / Whos Who in MLB
VG
$7.00 Cdn
Pub 1926
Aug 1977
Sport World


Joe Morgan w/inset Thurman Munson
Stories: All-Star Record Book / Sparky Anderson / Mark Belanger / George Brett / Chris Chambliss / Dave Concepcion / George Foster / Steve Garvey / Bobby Grich / Ken Griffey / Reggie Jackson / Randy Jones / Fred Lynn / Garry Maddox / Billy Martin / Joe Morgan / Thurman Muson / Jim Palmer / Joe Rudi / Mike Schmidt / Don Sutton / Frank Tanana / 1977 All-Star Team Selections
VG
$3.00 Cdn
Pub 1927
Dec 1977
Sport World


Bert Jones w/ Ken Anderson / Terry Bradshaw / Ken Stabler / Fran Tarkenton
Stories: Montreal Canadiens, Franco Harris, NBA Prview, NFL Championship Record Book, Rating the QBs, Tom Seaver
GD-VG
$6.00 Cdn
Pub 1929
Feb 1978
Sport World


Walter Payton vs Detroit Lions
Stories: Tony Dorsett / Guy Lafleur / Walter Payton vs Chuck Foreman / Philadelphia 76'ers / Rating The NBA Centers / Nolan Ryan / 1978 Who's Who In Pro Football
GD
$3.00 Cdn
Pub 1930
Aug 1978
Sport World


Reggie Jackson
Stories: Bobby Bonds / Rick Burleson / George Brett / Rod Carew / Carlton Fisk / George Foster / Steve Garvey / Reggie Jackson / Tony LaSorda / Greg Luzinski / Billy Martin / Joe Morgan / Dave Parker / Willie Randolph / Jim Rice / Nolan Ryan / Mike Schmidt / Tom Seaver / Ted Simmons / Frank Tanana / Garry Templeton
VG-EX
$7.00 Cdn

1980`s SPORT WORLD magazine

Scan Code
Mag Issue
Cover
Contents
Condition
Price per mag
Pub 1932
Feb 1982
Sport World


Chargers (Muncey) vs Seahawks
Stories: Larry Bird / Terry Bradshaw / Tony Dorsett / Wayne Gretzky / Rating NBA Centers / Whos Who in NBA
VG
$10.00 Cdn
Pub 1933
Dec 1984
Sport World


Joe Theismann w/Ken Anderson / Dan Fouts / Joe Montana / Jim Plunkett
Stories: Marcus Allan, NBA Preview, NFL Championship Record Book, NHL Preview, Joe Theismann
VG+
$9.00 Cdn
Last Updated: March 21, 2019

---