SPORT MAGAZINE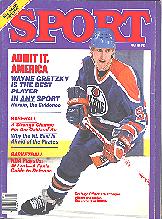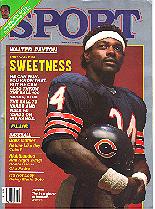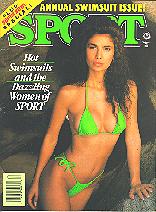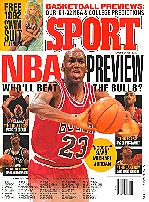 We sell back issues of Sport magazine
as well as many other NHL hockey magazines,
NHL media guides and NHL record books.
Sport magazine features all major sports in season including
baseball, basketball, boxing, football, golf, hockey, racing,
as well as College sports and the annual swimsuit calendar.
Prices subject to change without notice according to market conditions.
Postage & Handling is extra. Canadian residents add applicable GST/HST.
Prices are listed in Canadian funds - please inquire as to the current exchange for prices in US funds.
SPORT MAGAZINE

1950`s SPORT magazine

Scan Code
Mag Issue
Cover
Contents
Condition
Price per mag
Pub 0467
June 50
Sport



Bob Lemon
Stories: Colonel E.R. Bradley, Ezzard Charles, Confessions Of A Pro Golfer, The Johnny Farrells, C. Faust, Jim Fuchs, Carl Furillo, Judge Landis, Bob Lemon, Connie Mack, Middleweight Boxers, Philadelphia Phillies, Ted Williams
VG, split spine, 3/4" back piece missing, 3/4" tear
$15.00 Cdn
Pub 0469
July 51
Sport



Ewing Blackwell
Stories: All-Star Game Jinx?, Ewell Blackwell, Lou Boudreau, Chico Carrasquel, College Football Roundup, New York Giants, Oakmont Golf Course, Barney Oldfield, Sugar Ray Robinson, Dick Savitt, Duke Snider, Sherman White
GD-VG, 1/2" tear, 3 x 1/4" back tears, 3" cover crease
$10.00 Cdn
Pub 0471
May 54
Sport "Canadian Edition"



Ted Kluszewski
Stories: Joe Black, Bobby Bragan, Clark Griffith, Harvey Haddix, Ted Kluszewski, Light-Heavyweights, Billy Marchtin, Mel Parnell, Redlegged Murders Row, Wes Santee, Frank Shaughnessy, Bill Terry, Nino Valdes
VG, 8 " creased cover
$12.00 Cdn
Pub 0474
April 55
Sport



Bob Turley w/inset Ralph Kiner / Joe Norris / Maurice Richard
Stories: Lou Boudreau, Bowling, Gene Conley, Did Yankees Win Pennant In The Winter?, Fort Wayne Pistons, Ralph Kiner, Maryland's Marksmen, Montreal Canadiens, Mike Norris, Hal Patterson, Dusty Rhodes, Honey Russell, Sunshine Park
VG, water spot
$10.00 Cdn

1960`s SPORT magazine

Scan Code
Mag Issue
Cover
Contents
Condition
Price per mag
Pub 0477
Oct. 67
Sport



Johnny Unitas / Orlando Cepeda
Stories: Lew Alcindor, All-America Football Review, Bob Brown, Orlando Cepeda, Harmon Killebrew, Jerry Levias, Jim Lonborg, Tony Perez, The Rivals, Eddie Stanky, Johnny Unitas, Violence In Baseball, 15 Stars + Their Funniest Stories
GD-VG, 1/2" back tear + cover, 2" corner crease
$4.00 Cdn
Pub 0479
July 68
Sport



Hank Aaron
Stories: Hank Aaron, Tony Conigliaro, Dallas Tornados, Tommy Davis, Making Of Paper Lion, Mel Farr, Jim Hines, Rod Laver, MLB St Louis Cardinals, Hector Torres, 35 Pro Football Rookies
GD-VG, creased corners
$8.00 Cdn
Pub 5461
June 69
Sport



Ted Williams
Stories: Ernie Banks, Bo Belinsky, Walt Frazier, Charles Liston, Willie McCovey, Dave McNally, Pele, Paul Robinson, George Sauer, Willie Shoemaker, 10 NFL Draft Sleepers, Ted Williams
FR -GD, Sub.
$4.00 Cdn
Pub 5462
June 69
Sport



Ted Williams
Stories: Ernie Banks, Bo Belinsky, Walt Frazier, Charles Liston, Willie McCovey, Dave McNally, Pele, Paul Robinson, George Sauer, Willie Shoemaker, 10 NFL Draft Sleepers, Ted Williams
FR Sub.
$3.00 Cdn
Pub 5460
July 69
Sport



Tony Conigliaro
Stories: Elgin Baylor, Lou Brock, Tony Conigliaro, Glenn Hall + Jacques Plante, Reggie Jackson, Montreal Expos + Seattle Pilots, NFL Injury Report, Joel Otto, Sugar Ray Robinson, Bill Singer, Cale Yarborough
FR Sub.
$4.00 Cdn

1970`s SPORT magazine

Scan Code
Mag Issue
Cover
Contents
Condition
Price per mag
Pub 5464
July 70
Sport



Bart Starr + Johnny Unitas
Stories: Richie Allen, Mark Belanger, Jim Bouton, Wilt Chamberlain, Charlie Conerly, Carl Garrett, Growing Crisis in College Sports Pt. 2, Jim Harding, Jerry Kramer, Andy Messersmith, Special Kind of All-Star Game, Bart Starr + Johnny Unitas, Maury Wills Picks NL`s 9 Most Underrated
FR Sub.
$4.00 Cdn
Pub 5465
Aug. 70
Sport



Hank Aaron
Stories: Hank Aaron, Johnny Blood, Cincinnati Reds, Greg Cook, Denis Fikes, Bill Hands, Spencer Haywood, Alex Karras, Mickey Mantle Picks AL`s 9 Most Underrated, Mike McCoy, Tales of the World Cup, LeeRoy Yarbrough
FR
$5.00 Cdn
Pub 5467
Jan. 76
Sport



Terry Bradshaw + Minnesto Vikings Player
Stories: Ken Anderson, Conrad Dobler, The Electric Company, Don Klosterman, Randy Lewis, Steve Mix, Vaclav Nedomansky, UCLA Basketball, University of San Francisco
VG
$5.00 Cdn
Pub 5470
Oct. 79
Sport



Reggie Jackson
Stories: 25 Years of MVP Awards, Peter Gregg, Hobie Cats, Mike Newlin, Doug Plank, Steve Rogers, George Steinbrenner, Charles White, World Series Silver Jubilee: MVPs, Jim Zorn
VG++
$5.00 Cdn

1980`s SPORT magazine

Scan Code
Mag Issue
Cover
Contents
Condition
Price per mag
Pub 0482
Aug. 80
Sport



Terry Bradshaw
Stories: Vince Ferragamo, Billy Martin, NFL Preview & Ted Turner
VG+, sub.
$5.00 Cdn
Pub 0483
April 82
Sport



Fernando Valenzuela w/inset Larry Bird
Stories: Larry Bird, Final Four, Steve Garvey, MLBB Preview, San Antonio Spurs, Fernando Valenzuela
VG
$3.00 Cdn
Pub 0484
Jan. 84
Sport



Dan Marino
Stories: Decoding The NFL, Lefty Driesell, Brian Lawton + Pat LaFontaine, NCAA Football Playoffs, Alberto Salazar, San Diego Clippers
GD-VG
$7.00 Cdn
Pub 4242
May 84
Sport



Wayne Gretzky
Stories: Jerry Argovitz, Steve Boros, Wayne Gretzky, NBA Defence, NFL Draft, Billy Olson vs Sergei Bubka, Pittsburgh Pirates, Dan Quisenberry, John Veitch
EX
$8.00 Cdn
Pub 4243
May 84
Sport



Wayne Gretzky
Stories: Jerry Argovitz, Steve Boros, Wayne Gretzky, NBA Defence, NFL Draft, Billy Olson vs Sergei Bubka, Pittsburgh Pirates, Dan Quisenberry, John Veitch
VG+
$6.00 Cdn
Pub 0486
Oct. 84
Sport



Walter Payton
Stories: Chicago Cubs, Continental Basketball League, Houston Oilers, Walter Payton, Eric Show, Mario Soto
GD-VG
$3.50 Cdn
Pub 0487
Nov. 84
Sport



Football
Stories: Army Black Knights, Betting Football, Mario Lemieux, Montoya Boxing Club, NBA Teams Preview, NHL Teams Preview, Don Shula
GD+
$3.00 Cdn
Pub 4244
July 85
Sport



Kirk Gibson
Stories: Mouse Davis, Rickey Henderson, Bo Jackson, Joy of Baseball, Ivan Lendl, Dwayne Murphy, Mike Trainer, USFL
VG-EX
$3.50 Cdn
Pub 4245
June 86
Sport



Various Pro Athletes & their Salaries
Stories: Art & Science of Jumping, Brett Butler, Feet of Clay, MLB GM Poll, Dave Parker,Sport 100 Salary Survey
VG+
$2.50 Cdn
Pub 0488
Oct. 86
Sport



Dan Marino
Stories: Gary Hogeboom, Dan Marino, New England Patriots, NHL Teams Preview, Mike Shula + Jim Harbaugh, Dave Winfield, Kellen Winslow, 7 Fights We'd Pay To See
VG
$6.00 Cdn
Pub 4246
Dec. 86
Sport



40 DifferentSport Magazine Covers - 40th Anniversary Edition
Stories: The 40 Greatest Sport Moments of the Last 40 Years, The 40 Who Changed Sports (Ali, Gretzky, Mantle, Mays, Niklaus, Orr, Jackie Robinson et al)
VG-EX, 3/4" corner crease
$4.50 Cdn
Pub 5471
March 89
Sport



Orel Hershiser
Stories: Jim Abbott, All-Time NBA Team, Baseball Spring Training, Chicago, Bob Costas, Daytona 500, Goose Gossage, Orel Hershiser, Stephane Richer, Some Coaches Get No Respect, Sonny Smith
VG, 4" cover crease
$4.00 Cdn
Pub 0491
Nov. 89
Sport



Larry Bird w/inset Michael Johnson / Michael Jordan
Stories: Dallas, Scott Mitchell, NBA Teams Preview, NHL Teams Preview, 12 Best NFL Linebackers, Jerry Rice, David Robinson, Swimsuit Calendar
VG, 1" creased cover
$6.00 Cdn

1990`s SPORT magazine

Scan Code
Mag Issue
Cover
Contents
Condition
Price per mag
Pub 5472
Feb. 90
Sport - Swimsuit Issue



Yvette
Stories: Charles Barkley, Dale Brown / Chris Jackson / Shaquille O`Neal / Stanley Roberts, Kirsten Culver, Phil Jackson + Michael Jordan, Mario Lemieux, New Orleans, NHL All-Star Game Oddities, Super Bowl Madness, Swimsuit Calendar
VG
$4.00 Cdn
Pub 0492
May 90
Sport



Steve Sax w/inset Dennis Martinez / Mookie Wilson
Stories: Michael Jordan, MLB Preview, NFL Draft Preview, NHL Playoff Preview
Poster: Jose Canseco + Bo Jackson
EX
$7.00 Cdn
Pub 0493
June 90
Sport



Wayne Gretzky / Michael Jordan / Joe Montana + Others
Stories: Eris Davis, Patrick Ewing, Indy 500, NBA Playoffs, NHL Overtime, Racing Triple Crown, Gabriella Sabatini, Top 100 Salaries
VG
$4.00 Cdn
Pub 0494
Oct. 90
Sport



Wayne Gretzky / Michael Johnson / Michael Jordan / Joe Montana + Others
Stories: Jose Canseco / Mark McGwire, Kansas City Chiefs, Deion Sanders, Top 100 inSports, Mike Tyson
GD-VG
$2.50 Cdn
Pub 0495
Nov. 90
Sport



Joe Montana
Stories: Best World Series Games Ever?, Evander Holyfield, Raghib Ismael, Leonard Marshall, Joe Montana, NHL Teams Preview, David Robinson, Swimsuit Calendar
GD
$3.00 Cdn
Pub 0496
Dec. 90
Sport



Randall Cunningham / Lawrence Taylor w/inset Ronnie Lott / Mike Singletary / Isiah Thomas + Others
Stories: Hector Camacho, Jimmy Carson, NBA Teams Preview, NCAA Preview, QBs Overprotected?, Top 10 NFL Mathups
GD-VG
$2.50 Cdn
Pub 0497
March 91
Sport



Ken Griffey Jr w/inset Rickey Henderson
Stories:Roberto / Sandy Alomar Jr, Rob Dibble, Chuck Finley, Ken Griffey Jr, Rickey Henderson, Hot Young Stars Of The 90's, Mark Messier, NBA West, Bobby Thigpen
VG
$3.00 Cdn
Pub 0498
March 91
Sport



Ken Griffey Jr w/inset Rickey Henderson
Stories: Roberto / Sandy Alomar Jr, Rob Dibble, Chuck Finley, Ken Griffey Jr, Rickey Henderson, Hot Young Stars Of The 90's, Mark Messier, NBA West, Bobby Thigpen
GD-VG
$2.50 Cdn
Pub 0499
May 91
Sport



Kelly Gruber / Howard Johnson / Dennis Marchtinez
Stories: Roger Clemens, George Foreman, MLB Teams Preview, NBA Playoff Preview, NHL Playoff Preview, NFL Draft Preview, James Worthy
Poster: Ken Griffey Jr + Nolan Ryan
EX
$5.00 Cdn
Pub 0500
Nov. 91
Sport



Michael Jordan w/inset Charles Barkley / Clyde Drexler / Magic Johnson / David Robinson
Stories: Flipper Anderson, Neal Anderson, Boys of Oct.ober, NBA Teams Preview, NCAA Preview, NHL Teams Preview, Swimsuit Calendar
VG, 1 1/2" crease
$5.00 Cdn
Last Updated: March 21, 2019

---