SPORT ILLUSTRATED MAGAZINE
Back Issues from 1960`s to 2011
We sell back issues of Sports Illustrated magazine from the 1960`s to 2011, as well as Sports Illustrated Swimsuit back issues. Sports Illustrated magazine covers all sports - baseball, basketball, boxing, championships, college sports, cycling, football, golf, hockey, horse racing, olympics, racing, skating, skiing, soccer, wrestling etc ...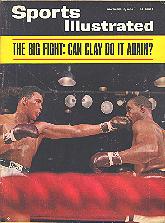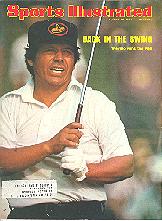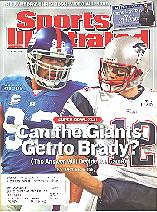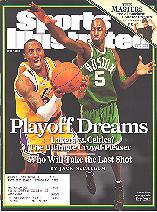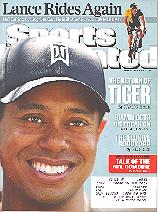 Prices subject to change without notice according to market conditions.
Postage & Handling is extra. Canadian residents add applicable GST/HST.
Prices are listed in Canadian funds - please inquire as to the current exchange for prices in US funds.
SPORTS ILLUSTRATED MAGAZINE BACK ISSUES

1961 SPORTS ILLUSTRATED MAGAZINE BACK ISSUES

Scan Code
Mag Issue
Cover
Contents
Condition
Price per magazine
Pub 5575
Oct. 9, 1961
Sports Illustrated


Joey Jay
Stories: Bridge, Chesapeake Bay, Cincinnati Reds, College Football's Week, Kelso, Roger Maris Hits #60 + 61, Notre Dame Beats Oklahoma College FB, Torino, Italy
FR-GD, Sub.
$15.00 Cdn

1964 SPORTS ILLUSTRATED MAGAZINE BACK ISSUES

Scan Code
Mag Issue
Cover
Contents
Condition
Price per magazine
Pub 6303
Feb. 3, 1964
Sports Illustrated


Bobby Hull / Ian Cushenan
Stories: Acapulco Race, Basketball`s Week, Chicago Black Hawks, Fritz Crisler, John Day, Charley Eckman, Paddy Hopkirk, Andrea Mead Lawrence
GD, Sub.
$15.00 Cdn
Pub 5576
Nov. 16, 1964
Sports Illustrated


Cassius Clay / Sonny Liston
Stories: America: Ecologically Down the Drain, College Football's Week, Sonny Liston, Mail Catalogue Ordering, Jerry Rhome, Salton Sea Marathon, George Schilling, Wittenberg University FB
FR-GD, Sub.
$10.00 Cdn

1968 SPORTS ILLUSTRATED MAGAZINE BACK ISSUES

Scan Code
Mag Issue
Cover
Contents
Condition
Price per magazine
Pub 5577
July 22, 1968
Sports Illustrated


Mark Spitz
Stories: Baseball`s Week, Black Athlete Pt. 4, Green Mountain Range Hike, George Haines, Harvard Rowing Team, Felix Millan, NFL Strike Over, Gary Player, Roquepine
VG, sticker on cover
$3.00 Cdn

1969 SPORTS ILLUSTRATED MAGAZINE BACK ISSUES

Scan Code
Mag Issue
Cover
Contents
Condition
Price per magazine
Pub 6304
Feb. 3, 1969
Sports Illustrated


Bobby Orr
Stories: Basketball`s Week, Bing Crosby Pro-AM, Frankie DePaula vs Bob Foster, Lamar Tech Basketball, Bill Lear, Carleton Mitchell, Bobby Orr, Frank Robinson, Vic Yannacone
VG-EX, Sub.
$30.00 Cdn
Pub 5578
Oct. 6, 1969
Sports Illustrated


Frank Robinson / Boog Powell fold-out
Stories: Lew Alcindor, Baltimore Orioles vs Minnesota Twins Playoff, Baseball`s Week, College Football`s Week, Bill Emmerton, Green Bay Packers, Dick Heath, Miss America, Ohio State Beats TCU College FB, Reno: National Air Races, Sport Stamps
VG
$5.00 Cdn

1971 SPORTS ILLUSTRATED MAGAZINE BACK ISSUES

Scan Code
Mag Issue
Cover
Contents
Condition
Price per magazine
Pub 5579
March 1, 1971
Sports Illustrated


Mohammed Ali / Joe Frazier drawing
Stories: Arthur Ashe, Boxer + the Slugger, College Basketball, David Edgar, Kansas Jayhawks Basketball, Ruth Jessen, Guy Lafleur, Kerry O`Brien, World Cup and Tall Timber Classic
VG-EX
$15.00 Cdn

1972 SPORTS ILLUSTRATED MAGAZINE BACK ISSUES

Scan Code
Mag Issue
Cover
Contents
Condition
Price per magazine
Pub 5580
July 24, 1972
Sports Illustrated


Tommy Prothro
Stories: Avery Brundage, Bobby Fischer vs Boris Spassky, Japanese Derby, Eddy Merckx, Baseball Week, Tom Seaver, Karl Sweetan: Tries to Sell NFL Playbook, Lee Trevino
VG, Sub. label removed
$5.00 Cdn

1974 SPORTS ILLUSTRATED MAGAZINE BACK ISSUES

Scan Code
Mag Issue
Cover
Contents
Condition
Price per magazine
Pub 5581
Aug.19, 1974
Sports Illustrated


Lee Trevino
Stories: Baseball Week, Jenni Chandler, Cincinnati Reds vs Los Angeles Dodgers, O.J. Simpson, Southern California Pro Basketball Summer League, Taiwan Little League Baseball, Lee Trevino
VG Sub.
$5.00 Cdn
Pub 5582
Aug. 26, 1974
Sports Illustrated


John Newcombe
Stories: America`s Cup Eliminations, Boston Red Sox, Cynthia Hill, Sandra Keshka, Los Angeles Rams, John Newcombe, Tinker Owens
VG, Sub. label removed
$4.00 Cdn
Pub 5583
Aug. 26, 1974
Sports Illustrated


John Newcombe
Stories: America`s Cup Eliminations, Boston Red Sox, Cynthia Hill, Sandra Keshka, Los Angeles Rams, John Newcombe, Tinker Owens
GD-VG, Sub. label removed
$3.00 Cdn
Pub 5584
Sept. 16, 1974
Sports Illustrated


O.J. Simpson drawing
Stories: Backgammon Tournament Cruise, Baseball Week, Bobby Chacon, China + Asian Games, College Football, Forest Hills Tennis, Evel Knievel Stunt Failure, Lella Lombardi, Pro Football `74
VG, Sub. label removed
$4.00 Cdn
Pub 5585
Dec. 9, 1974
Sports Illustrated


Anthony Davis
Stories: Kareem Abdul-Jabbar, Reno Abillira, Alabama vs Auburn Football, Don Brown, Chicago Bears, College Basketball Week, Emile Griffith, Micki King, Banjo Paterson, USC Beats Notre Dame College FB, World Amateur Baseball Championship
VG-EX
$6.00 Cdn

1976 SPORTS ILLUSTRATED MAGAZINE BACK ISSUES

Scan Code
Mag Issue
Cover
Contents
Condition
Price per magazine
Pub 5586
April 19, 1976
Sports Illustrated


Ray Floyd
Stories: Arizona vs Arizona State College Baseball, Ray Floyd, Brendan Foster, O.J. Meyer, NASL New York Cosmos vs Seastle Sounders, NBA Playoffs, New England Aquarium, NFL Draft, Religion in Sport Pt. 1, San Francisco Giants
VG Sub. label removed
$3.00 Cdn

1977 SPORTS ILLUSTRATED MAGAZINE BACK ISSUES

Scan Code
Mag Issue
Cover
Contents
Condition
Price per magazine
Pub 5587
Oct. 17, 1977
Sports Illustrated


Rubin Carter
Stories: 3 - 4 Defense, Baseball Playoffs, College Football Week, Confrontation, Evonne Goolagong, Horace King + Dexter Bussey, NHL + WHA Preview, University of Texas Beats Oklahoma Sooners College FB, Darrell Waltrip
VG
$5.00 Cdn

1978 SPORTS ILLUSTRATED MAGAZINE BACK ISSUES

Scan Code
Mag Issue
Cover
Contents
Condition
Price per magazine
Pub 5588
Feb. 20, 1978
Sports Illustrated


Walter Davis
Stories: College Basketball Week, Wayne Gretzky, Jobs, Darrel McHargue, NBA Rookies, NFL St. Louis Cardinals, Olympic Cold Gold Preview, Benny Parsons
GD Sub. label removed
$5.00 Cdn
Pub 5589
March 20, 1978
Sports Illustrated


Goose Givens
Stories: Max Baer, Michael Baughman, Boston University Wins NCAA Hockey, Falkland Islands Trout, Larry Holmes,Horse Racing: CEM, Clint Hurdle, Kentucky Wins NCAA Basketball, Sparky Lyle, Marita Redondo + Pam Shriver, Spaghetti Tennis Racket Tennessee Wins NCAA Swimming, UCLA Bruins Win AIAW Basketball
GD Sub. label removed
$4.00 Cdn
Pub 5590
May 19, 1978
Sports Illustrated


Affirmed + Steve Cauthen
Stories: Affirmed + Steve Cauthen, Baseball Week, Raymond Ceulemans, Jim Hurtubise, Dawn Musselman, NFL Draft, Notre Dame Bookstore Tourney, Terry O`Reilly, Philadelphia 76`ers, Pete Rose 3000th Hit, Mark Roth
GD-VG Sub. label removed
$4.00 Cdn
Pub 5591
Oct. 30, 1978
Sports Illustrated


Bill Rodgers
Stories: Kareem Abdul-Jabbar, Mourgue d`Algue + Mark McCormack, College Football Week, Viktor Korchnoi vs Anatoly Karpov, New England Patriots Beat Miami Dolphins, New York Yankees Win World Series, Northwestern University, Bill Rodgers, Roller Skating, Southern Methodist University FB
GD-VG Sub. label removed
$4.00 Cdn
Pub 5592
Nov. 6, 1978
Sports Illustrated


Puppetmaster + Race Horses
Stories: Hobie Alter, Tony Ciulla: Race Fixing, College Football Week, Fitz Dixon, Green Bay Packers, Larry Holmes, Terry Metcalfe, Pro Basketball, Pete Rose, Spectacular Bid, US Women`s Volleyball, Cale Yarborough
GD-VG Sub. label removed
$4.00 Cdn
Pub 5593
Dec. 11, 1978
Sports Illustrated


Jeff Lowe
Stories: Harold Ballard, College Basketball Week, College Football Week, Denver Broncos Beat Oakland Raiders, Evansville Purple Aces, Phil Ford, Wayne Gretzky, Jeff Lowe, John McEnroe, JC Penney Classic, Philadelphia Eagles, Ski Bowls
GD Sub. label removed
$5.00 Cdn
Pub 5594
Dec. 18, 1978
Sports Illustrated


John McEnroe
Stories: Bowling, Terry Bradshaw, Jimmy Carter, College Basketball Week, Fishing, Mel Gray / Dan Pastorini / Rick Telander, Bob Leonard, Phil + Steve Mahre, John McEnroe, Notre Dame Beats UCLA Basketball, Mike Rossman
GD Sub. label removed
$4.00 Cdn

1979 SPORTS ILLUSTRATED MAGAZINE BACK ISSUES

Scan Code
Mag Issue
Cover
Contents
Condition
Price per magazine
Pub 5595
Jan. 29, 1979
Sports Illustrated


Rocky Bleier
Stories: Steve Cauthen, College Basketball Week, Indoor Track, Stanley Meltzoff, Phoenix Suns, Pittsburgh Steelers Win Super Bowl, Morgan Wootten
GD Sub. label removed
$4.00 Cdn
Pub 5596
Feb. 26, 1979
Sports Illustrated


Eamonn Coghlan
Stories: Eamonn Coghlan, Conservation, Beth + Eric Heiden, Jan Merrill, NBA Attendance + Ratings Down, Richard Petty Wins Daytona 500, Jonathan Schwartz Story of Boston Red Sox vs New York Yankees Playoff Game, Suffolk Downs Winter Horseracing
GD Sub. label removed
$3.00 Cdn
Pub 5597
March 12, 1979
Sports Illustrated


Dudley Bradley
Stories: Atlanta Hawks, Bowling Green Hockey, Bob Byman, Rod Carew, College Basketball Week, Grand Masters Tennis Tour, North Carolina Wins ACC, Annemarie Moser-Proll, Chuck Strange, Track + Field, Providenciales, Turks + Caicos Islands - Bonefishing
GD-VG Sub. label removed
$3.00 Cdn
Pub 5599
April 30, 1979
Sports Illustrated


George Bamberger
Stories: George Bamberger, Baseball Week, CART / USAC Conflict, John Davidson, Instrument Landing, Magic Johnson, NFL, Penn Relay Carnival, Rinus Michels, Sports Lists, Tom Watson
GD-VG Sub. label removed
$4.00 Cdn
Pub 5600
June 11, 1979
Sports Illustrated


Gus Williams
Stories: Danny Ainge, Ballooning, Baseball Week, Jai Alai Fixing, Missouri Kid: Moose, Renaldo Nehemiah + Don, Seattle Super Sonics Win NBA, John Tate, Team Doctors
GD Sub. label removed
$3.00 Cdn
Pub 5601
July 9, 1979
Sports Illustrated


Eamonn Coghlan
Stories: Baseball Week, Steve Cauthen, Eamonn Coghlan, Gymnastics, Houston Hurricane, Andrea Jaeger, Jack Nicklaus, Dave Winfield
GD-VG Sub. label
$4.00 Cdn
Pub 5602
July 9, 1979
Sports Illustrated


Eamonn Coghlan
Stories: Baseball Week, Steve Cauthen, Eamonn Coghlan, Gymnastics, Houston Hurricane, Andrea Jaeger, Jack Nicklaus, Dave Winfield
GD-VG Sub. label removed
$3.00 Cdn
Pub 5603
July 16, 1979
Sports Illustrated


Bjorn Borg
Stories: Joan Ackermann-Blount: Why Do I Throw Like a Girl?, Atlantic Salmon, Baseball Week, Neil Bonnett, Bjorn Borg, Bobby Grich, Montreal Expos, Alan Page, Pan-Am Games, Leroy Perry, Smarten
GD
$4.00 Cdn
Pub 5604
July 16, 1979
Sports Illustrated


Bjorn Borg
Stories: Joan Ackermann-Blount: Why Do I Throw Like a Girl?, Atlantic Salmon, Baseball Week, Neil Bonnett, Bjorn Borg, Bobby Grich, Montreal Expos, Alan Page, Pan-Am Games, Leroy Perry, Smarten
GD Sub. label removed
$3.00 Cdn

1980 SPORTS ILLUSTRATED MAGAZINE BACK ISSUES

Scan Code
Mag Issue
Cover
Contents
Condition
Price per magazine
Pub 5518
Jan. 21, 1980
Sports Illustrated


Gordie Howe
Stories: Joe Barry Carroll, Colgate Grand Prix Masters, DePaul Blue Demons, Gordie Howe, Pittsburgh Steelers, Pete Rozelle, Leon Spinks, United States International University Hockey team
GD-VG, Sub. label removed
$7.00 Cdn
Pub 6305
Jan. 21, 1980
Sports Illustrated


Gordie Howe
Stories: Joe Barry Carroll, Colgate Grand Prix Masters, DePaul Blue Demons, Gordie Howe, Pittsburgh Steelers, Pete Rozelle, Leon Spinks, United States International University Hockey team
GD, Sub.
$6.00 Cdn
Pub 5605
March 31, 1980
Sports Illustrated


Darrell Griffith
Stories: Kareem Abdul-Jabbar, Tracey Austin, Don Bragg, Chicago Blackhawks, Glenn Fletcher, Louisville Wins NCAA Basketball, Old Dominion Wins AIAW Basketball, Lee Trevino
VG, Sub. label removed
$4.00 Cdn
Pub 5606
April 7, 1980
Sports Illustrated


Keith Hernandez
Stories: Baseball Issue, Keith Hernandez, Lefty Kreh, Bob Lanier, NCAA Swimming, Nelson Piquet, Plugged Nickel, Phil Rodgers, Jonathan Yardley: Orioles Fan
GD-VG, Sub. label removed
$4.00 Cdn
Pub 5607
May 12, 1980
Sports Illustrated


Genuine Risk
Stories: Baseball Week, John Curtis, Russ Francis, Genuine Risk, Herb Lindsay, Los Angeles Dodgers, Muskie Madness, New York Islanders, Tennis, Clive Toye
GD, Sub. label removed
$3.00 Cdn
Pub 5519
June 9, 1980
Sports Illustrated


Darrell Porter
Stories: Steve Balboni, Nick Bollettieri, John Hopkins Win NCAA Lacrosse, Kansas City Royals, Diego Maradona, Nancy Lopez-Melton, Baseball Week, New Mexico Lobos Basketball Scandal, Yannick Noah, Tom Watson
GD, Sub. label removed
$4.00 Cdn
Pub 5608
June 30, 1980
Sports Illustrated


Roberto Duran / Sugar Ray Leonard
Stories: Baseball Week, Pat Costello(s), Roberto Duran vs Sugar Ray Leonard, Russell Long, US Olympic Track + Field Trials, Maianna + Earl Weaver
GD, Sub. label removed
$3.00 Cdn
Pub 5609
July 7, 1980
Sports Illustrated


Steve Scott
Stories: Baseball Week, Alan Minter, Old Baseball Park Paintings, Jorge Orta, US Olympic Track + Field Trials, Phil Weld, Wimbeldon Diary, Wrigley Field
GD, Sub. label removed
$3.00 Cdn
Pub 5610
July 14, 1980
Sports Illustrated


Bjorn Borg
Stories: Bobby Allison Wins Firecracker 400, Baseball Week, Beanballs, Bjorn Borg, Sebastian Coe, Preston Dennard, Ron Leflore, Bob Loveless, Seattle Rounders vs Tulsa Roughnecks
GD
$3.00 Cdn
Pub 5611
July 28, 1980
Sports Illustrated


Human Statue
Stories: 24 Hour Run, Baseball Week, Thomas Hearns, Mike Ivie, Moscow Olympics, Niatross, Chuck Noll, Tom Watson
GD
$3.00 Cdn
Pub 5612
Nov. 3, 1980
Sports Illustrated


Alberto Salazar
Stories: College Football Week, Bruce Jenner, Miami vs Notre Dame in Japan, Tug McGraw, New York Marathon, Jim Plunkett, Jack Rudnay, Herschel Walker, Mike Weaver
GD
$3.00 Cdn
Pub 6216
Dec. 22-29, 1980
Sports Illustrated - Double Issue


US Olympic Hockey Team
Stories: Buck Belue, College Basketball, Forty Crook Branch, NFC Central, Phoenix Suns, Lou Piccone, Polar Bear Club, US Olympic Hockey Team Sportsmen of the Year
GD, 2" split spine
$5.00 Cdn

1981 SPORTS ILLUSTRATED MAGAZINE BACK ISSUES

Scan Code
Mag Issue
Cover
Contents
Condition
Price per magazine
Pub 5520
Jan. 5, 1981
Sports Illustrated


Dave Winfield
Stories: Dr. Z`s NFL All-Pro Teams, NCAA Basketball: Jim Valvano, NFL Playoffs, Gayle Olinek, Ray Meyer, Dave Winfield, Winnipeg Jets 30 Game Streak
VG+, Sub. label removed
$5.00 Cdn
Pub 5614
Dec. 28, 1981 - Jan. 4, 1982
Sports Illustrated


Sugar Ray Leonard
Stories: Tracy Austin, Bluegill Hole Ice Fishing, Dwight Braxton, College Basketball Week, Patrick Ewing, Homer Jordan, Sugar Ray Leonard, New York Giants + Jets Both Make Playoffs, Alan Page, Walt Spitzmiller: Rodeo Paintings, Ultimate Birds
GD-VG
$4.00 Cdn

1983 SPORTS ILLUSTRATED MAGAZINE BACK ISSUES

Scan Code
Mag Issue
Cover
Contents
Condition
Price per magazine
Pub 6219
Feb. 16, 1983
Sports Illustrated - The Year in Sports


Various Sports Athletes
Stories: David Moorcroft, The Year in Sports
VG, 1" split spine
$4.00 Cdn

1984 SPORTS ILLUSTRATED MAGAZINE BACK ISSUES

Scan Code
Mag Issue
Cover
Contents
Condition
Price per magazine
Pub 6306
Jan. 23, 1984
Sports Illustrated


Wayne Gretzky
Stories: College Basketball, Wayne Gretzky, Ray Mancini vs Bobby Chacon, John McEnroe Wins the Masters, Jim Plunkett / Joe Theismann, Ralph Samson, the Sneaker War, Super Bowl Preview, US Olympic Ski Team
EX
$20.00 Cdn
Pub 6220
Feb. 8, 1984
Sports Illustrated - The Year in Sports


Various Sports Illustrated Covers
Stories: The Year in Sports
VG
$4.00 Cdn
Pub 5521
April 2, 1984
Sports Illustrated


Yogi Berra
Stories: Baseball 1984: Yogi Berra / Team Previews / Umpires Strike Back, Cross Country, NCAA Tournament, Cal Ripken Jr.
GD, Sub.
$3.00 Cdn
Pub 6221
April 30, 1984
Sports Illustrated


Football Memorabilia
Stories: Baseball, Battle Of Quebec Hockey, Max Blank, Detroit Tigers, NFL Draft Preview, Pro Basketball, Robert Victor Sullivan, US Olympic Basketball Trials
VG, Sub.
$4.00 Cdn
Pub 6222
May 14, 1984
Sports Illustrated


Mike Bossy
Stories: Ben Crenshaw, Detroit Tigers, Tony Gwynn, Tristan Jones, New York Islanders, Phoenix Suns vs Utah Jazz, Danny Sullivan, Swale, Washington Federals
GD, Sub.
$4.00 Cdn
Pub 5523
May 21, 1984
Sports Illustrated


broken Olympic Rings
Stories: Joan Benoit, Boston Celtics Playoffs Win, Indy 500, Milwaukee Bucks, North Carolina Tar Heels Baseball, Vladimir Salnikov, Soviet Summer Olympic Boycott, Sugar Ray Leonard
VG, Sub.
$5.00 Cdn
Pub 5524
Aug. 13, 1984
Sports Illustrated


Mary Lou Retton
Stories: US Olympic Gymnastics, US Olympic Swimming, US Olympic Track
VG
$4.00 Cdn

1985 SPORTS ILLUSTRATED MAGAZINE BACK ISSUES

Scan Code
Mag Issue
Cover
Contents
Condition
Price per magazine
Pub 5632
Feb. 18, 1985
Sports Illustrated


Wayne Gretzky
Stories: College Basketball Week, Wayne Gretzky, Hoosier Hysteria, Barry MacGuigan, Dian Roffe / Pirmin Zubriggen, Mary Decker Slaney
EX, Sub.
$10.00 Cdn
Pub 5525
Dec. 23 - Dec. 30, 1985
Sports Illustrated


Kareem Abdul-Jabbar
Stories: Kareem Abdul-Jabbar, John Audubon, Dallas Cowboys Beat New York Giants, Brett Hull, Moments of 1985, Charles Schultz, Smithsonian Museum Memorabilia, Sports `85
EX
$7.00 Cdn

1986 SPORTS ILLUSTRATED MAGAZINE BACK ISSUES

Scan Code
Mag Issue
Cover
Contents
Condition
Price per magazine
Pub 5526
June 2, 1986
Sports Illustrated


Montreal Canadiens with Stanley Cup on Ice
Stories: Atlanta Braves / Houston Astros / San Francisco Giants, Darrell Evans, Houston Rockets Beat L.A. Lakers, Pat Jennings, Ron Kauk, Karch Kiraly, Montreal Canadiens Win Stanley Cup, Hal Sutton, World Cup Soccer Preview
VG
$4.00 Cdn
Pub 5527
Sept. 29, 1986
Sports Illustrated


Mark Gastineau / Lawrence Taylor
Stories: Atlanta Falcons, Pat Bradley, Don Garlits, Most Powerful Women in Sports, New York Jets, NFL TV Deal, Tony Perez Retirement, Nolan Ryan, Seoul Asian Games, Washington Huskies Football
VG, light water damage, Sub
$4.00 Cdn
Pub 5528
Oct. 13, 1986
Sports Illustrated


John Elway
Stories: Denver Broncos, Bobby Doerr, Keith Hernandez, Kasparov vs Karpov Chess, Lady`s Secret, Don Mattingly, Patrick Roy, NHL Preview, Vinny Testaverde, Dick Tiger, World Series Moments
GD, Sub
$5.00 Cdn

1988 SPORTS ILLUSTRATED MAGAZINE BACK ISSUES

Scan Code
Mag Issue
Cover
Contents
Condition
Price per magazine
Pub 5529
1988
Sports Illustrated
Winter Olympics Preview


Canadian Skier and Olympic Logo
Stories: Bonnie Blair & Nick Thometz, Bobsledding, Brian Boitano, Gaetan Boucher, Jan Bucher, Sean Burke, Calgary History, Canada by Train, China, "Crazy Canucks", Marc Giradelli, Inuvik, N.W.T., Harri Kirvesniemi & Marja-Liisa Hamalainen, Brian Leetch, Medal Picks, Nordic Skiing, Olympic Pin Trading, Markus Prock, Barbara Anne Scott, Swedish Hockey, Debi Thomas, Josh Thompson, Leo Visser, Bonny Warner, Pirmin Zurbriggen
VG, 2" cover crease
$4.00 Cdn
Pub 5530
1988
Sports Illustrated
Winter Olympics Preview


Canadian Skier and Olympic Logo
Stories: Bonnie Blair & Nick Thometz, Bobsledding, Brian Boitano, Gaetan Boucher, Jan Bucher, Sean Burke, Calgary History, Canada by Train, China, "Crazy Canucks", Marc Giradelli, Inuvik, N.W.T., Harri Kirvesniemi & Marja-Liisa Hamalainen, Brian Leetch, Medal Picks, Nordic Skiing, Olympic Pin Trading, Markus Prock, Barbara Anne Scott, Swedish Hockey, Debi Thomas, Josh Thompson, Leo Visser, Bonny Warner, Pirmin Zurbriggen
GD, 1" split spine
$3.00 Cdn
Pub 5558
1988
Sports Illustrated
Winter Olympics Preview


Canadian Skier and Olympic Logo
Stories: Bonnie Blair & Nick Thometz, Bobsledding, Brian Boitano, Gaetan Boucher, Jan Bucher, Sean Burke, Calgary History, Canada by Train, China, "Crazy Canucks", Marc Giradelli, Inuvik, N.W.T., Harri Kirvesniemi & Marja-Liisa Hamalainen, Brian Leetch, Medal Picks, Nordic Skiing, Olympic Pin Trading, Markus Prock, Barbara Anne Scott, Swedish Hockey, Debi Thomas, Josh Thompson, Leo Visser, Bonny Warner, Pirmin Zurbriggen
FR, 1/2" cover tear, Sub label removed
$3.00 Cdn
Pub 5531
Feb. 29, 1988
Sports Illustrated


Brian Boitano
Stories: Brian Boitano, East German Sliders, Figure Skating, Eric Flaim, Marina Kiehl, Marjo Matikainen, Frank-Peter Roetsch, Team USA Hockey, Pirmin Zurbriggen
VG
$4.00 Cdn
Pub 5532
April 18, 1988
Sports Illustrated


Los Angeles Lakers
Stories: Kenny Bernsyein, California Superbike School, Cincinnati Reds, Los Angeles Lakers, Sandy Lyle, US Beats Peru in Davis Cup, Washington Capitals, Dave Wharton, Winning Colors
FR, Sub label removed
$2.00 Cdn
Pub 6307
May 30, 1988
Sports Illustrated


Wayne Gretzky with inset Larry Bird
Stories: Abdi Bile, Chicago White Sox May Move to Florida, Inside Baseball, Moms in the Fast Lane, NBA Playoffs, Risen Star Wins Preakness, Stanley Cup Finals, Dean Tolson, US Olympic Basketball Trials, Dave Winfield
NM
$20.00 Cdn
Pub 6224
Aug. 15, 1988
Sports Illustrated


Chinese Kids
Stories: Detroit Tigers - Boston Red Sox, Inside Baseball, San Francisco 49`ers, Sports in China, Wrigley Field First Night Game, US Olympic Gymnastic Trials
VG
$5.00 Cdn
Pub 5533
Aug. 22, 1988
Sports Illustrated


Wayne Gretzky / Magic Johnson
Stories: Kenny Bernsyein, California Superbike School, Cincinnati Reds, John Cooper, Wayne Gretzky, Los Angeles Lakers, Sandy Lyle, Phoenix Cardinals, Saratoga Race Track, Monica Seles, Jeff Sluman, US Beats Peru in Davis Cup, US Olympic Baseball vs Cuba, US Olympic Trials, Frank Viola, Dave Wharton, Washington Capitals, Watkin Glens, Winning Colors
NM
$15.00 Cdn
Pub 5534
Nov. 21, 1988
Sports Illustrated


New Orleans Saints vs Los Angeles Rams
Stories: Arkansas Razorbacks Football, Don Blanchard & Glenn Davis, Don Johnson, Jim Kohn, Bryan Millard, Roger Penske, Curtis Strange, Toronto Maple Leafs
GD
$3.00 Cdn

1989 SPORTS ILLUSTRATED MAGAZINE BACK ISSUES

Scan Code
Mag Issue
Cover
Contents
Condition
Price per magazine
Pub 5535
Feb. 27, 1989
Sports Illustrated


Charles Thompson with inset Barry Switzer
Stories: Pat Burns, College Athlete Violence, Colorado Buffalo Football, Dixieland Brass, Open Letter to Mike Tyson, Phoenix Suns, Barry Switzer, Darrell Waltrip, Pernell Whitaker
VG+
$5.00 Cdn
Pub 5536
March 20, 1989
Sports Illustrated


Jimmy Johnson
Stories: ACC Tournament, Bad NBA Foul Shooters, Hector Camacho, Dallas Cowboys, Robbie Davis, Final Four History, Evander Holyfield, Randy Johnson, Tim Krumrie, NCAA Basketball, Steve Yzerman
VG
$4.00 Cdn
Pub 5537
March 27, 1989
Sports Illustrated


Steffi Graf
Stories: Steffi Graf, Midori Ito, Tom Kite, MLB Spring Training, Brian & Joe Mullen, NCAA Championships, NCAA Tournament, Joe Runyan & the Iditarod, Special Olympics
VG+
$4.00 Cdn
Pub 5538
April 17, 1989
Sports Illustrated


Nick Faldo with inset Magic Johnson
Stories: Edmonton Oilers take lead On L.A. Kings, Nick Faldo, Bart Giametti, US Mens Soccer Team, Greg Walker, Who's MVP in NBA?
VG-EX
$5.00 Cdn
Pub 5539
May 15, 1989
Sports Illustrated


Michael Jordan
Stories: Randy Barnes, Chicago Bulls Beat Cleveland Cavalaiers, John Franco, Al Geiberger, Japanese Baseball, Roy Jones, Michael Jordan, Montreal Canadiens Lead Philadelphia Flyers, Sunday Silence, Mats Wilander
VG-EX
$10.00 Cdn
Pub 5540
Nov. 13, 1989
Sports Illustrated


Deion Sanders
Stories: Colorado Buffaloes Beat Nebraska Cornhuskers, Ron Hextall, Evander Holyfield, Liberty University, New York Giants Beat Phoenix Cardinals, New York Marathon, David Robinson, Deion Sanders, Sunday Silence
VG
$5.00 Cdn
Pub 5736
Nov. 15, 1989
Sports Illustrated


Muhammed Ali
Stories: Muhammad Ali, the Best of Times: Chronology from 1954 - 1989
VG+
$5.00 Cdn
Pub 6225
Dec. 18, 1989
Sports Illustrated


Joe Montana / Magic Johnson / Wayne Gretzky
Stories: ACC - Big East Basketball, College Basketball Report, Chuck Daly, Denver Broncos, Roberto Duran vs Sugar Ray Leonard, Inside Baseball, Inside the NFL, Masters of the 80`s - Joe Montana / Magic Johnson / Wayne Gretzky, Mark Tingstad, Lee Trevino, Pierre Turgeon
VG
$7.00 Cdn

1990 SPORTS ILLUSTRATED MAGAZINE BACK ISSUES

Scan Code
Mag Issue
Cover
Contents
Condition
Price per magazine
Pub 5541
Jan. 22, 1990
Sports Illustrated


John Elway
Stories: Kenny Anderson / Bobby Hurley, Bill Curry, Denver Broncos Beat Cleveland Browns, Patrick Ewing, Bob Knight vs Lawrence Funderburke, Pat LaFontaine, Pittsburgh Steel Curtain, San Francisco 49`ers Beat L.A. Rams
VG, 1/4" cover tear
$4.00 Cdn
Pub 5542
Feb. 12, 1990
Sports Illustrated
Swimsuit Issue


Judit Masco
Stories: 3 Pointer in College, Kareem Abdul-Jabbar, AT&T Pebble Beach Tournament, George Bell, Chris Bowman, Jennifer Capriati, College Juniors On the Way to the NFL, Tommy Gioiosa + Pete Rose, Bill Gnadt, Mike Keenan, Jean-Claude Killy, Bettsy King, Bob Kullen, Leeward + Windward Islands Scuba Diving, Los Angeles Lakers + Clippers, Lycra, Roger Mears, Judit Polgar, Sun Bank 24 Hours of Daytona, Swimsuit Photos
VG-EX
$5.00 Cdn
Pub 5543
March 5, 1990
Sports Illustrated


Gary Payton
Stories: Calgary Flames vs Edmonton Oilers, Michael Carbojal, Ben Kelso, Gary Payton, Philadelphia 76`ers Road Trip, US Ski Team, US Soccer vs Russia, Why Players Don't Want to Play in Quebec?
VG
$4.00 Cdn
Pub 5544
March 12, 1990
Sports Illustrated


Tony LaRussa
Stories: Paul Azinger, Britt Burns, Detroit Pistons, Hank Gathers, NHL Violence, Tony LaRussa, Jim Valvano + NC State Point Shaving, Yugoslav Basketball Players are Coming
VG
$4.00 Cdn
Pub 5545
March 19, 1990
Sports Illustrated


Jennifer Capriati
Stories: About Faces: Laurel Beth Capurro / Felice Mann / Steve Reiter / Donald Richards / Dick Rozier / Gina Suh, Baseball Lockout - 4th Week, Jennifer Capriati, Chris Couch, Fianl Four, NHL Patrick Division, Ohio Valley Basketball Tournament, Kurt Rambis, Ayrton Senna, Jill Trenary
VG
$4.00 Cdn
Pub 5546
April 23, 1990
Sports Illustrated


Tomas Sandstrom w/inset Steffi Graf / Bo Jackson
Stories: Gelindo Bordin, Kansas City Royals, Kentucky Derby, Kentucky Derby Museum, Los Angeles Kings Defeat Calgar Flames, Lester Moreno Perez, Gary Player, Bill Walsh, Jerry West
VG
$4.00 Cdn
Pub 5547
April 30, 1990
Sports Illustrated


Jeff George
Stories: 3 Jackson State FB Players Die, Erin Baker, Chattanooga, TN, Cincinnati Reds, Jeff George, Save the Goalies, Andre Ware, Robin Yount
VG+
$4.50 Cdn
Pub 5548
May 21, 1990
Sports Illustrated


Michael Jordan
Stories: Raul Alcala, Craig Janney, Mark McCormack, NBA Playoffs, Pittsburgh Pirates, John Tudor, Mike Tyson
GD
$4.50 Cdn
Pub 5549
Nov. 12, 1990
Sports Illustrated


William Bell
Stories: College Football Report, Georgia Tech vs Virginia / Illinois vs Iowa / Colorado vs Nebraska NCAA Football, NBA in Japan, Glen Sather, Sylvester Stallone, Douglas Wakihuri, Herschel Walker
GD-VG
$3.00 Cdn
Pub 5550
Nov. 26, 1990
Sports Illustrated


Notre Dame vs Penn State Football
Stories: America's Cup New Boats, Buffalo Bills, Roger Clemens, Denver Nuggets, Dale Earnhardt, Moe Gardner, James Houston, Lynn Jennings, John Madden, NCAA Football #1 Teams Keep Falling, St. Louis Blues, Solheim Cup, Virginia Slims Championship
GD
$3.00 Cdn
Pub 5551
Dec. 10, 1990
Sports Illustrated


Ty Detmer
Stories: Boston Celtics, Riddick Bowe, Jim Dent, Ty Detmer, Theoren Fleury, Inside College Basketball, Inside the NFL, Kansas City Chiefs, Don King, Sonja Steptoe, UCLA Wins NCAA Soccer, UNLV Basketball, US Wins Davis Cup
VG
$4.00 Cdn

1991 SPORTS ILLUSTRATED MAGAZINE BACK ISSUES

Scan Code
Mag Issue
Cover
Contents
Condition
Price per magazine
Pub 5552
April 1, 1991
Sports Illustrated


Mark Randall
Stories: 1966 Texas Western Beat Kentucky, Jim Courier, Final Four Teams, Alex Fernandez / Juan Gonzalez / Brian McRae / Frank Thomas, Darrell Gwynn, Inside the NBA, Bo Jackson, Johnny Kelley, Summer Sanders, Harry Sinden, World League of American Football
GD
$3.00 Cdn
Pub 5553
April 8, 1991
Sports Illustrated


Grant Hill
Stories: Duke Wins NCAA Basketball Title, Steve Elkington, Nick Faldo, Evander Holyfield, Inside the Final Four, Shaun Jordan, Meadow Star, Northern Michigan Wins College Hockey Title, Hakeem Olajuwon, Henry + Holly Stephenson, Tennessee Wins NCAA Women's Basketball Title, Why Do Some Baseball Players Forget How to Throw? Louise + Fred Wing
GD-VG
$4.00 Cdn
Pub 5554
Sept. 23, 1991
Sports Illustrated


Desmond Howard
Stories: Atlanta Braves, Buffalo Bills, College Report, Inside Baseball, Inside the NFL, Eric Lindros, Michigan Beats Notre Dame, Mike Tyson + Rape Charges, Why Johnny Can't Play, Kim Zmeskal
VG+
$4.00 Cdn
Pub 5737
Nov. 18, 1991
Sports Illustrated


Magic Johnson
Stories: Inside College Basketball, Inside the NFL, Magic Johnson, New Orleans Saints
EX
$10.00 Cdn
Pub 5555
Dec. 23, 1991
Sports Illustrated


Michael Jordan
Stories: Atlanta Falcons, Michael Jordan, Inside College Basketball, Inside the NFL, Michigan Wolverines Fab 5, Ten Living Legends - Walter Ioss Photos, Esa Tikkanen, John Walker
VG+
$7.00 Cdn

1992 SPORTS ILLUSTRATED MAGAZINE BACK ISSUES

Scan Code
Mag Issue
Cover
Contents
Condition
Price per magazine
Pub 5556
Jan. 27, 1992
Sports Illustrated
Winter Olympics Preview


AJ Kitt
Stories: Inside College Basketball, Inside the NBA, Duncan Kennedy, AJ Kitt, Petra Kronberger + Vreni Schneider, Medal Picks, Dave Peterson, Portland Trail Blazers, Super Bowl XXVI Preview
VG
$5.00 Cdn
Pub 5557
Jan. 27, 1992
Sports Illustrated
Winter Olympics Preview


AJ Kitt
Stories: Inside College Basketball, Inside the NBA, Duncan Kennedy, AJ Kitt, Petra Kronberger + Vreni Schneider, Medal Picks, Dave Peterson, Portland Trail Blazers, Super Bowl XXVI Preview
GD-VG Sub.
$3.00 Cdn
Pub 5559
March 9, 1992
Sports Illustrated
Swimsuit Issue


Kathy Ireland
Stories: Charles Barkley, Grit Breuer / Katrin Krabbe / Silke Moller Test Positive for Steroids, Bobby Douglas, Duke Beats UCLA, Butch Hobson, Inside College Basketball, Inside the NBA, Los Angeles Clippers, Al MacInnis, Maine Central Institute, Sharon Matola, NBA Sleepers, Cristina Sanchez, Swimsuit Photos, Jerry Tarkanian, Rocky Thompson, Tiger Woods
VG Sub. label removed
$5.00 Cdn
Pub 5560
Aug. 3, 1992
Sports Illustrated


Nelson Diebel
Stories: Barcelona, Spain `92, Hassan Boulmerka + Noureddine Morceli, Inside Baseball, Tom Kelly, Pablo Morales, Nelson Mandela, News of the Week: Cycling / Golf / MLB
GD Sub. label removed
$3.00 Cdn
Pub 5561
Aug. 24, 1992
Sports Illustrated


Deion Sanders
Stories: Dennis Eckersley, Heather Farr, Houston Astros: 1 Month Road Trip, Inside Baseball, John Kordic, Miami / Oakland / St. Petersburg / San Francisco Baseball, Nick Price, Deion Sanders, Mark Schlereth
GD-VG
$4.00 Cdn
Pub 5563
Fall, 1992
Sports Illustrated - Special Issue


Willie Mays
Stories: 1972 Miami Dolphins, All-Time Dream Teams: Baseball / Basketball / Football / Hockey, Boxing in the `60`s Photos, Ty Cobb, Bevo Francis, Glenn Hall, Ben Hogan, Slip Madigan, Time Travel on TV
VG Sub. label removed
$4.00 Cdn
Pub 5562
Oct. 12, 1992
Sports Illustrated


Randall Cunningham
Stories: 92-93 NHL Preview, Inside College Football, Inside the NFL, Jaromir Jagr, Miami Beats Florida State College FB, Philadelphia Eales Beat Dallas Cowboys, Dave Shula
VG Sub. label removed
$4.00 Cdn
Pub 5564
Oct. 19, 1992
Sports Illustrated


Walt Weiss + Dave Winfield
Stories: Atlanta Braves vs Pittsburgh Pirates Playoff, Jerry Ball, Cincinnati Reds, Dorsey High Football Team, Inside College Football, Inside the NFL, Qadry Ismail, Miami vs Penn State Football, Oakland A`s vs Toronto Blue Jays Playoff, Richard Petty, Pleasant Tap
GD Sub. label removed
$3.00 Cdn
Pub 5565
Nov. 9, 1992
Sports Illustrated


Charles Barkley
Stories: Charles Barkley, David Falk, Harvey + Horace Grant, A.P. Indy, Inside College Football, Inside the NBA, Inside the NFL, Sarunas Marciulionis, NBA Preview, Pittsburgh Steelers vs Houston Oilers,
VG Sub. label removed
$4.00 Cdn

1993 SPORTS ILLUSTRATED MAGAZINE BACK ISSUES

Scan Code
Mag Issue
Cover
Contents
Condition
Price per magazine
Pub 5566
Jan. 18, 1993
Sports Illustrated


Steve Young
Stories: Charles Barkley, Big East, Chicago Bears, Dallas Mavericks, Wayne Gretzky, Inside College Basketball, Inside the NBA, Larry Laoretti, NFL Playoffs, Phillipine Little League World Series Team
VG
$4.00 Cdn
Pub 5567
Feb. 22, 1993
Sports Illustrated
Swimsuit Issue


Vendela
Stories: Kjetil Andre Aamodt, Alaska, Atlanta Olympic Games, Calbert Cheaney, Julio Cesar Chavez, Daytona 500, Florida Keys, Hawaii, Inside College Basketball, Inside the NBA, Dale Jarrett, Mackinac Island, Cliff Robinson, Sports People: Paul Kariya / Brian Shimer / Curtis Strange / Lauren Wolfe, Swimsuit Photos, Natalie Williams
VG Sub. label removed
$5.00 Cdn
Pub 5568
March 8, 1993
Sports Illustrated


Brian Reese
Stories: Colorado Rockies, Donald Fehr, Inside College Basketball, Inside the NBA, Monster Trucks, North Carolina Tar Heels Basketball, Phoenix Suns, San Jose Sharks, Sports People: Tracy Austin / John McDowell / Cam Neely / Eric Wynalda
GD-VG
$3.00 Cdn
Pub 5569
March 22, 1993
Sports Illustrated


Dwight Gooden
Stories: Oksana Baiul, Final Four 1967-69, Dwight Gooden, Killing Fields, Eric Montross, Hakeem Olajuwon, Quebec Nordiques, Sports People: Tracy Patterson / Alex Rodriguez / Vivian Stringer / James Washington
GD
$3.00 Cdn
Pub 5570
May 17, 1993
Sports Illustrated


Hakeem Olajuwon
Stories: Don Beebe + Leon Lett, Buster Douglas, Wayne Gretzky, Inside Baseball, NBA Playoffs New York Mets, Sports People: Jamie Irving / Dan Landry / Lennox Lewis
FR-GD
$3.00 Cdn
Pub 5571
June 7, 1993
Sports Illustrated


Michael Jordan
Stories: Cincinnati Reds, John Daly, Emerson Fittipaldi, Inside Baseball, D. Wayne Lukas, Montreal Forum, NBA Playoffs, Sports People: Dede Davidson / Kent Desormeaux / Lee Trevino / Rusty Wallace
GD-VG
$4.00 Cdn

1997 SPORTS ILLUSTRATED MAGAZINE BACK ISSUES

Scan Code
Mag Issue
Cover
Contents
Condition
Price per magazine
Pub 5738
April 23 - July 12, 1997
Sports Illustrated
Mario Lemieux Tribute Issue


Mario Lemieux
Stories: Mario Lemieux Tribute
VG+
$8.00 Cdn
Pub 5572
Winter, 1997
Sports Illustrated
Swimsuit Issue


Tyra Banks
Stories: Tyra Banks, Beach Volleyball, Bikini, Bikini Mania, Naomi Campbell, Steffi Graf, Eva Herzigova, Valeria Mazza, Monaco, Chandra North, Niki Taylor, Vendela, Stacey Williams
VG
$4.00 Cdn

1999 SPORTS ILLUSTRATED MAGAZINE BACK ISSUES

Scan Code
Mag Issue
Cover
Contents
Condition
Price per magazine
Pub 5633
April 26, 1999
Sports Illustrated


Wayne Gretzky
Stories: Baltimore Orioles, College Basketball Week, Wayne Gretzky Retirement, Inside Baseball, Inside the NBA, Inside the NHL, Inside Olympic Sports, Bobb McKittrick, Shane Mosley, Don Nelson, NHL Playoff Preview
VG+, water spots on back
$5.00 Cdn
Pub 5739
April 26, 1999
Sports Illustrated


Wayne Gretzky
Stories: Baltimore Orioles, College Basketball Week, Wayne Gretzky Retirement, Inside Baseball, Inside the NBA, Inside the NHL, Inside Olympic Sports, Bobb McKittrick, Shane Mosley, Don Nelson, NHL Playoff Preview
FR, folded in half vertically
$2.50 Cdn
Pub 5740
April 28 - July 26, 1999
Sports Illustrated
Wayne Gretzky Tribute Issue


Wayne Gretzky
Stories: Wayne Gretzky Tribute
NM
$15.00 Cdn
Pub 5741
April 28 - July 26, 1999
Sports Illustrated
Wayne Gretzky Tribute Issue


Wayne Gretzky
Stories: Wayne Gretzky Tribute
VG+
$8.00 Cdn
Pub 6307
May 30, 1999
Sports Illustrated


Wayne Gretzky with inset Larry Bird
Stories: Abdi Bile, Chicago White Sox May Move to Florida, Inside Baseball, Moms in the Fast Lane, NBA Playoffs, Risen Star Wins Preakness, Stanley Cup Finals, Dean Tolson, US Olympic Basketball Trials, Dave Winfield
NM
$20.00 Cdn
Pub 5573
Winter, 1999
Sports Illustrated
Swimsuit Issue


Rebecca Romjim Stamos
Stories: Body Painting, Bomba`s Shack, Richard Branson, Guana Island, Heidi Klum, Necker Island,
VG-EX
$5.00 Cdn
Pub 5574
Nov. 8, 1999
Sports Illustrated


Walter Payton
Stories: David Cone on the Yankees, Inside College Football, Inside the NBA, Inside the NFL, Keyshawn Johnson, NFL Midseason Report, Joe Nieuwendyk, Walter Payton
EX+
$8.00 Cdn

2002 SPORTS ILLUSTRATED MAGAZINE BACK ISSUES

Scan Code
Mag Issue
Cover
Contents
Condition
Price per magazine
Pub 6005
Jan. 7, 2002
Sports Illustrated


Clinton Portis
Stories: Elton Brand / Garrison Hearst / Inside College Basketball, Inside the NBA, Inside the NFL, Inside the NHL, U of Kentucky Basketball / Miami NCAA Football Champs / Oregon Wins Fiesta Bowl
VG Sub.
$2.50 Cdn
Pub 6006
Jan. 14, 2002
Sports Illustrated


Michael Jordan
Stories: Mike Cameron, Inside College Basketball, Inside the NBA, Inside the NFL, Michael Jordan, NFL Playoff Preview, NHL Midseason Report
VG+ Sub.
$3.00 Cdn
Pub 6007
Jan. 21, 2002
Sports Illustrated


Black Cat
Stories: Inside College Basketball, Inside the NBA, Inside the NHL, Inside Olympic Sports, Michael Jordan, Jere Karalahti, NFL Wild-Card Weekend, Jermaine O`Neal, SI Cover Jinx
VG-EX Sub.
$2.50 Cdn
Pub 6008
Jan. 28, 2002
Sports Illustrated


Jason Kidd
Stories: Inside Baseball, Inside College Basketball, Inside the NBA, Inside the NHL, Kansas Jayhawks Basketball, Jason Kidd, Joe Thornton
VG-EX Sub.
$3.00 Cdn
Pub 6009
Feb. 4, 2002
Sports Illustrated


Apolo Ohno
Stories: Canada Win Olympic Hockey?, Jennifer Capriati, Brian Cook, Inside College Basketball, Inside the NBA, Inside the NHL, Michelle Kwan - Irina Slutskaya, Memphis Basketball, NFL Playoffs, Apolo Ohno, Winter Olympic Preview
VG Sub.
$2.50 Cdn
Pub 6010
Feb. 11, 2002
Sports Illustrated


Willie McGinest / Kurt Warner
Stories: Brian Cook, Jeff Gordon's Pit Crew, Inside College Basketball, Inside the NBA, Inside the NHL, Bode Miller, Matt Morris, New England Pats Win Super Bowl, Jeremy Roenick, Jerry Sloan
VG Sub.
$3.00 Cdn
Pub 6011
Feb. 18, 2002
Sports Illustrated


LeBron James
Stories: 2012 Winter Olympics, Brian Cook, Jeff Gordon's Pit Crew, Inside College Basketball, Inside College Football, Inside the NHL, LeBron James, NBA Pollsters, Ivan Rodriguez, Kareem Rush
FR-GD, creased cvr Sub.
$10.00 Cdn
Pub 6012
Feb. 25, 2002
Sports Illustrated


Chris Witty
Stories: 2012 Winter Olympics, Daytona 500, Dan Dickau, Figure Skating Scandal, Inside Baseball, Inside College Basketball, Inside the NBA, Inside the NHL
NM Sub.
$4.00 Cdn
Pub 6013
March 4, 2002
Sports Illustrated


Sarah Hughes
Stories: 2012 US Winter Olympics Medals, Canada Wins Olympic Gold Hockey, Dallas Mavericks, Indian Nicknames, Inside College Basketball, Inside College Hockey, Inside the NBA, Inside the NHL, Paul Lo Duca
NM, creased back cover Sub.
$2.50 Cdn
Pub 6014
March 11, 2002
Sports Illustrated


Charles Barkley
Stories: Charles Barkley, Sam Clancy, Jarome Iginla, Inside College Basketball, Inside College Hockey, Inside the NBA, Inside the NFL, Inside the NHL, Tino Martinez, Tally-ho-ho, Jayson Williams Shooting
VG-EX, 2 x 1/8 tears Sub.
$2.50 Cdn
Pub 6015
March 18, 2002
Sports Illustrated


Luke Walton
Stories: Kobe Bryant, Sean Burroughs, Sherri Coale, Inside Baseball, Inside College Hockey, Inside the NBA, Inside the NHL, Montreal Expos Last Season, NBA Power Forwards, NCAA Tourney Preview, Sterling Marlin, Small NHL Players, Ricky Williams
VG Sub.
$2.50 Cdn
Pub 6016
March 25, 2002
Sports Illustrated


Jason Giambi
Stories: 2002 Baseball Preview, Inside the NBA, Inside the NHL, Maple Bats, NCAA Tournament, Steve Spurrier, Tiger Woods
VG+ Sub.
$3.00 Cdn
Pub 6017
April 1, 2002
Sports Illustrated


Espin Knutsen w/inset Brittanie Cecil
Stories: Fans Game Safety, Final Four Preview, Inside Baseball, Inside the NBA, Inside the NFL, Inside the NHL, Alonzo Mourning, Cael Sanderson
EX Sub.
$3.00 Cdn
Pub 6019
April 15, 2002
Sports Illustrated


Tom Brady
Stories: Tom Brady, Jim Brown, Inside Baseball, Inside the NBA, Inside the NHL, Minnesota Golden Gophers Mens Hockey, Geoff Petrie, Alex Zanardi
VG-EX, 1" back tear Sub.
$6.00 Cdn
Pub 6020
April 22, 2002
Sports Illustrated


Tiger Woods
Stories: Inside Baseball, Inside College Football, Los Angeles Lakers Diary, NBA Playoff Preview, NFL Playoff Preview, NFL Draft Preview, Scott Rolen, Tiger Woods
VG-EX Sub.
$4.00 Cdn
Pub 6021
April 29, 2002
Sports Illustrated


Kenyon Martin
Stories: Torii Hunter, Inside Baseball, Inside Motor Sports, Inside the NHL, Kenyon Martin, Mt. St. Elias Tragedy, Mystery of Ballydoyle, NFL Draft
VG+ Sub.
$2.50 Cdn
Pub 6022
May 13, 2002
Sports Illustrated


Trevor Hoffman
Stories: Tony Boselli, Carolina Hurricanes, Charlotte Hornets, Trevor Hoffman, Inside Baseball, Inside the NBA, Kazuhisa Ishii, Pipeline Dreams, War Emblem Wins Kentucky Derby
GD-VG Sub.
$2.00 Cdn
Pub 6023
May 20, 2002
Sports Illustrated


Mike Tyson
Stories: Tim Duncan, Ken Griffey Jr., Priest Holmes, Inside Baseball, Inside the NHL, Bora Milutinovic, NHL Playoffs, Mike Tyson
VG-EX Sub.
$4.00 Cdn
Pub 6024
May 27, 2002
Sports Illustrated


Clint Mathis
Stories: Inside Baseball, Inside the NBA, Mike Lowell, Bora Milutinovic, NBA Playoffs, NHL Playoffs, Arn Tellem, War Emblem, World Cup 2002 Preview
VG-EX Sub.
$4.00 Cdn
Pub 6025
June 3, 2002
Sports Illustrated


Baseball & Syringes
Stories: Vlade Divak & Shaquille O`Neal, Rulon Gardner, Martina Hingis, Inside Baseball, Inside College Basketball, NHL Clutch Players, Steroids in Baseball
VG-EX, creased back cover Sub.
$2.50 Cdn
Pub 6026
June 10, 2002
Sports Illustrated


Kobe Bryant / Jason Kidd
Stories: Boston Red Sox vs New York Yankees, Brandon Hancock, Tony Hawk, Inside Baseball, Inside Tennis, NBA Finals, Michael Owen, Stanley Cup Preview
VG-EX, creased back cover Sub.
$2.50 Cdn
Pub 6027
June 17, 2002
Sports Illustrated


Shaquille O`Neal
Stories: Tom Glavine, Inside Baseball, Inside Track and Field, Lennox Lewis - Mike Tyson Fight, Shaquille O`Neal, Sarava Wins Belmont Stakes, Stanley Cup Finals, US World Cup Soccer, Serena & Venus Williams French Open
VG-EX, creased back cover Sub.
$3.00 Cdn
Pub 6028
June 24, 2002
Sports Illustrated


Landon Donovan
Stories: Detroit Red Wings Win Stanley Cup, Pancho Gonzalez, Inside Baseball, Inside the NBA, Los Angeles Lakers, NFL Europe, Jose Vidro, Tiger Woods Wins US Open, World Cup
VG Sub.
$2.50 Cdn
Pub 6029
July 1, 2002
Sports Illustrated


Dale Earhardt Jr. with inset Darryl Kile
Stories: Sue Bird, Dale Earhardt Jr., Inside Baseball, Inside the NHL, Darryl Kile, Morales - Barrera Boxing Fight, Huston Street, World Cup
VG Sub.
$2.50 Cdn
Pub 6030
July 8, 2002
Sports Illustrated


Ichiro Suzuki
Stories: Anatomy of a Cavaliers Deal, Brazil Wins World Cup, Grand Slam For Tiger Woods?, Inside Soccer, Inside Tennis, Kevin Lowe, Midseason MLB Report, Bud Selig, Ichiro Suzuki
VG, 1/4" back tear Sub.
$3.00 Cdn
Pub 6031
July 15-22, 2002 Double Issue
Sports Illustrated


Ted Williams
Stories: Inside Baseball, Inside Motor Sports, New York Yankees, Where are They Now? `72 Miami Dolphins / Zola Budd / Cecil Fielder / Hallowed Grounds / Paul Hornung / Double Duty Radcliffe / Oscar Robertson / Herschel Walker, Ted Williams, Wimbledon Tennis
VG Sub.
$5.00 Cdn
Pub 6033
Aug. 5, 2002
Sports Illustrated


Lance Armstrong
Stories: Lance Armstrong, Inside Baseball, Inside the NFL, Tony Kornhiser & Michael Wilbon, On the Road With the WNBA, Saving Baseball
VG Sub.
$2.50 Cdn
Pub 6032
Aug. 12, 2002
Sports Illustrated


Tommie Harris
Stories: College Football Preview, Inside Baseball, Inside Motor Sports, Andre Miller, St. Louis Cardinals, San Diego Chargers
VG Sub.
$2.50 Cdn
Pub 6034
Aug. 19, 2002
Sports Illustrated


Dave Carr
Stories: Beach Volleyball, Barry Bonds Hits #600, Dallas Cowboys vs Houston Texans, Inside Baseball, Inside the NFL, Art Kehoe, Phil Mickelson, John Smoltz
VG Sub.
$2.50 Cdn
Pub 6035
Aug. 26, 2002
Sports Illustrated


Alfonso Soriano
Stories: Rich Beem, Inside Baseball, Inside Track and Field, Munich 1972, NFL Free Agency, Alfonso Soriano, Stanley Cup Goes to Czech Republic
VG, creased back cover Sub.
$2.50 Cdn
Pub 6036
Sept. 9, 2002
Sports Illustrated


Jon Gruden / Warren Sapp
Stories: Rich Beem, Jon Gruden, Inside Baseball, Inside College Football, Inside Motor Sports, Inside the NFL, Sandy Koufax, Alex Rodriguez, WNBA Finals
VG Sub.
$2.50 Cdn
Pub 6037
Sept. 16, 2002
Sports Illustrated


Giants Stadium
Stories: Oscar De La Hoya vs Fernando Vargas, Faces in the Crowd, Football Odyssey, E.J. Henderson, Inside Baseball, Inside Basketball, Inside College Football, Inside the NFL, US Open Tennis
VG-EX Sub.
$2.50 Cdn
Pub 6038
Sept. 30, 2002
Sports Illustrated


Maurice Stovall
Stories: Baseball Awards, Pat Conroy, Bison Dele, Bob Hayes, Inside College Football, Inside the NFL, Long Drivers, New Orleans Saints, Tyrone Willingham
VG Sub.
$2.50 Cdn
Pub 6039
Oct. 7, 2002
Sports Illustrated


Teyo Johnson / Nicole Powell / Tony Azevedo / Marcia Wallis / Chris Simms / T.J. Ford / Cat Osterman / Moushami Robinson
Stories: America's Best Sports Colleges, Inside College Football, Inside Motor Sports, Inside the NFL, Long Drivers, Hank McGraw, New Orleans Saints, Postseason MLB Myths, Ryder Cup, St. Louis Rams, Tyrone Willingham
VG Sub.
$2.50 Cdn
Pub 6040
Oct. 14, 2002
Sports Illustrated


Chris Chelios / Brett Hull / Brendan Shanahan / Nicklas Lidstrom
Stories: 02-03 NHL Preview, Baseball Playoffs, Chasing #1 in College Football, Inside College Football, Inside the NFL, NHL Road Warriors, Jeff O`Neill, Oakland Raiders, Texas-Oklahoma College Football
VG+ Sub.
$2.50 Cdn
Pub 6041
Oct. 21, 2002
Sports Illustrated


Trent Smith
Stories: AL & NL Championship Series, Chasing #1 in College Football, Inside College Football, Inside the NFL, The Punch - Book Excerpt, San Diego Chargers, Tony Stewart
VG+ Sub.
$2.50 Cdn
Pub 6042
Oct. 28, 2002
Sports Illustrated


Yao Ming
Stories: 02-03 NBA Preview, Bob Baffert, Tyson Chandler / Eddie Curry, Vlade Divac, Inside the NFL, Inside the NHL, Yao Ming, Joe Paterno, Troy Vincent, World Series
VG+ Sub.
$3.00 Cdn
Pub 6043
Nov. 4, 2002
Sports Illustrated


John Lackey
Stories: Inside College Football, Inside Horse Racing, Inside the NFL, Inside the NHL, Overrated & Underrated, Emmitt Smith, Unbeatens Inside College Football, World Series
EX+ Sub.
$4.00 Cdn
Pub 6044
Dec. 9, 2002
Sports Illustrated


Ricky Williams
Stories: America's Cup, Faces of the NFL, High School Sports Part IV, Inside College Basketball, Inside College Football, Inside the NFL, Mark Messier, Carson Palmer
EX+ Sub.
$4.00 Cdn
Pub 6045
Dec. 23, 2002
Sports Illustrated


Brett Favre
Stories: Theo Epstein, Georgia Bulldogs, Green Bay Packers, Impact NBA Freshmen, Inside Baseball, Inside the NBA, Inside the NFL, Alexei Kovalev, Andy Reid, Stanley Roberts,
VG Sub.
$3.00 Cdn
Pub 5743
Winter 2002
Sports Illustrated
Team Canada Hockey Gold Medal Issue


Mario Lemieux
Stories: Canada`s Olympic History, Gold Medal Game, Mario Lemieux, Quarter Finals, Round Robin, Semifinals, Women`s Gold Medal
EX+
$20.00 Cdn
Pub 5742
Winter 2002
Sports Illustrated
Swimsuit Issue


Yamila Diaz-Rahi
Stories: Models: Ana Beatriz Barros, Elsa Benitez, Ehrinn Cummings, Yamila Diaz-Rahi, Isabeli Fontana, Bridget Hall, Melissa Keller, Heidi Klum, Vanessa Lorenzo, Josie Maran, Carla Maria, Marisa Miller, Petra Nemcova, Chandra North, Daniela Pestova, Audrey Quoc, Shakara, Molly Sims, Veronica Varekova
EX+ Sub.
$6.00 Cdn

2003 SPORTS ILLUSTRATED MAGAZINE BACK ISSUES

Scan Code
Mag Issue
Cover
Contents
Condition
Price per magazine
Pub 6046
Jan. 13, 2003
Sports Illustrated


Craig Crenzel
Stories: Lefty Driesell, Inside College Basketball, Inside the NBA, Inside the NHL, LeBron James, Los Angeles Lakers, NFL Playoffs, Ohio State Wins Fiesta Bowl, Vancouver Canucks
VG Sub.
$5.00 Cdn
Pub 6047
Mar. 24, 2003
Sports Illustrated


2003 March Madness Collage
Stories: 2003 March Madness Preview, Bill Clinton, Patrick Eaves & Joe Exter Collision, Kevin Garnett, Uday Hussein, Inside Baseball, Inside the NBA, Inside the NFL, Inside the NHL, San Francisco Giants
VG, Sub.
$2.50 Cdn
Pub 6048
Mar. 31, 2003
Sports Illustrated


Roger Clemens / Jose Contreras / Mike Mussina / Andy Pettitte / George Steinbrenner / Jeff Weaver
Stories: 2003 MLB Preview, Inside College Football, Inside Horse Racing, Inside Motor Sports, Inside the NBA, Inside the NHL, Inside Wrestling, Jack Morris, NBA Playoff Race, NCAA Tournament, Oakland A's Big 3
VG, 1/4" back crease, Sub.
$2.50 Cdn
Pub 6049
April 7, 2003
Sports Illustrated


Carmelo Anthony / Nick Collison / T.J. Ford / Dwyane Wade
Stories: Chicago Cubs & White Sox, Inside Baseball, Inside the NBA, Inside the NFL, Inside the NHL, Inside Tennis, Hootie Johnson, NCAA Final 4, Supplements
VG-EX Sub.
$5.00 Cdn
Pub 6050
April 14, 2003
Sports Illustrated


Carmelo Anthony
Stories: 500 Home Runs, Riddick Bowe & Evander Holyfield, Inside Baseball, Inside Horse Racing, Inside Swimming, Mike Kamon - Army Lacrosse, Karl Malone, NHL Playoffs Preview, Syracuse Wins NCAA Tournament
VG Sub.
$3.00 Cdn
Pub 5759
April 28, 2003
Sports Illustrated


Carson Palmer
Stories: Inside Baseball, Inside the NBA, Inside the NHL, NFL Draft Preview, Michael Schumacher, Violent Fans, Preston Wilson
VG
$2.50 Cdn
Pub 5760
May 5, 2003
Sports Illustrated


Various Sports Figures
Stories: 101 Most Influential Sports Minorities, Inside Baseball, Inside College Football, Inside the NHL, NFL Draft, NHL Speed, Dirk Nowitzki, Who`s Your Caddy? Book Excerpt
VG
$2.50 Cdn
Pub 5781
May 12, 2003
Sports Illustrated


Bobby Jackson
Stories: Billy Beane - Moneyball, Mike Bibby + Bobby Jackson, Larry Eustachy + Mike Price, Jean-Sebastien Giguere, Inside Baseball, Inside Boxing, Inside the NBA, Inside the NHL, Kentucky Derby
VG-EX
$3.00 Cdn
Pub 5782
May 19, 2003
Sports Illustrated


Jason Kidd with inset Rafael Palmeiro
Stories: College Websites, Inside Baseball, Inside the NBA, Inside Soccer, Minnesota Wild, New Jersey Nets, Derrick Nix, Rafael Palmeiro
EX
$3.50 Cdn
Pub 5783
May 26, 2003
Sports Illustrated


Serena Williams
Stories: Rocco Baldelli, Inside Baseball, Inside Track + Field, Knockoff Golf Clubs, Mark McCormack, NHL Playoffs, Preakness Stakes, Annika Sorenstam, Nick Van Exel, Serena Williams
VG-EX
$3.00 Cdn
Pub 5784
June 2, 2003
Sports Illustrated


Roger Clemens
Stories: David Baker, Roger Clemens, Eric Gagne, Indy 500, Inside Baseball, Inside Lacrosse, Inside the NBA, Byron Scott, Annika Sorenstam, Stanley Cup Finals
EX+
$4.00 Cdn
Pub 5785
June 9, 2003
Sports Illustrated


Tim Duncan
Stories: Felipe Alou, Orlando Brown, Funny Cide, Tim Duncan, Allyson Felix, Inside Baseball, Inside College Basketball, Inside Tennis, Stanley Cup Finals
EX+
$3.00 Cdn
Pub 5786
June 16, 2003
Sports Illustrated


Freediver
Stories: Belmont Stakes, Freediving, the French Open, Inside Baseball, Inside the NBA, NBA Finals, New Jersey Devils Win Stanley Cup
EX+
$3.00 Cdn
Pub 5787
June 23, 2003
Sports Illustrated


David Robinson
Stories: David Beckham, Jim Furyk Wins US Open, Rickey Henderson, Inside Baseball, Inside the NBA, NASCAR Midseason Report, San Antonio Spurs Win NBA
EX
$3.50 Cdn
Pub 5788
June 30, 2003
Sports Illustrated - 4th Annual Where Are They Now?


Bo Jackson
Stories: Inside Basetball, Inside the NHL, Albert Pujols, Where Are They Now?: 78 Yankees Bronx Zoo / Ron Blomberg / Steve Dalkowski / Bo Jackson / Kerrigan, Harding + Baiul, Jerry Lucas / Morganna / Mickey Rivers / Fernando Valenzuela / Chuck Wepner, Dontrelle Willis, Wimbledon Serves
EX
$6.00 Cdn
Pub 5789
July 14 - July 21, 2003
Sports Illustrated - 50th Anniversary Double Issue


Willie Mays / Mickey Mantle
Stories: 50th Anniversary Celebration, Inside Basetball, Inside Motor Sports, Inside the NHL, Hideki Matsui, Newport Regatta, Wimbledon, Tiger Woods
VG-EX Sub.
$5.00 Cdn
Pub 5790
July 21, 2003
Sports Illustrated


Kerry Wood / Mark Prior
Stories: Baseball Midseason Report, Inside Soccer, Inside Tennis, NBA Draft, Vanishing Black Baseball Player, Michelle Wie
VG-EX Sub.
$3.00 Cdn
Pub 5791
July 28, 2003
Sports Illustrated


Kobe Bryant
Stories: Kobe Bryant, Cheyenne Frontier Days Rodeo, Natalie Coughlin, Ben Curtis Wins British Open, Future Baseball Hall of Famers, Inside Baseball, Inside Motor Sports, Jeremy Shockey
VG-EX Sub.
$3.00 Cdn
Pub 5792
Aug. 4, 2003
Sports Illustrated


Lance Armstrong
Stories: 50 Greatest Sports Movies, Akron Soap Box Derby, Inside Baseball, Inside College Basketball, Inside the NBA, Inside Swimming, Kansas City Royals, SeaBiscuit: The Movie, Emmitt Smith, Tour De France
VG-EX Sub.
$3.00 Cdn
Pub 5793
Aug. 11, 2003
Sports Illustrated


Craig Krenzel
Stories: Laveranues Coles, College Football Preview, Tim Howard, Inside Baseball, Inside Horse Racing, Inside the NFL, San Francisco Giants, Show-Me State Games
VG-EX Sub.
$3.00 Cdn
Pub 5794
Aug. 18, 2003
Sports Illustrated


Bill Parcells
Stories: Atlanta Celtics, Chicago White Sox, Inside Baseball, Inside College Football, Inside the NFL, Lifeguard Championships, Bill Parcells, Jordin Tootoo, What Happened to Ted Williams?
EX Sub.
$4.00 Cdn
Pub 5795
Aug. 25, 2003
Sports Illustrated


Sammy Sosa
Stories: Inside Baseball, Inside College Football, Inside the NFL, Little League World Series, Christy Mathewson + John McGraw, PGA Championship, Rutgers Football, Sammy Sosa, US Open Preview
VG-EX Sub.
$3.00 Cdn
Pub 5796
Sept. 1, 2003
Sports Illustrated


Kurt Warner
Stories: Bobby Bonds Tribute, Inside Baseball, Inside College Football, Inside Tennis, Inside Track + Field, Javy Lopez, NFL Preview, Ocean City Classic, Cody Pickett
VG-EX Sub.
$3.00 Cdn
Pub 5797
Sept. 8, 2003
Sports Illustrated


Craig Krenzel
Stories: Boston Red Sox vs New York Yankees, Darlington Raceway, Depression, Inside Baseball, Inside the NFL, Inside Tennis, Inside Track + Field, Ohio State Football, Julius Peppers
VG-EX Sub.
$3.00 Cdn
Pub 5798
Sept. 15, 2003
Sports Illustrated


Sam Adams with inset Andy Roddick
Stories: Brock Berlin, Delaware Blue Hens Football, Inside Baseball, Inside College Football, NFL Kickoff, Philadelphia Phillies, Train - Golf Fiction Story, US Open
EX Sub.
$3.00 Cdn
Pub 5799
Sept. 22, 2003
Sports Illustrated


Mia Hamm
Stories: Mia Hamm, Houston Astros, Inside Baseball, Inside College Football, Inside the NFL, Edgerrin James, Michigan Wolverines Football, TV Poker
EX Sub.
$3.00 Cdn
Pub 5800
Sept. 29, 2003
Sports Illustrated


Jason Fife with inset Priest Holmes
Stories: Priest Holmes, Inside Baseball, Inside College Football, Inside the NFL, Oregon Ducks Football, SI`s Baseball Awards, Texas High School Football, the Triple - Most Exciting Play
VG+ Sub.
$2.50 Cdn
Pub 5801
Oct. 13, 2003
Sports Illustrated


Kerry Wood
Stories: Baseball Playoffs, Chris Hovan, Inside College Football, Inside the NFL, Inside Soccer, NHL Preview, Northern Illinois Football, Virginia Gold Cup
VG-EX Sub.
$3.00 Cdn
Pub 5802
Oct. 20, 2003
Sports Illustrated


Jason White
Stories: Baseball Playoffs, College Football Shakeout, Inside College Football, Inside Motor Sports, Inside the NFL, Inside the NHL, Moab Mountain Bikers, Tampa Bay Buccaneers
VG-EX, 1/2 spine tear Sub.
$3.00 Cdn
Pub 5803
Oct. 27, 2003
Sports Illustrated


LeBron James
Stories: Quincy Carter, David Green + David Pollack, Inside College Football, Inside the NFL, Inside the NHL, Ironman Triathlon, NBA Preview, Gary Stevens, World Series
VG-EX Sub.
$6.00 Cdn
Pub 5744
Nov. 10, 2003
Sports Illustrated
All 2,548 Covers


Various S.I. covers
Stories: 2,548 Covers, Sidney Crosby, Inside College Basketball, Inside the NBA, Inside the NFL, Kansas 8-Man Football, Jamal Lewis, Los Angeles Lakers, Cooper Manning, Andy Roddick, USC Football
NM
$8.00 Cdn
Pub 5745
Nov. 10, 2003
Sports Illustrated
All 2,548 Covers


Various S.I. covers
Stories: 2,548 Covers, Sidney Crosby, Inside College Basketball, Inside the NBA, Inside the NFL, Kansas 8-Man Football, Jamal Lewis, Los Angeles Lakers, Cooper Manning, Andy Roddick, USC Football
VG-EX
$4.00 Cdn
Pub 5804
Nov. 17, 2003
Sports Illustrated


Trent Green
Stories: Carmelo Anthony, John Gagliardi, Inside Boxing, Inside College Football, Ilya Kovalchuk, Chris Leak, NFL Midseason Report, Washington State Rowing, Roy Williams
VG-EX Sub.
$3.00 Cdn
Pub 5805
Nov. 24, 2003
Sports Illustrated


Emeka Okafor + Diana Taurasi
Stories: Geno Auriemma + Diana Taurasi, Black Sunday, Cincinnati Bengals, College Basketball Preview, Inside the NBA, Inside the NFL, Inside Soccer, the Iron Bowl, Jason White
VG-EX, 1/8" cover tear Sub.
$3.00 Cdn
Pub 5806
Dec. 1, 2003
Sports Illustrated


Chris Perry
Stories: George Foreman, Inside the NBA, Inside the NFL, Inside Soccer, Kazuo Matsui, Michigan - Ohio State Football, Philadelphia Eagles, West is Best in NBA
VG-EX Sub.
$3.00 Cdn
Pub 5807
Dec. 8, 2003
Sports Illustrated


Kyle Turley
Stories: Bayou Classic, Larry Fitzgerald, Inside College Basketball, Inside College Football, Inside the NBA, Inside the NFL, Inside the NHL, Ricardo Mayorga, NFL Offensive Linemen, Oddsmakers, Utah Jazz
VG-EX Sub.
$3.00 Cdn
Pub 5808
Dec. 22, 2003
Sports Illustrated


Peyton Manning
Stories: David Aebischer, Chris Bosh, High School Hazing, Inside College Basketball, Inside the NFL, Inside the NHL, Lakota Nation Invitational, Peyton Manning, Throwback Jerseys
GD-VG, folded Sub.
$2.00 Cdn
Pub 5809
Dec. 29, 2003 - Jan. 5, 2004
Sports Illustrated - Double Issue


Carmelo Anthony
Stories: Inside College Basketball, Inside College Football, Inside the NBA, Inside the NFL, Inside the NHL, Oklahoma - Gymnatics, Rick Telander, Year in Review
EX Sub.
$5.00 Cdn

2004 SPORTS ILLUSTRATED MAGAZINE BACK ISSUES

Scan Code
Mag Issue
Cover
Contents
Condition
Price per magazine
Pub 5810
Jan. 12, 2004
Sports Illustrated


Matt Leinart
Stories: Inside College Basketball, Inside Hockey, Inside the NBA, NFL Playoffs, Zach Randolph, Pete Rose`s Confession, UCONN Basketball, USC vs LSU Football
VG+ Sub.
$3.00 Cdn
Pub 5811
Jan. 19, 2004
Sports Illustrated


Donovan McNabb with inset Rick Nash
Stories: , Inside Baseball, Inside College Basketball, Inside the NBA, Sandy Komito - Bird Watching, Adam Morrison, NFL Playoffs, NHL Midseason Report, North Dakota Curling, Peja Stojakovic
VG-EX Sub.
$3.00 Cdn
Pub 5812
Feb. 2, 2004
Sports Illustrated


Super Bowl 1 Captains Shaking Hands
Stories: Dallas Mavericks, Shane Doan, Inside Baseball, Inside College Basketball, Inside the NBA, Inside the NHL, Inside Tennis, Louisville Cardinals Basketball, National Tobaggan Championship, Super Bowl Tales, Super Bowl XXXVIII Preview
VG-EX Sub.
$3.00 Cdn
Pub 5813
Feb. 9, 2004
Sports Illustrated


Tom Brady
Stories: Anaheim Angels, Ron Artest + Jermaine O`Neal, Roger Federer, Inside College Basketball, Inside the NBA, Inside the NHL, Inside Track, James + Joe Jones, Michigan Spartans vs Wolverines Hockey, Miracle, the Sequel, Super Bowl XXXVIII
VG-EX Sub.
$5.00 Cdn
Pub 5814
Feb. 16, 2004
Sports Illustrated


Jameer Nelson
Stories: College Football Signing Day, Indiana Basketball, Inside Baseball, Inside College Basketball, Inside the NHL, Inside Track, NASCAR Preview, NBA Midseason Report, Tom Pappas, Saint Joseph`s Basketball
VG-EX Sub.
$5.00 Cdn
Pub 5815
Feb. 23, 2004
Sports Illustrated


Alex Rodriguez
Stories: Roger Clemens + Andy Pettitte, Daytona 500, Importance of Hockey Ice, Inside College Basketball, Inside the NBA, Inside the NHL, Play Ball!, Michael Redd, Alex Rodriguez Trade, University of Colorado Recruiting Scandal
EX Sub.
$5.00 Cdn
Pub 5816
March 1, 2004
Sports Illustrated


Sam Cassell / Kevin Garnett / Latrell Sprewell
Stories: Chicago Blackhawks, Inside College Basketball, Inside the NBA, Inside the NHL, Iowa State High School Wrestling, Greg Maddux, Minnesota Timberwolves, Mississippi State Basketball, Out of Their Tree
VG-EX Sub.
$3.00 Cdn
Pub 5817
March 8, 2004
Sports Illustrated


Sebastian Telfair
Stories: Baltimore Orioles, Hubie Brown, Jake Delhomme, Iditarod, Inside College Basketball, Inside the NBA, Inside the NHL, Inside the Olympics, North Carolina vs Duke Basketball, Martin St. Louis, Sebastian Telfair
EX Sub.
$4.00 Cdn
Pub 5818
March 15, 2004
Sports Illustrated


Barry Bonds
Stories: Carmelo Anthony + LeBron James, Inside the NBA, Inside the NHL, Is Baseball in Asterisk Era?, NFL Free Agents, Running For Their Lives, Bud Selig, Washington Huskies Basketball
EX, creased back cvr Sub.
$3.00 Cdn
Pub 5819
March 22, 2004
Sports Illustrated


2004 March Madness Collage
Stories: 2004 NCAA Tournament Preview, Todd Bertuzzi - Steve Moore Hockey Incident, Kobe Bryant, J.D. Drew, Tim Howard, Inside Boxing, Inside the NBA, InsideTennis, Japanese Baseball Players in the Majors, Minnesota High School Hockey Tournament
EX+ Sub.
$4.00 Cdn
Pub 5820
March 29, 2004
Sports Illustrated


Chuck Davis with inset Mo Finley
Stories: 2004 NCAA Tournament, Freddy Adu, Battle of Ontario, Inside the NBA, Inside the NHL, Joe Mauer, Olympics, US Snowboarding Open, Villanova
EX+ Sub.
$4.00 Cdn
Pub 5821
April 5, 2004
Sports Illustrated


Kerry Wood
Stories: Baseball Preview, Chicago Golden Gloves, Final Four Preview, Inside College Football, Inside the NBA, Inside the NHL
EX
$5.00 Cdn
Pub 5822
April 12, 2004
Sports Illustrated


Emeka Okafor
Stories: Josh Beckett + Josh Hamilton, Inside Baseball, Inside Horse Racing, The Masters, NHL Playoff Preview, UConn Wins Men`s Basketball, Chris Webber, Ted Williams Book Excerpt
VG Sub.
$3.00 Cdn
Pub 5823
April 19, 2004
Sports Illustrated


Phil Mickelson
Stories: Boston Marathon, Sylvester Croom, Denver Pioneers Win Frozen Four, Inside Baseball, Inside Boxing, Inside College Basketball, Inside the NHL, Phil Mickelson Wins Masters, NBA Playoff Preview, UConn Wins Women`s Basketball
EX Sub.
$4.00 Cdn
Pub 5824
May 3, 2004
Sports Illustrated


Pat Tillman
Stories: Inside Baseball, Inside Boxing, Inside the NHL, Kentucky Derby, Eli Manning, State of Coaching, Pat Tillman, Michelle Wie
VG-EX Sub.
$8.00 Cdn
Pub 5825
May 10, 2004
Sports Illustrated


Smarty Jones with inset George Steinbrenner
Stories: India vs Pakistan Cricket Rivalry, Inside Baseball, Inside Motor Racing, Richard Jefferson, Smarty Jones Wins Kentucky Derby, Vincent Lecavalier, George Steinbrenner
EX Sub.
$4.00 Cdn
Pub 5826
Aug. 23, 2004
Sports Illustrated


Michael Phelps with inset Natalie Coughlin
Stories: 2014 Olympics, Chris Berman, Inside Baseball, Inside the NFL, De La Salle High School Football, Vijay Singh
VG Sub.
$4.00 Cdn
Pub 5827
Aug. 30, 2004
Sports Illustrated


US Women`s Olympic Softball Team
Stories: 2014 Olympics, Jimmy Connors, Justin Gatlin, Vladimir Guerrero, Inside Baseball, Inside College Football, Inside the NFL
GD-VG Sub.
$3.00 Cdn
Pub 5828
Sept. 6, 2004
Sports Illustrated


Tom Brady
Stories: 2014 Olympics, Atlanta Braves, NFL Preview
GD-VG Sub.
$3.00 Cdn
Pub 5829
Sept. 13, 2004
Sports Illustrated


Curt Schilling with inset Kevin Brown / Kellen Winslow Jr.
Stories: Boston Red Sox, College Football, Inside Baseball, Inside the NFL, Inside Tennis, Bobby Ross, Kellen Winslow Jr.
VG+ Sub.
$3.00 Cdn
Pub 5830
Sept. 20, 2004
Sports Illustrated


Michael Vick with inset Edgerrin James
Stories: Adrian Beltre, Inside Baseball, Inside College Football, Inside the NFL, University of California (Berkeley) Football, NASCAR Chase for the Cup Preview, US Tennis Open
VG-EX Sub.
$3.00 Cdn
Pub 5746
Sept. 27, 2004
Sports Illustrated
50th Anniversary Issue


Classical Art Sports Paintings
Stories: 50 Years of Sports in America, Inside Baseball, Inside Boxing, Inside College Football, Inside Golf, Inside the NFL
VG-EX Sub.
$4.00 Cdn
Pub 5831
Oct. 4, 2004
Sports Illustrated


Albert Pujols
Stories: Friday Night Lights Music, Inside Baseball, Inside College Football, Inside the NFL, Inside Tennis, Jacksonville Jaguars, Purdue College Football, Pete Rozelle Book Excerpt, St. Louis Cardinals
GD-VG Sub.
$3.00 Cdn
Pub 5832
Oct. 11, 2004
Sports Illustrated


Adrian Peterson
Stories: 5 Outs Away - `03 Boston Red Sox + Chicago Cubs, `04 MLB Awards, Doug Blevins, Inside Boxing, Inside College Football, Inside the NFL, Inside the WNBA, NFL Injuries, Adrian Peterson, Gary Sheffield
GD-VG Sub.
$3.00 Cdn
Pub 5833
Oct. 18, 2004
Sports Illustrated


Tom Brady with inset Johnny Damon
Stories: Baseball Playoffs, Cal-USC Football, Inside College Football, Inside the NFL, New England Patriots, Richard Seymour
VG-EX Sub.
$4.00 Cdn
Pub 5834
Oct. 25, 2004
Sports Illustrated


Shaq O`Neal
Stories: Braylon Edwards, Herman Edwards + Chad Pennington, Inside College Football, Inside the NFL, MLB Championship Series, NBA Preview
EX+ Sub.
$5.00 Cdn
Pub 5835
Nov. 1, 2004
Sports Illustrated


Mark Bellhorn / Mike Matheny
Stories: Duante Culpepper, Braylon Edwards, Herman Edwards + Chad Pennington, Inside College Football, Inside Motor Sports, Inside the NFL, Providence Friars Basketball, Utah Utes Football, World Series
VG Sub.
$3.00 Cdn
Pub 5836
Nov. 8, 2004
Sports Illustrated


Johnny Damon / Pedro Martinez / David Ortiz / Curt Schilling
Stories: Auburn Tigers Football, Boston Red Sox, Funk Brothers, Manu Ginobli, Inside College Football, Inside Horse Racing, Inside the NFL, Ben Roethlisberger
EX+ Sub.
$6.00 Cdn
Pub 5837
Nov. 15, 2004
Sports Illustrated


Plaxico Burress / Hines Ward
Stories: Fighting Child Obesity, Inside Baseball, Inside College Football, Inside Track, Los Angeles Lakers, NFL Midseason Report, Wisconsin Badgers Football
VG-EX Sub.
$3.00 Cdn
Pub 5838
Nov. 22, 2004
Sports Illustrated


Rashad McCants
Stories: Carlos Boozer, College Basketball Preview, Four Games - Four Nights, Green Bay Packers, Inside Baseball, Inside the NBA, Inside the NFL
EX, 1/2" corner crease Sub.
$4.00 Cdn
Pub 5839
Nov. 29, 2004
Sports Illustrated


Ron Artest
Stories: the BCS Mess, Kyle Busch Wins Nextel Cup, Inside College Football, Inside Golf, Inside the NFL, Eli Manning, Roscoe Tanner, the Ugly Game
VG Sub.
$2.00 Cdn
Pub 5840
Dec. 6, 2004
Sports Illustrated


Boston Red Sox Logo
Stories: Boston Red Sox - Sportsmen of the Year, Heisman Pairs, Grant Hill, Inside College Basketball, Inside College Football, Inside Motor Sports, Inside the NFL, Miami Dolphins vs San Franciso 49`ers, Greg Oden, Paintball, Jeremy Wariner
VG+ Sub.
$2.50 Cdn
Pub 5841
Dec. 13, 2004
Sports Illustrated


Reggie Bush
Stories: Inside College Basketball, Inside the NBA, Inside the NFL, Bode Miller, Steve Nash + Dirk Nowitzki, Orange Bowl Bound, Nate Robinson, San Diego Chargers, Sports Business - Las Vegas, Steroid Scandal
VG-EX Sub.
$3.00 Cdn
Pub 5842
Dec. 20, 2004
Sports Illustrated


Peyton Manning
Stories: Jeff Allison, Joey Graham, Inside College Basketball, Inside College Football, Inside the NBA, Inside the NFL, Peyton Manning, the Price of Pitching, Seattle Supersonics
VG-EX Sub.
$4.00 Cdn
Pub 5843
Dec. 27, 2004 - Jan. 3, 2005
Sports Illustrated - Double Issue


Shaquille O`Neal
Stories: the Great American Sports Atlas, Inside Baseball, Inside College Basketball, Inside College Football, Inside the NBA, Inside the NFL, Year in Review
VG-EX Sub.
$3.50 Cdn
Pub 5748
Winter 2004
Sports Illustrated
Swimsuit Issue


Various Models
Stories: Models: May Andersen, Elsa Benitez, Bridget Hall, Melissa Keller, Anna Kournikova, Noemie Lenoir, Angela Lindvall, Marisa Miller, Fernanda Motta, Carolyn Murphy, Petra Nemcova, Daniela Pestova, Frankie Rayder, Molly Sims, Jessica Van Der Steen, Veronica Varekova, Jessica White
EX+ Sub.
$6.00 Cdn

2005 SPORTS ILLUSTRATED MAGAZINE BACK ISSUES

Scan Code
Mag Issue
Cover
Contents
Condition
Price per magazine
Pub 5844
Jan. 17, 2005
Sports Illustrated


Reggie Wayne
Stories: College Hoops Renaissance, Inside Baseball, Inside the NBA, Omar Minaya, NFL Playoffs, Roger Federer, Dwyane Wade
VG-EX Sub.
$3.00 Cdn
Pub 5845
Jan. 24, 2005
Sports Illustrated


Tedy Bruschi
Stories: Inside College Basketball, Inside College Football, Inside College Wrestling, Inside the NBA, Omar Minaya, NFL Playoffs, J.J.Redick, Demetrius Walker
VG-EX Sub.
$3.00 Cdn
Pub 5846
Jan. 31, 2005
Sports Illustrated


Jeremy Trotter with inset Tiger Woods
Stories: Inside College Basketball, Inside the NBA, Inside Tennis, Million Dollar Baby, Jermaine O`Neal, NFL Playoffs, Candice Wiggins, Tiger Woods
VG-EX Sub.
$2.50 Cdn
Pub 5847
Feb. 7, 2005
Sports Illustrated


Tom Brady
Stories: 25 Best Sports Bars in America, Australian Open, Illinois Illini Basketball, Inside College Football, Inside the NBA, Phoenix Suns, Super Bowl XXXIX Preview
VG-EX Sub.
$4.00 Cdn
Pub 5848
Feb. 14, 2005
Sports Illustrated


Rodney Harrison / Mike Vrabel with inset Phil Mickelson
Stories: the Dieners, Inside College Basketball, Inside College Football, Inside the NBA, Bode Miller, Phil Mickelson Wins FBR Open, NBA Back-to-Backs, Super Bowl XXXIX
VG+ Sub.
$2.50 Cdn
Pub 5849
Feb. 21, 2005
Sports Illustrated


LeBron James
Stories: Baseball 2005, Andrew Bogut, Future of the NHL, Inside College Basketball, Inside College Hockey, Inside the NFL, NASCAR Preview, NBA Midseason Report
VG+ Sub.
$4.00 Cdn
Pub 5850
Feb. 28, 2005
Sports Illustrated


Jeff Gordon / Tony Stewart / Daytona 500 Cars
Stories: Daytona 500, the Duanys, Inside College Basketball, Inside the NBA, Randy Johnson, Chris Paul, Staph Infections
VG+ Sub.
$2.50 Cdn
Pub 5851
March 7, 2005
Sports Illustrated


Dee Brown
Stories: Dee Brown, Inside College Basketball, Inside the NBA, Inside the NFL, Inside Soccer, Kevin McHale, NFL Scouting Combine, Oakland A`s
VG+ Sub.
$2.50 Cdn
Pub 5852
March 21, 2005
Sports Illustrated


College Basketball Players Collage
Stories: 2005 NCAA Tournament Preview, Gilbert Arenas, Atlanta Braves, Inside Baseball, Inside the NBA, Three Nights in August: Book Excerpt
NM
$5.00 Cdn
Pub 5853
April 4, 2005
Sports Illustrated


Johnny Damon / Derek Jeter
Stories: 2005 Final Four, Baseball Preview, Inside Golf, Inside the NBA, Inside the NFL, Inside Soccer
VG-EX Sub.
$3.00 Cdn
Pub 5854
April 11, 2005
Sports Illustrated


Sean May
Stories: Bad Brutal Fun, Denver Nuggets, Frozen Four Preview, Inside College Football, Inside the NBA, Inside Tennis, North Carolina Wins NCAA Basketball, Opening Day Baseball
VG-EX Sub.
$2.50 Cdn
Pub 5855
April 18, 2005
Sports Illustrated


Tiger Woods
Stories: Chicago Cubs, Emile Griffith, Inside Baseball, Inside College Football, Inside Horse Racing, Inside the NBA, Reggie Miller, Tiger Woods Wins the Masters
EX Sub.
$4.00 Cdn
Pub 5856
April 25, 2005
Sports Illustrated


Shaquille O`Neal / Amare Stoudemire with inset Rick Nash
Stories: Inside Baseball, Inside Horse Racing, Lacrosse, NBA Playoffs Preview, NFL Draft Preview, Notre Dame Football, Washington Nationals
VG Sub.
$2.50 Cdn
Pub 5857
May 2, 2005
Sports Illustrated


Cedric Benson / Ronnie Brown / Antrel Rolle / Alex Smith
Stories: Devil`s Teeth: Book Excerpt, Houston Rockets / Dallas Mavericks, Inside Baseball, Inside Motor Sports, Los Angeles Dodgers, NFL Draft, Tour De Georgia
VG-EX Sub.
$3.00 Cdn
Pub 5858
May 9, 2005
Sports Illustrated


Ben Wallace
Stories: Cinderella Man: Book Excerpt, Florida Marlins, Inside Baseball, Inside Motor Sports, Kentucky Derby Preview, NBA Playoffs, Annika Sorenstam
EX Sub.
$3.00 Cdn
Pub 5859
May 16, 2005
Sports Illustrated


Randy Moss
Stories: 25 Best High Schools, Ray Allen, Giacomo Wins Kentucky Derby, Ozzie Guillen, Inside Baseball, Inside Soccer, Randy Moss
VG, 1/2" split spine, 6Sub.
$2.50 Cdn
Pub 5860
May 23, 2005
Sports Illustrated


Rick Nash
Stories: Inside Baseball, Inside Boxing, Inside Hockey, Rafael Nadal, NBA Playoffs, Johan Santana, Marlon Shirley
VG Sub.
$2.50 Cdn
Pub 5861
May 30, 2005
Sports Illustrated


Jason Giambi
Stories: End of the Home Run Era, Inside Baseball, Inside the NFL, Inside the WNBA, Eddie Johnson, Online Poker, Preakness Stakes, Dwyane Wade
VG Sub.
$2.50 Cdn
Pub 5862
June 6, 2005
Sports Illustrated


Danica Patrick
Stories: American Speed, Inside Baseball, Inside the NFL, Inside Tennis, Miami Heat vs Detroit Pistons Playoffs, Danica Patrick, Alex Rodriguez, Softball
VG Sub.
$2.50 Cdn
Pub 5863
July 4, 2005
Sports Illustrated


Various People
Stories: French Open, Manu Ginobli, Inside Baseball, Inside Soccer, Inside Track, the Other Basketball, Sammy Sosa
VG-EX Sub.
$2.50 Cdn
Pub 5864
July 4, 2005
Sports Illustrated


Lance Armstrong
Stories: Lance Armstrong, Chris DiMarco, Inside Baseball, Inside Boxing, Inside High Schools, Inside Horse Racing, Inside Motor Sports, Tom Izzo + Steve Mariucci, Derrek Lee, NBA Finals
EX+ Sub.
$3.00 Cdn
Pub 5865
July 4, 2005
Sports Illustrated


Michael Vick
Stories: Baseball Midseason Report, College World Series, Inside Boxing, Inside Tennis, Inside Track, San Antonio Spurs, Top 50 Highest Paid US Athletes, Michael Vick
EX Sub.
$3.00 Cdn
Pub 5866
July 11 - July 18, 2005
Sports Illustrated - Double Issue


Jennie Finch
Stories: 6th Annual Where Are They Now?, 25 Summer Essentials, Inside Baseball, Inside Swimming, Andruw Jones, NBA Draft, S.I. Summer Party, Wimbledon
VG Sub.
$2.50 Cdn
Pub 5867
July 25, 2005
Sports Illustrated


Tiger Woods with inset Peyton Manning
Stories: Inside Baseball, Inside Boxing, Inside the NBA, New York Yankees - Boston Red Sox, NFL Fantasy Football Preview, Tour De France, Tiger Woods Wins British Open
VG-EX
$4.00 Cdn
Pub 5868
Aug. 1, 2005
Sports Illustrated


Lance Armstrong
Stories: Lance Armstrong, Inside Baseball, Inside Swimming, Pedro Martinez, NFL Running Backs, Stepen A. Smith, the Veecks
VG Sub.
$2.00 Cdn
Pub 5869
Aug. 8, 2005
Sports Illustrated


Ahman Green
Stories: Bob Feller, Inside Baseball, Inside Swimming, NFL Training Camps, Morgan Pressel, Tony Stewart
VG+ Sub.
$2.50 Cdn
Pub 5870
Aug. 15, 2005
Sports Illustrated


Reggie Bush
Stories: College Football Preview, Larry Hughes, Inside Baseball, Inside Motor Sports, Inside the NFL, Scott Podsednik
EX Sub.
$4.00 Cdn
Pub 5871
Aug. 29, 2005
Sports Illustrated


Jeff Francoeur
Stories: Jeff Francoeur, Inside Baseball, Inside College Football, Inside the NFL, Israeli Soccer, US Open Preview
EX Sub.
4.00 Cdn
Pub 5872
Sept. 5, 2005
Sports Illustrated


Jake Delhomme
Stories: Inside Baseball, Inside College Football, Inside WNBA, NFL Preview
VG-EX Sub.
$2.50 Cdn
Pub 5873
Sept. 19, 2005
Sports Illustrated


Aaron Brooks / John Carney
Stories: Cleveland Indians, Inside College Football, Inside the NFL, Yao Ming, NASCAR Chase For the Cup, New Orleans Saints, Texas - Ohio State Football, US Tennis Open
VG+ Sub.
$2.50 Cdn
Pub 5874
Sept. 26, 2005
Sports Illustrated


Donovan McNabb / Terrell Owens
Stories: ACC Football, Inside Boxing, Inside College Football, Inside the NFL, Yao Ming, NL Wild-Card Race, Philadelphia Eagles
VG+ Sub.
$2.50 Cdn
Pub 5875
Oct. 3, 2005
Sports Illustrated


Ronnie Belliard / Paul Konerko with inset Sidney Crosby
Stories: 2005 SI Baseball Awards, Alabama Football, Inside Boxing, Inside College Football, Inside the NFL, Michigan State Football, New England Patriots, NHL Preview
VG-EX Sub.
$3.00 Cdn
Pub 5876
Oct. 24, 2005
Sports Illustrated


Ron Artest / Larry Bird
Stories: Baseball Playoffs, Inside College Football, Inside the NFL, Minnesota Vikings Sex Scandal, NBA Preview, USC - Notre Dame Football Game
VG+ Sub.
$3.00 Cdn
Pub 5877
Oct. 31, 2005
Sports Illustrated


Brad Lidge / Scott Podsednik
Stories: Plaxico Burress, Inside College Football, Inside Horse Racing, Inside Motor Sports, Inside the NFL, Meb Keflezighi, Jack McCallum: Coaching the Phoenix Suns, UCLA Bruins Football, the World Series
EX Sub.
$4.00 Cdn
Pub 5878
Nov. 7, 2005
Sports Illustrated


Tom Brady / Peyton Manning
Stories: Chicago White Sox Win World Series, Faceoff: Tom Brady vs Peyton Manning, Inside College Football, Inside Horse Racing, Inside the NBA, Inside the NFL, Southern Pioneers, Virginia Tech Football
EX Sub.
$4.00 Cdn
Pub 5879
Nov. 14, 2005
Sports Illustrated


Troy Polamalu
Stories: , Inside College Football, Inside the NBA, Midseason NFL Report, Brady Quinn, Jeremy Roenick, Turin 2008, Martell Webster
VG-EX Sub.
$3.00 Cdn
Pub 5880
Nov. 21, 2005
Sports Illustrated


Arizona Wild Cats
Stories: College Basketball Preview, Inside College Football, Inside the NBA, Inside the NFL, Inside the NHL, St. Louis Rams, SEC Football
VG-EX
$3.50 Cdn
Pub 5881
Nov. 28, 2005
Sports Illustrated


Joe Paterno with inset Wayne Gretzky
Stories: Wayne Gretzky, Indianapolis Colts, Inside College Baketball, Inside Motor Sports, Inside the NFL, Neil Leifer Photos, Steve Nash Effect, Penn State Football
VG-EX Sub.
$3.00 Cdn
Pub 5882
Dec. 5, 2005
Sports Illustrated


Vince Young
Stories: Larry Brown`s Return to Detroit, Mack Brown, Dany Heatley, High School Hoops, Inside the NBA, Inside the NFL, NFL Class of `96: Wideouts
EX Sub.
$3.00 Cdn
Pub 5883
Dec. 12, 2005
Sports Illustrated


Tom Brady
Stories: Tom Brady - Sportman of the Year, Inside Baseball, Inside Boxing, Inside College Basketball, Inside College Football, Inside the NBA, Inside the NFL, Inside the NHL, InsideOlympic Sports, Iraq War Veterans, Moments to Remember
EX Sub.
$6.00 Cdn
Pub 5884
Dec. 19, 2005
Sports Illustrated


Shaun Alexander
Stories: Shaun Alexander, Inside College Basketball, Inside the NBA, Inside Tennis, Adam Morrison, Alonzo Mourning, Rose Bowl Preview, Sports Media 2005
VG-EX
$2.50 Cdn
Pub 5885
Dec. 26, 2005 - Jan. 2, 2006
Sports Illustrated - Double Issue


Reggie Bush / Matt Leinart
Stories: Inside College Basketball, Inside College Football, Inside the NBA, Inside the NFL, Inside the NHL, Inside Olympic Sports, Year in Review
VG-EX, fingerprints on back Sub.
$3.00 Cdn
Pub 5749
Winter 2005
Sports Illustrated
Swimsuit Issue


Carolyn Murphy
Stories: Models: Michelle Alves, Ana Beatriz Barros, Amanda Beard, Yamila Diaz-Rahi, Jennie Finch, Alicia Hall, Bridget Hall, Lauren Jackson, Shakara Ledard, Noemie Lenoir, Michelle Lombardo, Marisa Miller, Fernanda Motta, Carolyn Murphy, Petra Nemcova, Frankie Rayder, Daniella Sarahyba, Mallory Snyder, Anne V, Jessica Van Der Steen, Veronica Varekova, Jessica White
NM Sub.
$7.00 Cdn

2006 SPORTS ILLUSTRATED MAGAZINE BACK ISSUES

Scan Code
Mag Issue
Cover
Contents
Condition
Price per magazine
Pub 5886
Jan. 9, 2006
Sports Illustrated


Vince Young
Stories: Chicago Bears, Inside College Basketball, Inside the NBA, National Championship, NFL Playoffs, Ohio State Basketball, Alexander Ovechkin, Winthrop, Maine - Teen Suicide
VG-EX Sub.
$2.50 Cdn
Pub 5887
Jan. 16, 2006
Sports Illustrated


Jerome Bettis
Stories: Jason Gore, Inside College Basketball, Inside Olympic Sports, Inside the NBA, NBA Scoring Race: Bryant vs Iverson, NFL Playoffs, NHL Midseason Report, Snowboarding
VG-EX Sub.
$2.50 Cdn
Pub 5888
Jan. 30, 2006
Sports Illustrated


Shaun Alexander
Stories: AFC Championship, Kobe Bryant 81 Point Game, Inside College Basketball, Inside the NBA, Inside Tennis, Steve Nash, Kevin Pittsogle, Brendan Shanahan, Super Bowl Preview
VG-EX Sub.
$2.50 Cdn
Pub 5889
Feb. 6, 2006
Sports Illustrated


Ted Ligety / Daron Rahlves / Bode Miller / Eric Schlopy
Stories: Indiana Pacers, Inside College Basketball, Inside the NBA, Inside the NHL, Inside Tennis, Olympics Preview, Ashley + Courtney Paris, Super Bowl Preview
EX+ Sub.
$3.00 Cdn
Pub 5890
Feb. 13, 2006
Sports Illustrated


Hines Ward
Stories: Johnny Damon, Inside College Basketball, Inside College Football, Inside the NHL, Don King Roast, Chris Paul, Pittsburgh Wins Super Bowl XL
VG+ Sub.
$2.50 Cdn
Pub 6226
Sept. 25, 2006
Sports Illustrated


Alex Rodriguez
Stories: Evolution of the Left Tackle, Antonio Gates, Inside College Football, Inside Motor Sports, Inside the NFL, Alex Rodriguez
VG Sub.
$3.00 Cdn
Pub 5750
Winter 2006
Sports Illustrated
Swimsuit Issue


Various Models
Stories: Models: Ana Beatriz Barros, Carla Campbell, Brooklyn Decker, Bridget Hall, Rachel Hunter, Heidi Klum, Noemie Lenoir, Elle MacPherson, Marissa Miller, Fernanda Motta, Aline Nakashima, Petra Nemcova, Oluchi Onweagba, Pania Rose, Daniella Sarahyba, Maria Sharapova, Molly Sims, Mallory Snyder, Yesica Toscanini, Annie V
EX+ Sub.
$6.00 Cdn

2007 SPORTS ILLUSTRATED MAGAZINE BACK ISSUES

Scan Code
Mag Issue
Cover
Contents
Condition
Price per magazine
Pub 5636
July 2-9, 2007
Sports Illustrated
Summer Double Issue


Hanson Brothers
Stories: Russell Martin, NASCAR Midseason Report, Philadelphia Phillies: Beautiful Losers, Tour de France, Where are They Now?: 1972 Oakland A`s, 1977 Marquette Hoops / / Boomer & Gunnar Esiason / Hanson Brothers / Chris Hinton / Larry Holmes + Gerry Cooney / Mario Mendoza / Hakeem Olajuwon / Robert Porcher / Picabo Street, US Men Soccer Wins Gold Cup
VG, 4 pages miscut, Sub
$3.00 Cdn
Pub 5637
July 16, 2007
Sports Illustrated


David Beckham
Stories: David Beckham, Roger Federer + Venus Williams Win Wimbledon, Inside College Basketball, Inside NASCAR, Inside the NHL, Jerry Jones, MLB at Midseason, Tiger Woods
VG, Sub
$2.00 Cdn
Pub 5638
July 23, 2007
Sports Illustrated


Hank Aaron
Stories: Hank Aaron, Inside Baseball, Inside NASCAR, Inside the NBA, Inside the Olympics, Lauren Jackson, Matt Leinart, Joe McKnight, J.J. Putz
VG, Sub
$3.00 Cdn
Pub 5640
July 30, 2007
Sports Illustrated


Reggie Bush / Sheldon Brown
Stories: the Big Hit, Chicago Cubs, Padraig Harrington, Inside Baseball, Inside NASCAR, Sports in Crisis, Tour de France
VG, Sub
$3.00 Cdn
Pub 5639
Aug. 6, 2007
Sports Illustrated


Jamal Lewis
Stories: Jack Cust, Fantasy Football Preview, Inside Arena Football, Inside Baseball, Inside NASCAR, Sports in Crisis, NFL Training Camps, Tour de France
VG, Sub
$2.50 Cdn
Pub 5641
Aug. 13, 2007
Sports Illustrated


Barry Bonds Hits Homer #755
Stories: Beijing Olympics Preview, Barry Bonds, College Sports, Kevin Garnett, Inside Arena Football, Inside Baseball, Inside NASCAR, Steven Jackson
VG, Sub
$3.50 Cdn
Pub 5642
Aug. 20, 2007
Sports Illustrated


Emmanuel Moody / C.J. Gable / Chauncey Washington
Stories: College Football Preview, Impact Rookies + Pennant Races, Inside Baseball, Inside NASCAR, Lane Kiffen, Darren McFadden, Tiger Woods
VG+, Sub
$3.00 Cdn
Pub 5643
Aug. 27, 2007
Sports Illustrated


Nick Saban
Stories: After Katrina, Boston Red Sox, Highschool Football Preview, Inside NASCAR, Inside Baseball, Inside the NFL, Inside the Olympics, Nick Saban, US Open Preview, Alan Webb
VG+, 1/2" split spine, Sub
$2.00 Cdn
Pub 5644
Sept. 10, 2007
Sports Illustrated


Peyton Manning
Stories: Devin Hester, Inside Baseball, Inside Golf, Inside NASCAR, Inside the NFL, Inside the Olympic Sports, Peter King`s Top 500, Mike Leach, NFL Preview, Peyton Manning, Bart Scott
VG-EX, Sub
$5.00 Cdn
Pub 5645
Sept. 10, 2007
Sports Illustrated


Dexter Jackson
Stories: Appalachian State Beats Michigan Football, Jay Cutler, Inside Baseball, Inside College Football, Inside High School Football, Inside NASCAR, Inside the NFL, Inside Tennis, Kristine Lilly, Jimmy Rollins, Randy Shannon, Track + Field World Championships
GD, Sub
$2.00 Cdn
Pub 5646
Sept. 17, 2007
Sports Illustrated


Randy Moss
Stories: Eric Byrnes, Roger Federer, Inside Baseball, Inside College Football, Inside High School Football, Inside the NFL, Inside Olympic Sports, NASCAR Chase Preview, NFL Week, TCU-Texas College Football
VG-EX, Sub
$4.00 Cdn
Pub 5647
Sept. 24, 2007
Sports Illustrated


John David Booty / Stafon Johnson
Stories: Mike Coolbaugh, Curtis Granderson, Inside College Football, Inside High School Football, Inside NASCAR, Inside the NFL, Inside Soccer, Inside the WNBA, Andre Johnson / Matt Schaub, SEC - Pac 10 NCAA Football, Tiger Woods
VG-EX, Sub
$3.00 Cdn
Pub 5648
Oct. 1, 2007
Sports Illustrated


Jonathan Papelbon
Stories: Inside College Football, Inside High School Football, Inside NASCAR, Inside the NFL, Karch Kiraly, Playoff Portfolio: Jonathan Papelbon, Matt Ryan, Bob Sanders, Abby Wambach
VG+, Sub
$3.00 Cdn
Pub 5649
Oct. 8, 2007
Sports Illustrated


Jimmy Rollins
Stories: the Amazing Pennant Race, Joba Chamberlain, Inside College Football, Inside High School Football, Inside NASCAR, Inside the NFL, DeSean Jackson, NHL Preview, Joe Thornton
VG-EX, Sub
$3.00 Cdn
Pub 5650
Oct. 22, 2007
Sports Illustrated


Tom Brady
Stories: Mike Arciola / Bobby Gasko, Baseball, College Football: Midseason Report, Inside High School Football, Inside NASCAR, Inside the NFL, New England Patriots
EX, Sub
$5.00 Cdn
Pub 5651
Oct. 29, 2007
Sports Illustrated


Ray Allen / Kevin Garnett / Paul Pierce
Stories: Boston Celtics, Detroit Lines Practice Squad, Inside College Football, Inside High School Football, Inside NASCAR, Inside the NFL, Missouri Tigers Football, NBA Preview, Chris Simon, World Series Preview
VG-EX, Sub
$5.00 Cdn
Pub 5652
Nov. 12, 2007
Sports Illustrated


Tedy Bruschi / Rosevelt Colvin / Junior Seau / Adalius Thomas / Mike Vrabel
Stories: Kevin Durant, Inside College Football, Inside High School Football, Inside NASCAR, Inside Olympic Sports, New England Patriots, NFL Midseason Report, St. Louis Blues, Aqib Talib
VG-EX, Sub
$4.00 Cdn
Pub 5653
Nov. 19, 2007
Sports Illustrated


Kevin Love / O.J. Mayo
Stories: BCS Chaos, Chicago Bulls, College Basketball Preview, Dallas Cowboys, Inside College Football, Inside High School Football, Inside NASCAR, Inside the NFL, Inside the NHL, Kevin Love / O.J. Mayo
EX, 1/8" back tear Sub.
$5.00 Cdn
Pub 5654
Nov. 26, 2007
Sports Illustrated


Kerry Meier
Stories: Oscar Bellfield, High School Basketball Preview, Houston Dynamo, Inside College Football, Inside the NBA, Inside the NFL, Jimmie Johnson, Kansas vs Missouri College Football, Second Best in NFL?, Michael Vick
VG, 3/4" split spine Sub.
$2.00 Cdn
Pub 5655
Dec. 3, 2007
Sports Illustrated


Chase Daniel
Stories: Paul Allen, Cleveland Browns, Inside College Basketball, Inside High School Football, Inside the NFL, Inside the NHL, Kevin Martin, Missouri Tigers College Football,, Tim Tebow / Darren McFadden
VG+, 1/8" cover tear
$2.50 Cdn
Pub 5656
Dec. 10, 2007
Sports Illustrated


Brett Favre
Stories: Broken Hearts, Division 1-A College Football Playoff, Hockeytown USA?, Dwight Howard, Inside College Basketball, Inside High School Football, Inside the NFL, Inside the NBA, Inside Tennis, Rolle Call, Sean Taylor
EX
$7.00 Cdn
Pub 5657
Dec. 17, 2007
Sports Illustrated


Kevin Everett
Stories: Detroit Tigers, Kevin Everett, Inside College Basketball, Inside High School Football, Inside the NFL, Chris Paul / Deron Williams, Fred Taylor, the Year in Sports: Players/Media
VG, 1/8" cover tear Sub.
$2.00 Cdn
Pub 5658
Dec. 24, 2007
Sports Illustrated


NAIA Football Championship
Stories: After the Mitchell Report, Inside College Basketball, Inside High School Football, Inside the NBA, Inside the NFL, Inside the NHL, Pictures of the Year
VG, 1/2" back cover tear Sub.
$2.00 Cdn
Pub 5659
Dec. 31, 2007
Sports Illustrated
Double Issue


Bill Belichick
Stories: BCS Preview, the Year in Sports
VG+ Sub.
$4.00 Cdn

2008 SPORTS ILLUSTRATED MAGAZINE BACK ISSUES

Scan Code
Mag Issue
Cover
Contents
Condition
Price per magazine
Pub 5660
Jan. 14, 2008
Sports Illustrated


Glenn Dorsey
Stories: AFC + NFC Wild-Card Weekend, Michael Beasley, Boston Celtics, Martin Brodeur / Rick DiPietro / Henrik Lundqvist, Inside College Basketball, Inside the NFL, LSU: National Football Champs
VG-EX Sub.
$3.00 Cdn
Pub 5661
Jan. 28, 2008
Sports Illustrated


Eli Manning
Stories: AFC + NFC Championships, College Basketball: Aussies, D-League Showcase, Inside College Basketball, Inside the NBA, Inside Tennis, Niklas Lidstrom, NHL Midseason Report, Pigeon Racing
VG Sub.
$3.00 Cdn
Pub 5662
Feb. 4, 2008
Sports Illustrated


Tom Brady / Michael Strahan
Stories: Australian Open, Baylor College Basketball, Chris Bosch, Inside College Basketball, Inside the NHL, Inside Olympics Sports, Super Bowl XLII Preview, Gene Upshaw
VG-EX Sub.
$4.00 Cdn
Pub 5663
Feb. 18, 2008
Sports Illustrated


Dale Earnhardt Jr.
Stories: College Football Signing Day, Dribble-Drive Motion, Dale Earnhardt Jr., Inside College Basketball, Inside the NHL, Joe Juneau, NBA Midseason Report, NASCAR Preview, Miguel Tejada
VG-EX Sub.
$3.00 Cdn
Pub 5664
Feb. 25, 2008
Sports Illustrated


Johan Santana
Stories: Bet You Wish You Could Dunk, Roger Clemens, Daytona 500, Inside Boxing, Inside College Basketball, Inside the NHL, Brook + Robin Lopez, New York Mets, Alexander Ovechkin
VG-EX Sub.
$3.00 Cdn
Pub 5665
March 3, 2008
Sports Illustrated


Jason Kidd
Stories: Abusive College Basketball Fans, Inside Boxing, Inside College Basketball, Inside the NHL, Jason Kidd, Evan Longoria, NFL Combine, Olympic Training Towns
VG-EX Sub.
$3.00 Cdn
Pub 5666
March 10, 2008
Sports Illustrated


Tyler Hansbrough
Stories: Tyler Hansbrough, Houston Rockets, Inside College Basketball, Inside NASCAR, Mike Komisarek, Chris Long, Negro Leagues, C.C. Sabathia, Lindsey Vonn
VG-EX Sub.
$3.00 Cdn
Pub 5667
March 17, 2008
Sports Illustrated


Brett Favre
Stories: Luke Harangody, Inside Baseball, Inside College Basketball, Inside the NHL, Los Angeles Lakers, Steroids in America
VG-EX Sub.
$3.00 Cdn
Pub 5668
March 24, 2008
Sports Illustrated


Kevin Love
Stories: Baseball Preview, Kyle Busch, Inside Baseball, Inside the NBA, Howie Kendrick, LSU Lady Tigers, NCAA Tourney Preview, Shaquille O`Neal, Alexander Ovechkin, John Thompson III, Tiger Woods
EX+ Sub.
$7.00 Cdn
Pub 5669
March 31, 2008
Sports Illustrated


Ryan Braun / Clay Buchholz / Jacoby Ellsbury / Troy Tulowitzki / Justin Upton, Ryan Zimmerman
Stories: Baseball Preview, NCAA Tourney: Sweet 16, Troy Tulowitzki
EX Sub.
$5.00 Cdn
Pub 5670
April 7, 2008
Sports Illustrated


Kevin Love
Stories: Cuauhtemoc Blanco, Lee Elder, Inside Boxing, Inside NASCAR, Inside the NBA, Inside the NFL, Inside the NHL, MLS Preview, NCAA Tourney: Final 4, Taylor Phinney, Joe Torre`s Debut
EX Sub.
$3.00 Cdn
Pub 5671
April 14, 2008
Sports Illustrated


Mario Chalmers
Stories: Breaking the Bank: "Lightning" Lee Murphy, Dennis Dixon, Denver Nuggets, Inside Baseball, Inside Horse Racing, Inside the NBA, Inside Tennis, Kansas State Jayhawks Win NCAA Championships, Stanley Cup Preview
EX Sub.
$4.00 Cdn
Pub 5672
April 21, 2008
Sports Illustrated


Kobe Bryant / Kevin Garnett
Stories: Nathan Gerbe, Trevor Immelman, Inside Baseball, Inside Horse Racing, Inside NASCAR, Inside the NHL, Inside Tennis, NBA Playoff Preview, Nebraska Cornhuskers, Chien-Ming Wang
EX Sub.
$4.00 Cdn
Pub 5673
April 28, 2008
Sports Illustrated


Johnny Unitas
Stories: Best Football Game Ever: 1958 Colts vs Giants, Yunel Escobar + Brayan Pena, Inside the NBA, Inside the Olympics, Evgeni Malkin, Darren McFadden, NFL Draft Preview, Russian Basketball
EX Sub.
$4.00 Cdn
Pub 5674
May 5, 2008
Sports Illustrated


Kosuke Fukodome
Stories: Kosuke Fukodome, Inside Baseball, Inside Horse Racing, Shawn Johnson, NFL Draft Results, NHL Playoffs, Phoenix Suns, Spring College Football
VG-EX Sub.
$2.50 Cdn
Pub 5675
May 12, 2008
Sports Illustrated


Chris Paul
Stories: Arizona Diamondbacks, Daniel Briere, Inside Baseball, Inside the NFL, Kentucky Derby, NBA Playoffs, Northwest College Lacrosse
VG-EX Sub.
$2.50 Cdn
Pub 5676
May 19, 2008
Sports Illustrated


Danica Patrick
Stories: Marc-Andre Fleury, Inside Baseball, Inside Olympic Sports, Los Angeles Lakers Bench Mob, Milwaukee Brewers Road Trip, Danica Patrick, WNBA Preview
VG+ Sub.
$2.00 Cdn
Pub 5677
May 26, 2008
Sports Illustrated


comic cover
Stories: Big Brown, Boston Celtics vs Detroit Pistons, High School Sports Top Programs, Indy 500 Race Guide, Inside Baseball, Inside NASCAR, Inside Olympic Sports, Pittsburgh Penguins, Punahou High School, Tampa Bay Rays
VG-EX Sub.
$3.00 Cdn
Pub 5678</td>
June 2, 2008
Sports Illustrated


Josh Hamilton
Stories: 1960 Rome Olympics, Kobe Bryant, Indy 500, Inside Baseball, Inside Olympic Sports, Josh Hamilton, Stanley Cup Finals
VG-EX Sub.
$3.00 Cdn
Pub 5679
June 9, 2008
Sports Illustrated


Larry Bird / Magic Johnson
Stories: 1960 Rome Olympics, Alaska Baseball League, Usain Bolt, Boston Celtics - Los Angeles Lakers Rivalry, Kobe Bryant, Indy 500, Inside Baseball, Inside Olympic Sports, Niklas Lidstrom, Lorena Ochoa, Craig Robinson
EX Sub.
$3.00 Cdn
Pub 5680
June 16, 2008
Sports Illustrated


Kobe Bryant / Paul Pierce
Stories: Belmont Stakes, Detroit Red Wings Win Stanley Cup, Inside Baseball, Inside the NFL, Chipper Jones, Paul Pierce, Ping-Pong Diplomacy, Total Soccer Immersion
EX+ Sub.
$4.00 Cdn
Pub 5681
June 23, 2008
Sports Illustrated


Tiger Woods
Stories: Jay Bruce, the Fugees, Inside Baseball, Inside NASCAR, Inside Olympic Sports, NBA Draft Preview, NBA Finals, Swimsuit War, Tiger Woods Wins US Open
VG Sub.
$3.00 Cdn
Pub 5682
June 30, 2008
Sports Illustrated


Kevin Garnett / Bill Russell
Stories: Jared Allen, Inside Baseball, Inside NASCAR, Inside the NHL, Inside Olympic Sports, Hope Solo, Street Violence, Dan Uggla, US Track + Field Trials Preview
EX Sub.
$4.00 Cdn
Pub 5683
July 7, 2008
Sports Illustrated


Tim Lincecum
Stories: Inside Boxing, Inside the NBA, Inside Tennis, Tim Lincecum, NASCAR Midseason Report, QB Successors, US Olympic Swimming Trials, US Track + Field Trials
VG+ Sub.
$2.50 Cdn
Pub 5684
July 14-21, 2008
Sports Illustrated
Summer Double Issue


Roger Federer / Rafael Nadal
Stories: 9th Annual Where Are They Now?, Inside Boxing, Inside the NBA, Inside Tennis, US Track + Field Trials, Wimbledon
VG+ Sub.
$3.00 Cdn
Pub 5685
July 28, 2008
Sports Illustrated


Michael Phelps
Stories: Inside Baseball, Inside Golf, Inside NASCAR, Olympic Preview, Michael Phelps, Liu Xiang
EX Sub.
$3.00 Cdn
Pub 5686
Oct. 20, 2008
Sports Illustrated


Colt McCoy
Stories: Atlanta Falcons, Inside College Football, Inside Fantasy Football, Inside NASCAR, Inside the NFL, Inside NHL, Jamaican Sprinters, MLB Playoffs, Oklahoma - Texas NCAA Football, Michael Phelps, Liu Xiang
GD Sub.
$2.00 Cdn
Pub 5687
Oct. 27, 2008
Sports Illustrated
Double Issue


Kobe Bryant
Stories: BCS Scramble, Chicago Blackhawks, Futbal Americano, Inside Boxing, Inside College Football, Inside Fantasy Football, Inside NASCAR, Inside the NFL, Inside NHL, NBA Preview, NFL Cornerbacks, Running in Baghdad, World Series Preview
VG-EX Sub.
$5.00 Cdn
Pub 5688
Nov. 17, 2008
Sports Illustrated


James Harden / Briann January
Stories: Charlotte Bobcats, College Basketball Preview, Inside College Football, Inside Fantasy Football, Inside NASCAR, Inside the NBA, Inside NFL, Phil Kessel, Clinton Portis, Maurkice + Mike Pouncey
VG Sub.
$3.00 Cdn
Pub 5689
Nov. 24, 2008
Sports Illustrated


Jimmie Johnson
Stories: Anquan Bolden + Larry Fitzgerald, Decline of Hunting, Heisman Race, Inside College Football, Inside Fantasy Football, Inside the NBA, Inside NFL, Inside Tennis, Jimmie Johnson, Derrick Rose
VG-EX Sub.
$2.50 Cdn
Pub 5690
Dec. 1, 2008
Sports Illustrated


Sam Bradford + Chris Brown
Stories: Columbus Crew, Inside College Football, Inside Fantasy Football, Inside the NFL, Inside the NHL, Andrei Kirelenko, Mind of the Linebacker, Oklahoma - Texas Tech NCAA Football, the Single Wing, Annika Sorrenstam
VG Sub.
$2.00 Cdn
Pub 5691
Dec. 8, 2008
Sports Illustrated
Double Issue


Michael Phelps
Stories: Stanton Barrett, Inside College Basketball, Inside Fantasy Football, Inside the NBA, Inside the NFL, New York Giants, Manny Pacquiao, Michael Phelps, Paul Pierce, Alexander Semin, Special Olympics, Mark Teixeira
VG-EX Sub.
$4.00 Cdn
Pub 5692
Dec. 12, 2008
Sports Illustrated


swimmers
Stories: Sports Photos of the Year
VG Sub.
$2.50 Cdn
Pub 5693
Dec. 15, 2008
Sports Illustrated


Tim Tebow
Stories: Kerry Collins, Baron Davis, Inside Boxing, Inside College Basketball, Inside the NFL, Inside the NHL, Don Meyer, Russian Sports Owners, SEC Championship
VG Sub.
$2.50 Cdn
Pub 5694
Dec. 22, 2008
Sports Illustrated


Joe Flacco / LaMarr Woodley
Stories: Best Defenses: Baltimore Ravens + Pittsburgh Steelers, Chauncey Billups, Inside College Basketball, Inside the NBA, Inside the NFL, Claude Lemieux, MLB Winter Meetings: Las Vegas, the Year in Sports Media
VG Sub.
$2.50 Cdn
Pub 5695
Dec. 29, 2008
Sports Illustrated


pit bull terrier
Stories: BCS Preview, Michael Vick`s Dogs, the Year in Sports
EX Sub.
$3.00 Cdn
Pub 6051
Winter 2008
Sports Illustrated
Swimsuit Issue


Marisa Miller
Stories: Models: Melissa Baker, Ana Beatriz Barros, Yasmin Brunet, Jeisa Chiminazzo, Brooklyn Decker, Selita Ebanks, Jessica Gomes, Quiana Grant, Melissa Haro, Julie Henderson, Heidi Klum, Jarah Mariano, Marisa Miller, Oluchi Onweagba, Danica Patrick, Tori Praver, Bar Refaeli, Daniella Sarahyba, Irina Shayk, Anne V, Jessica White
VG Sub.
$4.00 Cdn
Pub 6053
Winter 2008
Sports Illustrated
Swimsuit Issue


Bar Refaeli
Stories: Models: Kim Cloutier, Brooklyn Decker, Cintia Dicker, Lucia Dvorska, Esti Ginzburg, Jessica Gomes, Melissa Haro, Jessica Hart, Julie Henderson, Damaris Lewis, Jarah Mariano, Ariel Meredith, Tori Praver, Bar Refaeli, Hilary Rhoda, Daniella Sarahyba, Irina Shayk, Anne V, Jessica White
VG+ Sub.
$4.00 Cdn

2009 SPORTS ILLUSTRATED MAGAZINE BACK ISSUES

Scan Code
Mag Issue
Cover
Contents
Condition
Price per magazine
Pub 5696
Jan. 12, 2009
Sports Illustrated


Darren Sprowles
Stories: AFC + NFC Wild-Card Weekend, Sean Avery, the Courage of Detroit, James Harden, Inside the NBA, Inside the NFL, NCAA Bowl Season
VG-EX Sub.
$2.50 Cdn
Pub 5697
Jan. 19, 2009
Sports Illustrated


Larry Fitzgerald + Kurt Warner
Stories: BSC Championship Game, Divisional Playoffs, Illinois NCAA Basketball, Inside College Basketball, Inside the NHL, Barack Obama + Basketball, Dwyane Wade
VG-EX Sub.
$2.50 Cdn
Pub 5698
Jan. 26, 2009
Sports Illustrated


Kurt Warner
Stories: AFC + NFC Conference Championship, Divisional Playoffs, Blake Griffin, Inside College Basketball, Inside the NBA, Jumbotrons, Adam Morrison + J.J. Redick, NHL Midseason Report, the State of NCAA Football Recruiting
EX Sub.
$4.00 Cdn
Pub 5699
Feb. 2, 2009
Sports Illustrated


LeBron James
Stories: Jeremy Abbott + Alissa Czisny, Inside College Basketball, Inside the NHL, Inside Tennis, LeBron James, James Johnson, Super Bowl Preview, Joe Torre Book Excerpt
GD Sub.
$2.00 Cdn
Pub 5700
Feb. 2, 2009
Sports Illustrated


Santonio Holmes
Stories: Australian Open, Inside College Basketball, Inside the NBA, Bobby Ryan, Super Bowl XLIII, Virginia Military Institute Basketball
VG-EX Sub.
$3.00 Cdn
Pub 5891
Feb. 16, 2009
Sports Illustrated


Alex Rodriguez
Stories: Inside Boxing, Inside College Basketball, Inside the NHL, Lane Kiffin, Matt McCarhty - Odd Man Out Book Excerpt, NASCAR Preview, NBA Midseason Report, Alex Rodriguez
EX Sub.
$4.00 Cdn
Pub 5892
March 2, 2009
Sports Illustrated


Tiger Woods with inset Lance Armstrong
Stories: Lance Armstrong, Inside Boxing, Inside College Basketball, Inside the NHL, Missouri College Basketball, Oakland A`s, Bobby Orr, Rajon Rondo, Matthew Stafford, Tiger Woods
EX Sub.
$4.00 Cdn
Pub 5701
March 16, 2009
Sports Illustrated


Albert Pujols
Stories: Charles Barkley, Martin Brodeur, Inside NASCAR, Inside the NBA, Inside the NFL, Inside the Olympics, Terrence Jennings, Albert Pujols, Mychal Riley, Nate Robinson
EX, Sub.
$3.00 Cdn
Pub 5702
March 23, 2009
Sports Illustrated


NCAA Basketball Collage
Stories: Adam Dunn, Inside Baseball, Inside the NHL, Inside Soccer, Money in Sports: How + Why They Go Broke, NCAA Tournament Preview, Lamar Odom, Andre Smith
VG-EX, Sub.
$2.50 Cdn
Pub 5703
March 30, 2009
Sports Illustrated


Jeremy Pargo
Stories: Jay Cutler, Harlem Globetrotters, Inside the NBA, Inside the NHL, NCAA Tournament Sweet 16, Brock Lesnar, Stephen Strasburg
GD-VG, Sub.
$2.00 Cdn
Pub 5704
April 6, 2009
Sports Illustrated


CC Sabathia
Stories:Baseball Preview, Masters Preview, NCAA Tournament Final 4
EX, Sub.
$4.00 Cdn
Pub 5705
April 13, 2009
Sports Illustrated


Draymond Green / Tyler Hansbrough
Stories: Ron Artest, Pavel Datsyuk, Chris Evert + Greg Norman, Findlay Prep, Inside Horse Racing, Inside NASCAR, Inside the NBA, Inside Tennis, Jamie Moyer, NCAA Tournament Championship
EX, Sub.
$3.00 Cdn
Pub 5706
April 20, 2009
Sports Illustrated


Dwight Howard
Stories: Deadly Baseballs, Mike Green, Dwight Howard, Inside Baseball, Inside College Basketball, Inside College Hockey, Inside Horse Racing, Inside the NBA, Inside Tennis, the Masters, NHL Playoff Preview
EX, Sub.
$3.00 Cdn
Pub 5707
April 27, 2009
Sports Illustrated


Bryan Cushing / Rey Maualuga / Clay Matthews
Stories: Block / Charge, Roger Clemens: Fall From Grace, Ken Griffey Jr., Inside Baseball, Inside College Football,Inside High School Basketball, Inside the NHL, NFL Draft Preview
VG-EX, Sub.
$3.00 Cdn
Pub 5708
May 4, 2009
Sports Illustrated


Zack Grienke
Stories: Zack Grienke, Inside Baseball, Inside NASCAR, Inside Soccer, NBA Playoffs: Bulls vs Celtics, NFL Draft, Daniel + Henrik Sedin, Kelly Slater
VG-EX, Sub.
$2.50 Cdn
Pub 5709
May 11, 2009
Sports Illustrated


Calvin Borel on Mine the Bird
Stories: Chauncey Billups, Inside Baseball, Inside Boxing, Inside Golf, Inside the NFL, Kentucky Derby, A-Rod: Book Excerpt, Slide Show
VG-EX, Sub.
$2.50 Cdn
Pub 5710
May 18, 2009
Sports Illustrated


Manny Ramirez
Stories: Guarding Kobe, Hard-Core Hockey, Inside Baseball, Inside Golf, Inside the NFL, Nadal vs Federer, Manny Ramirez, Supplements
VG-EX, Sub.
$3.00 Cdn
Pub 5711
May 25, 2009
Sports Illustrated


LeBron James
Stories: Helio Castroveves, Cleveland, Inside Baseball, Inside the NHL, Inside Soccer, Randy Johnson, Michael Phelps, Preakness
EX+, Sub.
$5.00 Cdn
Pub 5712
June 1, 2009
Sports Illustrated


Tom Brady
Stories: Tom Brady, Detroit Red Wings, Harvey Haddix, Indianapolis 500, Inside Baseball, Inside NASCAR, Inside the NFL, NBA Playoffs, Ricky Rubio
VG-EX, Sub.
$4.00 Cdn
Pub 5713
June 8, 2009
Sports Illustrated


Bryce Harper
Stories: Bryce Harper, Chamique Holdsclaw, Inside Baseball, Inside NASCAR, Inside Tennis, NBA Finals Preview, Postfootball Bodies, Stanley Cup Finals
VG-EX, Sub.
$30.00 Cdn
Pub 5714
June 15, 2009
Sports Illustrated


Roger Federer
Stories: Ndamdi Asomugha, Detroit Red Wings vs Pittsburgh Penguins, French Open: Roger Federer, Inside Baseball, Inside Horse Racing, Inside Soccer, Jeff Komlo, Los Angeles Lakers vs Orlando Magic, MLB: Number 1 Picks
VG-EX, Sub.
$3.00 Cdn
Pub 5715
June 22, 2009
Sports Illustrated


Kobe Bryant
Stories: Kobe Bryant, Inside Baseball, Inside Boxing, Inside NASCAR, Inside Swimming, Charlie Manuel, Pittsburgh Penguins Win Stanley Cup, Rex Ryan
VG-EX, Sub. label removed
$3.00 Cdn
Pub 5716
July 6, 2009
Sports Illustrated


Lee Jenkins
Stories: David Beckham Book Excerpt, Adrian Gonzalez, Inside Soccer, Inside Tennis, Inside Track + Field, NASCAR Midseason Report, Shaquille O`Neal, Coach Ed Thomas
VG-EX, Sub.
$2.50 Cdn
Pub 5717
July 13 - 20, 2009 - Double Issue
Sports Illustrated


Nolan Ryan + Tom Seaver
Stories: 10th Annual Where are They Now? Inside Soccer, Inside Tennis, Inside Track + Field, Albert Pujols, Michael Vick, Wimbledon
GD-VG, Sub.
$2.50 Cdn
Pub 5718
July 27, 2009
Sports Illustrated


Tim Tebow
Stories: Ron Artest, Baserunning, British Open: Tom Watson, Inside Baseball, Inside the NBA, Michigan State Basketball, Tim Tebow
VG-EX, Sub.
$3.00 Cdn
Pub 5719
Aug. 3, 2009
Sports Illustrated


Mark Buehrle - Perfect Game
Stories: Beijing Olympics 1 Year Later, Mark Buehrle, Tony Gonzalez, Inside Baseball, Inside NASCAR, Inside the NBA, Inside the WNBA, Recruiting Mail, Tour de France
VG-EX, Sub.
$3.00 Cdn
Pub 5720
Aug. 10, 2009
Sports Illustrated


Jason Campbell
Stories: Pat Hagerty + Mpho Ngoepe, Inside Soccer, Inside Swimming, NFL Fantasy Draft Preview, NFL Training Camp Kickoff, Pablo Sandoval
EX, Sub.
$3.00 Cdn
Pub 5721
Aug. 17, 2009
Sports Illustrated


Jordan Holmes + Jeremiah Masoli
Stories: College Football Preview, Inside Baseball, Inside Golf, Inside NASCAR, Inside the NBA, Inside the NFL, Inside the NHL
VG-EX, Sub.
$3.00 Cdn
Pub 5722
Aug. 24, 2009
Sports Illustrated


Marc Buoniconti
Stories: Baseball Cards: Ken Griffey Jr Rookie, Marc Buoniconti, Jay Cutler, Inside Baseball, Inside College Football, Inside Formula One, Inside NASCAR, Inside Soccer, Rick Pitino Scandal, Y.E. Yang
VG-EX, Sub.
$2.50 Cdn
Pub 5723
Aug. 31, 2009
Sports Illustrated


Usain Bolt
Stories: Usain Bolt, Inside College Football, Inside NFL Fantasy Football, Inside NASCAR, Inside Soccer, Inside Tennis, the Machine: 1975 Cincinnati Reds Book Excerpt, MLB Playoffs Keys to Success, New York Giants Receivers
EX+, Sub.
$5.00 Cdn
Pub 5724
Sept. 7, 2009 - Double Issue
Sports Illustrated


Ben Roethlisberger
Stories: Inside Baseball, Inside College Football, Inside Golf, Inside NFL Fantasy Football, NFL Preview
VG-EX, 1" cover crease Sub.
$5.00 Cdn
Pub 5725
Sept. 14, 2009
Sports Illustrated


Dez Bryant
Stories: Nick Adenhart + California Angels, Dick Fosbury, Inside College Football, Inside Horse Racing, Inside NASCAR, Inside the NFL, Inside Soccer, Inside Tennis, Opening College Football Week
EX Sub.
$4.00 Cdn
Pub 5726
Sept. 21, 2009
Sports Illustrated


Adrian Peterson
Stories: Chase Preview, Inside Baseball, Inside College Football, Inside the NFL, Inside th WNBA, Michigan Wolverines Football, NFL Opening Weekend, Adrian Peterson, St. Louis Cardinals, US Open
VG-EX Sub.
$3.00 Cdn
Pub 5727
Sept. 28, 2009
Sports Illustrated


Comerica Park: Detroit
Stories: Detroit Tigers, Inside Baseball, Inside Boxing, Inside College Football, Inside Fantasy NFL Football, Inside NASCAR, Inside the NFL, Bonnie Richardson, Mike Singletary, Washington Huskies Football
EX Sub.
$3.00 Cdn
Pub 5728
Oct. 5, 2009
Sports Illustrated


Mariano Rivera
Stories: Chris Andersen, Cincinnati Bearcats Football, Inside Boxing, Inside College Football, Inside Fantasy NFL Football, Inside NASCAR, Inside the NFL, New England Patriots, NHL Preview, Mariano Rivera
EX Sub.
$5.00 Cdn
Pub 5729
Oct. 12, 2009
Sports Illustrated


Daniel Graham
Stories: Denver Broncos, Inside College Football, Inside Fantasy NFL Football, Inside NASCAR, Inside the NFL, MLB Division Series Preview, TCU Horned Frogs Football, Kenny Washington
EX Sub.
$3.00 Cdn
Pub 5730
Oct. 19, 2009
Sports Illustrated


Tim Tebow
Stories: 2010 World Cup: US Team, Baseball Playoffs, Inside College Football, Inside NASCAR, Inside the NFL, Inside the WNBA, SEC Football, Jeff Zgonina
EX Sub.
$3.00 Cdn
Pub 5731
Oct. 26, 2009 - Double Issue
Sports Illustrated


LeBron James / Shaquille O`Neal
Stories: Inside College Football, Inside Fantasy NFL Football, Inside NASCAR, Inside the NFL, Minnesota Vikings, MLB League Championship Series, NBA Preview, Joe Paterno, Texas - Oklahoma College Football, Jonathan Toews
GD Sub.
$3.00 Cdn
Pub 5732
Nov. 9, 2009 - Double Issue
Sports Illustrated


Derek Jeter
Stories: Cedric Benson, Inside College Football, Inside Fantasy NFL Football, Inside the NBA, Inside the NFL, Inside Olympic Sports, Iowa Hawkeyes College Football, Jimmie Johnson, US Olympic Bobsledders, World Series
GD-VG Sub.
$2.50 Cdn
Pub 5735
Nov. 16, 2009
Sports Illustrated


Peyton Manning
Stories: Georgia Tech College Football, Inside College Football, Inside Fantasy NFL Football, Inside MLS Playoffs, Inside the NHL, Peyton Manning, NFL Midseason Preview, Joey Roach, World Series
VG+ Sub.
$3.00 Cdn
Pub 5733
Nov. 23, 2009
Sports Illustrated


Isaiah Thomas
Stories: Boise State Broncos, College Basketball Preview, Inside Boxing, Inside College Football, Inside Fantasy NFL Football, Inside NASCAR, Inside the NBA, Inside the NFL, San Diego Chargers
VG-EX Sub.
$4.00 Cdn
Pub 5734
Nov. 23, 2009
Sports Illustrated


Mark Ingram
Stories: Mark Ingram, Inside College Football, Inside the NFL, Inside the NHL, Brandon Jennings, Muck Bowl, Michael Oher, Real Salt Lake, Sprint Cup Final
VG Sub.
$2.50 Cdn

2010 SPORTS ILLUSTRATED MAGAZINE BACK ISSUES

Scan Code
Mag Issue
Cover
Contents
Condition
Price per magazine
Pub 6054
Nov. 8, 2010
Sports Illustrated


Buster Posey / Brian Wilson
Stories: Art of the Pass, Inside College Football, Inside Fantasy Football, Inside Nascar, Inside the NBA, NFL Midseason Report, San Francisco Wins World Series
EX Sub.
$4.00 Cdn

2011 SPORTS ILLUSTRATED MAGAZINE BACK ISSUES

Scan Code
Mag Issue
Cover
Contents
Condition
Price per magazine
Pub 6056
Mar. 7, 2011
Sports Illustrated


Special Report
Stories: Criminal Records in College Football, Festus Ezeli, Inside Baseball, Inside Fantasy Football, Inside the NFL, Inside the NHL, Lance Mackey, Jose Mourinho, Derrick Rose, C.J. Wilson
VG-EX Sub.
$2.50 Cdn
Pub 6057
Mar. 14, 2011
Sports Illustrated


Joe DiMaggio
Stories: John Calipari, Matt Cooke, Charlie Davis, Denver Nuggets, Joe DiMaggio - 56 The Streak book excerpt, Inside College Basketball, Inside Nascar, Inside the NHL,
VG-EX Sub.
$2.50 Cdn
Pub 6058
Mar. 21, 2011
Sports Illustrated


Jimmer Frenette
Stories: 2011 March Madness Preview, Hockey in Ireland, Inside the NFL, Inside the NHL, Kansas City Royals, Bubba Watson
VG-EX Sub.
$3.00 Cdn
Pub 6059
Mar. 28, 2011
Sports Illustrated


Jimmer Frenette
Stories: LaMarcus Aldridge, Brittney Griner, Inside Baseball, Inside College Hockey, Inside College Wrestling, Inside the NBA, NCAA Tournament Sweet 16, Buck Showoalter, Spring College Football Practice
EX Sub.
$3.00 Cdn
Pub 6060
Apr. 4, 2011
Sports Illustrated


Cliff Lee / Roy Oswalt / Cole Hamels / Joe Blanton / Roy (Doc) Halladay
Stories: 2011 MLB Preview, NCAA Tournament Final 4, Philadelphia Phillies Starters
VG-EX Sub.
$3.00 Cdn
Pub 6061
April 18, 2011
Sports Illustrated


Pau Gasol / Derrick Rose
Stories: Dick & Rick Hoyt, Inside Baseball, Inside College Basketball, Inside Horse Racing, Inside the NHL,The Masters, Von Miller, NBA Playoff Preview, Manny Ramirez
EX, 1 loose page Sub.
$2.50 Cdn
Pub 6062
April 25, 2011
Sports Illustrated


Cam Newton / Jake Locker / Blaine Gabbert
Stories: Andrew Bynum, Shin-Soo Choo, Drafting a QB, Inside Baseball, Inside College Football, Inside Nascar, Inside Soccer, Drake Locker, NFL Draft Preview, Rex Ryan - Play book excerpt, Washington Capitals
VG-EX Sub.
$3.00 Cdn
Pub 6063
May 2, 2011
Sports Illustrated


Chris Paul / Andrew Bynum / Kobe Bryant
Stories: Austin Collie, Colorado Rockies, Pavel Datsyuk, Inside Baseball, Inside College Football, Inside Golf, Inside the NHL, NBA Playoffs, Beryl Shipley
VG Sub.
$2.50 Cdn
Pub 6064
May 9, 2011
Sports Illustrated


Starlin Castro
Stories: Antonio Barrera, Starlin Castro, Inside Baseball, Inside College Football, Inside Golf, Inside the NBA, Inside Soccer, Memphis Grizzlies, Nashville Predators, NFL Draft
VG Sub.
$2.50 Cdn
Pub 6065
May 16, 2011
Sports Illustrated


Dallas Mavericks
Stories: Guy Boucher, College Basketball Recruiters, Inside Baseball, Inside Boxing, Inside College Football, Inside the NFL, Inside Olympic Sports, Kentucky Derby, Loogys, NBA Playoffs
EX, 1/16" back tear Sub.
$2.50 Cdn
Pub 6066
May 30, 2011
Sports Illustrated


LeBron James / Joakim Noah
Stories: 100 Years of Indy Racing, Tiki Barber, Inside Baseball, Inside Boxing, Inside Golf, Inside Soccer, NBA Playoffs, Puck Possession, Fred Wilpon
VG Sub.
$2.50 Cdn
Pub 6067
May 30, 2011
Sports Illustrated


Javier Arenas / Tuscaloosa, AL
Stories: Chicago Bulls, Novak Djokovic, Inside Baseball, Inside Boxing, Inside Golf, Inside Swimming, Roberto Luongo, MLS Soccer Hotbed, Tuscaloosa, AL.
VG+ Sub.
$2.50 Cdn
Pub 6068
June 6, 2011
Sports Illustrated


Jim Tressel
Stories: Boston Bruins, Inside Baseball, Inside Motor Sports, Inside NASCAR, Inside the NBA, Inside Tennis, Jason Kidd, Candace Parker, Luis Salazar, Jim Tressel
VG Sub.
$2.50 Cdn
Pub 6069
June 13, 2011
Sports Illustrated


Dirk Nowitzki / Dwyane Wade
Stories: Boston Bruins vs Vancouver Canucks, The Cutter, Dallas Mavericks vs Miami Heat, Dual US Soccer Players, French Open, Inside Baseball, Inside College Football, Inside the NBA, Andrew Luck
EX Sub.
$3.00 Cdn
Pub 6070
June 20, 2011
Sports Illustrated


LeBron James / Dirk Nowitzki / Dwyane Wade
Stories: Boston Bruins vs Vancouver Canucks, Dallas Mavericks NBA Champs, Inside Baseball, Inside Horse Racing, Inside Olympic Sports, Inside Soccer, Derek Jeter, Kathryn Johston Massar, NBA Draft Preview
VG Sub.
$4.00 Cdn
Pub 6071
June 27, 2011
Sports Illustrated


Rory McIlroy at US Open
Stories: 1949 Bowie Bears, 2011 US Womens World Cup Team, Jose Bautista, Inside Baseball, Inside the NHL, Inside Soccer, Tim Thomas, US Open
VG-EX Sub.
$3.00 Cdn
Pub 6072
July 4 - July 11, 2011
Sports Illustrated - Double Issue


Yogi Berra
Stories: All Time Top 40 Sport Songs, Inside Baseball, Inside College Football, Inside NASCAR, Inside the NFL, Inside Soccer, Inside Tennis, Where Are They Now?: 1971 Pirates / Michelle Akers / Roger Bannister / Chuck Bednarik / Raymond Berry / Jim Brown / Art Donovan / Mark Eaton / Sonny Jurgensen / Major League Movie, Dikembe Mutombo / Joe Namath
VG Sub.
$3.00 Cdn
Pub 6073
July 18, 2011
Sports Illustrated


Derek Jeter's 3,000 Hit
Stories: Grand Teton Rescue, Inside Baseball, Inside Golf, Inside Tennis, Derek Jeter 3,000 Hits, Legion of Arms
VG-EX Sub.
$5.00 Cdn
Pub 6074
July 25, 2011
Sports Illustrated


Hope Solo
Stories: Derek Fisher, Inside Baseball, Inside College Basketball, Inside Golf, Inside the NFL, Ryan Lochte, Loving Baseball, World Cup Womens Final
NM Sub.
$6.00 Cdn
Pub 6075
Aug. 1, 2011
Sports Illustrated


Larry Fitzgerald
Stories: Lyndon Baty, Bryce Harper, Inside Baseball, Inside Cycling, Inside Swimming, NFL Gametime, David Salinas
VG+ Sub.
$3.00 Cdn
Pub 6076
Aug. 15, 2011
Sports Illustrated


Dustin Pedroia
Stories: Trevor Bauer, Jay Cutler, Inside Baseball, Inside the NFL, Inside the Olympics, Lithuanian Hoops, Dustin Pedroia, Toomer's Oaks, Tiger Woods
VG-EX Sub.
$3.00 Cdn
Pub 6077
Aug. 29, 2011
Sports Illustrated


Ryan Braun / /Prince Fielder / Nyjer Morgan
Stories: The Art of Fielding Book excerpt, Inside College Football, Inside Fantasy Football, Inside Olympic Sports, Los Angeles Dodgers Downfall, Milwaukee Brewers, San Francisco 49`ers, US Open
VG+ Sub.
$2.50 Cdn
Pub 6078
Sept. 5, 2011
Sports Illustrated


Clay Matthews
Stories: Inside College Football, Inside MLB, Inside Olympic Sports, Inside Soccer, NFL Preview
VG+ Sub.
$3.00 Cdn
Pub 5948
Sept. 12, 2011
Sports Illustrated


Kellen Moore
Stories: 10 Years After 9/11, Atlanta Braves Bullpen, Inside College Football, Inside the NFL, Inside Tennis, Gary Patterson, Diana Taurasi
GD Sub.
$2.00 Cdn
Pub 6079
Sept. 19, 2011
Sports Illustrated


Mark Sanchez
Stories: Adapt or Die, Inside Baseball, Inside College Football, Inside the NFL, Floyd Mayweather Jr., NASCAR 2011 Chase Preview, the Ryan Brothers, US Open, Vanderbilt Football, Justin Verlander
EX Sub.
$3.00 Cdn
Pub 6080
Sept. 26, 2011
Sports Illustrated


Brad Pitt
Stories: Robert Griffin, Inside Baseball, Inside College Football, Inside the NFL, Inside NASCAR, Inside the NFL,Moneyball, the NEW Moneyball, Cam Newton, Sports Saves the World
EX Sub.
$3.00 Cdn
Pub 6081
Oct. 3, 2011
Sports Illustrated


Walter Payton
Stories: Sidney Crosby, Inside College Football, Inside NASCAR, Inside the NFL, Philadelphia Phillies, Sweetnes: Walter Payton Book excerpt, U of Wisconsin Football
EX, 2" back crease Sub.
$3.00 Cdn
Pub 6082
Oct. 10, 2011
Sports Illustrated


Calvin Johnson
Stories: Alabama Crimson Tide Football, Detroit Lions, Inside College Football, Inside NASCAR, Inside the NFL, Brandon Jennings, MLB Division Series, NHL Preview
VG-EX Sub.
$3.00 Cdn
Pub 6083
Oct. 17, 2011
Sports Illustrated


Jimmie Johnson
Stories: Al Davis, Inside College Football, Inside NASCAR, Inside the NFL, Jimmie Johnson, MLB Playoffs, Kelly Jack Swift, Dominique Whaley
VG-EX Sub.
$2.50 Cdn
Pub 6084
Oct. 31, 2011
Sports Illustrated


Jimmie Johnson
Stories: David Beckham, Clemson Tigers Football, Inside College Football, Inside the NFL, Inside the NHL, New York Jets vs San Diego Chargers, JaMarcus Marshall, World Series
EX, 1/16" cvr tear Sub.
$2.50 Cdn
Pub 6085
Nov. 7, 2011
Sports Illustrated


Jermichael Finley / James Jones / Donald Driver / Jordy Nelson / Greg Jennings / Randall Cobb / Aaron Rodgers
Stories: Green Bay Packers, Inside Baseball, Inside College Basketball, Inside College Football, Inside Golf, Inside MMA, Inside NASCAR, Inside the NFL, Les Miles, NCAA Pay For Play, New Training Food Styles, NFL Midseason Report, NHL Fighters, Manny Pacquiao, Mike Reily, St. Louis Wins World Series
VG-EX Sub.
$3.00 Cdn
Pub 6086
Nov. 14, 2011
Sports Illustrated


Reeves Nelson
Stories: Dewayne Dedmon, Skylar Diggins, Indianapolis Colts, Inside College Football, Inside Horse Racing, Inside MMA, Inside the NFL, Inside the NHL, Inside the Olympics, LSU vs Alabama Football, NCAA College Basketball Preview
VG-EX Sub.
$3.00 Cdn
Pub 6087
Nov. 21, 2011
Sports Illustrated


Joe Paterno
Stories: J.J. Barea, Joe Frazier, Goodbye to the Slapshot, Inside Baseball, Inside Boxing, Inside College Football, Inside Horse Racing, Inside NASCAR, Inside the NFL, Inside the NHL, Penn State Paterno Scandal, San Francisco 49`ers, Lexi Thompson
EX Sub.
$3.00 Cdn
Pub 6089
Dec. 5, 2011
Sports Illustrated


Blake Griffin
Stories: Inside College Basketball, Inside College Football, Inside the NFL, NBA Preview
EX Sub.
$3.00 Cdn
Pub 6090
Dec. 12, 2011
Sports Illustrated


Mike Krzyzewski / Pat Summitt
Stories: 1986 Cincinnati Bengals 25 Years Later, College Football, Hmong Football, Inside Baseball, Inside College Basketball, Inside College Football, Inside the NFL, Inside the NBA, Walter Ioss Jr., Alex Kline, New England Patriots, Alexander Oveckin, Sept. 28, 2011 Best Baseball Night Ever, Sportsman & Woman of the Year
EX+ Sub.
$3.50 Cdn
Pub 6091
Dec. 19, 2011
Sports Illustrated


Tim Tebow
Stories: Mike Brown, Fiesta Bowl Preview, Inside Baseball, Inside College Sports, Inside the NFL, Inside the NFL, Tim Tebow, Xavier vs Cincinnati Basketball, the Year in Sports Media
VG-EX Sub.
$2.50 Cdn
Pub 5751
Winter 2011
Sports Illustrated
Swimsuit Issue


Irina Shayk
Stories: Models: Ana Beatriz Barros, Carla Campbell, Brooklyn Decker, Bridget Hall, Rachel Hunter, Heidi Klum, Noemie Lenoir, Elle MacPherson, Marissa Miller, Fernanda Motta, Aline Nakashima, Petra Nemcova, Oluchi Onweagba, Pania Rose, Daniella Sarahyba, Maria Sharapova, Molly Sims, Mallory Snyder, Yesica Toscanini, Annie V
EX+ Sub.
$6.00 Cdn
Last Updated: June 22, 2018

---