Assorted Hockey Paperback Books
Hockey Annuals & Hockey Almanacs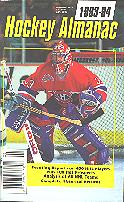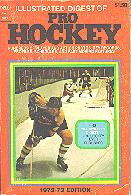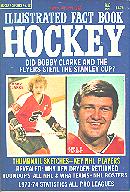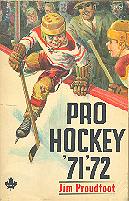 We sell used hockey paperback books.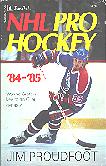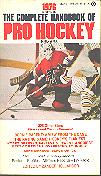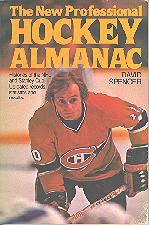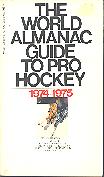 Face-Off
Hockey Almanac
Illustrated Digest of Pro Hockey
Illustrated Fact Book Pro Hockey
NHL Pro Hockey * WHA Pro Hockey
The Complete Handbook of Pro Hockey
The New Professional Hockey Almanac
The World Almanac Guide to Pro Hockey
Prices subject to change without notice according to market conditions.
Postage & Handling is extra. Canadian residents add applicable GST/HST.
Prices are listed in Canadian funds - please inquire as to the current exchange for prices in US funds.
ALL-PRO HOCKEY - used paperback books

Scan Code
Title
Cover
Details
Condition
Price per book
Pub 3567
All-Pro Hockey 83-84


Wayne Gretzky
Stories: Wayne Gretzky, Phil Housley, Mark Howe, Steve Larmer, Mark Messier, Mike Rogers, Billy Smith, Team Previews, 82-83 Stats

paperback, 126 pages
VG, 2" cover crease
$3.00 Cdn
Pub 3565
All-Pro Hockey 83-84


Wayne Gretzky
Stories: Wayne Gretzky, Phil Housley, Mark Howe, Steve Larmer, Mark Messier, Mike Rogers, Billy Smith, Team Previews, 82-83 Stats

paperback, 126 pages
GD
$2.00 Cdn
Pub 3568
All-Pro Hockey 84-85


Lanny McDonald
Stories: Birth of Hockey, Game Officials, Goal Guardians, Tony Tanti, Team Previews, Vladislav Tretiak, 83-84 Stats

paperback, 125 pages
VG, 3/4" skimmed cover
$2.50 Cdn
Pub 3569
All-Pro Hockey 84-85


Lanny McDonald
Stories: Birth of Hockey, Game Officials, Goal Guardians, Tony Tanti, Team Previews, Vladislav Tretiak, 83-84 Stats

paperback, 125 pages
GD-VG
$2.00 Cdn

HOCKEY ALMANAC - used paperback books

Scan Code
Title
Cover
Details
Condition
Price per book
Pub 3933
Hockey Classic 80-81 Fall Preview (o/s)


Various Team Logos
Publisher: D & D Publications

Stories: Reviews of AHL / CHL / CMJHL / IHL / NHL Teams & Stats

o/s paperback, 147 pages
VG+
$6.00 Cdn
Pub 3934
Hockey Classic 80-81 Fall Preview (o/s)


Various Team Logos
Publisher: D & D Publications

Stories: Reviews of AHL / CHL / CMJHL / IHL / NHL Teams & Stats

o/s paperback, 147 pages
GD-VG
$4.00 Cdn

ILLUSTRATED DIGEST OF PRO HOCKEY (o/s) - used paperback books

Scan Code
Title
Cover
Details
Condition
Price per book
Pub 3923
Illustrated Digest Of Pro Hockey 1972-73 (o/s)


Bobby Orr
Stories: Hall Of Fame, Gordie Howe, Stanley Cup, Team & Player Profiles, Young Stars: Marcel Dionne, Ken Dryden, Guy Lafleur, Richard Martin,Gilbert Perreault, Dale Tallon

o/s paperback, 223 pages
GD, name of owner on inside page & back cover
$4.00 Cdn
Pub 3924
Illustrated Digest Of Pro Hockey 1972-73 (o/s)


Bobby Orr
Stories: Hall Of Fame, Gordie Howe, Stanley Cup, Team & Player Profiles, Young Stars: Marcel Dionne, Ken Dryden, Guy Lafleur, Richard Martin,Gilbert Perreault, Dale Tallon

o/s paperback, 223 pages
FR
$3.00 Cdn

PRO DIGEST - used paperback books

Scan Code
Title
Cover
Details
Condition
Price per book
Pub 3770
Pro Digest 1981 Professional Hockey Player Directory And Record Book (o/s)


Colorado Rockies vs New York Rangers
Contents: Player Stats, 79-80 NHL Stats

o/s paperback, 160 pages
VG++
$8.00 Cdn
Pub 3825
Pro Digest 1981 Professional Hockey Player Directory And Record Book (o/s)


Colorado Rockies vs New York Rangers
Contents: Player Stats, 79-80 NHL Stats

o/s paperback, 160 pages
VG
$6.00 Cdn
Pub 3826
Pro Digest 1981 Professional Hockey Player Directory And Record Book (o/s)


Colorado Rockies vs New York Rangers
Contents: Player Stats, 79-80 NHL Stats

o/s paperback, 160 pages
VG, 1" cover crease
$5.00 Cdn

PRO HOCKEY Annuals - used paperback books

Scan Code
Title
Cover
Details
Condition
Price per book
Pub 1785
Pro Hockey NHL 76-77 (o/s)


Drawing Of Father + Son
Author: Jim Proudfoot

Stories: All-Time All-Star Teams, All-Time Trophy Winners, Hall Of Fame Members, NHL Team Previews, Player Bio's, 75-76 NHL Stats

o/s paperback, 224 pages
VG
$3.00 Cdn
Pub 1795
NHL Pro Hockey 85-86


Bobby Carpenter
Author: Jim Proudfoot

Stories: All-Time All-Star Teams, All-Time Trophy Winners, Hall Of Fame Members, NHL Team Previews, Player Bio's, 84-85 NHL Stats

paperback, 267 pages
VG, 1/4" tear
$3.00 Cdn

THE NEW PROFESSIONAL HOCKEY ALMANAC - used paperback books

Scan Code
Title
Cover
Details
Condition
Price per book
Pub 3773
The New Professional Hockey Almanac 1974-75 (o/s)


Guy Lafleur
Publisher: Pagurian Press

Author: David Spencer

Stats & Lists: NHL Rules, NHL Trophy Award Winners & Records, Stanley Cup Records

o/s paperback, 192 pages
GD-VG, cracked spine
$3.00 Cdn

THE WORLD ALMANAC GUIDE TO PRO HOCKEY - used paperback books

Scan Code
Title
Cover
Details
Condition
Price per book
Pub 3760
The World Almanac Guide To Pro Hockey 1974-1975


player drawing action shot
Compiled by: Tim McGuire

Stories: NHL, WHA, Minor Leagues, College Hockey, Junior Hockey, Player Statistics, Historical Records, Rosters, Schedules, Hockey Hall of Fame, All Star Teams, Amateur Draft, Player Transactions, Leading Rookies, Team and League Directories

paperback, 256 pages
FR, creased cover
$2.00 Cdn
Pub 3921
The World Almanac Guide To Pro Hockey 1974-1975


player drawing action shot
Compiled by: Tim McGuire

Stories: NHL, WHA, Minor Leagues, College Hockey, Junior Hockey, Player Statistics, Historical Records, Rosters, Schedules, Hockey Hall of Fame, All Star Teams, Amateur Draft, Player Transactions, Leading Rookies, Team and League Directories

paperback, 256 pages
FR, creased cover
$2.00 Cdn
Last Updated: Jan. 4, 2020

---