HOCKEY WORLD MAGAZINE
We sell back issues of Hockey World magazine
as well as many other NHL hockey magazines,
NHL media guides and NHL record books.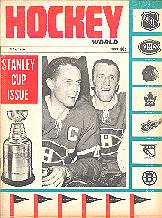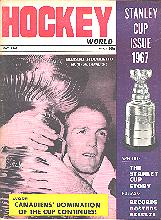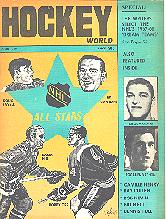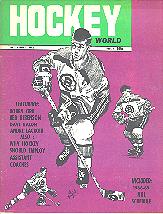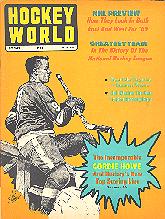 Prices subject to change without notice according to market conditions.
Postage & Handling is extra. Canadian residents add applicable GST/HST.
Prices are listed in Canadian funds - please inquire as to the current exchange for prices in US funds.
1966 HOCKEY WORLD magazine

Scan Code
Mag Issue
Cover
Contents
Condition
Price per Magazine
Pub 0203
May 66
Vol. 1 No. 1
Hockey World


"Stanley Cup Issue"
Jean Beliveau + Claude Provost
Stories: Bruins + Rangers, Canadiens, Maple Leafs, Rocket Richard, Stanley Cup Story
GD-VG, slight browning
$30.00 Cdn

1967 HOCKEY WORLD magazine

Scan Code
Mag Issue
Cover
Contents
Condition
Price per Magazine
Pub 3972
Jan. 67
Hockey World


Bruce MacGregor / Norm Ullman / Gump Worsley
Stories: All-Time All-Stars, Wren Blair, Roger Crozier, Doug Harney, Ted Hodgson / Ross Lonsberry / Bobby Orr / Joe Watson, Dennis Hull, Punch Imlach, Peter Mahovlich, Jim McKenny, Bob Nevin, Pittsburgh New Arena, Gump Worsley, Larry Zeidel
GD-VG, few very small tears, 2" back crease
$6.00 Cdn
Pub 0205
Oct. 67
Hockey World


Glenn Hall / Expansion Team Logos
Stories: Charlie Hodge, Gordie Howe, Red Kelly, NHL Teams Preview, Bert Olmstead, Mickey Redmond, Terry Sawchuk
GD, 3/4" split spine, 1" front cover tear + minor tears, Sub
$7.00 Cdn

1968 HOCKEY WORLD magazine

Scan Code
Mag Issue
Cover
Contents
Condition
Price per Magazine
Pub 3978
April 68
Hockey World


Drawings of Doug Favell / Bobby Hull / Bobby Orr / Ed Van Impe with inset Gilles Marotte / Rogatien Vachon
Stories: Best Ice Fighters, Ray Cullen, Detroit - Toronto 1967 Big Trade, Bill Flett, Lloyd Gilmour, Camille Henry, Dennis Hull, Like Father- Like Son, Gilles Marotte, Bob Nevin, Rogatien Vachon
GD, creased cover, 1" cover tear, 1/4" back tear
$6.00 Cdn
Pub 3979
Oct. 68
Hockey World


Drawings of Jean Beliveau / Stanley Cup Trophy
Stories: Jean Beliveau, Boston Bruins Goalie Problems, Howie Hughes, Madison Square Gardens Memories, Mike McMahon, New Coaches, NHL Teams Preview, Pierre Pilote, Bryan Watson
VG, 3/4" split spine, 2 x 1/8" cover tears
$10.00 Cdn

1969 HOCKEY WORLD magazine

Scan Code
Mag Issue
Cover
Contents
Condition
Price per Magazine
Pub 3981
Jan. 69
Hockey World


Drawings of Bob Nevin
Stories: Andre Boudrias, Roger Crozier, Gary Doak, Phil Goyette, Ted Harris, Paul Henderson, Ted Irvine, Gary Jarrett, Jim Pappin, Bernie Parent
VG, water damage
$2.00 Cdn
Pub 5183
March 69
Hockey World


Drawings of Bobby Orr w/inset Bobby Baun? / Red Berenson / Stan Mikita?
Stories: Don Awrey, Wren Blair, Charlie Burns, Gerry Cheevers, Coaches Pick All-Stars Team, Dennis DeJordy, Ron Ellis, Danny Grant, Most Underrated Player?, Oyster Bay N.Y., Jimmy Peters Jr., Philadelphia Flyers vs St. Louis Blues Rivalry, Doug Roberts
FR, 1" split spine, partially loose cover, 5" cover crease
$5.00 Cdn
Pub 0208
Dec. 69
Hockey World


Phil Esposito / Bill Flett / Rogatien Vachon
Stories: Phil Esposito, Bill Flett, Phil Goyette, Jim Neilson, Jacques Plante, Top 10 Forecheckers, Rogatien Vachon, Carol Vadnais
VG+
$20.00 Cdn

1971 HOCKEY WORLD magazine

Scan Code
Mag Issue
Cover
Contents
Condition
Price per Magazine
Pub 5184
Dec. 71
Hockey World


Gilbert Perreault
Stories:Red Berenson, Serge Bernier, Bob Berry / Mike Byers / Juha Widing, Pierre Bouchard, Fred Glover, Garry Monahan, Brad Park, Thayer "Tad" Potter, Gilbert Perreault, Eddie Wetsfall
GD-VG
$7.00 Cdn

1972 HOCKEY WORLD magazine

Scan Code
Mag Issue
Cover
Contents
Condition
Price per Magazine
Pub 0212
Feb. 72
Hockey World


Rick Martin
Stories: Ralph Backstrom, Dan Bouchard, Buffalo Sabres, Danny Grant, B. Harris, Tim Horton, Cliff Korroll, Jim McKenny, T. Potter, Rick Smith
FR, loose cover, ink on cover, 4" split up spine
$3.00 Cdn

1973 HOCKEY WORLD magazine

Scan Code
Mag Issue
Cover
Contents
Condition
Price per Magazine
Pub 3982
Oct. 73
Hockey World


Yvan Cournoyer
Stories: Henry Boucha + Ted Gavin, Boston Bruins, Pit Martin, NHL + WHA Teams Preview, WHA's Dilemma: Amateur Draft, 72-73 Stats
VG Sub
$4.00 Cdn

1976 HOCKEY WORLD magazine

Scan Code
Mag Issue
Cover
Contents
Condition
Price per Magazine
Pub 0219
Feb. 76
Hockey World


Brad Park
Stories: Marcel Dionne, Robbie Ftorek, Danny Gare, Larry Hillman, Bobby Hull, Art Skov, Bryan Trottier, Carol Vadnais
FR
$3.00 Cdn
Pub 5185
March 76
Hockey World


Darryl Sittler
Stories: Max Bentley, Bob Girard, Pete LoPresti, Gary MacGregor, Francois Ouimet, Jean Potvin, Billy Reay, Derek Sanderson, Darryl Sittler
VG, Sub.
$6.00 Cdn
Pub 5186
April 76
Hockey World


Tony Esposito
Stories: Tony Esposito, Punch Imlach Book Excerpt, Tommy McVie + Max McNab, New England Whalers, Jean Pronovost, Showdown '76, Dennis Ververgaert
FR,water damage Sub.
$3.00 Cdn
Pub 5187
May 76
Hockey World


Glenn Resch
Stories: Dan Bouchard, Leif Holmquist, One Goalie Rotation, Portland Buckaroos, Craig Ramsay, Glenn Resch, Ken Schinkel, Stanley Cup is 83 Years Old
VG, 1" back tear, Sub.
$5.00 Cdn
Last Updated: Sept. 28, 2015

---