The Sporting News Hockey Guides &
The Sporting News Hockey Registers
We sell The Sporting News Pro & Amateur Hockey Guides, The Sporting News Hockey Registers,
the NHL Official Guide & Record Books, the NHL Sourcebooks
& The Sporting News Complete Hockey Books.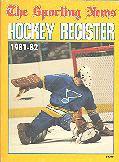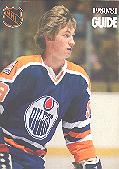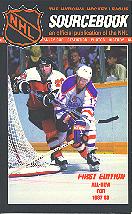 Prices subject to change without notice according to market conditions.
Copy the whole line (code & description) for each book that you are interested in and paste them directly into an email,
please include your address and we will confirm books are still available and work out the P+H.
Postage & Handling is extra. Canadian residents add applicable GST/HST.
Prices are listed in Canadian funds - please inquire as to the current exchange for prices in US funds.
THE SPORTING NEWS - PRO & SENIOR HOCKEY GUIDE

Scan Code
YEAR
FRONT COVER
BACK COVER
CONDITION
PRICE PER BOOK
Pub 1682
69-70 TSN HG


Bobby Orr
VG+
$35.00 Cdn
Pub 2176
79-80 TSN HG


Bob Gainey
John Davidson
FR
$6.00 Cdn
Pub 2178
80-81 TSN HG


Denis Potvin with Stanley Cup (smaller)
Ray Bourque / Marcel Dionne
VG
$12.00 Cdn
Pub 1173
80-81 TSN HG


Denis Potvin with Stanley Cup (smaller)
Ray Bourque / Marcel Dionne
VG
$12.00 Cdn
Pub 2180
81-82 TSN HG


Mike Bossy (smaller)
Mike Bossy / Denis Potvin / Bryan Trottier with Stanley Cup
VG-EX
$14.00 Cdn
Pub 1176
82-83 TSN HG


Wayne Gretzky
Dale Hawerchuk
VG++
$20.00 Cdn
Pub 1177
82-83 TSN HG


Wayne Gretzky
Dale Hawerchuk
VG
$12.00 Cdn
Pub 2197
82-83 TSN HG


Wayne Gretzky
Dale Hawerchuk
VG
$12.00 Cdn
Pub 1178
83-84 TSN HG


Wayne Gretzky / Mark Messier vs NY Islanders
Rod Langway
VG
$15.00 Cdn
Pub 1179
83-84 TSN HG


Wayne Gretzky / Mark Messier vs NY Islanders
Rod Langway
GD, 1/4" cover tear
$10.00 Cdn
Pub 1180
Pub 1181
Pub 1182
84-85 TSN HG &
84-85 TSN HR
with slipcase


Guide - Wayne Gretzky with Stanley Cup
Steve Yzerman
EX
$40.00 Cdn pair


Register - Rod Langway
Guy Lafleur
EX
Pub 1183
85-86 TSN HG


Wayne Gretzky / Paul Coffey / Jari Kurri
Mario Lemieux
MT, unopened
$25.00 Cdn
Pub 1185
86-87 TSN HG


Montreal Canadiens with Stanley Cup
Mike Bossy
VG
$10.00 Cdn
Pub 1186
86-87 TSN HG


Montreal Canadiens with Stanley Cup
Mike Bossy
GD-VG
$8.00 Cdn
Pub 1187
87-88 TSN HG


Ron Hextall
Dale Hawerchuk
VG
$8.00 Cdn
Pub 2198
87-88 TSN HG


Ron Hextall
Dale Hawerchuk
VG+
$9.00 Cdn
Pub 1188
88-89 TSN HG


Mario Lemieux
Ray Bourque
VG
$10.00 Cdn
Pub 2199
88-89 TSN HG


Mario Lemieux
Ray Bourque
VG
$10.00 Cdn
Pub 1189
89-90 TSN HG


Al MacInnis
Mario Lemieux
VG
$10.00 Cdn
Pub 1190
03-04 TSN HG


Scott Stevens with Stanley Cup Inset: Peter Forsberg / Al MacInnis / Mike Modano
EX
$20.00 Cdn
Pub 2200
03-04 TSN HG


Scott Stevens with Stanley Cup Inset: Peter Forsberg / Al MacInnis / Mike Modano
VG+
$14.00 Cdn
Pub 1191
Pub 1192
03-04 TSN HG & 03-04 TSN HR


Guide - Scott Stevens with Stanley Cup Inset: Peter Forsberg / Al MacInnis / Mike Modano
NM, unopened
$40.00 Cdn Pair


Register - J.S. Giguere Inset: Brett Hull / Jaromir Jagr / John LeClair

THE SPORTING NEWS HOCKEY REGISTERS

Scan Code
YEAR
FRONT COVER
BACK COVER
CONDITION
PRICE PER BOOK
Pub 1198
80-81 TSN HR


Wayne Gretzky (smaller)
Lee Fogolin / Paul Holmgren / Ken Linseman
VG
$20.00 Cdn
Pub 1199
81-82 TSN HR


Mike Liut (smaller)
Butch Goring / Wayne Gretzky
VG, 1" back crease
$12.00 Cdn
Pub 2195
81-82 TSN HR


Mike Liut (smaller)
Butch Goring / Wayne Gretzky
VG++
$14.00 Cdn
Pub 2196
81-82 TSN HR


Mike Liut (smaller)
Butch Goring / Wayne Gretzky
VG, 1" crease
$12.00 Cdn
Pub 1200
82-83 TSN HR


Mike Bossy / Richard Brodeur / Bryan Trottier
Peter Stastny
VG
$10.00 Cdn
Pub 2201
82-83 TSN HR


Mike Bossy / Richard Brodeur / Bryan Trottier
Peter Stastny
VG
$10.00 Cdn
Pub 1201
83-84 TSN HR


Pete Peeters
Wayne Gretzky
VG++
$15.00 Cdn
Pub 1202
85-86 TSN HR


Tim Kerr
Bobby Carpenter
VG
$10.00 Cdn
Pub 1203
85-86 TSN HR


Tim Kerr
Bobby Carpenter
VG, 3" crease
$8.00 Cdn
Pub 1204
86-87 TSN HR


Mario Lemieux
Bob Froese
VG
$10.00 Cdn
Pub 1205
86-87 TSN HR


Mario Lemieux
Bob Froese
GD
$8.00 Cdn
Pub 1206
88-89 TSN HR


Grant Fuhr
Dale Hawerchuk
VG
$10.00 Cdn
Pub 2202
88-89 TSN HR


Grant Fuhr
Dale Hawerchuk
GD-VG
$8.00 Cdn
Pub 1207
89-90 TSN HR


Chris Chelios
Paul Coffey
VG
$10.00 Cdn
Pub 1208
03-04 TSN HR


J.S. Giguere Inset: Brett Hull / Jaromir Jagr / John LeClair
VG+
$14.00 Cdn
Pub 2203
03-04 TSN HR


J.S. Giguere Inset: Brett Hull / Jaromir Jagr / John LeClair
VG
$10.00 Cdn
Pub 2204
06-07 TSN HG & HR


Rod Brind`Amour
VG-EX
$14.00 Cdn

NHL GUIDE

Scan Code
YEAR
FRONT COVER
BACK COVER
CONDITION
PRICE PER BOOK
Pub 2187
77-78 NHL Guide


Clarence Campbell (smaller)
GD, 3/4" back tear
$10.00 Cdn
Pub 2188
78-79 NHL Guide


Bob Gainey with inset Frank Selke Trophy (smaller)
GD, 4" back crease
$8.00 Cdn
Pub 2190
80-81 NHL Guide


Wayne Gretzky (smaller)
VG
$15.00 Cdn
Pub 1215
80-81 NHL Guide


Wayne Gretzky (smaller)
GD, 3" creased cover
$10.00 Cdn
Pub 2191
80-81 NHL Guide


Wayne Gretzky (smaller)
PR, cracked spine, loose page
$5.00 Cdn
Pub 1216
81-82 NHL Guide


Mike Liut / Peter McNab (smaller)
GD-VG
$8.00 Cdn
Pub 1687
81-82 NHL Guide


Mike Liut / Peter McNab (smaller)
GD-VG
$8.00 Cdn
Pub 2192
81-82 NHL Guide


Mike Liut / Peter McNab (smaller)
GD, 1/4" tear
$6.00 Cdn
Pub 2186
82-83 NHL Guide


Wayne Gretzky
PR, top 1" corner missing
$5.00 Cdn

NHL OFFICIAL GUIDE
NHL OFFICIAL RECORD BOOK - 2 books

Scan Code
YEAR
FRONT COVER
BACK COVER
CONDITION
PRICE PER PAIR
Pub 1218
82-83 NHL OG &
82-83 NHL ORB


NHL Official Guide - Wayne Gretzky (smaller)
VG
$30.00 Cdn pair
NHL Official Record Book (smaller)
EX+
Pub 1220
82-83 NHL OG &
82-83 NHL ORB


NHL Official Guide - Wayne Gretzky (smaller)
VG
$15.00 Cdn pair
NHL Official Record Book (smaller)
VG

NHL OFFICIAL GUIDE & RECORD BOOK 8 1/2" x 11"

Scan Code
YEAR
FRONT COVER
BACK COVER
CONDITION
PRICE PER BOOK
Pub 2184
82-83 Official Record Book


black
FR
$5.00 Cdn
Pub 2969
84-85 OG-RB


Wayne Gretzky & Paul Coffey with Stanley Cup
VG+, 1/4" back tear, cerlox binding
$8.00 Cdn
Pub 2215
84-85 OG-RB


Wayne Gretzky & Paul Coffey with Stanley Cup
GD-VG, cerlox binding
$8.00 Cdn
Pub 1689
85-86 OG-RB


Wayne Gretzky & Paul Coffey
VG
$10.00 Cdn
Pub 2217
85-86 OG-RB


Wayne Gretzky & Paul Coffey
VG
$10.00 Cdn
Pub
85-86 OG-RB


Wayne Gretzky & Paul Coffey
VG
$10.00 Cdn
Pub 2216
85-86 OG-RB


Wayne Gretzky & Paul Coffey
VG, printing imprint on cover
$8.00 Cdn
Pub 2971
86-87 OG-RB


Larry Robinson with Stanley Cup
VG, cerlox binding
$10.00 Cdn
Pub 2218
86-87 OG-RB


Larry Robinson with Stanley Cup
GD-VG, creased cover, cerlox binding - corner coil broken
$8.00 Cdn
Pub 2219
87-88 OG-RB


Wayne Gretzky & Mark Howe
GD+, cerlox binding
$8.00 Cdn
Pub 1222
89-90 OG-RB (o/s)


Lanny McDonald
EX+
$20.00 Cdn
Pub 2221
89-90 OG-RB (o/s)


Lanny McDonald
EX, cerlox binding
$18.00 Cdn
Pub 1223
89-90 OG-RB (o/s)


Lanny McDonald
VG+
$12.00 Cdn
Pub 2974
89-90 OG-RB (o/s)


Lanny McDonald
VG, cerlox binding
$10.00 Cdn
Pub 1992
89-90 OG-RB (o/s)


Lanny McDonald
GD-VG
$7.50 Cdn
Pub 2222
90-91 OG-RB (o/s)


Brett Hull / Mark Messier / Ray Bourque
VG+, cerlox binding
$14.00 Cdn
Pub 2975
90-91 OG-RB (o/s)


Brett Hull / Mark Messier / Ray Bourque
VG+, cerlox binding
$14.00 Cdn
Pub 1993
90-91 OG-RB (o/s)


Brett Hull / Mark Messier / Ray Bourque
GD-VG
$10.00 Cdn
Pub 2223
91-92 OG-RB (o/s)


Mario Lemieux with Stanley Cup
VG-EX, cerlox binding
$12.00 Cdn
Pub 1226
93-94 OG-RB (o/s)


Patrick Roy with Stanley Cup
FR
$7.00 Cdn
Pub 1227
94-95 OG-RB (o/s)


Pavel Bure
EX+
$20.00 Cdn
Pub 2225
94-95 OG-RB (o/s)


Mark Messier with Stanley Cup
VG++
$13.00 Cdn
Pub 2978
94-95 OG-RB (o/s)


Mark Messier with Stanley Cup
VG+
$12.00 Cdn
Pub 1228
94-95 OG-RB (o/s)


Mark Messier with Stanley Cup
VG+, cerlox binding
$12.00 Cdn
Pub 1229
95-96 OG-RB (o/s)


Scott Stevens with Stanley Cup
VG, 2" back crease, cerlox binding
$10.00 Cdn
Pub 2226
95-96 OG-RB (o/s)


Eric Lindros with inset Eric Lindros with Hart Trophy
GD-VG, 1 1/2" corner crease
$10.00 Cdn
Pub 1999
96-97 OG-RB (o/s)


Joe Sakic with Stanley Cup
GD
$7.00 Cdn
Pub 2227
97-98 OG-RB (o/s)


Steve Yzerman with Stanley Cup
VG+
$12.00 Cdn
Pub 1230
98-99 OG-RB (o/s)


Steve Yzerman with Stanley Cup
EX
$15.00 Cdn
Pub 2228
2002 OG-RB (o/s)


Raymond Bourque with Stanley Cup / Joe Sakic
GD-VG
$10.00 Cdn
Pub 2229
2008 OG-RB (o/s)


Rob Niedermayer / Scott Niedermayer with Stanley Cup
GD+
$12.00 Cdn
Pub 3175
2009 OG-RB (o/s)


Nicklas Lidstrom with Stanley Cup
GD
$10.00 Cdn

NHL SOURCEBOOK

Scan Code
YEAR
FRONT COVER
BACK COVER
CONDITION
PRICE PER BOOK
Pub 1211
87-88 NHL SB
First Edition


Dave Poulin vs Jari Kurri
VG
$10.00 Cdn
Pub 2206
87-88 NHL SB
First Edition


Dave Poulin vs Jari Kurri
VG
$10.00 Cdn
Pub 2207
88-89 NHL SB


Wayne Gretzky
VG++
$12.00 Cdn
Pub 3003
89-90 NHL SB


Joel Otto vs Bobby Smith
VG
$6.00 Cdn

PRO DIGEST PROFESSIONAL HOCKEY PLAYER DIRECTORY AND RECORD BOOK

Scan Code
YEAR
FRONT COVER
BACK COVER
CONDITION
PRICE PER BOOK
Pub 3770
Pro Digest
1981 Professional Hockey Player Directory And Record Book


Colorado Rockies Player
VG++
$8.00 Cdn
Pub 3825
Pro Digest
1981 Professional Hockey Player Directory And Record Book


Colorado Rockies Player
VG
$6.00 Cdn
Pub 3826
Pro Digest
1982 Professional Hockey Player Directory And Record Book


Colorado Rockies Player
VG, 1" corner crease
$5.00 Cdn

SPORTS GUIDE SERIES

Scan Code
YEAR
FRONT COVER
BACK COVER
CONDITION
PRICE PER BOOK
Pub 3769
Sports Guide Series
1971-72 Pro Hockey Guide


Puck, Skates & Stick
FR
$10.00 Cdn
Last Updated: Jan. 13, 2017

---