1996-97 HOCKEY GREATS COINS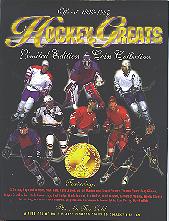 We sell 1996-97 Hockey Greats coins for your incomplete hockey coin sets.
Coins are listed in numerical order along with the player`s name & team.
We scan any coin you want to see before ordering, just email us.
Prices subject to change without notice according to market conditions.
Postage & Handling is extra. Canadian residents add applicable GST/HST.
Prices are listed in Canadian funds - please inquire as to the current exchange for prices in US funds.
1996-97 HOCKEY GREATS COINS (silver color)

96-97 Hockey Greats coin
3
Pavel Bure
Vancouver Canucks
NM-MT
$1.50 Cdn
96-97 Hockey Greats coin
5
Vincent Damphousse
Montreal Canadiens
NM-MT
$1.00 Cdn
96-97 Hockey Greats coin
6
Sergei Fedorov
Detroit Red Wings
NM-MT
$2.00 Cdn
96-97 Hockey Greats coin
9
Wayne Gretzky
St. Louis Blues
NM-MT
$6.00 Cdn
96-97 Hockey Greats coin
10
Brett Hull
St. Louis Blues
NM-MT
$2.00 Cdn
96-97 Hockey Greats coin
11
Jaromir Jagr
Pittsburgh Penguins
NM-MT
$2.00 Cdn
96-97 Hockey Greats coin
12
Paul Kariya
Anaheim Mighty Ducks
NM-MT
$1.50 Cdn
96-97 Hockey Greats coin
13
Mario Lemieux
Pittsburgh Penguins
NM-MT
$4.00 Cdn
96-97 Hockey Greats coin
14
Eric Lindros
Philadelphia Flyers
NM-MT
$2.00 Cdn
96-97 Hockey Greats coin
16
Alexander Mogilny
Vancouver Canucks
NM-MT
$1.00 Cdn
96-97 Hockey Greats coin
18
Patrick Roy - goalie
Colorado Avalanche
NM-MT
$4.00 Cdn
96-97 Hockey Greats coin
19
Joe Sakic
Colorado Avalanche
NM-MT
$2.00 Cdn
96-97 Hockey Greats coin
20
Steve Yzerman
Detroit Red Wings
NM-MT
$2.50 Cdn
96-97 Hockey Greats coin
21
Sergei Berezin
Toronto Maple Leafs
NM-MT
$1.00 Cdn
96-97 Hockey Greats Coin Album


pub 6566
EX-EX+
$5.00 Cdn
Last Updated: Nov. 25, 2017

---