Canadian College Hockey Pucks
Canadian University Hockey Pucks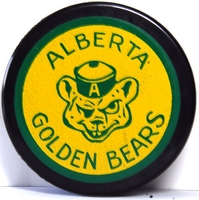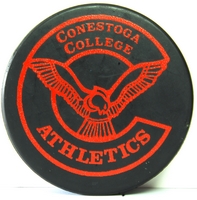 Collecting Hockey Pucks? We bought a collection of old collector Canadian Collegiate hockey pucks
and Canadian University hockey pucks as well as pucks from the NHL, AHL, AJHL,
ECHL, IHL, OHA, OHL, QMJHL, WHA, WHL, Memorial Cup pucks and
NCAA American Collegiate hockey pucks & NCAA American University hockey pucks.
There are a lot of Provincial team pucks from across Canada.
Most of these pucks are one of a kind - email to reserve.
Prices subject to change without notice according to market conditions.
Postage & Handling is extra. Canadian residents add applicable GST/HST.

Prices are listed in Canadian funds - please inquire as to the current exchange for prices in US funds.
CANADIAN COLLEGE HOCKEY PUCKS
CANADIAN UNIVERSITY HOCKEY PUCKS

UNIVERSITY of ALBERTA pucks

Scan #
Front
Year
Puck Slug Type
Reverse
Condition
Price Per Puck
COLL 0008


Alberta Golden Bears
75-94
CZ3 new Czechoslovakia


Sher-Wood United Cycle reverse
$7.00 Cdn
COLL 0010


University of Alberta
1908-1983
1983
CZ3 new Czechoslovakia
blank reverse
bubbled screen, pitted
$6.00 Cdn
COLL 0011


Alberta Golden Bears
80 - present
V4 Viceroy
blank reverse
$6.00 Cdn

CONESTOGA COLLEGE ATHLETICS pucks

Scan #
Front
Year
Puck Slug Type
Reverse
Condition
Price Per Puck
COLL 0021


Conestoga College Athletics Condors
80-present
V4 Viceroy
blank reverse
minor pitting
$6.00 Cdn
COLL 0024


Conestoga College Condors
1980-present
V4 Viceroy
blank reverse
bubbled screen, minor pitting
$6.00 Cdn

DAWSON COLLEGE pucks

Scan #
Front
Year
Puck Slug Type
Reverse
Condition
Price Per Puck
COLL 0033


Dawson College Blues - Montreal
75-94
CZ3 new Czechoslovakia
blank reverse
uneven screen, pitted, flaked, scratched back
$5.00 Cdn

UNIVERSITY of MANITOBA pucks

Scan #
Front
Year
Puck Slug Type
Reverse
Condition
Price Per Puck
COLL 0036


Manitoba Bisons (name)
75-82
V3 Viceroy
blank reverse
rough puck slug
$7.00 Cdn
COLL 0038


Manitoba Bisons (head)
75-94
CZ3 new Czechoslovakia


Sher-Wood Official reverse
3/8" cut front edge, smudge
$7.00 Cdn

McMASTERS UNIVERSITY pucks

Scan #
Front
Year
Puck Slug Type
Reverse
Condition
Price Per Puck
COLL 0040


McMaster Marlins
75-82
V3 Viceroy
blank reverse
pitted
$5.00 Cdn
COLL 0041


McMaster Marlins
80-present
V4 Viceroy


OHA Official reverse
pitted, rough puck slug
$5.00 Cdn
COLL 0043


McMaster Marlins
80-present
V4 Viceroy


OHA Official reverse
pitted, blob
$6.00 Cdn

MEDICINE HAT COLLEGE pucks

Scan #
Front
Year
Puck Slug Type
Reverse
Condition
Price Per Puck
COLL 0045


Medicine Hat College Hockey - Rattlers
75-94
CZ3 new Czechoslovakia
blank reverse
light scratches
$6.00 Cdn

UNIVERSITY of MONCTON pucks

Scan #
Front
Year
Puck Slug Type
Reverse
Condition
Price Per Puck
COLL 0046


Moncton Blue Eagles ?
Moncton Aigles Bleus ?
80-present
V4 Viceroy


CAHA Approved reverse
pitted, smudged, worn back
$3.00 Cdn

MOUNT ALLISON UNIVERSITY pucks

Scan #
Front
Year
Puck Slug Type
Reverse
Condition
Price Per Puck
COLL 0052


Mount Allison Mounties
75-94
CZ3 new Czechoslovakia
blank reverse
dents, flaked
$5.00 Cdn
COLL 0053


Mount Allison Mounties
75-94
CZ3 new Czechoslovakia
blank reverse
scratched, flaked, pitted
$5.00 Cdn

MOUNT ROYAL COLLEGE pucks

Scan #
Front
Year
Puck Slug Type
Reverse
Condition
Price Per Puck
COLL 0056


Mount Royal College Cougars
80-81
V3 Viceroy
blank reverse
crackled, flaked, pitted
$3.00 Cdn
COLL 0057


Mount Royal College Cougars
75-94
CZ3 new Czechoslovakia
blank reverse
worn, pitted
$4.00 Cdn

OTTAWA UNIVERSITY pucks

Scan #
Front
Year
Puck Slug Type
Reverse
Condition
Price Per Puck
COLL 0058


Ottawa Gee Gees
80-present
V4 Viceroy


blank reverse
3 holes in back, pitted, thin screened
$2.00 Cdn

QUEENS UNIVERSITY pucks

Scan #
Front
Year
Puck Slug Type
Reverse
Condition
Price Per Puck
COLL 0060


Queen`s Golden Gaels
75-94
CZ3 new Czechoslovakia
blank reverse
uneven screen, pitted, flaked
$4.00 Cdn
COLL 0061


Queen`s Golden Gaels
75-94
CZ3 new Czechoslovakia
blank reverse
minor flaked
$6.00 Cdn

UNIVERSITY of REGINA pucks

Scan #
Front
Year
Puck Slug Type
Reverse
Condition
Price Per Puck
COLL 0063


University of Regina Cougars
80-present
V4 Viceroy


Kyles Sporting Goods reverse
scratch, smudge on back
$6.00 Cdn

UNIVERSITY of WATERLOO pucks

Scan #
Front
Year
Puck Slug Type
Reverse
Condition
Price Per Puck
COLL 0070


Waterloo Warriors
75-82
V3 Viceroy


OHA Official reverse
bubbled screen, blob back, flaked back
$6.00 Cdn
COLL 0072


Waterloo Warriors
75-82
V3 Viceroy


OHA Official reverse
flaked bubbled screen, worn scratched back
$3.00 Cdn

UNIVERSITY of WINDSOR pucks

Scan #
Front
Year
Puck Slug Type
Reverse
Condition
Price Per Puck
COLL 0075


Windsor Lancers
80-present
V4 Viceroy


OHA Official reverse
$6.00 Cdn

CIAU - CANADIAN INTERUNIVERSITY ATHLETICS UNION pucks

Scan #
Front
Year
Puck Slug Type
Reverse
Condition
Price Per Puck
COLL 0077


CIAU Hockey Championship
80-present
V4 Viceroy


white Sher-Wood Official reverse
flaked, pitted
$3.00 Cdn
COLL 0079


CIAU Hockey Championship
80-present
V4 Viceroy


white Sher-Wood Official reverse
pitted, goudge back edge
$3.00 Cdn
Last Updated: Oct. 18, 2018