Old NHL Photo Star Puck Hockey Pucks
Collecting NHL Player Pucks?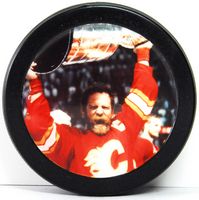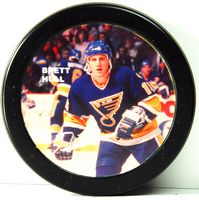 We bought a collection of old NHL Photo Star Puck hockey pucks.
These Star Pucks are from the late 1980`s to the early 1990`s.
Some of these Star Pucks have 1991 Stanley Cup Championship stickers on the backs.
These old NHL Photo Star Pucks are all one of a kind.
Postage & Handling is extra. Canadian residents add applicable GST/HST.

Prices are listed in Canadian funds - please inquire as to the current exchange for prices in US funds.
BOSTON BRUINS STAR PUCKS

Scan #
Player
Team
Puck Slug Type
Reverse
Condition
Price Per Puck
SPK 0003

Randy Burridge - black jersey #12
Boston Bruins
GT3 GenCorp

Star Puck, NHLPA, NHL reverse
few small black marks on front
$6.00 Cdn
SPK 0007

Bob Joyce - black jersey #27
Boston Bruins
GT3 GenCorp

Star Puck, NHLPA, NHL reverse
smudged back
$6.00 Cdn
SPK 0015

Dave Poulin - black jersey #19
Boston Bruins
GT3 GenCorp

1991 Stanley Cup sticker logo reverse
$6.00 Cdn
SPK 0017

Glen Wesley - black jersey #26
Boston Bruins
GT3 GenCorp

1991 Stanley Cup sticker logo reverse
1/4" edge on sticker crease
$6.00 Cdn

CALGARY FLAMES STAR PUCKS

Scan #
Player
Team
Puck Slug Type
Reverse
Condition
Price Per Puck
SPK 0035

Charlie Bourgeois - red jersey #28
Calgary Flames
GT3 GenCorp

Star Puck, NHLPA, NHL reverse
$6.00 Cdn
SPK 0037

Doug Gilmour - red jersey #39
Calgary Flames
GT3 GenCorp

Star Puck, NHLPA, NHL reverse
spotted
$8.00 Cdn
SPK 0041

Hakan Loob - red jersey
Calgary Flames
GT3 GenCorp

Star Puck, NHLPA, NHL reverse
tinyt bubble on side
$6.00 Cdn
SPK 0047

Lanny McDonald with Stanley Cup - red jersey C
Calgary Flames
GT3 GenCorp

Thanks For The Memories
"A Tribute to Lanny"
March 18, 1990reverse
scuffed, 1" wide bottom edge of cut flat, so it sits up
$4.00 Cdn
SPK 0051

Joe Nieuwendyk - red jersey #25
Calgary Flames
GT3 GenCorp

Star Puck, NHLPA, NHL reverse
$8.00 Cdn

EDMONTON OILERS STAR PUCKS

Scan #
Player
Team
Puck Slug Type
Reverse
Condition
Price Per Puck
SPK 0079

Glenn Anderson - blue jersey #9
Edmonton Oilers
GT3 GenCorp

Star Puck, NHLPA, NHL reverse
pitted
$8.00 Cdn
SPK 0081

Jason Arnott - white jersey #7
Edmonton Oilers
IG2 InGlasCo

InGlasCo, NHLPA, NHL reverse
$8.00 Cdn
SPK 0083

Jimmy Carson - blue jersey #12
Edmonton Oilers
GT3 GenCorp

Star Puck, NHLPA, NHL reverse
scratched back
$6.00 Cdn
SPK 0085

Jimmy Carson - blue jersey #12
Edmonton Oilers
GT3 GenCorp

Star Puck, NHLPA, NHL reverse
scratched & scuffed front
$4.00 Cdn
SPK 0087

Charlie Huddy - blue jersey #22
Edmonton Oilers
GT3 GenCorp

Star Puck, NHLPA, NHL reverse
bumps
$6.00 Cdn
SPK 0097

Craig Simpson - blue jersey #18
Edmonton Oilers
GT3 GenCorp

1990 Stanley Cup sticker logo reverse
scratched back
$8.00 Cdn

HARTFORD WHALERS STAR PUCKS

Scan #
Player
Team
Puck Slug Type
Reverse
Condition
Price Per Puck
SPK 0099

Dave Babych - green jersey #44
Hartford Whalers
GT3 GenCorp

Star Puck, NHLPA, NHL reverse
scuff
$6.00 Cdn
SPK 0101

Kevin Dineen - green jersey #11
Hartford Whalers
GT3 GenCorp

Star Puck, NHLPA, NHL reverse
scuffed
$6.00 Cdn
SPK 0103

Ray Ferraro - green jersey #26
Hartford Whalers
GT3 GenCorp

Star Puck, NHLPA, NHL reverse
bubbles
$8.00 Cdn
SPK 0105

Peter Sidorkiewicz - goalie - green jersey
Hartford Whalers
GT3 GenCorp

Star Puck, NHLPA, NHL reverse
$8.00 Cdn
SPK 0107

Pat Verbeek - green jersey #16
Hartford Whalers
GT3 GenCorp

1991 Stanley Cup sticker logo reverse
$8.00 Cdn
SPK 0109

Scott Young - green jersey #27
Hartford Whalers
GT3 GenCorp

Star Puck reverse
dented back
$6.00 Cdn

LOS ANGELES KINGS STAR PUCKS

Scan #
Player
Team
Puck Slug Type
Reverse
Condition
Price Per Puck
SPK 0121

John Tonelli - black jersey #27
Los Angeles Kings
GT3 GenCorp

Star Puck, NHLPA, NHL reverse
small chip off back edge
$8.00 Cdn

MINNESOTA NORTH STARS STAR PUCKS

Scan #
Player
Team
Puck Slug Type
Reverse
Condition
Price Per Puck
SPK 0123

Brian Bellows - green jersey #23
Minnesota North Stars
GT3 GenCorp

Star Puck, NHLPA, NHL reverse
$8.00 Cdn
SPK 0125

Jon Casey - goalie - green jersey #30
Minnesota North Stars
GT3 GenCorp

Star Puck, NHLPA, NHL reverse
$8.00 Cdn
SPK 0127

Dave Gagner - green jersey #15
Minnesota North Stars
GT3 GenCorp

Star Puck, NHLPA, NHL reverse
$8.00 Cdn
SPK 0129

Mike Gartner - green jersey #11
Minnesota North Stars
GT3 GenCorp

Star Puck, NHLPA, NHL reverse
$10.00 Cdn
SPK 0131

Larry Murphy - green jersey #8
Minnesota North Stars
GT3 GenCorp

Star Puck, NHLPA, NHL reverse
tiny bubbles on back
$8.00 Cdn
SPK 0133

Larry Murphy - green jersey #8
Minnesota North Stars
Star Puck Inc

1991 Stanley Cup sticker logo reverse
bubble on front
$8.00 Cdn

NEW JERSEY DEVILS STAR PUCKS

Scan #
Player
Team
Puck Slug Type
Reverse
Condition
Price Per Puck
SPK 0149

Tom Kurvers - white jersey #5
New Jersey Devils
GT3 GenCorp

Star Puck, NHLPA, NHL reverse
tiny bubbles
$6.00 Cdn

NEW YORK RANGERS STAR PUCKS

Scan #
Player
Team
Puck Slug Type
Reverse
Condition
Price Per Puck
SPK 0161

Brian Leetch - white jersey #2
New York Rangers
GT3 GenCorp

Star Puck, NHLPA, NHL reverse
scuff on chin, tiny bubbles on back, chipped back edge
$8.00 Cdn

PHILADELPHIA FLYERS STAR PUCKS

Scan #
Player
Team
Puck Slug Type
Reverse
Condition
Price Per Puck
SPK 0169

Keith Acton - white jersey #25
Philadelphia Flyers
GT3 GenCorp

Star Puck, NHLPA, NHL reverse
tiny bubbles on back
$6.00 Cdn
SPK 0175

Tim Kerr - white jersey #12
Philadelphia Flyers
GT3 GenCorp

Star Puck, NHLPA, NHL reverse
light scuff
$8.00 Cdn
SPK 0177

Tim Kerr - white jersey #12
Philadelphia Flyers
GT3 GenCorp

Star Puck, NHLPA, NHL reverse
scuffed, pitted on back
$8.00 Cdn
SPK 0179

Tim Kerr - white jersey #12
Philadelphia Flyers
GT3 GenCorp

Star Puck, NHLPA, NHL reverse
pin hole on nose
$6.00 Cdn
SPK 0183

Mike Ricci - white jersey #18
Philadelphia Flyers
GT3 GenCorp

1991 Stanley Cup sticker logo reverse
scratched sticker
$6.00 Cdn
SPK 0185

Rick Tocchet - white jersey #22
Philadelphia Flyers
GT3 GenCorp

Star Puck, NHLPA, NHL reverse
scuffed on chin
$6.00 Cdn

PITTSBURGH PENGUINS STAR PUCKS

Scan #
Player
Team
Puck Slug Type
Reverse
Condition
Price Per Puck
SPK 0195

Bob Errey - black jersey #12
Pittsburgh Penguins
GT3 GenCorp

Star Puck, NHLPA, NHL reverse
flaked back
$6.00 Cdn

QUEBEC NORDIQUES STAR PUCKS

Scan #
Player
Team
Puck Slug Type
Reverse
Condition
Price Per Puck
SPK 0213

Jeff Brown - white jersey #22
Quebec Nordiques
GT3 GenCorp

Star Puck, NHLPA, NHL reverse
pitted
$8.00 Cdn
SPK 0217

Michel Goulet - blue jersey #16
Quebec Nordiques
GT3 GenCorp

Star Puck, NHLPA, NHL reverse
tiny bubbles on back
$10.00 Cdn
SPK 0219

Walt Poddubny - white jersey #75
Quebec Nordiques
GT3 GenCorp

Star Puck, NHLPA, NHL reverse
tiny bubbles, scratched
$8.00 Cdn

ST. LOUIS BLUES STAR PUCKS

Scan #
Player
Team
Puck Slug Type
Reverse
Condition
Price Per Puck
SPK 0223

Rod Brind`Amour - blue jersey #19
St. Louis Blues
GT3 GenCorp

1991 Stanley Cup sticker logo reverse
small scratch
$8.00 Cdn
SPK 0227

Paul Cavallini - blue jersey #14
St. Louis Blues
GT3 GenCorp

1991 Stanley Cup sticker logo reverse
light scratches on sticker
$6.00 Cdn
SPK 0229

Geoff Courtnall - white jersey #9
St. Louis Blues
GT3 GenCorp

1991 Stanley Cup sticker logo reverse
bubble on front
$6.00 Cdn
SPK 0235

Greg Millen - goalie - blue jersey #29
St. Louis Blues
GT3 GenCorp

Star Puck, NHLPA, NHL reverse
light scuff, bubble on side
$8.00 Cdn
SPK 0237

Adam Oates - blue jersey #12
St. Louis Blues
GT3 GenCorp

1991 Stanley Cup sticker logo reverse
$8.00 Cdn
SPK 0239

Cliff Ronning - blue jersey #7
St. Louis Blues
GT3 GenCorp

Star Puck reverse
tiny bubbles on back
$6.00 Cdn
SPK 0241

Harold Snepsts - blue jersey #5
St. Louis Blues
GT3 GenCorp

1991 Stanley Cup sticker logo reverse
bubbles on front edge, scratches on sticker
$6.00 Cdn
SPK 0243

Peter Zezel - blue jersey #9
St. Louis Blues
GT3 GenCorp

Star Puck, NHLPA, NHL reverse
$6.00 Cdn

TORONTO MAPLE LEAFS STAR PUCKS

Scan #
Player
Team
Puck Slug Type
Reverse
Condition
Price Per Puck
SPK 0245

Alan Bester - goalie - blue jersey #30
Toronto Maple Leafs
GT3 GenCorp

Star Puck, NHLPA, NHL reverse
bubble on front edge
$8.00 Cdn
SPK 0247

Wendel Clark - blue jersey #17 A
Toronto Maple Leafs
GT3 GenCorp

Star Puck, NHLPA, NHL reverse
$8.00 Cdn
SPK 0249

Vincent Damphousse - blue jersey #10
Toronto Maple Leafs
GT3 GenCorp

Star Puck, NHLPA, NHL reverse
scratches
$6.00 Cdn
SPK 0251

Grant Fuhr - goalie - white jersey #31
Toronto Maple Leafs
CZ3 Czechoslovakia

Star Puck Sticker, NHLPA, NHL reverse
scratched sticker
$10.00 Cdn
SPK 0257

Gary Leeman - blue jersey #11
Toronto Maple Leafs
GT3 GenCorp

Star Puck, NHLPA, NHL reverse
$6.00 Cdn
SPK 0259

Ed Olczyk - blue jersey #16
Toronto Maple Leafs
GT3 GenCorp

Star Puck, NHLPA, NHL reverse
scuffed, bubble on front edge
$6.00 Cdn

VANCOUVER CANUCKS STAR PUCKS

Scan #
Player
Team
Puck Slug Type
Reverse
Condition
Price Per Puck
SPK 0261

Greg Adams - yellow jersey #8
Vancouver Canucks
GT3 GenCorp

Star Puck, NHLPA, NHL reverse
tiny bubbles on back, small chip from back edge
$6.00 Cdn
SPK 0263

Robert Nordmark - black jersey #6
Vancouver Canucks
GT3 GenCorp

Star Puck, NHLPA, NHL reverse
scuffed, tiny bubbles on back
$5.00 Cdn
SPK 0269

Paul Reinhart - black jersey #23
Vancouver Canucks
GT3 GenCorp

Star Puck, NHLPA, NHL reverse
flaked back
$6.00 Cdn
SPK 0271

Jim Sandlak - yellow jersey #19
Vancouver Canucks
GT3 GenCorp

Star Puck, NHLPA, NHL reverse
tiny bubbles on back
$6.00 Cdn
SPK 0273

Petri Skriko - yellow jersey #26
Vancouver Canucks
GT3 GenCorp

Star Puck, NHLPA, NHL reverse
scuffed & pitted
$4.00 Cdn
SPK 0275

Stan Smyl - yellow jersey #12 C
Vancouver Canucks
GT3 GenCorp

Star Puck, NHLPA, NHL reverse
tiny bubbles on back
$8.00 Cdn
SPK 0277

Tony Tanti - yellow jersey #9
Vancouver Canucks
GT3 GenCorp

Star Puck, NHLPA, NHL reverse
scratch, flaked on back
$6.00 Cdn

WASHINGTON CAPITALS STAR PUCKS

Scan #
Player
Team
Puck Slug Type
Reverse
Condition
Price Per Puck
SPK 0279

Dave Christian - white jersey #27
Washington Capitals
GT3 GenCorp

Star Puck, NHLPA, NHL reverse
tiny bubbles on back
$6.00 Cdn
SPK 0281

Geoff Courtnall - white jersey #14
Washington Capitals
GT3 GenCorp

Star Puck, NHLPA, NHL reverse
pit marks
$6.00 Cdn
SPK 0285

Kevin Hatcher - white jersey #4
Washington Capitals
GT3 GenCorp

Star Puck, NHLPA, NHL reverse
tiny raised lines on back
$6.00 Cdn
Last Updated: March 22, 2019
---