OLD SASKATCHEWAN HOCKEY PUCKS
SAJHL - SJHL - Saskatchewan Junior Hockey League Pucks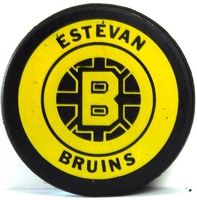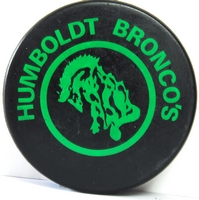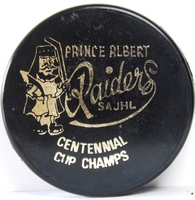 Collecting Ice Hockey Pucks ?
We bought a collection of old collector SJHL team pucks from Saskatchewan teams
as well as pucks from the NHL, AHL, AJHL, ECHL, IHL, OHA, OHL, QMJHL, WHA, WHL,
Memorial Cup pucks, American & Canadian Collegiate hockey pucks.
There are a lot of team pucks from across Canada.
Most of these pucks are one of a kind - email to reserve.
Postage & Handling is extra. Canadian residents add applicable GST/HST.

Prices are listed in Canadian funds - please inquire as to the current exchange for prices in US funds.
SAJHL - SJHL - SASKATCHEWAN JUNIOR HOCKEY LEAGUE PUCKS

ESTEVAN BRUINS pucks

Scan #
Front
Year
Puck Slug Type
Reverse
Condition
Price Per Puck
SK 0007


Estevan Bruins (name in logo)
80-present
V4 Viceroy
blank reverse
pin hole on edge
$6.00 Cdn

MELVILLE MILLIONAIRES pucks

Scan #
Front
Year
Puck Slug Type
Reverse
Condition
Price Per Puck
SK 0044


Melville Millionaires (gold)
70-72
CZ2 Czechoslovakia
blank reverse
scratches
$7.00 Cdn

PRINCE ALBERT RAIDERS pucks

Scan #
Front
Year
Puck Slug Type
Reverse
Condition
Price Per Puck
SK 0051


Prince Albert Raiders
SAJHL Centennial Cup Champs (gold)
70-78
CZ2 Czechoslovakia
blank reverse
scratches
$10.00 Cdn

WEYBURN RED WINGS pucks

Scan #
Front
Year
Puck Slug Type
Reverse
Condition
Price Per Puck
SK 0056


Weyburn Red Wings (metallic red)
75-94
CZ3 Czechoslovakia
blank reverse
scuffed, crackled, flaking
$3.00 Cdn

YORKTON TERRIERS pucks

Scan #
Front
Year
Puck Slug Type
Reverse
Condition
Price Per Puck
SK 0058


Yorkton Terriers
75-94
CZ3 Czechoslovakia
blank reverse
flaking, edge wear, scratches back
$3.00 Cdn
SK 0060


Yorkton Terriers
75-94
CZ3 Czechoslovakia
blank reverse
scratches, pitted
$6.00 Cdn
Last Updated: Jan. 13, 2019
---