COLLECTOR AHL HOCKEY PUCKS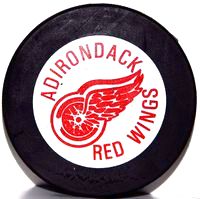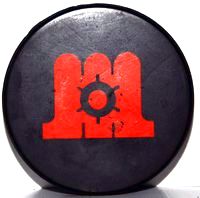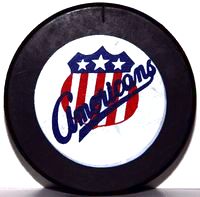 Collecting Ice Hockey Pucks? - We sell old souvenir AHL hockey pucks,
American Hockey League pucks as well as
NHL, AHL, ECHL, IHL, QMJHL, WHL & Memorial Cup pucks.
Most of these pucks are one of a kind - email to reserve.
Postage & Handling is extra. Canadian residents add applicable GST/HST.

Prices are listed in Canadian funds - please inquire as to the current exchange for prices in US funds.
OLD COLLECTOR AHL HOCKEY PUCKS

AHL AMERICAN HOCKEY LEAGUE pucks

Scan #
Front
Year
Puck Slug Type
reverse
Condition
Price Per Puck
AHL 0359


AHL American Hockey League sticker
75-94
CZ3 Czechoslovakia
blank reverse
goudged back
$10.00 Cdn
AHL 0360


AHL American Hockey League sticker
75-94
CZ3 Czechoslovakia
blank reverse
cuts reverse
$15.00 Cdn

ADIRONDACK RED WINGS pucks

Scan #
Front
Year
Puck Slug Type
reverse
Condition
Price Per Puck
AHL 0229


Adirondack Red Wings - no team name
81-82
V3 Viceroy


InGlasCo shield reverse
scratched front & back
$10.00 Cdn
AHL 0231


Adirondack Red Wings
team name in capital letters
81-88
V4 Viceroy


InGlasCo shield reverse
$16.50 Cdn

HERSHEY BEARS pucks

Scan #
Front
Year
Puck Slug Type
reverse
Condition
Price Per Puck
AHL 0269


Hershey Bears
69-77
Converse


Converse logo reverse
faded front, scuffed back
$40.00 Cdn

MAINE MARINERS pucks

Scan #
Front
Year
Puck Slug Type
reverse
Condition
Price Per Puck
AHL 0290


Maine Mariners - orange M
81-88
V4 Viceroy


InGlasCo shield reverse
small puck flaw on front
$10.00 Cdn
AHL 0294


Maine Mariners - 10th Anniversary
1977-1987
86-87
IG2 InGlasCo


InGlasCo shield reverse
1/2" x 3/4" rectangle missing from front screen
$19.00 Cdn

MONTREAL VOYAGEURS / NOVA SCOTIA VOYAGEURS pucks

Scan #
Front
Year
Puck Slug Type
reverse
Condition
Price Per Puck
AHL 0363


Montreal Voyageurs / Nova Scotia Voyageurs
(orange crest white background) (game)
70-74
V2 Viceroy
blank reverse
crackled
$20.00 Cdn
<

ROCHESTER AMERICANS pucks

Scan #
Front
Year
Puck Slug Type
reverse
Condition
Price Per Puck
AHL 0361


Rochester Americans
(red logo, white background)
74-80
V3 Viceroy


Enjoy Coca Cola - ad reverse
worn, scratches
$15.00 Cdn
AHL 0323


Rochester Americans
81-88
V4 Viceroy


InGlasCo shield reverse
puck flaw on back
$15.00 Cdn
AHL 0327


Rochester Americans
81-88
V4 Viceroy


InGlasCo shield reverse
1/4" cut on front edge, mark on back
$12.00 Cdn
AHL 0325


Rochester Americans
81-88
V4 Viceroy


InGlasCo shield reverse
1/4" cut on front edge, pitted back
$10.00 Cdn
AHL 0329


Rochester Americans
86-93
IG2 InGlasCo


InGlasCo shield reverse
1/4" cut of front edge, scratched back
$8.00 Cdn
AHL 0331


Rochester Americans*
95-98
SL1 Vegum


color Official License Product reverse
$5.00 Cdn

SYRACUSE CRUNCH pucks

Scan #
Front
Year
Puck Slug Type
reverse
Condition
Price Per Puck
AHL 0352


Syracuse Crunch
93-95
SL1 Vegum


InGlasCo shield reverse
$9.00 Cdn

WORCESTER ICECATS pucks

Scan #
Front
Year
Puck Slug Type
reverse
Condition
Price Per Puck
AHL 0356


Worcester IceCats*
95-98
SL1 Vegum


color Official License Product reverse
worn spots on front
$4.00 Cdn
Last Updated: Oct. 18, 2018
---