IIHF SOUVENIR ICE HOCKEY PUCKS
Collecting IIHF Ice Hockey Pucks ?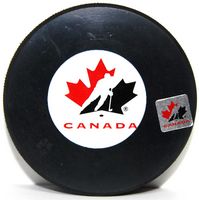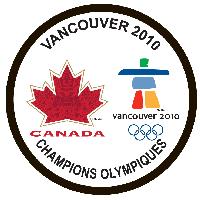 We sell IIHF souvenir team country pucks, Team Canada hockey pucks, USA Hockey pucks,
Vancouver 2010 Olympic Champions pucks, 2002 McDonald`s Team Canada Olympic player pucks,
2004 World Cup Hockey pucks etc... as well as pucks from the
AHL, ECHL, IHL, NHL, QMJHL and other minor league hockey pucks.
Click on the puck`s blue links to view front & back,
then click your back button to return to the puck list.
Postage & Handling is extra. Canadian residents add applicable GST/HST.
Prices are listed in Canadian funds - please inquire as to the current exchange for prices in US funds.
---
IIHF SOUVENIR HOCKEY PUCKS
International Ice Hockey Federation Pucks
$5.00 Cdn
---
Team Canada Pucks
$6.00 Cdn each
---
USA Hockey Pucks
USA Hockey logo puck (full color background)
USA Hockey - Blue logo puck
USA flag - puck (stars - background of Olympics - without 2002 Games)
$6.00 Cdn each
---
Olympic Hockey Pucks
$7.00 Cdn each
---
2002 McDonald`s Team Canada Olympic Pucks
- original cellophane wrapping (causing light lines on scan of puck)
$6.00 Cdn each
Team Canada black plastic puck holder - 5 pucks sit on top in a row
$3.00 Cdn each
---
2004 World Cup of Hockey Pucks
country flag on top, country name in middle and 2004 World Cup of Hockey logo on bottom
$7.00 Cdn each
Last Updated: May 7, 2013
---